when it comes to skincare, it can take time to find what products really work for your skin. But, what happens when you just can't seem to find that one brand or product? You create your own. And, Dr Barbara Sturm did just that.
With years of experience in science and creating ground-breaking formulas under her belt, the German skincare mogul launched a full skincare range in 2014, called Molecular Cosmetics, which has since garnered the support of some of the world's top stores and celebrities.
Available on Ounass.com, Bergdorf Goodman, Nordstrom and Net-a-Porter (whose President, Alison Loehnis, was recently in town to discuss all things fashion), Dr Barbara Sturm — who is the woman responsible for popularising the Vampire Therapy facial as trialled by Kim Kardashian West — has finally introduced her paraben-, mineral- and synthetic fragrance-free products to her Middle Eastern clientele.
We caught up with Dr Barbara Sturm earlier this week to find out how to properly apply her products, what she thinks of skincare in the Middle East and her upcoming projects…
Welcome to Dubai! Can you tell us a little more about the Molecular Cosmetics products you're introducing to your market here?
Thank you! Of course. Our line is built around three things. One is anti-inflammation, next thing is hydration and nourishing, and the third thing is stem-cell activation. So, our line is designed around refreshing your skin and taking care of it on a cellular level so it really absorbs into your skin quickly. It's not sitting on your skin, it's not greasy. So, it's a good thing for hot places like Dubai and it's very cooling on your skin and it just gives your skin a beautiful, healthy glow. At the same time, it's not toxic, it has very clean ingredients and the science around it is really cutting-edge.
The products which are launching is mostly everything, but we have a couple of really cool serums which are super hydrating: the Hyaluronic Serum and the Super Anti-Aging Serum, which are also packed with peptides and anti-oxidants and purslane. The Super Anti-Aging Serum is repairs and nourishes and it's really good to use at night, and the Hyaluronic Serum is best for the day.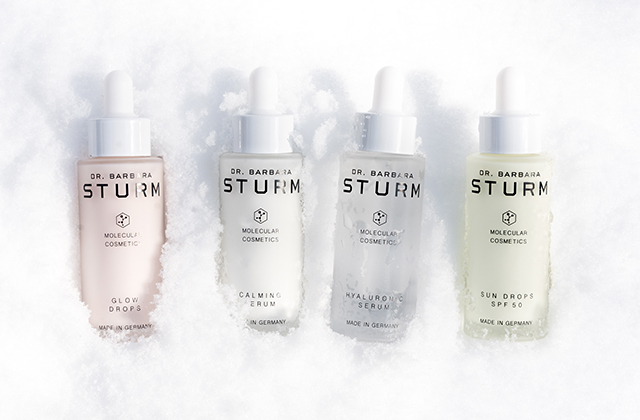 So, always apply this before your Face Cream moisturiser. It's a beautiful moisturiser and it's best for dry and oily skin and it's all about hydration. It also has our key ingredient purslane.
Your products are also free from parabens and mineral oils…
Yes. Although I'll tell you, parabens are not a bad ingredient. It's a myth!
What else can we expect from your skincare range?
We also have our sun drops which you can mix in with your serum or your creams. It's SPF 50 and you can even just apply it by itself. It's just a cool product to mix with others. Our glow drops is a brightening product that takes care of your skin and it defines pores and it feels like cashmere. It's great as a finishing product but underneath makeup, it gives it a really amazing, nice glow. The foaming cleanser is super lightweight with aloe vera in it and it takes care of your skin right away.
Everything is really lightweight which will really cater to your clientele here…
Yes. It's super gentle and it's great for Dubai. It looks after all skin types and it's also great for men. It's really unisex.
What have you noticed about skincare here in the Middle East?
The women I met, they are really interested in doing something for their skin. Also, they're interested in what's healthy and the science behind it. Of course, makeup is such a big thing here too…
Do you think you're going to branch out into makeup?
I'm doing some interesting things right now and I'm trying out some different ideas. I have to be obsessed with it and once I have an obsession, then I go for it.
People are starting to educate themselves more on skincare and they're into that "less is more" approach to beauty…
Yes! I think that's just a trend anyway. That's why our skincare [Molecular Cosmetics] is so perfectly fitted for that because it makes your skin beautiful and healthy.
The women I met, they are really interested in doing something for their skin. Also, they're interested in what's healthy and the science behind it. Of course, makeup is such a big thing here too…
Have you seen a change in the skincare industry since you started?
The thing is I'm not really a beauty junkie. I can only tell you that when I started, I was creating products for myself. The reason was that I couldn't find anything that would help my skin. So I tried everything in the market and I tried to find something that works for me and nothing did. So, I created my own products.
I feel like the skincare industry really aims towards a user who likes to do treatments at home and I think that's a trend that skincare has been designed around, that you're able to do everything at home. However, I don't think women should do [certain treatments] at home because it may be too damaging.
What would your advice be to first-time users of your products in terms of how to properly apply it themselves at home?
So you just take your products home and for the night, for example, you wash your face, you put your Anti-Aging serum on and then your eye cream. Done. Then in the morning, you take a shower, you put your Hyaluronic Serum on and you can mix it with your Anti-Pollution drops, which is good for keeping pollutants out of the skin and it will also help with the radiation from the phones. Then put your moisturiser on, eye cream and then the glow drops. And of course, if you're going out in the sun like here in Dubai, I would add the SPF too. That's it! Twice a week I use the face mask. You put it on and leave it for 15-20 minutes and then you rub it off, put your serum on top, then the cream and then you're done.
You also invented "Vampire Therapy" which has become so big in the industry and even has a cult celebrity following. Why do you think it became so big?
When I did it, it was 15 years ago, that's when I invented it. I did it because I wanted it to be scientific and I wanted to do it on a cellular level. Why is it so big? I think the industry is always looking to create new things that they can make money with, so I think that that's number one, and I think that the second thing is, I feel like it's big because people want to do more and more in beauty.
And your approach to skincare is very non-invasive compared to a lot of different methods, why was that important to you?
I'm just a natural person. I love nature and I like science. I like to study the things I'm doing and I like to make sure that I'm not damaging my skin. Skin is not only for beauty — it's also an organ. It has tasks and responsibilities, so rather than damaging it, I want to make my skin stronger.
And are there going to be any new techniques you're going to be introducing to skincare, or anything new for you?
Yes. We're working on two new compounds which are patent. So, we have patented it to two new things and it's going to be amazing! Also, we've created these compounds that are really helping on a cellular level, and of course, I don't only want to give it to skin cells. One is called Skin Food and it's anti-inflammatory plus it reactivates and hydrates, and the other one is focusing on inflammation.
Are these going to be introduced here?
Yes, we're working on it. I think it's important to know that if you keep your skin variations strong, nothing can penetrate it. As soon as you damage your skin, you're destroying the skin barrier functions which you shouldn't. Just keep feeding your skin, it's important.
Dr Barbara Sturm Molecular Cosmetics collections are available at Bloomingdale's – Dubai and Harvey Nichols – Dubai. Also, they'll be having a pop-up at the 2018 Cannes Film Festival.
Now, find out which major fashion house will be launching a makeup line with Lancôme.