Earlier this year, Jimmy Choo announced its latest venture into beauty with a debut collection, aptly titled Seduction, and it was a cosmetics line that we were certain to add to our beauty shelves. Whilst the range is the embodiment of Jimmy Choo's refined universe — feminine, elegant, daring and mesmerizing — the collection also includes fragrances.
The exclusive set of concentrated fragrances features Iris Crush — the perfect scent for the season. Here, we exclusively speak to the master perfumer behind the fragrance, Caroline Dumur, about the inception of the scent, its ingredients and its inspiration.
Can you tell us about how the fragrance came about?

Jimmy Choo wanted to create a beautiful exclusive capsule collection of perfumes to add to its existing fragrance range. That's how was born "Seduction Collection". The idea was to use the most beautiful ingredients available in perfumery while taking inspiration from Jimmy Choo's universe. This collection had to be all about quality, luxury, femininity and boldness!

How would you describe the fragrance?

IRIS CRUSH is a sensual iris scent with top notes of neroli and freesia, an ode to glamour and femininity.

What can you tell us about the notes of the fragrance?

The fragrance opens with a fresh bouquet of neroli and freesia surrounded by sparkling notes of pink pepper highlighting the brightness of these delicate flowers. The heart, intense and ultra-feminine, unveils iridescent and powdery iris notes modernized by the sweet and vanilla facets of heliotrope. And for a reference to the red carpet, so symbolic of Jimmy Choo, I created a lipstick accord dressed in juicy red fruits. In the dry down, a woody and oriental structure composed of ambery inspired musks, tonka beans and patchouli underlines these carnal flowers and signs the fragrance.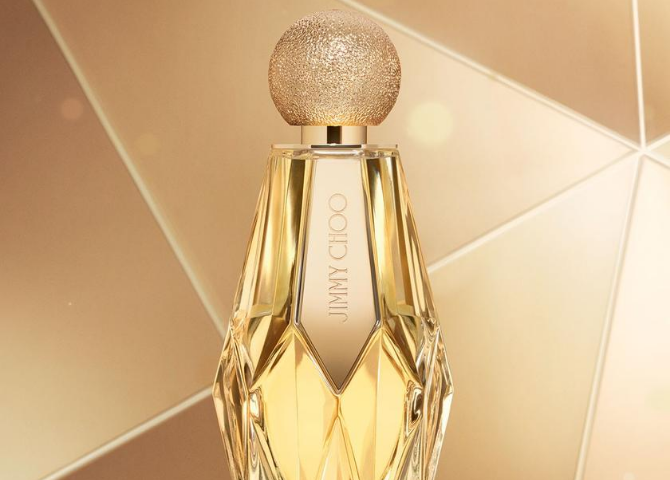 Was there a perfume that you particular liked or found influential before you started making perfumes yourself?
There are so many! Clinique's Aromatics Elixir is one of my favourite perfumes. I love Chypres. This one is unforgettable and with an amazing sillage. It also brings back a lot of memories from my childhood. I have a soft spot for Chanel N°19. It is a beautiful blend of iris and green notes that I both love to wear and work on.
Edmond Roudnitska's fragrances have also been very influential for me. Especially Rochas Femme, another chypre! I love the deep exploration he was putting in his formulas and this is exactly what I love in my job: the idea of never stopping your search. And finally, Givenchy Amarige created by Dominique Ropion. What a beautiful perfume. It is a short formula, making it even more fascinating.
What makes this perfume so unique?
Every single perfume I create is unique as I make them for a specific brand and a specific project. IRIS CRUSH smells the way it does only because it is for Jimmy Choo. What makes it so special is this combination of two blocs. A very sensual, soft and addictive facet made of vanilla, tonka bean and heliotrope. And an overdose of iris, so feminine and timeless.
What is the essence of 'Natural Perfumery' in 2020?
"Natural" in perfumery is a big word and it means everything and nothing at the same time. To me what is important is to choose the right ingredients that are sustainably sourced and produced. This is true for natural ingredients but also for synthetics. At IFF we are lucky to have a big part of our synthetic ingredients that are renewable. And we also have the best natural ingredients in the industry thanks to LMR Naturals palette. All LMR's ingredients are sustainably sourced, traceable and offer an amazing quality.
So more than 'natural' perfumery I am pushing for a'sustainable' perfumery with the right balance between natural and synthetic ingredients making sure it is safe for the person who will wear the fragrance but also safe for all the people involved in the sourcing of the ingredients and of course safe for the environment.
What was it like growing up in the industry?
I didn't know anybody working in this industry when I was a child, but it had always been obvious to me that I would one day become a perfumer. It probably all started in my grandparents 'farm in Picardy (Northern France). I have so many olfactive memories there: the smells of flowers, sweet waffles, Maroilles cheese, farm animals and hay… It was all part of my daily life. My parents were both editors and through their influence I was able to consult biographies of master perfumers, the adventures of olfactive raw material collectors and the history of perfumery going back to Antiquity. From that moment on, no career was possible other than creating perfumes!
For a long time, I worked as a perfumer's assistant where I learned so much about the ingredients and how to build formulas. When I finally became perfumer, I had the chance to have Anne Flipo (Master Perfumer at IFF) as a mentor. She really guided me and helped me "grow up", create my own signature, my own voice.
Are there any interesting innovations in the perfume world?
There are so many innovations these days which make our industry so interesting and changing. For instance, we develop new ways to extract natural ingredients. These innovations are the secret recipes from our R&D teams working hand in hand with the farmers around the world to offer us, perfumers, ingredients that smell much and much closer to the actual smell of the ingredients in nature.
Our team of agronomists also travels the world to find ingredients that were not used in perfumery before. I call them the Indiana Jones of perfumery when they bring us back these ingredients that we didn't even know existed!
What's the key to a great IRIS Scent?
First it is the quality of the raw material. Just like you cannot bake a good desert with bad ingredients, you cannot compose a beautiful perfume if you don't have the best elements to start with. At IFF, we are lucky enough to have all the ingredients from LMR Naturals, a company IFF acquired in 2000 and that is known to offer the Haute Couture of naturals. They sustainably source all their ingredients around the world and ensure a perfect quality and traceability.
Then, you must find the right balance in the creation. You make sure the iris is here the first seconds you spray the fragrance but also hours after, building this great sillage. For that you play with different type of iris giving you different facets of the flower. You also have to associate it with other materials highlighting its most interesting sides. It is all about balance and combinations.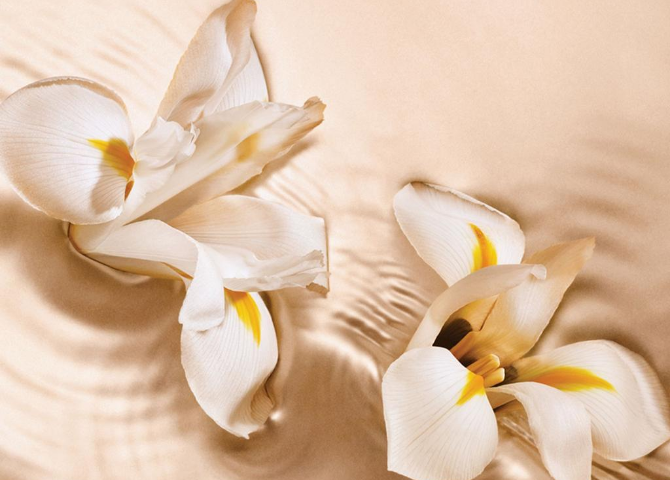 In your opinion, how important is the name of the perfume?
I think it's key! Just like the packaging and the communication around it. This is what will attract you first and make you want to grab the bottle.
Do you use any organic ingredients at all?
There are no certified organic ingredients in IRIS CRUSH but all the natural ingredients that we used are sustainably sourced and traceable.
Fragrances always evoke emotions, could you tell us more about your creative process for this new perfume?
First of all, I was very inspired by the brand… This timeless glamour and red-carpet spirit evoked a lot to me. I wanted to translate these words with the most beautiful ingredients. And that is how I started to work around Iris. One of my favorite ingredients. So versatile and mysterious. Elegant and daring. Just like the Jimmy Choo woman.
In your opinion, what will the future of fragrances be?
First a lot will change in the legislation. Some raw materials will disappear, some new ones will appear. This will force us to renew the way we make perfumes (which has already been the case in the past 20 to 30 years to be honest). Working with these new constrains is quite exciting and this is also what makes our industry change and evolve for the best.
What's the key to a great private collection?
To me it is really the quality of the ingredients I use. For such a collection, the brand gave us a lot more freedom in the creative process meaning we could use very exclusive ingredients. We were also able to propose bold combinations that you would not find anywhere else.
What does the brand Jimmy Choo evoke for you?
To me Jimmy Choo evokes glamour, femininity and strength. Of course, it has many other facets such as seduction, mystery, passion… But it is really the glamour and feminine side of the Jimmy Choo woman that I wanted to evoke in Iris Crush.
Do you believe in the seductive power of perfumes?
Definitely! Some smells are just addictive and mesmerizing. They create a real signature, a smell you will forever associate with a person even decades after. What could be more seductive than this!
How do you feel about being the Master of Scent of the Jimmy Choo?
It is such an honour to be able to sign one of the fragrances from the 'Seduction Collection'. Jimmy Choo has always been a brand that I have admired and being able to translate such a strong DNA into a perfume has been an amazing exercise.
Can you define Jimmy Choo's femininity? And your own?
When I think of Jimmy Choo, I see a glamourous and strong woman, empowered and confident.
I am lucky enough to have been surrounded by amazing strong women my entire life, personally and professionally. Anne Flipo, Master Perfumer at IFF, was my mentor when I was starting my career. She transmitted me her strength and helped me being confident in my work. Anne and many other women in my life helped me become the person I am today. And it is such a gift to live at a time when I can raise my voice for what matters.
Where do you usually find your inspiration?
I am very intuitive. Understanding the brand I work on is definitely the starting point of all my works. I build an idea in my mind made from instinctive associations of different materials. But I also find inspiration in art. I am very sensitive to textures and colors. This is really what attract me in a painting, the right balance between these two notions. Ingres (a famous French painter) works perfectly with textures. I love his liberty of style that gives way to the real, the beautiful. And it is the same in perfumery, you need this stability between the ingredients that eventually translate into textures and colors when you smell them.
When would you imagine wearing the fragrance and how would it make you feel?
I think the beauty with fragrances is that you can wear them wherever and whenever you want. But for sure, no matter when you will spray Iris Crush on your skin, it will make you feel glamourous and strong. I truly believe that fragrance becomes a part of our personality, it can help us get that boost of confidence, of sensuality, of femininity. It is like a magnifying glass that will make the best of your personality shine.
Now, read Farouk Chekoufi's interview with Pascal Morand, Executive President of The Fédération de la Haute Couture et de la Mode.