If you own a TV or watch Netflix on the reg (#guilty), chances are you'll already be familiar with Tammin Sursok. The South African born, Australian raised actress shot to fame Down Under before moving to the US to pursue her career further. After landing a recurring role in The Young and the Restless, she joined one of the most popular shows of the decade: Pretty Little Liars.
The show recently wrapped after seven seasons and Tammin is now setting her eyes on new projects. One such project is being the new Global Ambassador for local beauty brand Zero Makeup created by iconic make-up artist Nabila. Here, she tells Buro why she came on board as the face, how her beauty routine changes when travelling and what she loves most about the Middle East…
Thanks for joining us today! What was it about Zero Makeup that made you want to come on board as its global ambassador?
I think everything that Zero Makeup represents is something that really speaks to me. I think we need to tell young girls out there that more isn't always more and I think we need to learn how to radiate beauty from within and that's very much what this product is for. It also stands for zero effort, zero tolerance towards slavery and child labour, and there's so much convenience; throw it in a bag or take just five minutes and you're done and out the door. It really speaks to everything that I am as a woman and as a mother who is raising a young girl.
What is your favourite part of the palette?
I'm the pearl colouring and for me, it's the cheeks. I can use it on my cheeks, my lips, my eyes and jzuch up everything so it's my favourite.
How would you describe your beauty routine overall?
Very effortless [laughs]. I have a four year old daughter so for me, the quicker I can get out the door, the better. So it's really about things that are effective — a good moisturiser, a good Vitamin C cream, lots of water. Hydration, hydration, hydration! I'm not into fancy products or products tested on animals so it really is the less is more approach.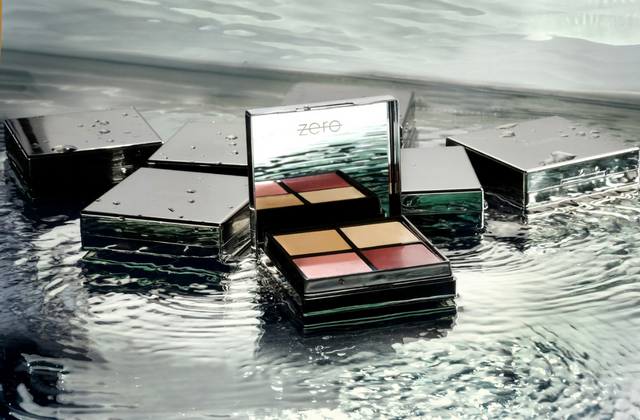 Does your beauty routine shift when you're travelling or is it pretty much the same?
I think I'm more aware of it when I'm travelling. It was a 16 hour flight when we got here and I was drinking water on the plane and putting on masques and under eye things and hydrating. And as you get older, hydration is not only just good for your attitude and your mind but it's also really good for your skin.
You've spent a lot of time in a make-up chair over the course of your career —what's one of the most important beauty lessons you've learned in that time?
The beauty lesson is that contouring is always good. I love a good contour and a good lash. But for me, whenever I sit in the chair, I always ask them to make me look as natural as possible. I think there's this misconception that all this make-up will make us feel and look more beautiful on the covers of magazines but it doesn't. I think people are trying to get to the essence of who the actress is and I think it's important to radiate honesty. So for me, I always ask a make-up artist to look dewy and realistic.
I think there's been a shift towards the more natural approach which is a healthy message to be sending…
Definitely. I used to love — people say they didn't — but everyone loved to be Photoshopped but as I get older I just feel like it's so inauthentic. What is the message that I'm trying to send my daughter about what she looks like? I mean if you have a raging pimple take it out! [laughs] But my wrinkles and my smile lines are what makes me, me, and I want to instill that strength [in my daughter] of what beauty is. I think that speaks so much to the Zero Makeup brand, too. This is make-up that's going to make you feel a little bit better about who you naturally are.
There's also a shift in the beauty industry globally to a more inclusive outlook which is something that Zero Makeup provides to consumers also. Do you feel like this is a positive step in the right direction?
Absolutely. Now in this day and age we are so much more inclusive and aware of not alienating certain cultures, ethnicities and religions. We really do need to come together all as one. It's interesting being in the Middle East, the people here are so beautiful and they're such good people. I think we get such mixed messages in the world and that's what this range is about, bringing everyone together because we all want the same thing.
It's interesting being in the Middle East, the people here are so beautiful and they're such good people. I think we get such mixed messages in the world and that's what this range is about, bringing everyone together because we all want the same thing.
You haven't been in the Middle East long but what are your first impressions of the local beauty aesthetic?
Everyone is stunning. I think people in the Middle East are just stunning because they care about what they look like which you can see in what they wear and what they put on their face.
Is it important for you for the beauty products you use to be eco- and animal-friendly?
Oh definitely. It wasn't so much before I had my daughter but then you realise that there's so much toxicity in everything that we wear which affects our hormones and our body's way to fight diseases. I think it's really important to know what's in your products. Things can't be 100 per cent natural all the time but if the company is trying to go towards that then that is the company you should be supporting.
Animal testing for me is a no-no. My husband and I are vegetarian— we went vegan for a while — and it was interesting just how much you learn about what they do to animals. It's an important thing for me.
What else will you be getting up to while you're in town?
We're going to go out into the desert with the camels and then to Kidzania for my daughter. We might ice skate, eat too much food, you know. We went to CityWalk last night. There's something about Dubai that reminds me of Japan — it's quite quirky, innovative, interesting, different and all-inclusive. It's very cool.
Has it made you want to come back?
Definitely. The first time I came here I didn't really know much about it so it just seemed like a concrete city but it really isn't. The people make it really special. It's been a really cool experience.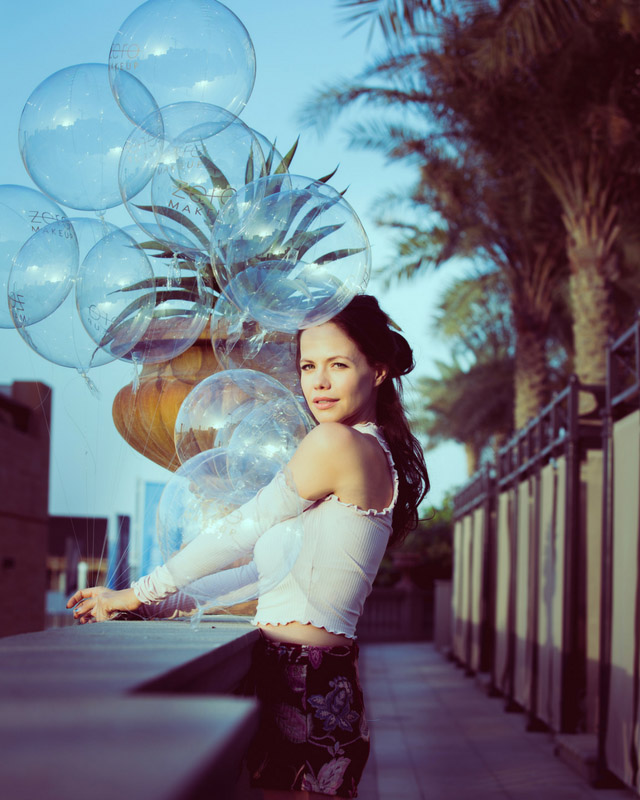 You met with fans on Friday — how was that?
Nuts [laughs]. It was an eye-opening, really cool experience and they taught me some Arabic, which was cool. It just made me realise that we are so much more alike than different.
I was watching one of your Instagram videos from when you first arrived…
The one with me going "Oh my gosh! Oh my gosh! Oh my gosh!"? [laughs]
Yes that one!
Nabila kept saying, just wait there's more! And then hearing the call to prayer, I've always loved it. It's a really beautiful ceremonial thing.
You've now got Bottles & Heels, how is that going? What's coming up next?
We launch our new year tonight and it's going really well. It was just about bringing together a community of women and mothers to talk about things that weren't being talked about but were being felt. And it just went gangbusters. I am using some very cool words today [laughs].
My husband and I have a production company and we have a few projects coming out this year and my clothing line Stella Phoenix is now in it's fourth range which is amazing — hopefully we can bring it to the Middle East. It's going to be a big year.
Zero Makeup has just launched in the Middle East exclusively at Bloomingdale's —Dubai.
Now, see all of the red carpet looks from this year's Golden Globes ceremony.