Fresh off the back from announcing their first official tour as a family (the Duke and Duchess will going on a royal tour to Southern Africa with baby Archie in tow this Autumn), Prince Harry and Meghan Markle made a surprise appearance for the London Series overnight.
The new parents looking as adorable as ever, attended the first of a two game series of the Major League Baseball London Series, in support of the charity, the Invictus Games Foundation (the Duke of Sussex's long-term charitable initiative).
Whilst we thought that it would've been a while until we saw Meghan again, the new mum took a break from her maternity leave and looked radiant in a belted dress by Stella McCartney, paired with ballet flats from Aquazzura. Together with Prince Harry, the royal couple met with the Boston Red Sox and New York Yankees baseball teams at their clubhouses for the MLB London Series.
It was such an enchanting encounter as both teams gave the new parents custom onesies for their new baby boy, Archie.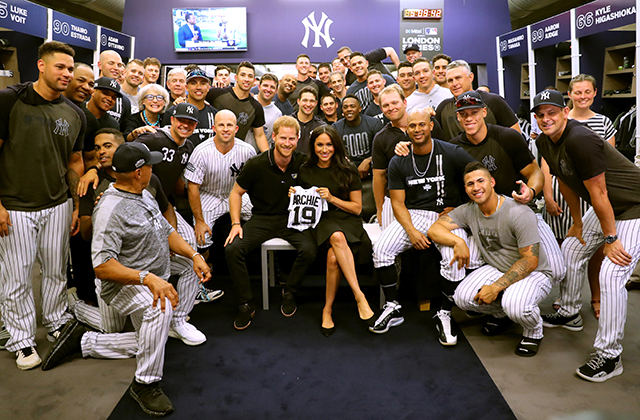 Sharing the news via the royals' Instagram page, the "event was also a chance for Their Royal Highnesses to shine a light on the men and women here in the UK and around the world who have sacrificed so much for their country."
This outing marked Meghan's third appearance since giving birth to Archie on May 6, and her second public appearance in total (after Trooping The Colour).
Will there be any more surprise appearances from the royal couple soon? We hope so.