Since its inception in 2009, multiplayer online video game, League of Legends, has ultimately become a global phenomenon as one of the most played PC game in the past 10 years. Developed and published by Riot Games, the company organises an annual championship where the best players and teams battle for the Summoner's Cup, and whilst it's set to begin next week (October 2, to be exact), we know that the upcoming event is expected to be a little different this year. Here's why.
This year, Riot Games are stepping into the fashion world and announced a partnership with Louis Vuitton.
At first, it seems like an unexpected collaboration however; both companies share the same values — to be leaders in innovation and pioneering. Together, the landmark collaboration will see the luxury maison design items for both, the League of Legends game and items for the real world.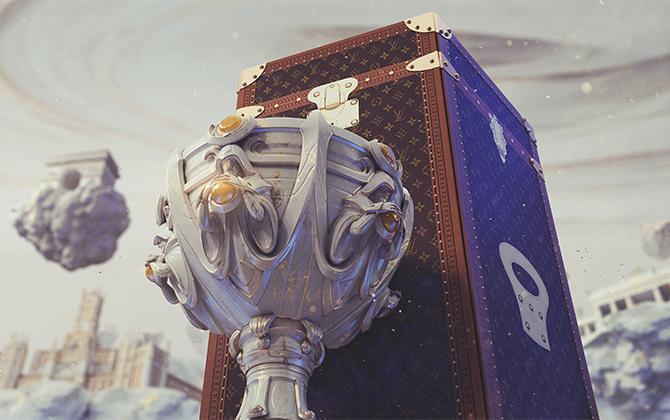 Whilst Louis Vuitton has a portfolio of creating one-of-kind trophy cases for the World Cup and the French Open, this year's collaboration with Riot will see a stunning Trophy Travel Case, which will hold the Summoner's Cup. The bespoke piece is truly a first for an esports championship however, it will still include Louis Vuitton's traditional savoir-faire, and high-tech elements inspired by the League of Legends universe.
But that's not all. The collaboration will also see a slew of unique champion skins and a capsule collection designed by none other than Nicolas Ghesquière.
Speaking of the partnership, Naz Aletaha, Head of Global Esports Partnerships at Riot Games, said: "We are honoured to have Louis Vuitton as an official partner with designs to impact the look, feel, and prestige of our most prominent League of Legends event. This is a historic partnership that speaks to the impact Riot Games and League of Legends has had on the industry over the past nine esports seasons. We welcome the LV brand to our sport and we are eager to share the entire scope of the partnership in the months ahead, in particular on November 10th when the Summoner's Cup is awarded in Paris."
Now, take a look at never-seen-before jewels designed by Louis Vuitton's Artistic Director of Jewellery and Watches, Francesca Amfitheatrof.