A Kuwaiti beauty blogger with 2.3 million followers has come under fire this week following controversial comments she made on Instagram Stories regarding the working rights of Filipino migrant workers in the country. Now, the blogger has issued a "responsive clarification" to the now-deleted video she posted on her channel three days ago.
The original video showed Sondas Alqattan speaking about how she disagreed with new laws introduced in Kuwait to help protect migrant workers which allowed them to keep their passports and have one day off a week. In a clip on her Instagram Stories, Alqattan said, "For [a domestic worker] to take a day off every week, that's four days a month. Those are the days that she'll be out. And we don't know what she'll be doing on those days, with her passport on her. How can you have a servant at home who gets to keep their passport with them? If they ran away and went back to their country, who'll refund me? I don't want a Filipino maid anymore."
The comments sparked outrage globally with outlets including The Guardian and CNN picking up the story. Alqattan was approached for comment yesterday by AFP and according to Gulf News told the outlet that the outcry was "unjustified." She explained, "All I said was that the employer was entitled to keep the servant's passport and that many Kuwaitis and Gulf nationals agree with me. I have the right as a [sponsor] to keep my employee's passport and I am responsible for paying a deposit of up to 1,500 dinars (approx. Dhs17,998)."
However after continued outrage, the blogger issued her own statement on her Instagram account overnight. In the lengthy post, she reaffirmed her position that an employee's passport should be held by the employer "irrelevant of nationality" and that days off should be at the discretion of the employer, writing, "As far as the four-day-a-month off days, the condition differs from a household worker compared to a business worker. In comparison, many household employers don't allow the worker any off-days even if the contract specifies a certain number of off-days."
Alqattan also clarified that she has "not, in any circumstance in the present or the past, mistreated, degraded or in any way mistreated an employee of mine" writing that she considers "all employees as equal human beings with equal rights to that of mine."
Read the statement in full below…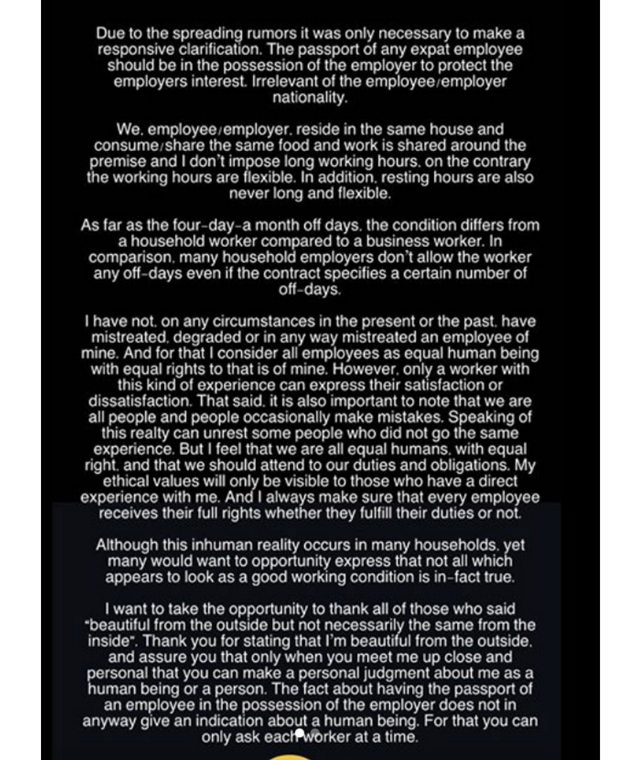 At present, Alqattan has disabled comments on her Instagram.
Now, discover Instagram's newest feature that allows you to remove followers without them being notified.