We're spoilt for choice when it comes to luxury fitness studios here in the UAE but the newest opening has us particularly excited.
Reform Athletica will open its doors next month in Jumeirah and will offer both Pilates and TRX classes to its visitors. Classes are small, with a maximum of 12 people in each, to allow close attention to be paid by the instructors to each member of the class.
The studio also has a strong focus on sustainability. In a bid to reduce "one-time plastic", the studio will only offer filtered water for visitors to fill up their water bottles and the space is adorned with artworks by Mandy Barker whose "work is motivated to raise awareness about plastic pollution in the world's oceans whilst highlighting the harmful effects on marine life and ultimately ourselves," according to a release.
We caught up with Dina ElShurafa, the studio's Founder, to talk how the business is partnering with other local sustainable brands and what visitors can expect when they visit…
What sets the studio apart from others in the region?
Reform Athletica is a product of our love for fitness and art. We wanted to bring something back to the Middle East from all our travels that was dedicated to offering the best of everything. On the training side, we will be offering two classes (to begin with): The Reform Method on the megaformer and the highly addictive HIIT training focused around the TRX. Having experienced the benefits and results of working out on the megaformer and doing HIIT/TRX workouts, we wanted to share those benefits with our clients in Dubai and introduce them to the highly effective workout on the megaformer. There are many studios that offer Reformer Pilates, but the megaformer, inspired by the Lagree Method in Los Angeles, is not something that is as common. On the other hand, we wanted to create a space that not only offers top training, but also a space that is inviting and enriching — a cross between a gallery and a spa. We will have rolling exhibitions in collaboration with a local based gallery and plan to host talks on all things fitness, culture, art and lifestyle.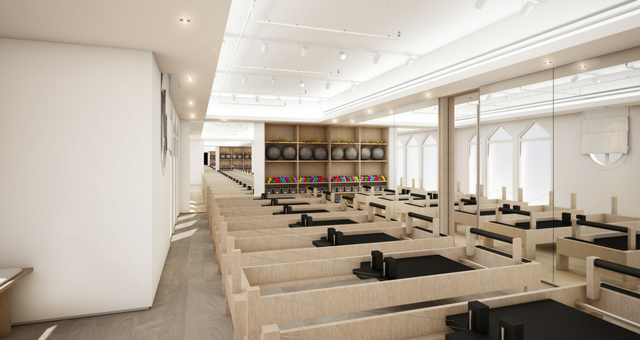 What can visitors to the studio expect when they come for a class?
A serene, feel good, happy place! Even though you will be sweating buckets, we didn't want to create a space that is intimidating or inaccessible. If you're coming for a Reform Method class, you will be working out muscles you didn't even knew existed. Even though it's low-impact, you will sweat and you will feel the results. If you're coming for a TRX Athletica Class, expect a highly charged energetic class with good music and great energy. You'll be guaranteed to leave better (and sweatier) than when you first came in.
We wanted, as a home-grown startup business in the Middle East where eco-friendly practices have not yet become common place, to promote the idea of sustainability.
Tell us a little more about the sustainability aspect and why that was important to you…
As individuals, it is often hard to make a difference without the support and assistance from others. We wanted, as a home-grown startup business in the Middle East where eco-friendly practices have not yet become common place, to promote the idea of sustainability. There has been immense coverage in the news and media on the effects of plastic waste and as a business we wanted to ensure that we are not contributing to this. We therefore tried as much as possible to adopt eco-friendly practices that would not only reduce our harmful eco footprint but also help raise awareness in the community. We have decided against offering plastic cups for our water coolers and instead will be offering S'well bottles that are reusable and sustainable. We will not be selling bottled water or have bottled water deliveries to our studio — instead we have opted for the filtered water option at all our water points. Our juice partners whose beverages we'll be selling are also on a drive to encourage recycling. We will raise this awareness through our love of art through a beautiful photograph we have acquired for the studio by Mandy Barker. Her series "Plastic Seas" aims to showcase the harmful effects of plastic to our seas, and this photograph will be displayed in our studio.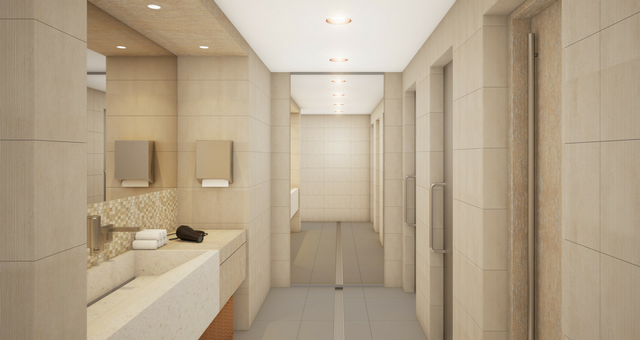 Which local home-grown brands have you partnered with to further this focus on sustainability?
Our aim from the outset was to (a) partner up and help local home-grown brands, in the same way we are a local home-brand; and (b) try to collaborate with like-minded brands that focus on the same aim as ours. As mentioned, our beverage providers to the studio will be KoldPressKo and Nai iced tea — both offered in glass bottles that are recyclable. KoldPressKo is committed to recycling, which is what attracted us as a business to supplying their products. We have also stocked our changing rooms with luxury Malin + Goetz products whose founders are focused on raising awareness and adopting the most friendly of methods for product development. We will be stocking our studio with S'well bottles and selling snack and bites from Spill the Bean, whose founder Ola Sinno is an advocate of environmental friendly practices and has her shop in Sustainable City in Dubai.
What can you tell us about the design inspiration for the interiors?
Our interiors have been done to the highest standard — as we wanted to remove the stigma of a 'workout space' being sweaty and smelly! We wanted to create a 'space' that you can feel at one with and feel enriched by. Every detail has been thought through down to colour choices, wall finishes, room flow and soft furnishings. We as founders wanted to create a space that you can feel at home in: cozy, friendly, relaxing but also rewarding.
Reform Athletica will open in April. For more information, click here.
Now, find out what Stella McCartney's latest news means for her sustainability contributions to Kering.