We're well into the spirit of Ramadan, and although celebrations may be looking a little different this year, the Holy Month has always been about unity and connection. With everyone at home currently in quarantine, skills in the kitchen have turned out to be one of the more positive outcomes of this pandemic.
Everyone's been experimenting with new recipes — coronavirus prompted a surge in stress baking — and for Emirati designer, Yasmin Al Mulla, she's taking this time to recreate healthy interoperation of classic food.
"I aspire to clear the common misconception of healthy food in the Middle East, I dream of encouraging healthy lifestyles in all aspects, of promoting nutritional education, and raising health awareness in any possible way. I'm on a one-woman mission to change what people believe 'healthy' is," explains Al Mulla.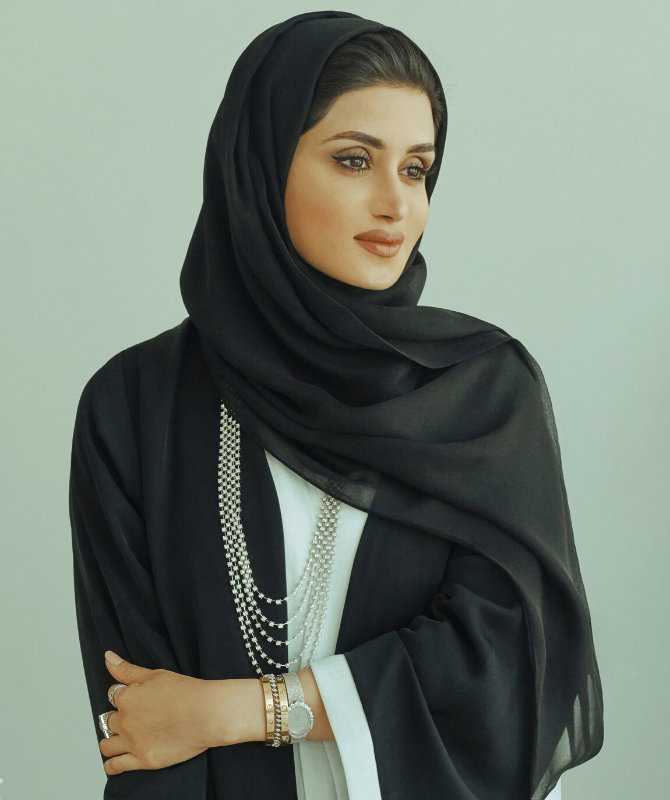 "I enjoy creating a 30-day food schedule for the holy month, listing each day's dishes, appetizers, and everything in between to make it less time consuming, fun, and grocery friendly at the same time. I enjoy different cuisine every day; as it challenges me to recreate healthy interoperation of classic food, or getting inspired by signature dishes and prepare an alternative from each country every day from all over the world; Indian, Japanese, Mexican, and the list goes on for 30 days."
"Last Thursday's menu was inspired by the rich Emirati kitchen, and I am sharing with you two of my recreations from that day with a very modern and twisted presentations. And of course — they are both are plant-based, gluten-free, and refined sugar-free."
Here, Al Mulla exclusively shares two of her recipes, perfect for the Holy Month…
Classic Emirati Salad with a modern twist
Embracing the common Emirati concept of salads; combining what's available to create a rich salad — I have reworked the concept and twisted couple of things to make it nothing but nutrient in all levels. Simple flavour combinations make this salad both versatile and unique, it has lots of textures and delicious simple dressing. Loaded with powerful Antioxidant, Anti-Inflammatory, and Vitamin C.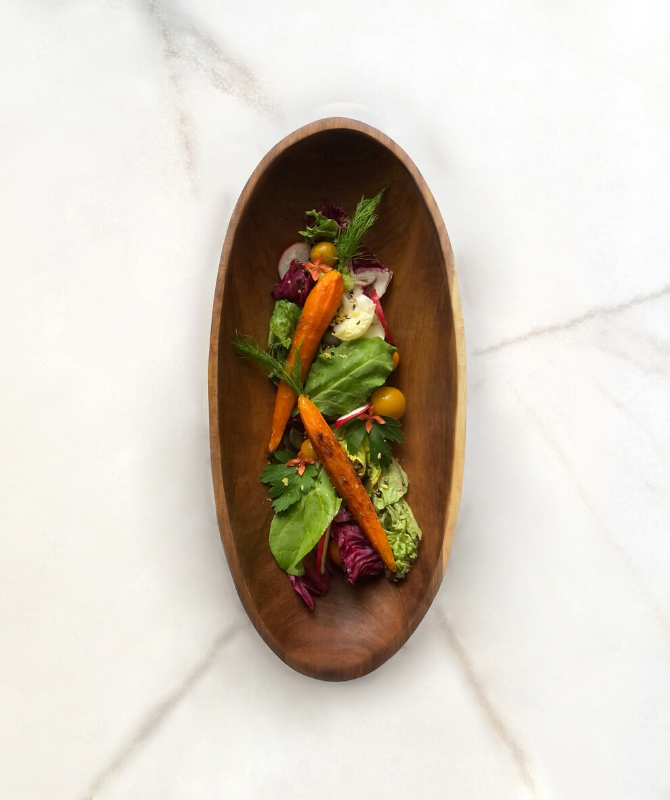 Ingredients:
–      1 Cup Red Leaf Lettuce
–      1 Cup Butter Lettuce
–      10 Cherry Tomatoes
–       5 Mini Carrots (Seasoned with smoked Paprika and baked for 15 minutes)
–      3 Radish (sliced)
–      1/3 Cup Dill
–      1/4 Cup Parsley
–      Pinch of Zaatar and Sumac (to sprinkle)
Dressing:
–      1 Teaspoon Apple Cider Vinegar
–      Splash of Water
–      1 Tablespoon Olive Oil
–      1/2 Tablespoon Pomegranate Molasses
Directions:
1. As simple as it looks; simply mix all the greens, dressing, sprinkle the remaining ingredients (Zaatar and Sumac and Enjoy!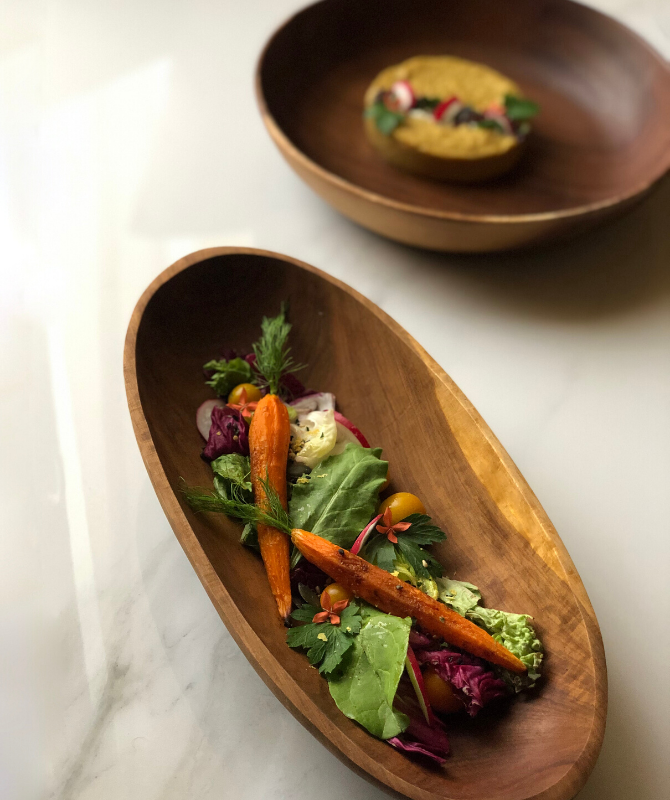 Jackfruit Madhrooba
My plant based interoperation of a star Emirati dish, typically made with Chicken — I have reworked it to be as healthy as it's satisfying using pulled Jackfruit without noticing any difference. Madhrooba means beating; elaborates the Puree feel of this mouth-watering main course.
Wholesome dish in all aspects — By making simple substitutes, and using organic products to perfect the traditional and classic taste. Loaded with Zucchini, Potatoes, Carrots, Onions, Oats, other healthy veggies. The dish is rich in Fiber, Protein, and aromatic Arabic spices.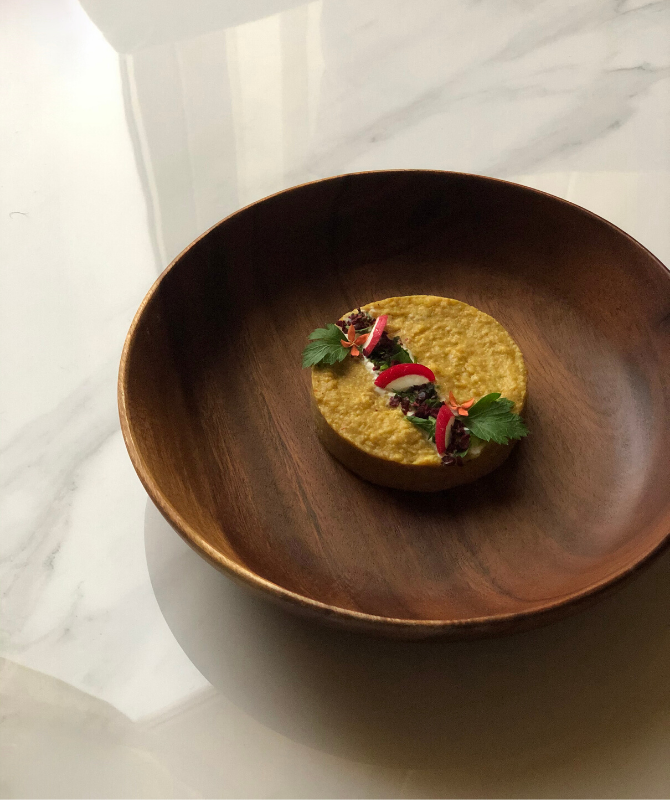 Ingredients:
–    1 and a half Cup Organic rolled Oats
–    1 Jackfruit Can
–    1 Diced red Onion
–    2 Tablespoon Garlic Ginger Paste
–    1/2 diced Bell Pepper
–    1/2 chopped Chili Pepper (Optional)
–     3 small diced Zucchini
–     1 Diced Carrots
–     1 Diced Tomato
–     1 Diced Potato
–     1 Tsp Sea Salt
–     1/2 Teaspoon Black Pepper
–     1 Teaspoon Mixed Organic herbs
–     1/2 Tablespoon Dried Coriander
–     1/2 Teaspoon Turmeric Powder
–     1/2 Teaspoon Arabic Spice blend
–     1/2 Teaspoon Curry
–     1 Dried Lime
–     2 Tbs Chopped Fresh Parsley
–     4 to 5 Cups Water
Directions:
1.        Rinse, drain, and thoroughly dry the jackfruit. Chop off the center "core" portion of the fruit and discard. Place it to a cutting board and shred using two forks, and set aside.
2.       Heat the olive oil in a large sauce pan, add onion and fry until it starts to soften, then add the smashed garlic, bell pepper, chili (optional), zucchini, carrots, tomato, and potato and stir for few minutes.
3.       Then add all dried seasoning: Sea salt, black pepper, organic herbs, dried coriander, turmeric, Arabic spice, curry, and dried lime. And stir well for few minutes until fragranced.
4.        Cover with water, add the pulled Jackfruit, and let it simmer and cook on low heat for twenty minutes or until everything is cooked.
5.        Once everything is cooked. Add fresh parsley, oats and try whisking everything together to blend well and smash your vegetables, or or use a hand blender (but don't over do it, you still want to feel the texture), cook for few minutes until the oats is perfectly cooked, and blended well.
6.        Serve with your choice of topping, or enjoy the rich flavours the way it is.