Lamborghini is arguably one of the world's most recognisable names. Synonymous with style, sports cars and serious speed, the brand has cemented itself as a leader in automotive luxury. Now, it is expanding its offerings with a new menswear collection that's certain to have the same level of impact. Here, Buro 24/7 Middle East contributor Farouk Chekoufi chats with Katia Bassi, the brand's Chief Marketing Officer, and Mitja Borkert, the Head of Design and Style about legacy, luxury and looking ahead.
Katia Bassi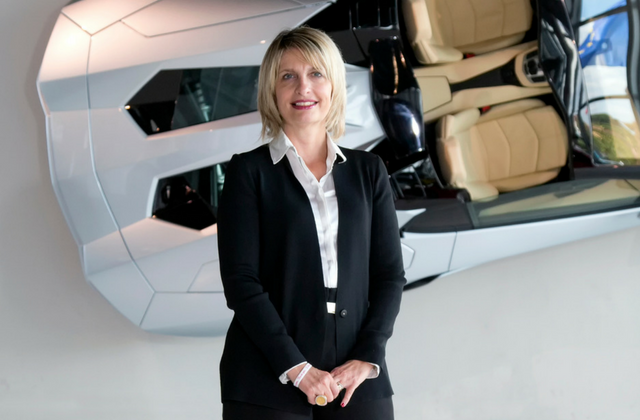 How would you describe the state of Lamborghini?
Lamborghini is a Super Sports Car manufacturer who produces aspirational vehicles with a strong DNA. Of course our heritage is also the base for future projects. We are innovators both for technologies and design, always having in mind the pillars of our DNA.
What makes Lamborghini so unique today?
When a company is able to be consistent in its values it is recognised as unique. Our design language is consistent from the beginning onwards. Since the Countach, presented in 1971, our bright colours are a signature and the performance of our cars are always an expression of innovative and superior technologies.
Lamborghini become such an iconic brand – how would you describe its visionary style?
In Lamborghini we always anticipate the trends by keeping a wide view on important innovation in different fields. We also set new milestones with a continuous investment in research and development. Our cars, and all the products of the brand extension, have an innovative essence shaped with a futuristic design.
What does mean luxury for you today?
Today luxury for me is an attitude that becomes the soundtrack of everyday life. It's when each choice a person makes is driven by the personal style and by the research of excellence, in materials, technology, design and performance. And the ultimate luxury is to have the time to follow this passion.
How would you describe the Lamborghini style?
Informal luxury, future shapers, designers of experiences. We have created the Lamborghini Lounges, where guests can experience what these attributes mean. The first Lounge in New York is furnished with the Authentic Living Collection Riva 1920 for Automobili Lamborghini, designed by Karim Rashid, an Italian Chef gives a live cooking performance. The Ad Personam room allows you to experience all the colours, materials and fabrics available to create your unique super sports car. The car itself is not on display, to underline that the essence of the brand is perceivable anyway. Here a guest can feel like at home.
What's the most outlandish detail you included in the Spring/Summer 2018 collection?
If you find it outlandish to use carbon fibre for your luggage, then we are proud to say that this is not just outlandish, but the best choice to create the best luggage. It is particular to have the Y like the front lights of our super sports cars on your blazer, but for us it is a way to use the same design language for all of our products.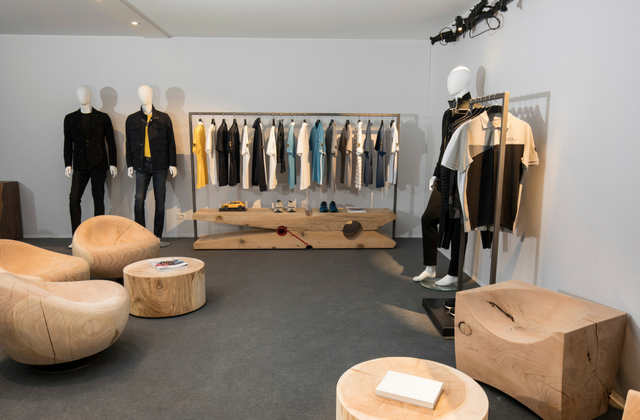 What do you think of social media?
We have great success on social media and we count on [our social media team] to keep the dialogue fresh with our community. Our presence is relatively young, yet in the last four years our conversations have had lots of followers. In 2017 we celebrated 500k subscribers to our YouTube channel and on Instagram we have the third highest number of followers in the automotive industry. We create dedicated content and activities for social media, as we think it's [an important platform] to engage the Lamborghini enthusiast.
What are the new generation looking for or what do they see in Lamborghini?
The new generation is always attracted by non-conventional shapes. Plus, the bright colours are part of our strength and the top performance gives a futuristic connotation to our products. Lamborghini is a luxury brand, yet it is informal enough to attract young generations.
How important is the Middle Eastern market?
The Middle East is an important market for our super sports cars: it is the seventh in our global raking. The passion for our brand is extended to our brand extension items, too. In fact we have an important flagship store at the Dubai Mall and prestigious Aïzone corners in Lebanon, Kuwait and Jordan.
Who is the Lamborghini man today?
The Lamborghini man is a wealthy, cosmopolitan, traveller. He seeks and gets the best Italian heritage and products in each category of purchase. He is sensitive to exotic, high end or niche products that can help express his personality.
What are your most exciting projects for the brand now and soon in the future?
From the perspective of the brand extension, we are working on possible real estate projects. Our commitment always starts from the three pillars of our strategy (Informal luxury, future shapers, designers of experiences), defragmenting them to obtain the best result possible.
How do you translate the vision from luxury cars to fashion and lifestyle?
Actually when there is a DNA well established the point is to share these values when creating a new product. The passion and the identity of our brand is the starting point for a new creation.
Mitja Borkert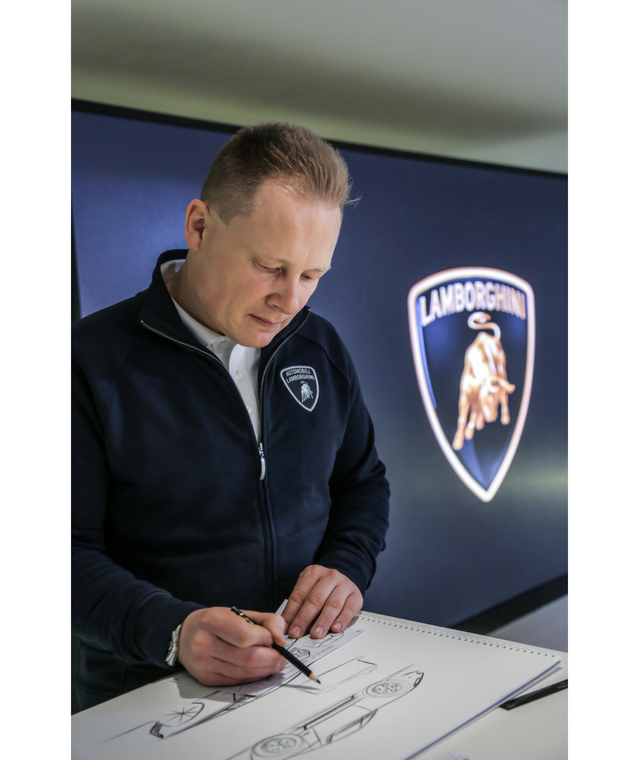 Can you describe your design studio and the creative team working with you?
The design centre is a quite small team full of talented international people. It is my pleasure and philosophy to treat them with a big amount of team spirit. We are like a football team. We want to win for Lamborghini and create the best iconic and innovative design possible.
What has changed the most since you've been designing?
I am astonished by the acceleration of the design process. When I started designing cars, there where clay models with little 3D printed parts. Today we have all the possible technology, virtual reality and many 3D printing parts. All seems to be possible but in the end, a great design will start with a manual sketch and will be finished by talented people with the right craftsmanship.
How do the brand's luxury cars serve as inspiration for the fashion pieces?
The use of our design details like the hexagon and the Y gives us plenty of inspiration to create unique luxury fashion. Our colours create a strong link between cars and fashion.
Your favorite colour?
It depends on the object. At the moment it's the fantastic blue of our new Aventador S Roadster.

Your favourite stone?
My favorite Stone is the one that you can see under the fantastic natural illumination inside the Antelope Canyon in Arizona.
Your favourite metal?
I like black finished steel and copper
Your favourite fabric?
My favorite textile is the sportive Alcantara.
How has Lamborghini's heritage helped it to become one of Italy's most recognisable brands?
Lamborghini is the brand with the strongest and most recognisable DNA. It's the proportion and architecture but also every little detail that speaks Lamborghini. And it is its futuristic look with the perception of a spaceship. Our cars seem to be always attractive for the young generation.
Now, read Farouk's earlier interview with Andrew Magg, the CEO of Dunhill.