Following a long tenure at Burberry (10 years to be exact), Andrew Maag took his talents to Dunhill, the quintessentially British luxury goods brand that has been dressing and accessoring the world's most discerning and stylish men for 125 years. Here, he speaks with Buro 24/7 Middle East contributor Farouk Chekoufi about how the brand has remained true to itself in the evry-changing fashion landscape and what we can expect next…
Tell us a little bit about the history of Alfred Dunhill…
Alfred Dunhill comes from a long line of fine leather manufacturing. You know, his grandfather, and his great grandfather were in the leather goods business. Very much like Hermès in Paris. In the 1800s, there were thousands of horses in London and in Paris and both Hermès and Dunhill were the makers of fine leather harnesses for all of the manufacturing needs of the time.
Alfred Dunhill was the third generation. He inherited the business at a time when automobiles were coming into use, and the very wealthy who could buy automobiles were driving them. He saw an opportunity to make the accessories, and things that people needed to go with cars. So he transformed his leather goods business from the horse and carriage trade into an accessories and leather goods business for the automobile business.
He also started making clothes, and he invented, really, the car coat, which was for men and women at the time, because automobiles were driven at 20 miles an hour with no tops on them. So it was a really interesting history. And that's kind of where the beginning of Alfred Dunhill really began. In car coats and outerwear, leather, and accessories, and he loved invention and craftsmanship. So these are kind of the codes of our DNA.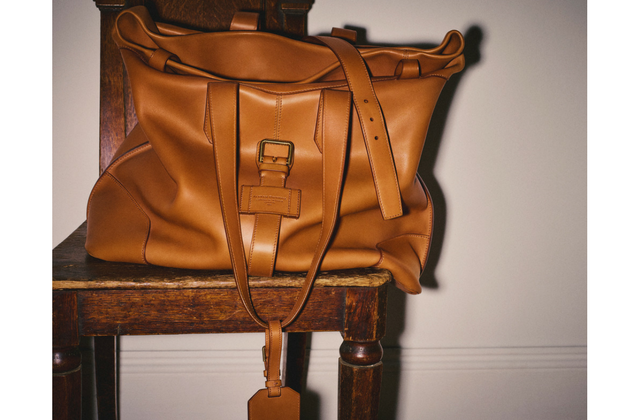 What is the ultimate signature of Alfred Dunhill today?
It's that masculine British relevance. And in that we express it in men's wear, principally in outerwear. And in leather goods, whether they are small, medium or large.
Who is the Alfred Dunhill man today?
You know it's interesting, we have a vast customer base. And on our world store, Dunhill.com, we see thousands and thousands of men shopping every day. We have a very diverse customer from Japan, to New York, to the Middle East, Europe, and beyond. It's really a man who is looking for things I think that have a more masculine, luxury approach. It's very rare, and more and more rare, to find the calibre and quality of things that we make. And I think that's the piece that sets us apart, the calibre and quality of what we're making. Our customer appreciates that.
Plus, about a quarter of our purchases are made by women for women.
What was the response like to the F/W '18 collection you showed in January?
Well you know what was so exciting is how quickly people responded. Galeries Lafayette saw the show, and we opened a shop last week in Galeries Lafayette, that fast. We had Saks Fifth Avenue in New York who love the collection, and now is putting it in ten stores like that. The response around the world has been of people really, really liking what we're doing. I think that's because what we do is very different from our luxury peers. We make real clothes for real men, and they're things people really want.
Some shows are fantasies, and wild things, and interesting expressions of the designer, or the label but for Dunhill it's really anchored in a very masculine, relevant, British aesthetic that is resonating around the world. And it's really fascinating and wonderful to see how excited people are in their response to the show.
Some shows are fantasies, and wild things, and interesting expressions of the designer, or the label but for Dunhill it's really anchored in a very masculine, relevant, British aesthetic that is resonating around the world.
What are the next steps for the brand?
Well we're going to continue to grow. I mean we have so much space to grow in. We're opening a brand new store. We have started construction in the Middle East in Dubai Mall. We have a new store opening in Qatar. We have stores opening around the world. We're renovating our store in Tokyo, in Ginza. We have a new store opening in Beijing next month. And within our partners, as I mentioned, at big department stores, we're expanding. It's really bringing our product to the customer. We're on a growth trajectory that we anticipate to continue for a long, long time.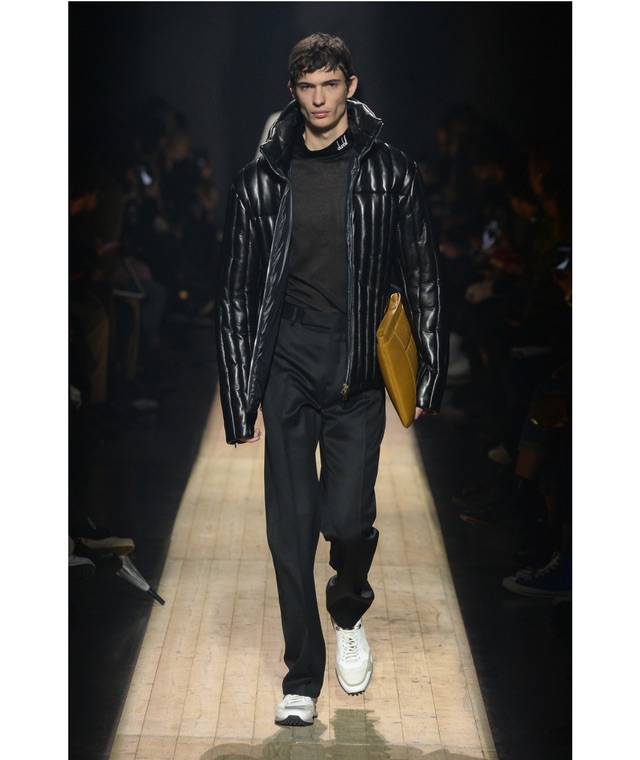 What do you do to stay innovative?
Well we listen to our customers. And we watch, and see what's going on in the world. What's relevant for tomorrow? We listen every week to our customers online, our customers in the Middle East. We have a dial in where we speak and listen to what our stores are saying in China, in Japan, in America. And we're listening to our customers to see what they're responding to. And we're reacting to that.
At the same time we're bringing new ideas that they never knew about to the show that we show twice a year. To our showrooms that we also show twice, it's four times a year. And that newness factor, and that innovation, and that design aesthetic coming across is what's really exciting them.
We listen every week to our customers online, our customers in the Middle East. We're listening to our customers to see what they're responding to, and we're reacting to that.
What do you think about the see now, buy now concept ?
I don't really believe in it. I think it's a bit of a gimmick. To make the quality products we design, manufacture and create in the craftsmen workshops that we work in, takes time. You know, we're not fast fashion, we're not… We are a quality luxury house that makes products that are really sustainable, and have character, and have a richness to them. And that takes time.
In this digital, fast-paced world we live in today, what's the biggest challenge facing the luxury and the fashion industries in your opinion?
I don't see so many challenges as I see opportunities. We have what we call our world store. And we're constantly evolving our digital experience online and we're evolving our experience online, and connecting online and offline. So for us as a digital store, you know, we have the world store that's connected in our physical stores, too. So we are always showing the new and next things online. And customers engage with it seamlessly, whether they're shopping on an iPad, shopping on their phone, their mobile device. And I think it's really a new frontier to access more people. You know, when I look, I look every week at the people who shop online. And they're… And many of them are in places we don't have stores. And it's really an incredible luxury to be able to offer our customers the same product wherever they are, and whenever they are.
And people are busy. So the opportunity to be able to shop while you're in a car going to the airport, or when you're waiting for a flight, and have it picked up wherever you want. I think it's a real future view to how the world will be. Luxury, you should embrace it, and prepare, and get ready for it.
I agree with you but I think it's still essential for a luxury experience to have a physical store…
Totally. And I think to experience a brand, you want to go to a store that's experiential, that's a wonderful place to be. And the way people shop today is they look, and research online. They'll see something in a magazine, they'll see something in an editorial, they hear about something, and they'll look online, and research it, and then go into a store and try it on. And maybe they buy it then, or they think about it. And then a week later they think, I should have bought that. And then they go online and buy it or they go back to the store.
You know, I think stores and digital is a seamless blur of reality that should be an ecosystem that's complete. This ability to shop online, shop in store, it should go back and forth and be seamless for the customer to do what they want, when they want, where they want.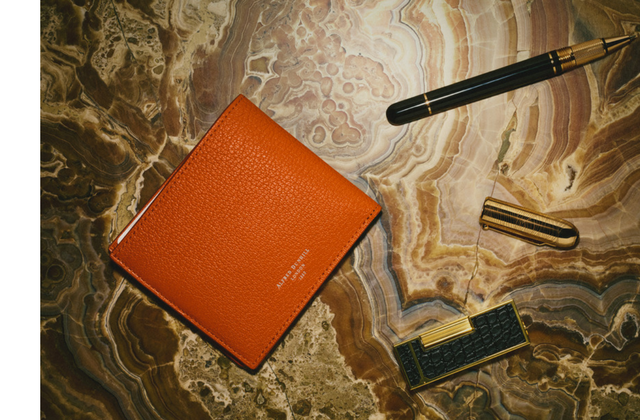 How do you manage the production to make sure that the pieces are stunning, the utmost result of luxury and with such detail? I saw a few bags in the showroom in Paris last January and the quality was at the same level as other very high profile brands…
Yes. Well this is the wonderful thing about being a luxury brand, is that we work with some of the finest craftsmen. From the materials and textiles to the leather goods, we source the best quality products. And then we use them in the best factories.
Whether it's a fine writing instrument, and the pen that we make in Switzerland, or a leather bag that we make in England, or a cashmere coat, or down puffer that we make in Italy, we're using the best qualities, the best factories, the best people.
And the teams are focused knowing that there is no compromise ever. We make the best we can for our customers. And we bring to them the best that can be made, which is what makes us different. You know, you can go down and look at lots of different brands, and at the calibre, the quality, the finishing, the details, the hardware, the trims. They're not equal to what we're doing, which is why we're very proud and happy to be a luxury brand, the true luxury brand that we've been for over 125 years.