Expanding Chopard's repertoire of offering pieces that are embedded with joie de vivre, femininity and elegance, the Happy Hearts collection is the one range that is crafted for the big-hearted woman in your lives.
This season, the Happy Hearts collection — which has become a part of the Maison's icons — includes two new chokers, crafted for the everyday heroine.
Keeping in line with Chopard's commitment to being more naturally ethical, the new pieces come in 18-carat rose and white gold, and highlight a central heart set with diamonds, accompanied with two smaller hearts on each side (pictured above).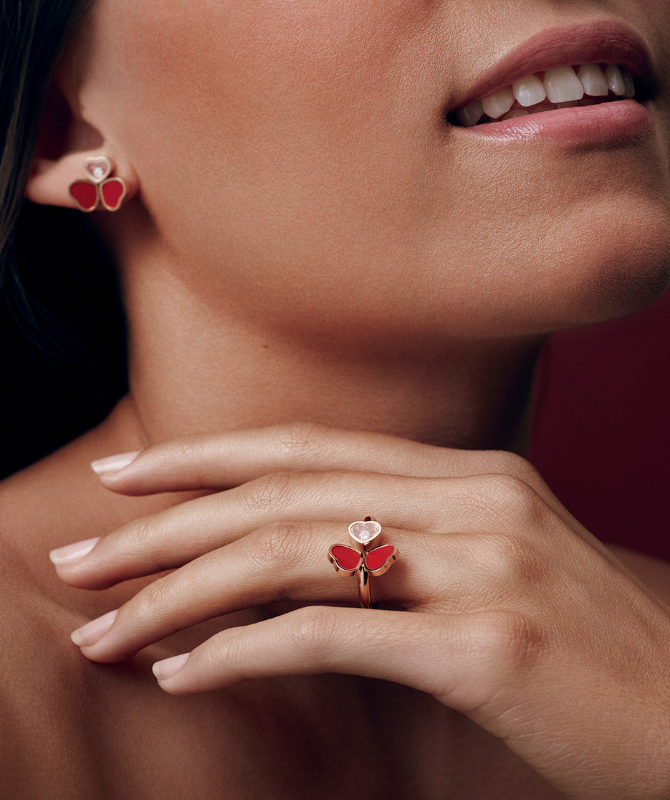 A marriage between excellence and jewellery expertise, the Happy Hearts collection expands to include fluttering butterfly wings to symbolise the strength of a breath of life.

The Happy Hearts Wings collection perfectly echoes the symbols of the Maison with its talisman motifs, dancing diamonds, lightness and refined expression, and this season, is reimagined in a complete set.

Crafted with ethical 18-carat rose hold, the set includes a necklace, a bracelet, a bangle, a pair of earrings, a ring and a sautoir necklace, and comes beautifully with dancing diamonds and red hearts.

Adding a fluttering charm to the simple, yet precious jewel, the Happy Hearts Wings collection pays tribute to the house's mastery with potential for infinite greatness.

Discover Chopard's Happy Hearts and Happy Hearts Wings collection in full here. Chopard's Happy Hearts and Happy Hearts Wings collection is also available at Ahmed Seddiqi & Sons-partnered Chopard boutiques across the Middle East.