With every new release Louis Vuitton puts forward, we know our bank accounts are bound to be touched as we always need to get our hands on the brand's latest pieces. And its new version of the Tambour watch is no exception.
The luxury maison have just presented us with a new iteration of its iconic Tambour timepiece and this time, it draws inspiration from its latest range of coveted leather goods.
Addressing the Louis Vuitton tribe, the New Wave timepiece sees the legendary "V" for Vuitton taking centre stage on the new (and quilted) dial — giving the watch its well-earned character.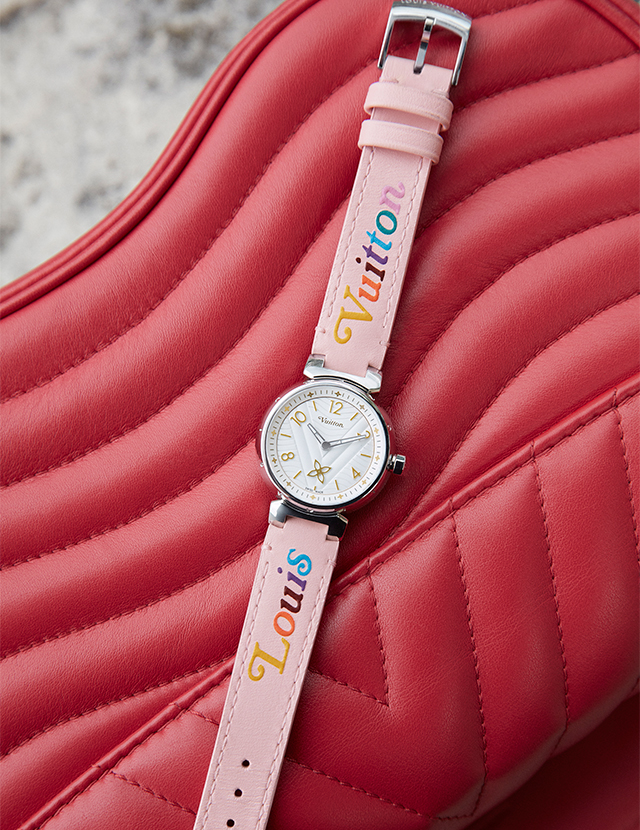 The stunning new timepiece comes crafted with traditional watchmaking and on the dial; the delicate finishing is accompanied by highly polished hour markers (the minute circle is dotted with emblematic monogram flowers, too).
Adding a playful touch to an iconic timepiece, you can customise the piece according to your liking with innovative interchangeable straps (you can choose from a range of 100 shiny, sporty and alligator-finished straps).
Plus, there are three different sizes available to suit your wrists — 28, 34 and 39.5 mm — and the Tambour New Wave will undoubtedly be a statement piece with its quartz movement and diamond horns.
Now, take a look at when Virgil Abloh combined design and street art for Louis Vuitton's Tambour Slim Rainbow watch.