London (and the world) has been in days of mourning since the news of the passing of Her Majesty, Queen Elizabeth II and today, Britain makes its final tribute to its longest-reigning monarch. The funeral service began at Westminster Abbey – the building in which she was married and crowned Queen – and will journey through London and on to Windsor Castle where she will be laid to rest.
The family, including the new King Charles III, reunited for the late monarch's state funeral. We spotted Prince William and Kate Middleton – now known as the Prince and Princess of Wales – alongside their two children, Prince George and Princess Charlotte, as well as other members of the royal family. Prince Harry and Meghan Markle were also in attendance.
The wives, Catherine and Meghan, paid tribute to British designers and to the late Queen with their sartorial outfits too. Both in head-to-toe black, Kate wore a black coatdress from Alexander McQueen whilst Meghan opted for a black cape dress by Stella McCartney.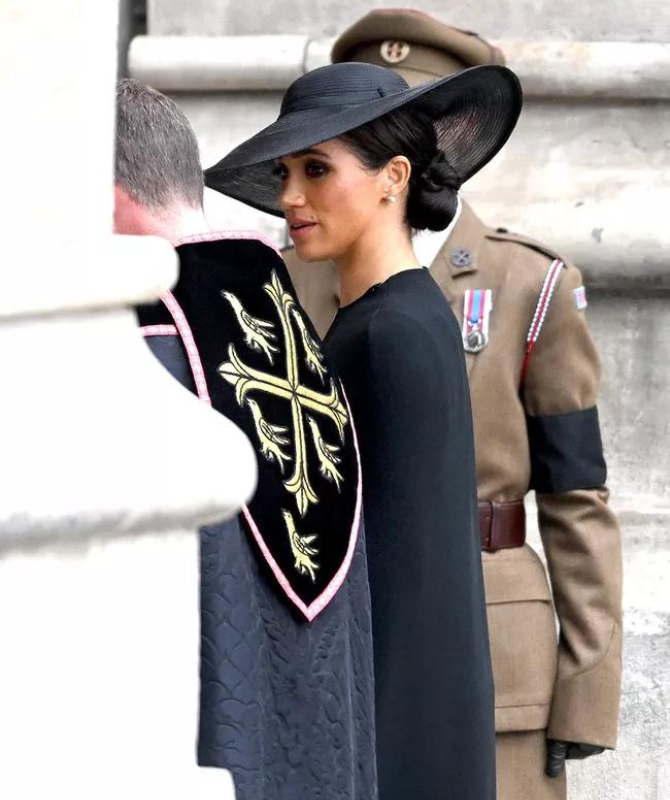 As for the jewellery, they both adhered to a mourning custom first introduced in the age of Queen Victoria as they wore pearl jewellery – thought to represent purity, and also tears.
Middleton wore the Queen's Japanese pearl choker which consisted of four strands joined by a diamond clasp. It was first seen on Her Majesty in the early 1980s and later loaned to Princess Diana in 1982 for a state visit to the Netherlands. Meanwhile, Meghan dressed her all-black ensemble with pearl earrings, which are understood to have been a gift from the queen for their first joint engagement together after Markle married Prince Harry in 2018.
Middleton and Markle will travel to St George's Chapel for a private family service at Windsor Castle, where the Queen will be laid to rest later today.