Amir Meghani is a man who was made to work with watches. Following in both his grandfather and father's footsteps, the young entrepreneur launched his own line of watches, called JBW, in 2008. Now, 10 years later, the brand has grown from a grassroots start-up to a go-to brand for watch enthusiasts looking for pieces with a cool edge.
Buro 24/7 Middle East caught up with Amir to chat about the evolution of the company, how new advances in technology are affecting traditional watchmaking and how Dallas-based rappers inspired the birth of the brand.
Tell us a little about the brand and how it all got started?
My family has been in the watch business forever. I'm third generation. My grandfather got into the business by selling watchbands in India in the '50s as a side thing. He then started bringing Swiss watches into the country illegally, like a little bit of bootlegging. He and his brother moved to Dubai in 1968 back when this was only desert and opened four retail stores. When my dad grew up, my grandfather set him up to be the distributor for Casio in Pakistan. Then when my sisters and I were born, my parents wanted to move to America so my dad shut down and my grandfather also shut down here, and moved to America. He then got into the watch business again. He was buying and selling other brands because that's what he knew how to do, and got into business with his brother and brother-in-law.
I went off to college at NYU and then when I graduated he split off from his brothers and started over again doing the same thing. I came in out of a need to help him get it going and so when I started working with him it was just learning and observing. Then I said, 'You know what? We need to have our own brand.' And my dad said, 'OK, well we don't know how to do that and you don't have a degree in anything related to design.' But I was a hustler, and we used to have all of these local rappers coming into our store, asking for diamond watches and so I thought, I'm going to make a watch. I looked up some of the brands they were wearing, bought one, sent it off, got it made. I started JBW and went around to rap concerts, and any athlete, any celebrity I could get my hands on through any which way possible in Dallas, and I started gifting watches and taking pictures with them. It was a very grassroots way of getting started. Then we began selling on Amazon, which is where we got our first start to actually grow the business.
I started JBW and went around to rap concerts, and any athlete, any celebrity I could get my hands on through any which way possible in Dallas and I started gifting watches and taking pictures with them. It was a very grass roots way of getting started.
So you went from bricks and mortar to e-commerce?
We were always, from that point, an e-commerce business. We focused strictly on the e-commerce platform and started working with a lot of online retailers in the US. I hired my first designer five years ago and that's when we started reimagining what JBW could be for the market and rebranded and repositioned it. Ever since then, we've been growing.
When did you launch in the Middle East?
We started working in this region in 2011-2012. We were working with a fashion website called Soukar, which was acquired by Souk, and we became their top selling watch brand even though we were this small, unknown watch brand from the US. What clicked with the customer was that we were doing oversized diamond watches with very unique designs — kind of like an entry level luxury product. It was different to your other luxury brands like Marc Jacobs or Michael Kors — we had a very different edge. Our first collections, which are still some of our best sellers, are very unique and different and I think that's what set us apart. Now that's what we focus on — we always try to look at how we can be different, how we can give the consumer a talking piece and we put diamonds on all of our watches so they all have a statement making element right away.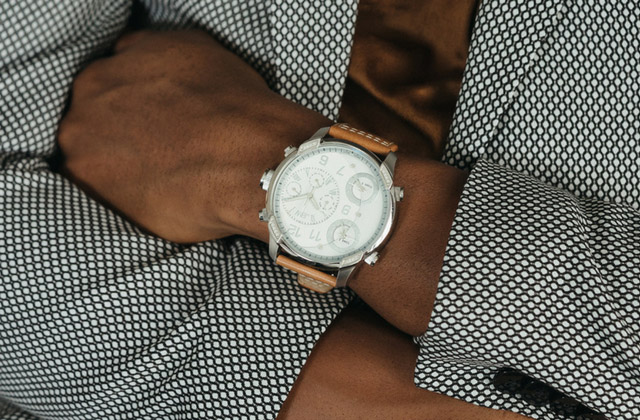 Watches are such a personal thing, with people wanting to touch them and try them on. How have you translated that into a successful purely e-comm format?
Watches are a little bit easier to purchase online over clothing because it's a one-size thing. There's a trust to purchase online now, it's a common thing. Saudi and Dubai are huge for online shopping. When it came to making a decision to going retail or e-commerce, e-commerce was just something we understood really, really well. Anything we do as a brand and as a company, we want to do it right, and getting into the offline market you really have to understand the customer and put a tonne of capital into marketing. With e-commerce, we've built such a good partnership with the retailers that we work with that we spend all of our marketing funds directly online.
And that marketing directly translates into traffic onto the website and then into sales…
Exactly, and there's a lot of data behind it and you can see what's working and what's not. Retail is definitely something we're looking to in the future but how we're going to do that I'm not sure.
What clicked with the Middle Eastern customer was that we were doing oversized diamond watches with very unique designs — kind of like an entry level
luxury product. it was different to other brands.
You're headquartered in Dallas — is the manufacturing done there also?
Our manufacturing is done overseas in Asia. We source components for our watches from all over the world — movements from Switzerland and from Japan, leather from Italian tanneries and everything is then brought together and assembled.
What would you say are the brand's key pieces?
There's a couple. On the men's side, the Jetsetter, which has five time zones and is one of our most expensive pieces. It was a design meant for someone that is very inspired by travel, who loves to travel or who is very much inspired by the whole lifestyle of travel. It's huge, it's got 234 diamonds. The all gold one is hands down the best. We've had that in the collection for almost eight years and it's one of our originals.
We also have the G4 collection. It's our largest with a 52mm case and its also got multiple time zones, all Swiss-made movements and the dial is inspired by the knobs inside the cockpit of a Gulf Stream jet. It's one of our most statement making timepieces.
For women, I'd say the Mondrian collection because it's our most classic piece that any girl can wear. It's got diamonds in the dial, some Swarovski crystals on the bezel and the bracelet is so classic and clean that it's perfect for everyday and easy to wear.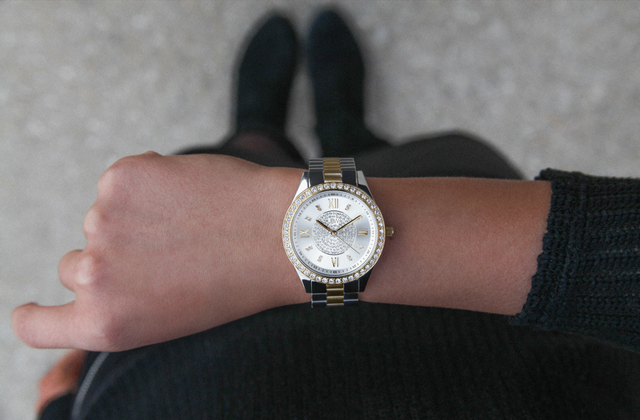 What's the most expensive piece in the collection?
At the end of last year, in the Jetsetter collection, we introduced a five and a half carat version (which retailed for Dhs29,385) and only did a limited edition run of 500. We sold through everything in this region. It was one of our best selling lines.
Was that for your male or female customer?
Male. For our female customers we haven't really gone too heavy into diamonds. Our male customer is more open to seeing something very different whereas our women want to see something like something they've seen before.
What inspires your designs?
I think it's our own travels and anything related to luxury items — cars, jets, boats, urban landscapes of cities, glass buildings, architecture. It's pretty out there. We just know what our customer wants, well at least we think we do! (laughs). I can look at something and know that it will resonate. We like to work off collections that have been successful in the past. Like in the G4 Collection, we have it in leather, Ostrich Italian leather and an Italian crocodile padded leather.
What designs have you got coming out this year?
We've got a Diver's watch coming out in the Fall. This is very different for us, we've never done anything like this before with this rubber strap. It's round but not round all the way, there's waves in the dial inspired by the ocean… When it comes to luxury watches we really like to look at what the cornerstone pieces that a guy wants in his collection are and a Diver's watch is definitely one of them. We'll play with so many different types of elements; this piece is 18 months in the making. We go through multiple prototypes and before we even start sampling we'll draw it, 3D print it for sizing and then we'll produce a sample. We've gone through multiple rubber executions to get this right and so every single thing is designed down the detail from the caseback design to the way the band attaches to the lugs of the case.
How many new styles do you release in a year?
This year we will do six or seven. That's another thing that makes us an interesting watch brand because we like to provide the customer with options. Most people that own a JBW, own more than one. They love the quality, they love the price point, and so immediately they're looking at us for newness and new styles. Our customer is a watch lover for sure. They don't just have one watch, our watches form part of their collections.
When it comes to luxury watches we really like to look at what the cornerstone pieces that a guy wants in his collection are.
How do you feel about smart watches? Has that affected what you're doing?
I think for us, people are really making a fashion statement with our timepieces and so, they may have a smart watch as one of the watches they own which provides them with the utility and technical functionality, but you just can't get a smart watch to look like this. Our customer is not only buying a JBW for its technical abilities but mainly for a look and a statement. We've stayed clear of smart watches because to me, for smart watches you really have to be technologically advanced as a brand and as a company to be that cutting edge to compete so I would rather work on our strengths which are design, diamonds, construction and quality. But never say never!
Where in the region are your pieces currently available to shop?
Currently we're in Dubai and Saudi Arabia but from Dubai we ship to Kuwait, Bahrain, Qatar — all the GCC countries.
Is the goal to show at something at one of the big watch fairs one day or do you have a different goal in mind?
When it comes to Swiss watch fairs you have SIHH and Baselword. When I think of SIHH, I think of haute horology; it is the complication of the movement and they're almost like handmade watches whereas with Baselworld you really have the chance to stand out as a brand around fashion and lifestyle and statement. Baselworld is definitely a goal for our company. I've been going to the fair for the past six, seven years.
What's your customer split male to female in the Middle East?
70 per cent men, 30 per cent women; even our collection is broken down that way. We've been expanding our women's collections but there's more of a men's focus. But I hope to keep growing the women's business because we have some beautiful stuff coming out.
And finally, what does JBW stand for?
This is a hilarious story. When I made that first run of watches and I had the rappers coming in, I was like this looks like a "just bling watch" so I just went ahead and named it that. It was the most straightforward name that I could make it when it came out. And then we rebranded to JBW in 2011 because it felt more refined but when I came out with it, it was so right at that time.
It's cool that you kept that original name but reworked it as it still holds the essence of those early days.
Oh yeah. We're working on our 10 year anniversary campaign and we're trying to come up with a unique way to bring that story to life and make it very relevant to today and the history of where it came from.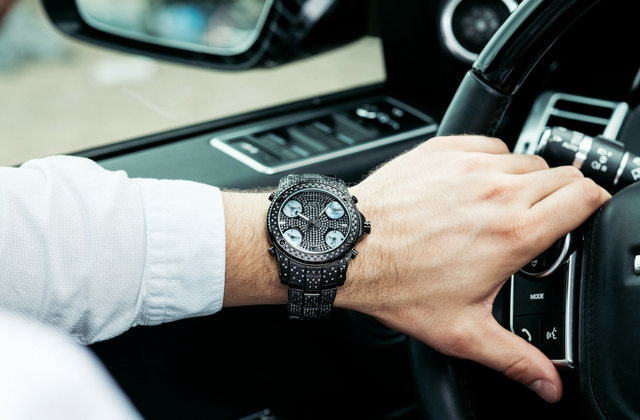 JBW watches are available to shop in the Middle East on JBW.com. Now, see the best street style looks from Men's London Fashion Week so far.