What happens when a talented Parisian artist and one of the world's greatest jewellery maisons come together for a collaboration? Pure insouciant alchemy. Arthur Hoffner and Van Cleef & Arpels have rejoined forces this Ramadan to create another gravity-defying installation that highlights the brand's Perlée collection, along with conveying the message of harmony and unity this Holy Month.

Below, we speak to Hoffner to discuss his collaborative journey with the maison, how the Perlée collection resonates with his designs and his biggest influences…
Tell us about your collaborative journey with Van Cleef & Arpels?

I met the Van Cleef & Arpels team in 2018 in Villa Noailles, a french Art center where I had my first solo exhibition. They noticed a pronounced kinship between my work and the imaginative vision conveyed by the Perlée collection. We started our collaboration by making an installation for Milano Boutique during the Salone del Mobile, which was the first step of a very nice long-term project. Since then, this creative adventure had lead me to conceive many displays and installations with various medium and scales, in different cities over the world!

Through your designs, what ways did you manage to convey Ramadan's message of harmony and unity ?

I especially tried to represent the specific relationship with day and night during Ramadan. The installations and videos represent a symbolic architecture, which is my interpretation of typical middle-eastern cities between daylight and nighttime. The arches are for example very present in the project because they are connected to the sky symbolic.

The city I created becomes a real playground for the bead from the Perlée collection, which rolls, slides, hides and appear into this poetic, colored and joyful architecture. During all the creation process, I wanted to associate two main element: the geometrical aspect of the bead from the Perlée Collection, and the very special moment that is Ramadan which brings concepts such as togetherness, spirituality, tales, gathering at night, etc…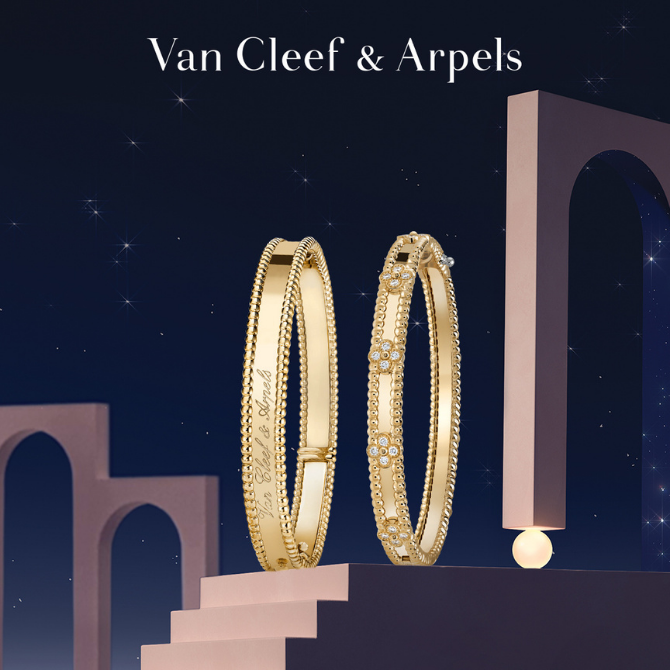 How did you combine your aesthetics with the spirit of Van Cleef & Arpels ?

This work is an attempt to create a poetical journey during a spiritual moment. It is an esthetical interpretation of sacred, using beauties of architecture and movement in order to convey contemplation.
Tell us about your experience while designing the installation?

Working on such a spiritual time as Ramadan was a real challenge for me as it evokes stories and tales that could seemed far away from my point of view. I was very touched by the idea of gathering during the night, of celebrating the end of a physically demanding day by meeting up with close relatives. This special link between night and day makes me have the feeling there is a connection between stars and humanity during the interlude of a sacred time, and this is very inspiring.
How long did it take for you to complete the brainstorming and completion installation?

Approximately six months were needed to create the installation, from creating the concept to making prototypes. Many discussions happened during this time to adjust details and making of the final creation.
What is the hardest part in creating the installation?

The new side of this collaboration is that the project is quite wide in terms of mediums and aspects: its starts from the display windows, to boutiques outdoor installations, including many short videos… This was a real challenge for me because it's a real artistic exercise to spread a creative universe and coherent story through such different aspects. I am very happy about the result, that really evokes what I tried to imagine for this project: the journey of a bead through a poetic architecture.
How does the geometrical aspect of the Perlée collection resonate with your designs?

I think my work is really connected to the Perlée Collection of VCA because it is simple yet narrative. The geometrical elements I use are universal however they create a joyful story about shapes and playful colors in order to create poetry. Harmony and contemplating time is something I find very precious, and I share this feeling with the Maison.
Who are your biggest influences and why?

Influence and inspiration are primordial elements to everyone who creates. Mine is very wide, from sculptors to everyday objects. I pay a lot of attention to materials; therefore, craft and DIY stores are very important to my eyes. If I have to say one designer that counts regarding to my work, I would say that the Italian designer Ettore Sottsass understood that function is not the main ingredient inside a creation process, and that his ideas opened my artistic landscape. But I have of course, many masters such as Brancusi, to the ceramist Ron Nagle.
What's integral for creating a piece for Van Cleef & Arpels?

As a young creator, creating some artwork for a Maison as Van Cleef & Arpels is not an easy thing. You have to imagine something that fits the Maison history and artistic past, but that's what I especially enjoy: being a link in the chain of a century-old story. Van Cleef & Arpels has been very disruptive and imaginative since the beginning, and I try to keep this in mind when I create any installation that happens nowadays. I would say that continuity and disruption are two very different but however complementary notions that matter in any artistic project.
Now, discover Van Cleef & Arpels celebrates the coming of Spring with a new collection.