A passion for timeless sophistication and incredible gemstones is something that Mouawad and Salama Khalfan share. During Abu Dhabi Art, they joined forces to create a unique piece that represents the region and its traditions. Below, we speak exclusively to the renowned jewellery designer to discuss her collaboration with Mouawad, what the palm tree symbolises to her and what she is most proud about being Emirati…
Congratulations on your collaboration with Mouawad! Can you tell us a little bit about how this partnership began?
Mouawad reached out to me at the beginning of the summer to join forces for Abu Dhabi Art 2021. I, on the creative side, and Mouawad on the manufacturing side. It was a match made in heaven.
What are some of the values you, as a designer, share with the Mouawad brand?
We are both first and foremost lovers and appreciators of natural gemstones. We seek beauty in everything we do, and we believe in the power of coming together to create magnificent works of art.
The collaboration design is strongly connected to the Middle East. How so?
The design is inspired by something that is inherent to us and is very important to our tradition and heritage, it was inspired by the palm tree. The palm tree is a tree that is so integral to the way that we connect to the world in this part of the world. We often weave the "saaf" which is the spiky green leaves of the palm tree and the headpiece itself is made of one long piece of "saaf" which is extremely flexible. It has a connection to our Arabic traditional jewellery because it has tassels that fall but these tassels have been modernized in a way to fit the modern woman.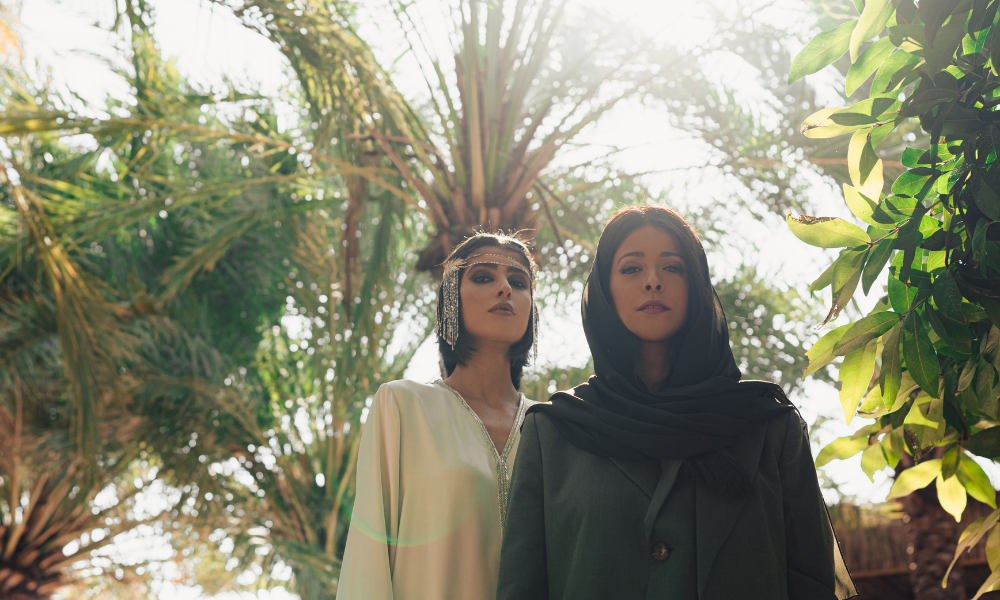 Why did you decide on a headpiece specifically?
Historically, people wore jewellery on their heads to adorn a role or figure they were especially proud of. In my case, I feel that about my connection to this land and it was only natural for it to be a headpiece.
The palm tree is a symbol of prosperity. What does it symbolise to you?
It symbolises abundance in generosity, patience, hospitality, and grace.
What are your thoughts on the growing art scene in the country?
Abu Dhabi and the whole of the UAE successfully put themselves on the global map of being a hub for culture. Museums such as the Louvre and Guggenheim coming into the region is proof that art is at the centre of the country's priorities.
What are you most proud of when it comes to being Emirati?
That I belong to a nation that built itself from ground zero to world class in just half a century.
The Mouawad X Salama Khalfan headpiece will be showcased during Abu Dhabi Art, taking place from November 17 – 21, at Manarat Al Saadiyat.