since taking over the CEO role at Panerai earlier this year, Jean-Marc Pontroué has become the driving force behind the luxury watchmaking business and is transforming Panerai's position in the horology industry.
With a new (and positive) vision set in stone, Jean-Marc sat down exclusively with Buro 24/7 Middle East to give us an inside look into his direction for the brand and to tell us why the affiliation between Italy and Switzerland is a key component for design, more about the brand's the Middle Eastern consumer and an exclusive new reveal…
Since becoming the CEO of Panerai earlier this year, what are some of your visions for the brand?
The vision for the brand is how we can run faster than the others by being more exclusive as a brand; more creative in terms of product and marketing concepts; more daring when it comes to the sea activities we are operating. The brand, as you know, is very much associated with the world of sea and how it can speak to men and ladies – even though we are a very masculine brand – and how it can speak to millennials and more mature people.
Why is it so important for the brand to highlight its Italian roots?
How you make sure that your brand becomes hot or gets even hotter than what we are today is by highlighting the Italian origin of the brand. The beauty that we have at Panerai is that we are the only pure Italian watchmaking brand. We are Swiss-made but with an Italian background and this association is a very particular one where in terms of creativity, we have this credibility by being Italian and want to highlight that.
What were some of the challenges you faced once you joined Panerai?
Well, you have some beliefs in a brand, and you just have to make sure that the 740 people at Panerai, whether you're from Dubai or you're Chinese from Shanghai or an American from New York, are all converging towards the same direction. You fight for the same religion, the same brand, the same principles and the same values. It's how you accelerate the brand on the same foundations, and how you build the brand but with the same platform you have inherited.
How would you describe the Panerai customer?
The Panerai customer is someone who is, of course, sophisticated but the word sophisticated seems very boring, but I really do believe that it is someone who is sophisticated. It is someone who stands out and says that they're ready for something more exclusive and someone who is self-confident to wear something which is more subtle, despite that it's a big watch. It's someone who is confident enough to wear something that stands as an iconic product for only a few people.
Why do you think Panerai resonates so well with the region?
It's iconic and at Panerai, you can recognise a Panerai from far away because it has a certain number of codes which tells you that it is Panerai. On a few brands, they have this recognisable power where you don't need to look at the label and you already know it. So you have this feeling of belonging to a club and you have this characteristic cushion shape, which has existed for more than 20 years, and it's up to us to make it an even bigger icon. It's masculine, casual and smells like Italy, so all of these ingredients speak to the Middle Eastern customership.
it's masculine, casual and smells like Italy, and so all of these ingredients speak to the middle eastern customership.
There are a lot of iconic watches at Panerai…
The beauty of our brand is that we have icons. Main luxury brands try to create these items and we had the chance at Panerai, to already have icons which we just needed to enrich.
Earlier this year at SIHH you introduced the new Quick Release System on the Luminor Due styles for personalisation. What was the reason behind the decision?
Yes! Because, just like how you dress in the morning, you can have different combinations and it's the same with a Panerai. The case is a case but the way you look different is with the strap. You can have a very classic strap because it's a very high-end complication, but you can also have a very fancy strap. It's because we're Italian and we have the credibility to go far in terms of materials, respectively, and colours, style and so on. That's why we have this detachable system where you don't have to screw all of that stuff in the morning and you want something that you can fix quickly.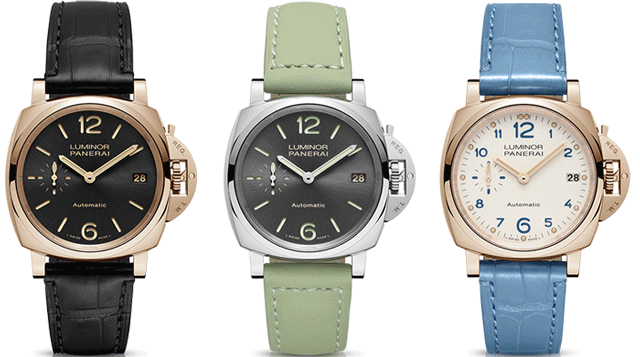 How do you think fashion and luxury watches go hand in hand?
We cannot say that we are not influenced by fashion. Because the smell of today is very much influenced by what's happening in fashion. We are more influenced by architecture. We're also influenced by art, we're influenced by the car industry, we're influenced by accessory companies, shoes and you have a million different influences which have an impact on us. Also, that's not only in products but it's also in experiences. How you approach customers today, compared to the way you were approached by buying a bag 20 years ago, you don't sell a watch today like you were selling a watch 20 years ago. It's our responsibility to make sure, with the arrival of e-commerce, the accessibility of all of the information [is there] all day and all night.
Smart watches have risen in popularity in recent years – do you perceive them as a threat to traditional watchmaking?
I follow very closely what they're doing and I think it would be a sense of no responsibility to say that I didn't care about these watches. At the same time, we're not in the same business and it's not the same customer. You don't wear the same watch during the day when you're doing any sports, and before we didn't have any sports watches that could calculate your heart rate and so on. The spirit of Italy is something that is very close to our heart because this is one of the countries that has creativity at its best.
I believe that Panerai is not a watch. I strongly believe that when you buy a Panerai, you buy a slice of a mechanical timepiece, a slice of Italy, a slice of Switzerland, a slice of creativity and that is all that is encapsulated in this accessory, which happens to be a watch!
Is that why you believe that Panerai is a leading pioneer of innovation?
Yes! I believe that it is our responsibility, also as a different approach, to position Panerai as a brand that stands for style. Not that we are in the fashion business, but Panerai has to offer proud concepts, which you don't find among other brands. It has to smell mechanical, it has to smell like Italy. So the mechanical engineering approach is made in Switzerland but the idea and the concept of the styles come from Italy, and this is the association of the two which makes it something special in our industry, compared to our competitors.
You've slightly touched on this earlier when you mentioned how Panerai can speak to men and ladies. Will we see a full women's collection in the near future?
You know what, perhaps I'm going to disappoint you, but no (laughs).
Why is that?
Why? Because I strongly believe that there are a couple of accessories that are masculine, but women are interested to buy because they are masculine. There was a trend, or there still is a trend, on big watches and this obvious, piece of metal on your wrist. Just like jewellery, men were not wearing jewellery before but now, you see them stacking different straps and I even started my collection. This wasn't existing before and women are wearing a lot of jewellery, and not only one. What big watches do have is the same impression, when you wear a big watch, you're creating a statement of an accessory, and women have stolen masculine attributes and made it their own accessory.
How much of your Middle Eastern customers would you say are women?
In Dubai, it's about 20 per cent.
Oh wow! What else is next for Panerai in the Middle East?
Well, I think that one of our challenges here is to get even more visibility than we have. It's how you can spend 48 hours in Dubai and make sure that when you visit a couple of shopping malls, you'll see Panerai. It's how we make sure that the message we are giving to our customers is understood and captured, whether they are locals or tourists.
During our chat, Jean-Marc also mentioned that the brand has been working on a new BMG-Tech innovation that is basically a metallic glass known for its remarkable resistance to external shocks and corrosion, and shared the below video exclusive with Buro 24/7 Middle East. Take a look…
Now, take a look at why Panerai made it to our top five trends from SIHH list earlier this year.