As the children of Matlala Sebusi school in South Africa's northernmost Polokwane region gather for a reading camp session out in the school grounds, the sun breaks through a limp scattering of clouds, leaking onto the clay-like turf, giving the burnt orange hue an unexpected glisten.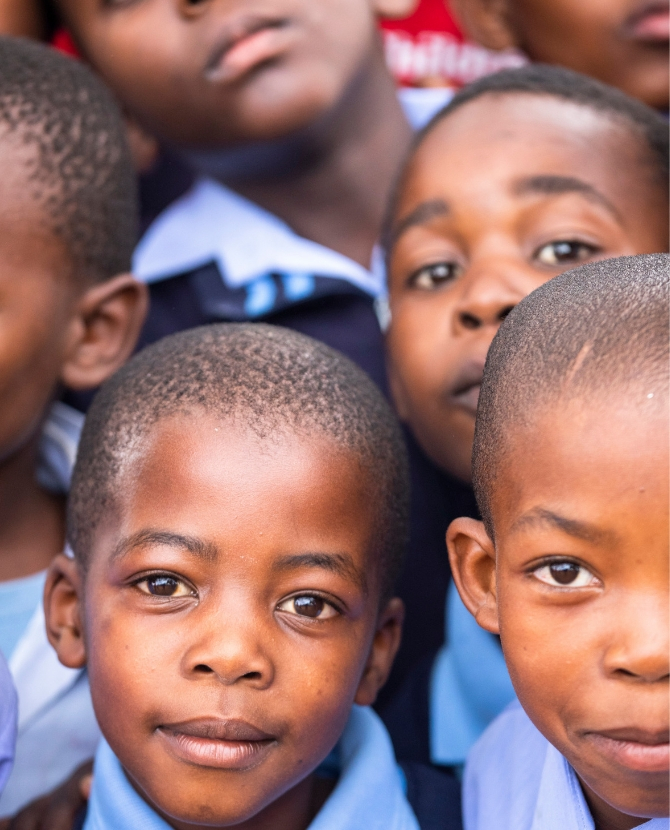 The children are aged 6-8-years-old and they're leading their own activity. Embraced in a tight circle, they're teaching each other about different animals. One pint-sized boy roars into effect like a lion, while his peers guess what animal he has assigned himself. They take it in turns, using their words and body language to convey information and meaning. Once they have exhausted the animal kingdom, they huddle, cross-legged in front of an easel which hugs an oversized picture book. Nare, a star pupil I'm told, whose reading prowess has earned him many accolades, takes his position as leader of the charge. He reads aloud while the rest of the children are locked in wild imagination created by Nare's fluent reading expression. An adult educator stands on the side lines peering in, but quite frankly, she need not interject. The children are autonomous enough, helping and guiding each other with gentility and giggling warmth.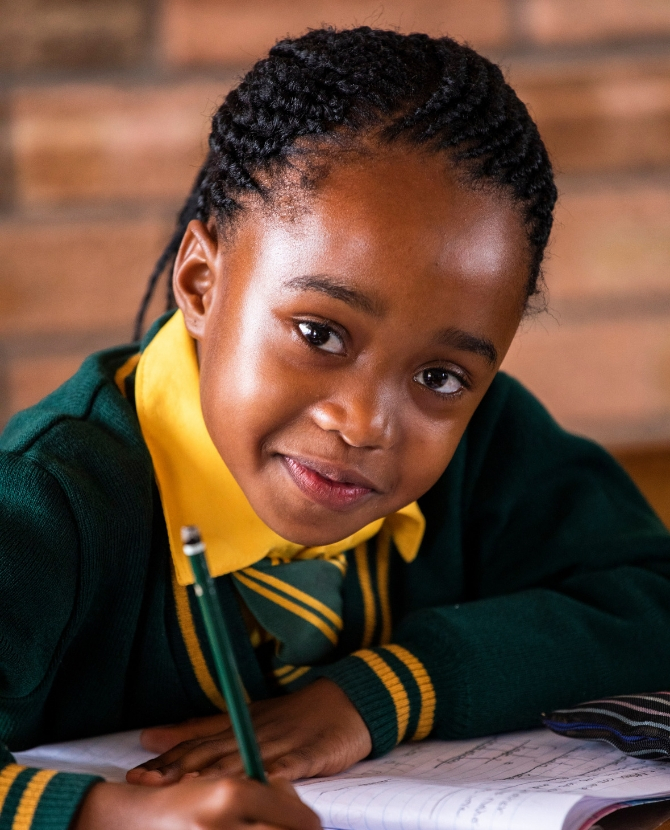 Looking at this set up from the outside in, you would think it unfeasible for these children's future to be anything less than prosperous. Clad in smart uniforms with unmistakeable good manners and respect, the students are in an environment that has allowed them to thrive, thanks in large part to the Thuto Ke Lefa project implemented by Save The Children, the UK-based NGO focused on the betterment of children's welfare around the world. By putting in place an integrated educational programme, the aim is to lay the foundations for enhanced opportunities for vulnerable children who would ordinarily fall through the cracks of South Africa's impoverished system. The programme has been present for two years now and the results couldn't be more pronounced.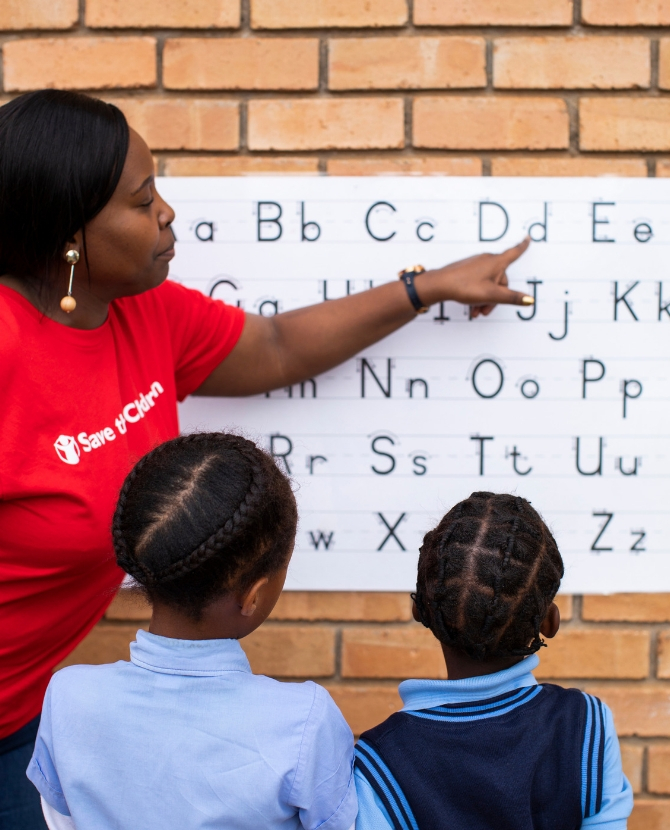 We went on this field trip with Bvlgari, a partner of Save The Children for a crowning 10 years now, to witness the educational programme, Thuto Ke Lefa first-hand, which has been implemented to several schools and to gauge the positive impact it has had. The luxury Italian jewellery brand has been raising funds from the sale of their B.zero1 collection which includes a ring, pendant and bracelet. To date they have raised $80 million for Save The Children and now, to mark the decade-long partnership, they're raising the bar to a $100 million target – which coincides with the stunning new Bvlgari Bvlgari pendant designed especially for Save The Children which features the charity's logo. The partnership has seen over 114 projects implemented across the world, which has reached over 2.1 million beneficiaries of which 1.5 million are children. The good that has come of this cause related marketing is beyond numerical measure.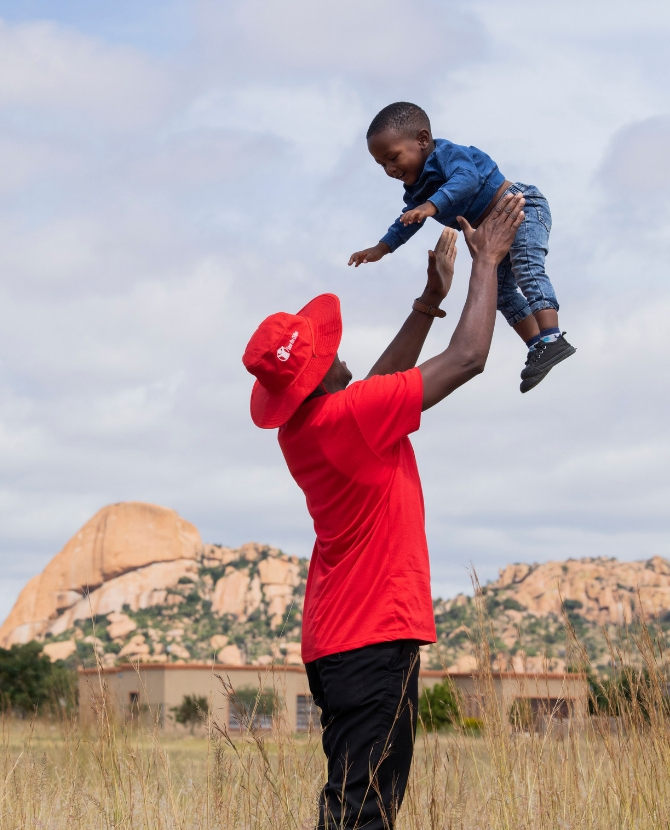 Thuto Ke Lefa is built on strengthening literacy and numeracy ­- the base tools if you will, to equip the children for a fairer future. It must be noted as well, that Thuto Ke Lefa means 'education is wealth' and it's applied to children in early childhood care and development (3-5 years old), the foundation phase of primary education (6-8 years old).
Had these children not been exposed to this educational model, their risk of drop out later on in their academic career would be very high. What Thuto Ke Lefa helps avoid is social cohesion challenges – less exposure to drugs and crime – by forging a path to post-school education at colleges and universities.
During the trip we spoke with Mauro Di Roberto, Bvlgari's Jewellery Business Unit Managing Director about the impact of witnessing the program first-hand and how it has changed his perception on a few things…
How did Bvlgari identity back in 2009 that Save The Children was the right charity to partner up with?
We wanted to focus on anything that helped children. We wanted to invest in their future because children are the future of tomorrow.
Over the last 10 years how has Bvlgari helped to achieve Save The Children's objectives?
Our partnership was strong from the very beginning and it's only gotten stronger because the donations from the products have increased. The bond has become much more natural and of course, with our common values, whatever we do, it's done symbiotically, in the best way. The fact that we have employees from Bvlgari and the media who come on these field visits, it elevates our partnership further. We've done campaigns and we've done sensitivity work, so it's very holistic.
Can you speak to the May 2019 launch of the new Bvlgari Bvlgari Save The Children pendant?
It's our 10th anniversary, so we wanted to continue this strong partnership. We are launching a new pendant. It is not B.zero1 but it is Bvlgari Bvlgari. The design has been iconic since the 1970s. For the decade anniversary we have given it a precious touch with a ruby. The red represents the Save The Children colour and on one side of the pendant is their logo. The preciousness of the pendant allows people to appreciate the product while enhancing and continuing the contribution towards Save The Children. It is simple but has strong and powerful meaning.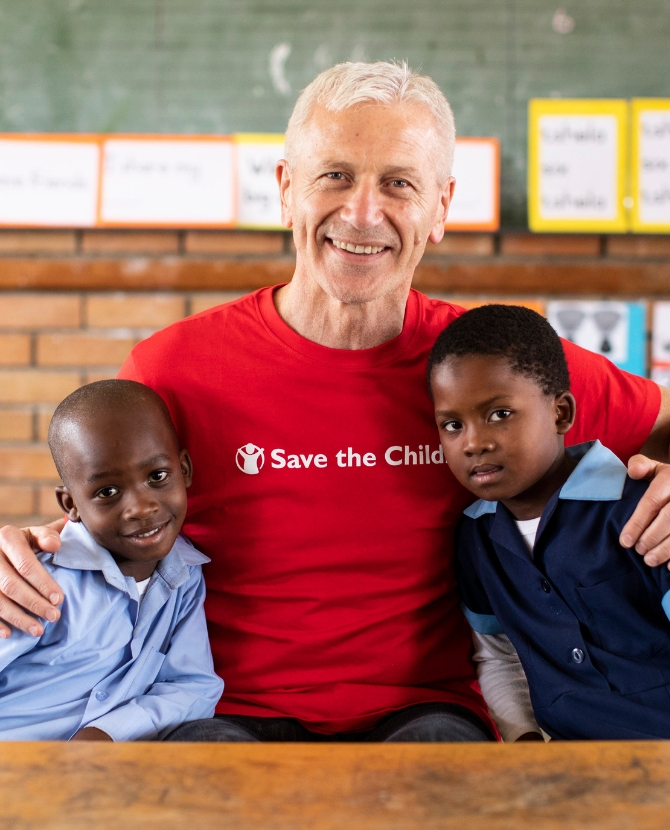 Why was it important for you to be on the ground in South Africa to witness Thuto Ke Lefa as opposed to reading about it in a press release? What has the experience meant to you?
I've come to realise the greatness of the partnership between Bvlgari and Save The Children. It's great to see the pragmatic results of something that has been going on for 10 years. So, it obviously makes me proud. And I am much aware of what is going on. Of course I have been behind commercialising the products that have funded this partnership but to see it in real life, is incredible. It has taught me that education is paramount for children to be able to live their own individuality.
From your experiences here, is there something that you have taken away that you want to add to the future agenda for this partnership?
I would like to see some other countries that we are involved with too because I would like to understand other situations. But I think the energy of these children (especially when they see us strangers) is very open. This openness is something that we don't see that much in the West. It gives you room to work with them and build their confidence even more.
How has this experience impacted you on a personal level?
Aside from the children's energy, I have been taken by the passion of the educators. They do what they do because they believe in it. I think if we put that kind of passion in whatever we do, it will bring us back to life.
Has this experience forced you to re-examine some perceptions and views that you've had on certain issues that maybe now has opened you to a different school of thought and has aligned you with what you have experienced here?
We live in a world and industry that is totally different. This context makes you aware about your reality and theirs. I think if we can give happiness and hope, it's our greatest achievement. So, I think if the luxury industry can be more sensitive and continue with their efforts in cause related initiatives and partnerships, then I think this is the most luxurious activity a company can do.
Now, watch Bella Hadid still be a rock star in Bvlgari's B.zero1 campaign.