As far as inopportune moments to start a business go, the global economic crisis of 2008 probably takes the cake. And that's exactly when Monica Vinader launched her namesake jewellery line. 10 years on, however, the brand has gone from strength to strength, developing into a worldwide business with stores in Hong Kong, the United States, Australia and the Middle East and its designs have been worn by the likes of the Duchess of Cambridge, Jenna Dewan, Bella Hadid and Olivia Palermo.
We exclusively caught up with Monica to discuss the past, present and future…
Congratulations on celebrating 10 years this year!
It's very exciting. It's gone by very quickly! It's a huge milestone and sometimes you forget to reflect on things so we're giving ourselves a chance to [do that].
Looking back 10 years ago to when you started the business, did you imagine it would grow to be what it is today?
I think we always had that ambition, yes. When my sister and I joined forces in 2008, well when I convinced her to join my fledgling business and launch it together, I think we set out with a very clear plan. She has a consulting background so we wrote a 10 year plan with financials and long term goals and I think we always were aiming to really grow. All of the steps we took along the way were going towards that goal. It's still always nice to hit those targets but we very much did have a plan and we're pretty much in line with those plans, if not slightly ahead.
What's the biggest lesson you've learnt in the past 10 years?
There have been lessons all the time. I think that's one of the key things of growing professionally is that you're learning a lot of lessons. I think my biggest lesson and the thing I think that has been most helpful is that I've learnt to focus on what we needed to do and not get distracted, which is very difficult when you're starting a business and a lot of people are giving you advice. You don't know about anything so you do need to do some due diligence and listen to a lot of people but you do need to keep focus on your idea and your intent so I think really honing in on how to keep focus and keep persevering through that focus has been a big lesson. I suppose the other thing that I've learnt, which has been hard, is always keeping our integrity, which I guess is to do with focus, but keeping that original plan and the integrity of our creative process and what we always wanted to do.
So being able to push the boundaries but also keep the brand's DNA at the core of everything you're doing as well…
Yes and I think that you have to adjust to new technologies, changing in markets, changing in shopping patterns, distribution etc but always keeping focus on what you intended to do and learning that through all those changes is an ongoing lesson.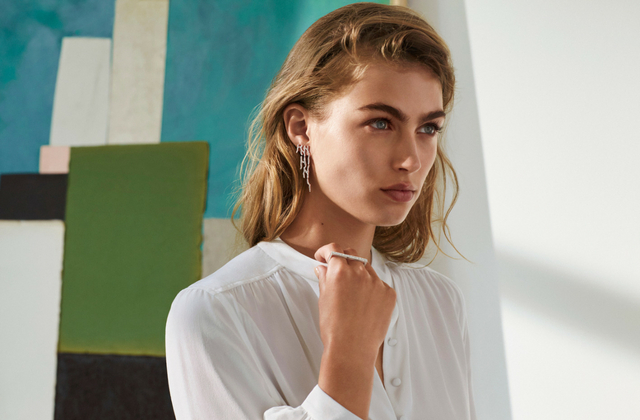 Is there one moment you look back at as being a game changer for the business in the past decade? Or was it a series of moments?
I think the last 10 years have been made up of a lot of good and bad moments but the good moments have really shaped our growth. I think that they've been staggered over the years —definitely when we first launched our friendship bracelet, that was a really big milestone for us and then when we opened our first store in Mayfair in London in 2010 and in 2014 our first international store in Hong Kong, those milestones have been quite important. And then we've had key things like seeing the Duchess of Cambridge wearing our jewellery, opening our boutique in Dubai in 2016, the first boutique in New York in 2018; there's been really great milestones for us. Launching diamonds, which for us was a really big thing in 2010 when we started with gemstones and friendship bracelets. We started adding diamonds as we grew and we had more funding to support it. I don't really believe in one single thing that changes your business, it's about doing a lot of things all the time and reaching everyday milestones.
Speaking of a game changer, you were really a pioneer when it came to women's self-purchasing of jewellery by making fine jewellery relevant for everyday — how have you seen women's approach to jewellery change over the past 10 years?
When I proposed in 2008 to my sister that I wanted to create a brand that sort of bridged the gap between fine and fashion — we had our purpose, our budgets, but really for me the customer that we were thinking of was what I felt was this emerging self-purchasing woman who really wanted to buy jewellery for herself. I felt like I really represented that woman who had a very strong aesthetic and knew exactly what she wanted and wanted to buy jewellery for herself to wear every day. And I felt there was that burgeoning customer and I definitely think that has developed into a huge thing in the market and I think the self-purchasing jewellery customer is huge, it's now the norm. It wasn't so much so 10-15 years ago so I think for us it's been amazing to see that develop because it has really grown at the same time as our brand. The synergy has been incredible. We've been able to continue to grow because that customer has gone on that journey with us — then to add to that, the channels in which she's now purchasing. When I first started, people weren't really buying a lot of jewellery online, now it goes without saying that women are buying incredibly expensive jewellery online as well as everyday jewellery so for us, the changing patterns of how women shop for themselves in the jewellery group has really grown in sync with how we saw jewellery should be worn.
I think there's an element of power that's been given back to women in a sense for them to be able to buy their own jewellery. They don't have to wait for a man to buy it, there doesn't need to be an anniversary or a birthday, it's something you can actively go out and purchase for yourself to feel good or to celebrate a milestone in your own life…
I think it is a pattern that you can self-purchase jewellery but I think the other pattern that has emerged is that jewellery has been demystified in as much as you can wear amazing jewellery every day. People used to wear certain jewellery for the day and certain jewellery for the night or for special occasions, but the lines have now blurred. Now it's not only commonplace for women to self-purchase but also to wear the same jewellery from day to night. There's less of an occasion — we're wearing the same jewellery all day. I find myself going to very smart events sometimes not even changing my jewellery from the day and it still looks amazing. We still want to look good, but that slightly more informal way of wearing jewellery is coupled with the self-purchasing woman.
jewellery has been demystified in as much as you can wear amazing jewellery every day. People used to wear certain jewellery for the day and certain jewellery for the night or for special occasions, but the lines have now blurred.
I think that's part of the reason that your brand has resonated so well here in the Middle East where women will happily wear diamonds from breakfast until dessert.
I know, I agree. I think for me, just because it's everyday jewellery doesn't mean it's not special or it's not amazing. The whole point for us was to make the everyday incredible and amazing and that the pieces were accessible for every occasion and you can really wear them all the time. I think our aesthetic and our whole elevated look and feel and the quality of our materials and our packaging, our store atmosphere, I think that elevation shows that just because you wear these pieces every single day doesn't mean they need to be any less special.
You've teamed up with Women For Women International as part of your celebrations, tell me a little how this came about. You've teamed up with them before…
The lady who runs the UK branch [of Women for Women International] is called Britta Fernandez and she is this formidable woman who I have found very inspiring. In 2015 I actually did a little bracelet to raise funds for them and to support a campaign that they called She Inspires Me, which did really well. I've supported them for a number of years because, first of all, Britta is a phenomenal woman and I think they do incredible work. This year to celebrate 10 years, I felt that a lot of our business has been really supported by incredible women who have bought our jewellery, worn our jewellery and been loyal to us and I felt that it was really important that for us, 10 years on, to give back to some women who have maybe had less opportunities and who really needed our support. Through Britta I was able to create this new bracelet and we're trying to not just raise funds, but also awareness for the work that they do
We've actually launched three bracelets — one is completely covered in diamonds, the others are engraveable and the idea with the bracelet was that you could engrave quite a lot on it to get women inspired to engrave maybe a longer sentence that really inspires them or calligraphy, drawings… We wanted women to wear the bracelet as a sign of strength and empowerment.
This year to celebrate 10 years, I felt that a lot of our business has been really supported by incredible women who have bought our jewellery, worn our jewellery and been loyal to us and I felt that it was really important that for us, 10 years on, to give back to some women who have maybe had less opportunities and who really needed our support.
Your friendship bracelets have long celebrated unity and friendship…
I think for us, friendship bracelets have always been a key part of our brand, really wrist wear in general has been really strong for us as a category. Our Middle Eastern customer was the early adopter of our friendship bracelets and we now have so many designs. The idea with these bracelets was that they're really elevated enough that you can wear them everyday and still look smart, they're great for gifting, but also they're wonderful for styling and layering with each other. We find our customer will buy a bracelet and then another one and keep on layering it — and they might have their kids names engraved on it, or a memory, and they sort of build up this layer of memories through the bracelets which is rather wonderful.
It's a big year — you've got this partnership, you've just opened the store in the Dubai Mall, how else are you planning on celebrating?
We're doing a few little events in our stores to celebrate the anniversary but I think the biggest celebration, aside from this bracelet, has been a digital campaign, which we've just launched. We reverted back to our customers and we auditioned them over Instagram and Facebook and we had an overwhelming response — we had thousands of people apply and it was amazing. They applied with videos of themselves and told us about the brand and why they like it and it was completely overwhelming to hear from our customers in such an unscripted and honest way. It was very moving. We often do surveys but we never really hear and watch them talk to us and it was super moving. Out of all of those people we've cast six, which was really hard, who are different ages and from different places, and we've shot a campaign and they basically talk about our brand in their own words. They're totally unscripted, they dressed themselves, and they talk about what they like about us, about jewellery, about themselves, their lives. It's so nice.
We felt like we really wanted to celebrate with our customers and look at some of the women who have supported us and really involve them in this celebration.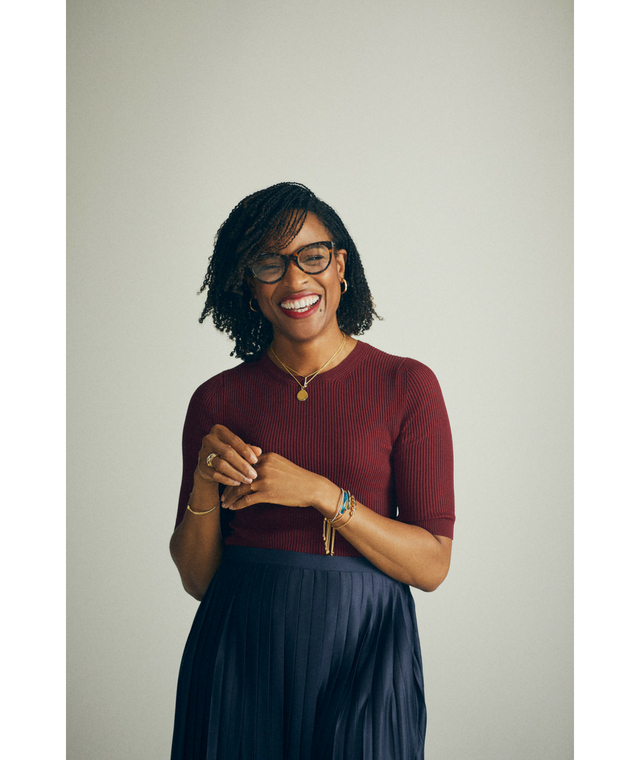 Was there something that you learnt about your customers through that process that you maybe didn't before?
We're quite big on our data and on our customers, so we know more or less who our customer is, but I suppose it was having so many of them all talking about the brand from so many parts of the world, the variety of women and their professions, and how amazing, strong and confident they all were. It was amazing to get to see them and know them all. It was more the emotional side of it for me. My Art Director who was watching all the videos, she came into me one day and said she didn't sleep one night because she couldn't stop watching. It's been a reinforcement of how strong a connection between our jewellery and our customer there is — we knew it was there but to see it in action through so many people in one condensed bulk of movie after movie wasn't just a revelation because we sort of all knew it but it's been a real reinforcement and a real boost to us for how much it means to people to wear our pieces.
What else can we expect for this year?
We have so many fantastic products dropping this year. We have this bracelet in October which is all about personalisation, it's a charm bracelet that has openable links that you can slot your charms into and that to me, that sort of idea of making things your own with Monica Vinader is really what personalises the brand and that's what means so much to our customers. That's why for us anything that is personalisable is so important because we can see that it resonates with our customers because they find that their involvement in the process from styling it to wearing it is so key and that's what we want to continue to offer in the next 10 years. Personalisation is really a big focus for us — next year we're adding personalised necklaces and earrings, too.
And it makes gifting that much more special too, when you can add that personal touch to it…
Absolutely. When we were watching the videos so many of our younger customers had been introduced to the brand 10 years ago because they'd been gifted something and they say things like, 'Oh I got the friendship bracelet 10 years and now I always buy your jewellery' so they've become loyal to the brand through a gift. It's not just the gift of jewellery but the gift of discovering what they can then do with the brand and it's really amazing.
Monica Vinader jewellery is available at Boutique1.com, as well as at the brand's standalone stores in Mall of the Emirates, City Centre Mirdif and The Dubai Mall's Fashion Avenue extension.
Now, discover the work of Saudi Arabian designer Nadine Attar.