When you have Beyoncé fronting your creations, you know you've hit the jackpot. Queen B has cemented her style as iconic and known for her daring style that usually puts emerging or regionally-known designers in the spotlight, everyone (and we mean everyone) wants to dress (or design for) her. Including Valerie Messika.
A woman that was born into diamonds, Messika's story goes beyond her passion and her portfolio of diamond designs are the pinnacle of style. And for her, designing for the global superstar was a dream. "I dreamed of designing for Beyoncé, a piece that would embody her style, while remaining faithful to the DNA of our house," explains Valerie. "B is a queen, and the idea was to imagine an anarchic adornment with all these barrettes which intertwine with a sequence of baguette and round diamonds to create rhythm. But this chaos ends up finding a certain order and highlights the pear diamonds".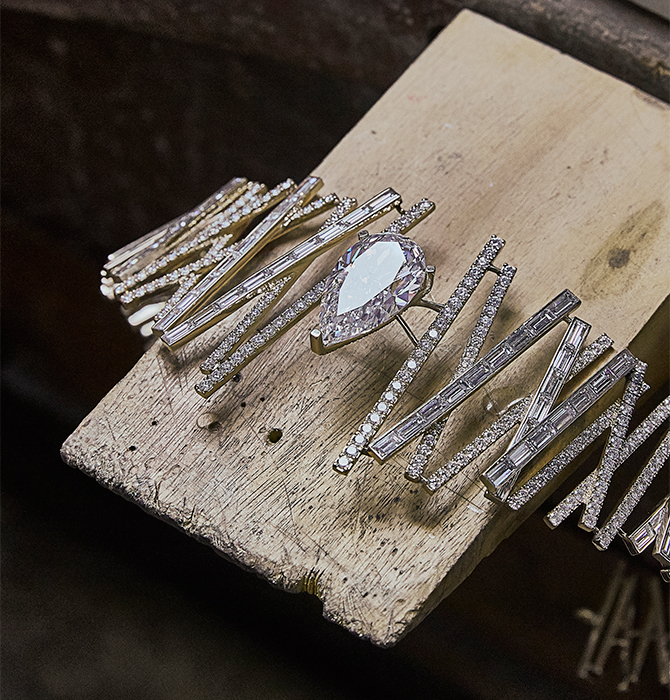 The custom necklace was first spotted on Beyoncé as she attended the Super Bowl LIV and whilst it wasn't just about sports (the Halftime Show's Jennifer Lopez and Shakira proved otherwise), it was the bling around Queen B that caught our eye.
Designing to truly embody Beyoncé and Messika's rich DNA, the choker design was inspired by the equalizers, which oscillate on the monitors of the recording studios. With a 17-carat pear diamond placed right in the centre, Valerie then imagined a pattern that evoked rhythm that was made with baguette diamonds and round diamonds.
S-T-U-N-N-I-N-G is what it is.
Now, take a look at Chanel's new high jewellery collection entirely dedicated to tweed.