SCHIAPARELLI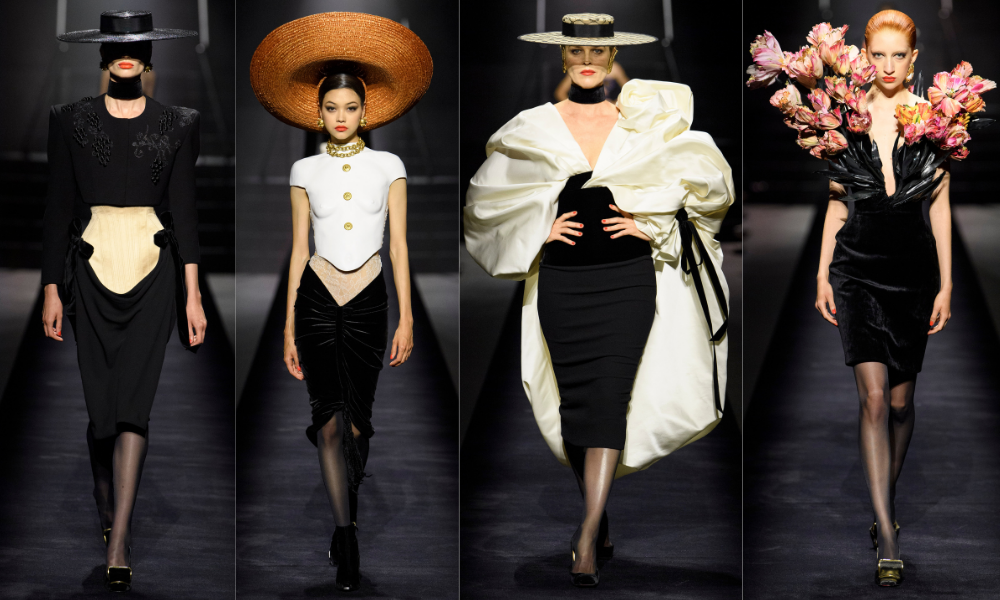 The Schiaparelli Fall/Winter '23 Haute Couture show opened Paris Fashion Week and it was a collision of mastery and supreme glamour. Daniel Roseberry presented his latest creations in front of a full FROW of A-listers including Emma Watson, Rita Ora, Natasha Lyonne, Karlie Kloss, Olivier Rousteing and Farida Khelfa, and whilst there was plenty of star power at the show, the real spotlight fell on what was presented on the runway.
The Haute Couture collection, entitled Born Again, was a tribute to the pure joy of fashion, one that came with creative innocence and optimism. From start to finish, the extravagant spectacle was a visual journey through the maison's archives – with Roseberry's modern twist – featuring dresses that were crafted with ballooning ruffles, flowers and sculptural masterpieces. As for the materials, it was a mix of velvets, silks, feathers, corsetry, heavy gold adornment and intricate embellishments.
IRIS VAN HERPERN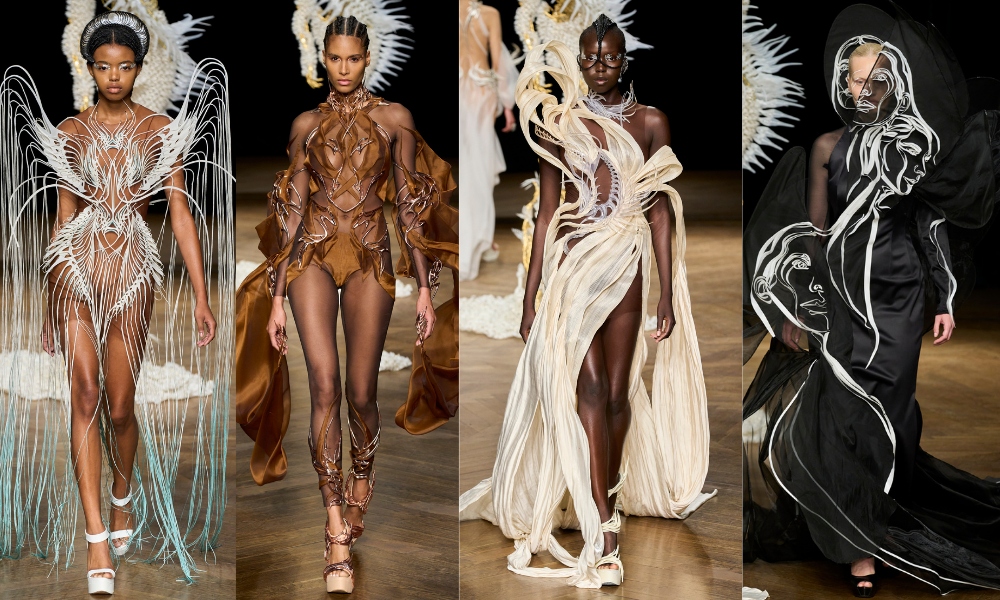 Welcome to the world of meta morphism – one where Iris van Herpern leads us all into the metaverse with an expressive, futuristic haute couture collection. Also known as the silent hero of Haute Couture, the designer celebrated her 15th-anniversary collection and explored multiple identities that can exist across the physical and digital realms. For example, she utilised hi-tech biodegradable materials that were very future-oriented (think materials made from algae and leftover cocoa bean shells) and infused fluidity, embroidered sensations and truly unique avant-garde fashion within the collection.
GIORGIO ARMANI PRIVÉ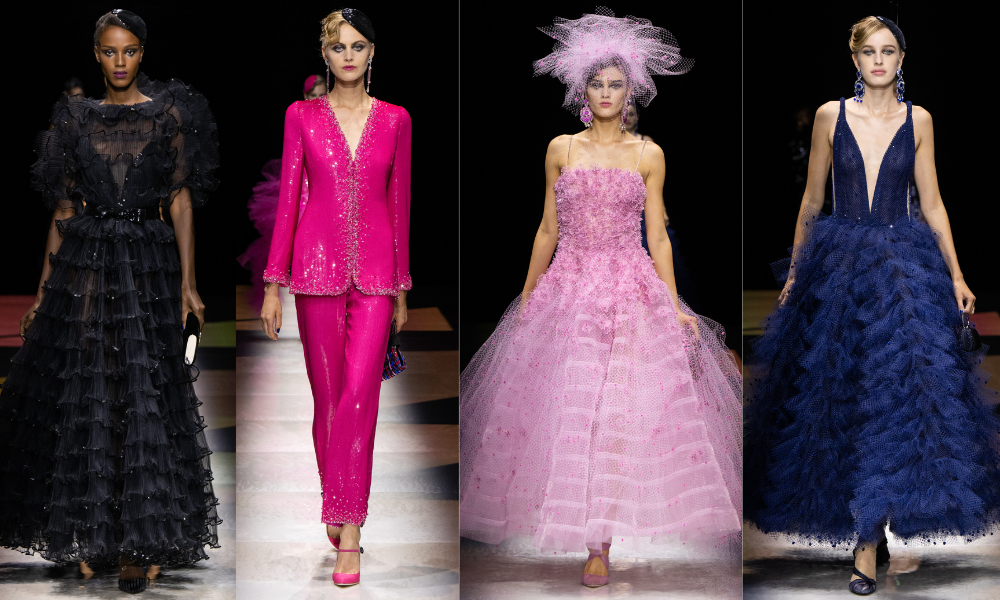 Considered one of the most anticipated shows on the Haute Couture calendar, Giorgio Armani dazzled the runway (once again) with a polished collection that featured rhinestones, sequins, glitter and exceptional tailoring. A selection of breathtaking glamorous dresses unfolded on the runway in all shapes and forms – think silky or velvety, slender or voluminous, strapless or covered in sequins – and it definitely sparkled, much brighter than the cameras captured. From romantic dresses to tailored black velvet jackets and skirt suits, the collection was eternally cool, crips and collectively couture.
CHRISTIAN DIOR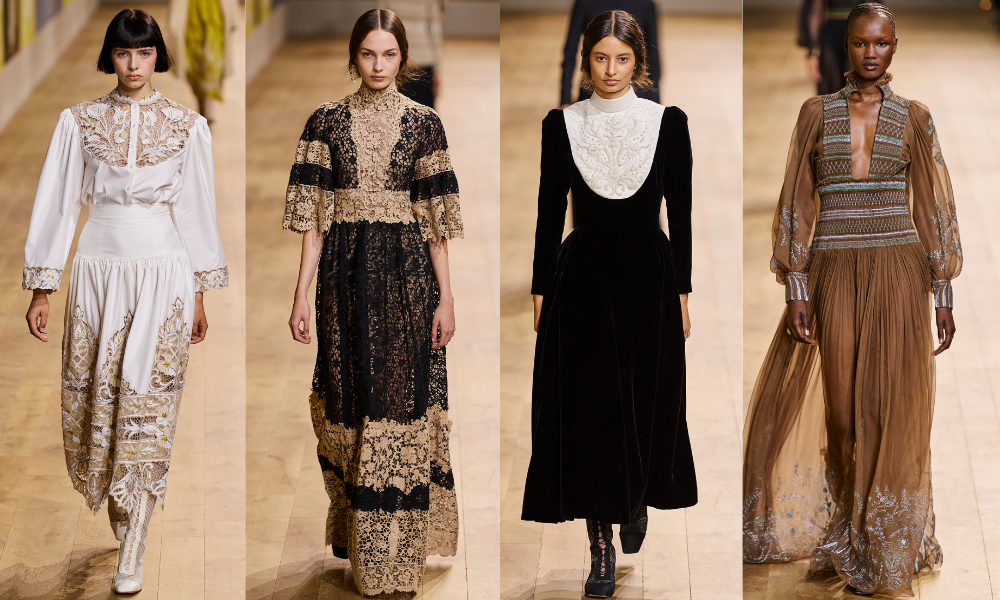 With every Dior collection Maria Grazia Chiuri puts forth, there's always a subtle message – one that sheds the light on arts and crafts. Paying tribute to folklore and highlighting the connection between cultures, Dior's haute couture collection dreamed up a line of models that embodied different realms of imagination. The starting point? The tree of life. A symbol that connects all forms of creation, the collection was made up of long, loose regal gowns, jackets embroidered in a series of materials, and bishop sleeves featuring roots and branches, complete with intricate floral motifs, a patchwork of lace and guipure braids adorned dresses. Models fronted a runway that was reinterpreted by Ukrainian artist Olesia Trofymenko, who crafted the set design for the show. It's the new prism of couture.
CHANEL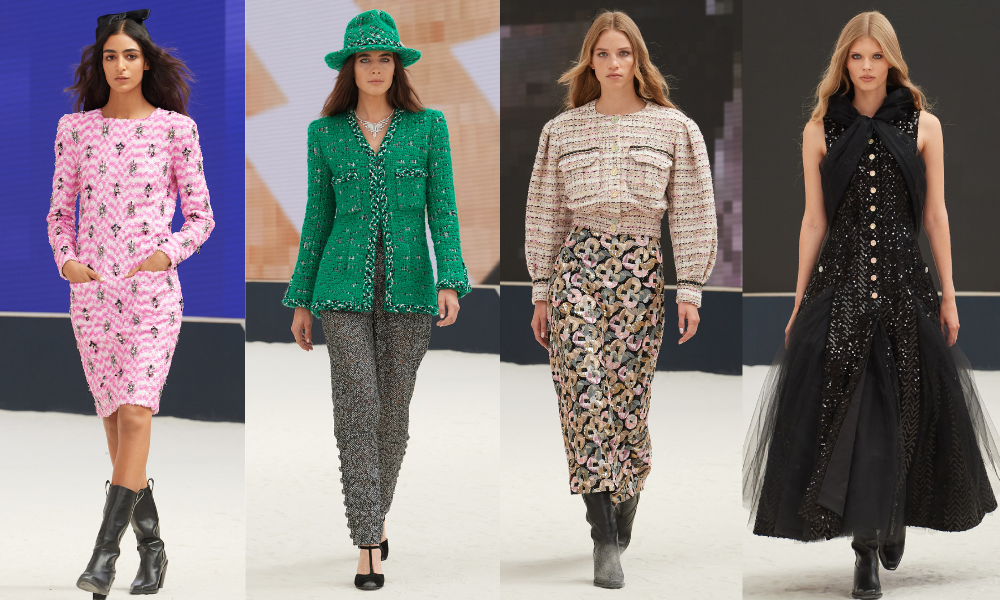 Welcome to Chanel's equestrian playground! For Paris Haute Couture Fashion Week, Chanel paid homage to the equestrian centre (where the show took place) sending down a line-up of models in ultra-feminine attire with a touch of western modernism.
"In this new collection, there are suits, long dresses like Mademoiselle Chanel imagined them in the 1930s: fitted to the body even though they have strong shoulders here, and pleated dresses like the wedding dress for instance," says Virginie Viard. "And lace too, inlaid, reworked, not embroidered, but repainted. The palette consists of bright green, khaki, beige, pink, lots of black and silver."
On the runway, a bold kelly green jacket and skirt set the casual tone for what followed. Feminine silhouettes, suits, long dresses, co-ord sets, metallic coats and fantasy tweeds were complimented with wide-brim hats and chunky cowboy boots – each expressed in a graphic allure in a bright colour palette of bright green, khaki, beige, pink, black and silver. The big surprise? Pharrell Williams played the drums on screen to an exclusive track for the Maison.
ALSO READ: THE HOTTEST FASHION COLLABORATIONS OF THE MONTH (SO FAR).