And so, it's arrived, the final pitstop on the Fashion Month itinerary. Following on from London, New York and Milan, it is now time to turn our attention to the AW20 runway offerings in the City of Lights. From haute glamour and 70s tailoring to testing the limits of latex, here's the key takeaways from the shows, so far.
LANVIN'S FEMME FATALES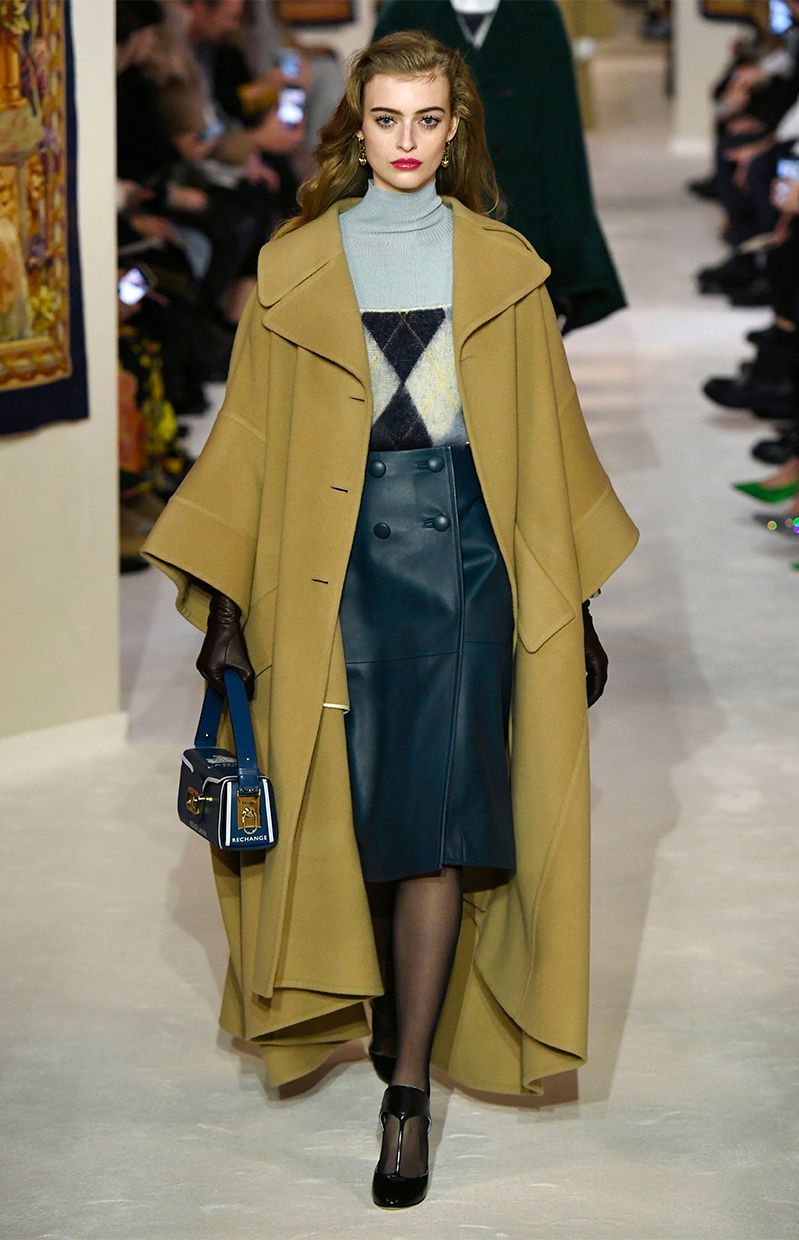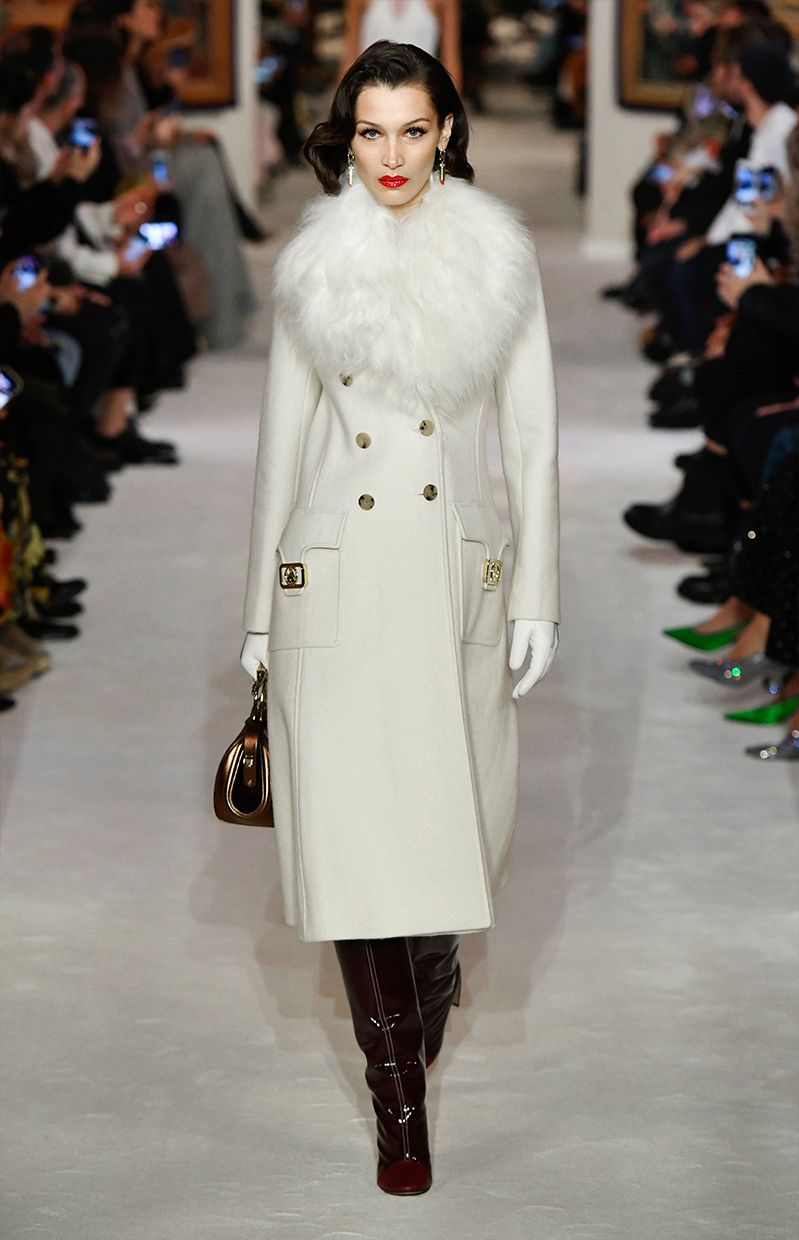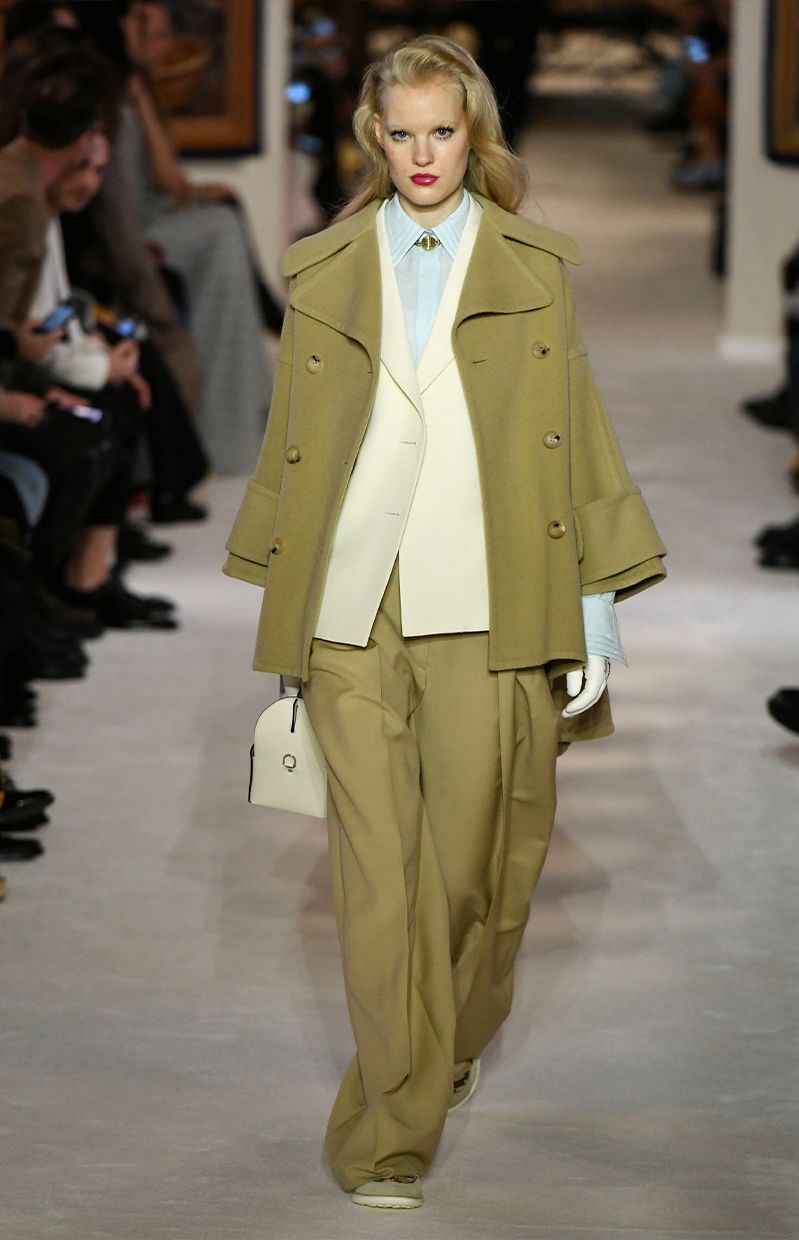 What maketh French girl glamour? You just need to take one look (56, actually) at Lanvin's autumn/winter 2020 collection. Deep red lipstick? Parisian AF tailoring? Leather knee high boots (oh, and red leather gloves)? We'll take it all, thanks.
DIOR'S SEVENTIES SPECTRUM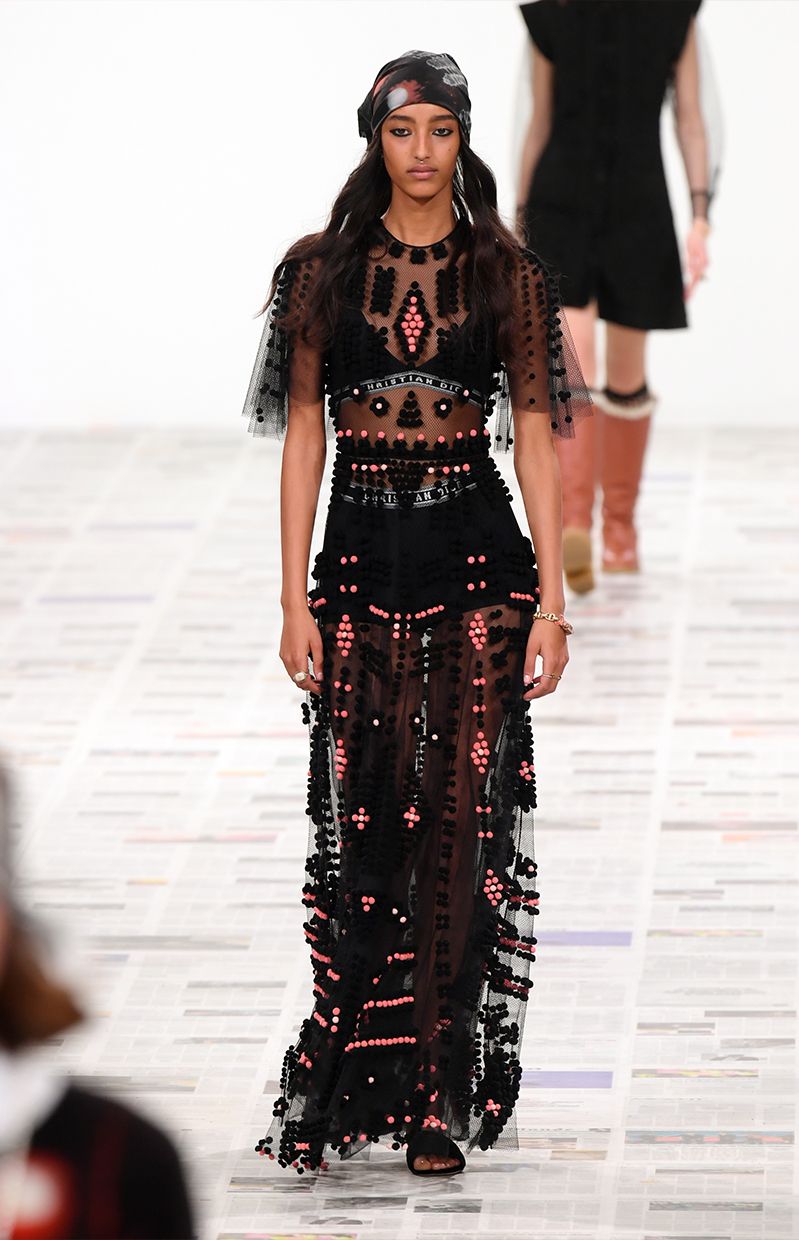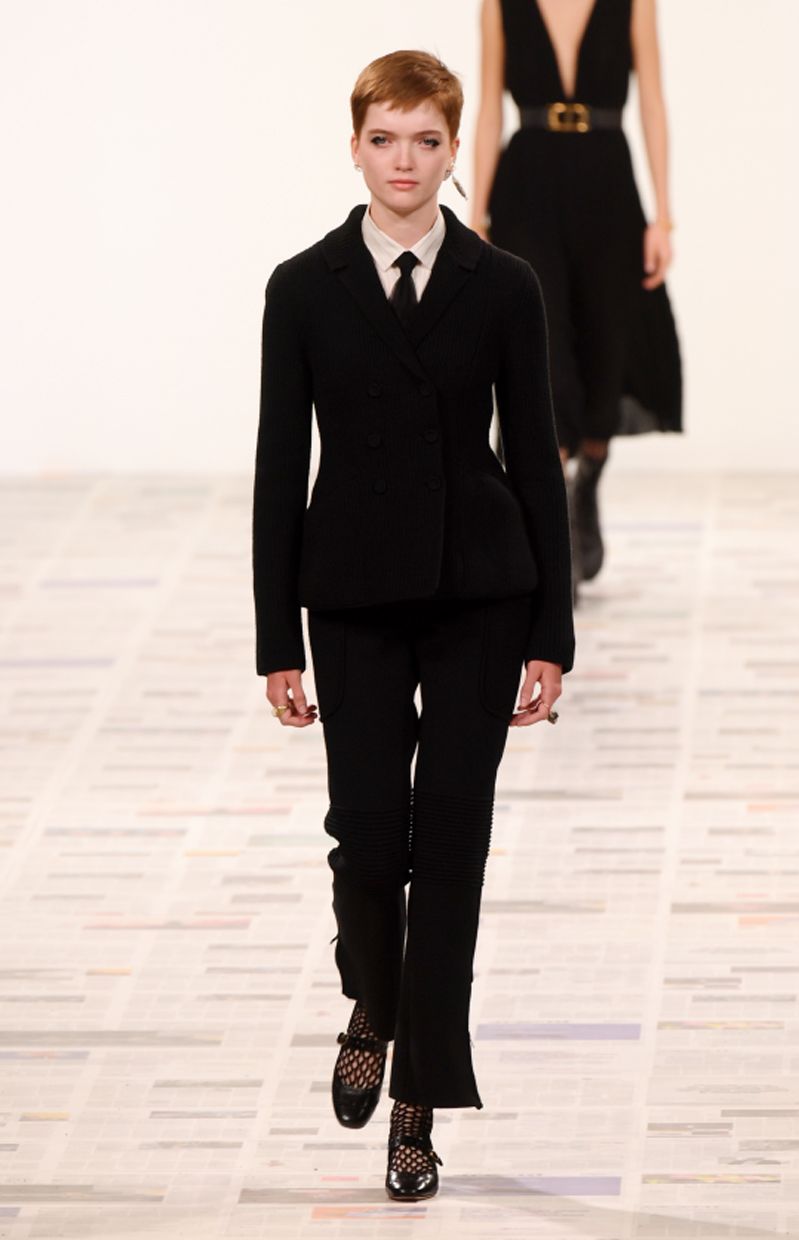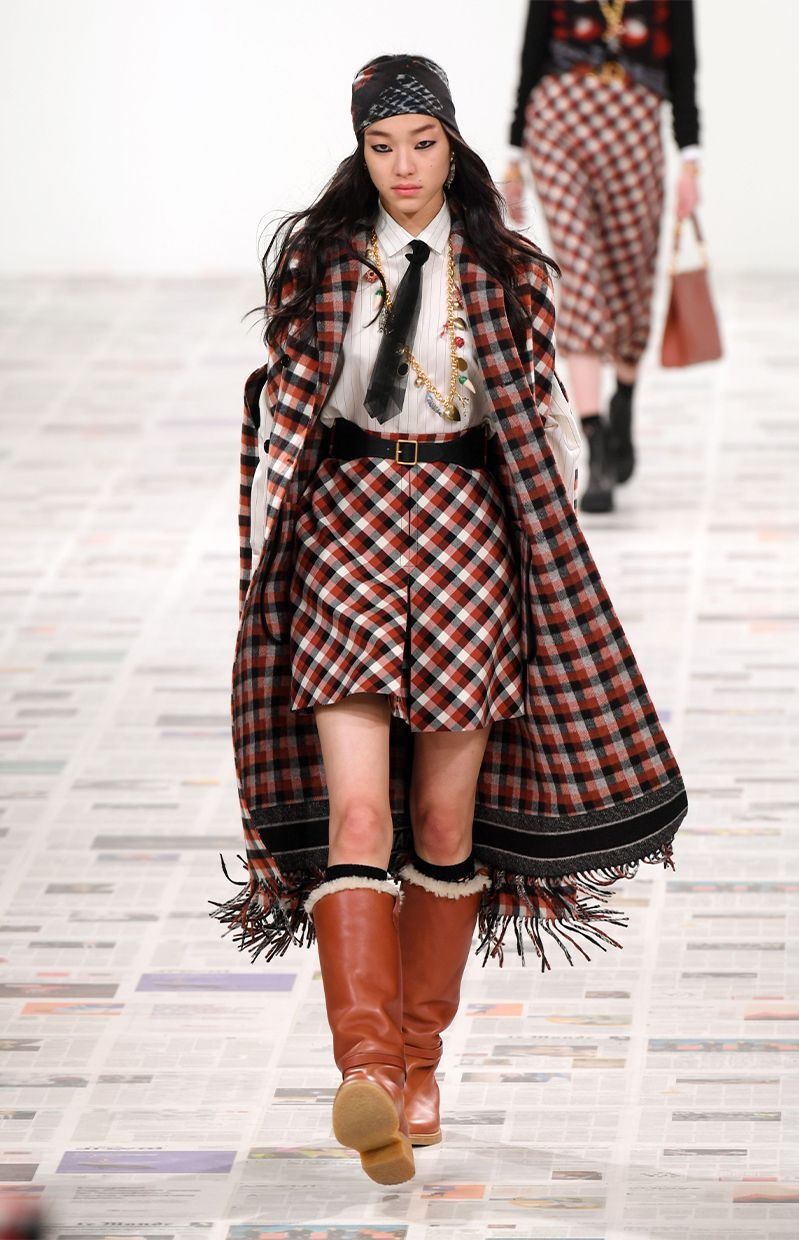 Making a feminist statement has always been at the core of Maria Grazia Chiuri's shows at Dior. This season – just a day after Harvey Weinstein's historic guilty verdict – Dior's set was filled with conceptual artist Claire Fontaine's light installations, with words and phrases from 'Consent', 'Patriarchy = Climate Emergency', and 'We Are All Clitoridian Women', hanging over audiences' heads like traffic lights. The 70s-infused collection featured a mix of business-like tailoring (ties are back FYI), paired with more bohemian looks – think head scarfs, fringing, earthy hues and double denim.
SAINT LAURENT'S SEX APPEAL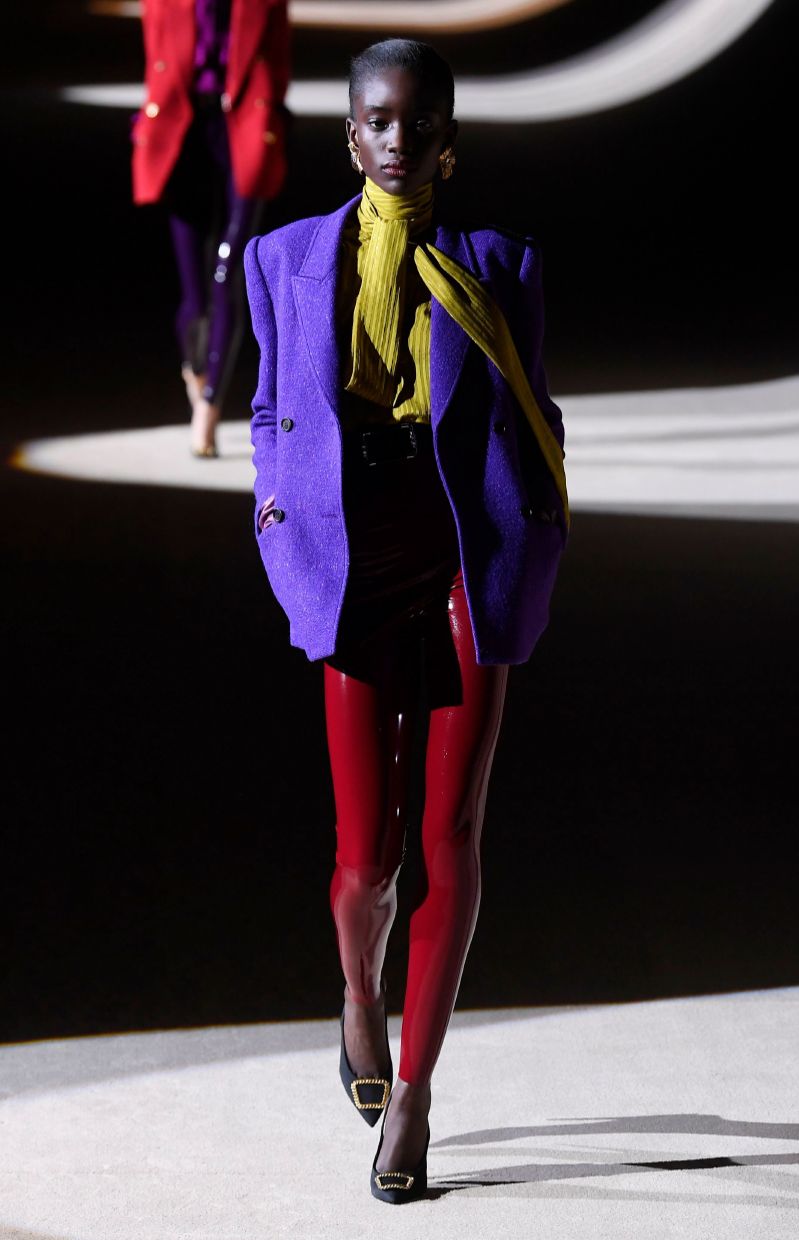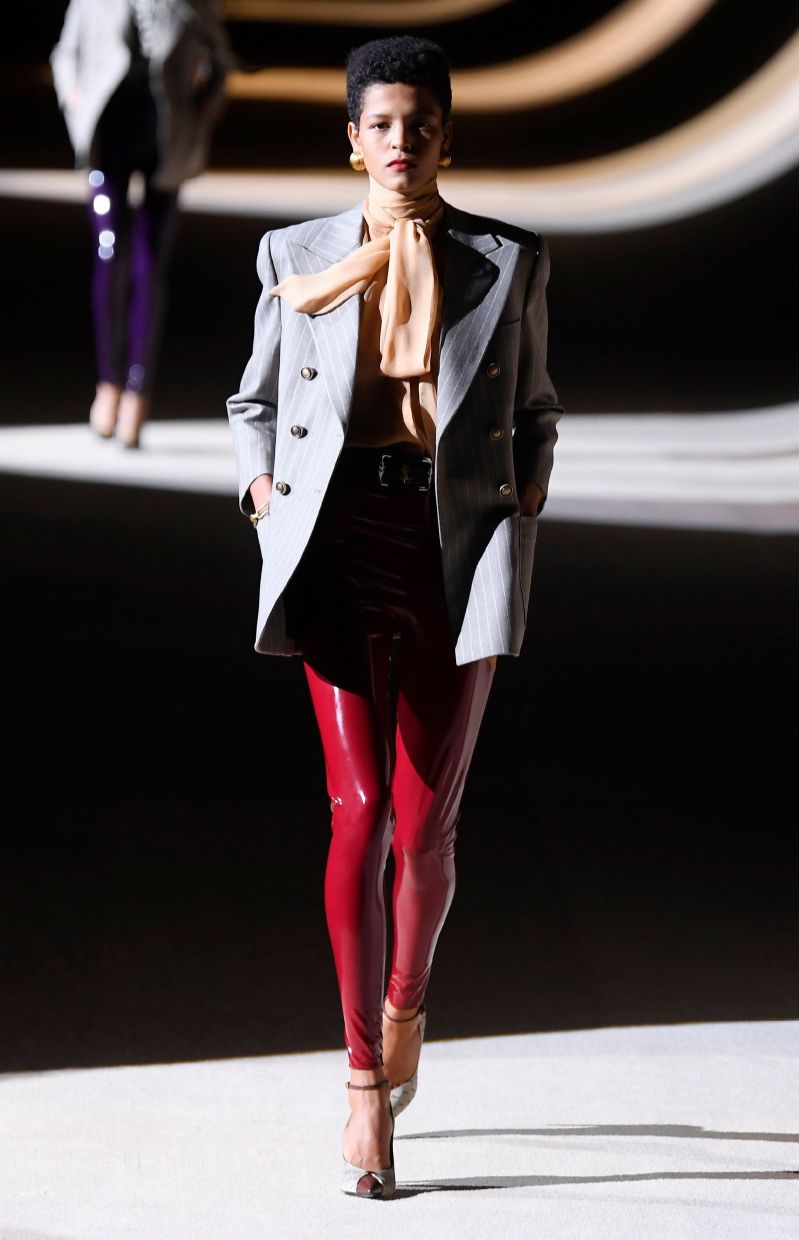 Saint Laurent is always a PFW highlight – oft serving up the most desirable of black tie-inspired looks. This season's key takeaway? Latex. Colourful latex. And lots of it: Leggings, dresses, skirts…you name it. For those not quite ready to join the high shine club? Enter: Leather culottes, paint box bright 80s-style jackets, neck scarfs.
MAISON MARGIELA'S THRIFTY BUSINESS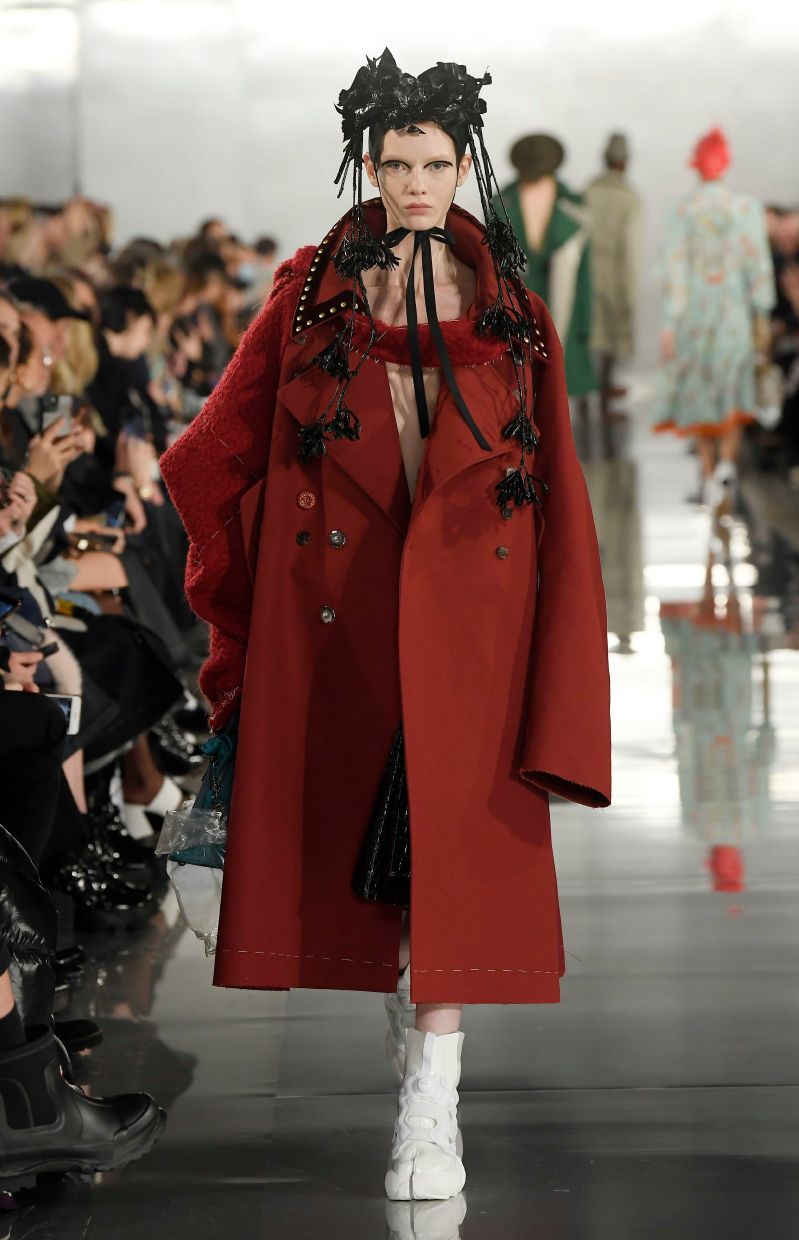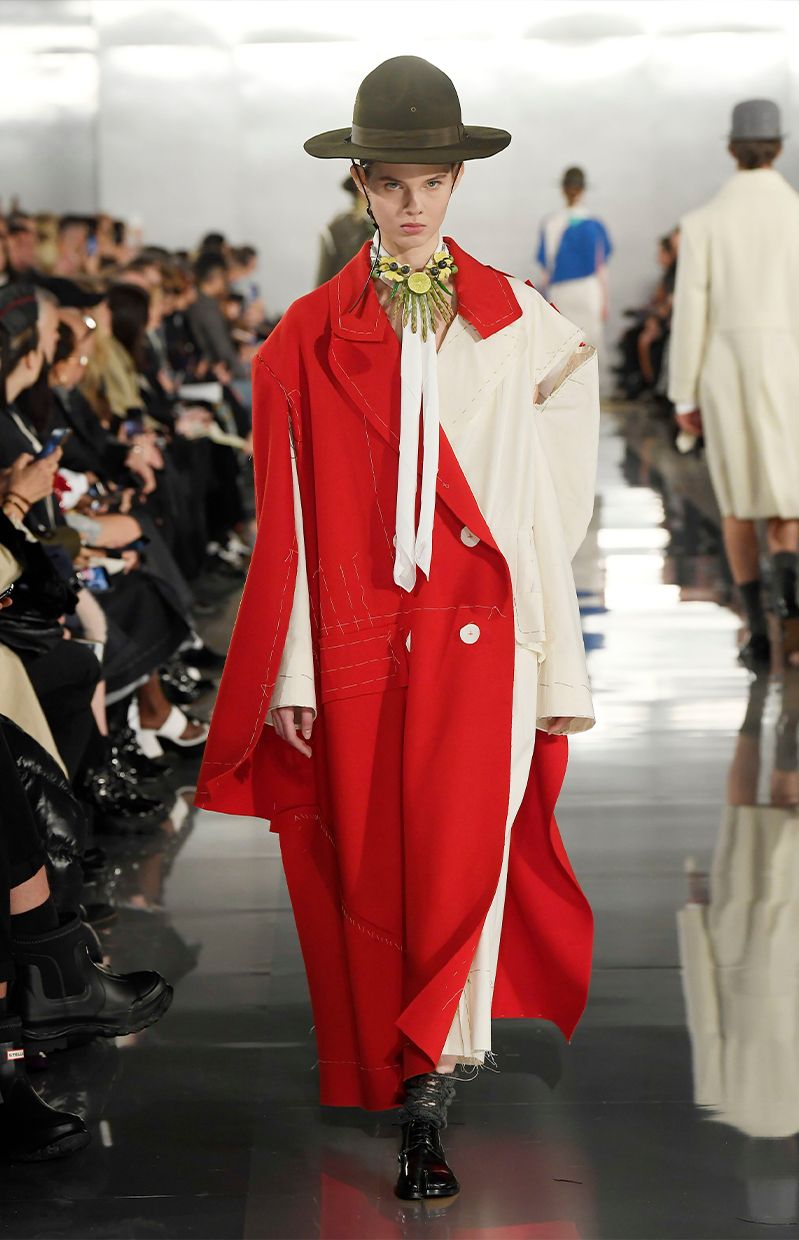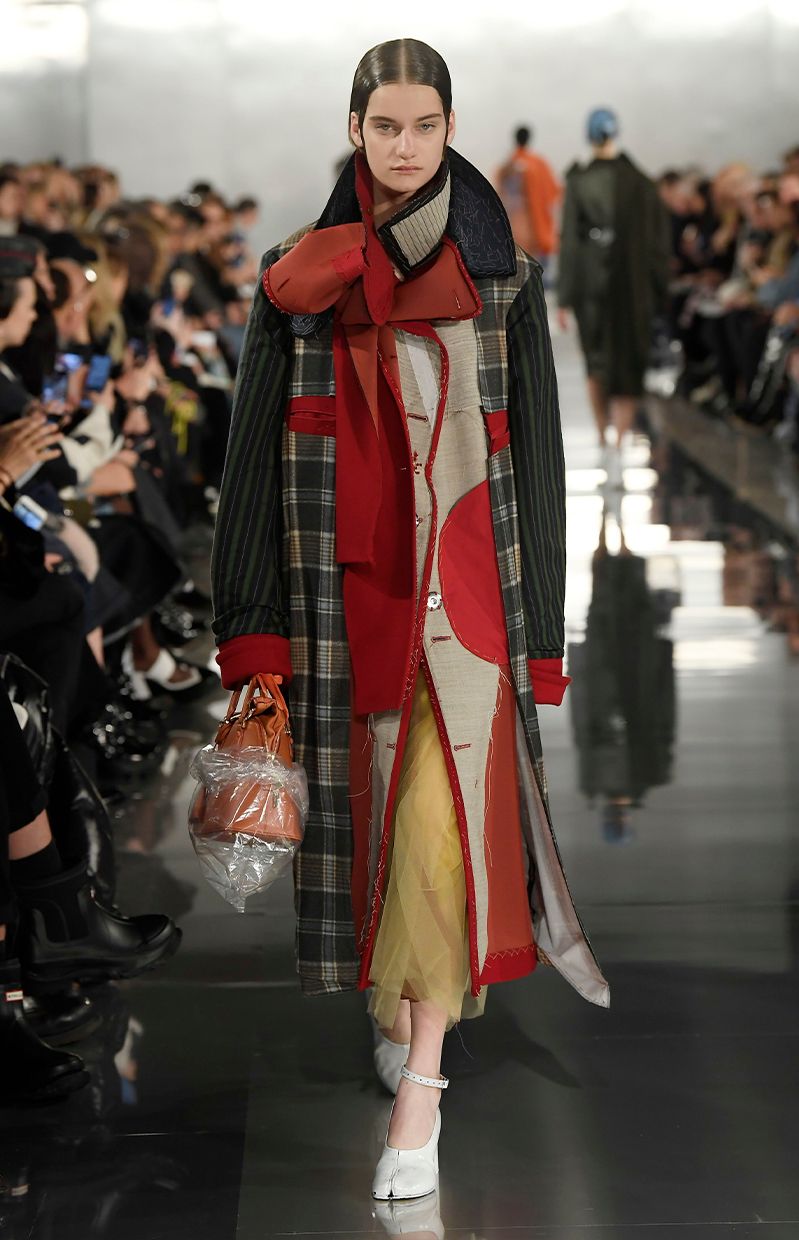 Upcycling is officially fashion's new favourite lexicon. Maison Margiela's 'Recicla' collection (a new portmanteau from John Galliano for the fashion house which combines 'reusability' and 'replica') incorporated vintage garments procured from second-hand stores and flea markets. The collection felt like a sartorial collage; purposely a bit work-in-progress, fusing together exposed stitching, flashes of tulle and interesting detailing.
MARINE SERRE'S FUTURE ARMOUR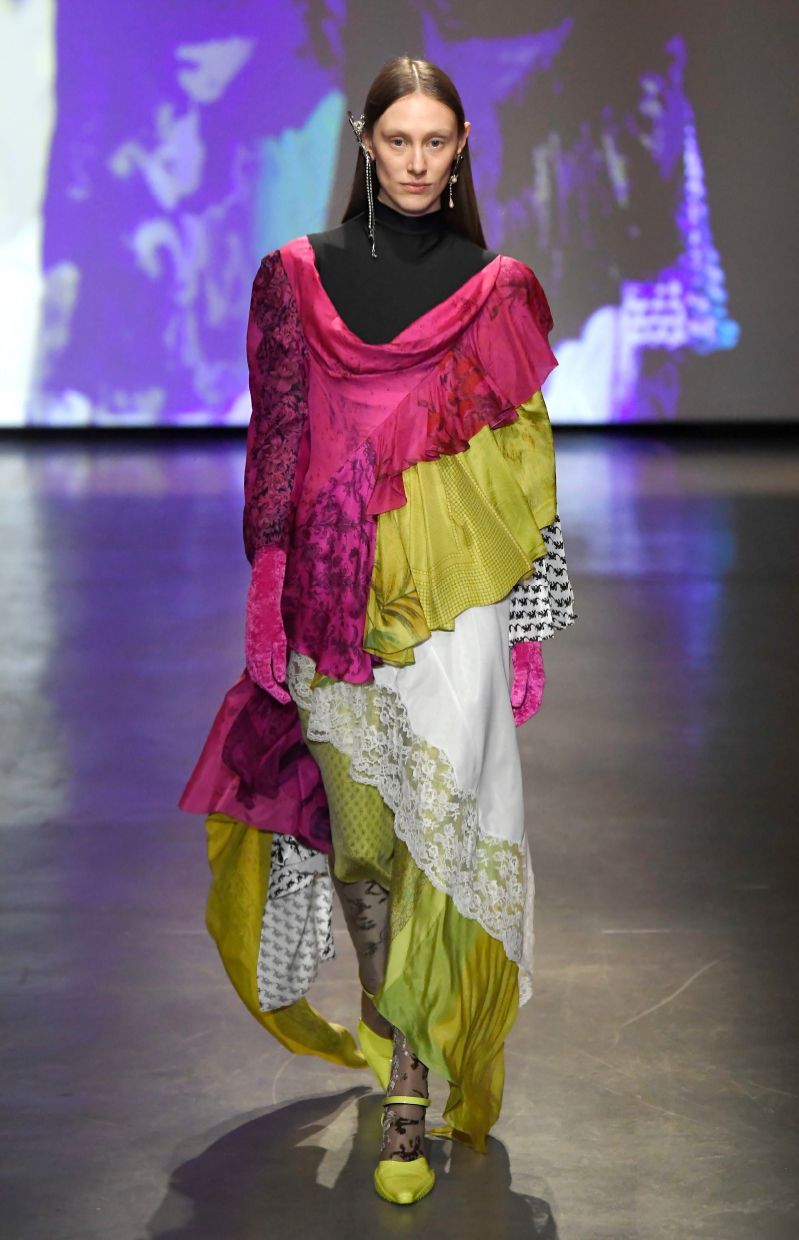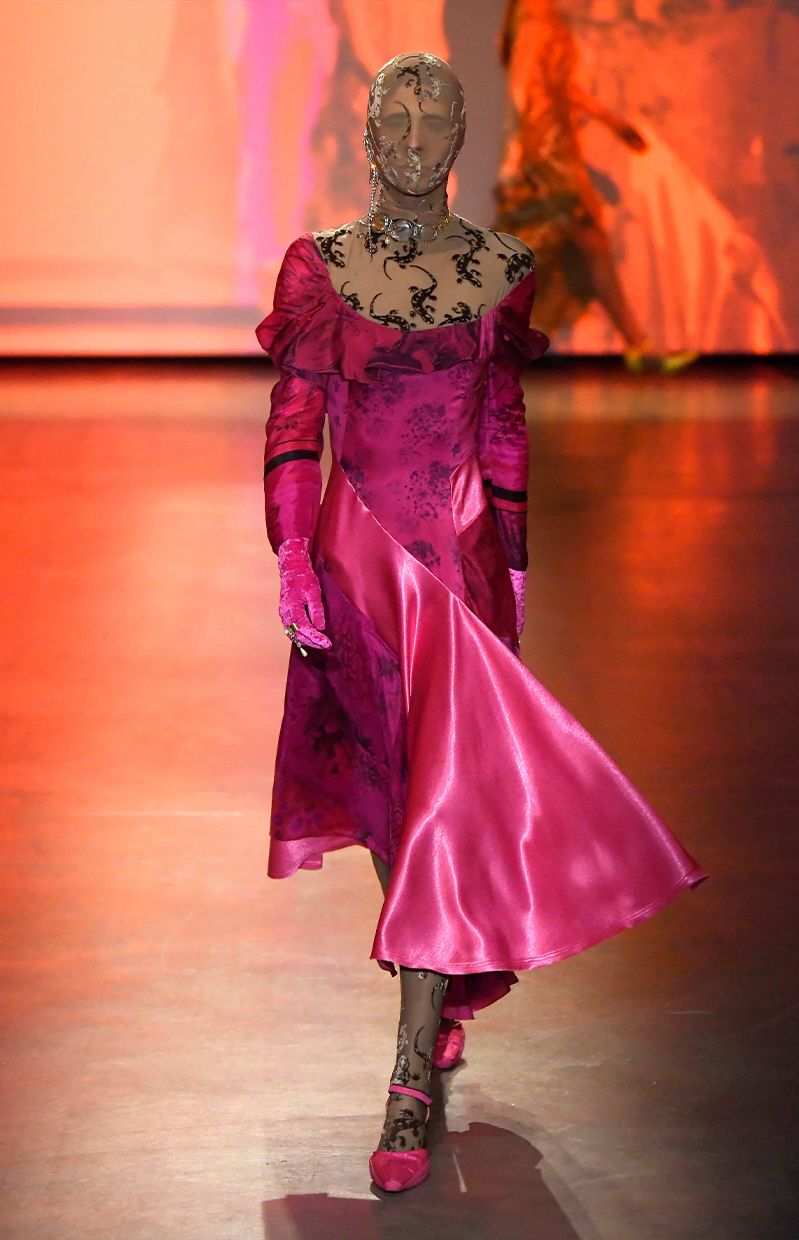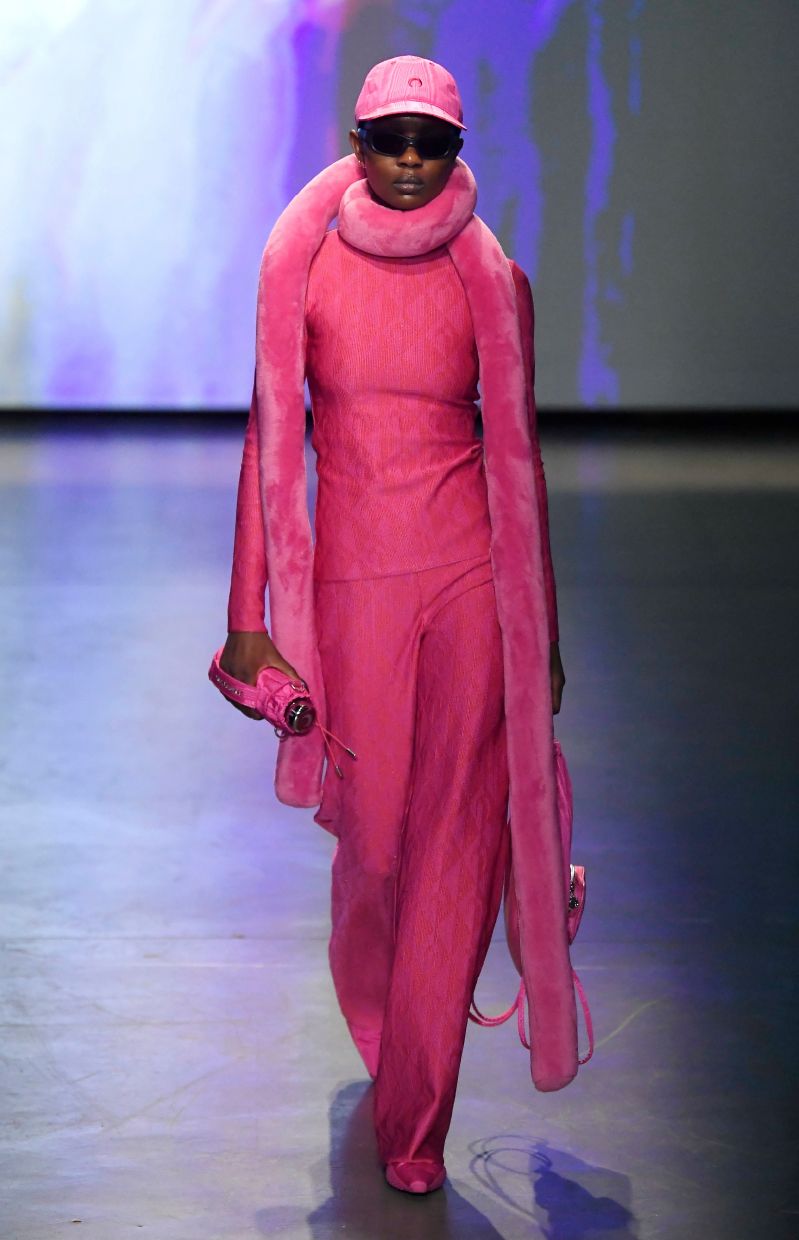 Since making her fashion debut in 2018, Marine Serre's namesake brand has constantly pushed creative boundaries, combining end-of-cycle product with alongside high-tech fabrics. The Paris-based designer's AW20 collection is described as garments coming out of "a futurist wormhole." In wearable terms? This translates to head-to-toe fuchsia, colour clashing aplenty, patchwork detailing, shape-shifting silhouettes, and models wearing masks emblazoned with MS's signature crescent moon logo.
OFF-WHITE'S HYBRID FANTASY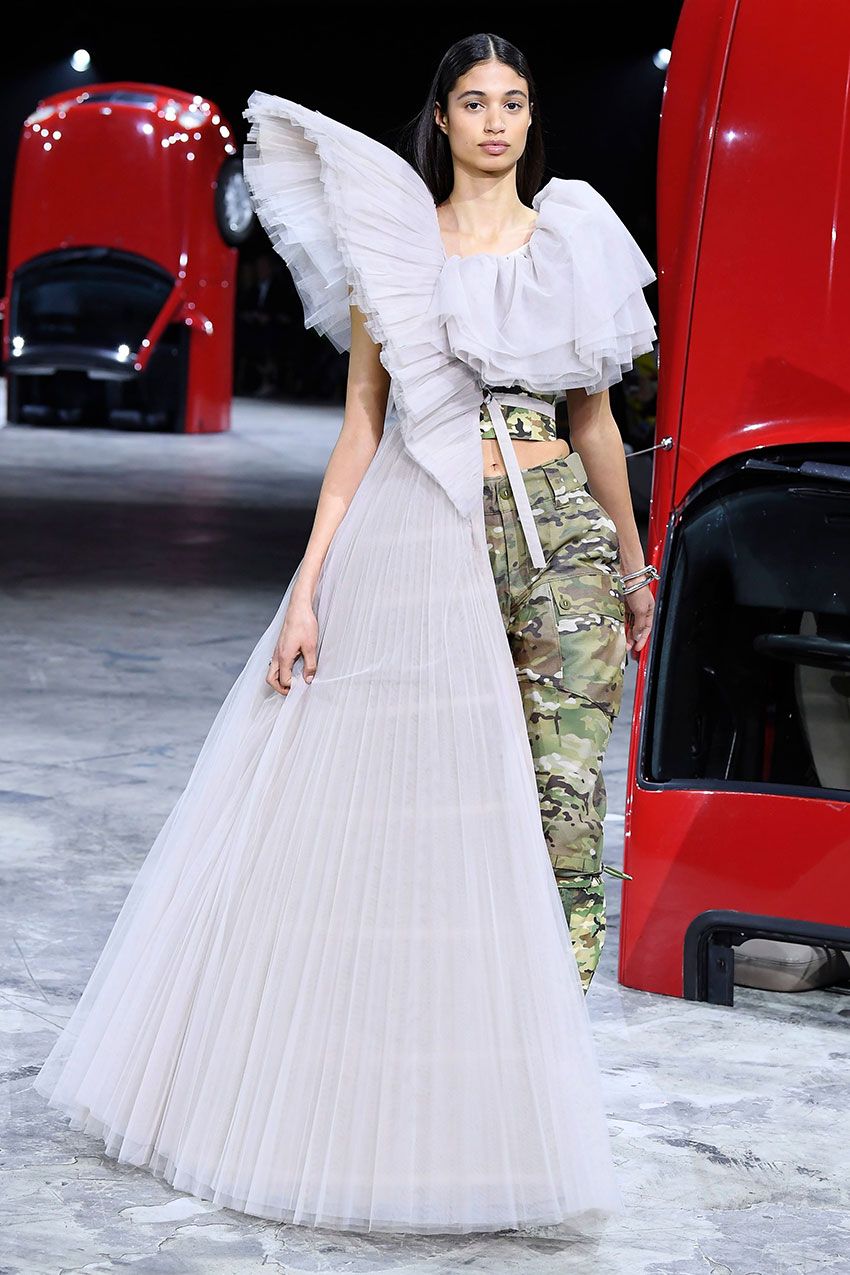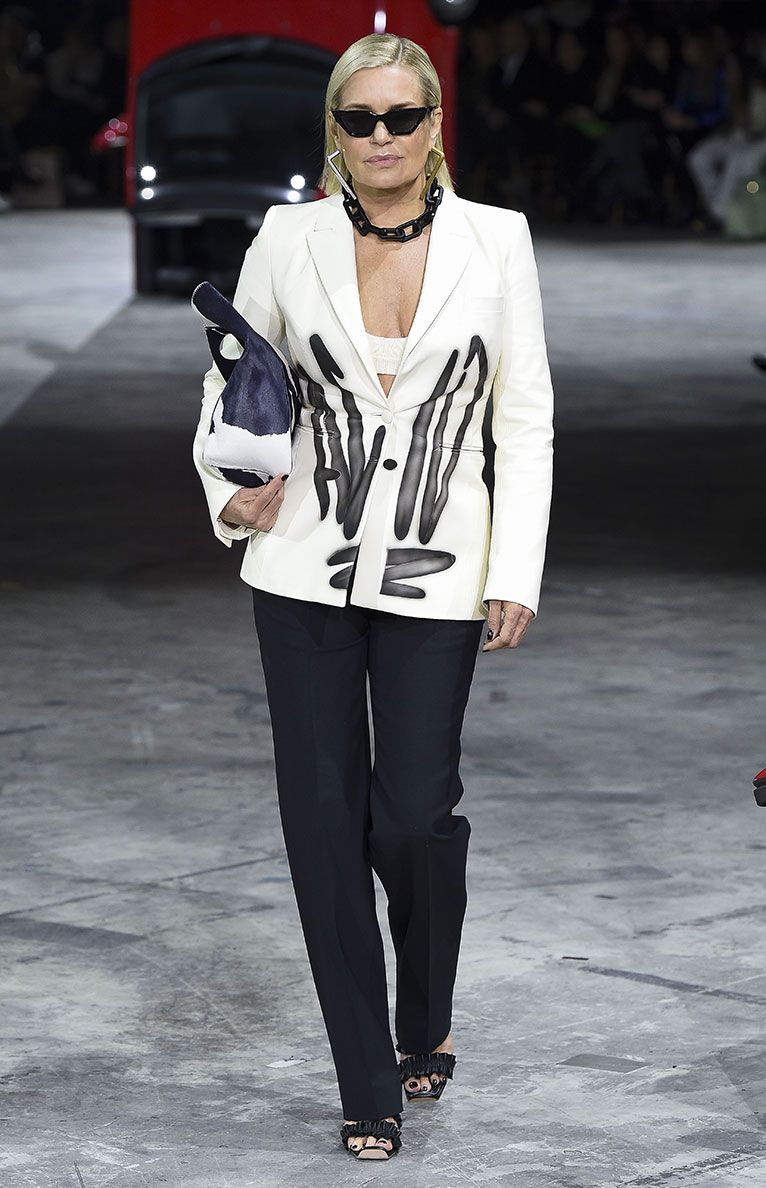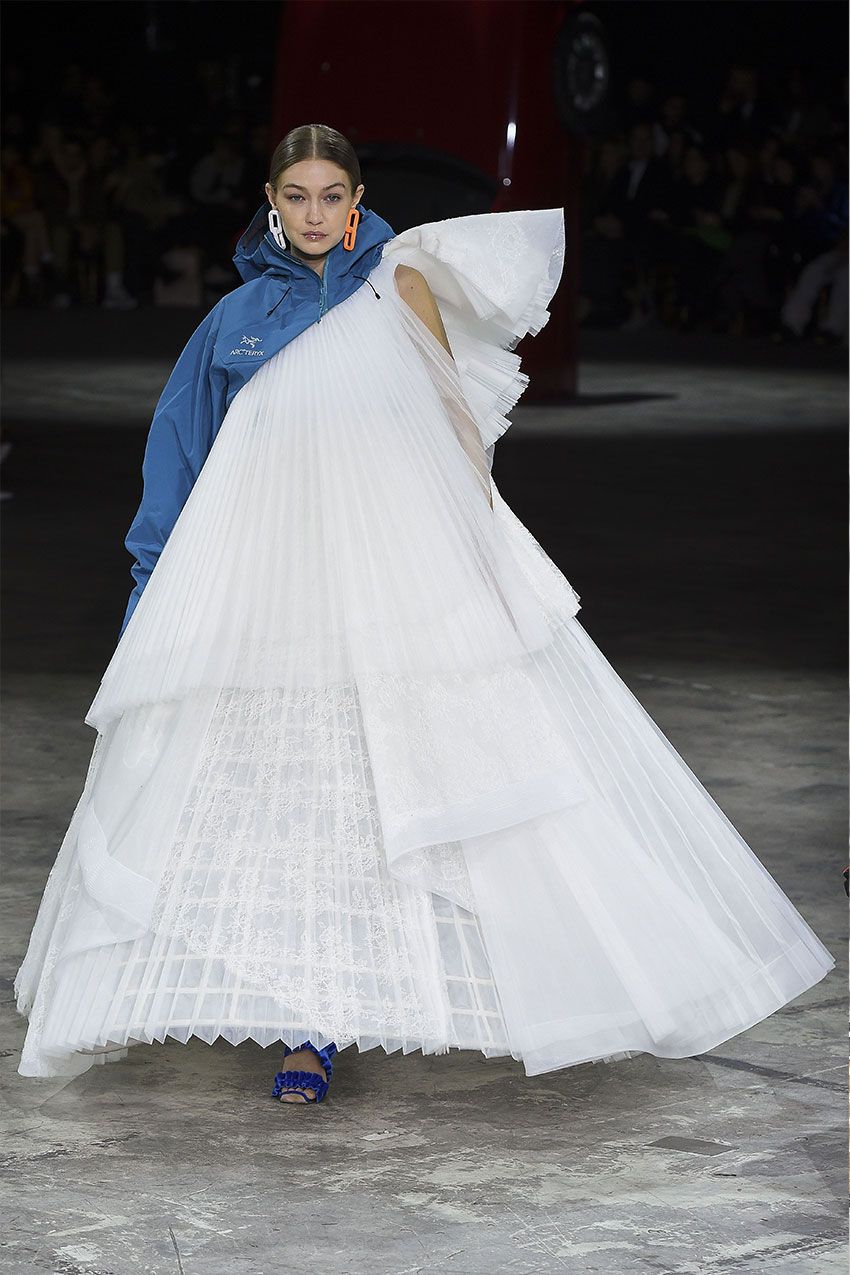 Titled "Slightly Off", Virgil Abloh's latest collection for Off-White, fused traditional couture with streetwear. The result? Billowing ballgowns paired with technical outerwear, a plethora of cow-print (bags, skirts and trench coats), structural tulle tops worn over combat trousers and a closing look that was part dress, part hoodie (we know, it sounds wrong, but actually it was the highlight of the show). A masterclass in 2 for 1 dressing.
LOEWE'S WEARABLE ART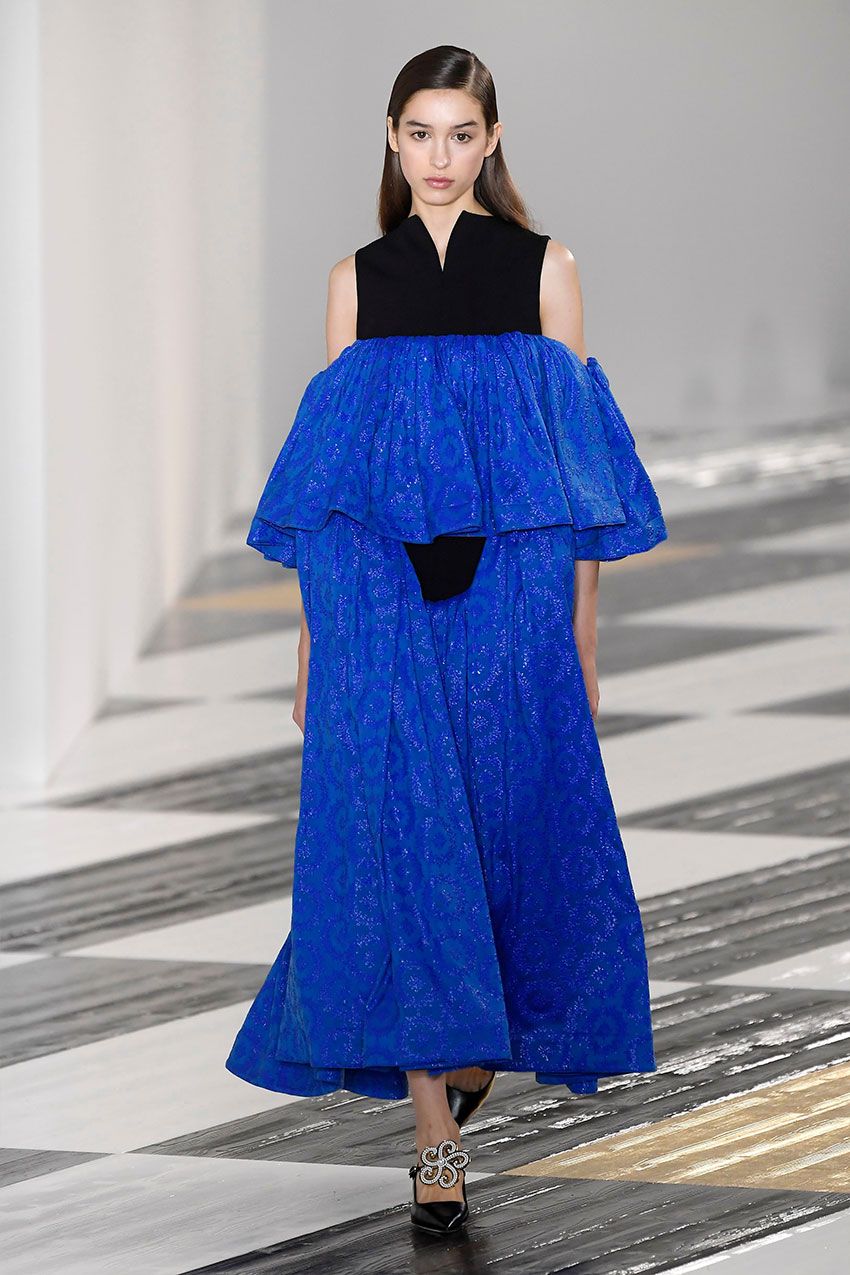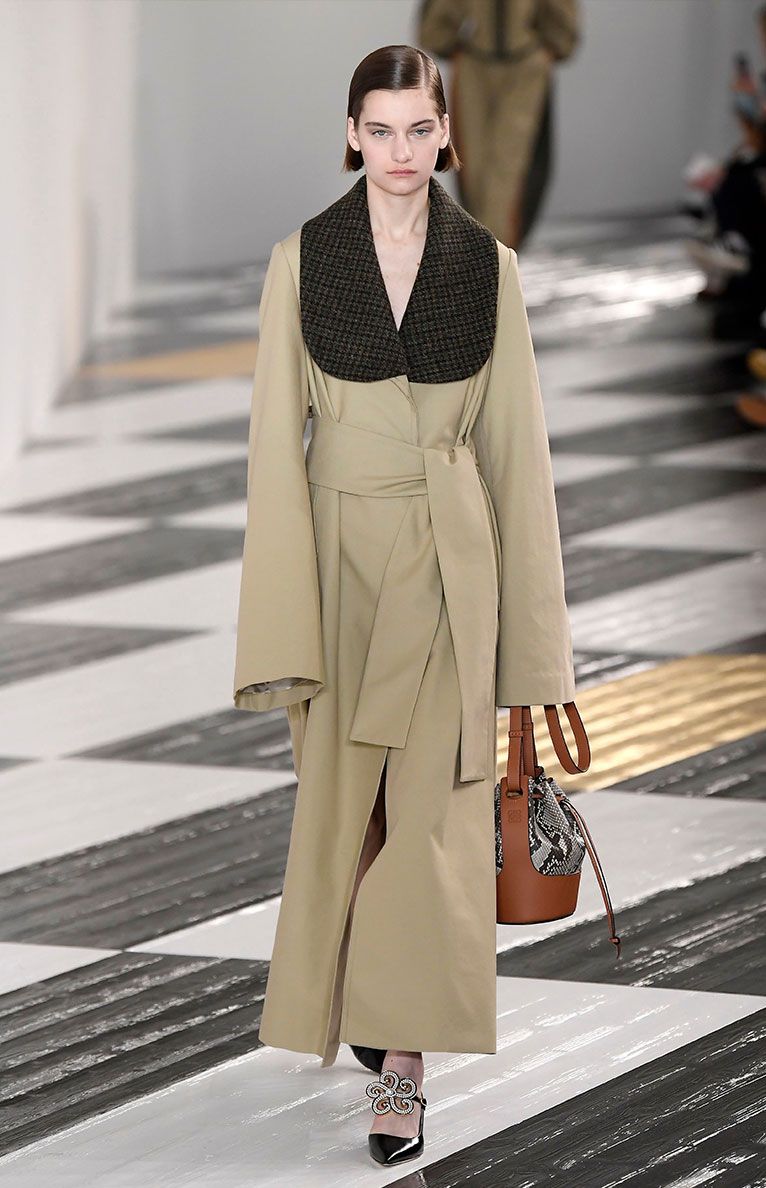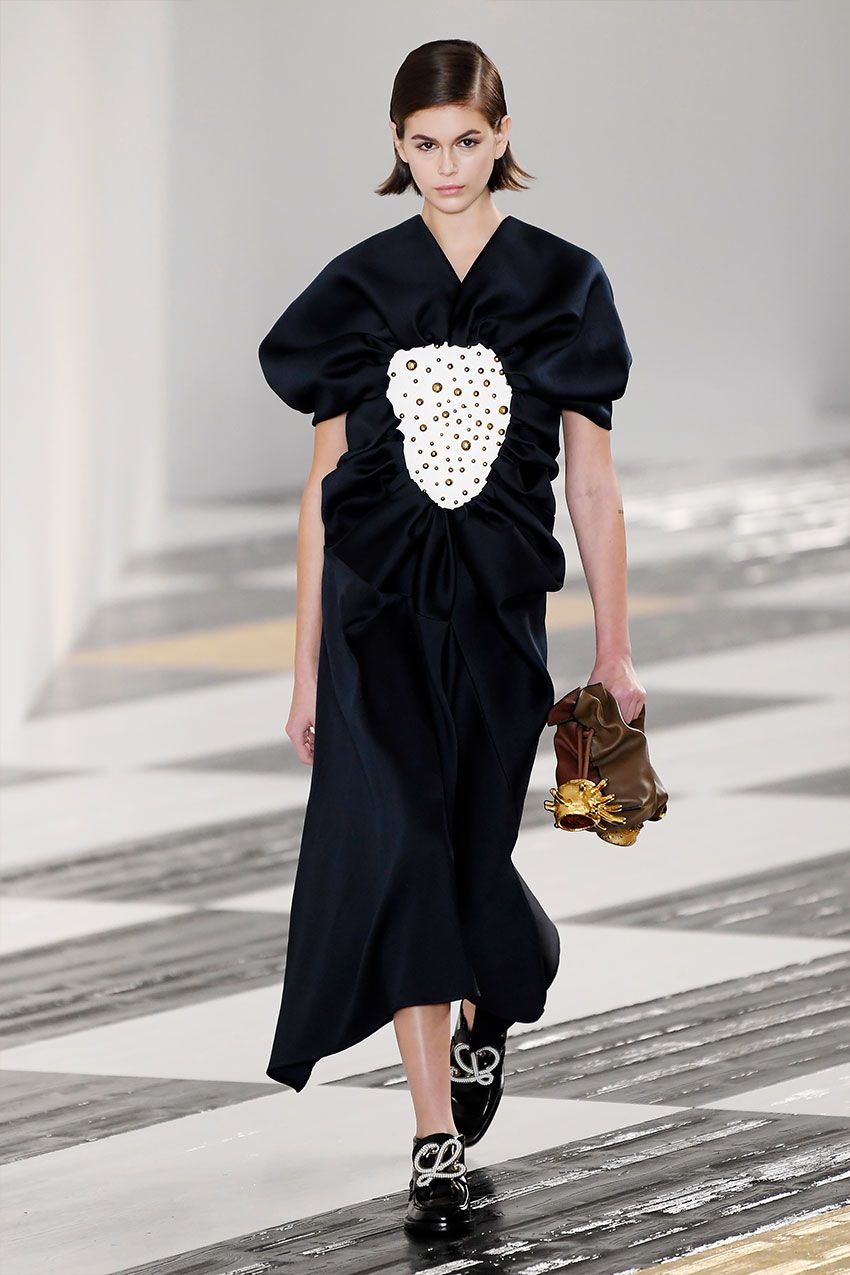 Blending high fashion and fine art has always been at the heart of Loewe. This season, Jonathan Anderson's textural-focused AW20 offering saw the designer collaborate with Japanese artist, Takuro Kuwata – his ceramics weaved into the collection via lucky bag charms, pendants and plates fixed onto dresses.
BALMAIN'S BLAST FROM THE PAST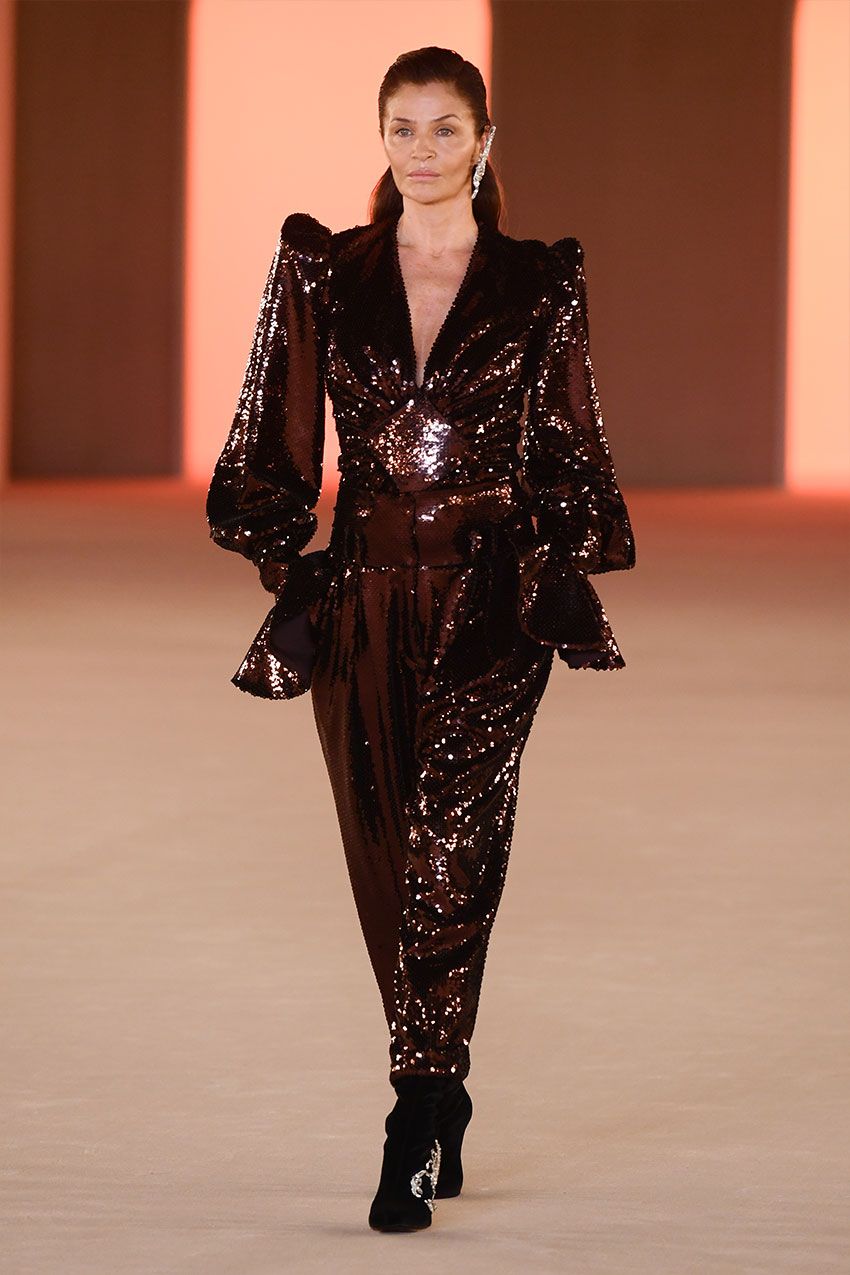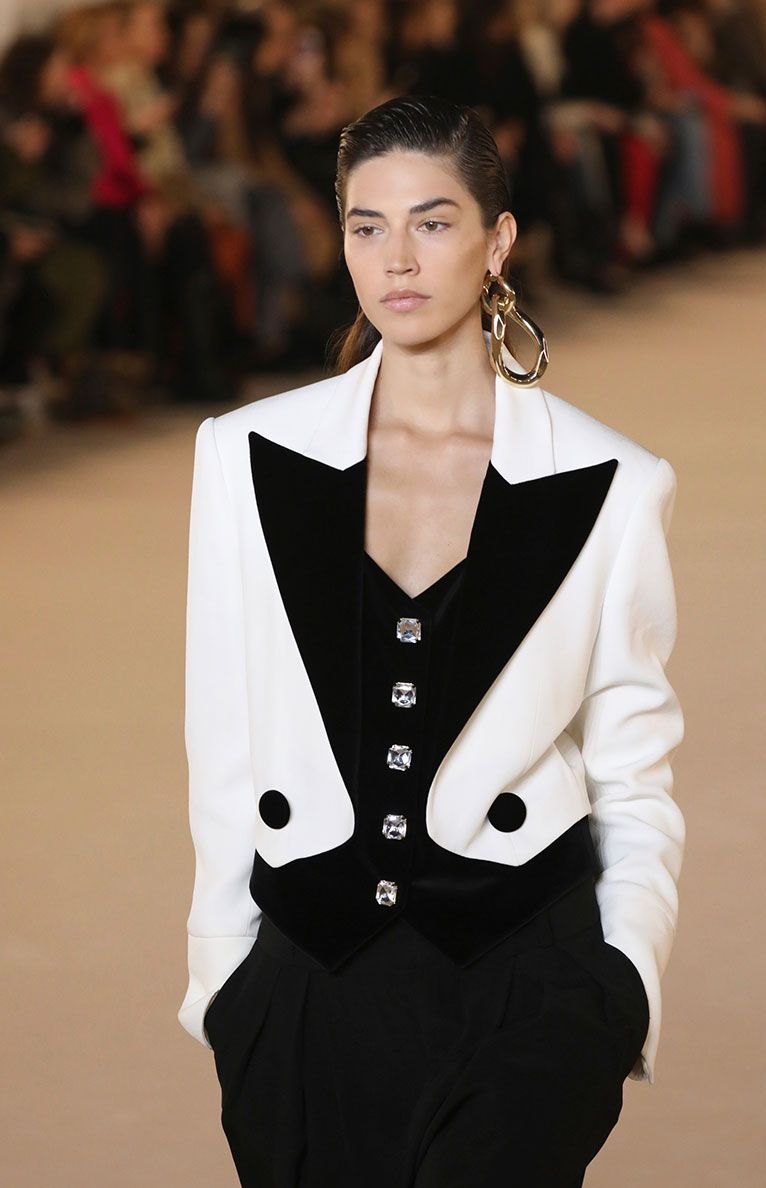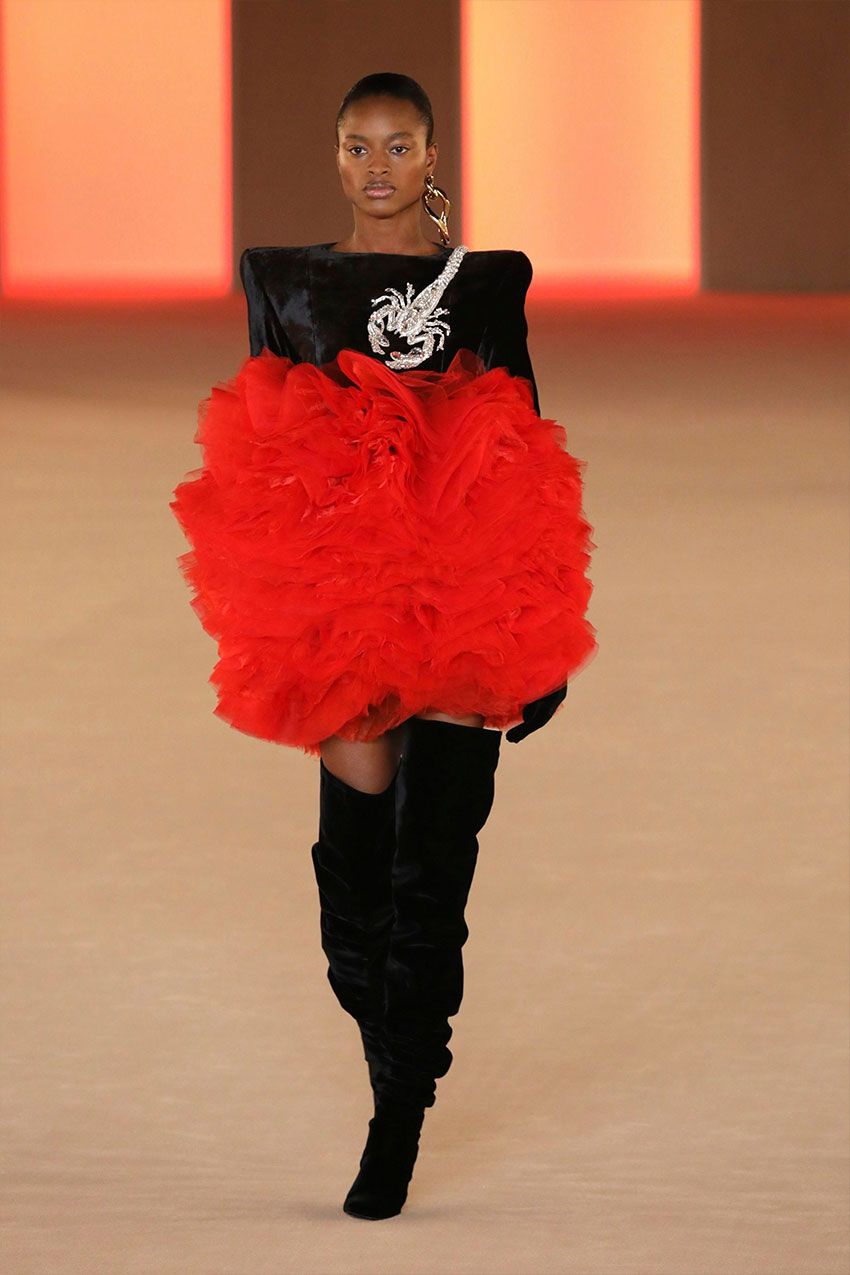 Helena! Lapels! 80s power shoulders! Sequins! Balmain's show was a not-so-subtle throwback to the Most OTT Of Fashion Decades. Our highlights include a jumpsuit drenched in sequins and the slickest monochrome blazer we've come across in a long time – ooph, those lapels!
GIVENCHY'S NEW WAVE DRAMA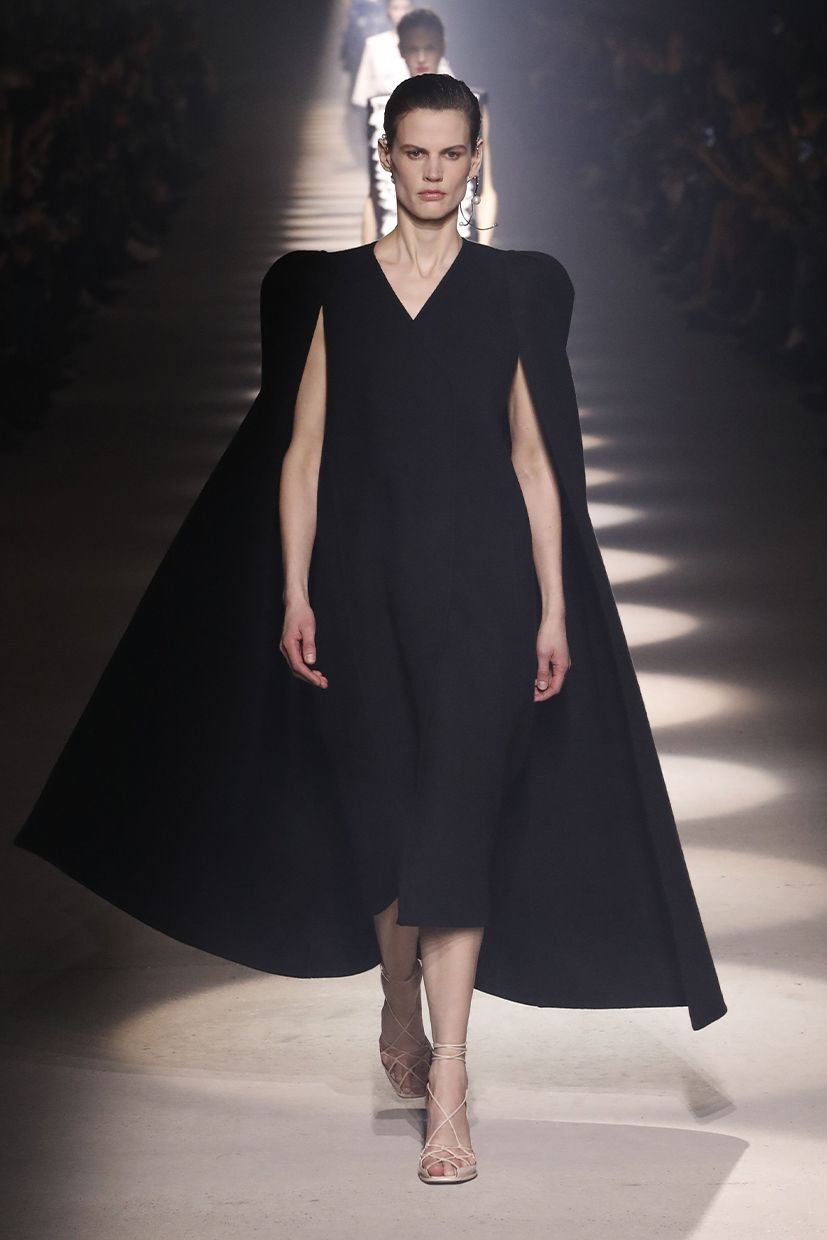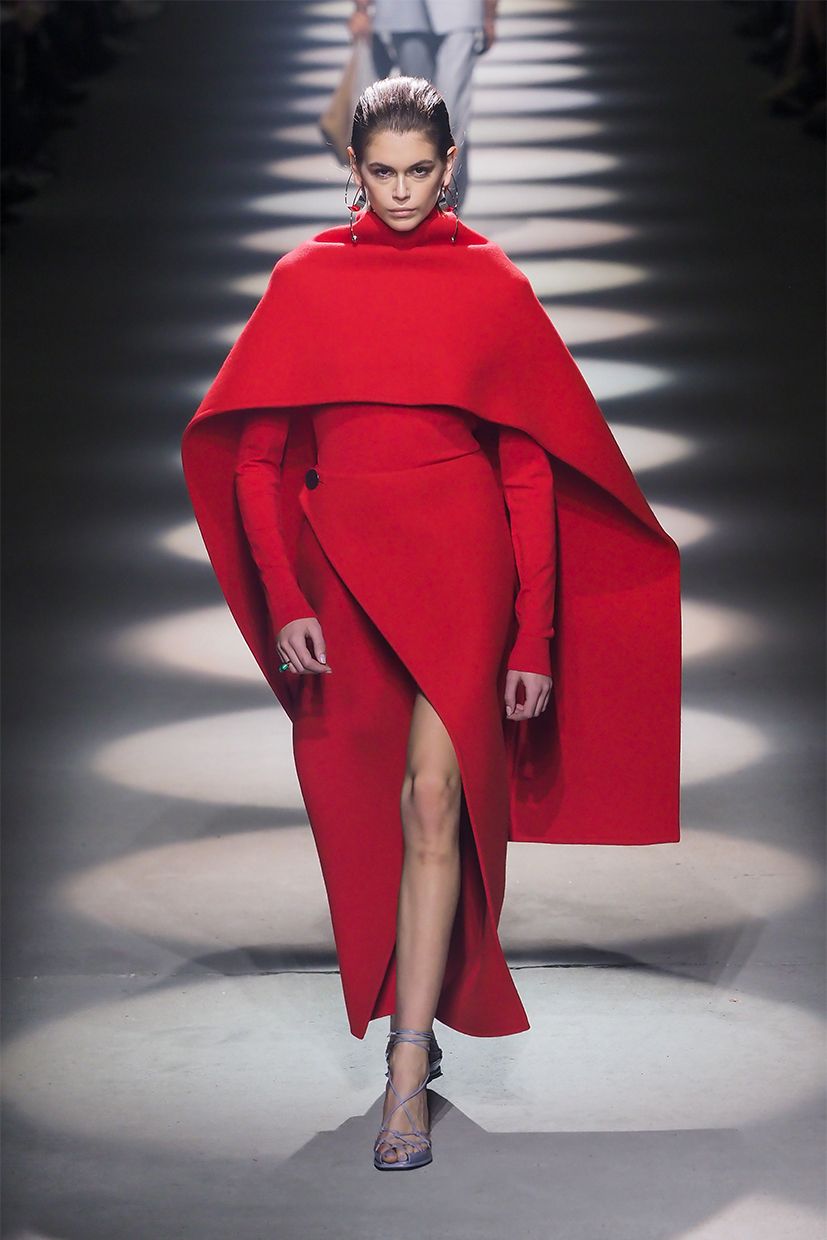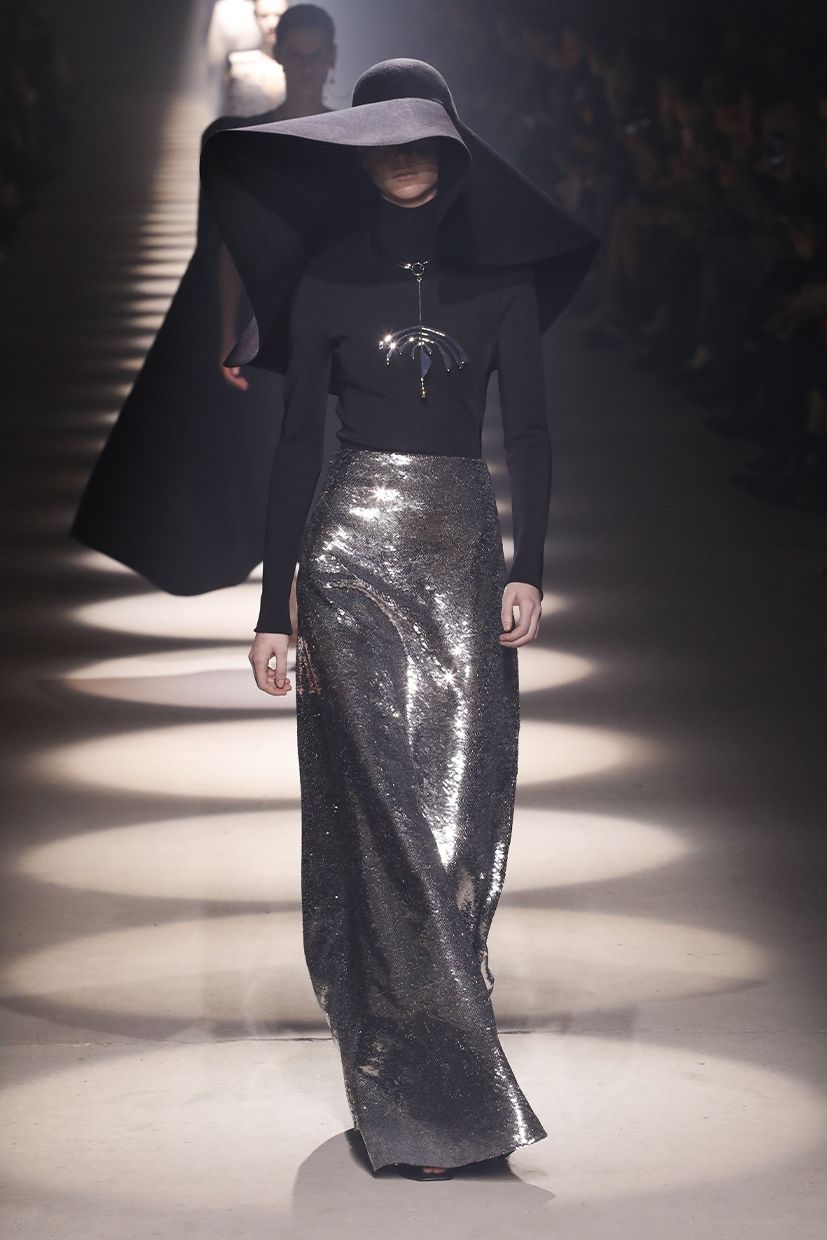 When Fran Summers opened Givenchy wearing a hat that was larger than life, she knew she was making an entrance, because how can fedora that size not command attention? Inspired by the arthouse Nouvelle Vague cinema movement, Clare Waight Keller dished up drama with triple X accessories; big hat energy, above-the-elbow leather gloves, and shawls so big they swept over the face. And the clothes? Equally dramatic, with feathered dresses, faux fur coats and capes that came to the calf.
STELLA MCCARTNEY'S INTO THE WILD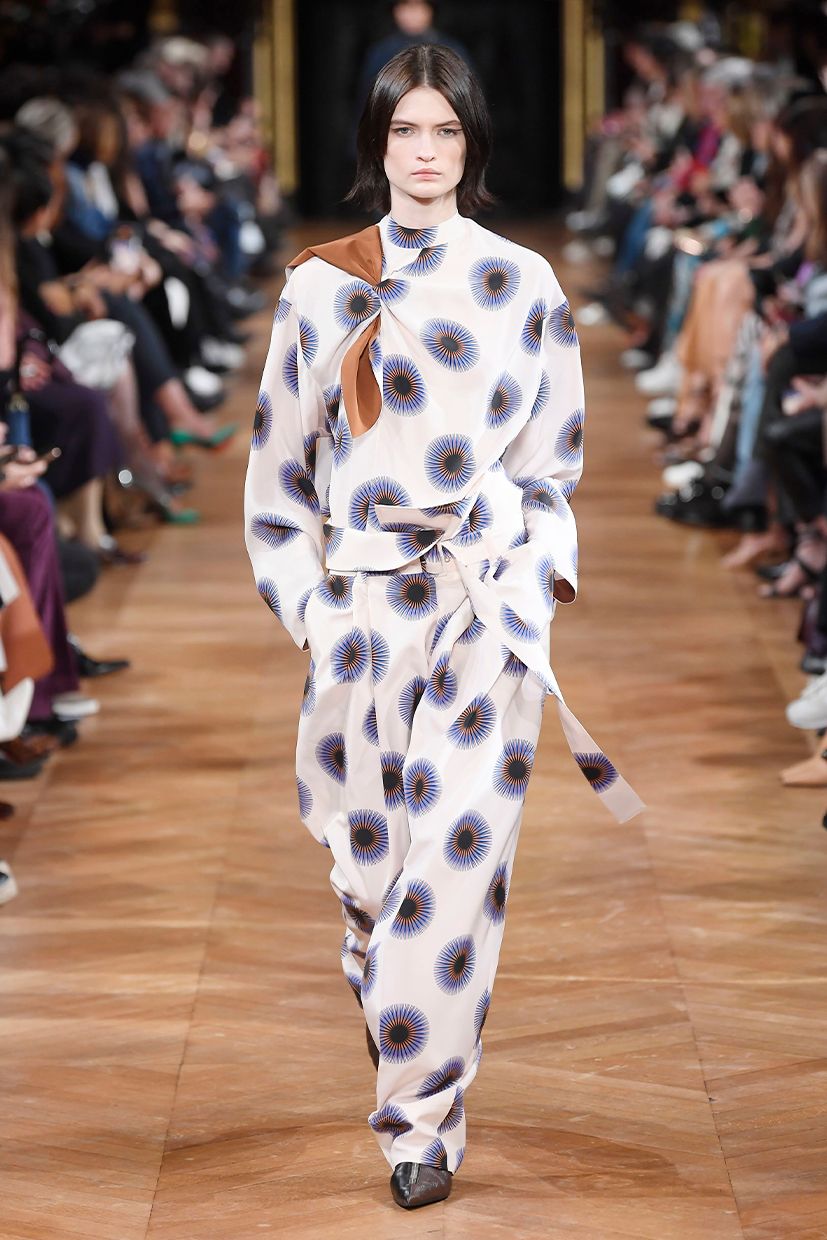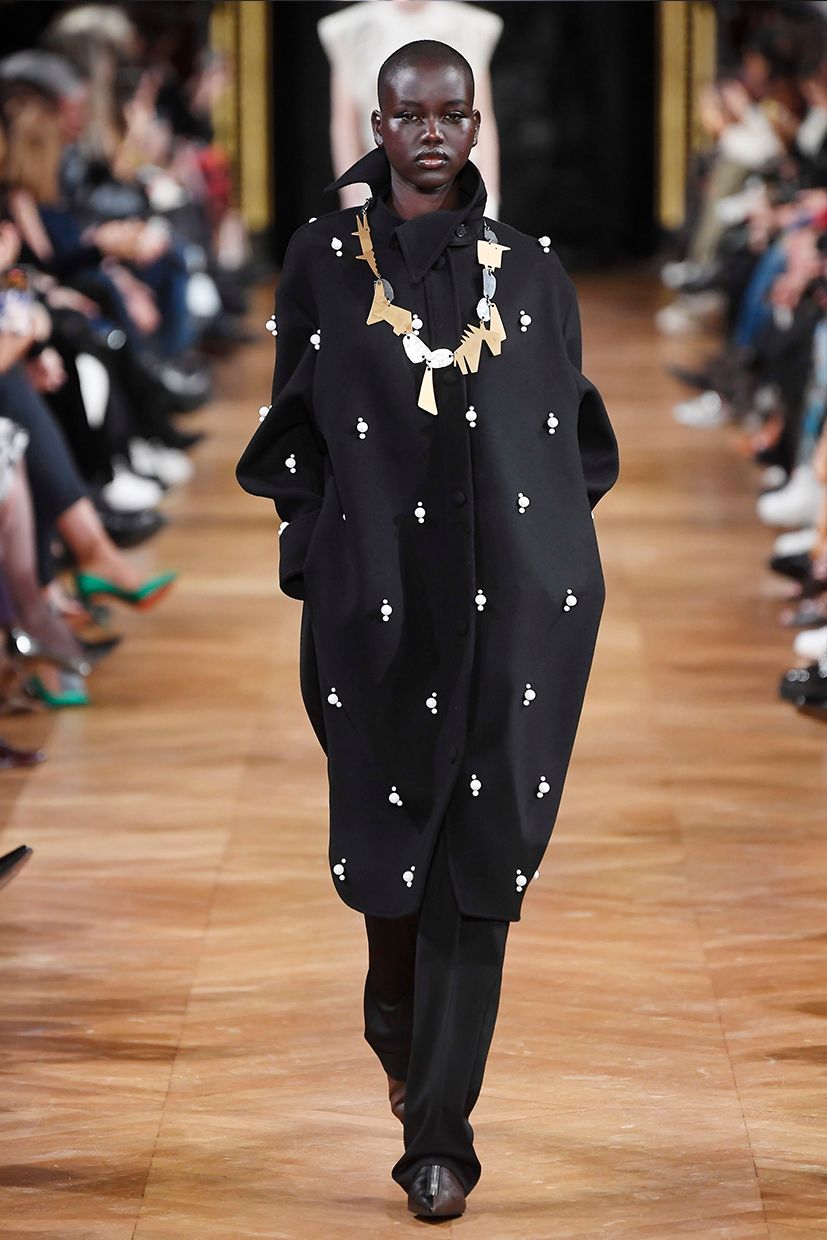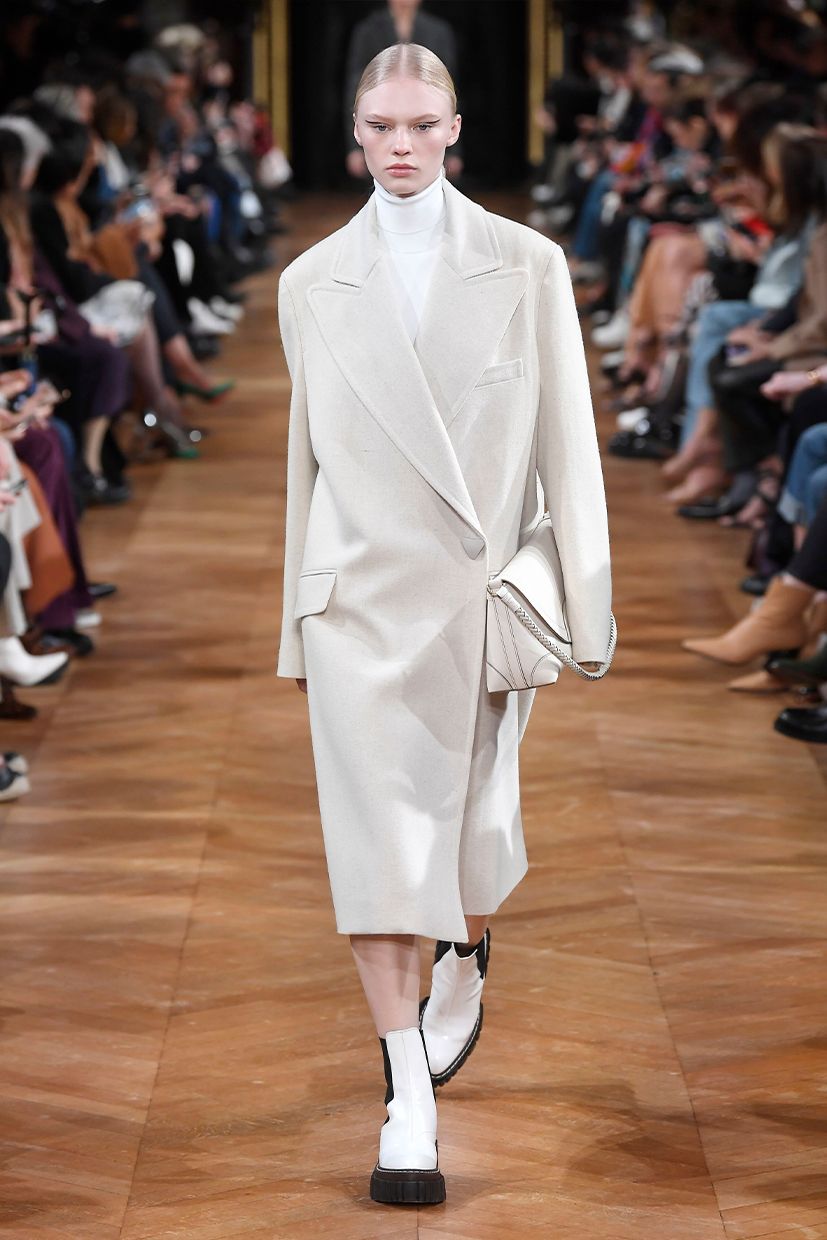 Swathes of draped silky dresses, buttery vegan leather that looked oh so real, beaded embellishments and a few furry mascots thrown in for good measure – Stella McCartney's show went wild to push a message regarding animal rights, going beyond the gift, (which was a baby tree – given to each guest to off-set the carbon dioxide produced by the show). The finale saw people dressed in costume as a bunny, a dog and a cat – fun and thought-provoking.
CELINE'S ROCK N' ROLL WESTERN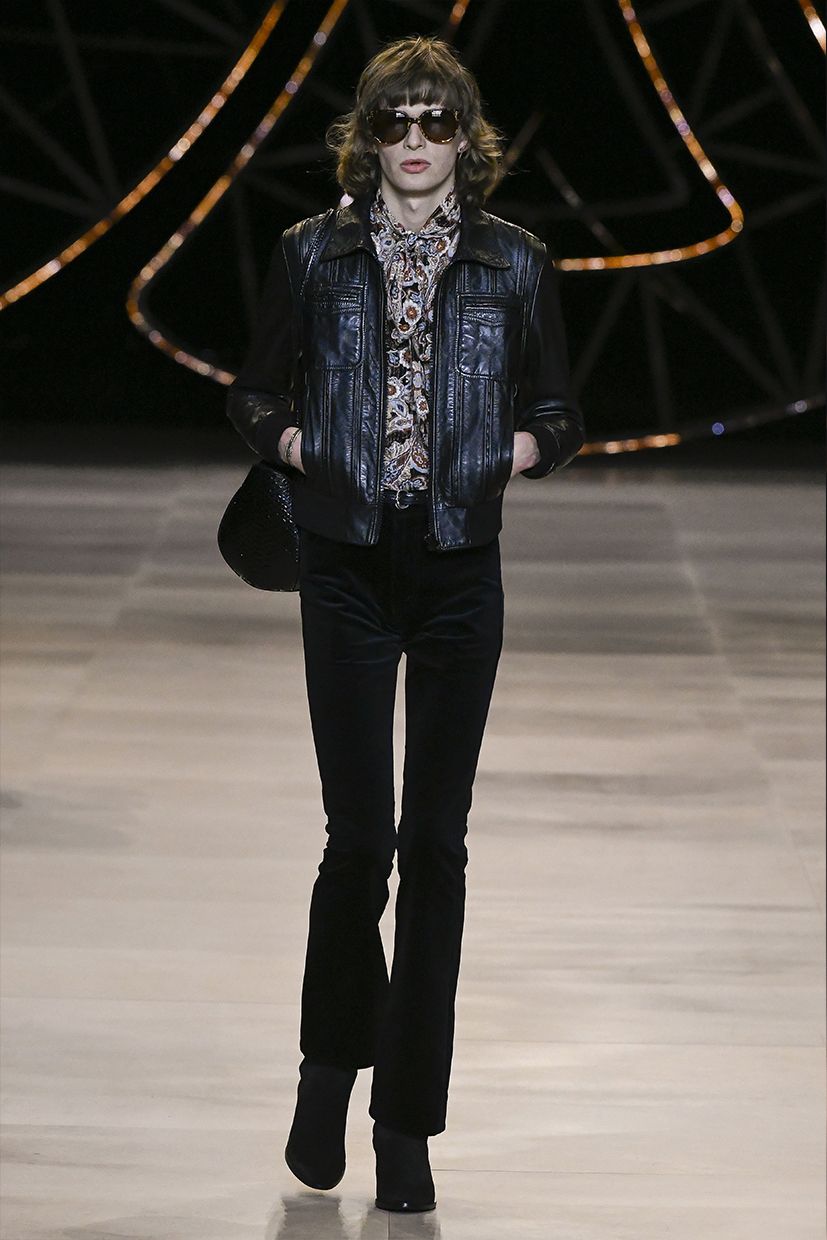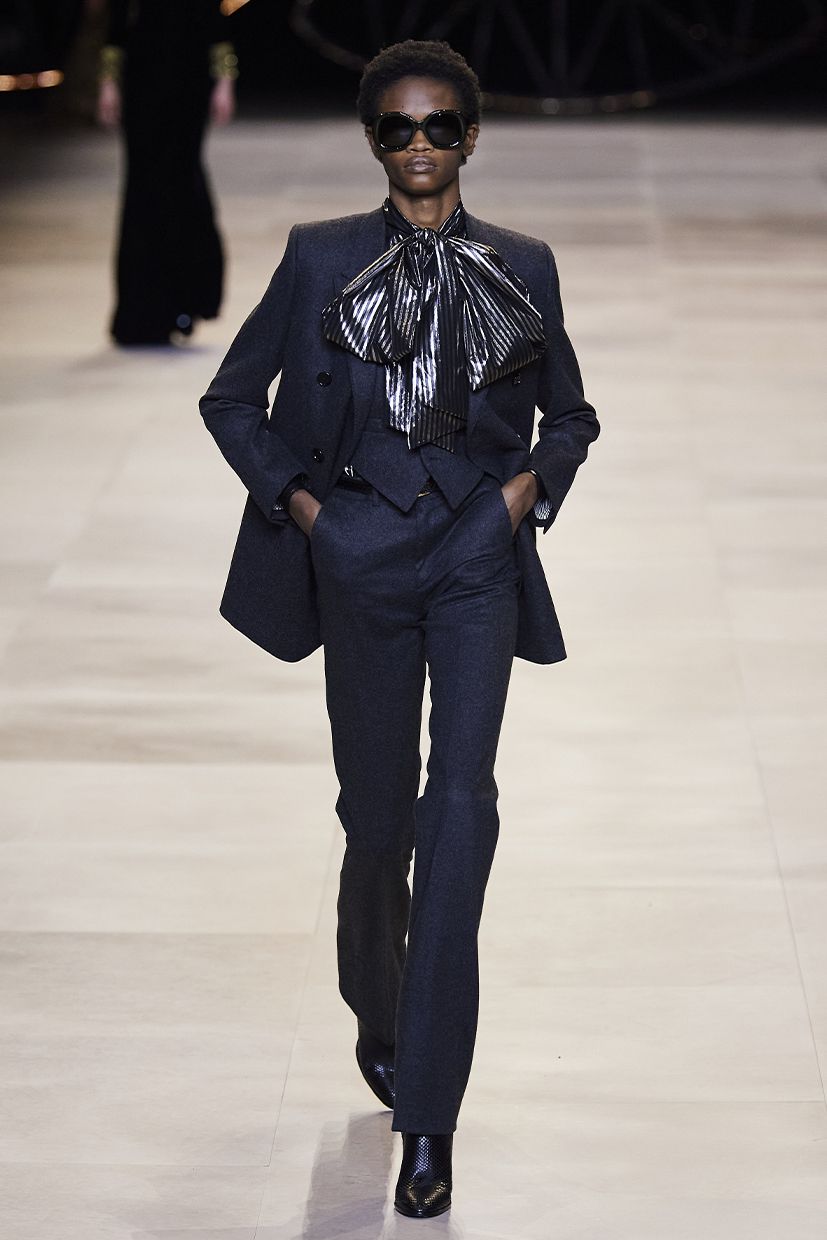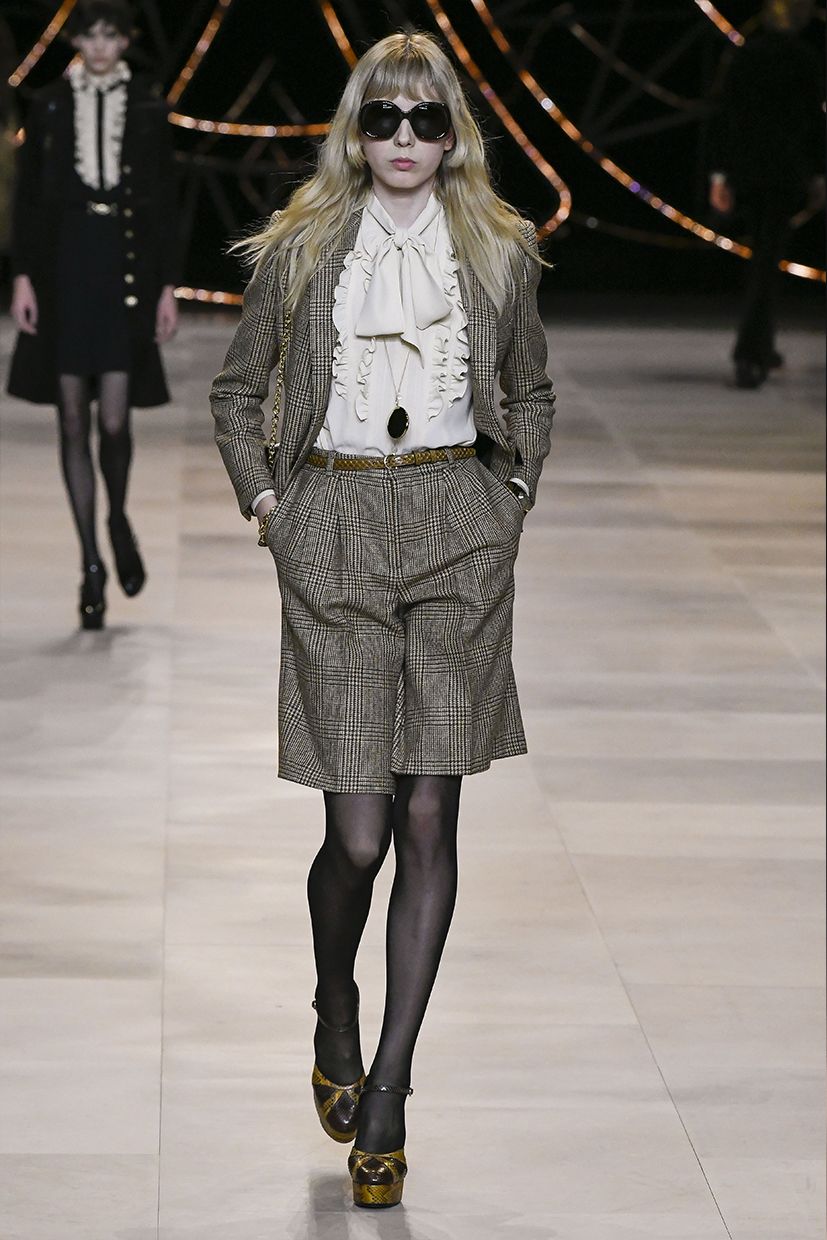 For the Celine show it was business as usual, with high drama served from models arriving on the catwalk on a conveyor belt, and Hedi Slimane offering what he does best – bootleg cut jeans for men, skin-tight leathers, bohemian lace tops worn with jeans and oversized faux fur coat à la Penny Lane. It was distinctly 70s – with snakeskin, velvet and sequin details – and it was distinctly Slimane.
BALENCIAGA'S APOCALYPSE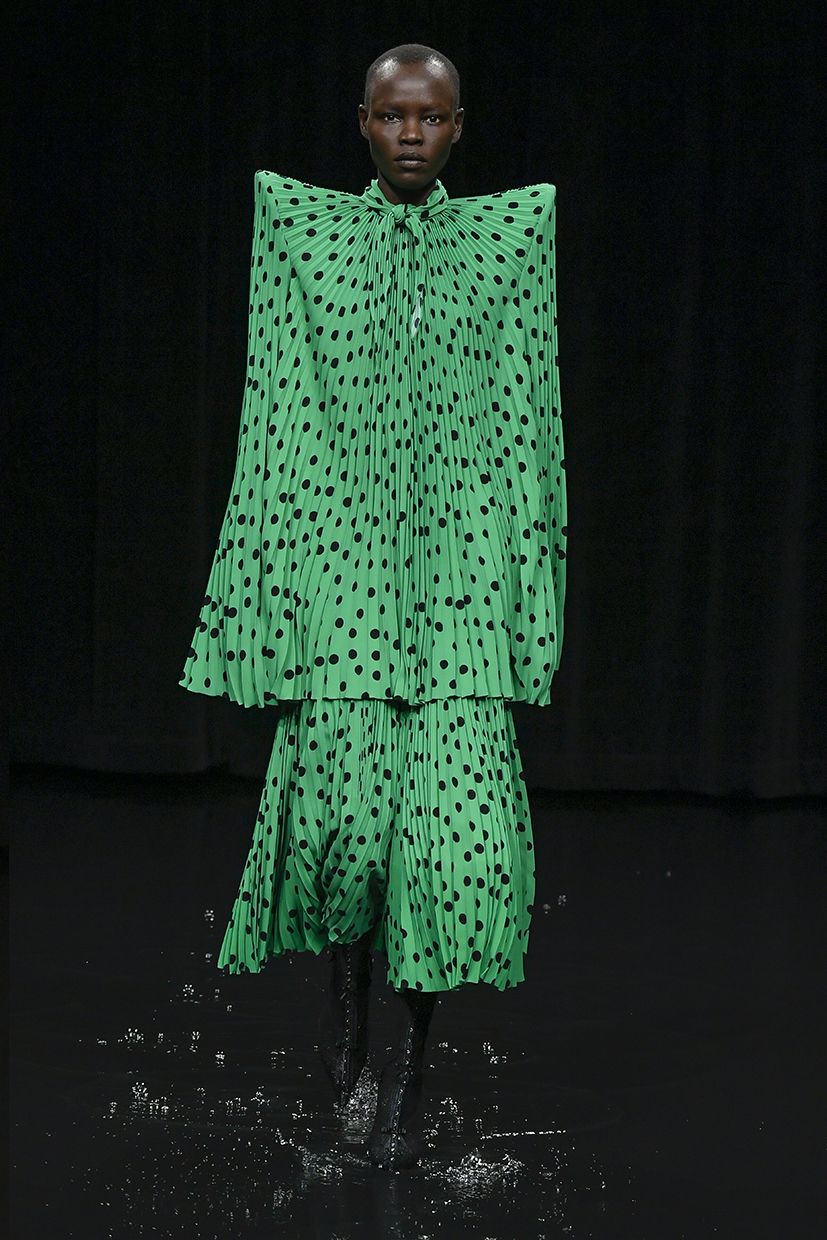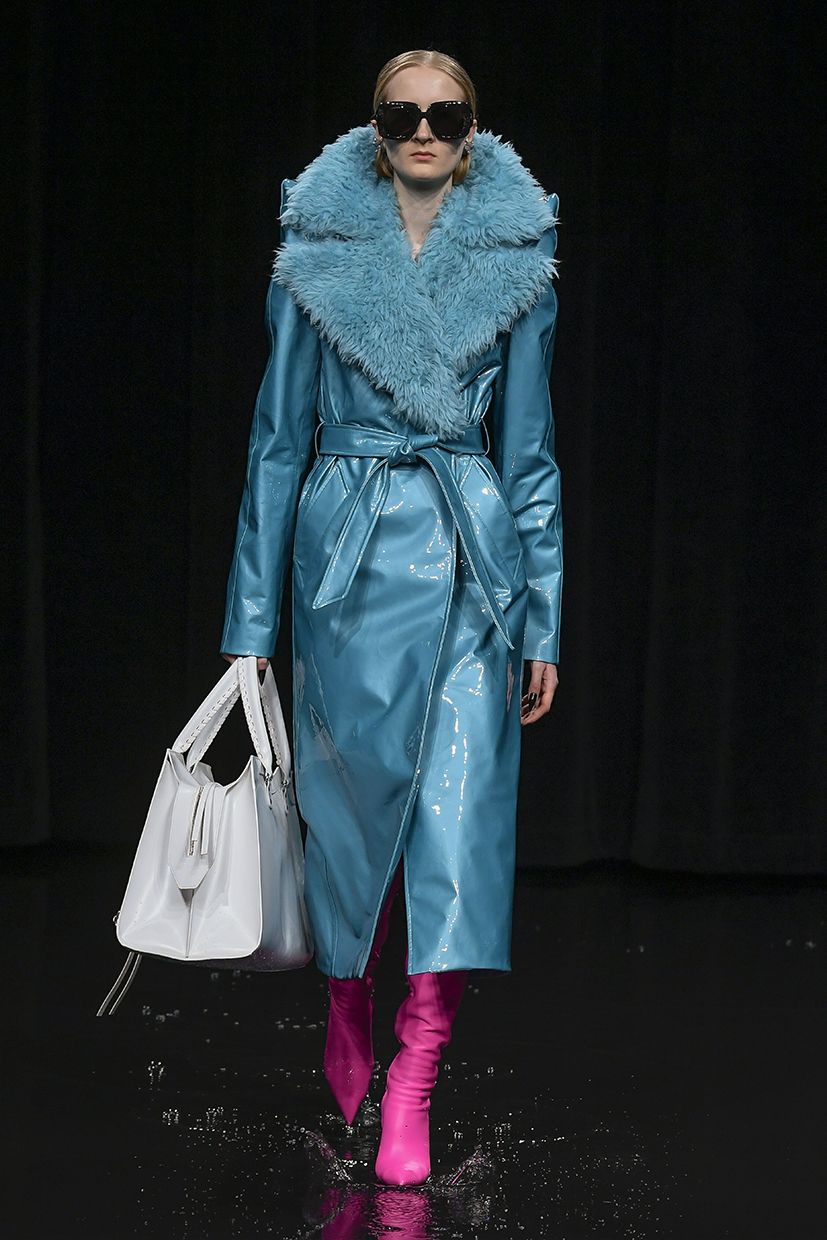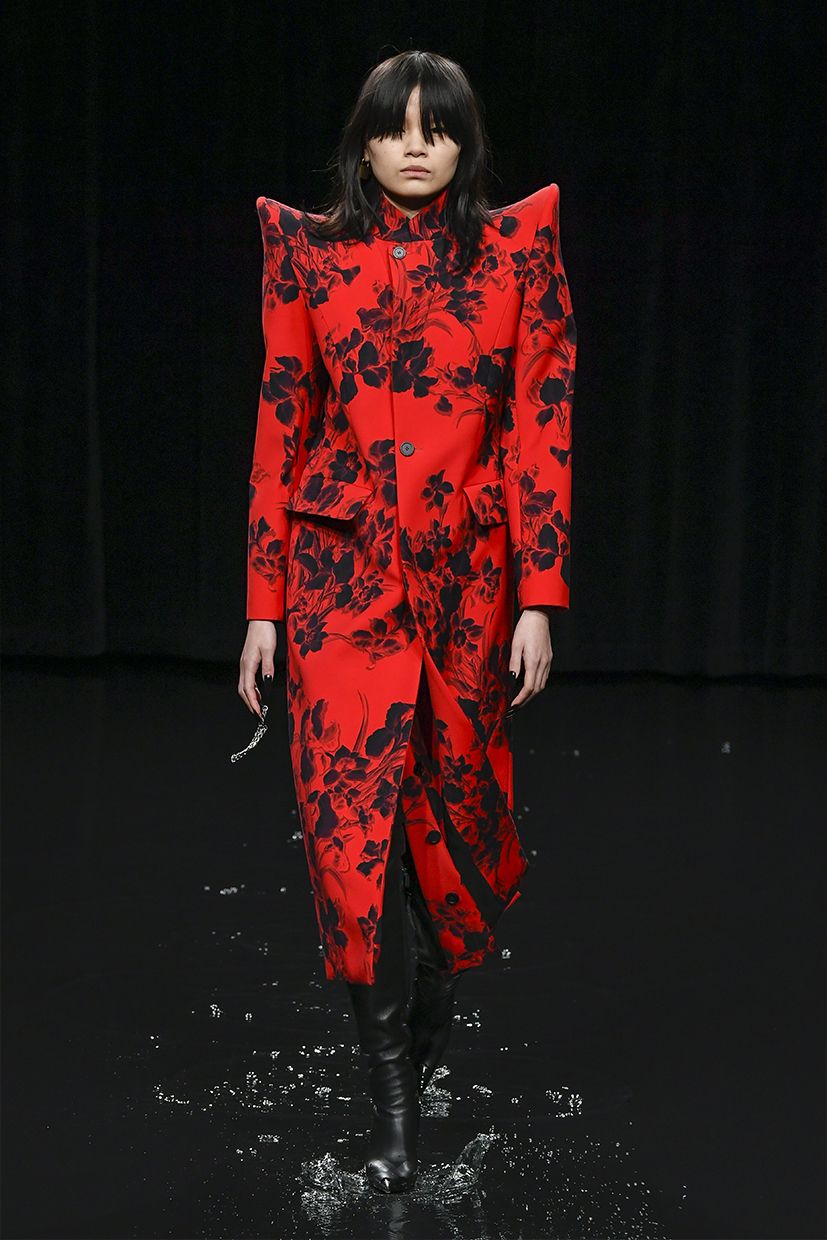 Set in a theatre flooded with water (purposefully we hasten to add), Demna Gvasalia's scenography and spring/summer 2020 campaign was post-apocalyptic. Perhaps playing into this, Balenciaga's AW20 ready-to-wear collection was entrenched in references of the dark and satanic kind. Oversized black tailoring with overpowering shoulders, clergyman clothing with stiff collared tunics in thick black velvet, motocross leathers and models wearing contacts that made their eyes appear black. Inspiration for Halloween 2020, perhaps?
CHANEL'S EIGHTIES NOSTALGIA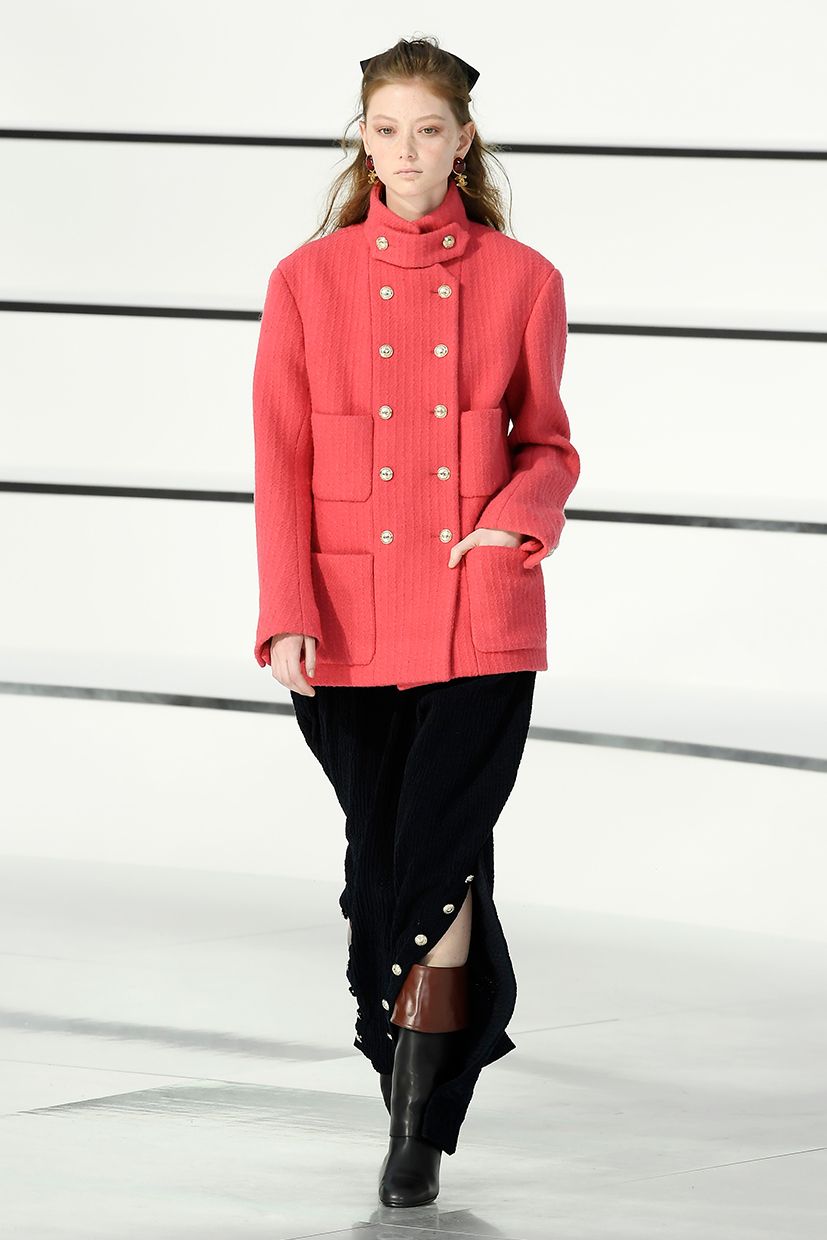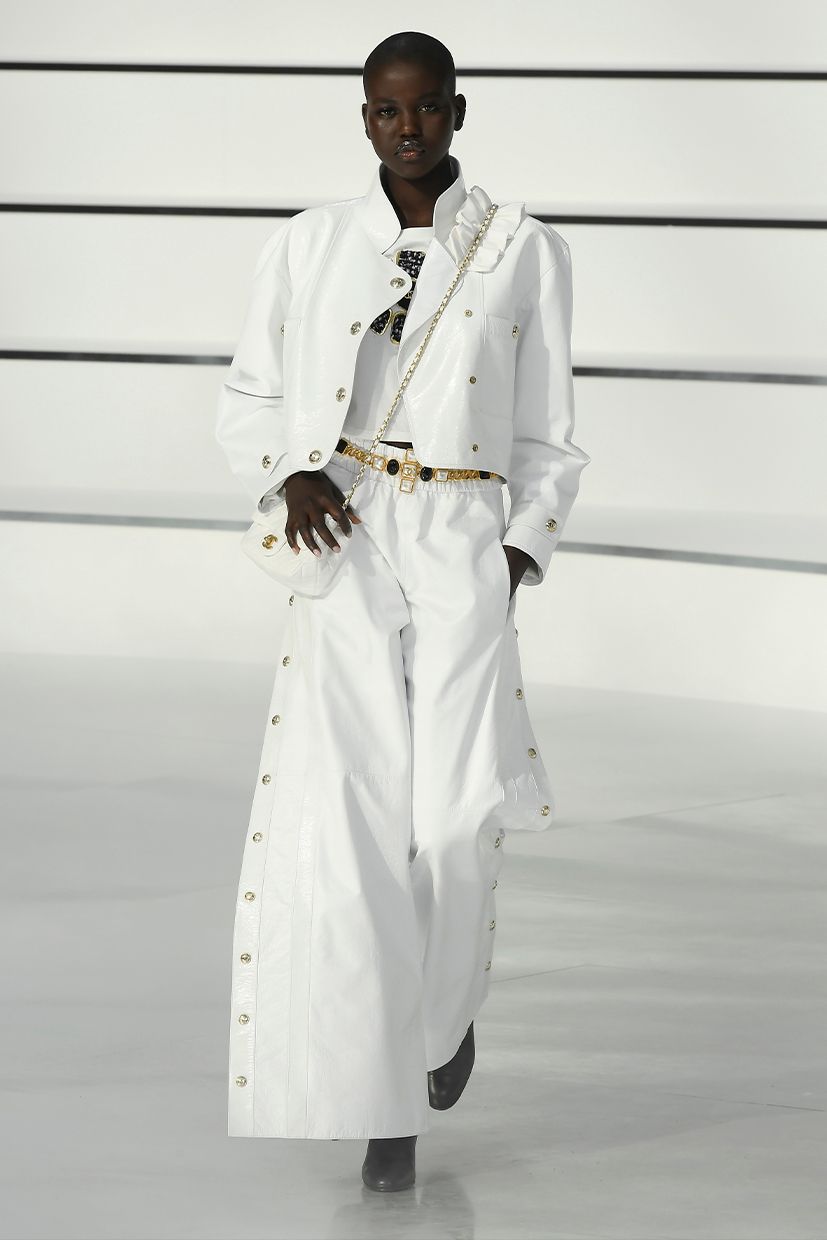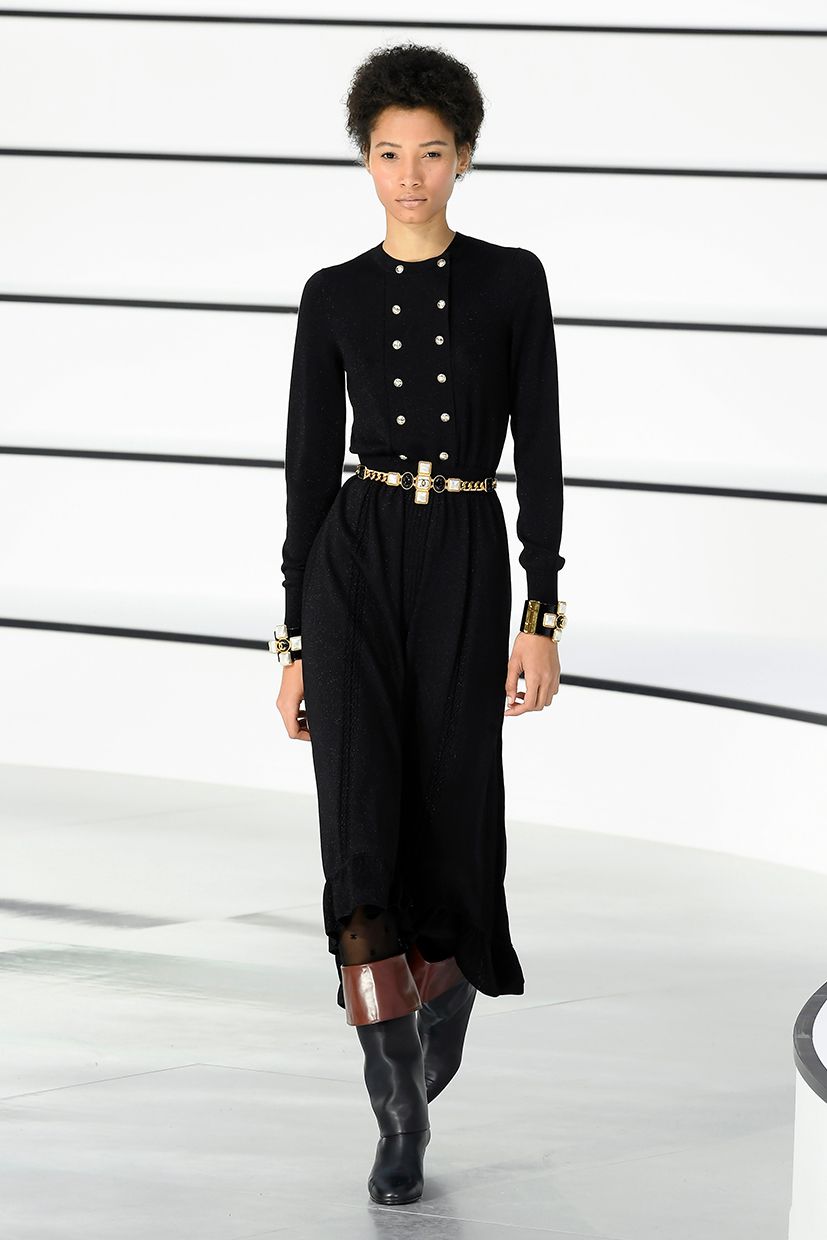 Jewelled belts, scallop edging, XL pearl accessories and voluminous collarless or double-breasted tailoring, was Virginie Viard listening to Adam Ant when she designed Chanel's AW20 collection? Because there was a definite hint of New Romanticism in there somewhere. Diving deep into the 80s archive; the colour palette was typical Chanel monochrome, with contrasts coming from texture – tweed suits, corduroy trousers, lace and fussy ruffled blouses. An occasional pop of colour came with touches of fuchsia pink, lilac and turquoise, jewellery was chunky chain necklaces, worn with thick plastic bangles – further playing into Viard's vision of 80s nostalgia.
MIU MIU'S THING OF THE PAST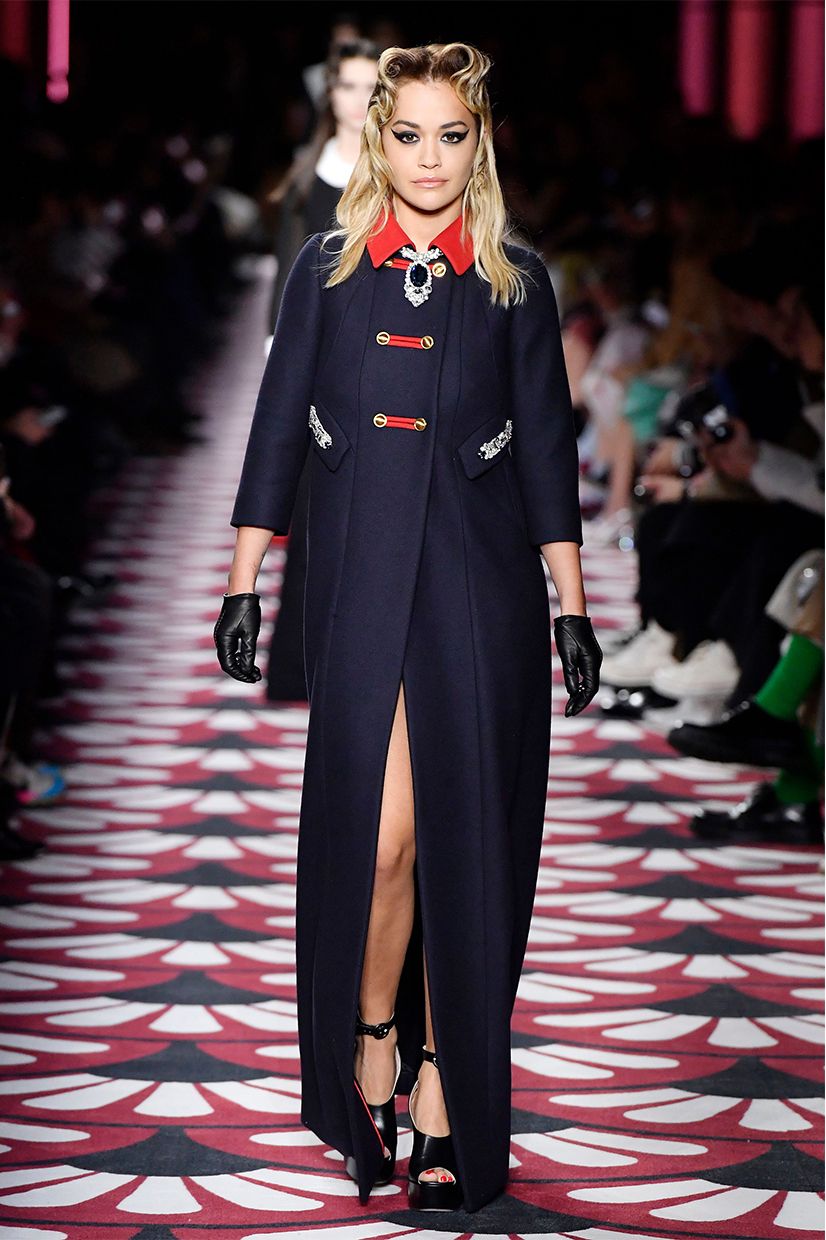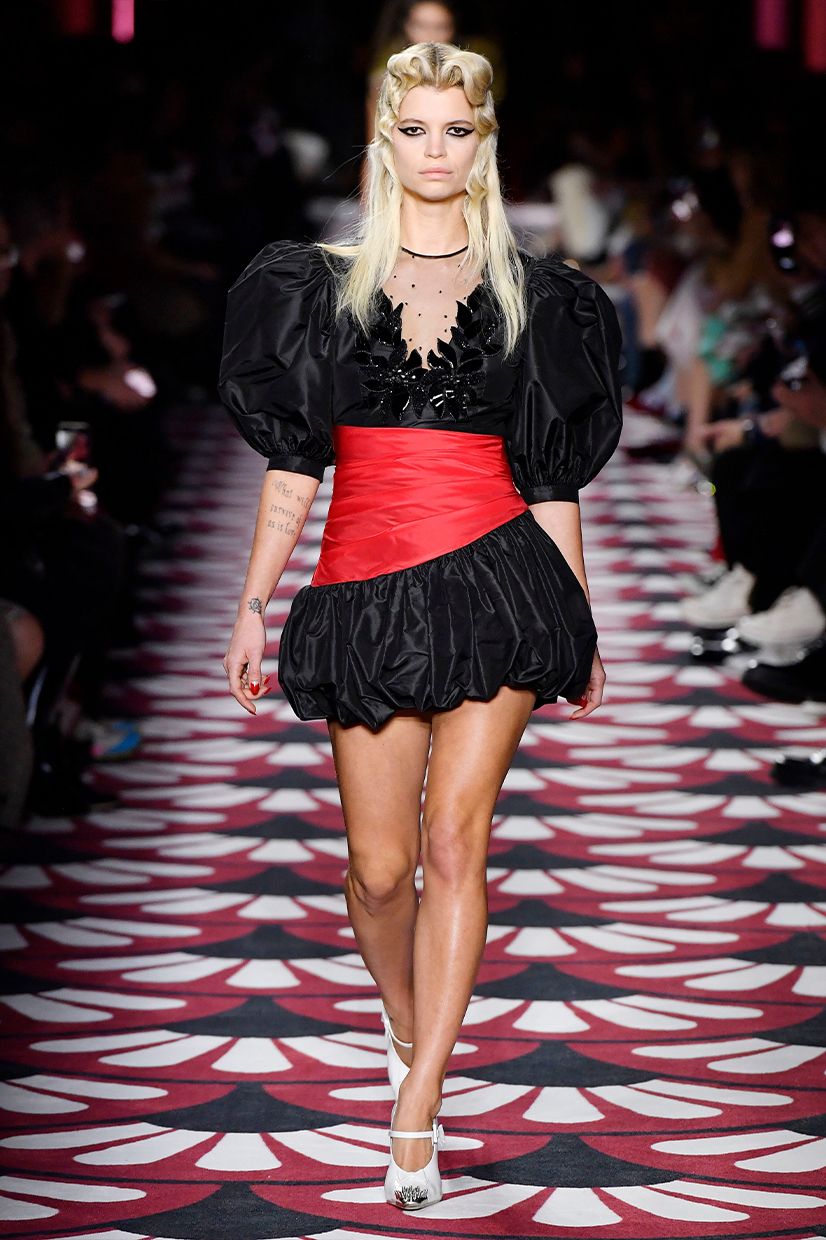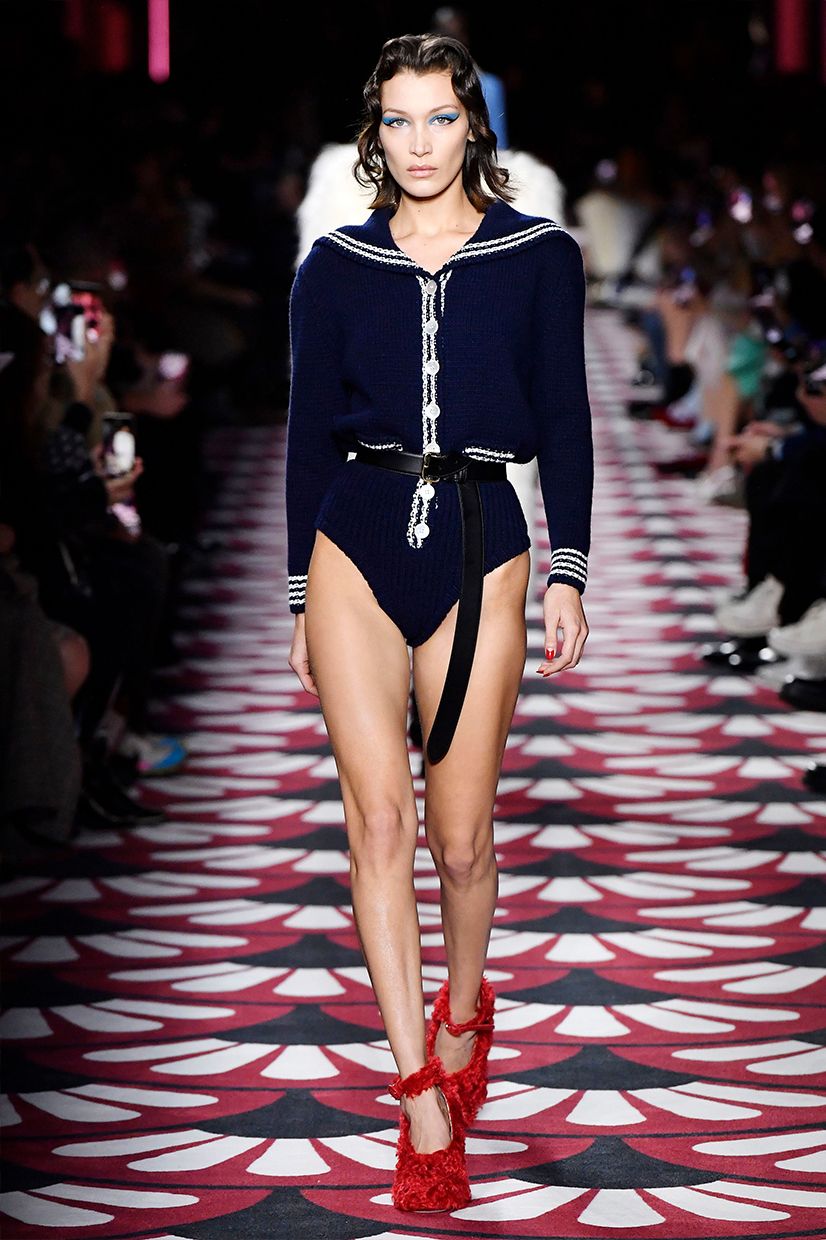 As always with Miu Miu, inspiration came from times gone by. Wool coats inspired by Jackie Kennedy's fifties glamour? Check! Sixties knit bodysuits with peter pan collars? Of course! Quintessential Miu Miu seventies platform heels? You guessed it. But what don't we usually see? Is that the eighties calling with short tiered dresses and ruched skirts that are very Muriel's Wedding? Well, that is a surprise. What else are we embracing from the show? Bold satin dresses that are, er, creased. Finally, a reason to never, ever iron again.
LOUIS VUITTON'S TIME CLASH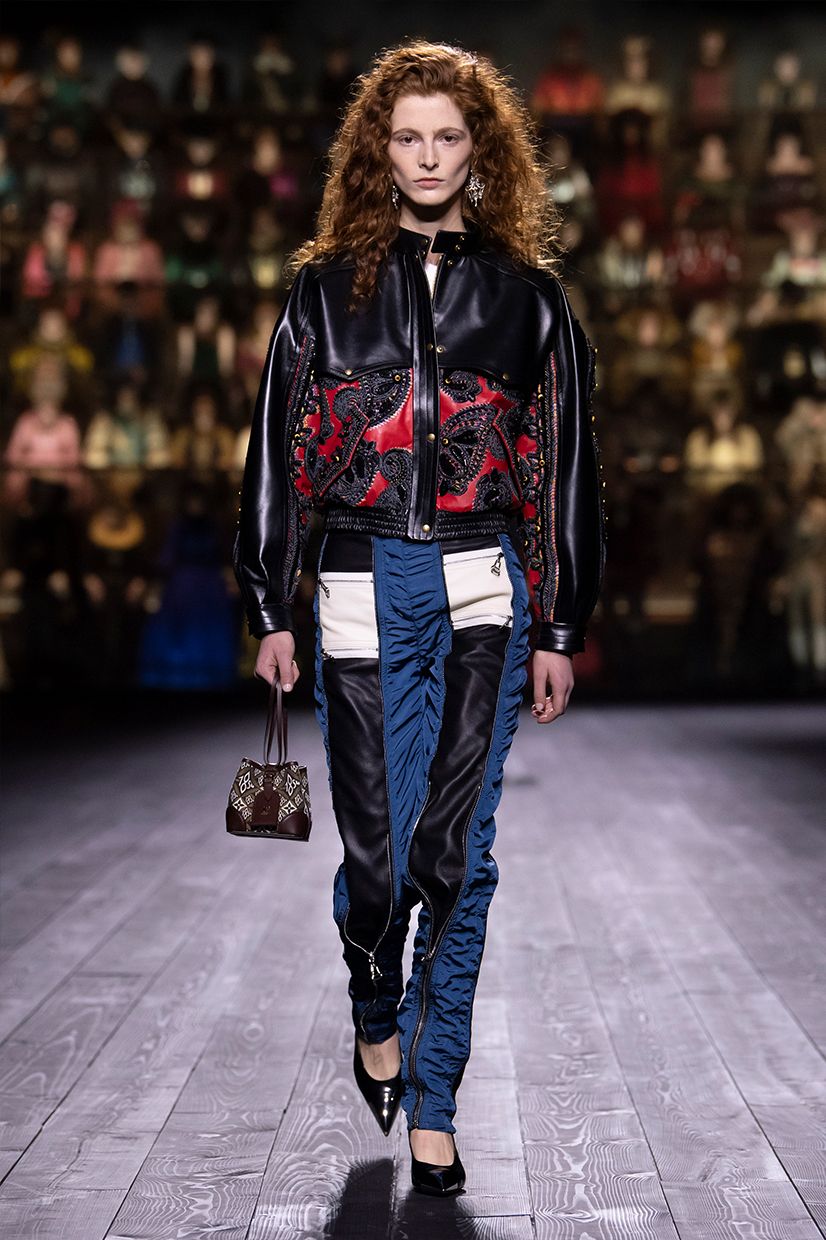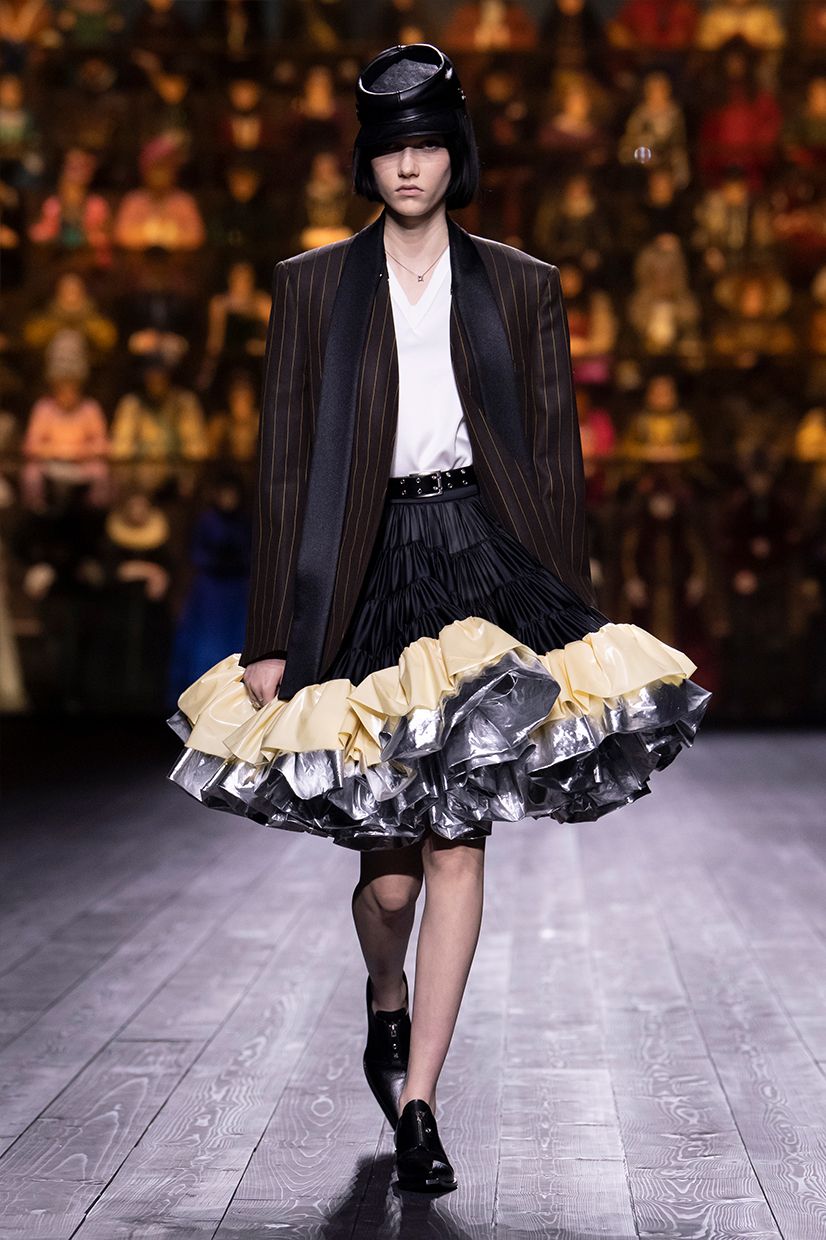 Nicolas Ghesquière loves film. We knew this after the Louis Vuitton Pre-Fall 2020 campaign, in which he created posters inspired by old movies. But for the AW20 show, he went one step further, using Stanley Kubrick's recurring costume designer, Milena Canonero – who worked on Barry Lyndon and A Clockwork Orange – to outfit the 200 characters that occupied a grandstand facing out onto the catwalk. But Ghesquière didn't just reference his favourite movies, "I wanted different eras to be confronted with another one, our own," he said in a statement. We saw Baroque jackets over motocross leathers, metallic ruffled tutu-style skirts and pinstripe tailoring presented together to offer a clash of time zones, styles and personalities. The message was clearly displayed as a slogan on numerous pieces: "I still breathe the past."
First published on Buro247.com.
Now, read all about Philipp Plein's new fragrance, No Limit$.