Maria Grazia Chiuri collaborated with two Indian artists to underscore the female/male dichotomy
Gowns, suits and cocktail dresses offer an element of shimmer and sparkle in the Dior's Spring/Summer 2022 Haute Couture collection that was staged at the Musee Rodin in Paris. Maria Grazia Chiurri and her team fused art and couture and used embroidery and its three-dimensional forms to reinvent the atelier's techniques. The silver lame jacquard highlights each movement of the body and cashmere coats embrace the silhouette alongside white capes that conceal matching jackets, pants and pleated skirts with tailored structured jackets. Embroidered tights also give the looks a signature feel to this season and accompany pieces from the suit to the dresses as well as a series of draped leotards. According to the Maison, Chiuri's aim is to reassert the syntax and grammar of the atelier and get back to the essence of couture which is to dress the body and shed the light on her creative dialogue with India by bringing together two artists: Madhvi and Manu Parekh in a successful attempt to underscore the female/male dichotomy not as opposition but complimentary as perpetual enrichment.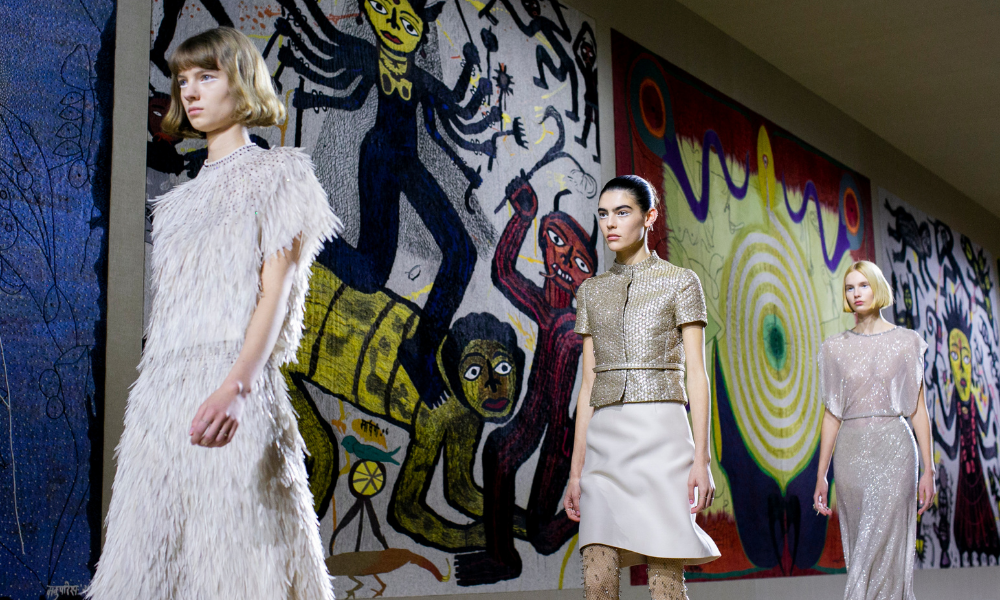 The Granddaughter of Grace Kelly, ambassador of Chanel opened the show on a horse
Even a horse on a runway show is possible for Chanel; Charlotte Casiraghi, granddaughter of Grace Kelly and daughter of Princess Caroline of Monaco, ambassador of the house opened the Chanel haute couture SS22 show on a horse dressed in a Chanel jacket comprised of black tweed and sequins. Just like the entire show that hinged on the 20s and 30s constructivism, a handful of models walked the runway with a single smudged black eye inspired by pre-war avant-garde creatives. Tweed was all over the first 15 looks like one of the key pillars of the historic French house. It is iterated in pantsuits and skirt sets, accompanied by knee-length dresses and evening coats worn as dresses rendered in iridescent weaves. Pale pinks are offered next to powdery blues and crisp whites lending to a sense of freshness throughout the collection. Feminine gowns with baby doll waists follow, crafted from iridescent floral appliqué lace, hovering next to ethereal tulle that flounces and floats with the music which resounded through the space as Sébastian Tellier played oversized instruments. Viard worked with each of Chanel's specialist embroiderers on the collection, which is, after all, the key to couture, and if anyone knows intricacy with dreamlike execution, it's the House of Chanel. The embroiderers wove geometric shapes into the collection, counterpointing soft tulle with graphic black and white patterns. Glittering sequin embroidered crops and brasseries were paired with full satin skirts and fluid trains; translucent dresses ballooned over themselves. Sheer panelled gowns flew into tiered skirts in tulle and colour-dipped silks, materializing as a feeling of looseness throughout the collection.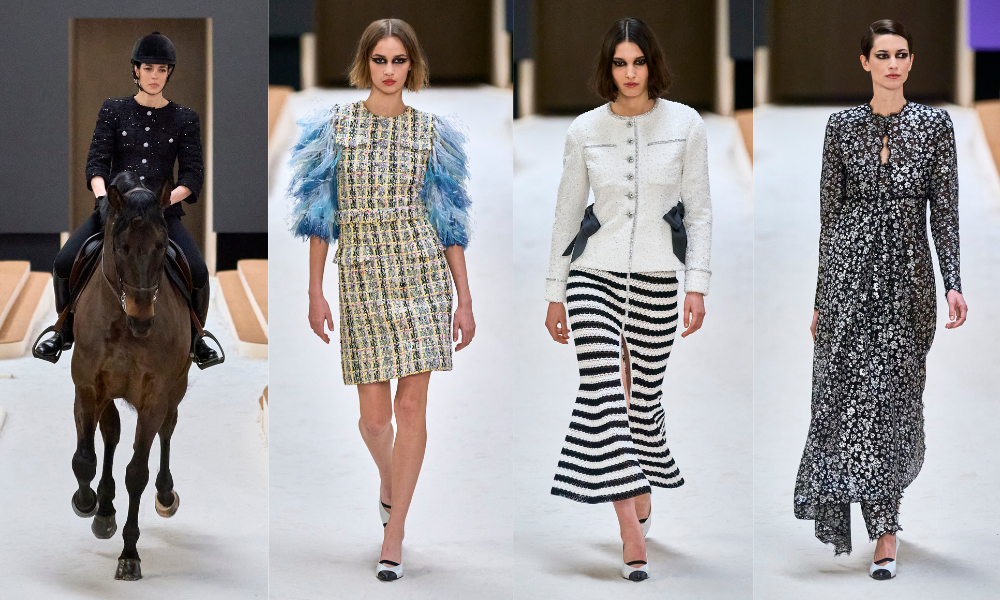 Schiaparelli made a surrealist comeback to the couture runway
Larger than life colourful dresses and gilded mouldings of body parts took the fashion world by storm as Schiaparelli returned to the haute couture runway with Daniel Roseberry. Although the colours were more pared-back and black, the designs were definitely not as Roseberry graced the runway with never before seen looks and surrealist style elements, this time with a sci-fi and ceremonial twist. Welcome to planet Schiaparelli where brass rings grace a glossy black corset, a giant hat connected to a black dress with sheer tulle material. The collection also features a Medusa dress which uses a new technique involving the moulding of wet gold leather. Other Schiaparelli signature motifs are further found in the form of small palm trees sitting on the shoulder of a jacket and last but not least a golden Saturn-shaped earrings and handbag.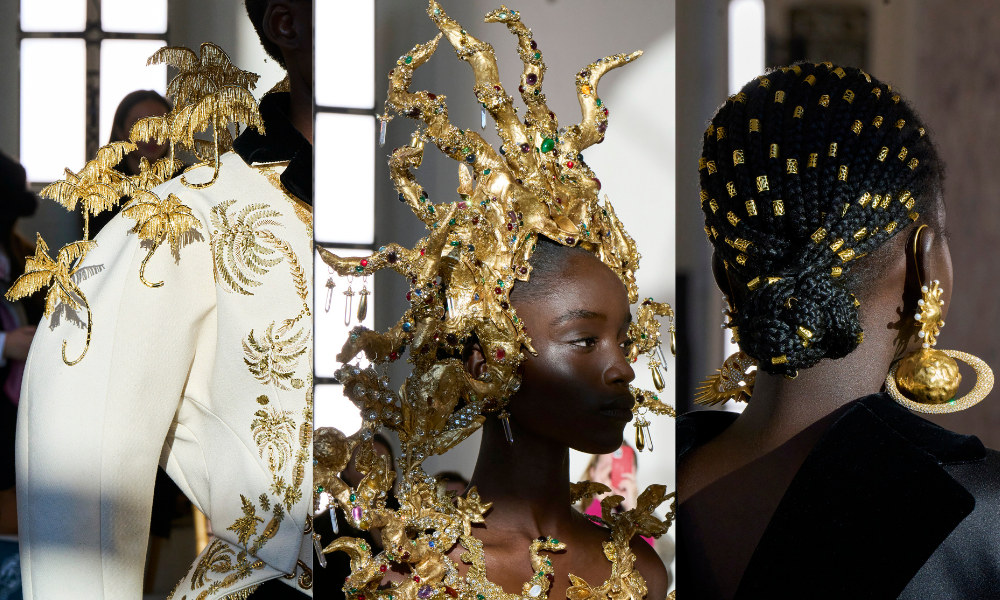 Pierpaolo Piccioli imagines couture on a variety of women with different body frames and ages
Piccioli built the collection as a composite harmony of physical types and the clothes that dress them, studied through a long process, both scientific and poetic with the main message: to convey beauty but in a welcoming expression. The body makes the starting and ending point with silhouettes following it closely or detaching from it. Nudity glimmers from extremely short hems, peeping from deep necklines that reveal the torso. A strong sense of verticality alternates with breezy horizontality. The codes of Valentino Couture are reiterated in dialogue that is not fragmentation but a coherent proposal expressed through different body frames. The intimate dialogue between who thinks the clothes, who makes them and who wears them is reflected in the intimacy of the presentation. Altering the process, yet keeping the quest for beauty and grace intact, a gesture of noble rupture, of poetic openness is affirmed, one which gives dignity to the individual by replacing the reality that includes with the abstraction that excludes.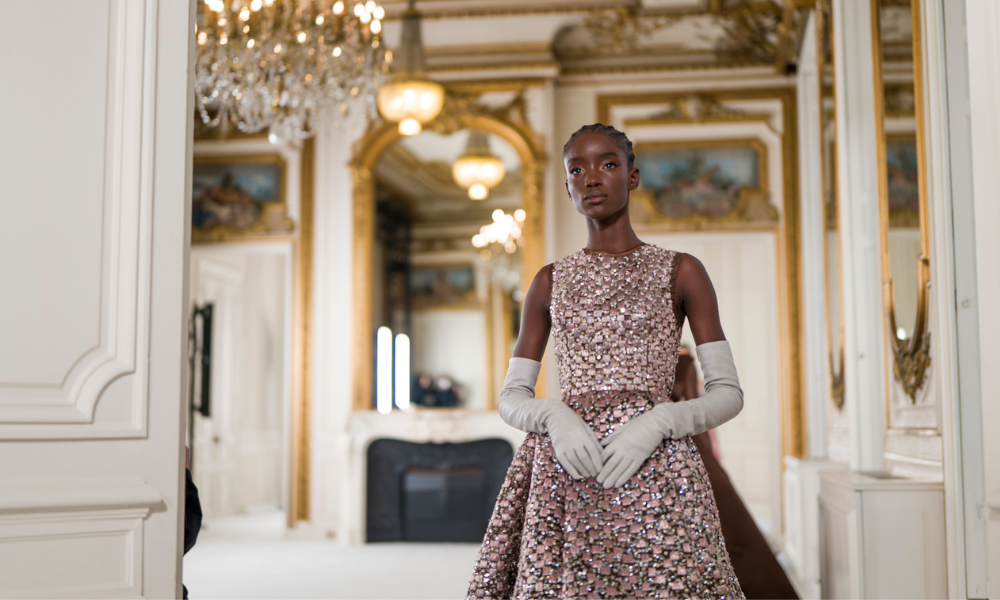 Stephane Rolland opened the show with an homage to Manfred Thierry Mugler
Not only that but he also got inspired by emerging Italian Spanish painter Viani. The collection was mostly monochromatic with few adornments like oversized crystals and glass pebbles executed by French glassmaker Theophile Caillethat. Sleeves were sweeping the flour with chiffon and satin crepe wafting graphically behind them referencing the abstract work of the painter. We also remember the carved outback of a dress or the opulent cowl finishing a sweater. Dressed in a black ballgown, Rolland's muse Nieves Alvarez played up to this idea by facing off with another model.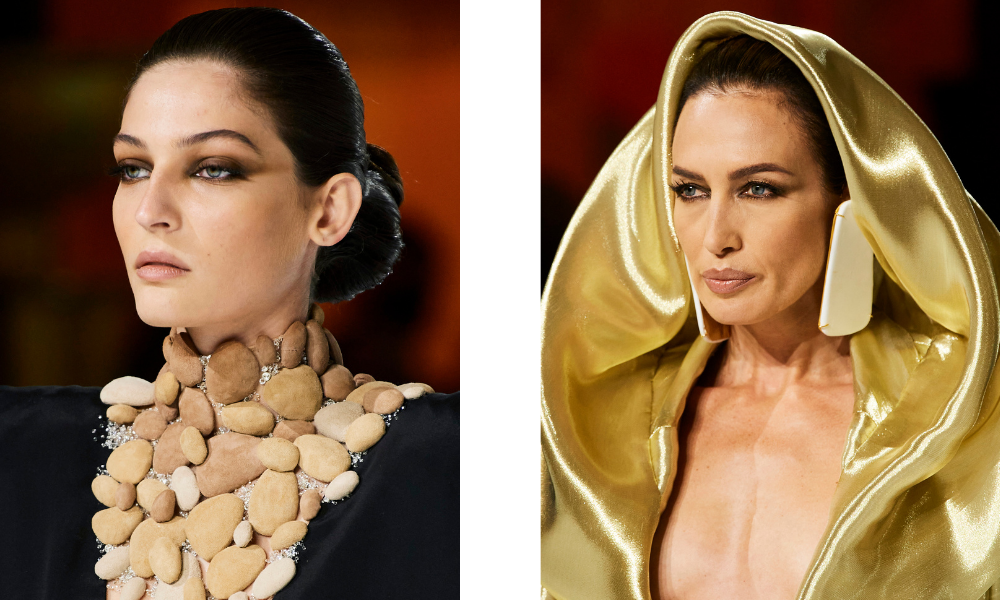 Models were dropped off on the runway by traditional gondolas at Dolce & Gabbana
With all pieces made by hand and rendered in luscious silks, brocades, velvets, glass and crystals, embroidery and special fabrics were celebrated with over 100 different looks making Venice a backdrop. While the show ended with a gondola trip taking all guests to dinner at the scenic Rialto market, models were first dropped off on the runway by traditional gondolas. The similarity between Venice and all the ornate looks was pretty obvious. Sequined dresses and sculptural elements were reminiscent of the city's architecture as well as its historically embellished carnival masks. Some of the models wore wigs inspired by gemstones, antiques and the deep and complex off-the-cut colours from pale sapphire to fierce copper shone. The brand also took its first foray into NFT in a nine-piece collection produced in collaboration with the digital marketplace UNXD with 5 out of 9, digitized in tandem with the physical pieces that walked the runway.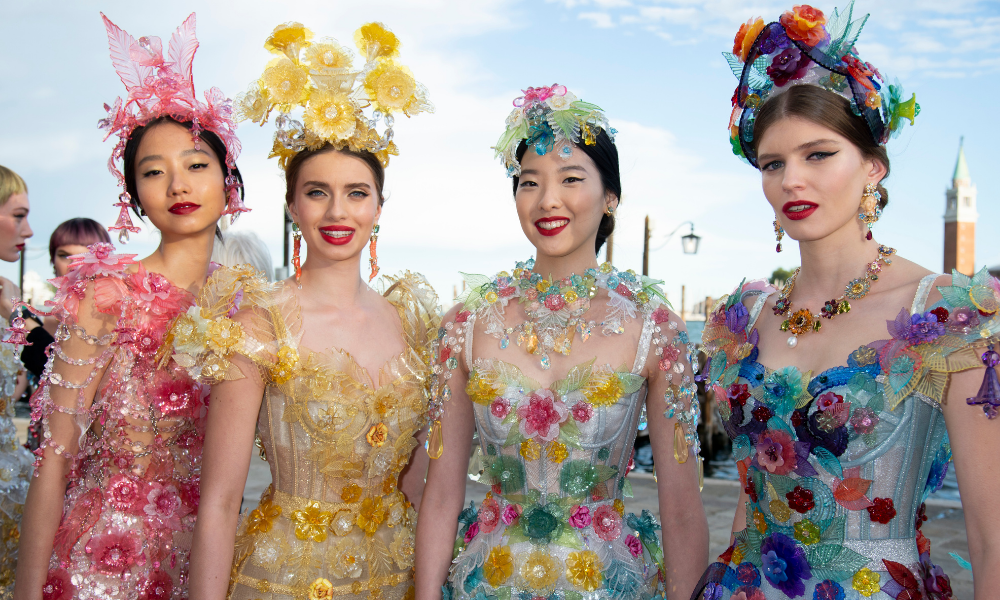 Demna Gvasalia revived the haute couture branch of Balenciaga which closed in 1968
Taffeta ballgowns are back at Balenciaga and the puffer jacket undergoes a global renaissance; at Balenciaga, we witnessed a different kind of couture thanks to creative director Demna Gvasalia who revived this area that was closed since 1968. The show opened with a series of trouser suits, some worn by men others by women, a deconstructed vest-dress stood in for a ball gown and a puffy pastel dressing gown for a coat. The venue was an apartment that the label's founder Cristobal Balenciaga once used for shows, repurposed in recent years as a storeroom and Gvasalia restored its 1960's hushed elegance complete with pale bourgeois carpets and soft drapes at the windows. A denim jacket was associated with the traditional Balenciaga silhouette and the show closed with a traditional bride wearing a two-piece in the waist obliterating the double-balloon silhouette with which Balenciaga himself scandalized Paris over half a century ago.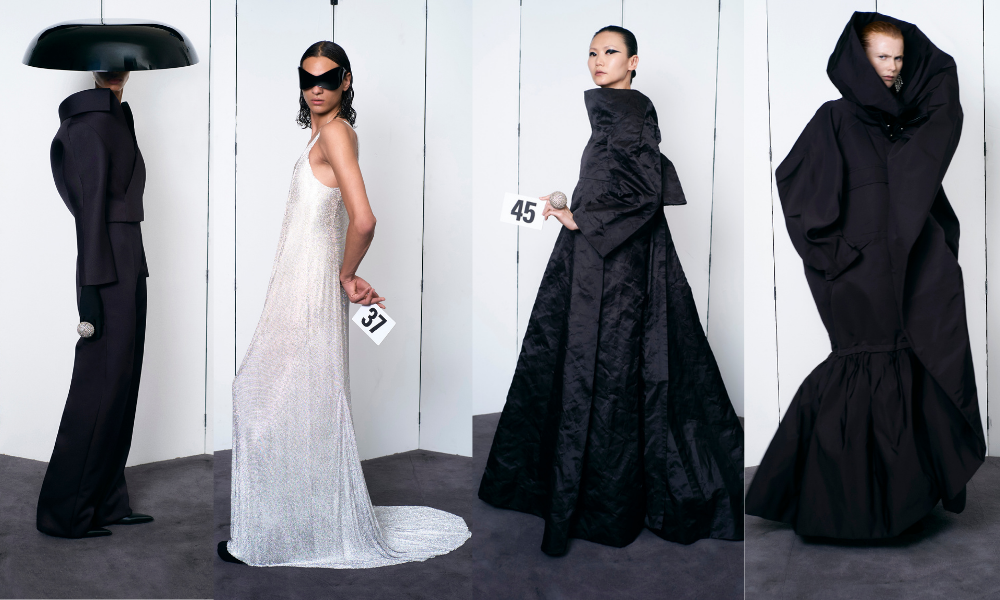 The 'Valli experience' merges the haute couture and ready to wear universe
Freely alternating between industrial and artisanal clothes-making, designer Giambattista Valli presented his SS22 haute couture collection with a 'Valli experience' runway video. The collection featured everything from shirts to gowns, signature eccentrics and unpredictable volumes. The 18 look collection was an array of beautiful and modern fabrics reminding the 1960's haute couture iconic designs in baby pink, black, red and white tulle gowns floating down the runway and the final look paid homage to the traditional haute couture bride with tulle used more in a softer, paired down manner, draped delicately over the model's head as a veil.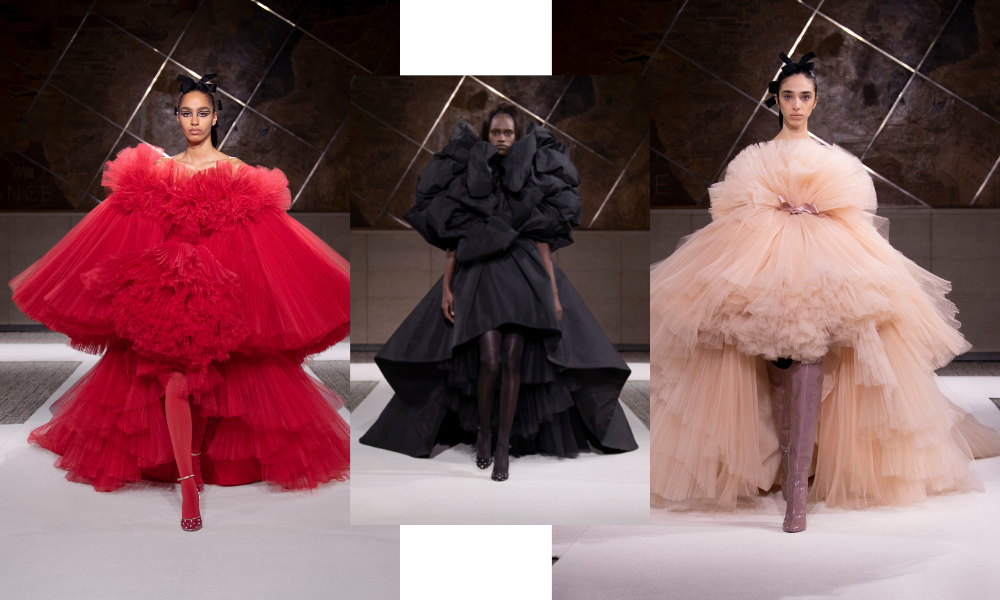 Fendi mixed historic silhouettes with futuristic frills for a timeless couture appeal
Kim Jones' latest couture collection provides the cinematic escapism that only haute couture can offer. Silhouettes were graced with Victorian high necks, flower-encrusted heelless heels, military riffs and a new age chic blended perfectly to create a dystopian fantasy where all the trimmings of a fabulous couture collection were present, imagined through a modernist lens. Models walked powerfully like the Roman emperors influences the designs in short skirts with long trains, flowing toga-esque dresses and statuesque silhouettes evoked the beauty and grace of Fendi's hometown of Rome.