Born from the beaches of Lebanon, Léa The Label is now serving up sustainable swimwear to eco-conscious fashion consumers. Léa Daaboul is the designer behind the brand and here she talks to Buro. Middle East about the importance of looking after the environment as well as your sartorial spirit.
Tell us a little about your brand?
Léa the label is a contemporary, sustainable swimwear brand, currently manufactured in Bali, Indonesia. All of the premium swimwear is created with the highest luxury, eco-friendly Italian fabrics. We value meticulous craftsmanship and provide a diverse range of silhouettes while maintaining a balance of comfort, quality and style. The swims are resistant to chlorine and sun-tan oils, are UV protective and are ultra smooth, ensuring the best-fit and long lasting wear. I also like to design with a focus on versatile and edgy collections that can be worn from day to night. Mixing-and-matching is also encouraged, as all styles flow together, creating a unique wear that fits into each individual's personality. The collection is a balance of minimalism and statement, while remaining timeless.
What gap did you see in the market that you could fill with your offering?
Fashion is growing rapidly and new collections are created monthly if not weekly, while this inexpensively increases brand profits, the amount of waste is substantial. Our concept is more focused on supporting the slow fashion movement with minimal and timeless collections and avoiding fast-fashion and mass production to allow more time for creativity and construction. We want to focus more on ethical fashion using the highest luxury eco-friendly fabrics for an affordable price and offer staple pieces to ensure our consumers that years down the line, their swimwear is still durable and in style. While taking a more positive approach on sustainability, we avoid less waste, environmental concerns and help reduce toxic working conditions.
How is the brand sustainable?
With the empowerment of the ECONYL® Reclaiming Program, The Healthy Seas and the Net-WorksTM projects, all of the swim fabrics are constructed from post and pre-consumer waste such as fishing nets, fluff, industrial plastic and yarn discards that are collected by coastal communities across the world. The waste is then made into the ECONYL® yarns that are shipped to Italy to create the highest quality sustainable techno fabrics that can be regenerated endless times, preserving the same quality and offering a strong and long lasting swimsuit.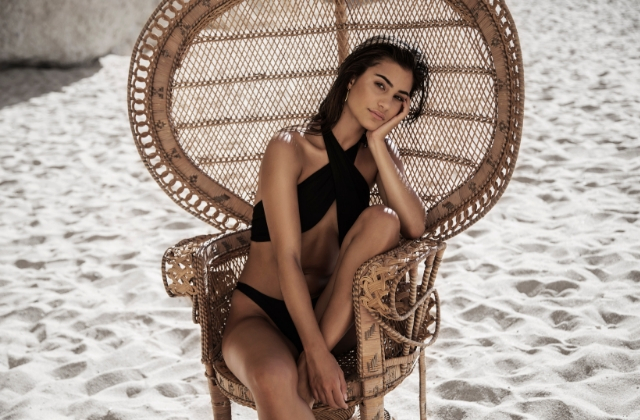 Why was operating sustainably important to you?
Our ocean is the foundation of earth's life support system. About 70 per cent of Earth's surface is water and 97 per cent of earth's water is within our oceans. According to the ocean conservancy, about eight million tons of plastic is dumped into our oceans killing millions of marine animals every year. In an effort to reduce our carbon footprint, we pride ourselves on sustainability and protecting the planet. Even the slightest changes can go a long way. We hope that by creating our swimwear from 100 per cent regenerated nylon we can contribute to saving our oceans and help bring awareness and change.
What is the brand's hero piece?
The Brand's hero piece would definitely have to be the unique Loren top. An elegant and timeless asymmetrical bikini top that is flattering for all bust sizes.
You were born in Lebanon and have since lived in some of the world's top capitals — how does your heritage fuse with your life experience in your designs?
Growing up in Lebanon, being at the beach was a normal daily summer activity — along with always having visibility to the most magical sunset over the sea, whether you are in the mountains, downtown or at the beach. My earliest childhood memory was the ocean, which was during the more difficult times when my family would escape to spend most of our summers in Cyprus to avoid the war in Lebanon. I have always been drawn to the sea, even listening to my grandmother's stories of her past exotic beach days, I used to imagine what the swimwear and fashion was like back then, especially during Lebanon's golden days. Flash forward years later, I specialised in lingerie and swimwear, as I found it so intriguing and challenging to create something so minimal. Having the advantage of living in different countries can help with a better understanding of different markets and stimulate creativity, especially being surrounded by a diverse range of architecture, colors and culture. With thoughtful inspiration, my focus is to collectively merge my worldly experiences by creating Léa the Label.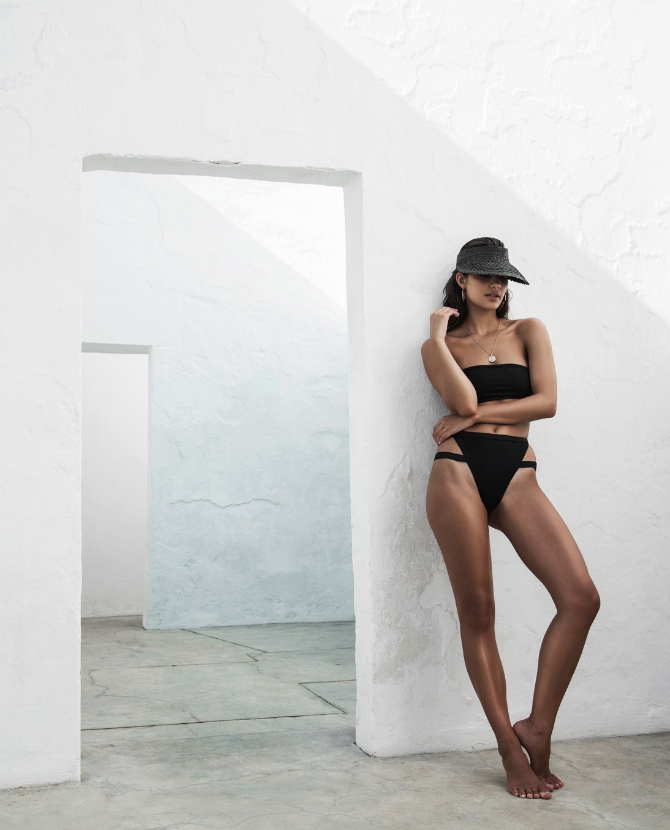 The designs are also inspired by your travels — where is your favorite place to unwind? Why?
The swimwear brand is inspired by my travels and experiences around the world with an appreciation for culture, art, style and yoga, as I practice yoga daily and have been an instructor for a couple of years now, something I am very passionate about, all of which have played a part in the birth of the brand. We currently manufacture responsibly in Bali, one of my preferred serene islands to unwind and recharge, a place where the yoga, beach culture and sustainable visions are widely common. Travel definitely plays a dominant role in my inspiration from the design process to shooting our campaigns. The brand's first campaign, "PRIMEIRA", took place in Algarve, Portugal. Inspired by the serene European summer on the southern Coast of Portugal. PRIMEIRA translates to "First" in Portuguese hence the brand's first collection. The swims are featured against old and rich walls, minimalistic Portuguese interiors and the beautiful cliffs by the Atlantic Sea, where the natural elements are merged with the modern. We are currently working on the new collection and looking forward to launching the new campaign this spring.
Tell us a little about your experience leading up to launching your own brand…
I acquired my Fashion Design degree from ESMOD in Paris, France. My first internship was in Paris during my first year in University. I was interning in a showroom, which plays an immense role in my career today. Learning the wholesale and buying aspect of the industry is just as imperative as the design. After a rigorous amount of continued education in business marketing and years of professional experience in design and luxury buying in Paris and New York, I decided to launch Léa the Label.
Where are the pieces available to shop in the Middle East?
Léa the Label is currently available online on www.leathelabel.com, and we ship express globally from Dubai. We are also at the Four Seasons resort in Seychelles and we are looking forward to growing our retail market in the Middle East and worldwide in the near future.
Now, find out more about Tommy Hilfiger's new sustainable denim range.