Wearable tech is a sector of fashion we seldom hear much about. The likes of Zac Posen (who designed Claire Danes' light-up dress for the Met Gala in 2016) and Marchesa (who collaborated on a dress for Karolina Kurkova with IBM Watson for the same event) have already somewhat explored the realm of interactive clothing, however pieces of intelligent clothing have been few and far between.
Enter Google Jacquard, the collaboration between tech giant Google and iconic American denim brand Levi's. The companies have teamed up to take one of Levi's iconic trucker jackets and transform it through the use of conductive threads of yarn woven into the garment. The threads allow wearers to communicate with their devices (whether Android or iPhone) simply by touching the garment. The abilities and gestures are entirely customisable by each wearer and include being able to skip to the next song, find your phone, hear the next navigation instruction and more.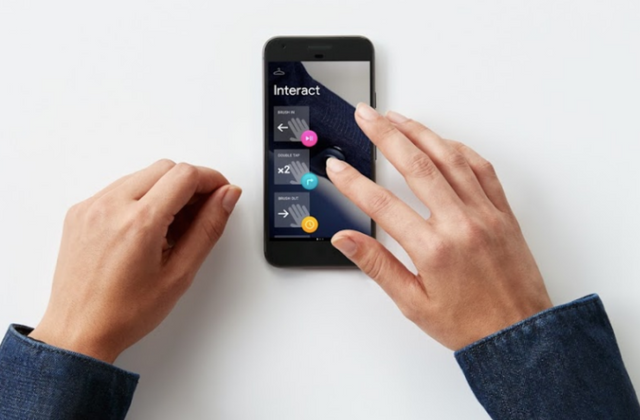 The jacket was displayed at SXSW 2018 and nabbed the Wearable Tech Innovation Award at this year's Innovation Awards ceremony. The piece wears like a regular jacket and can be washed and treated as such, meaning the technology component doesn't hinder the practicality of the garment. Ivan Poupyrev, the Director of Engineering at Google, is one of the men responsible for the design of the garment and speaking with Buro at SXSW, he said he hopes that technology in clothing pieces becomes "as normal as a zipper."
Despite its use of conductive thread, there's also an argument to be made on the sustainability front, Ivan tells us, thanks to the fact that the garment can be updated every six months with the newest capabilities, eliminating the need to buy a new piece due to outdated functionality. Plus, a denim jacket is a proven wardrobe staple, no matter the season.
A trailblazer in the wearable tech space, Ivan also tells us there are plans to expand the collaboration beyond trucker jackets, too. Watch this space.
Now, read the top moments from Mariah Idrissi and Melanie Elturk's panel at SXSW on faith and fashion.