The most anticipated shows delivered their collections in Paris last night. Between Givenchy, Balenciaga, Valentino and Thom Browne, we were treated to a catalogue of classic and romantic looks.
Take a look at what we felt were the winning pieces…
Givenchy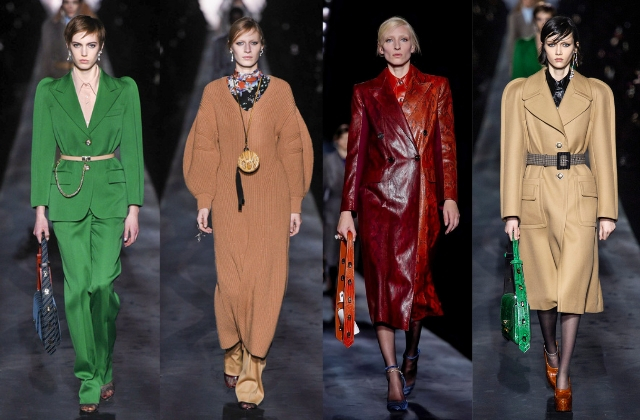 What went down: So, it looks like snakeskin is here to stay for F/W'19. Artistic Director Clare Waight Keller presented a collection that made notable references to Adam and Eve (hence the serpent motif) with covetable leather trenches with scaly finishes. On top of the Garden of Eden look, there were a raft of power ensembles. Keller joined the 'bigger is better' movement with blazers featuring punchy shoulders and oversized tunic dresses which were cinched at the waist with even bigger belts. What we love most are the dress coats, particularly the leather one. Now that's a wardrobe staple.
Valentino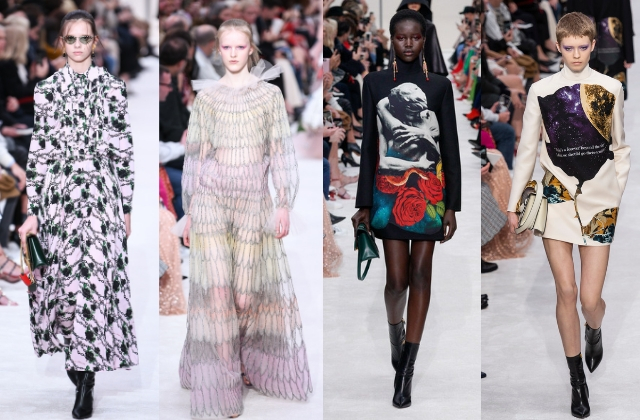 What went down: All you need to know is that the theme song from Romeo + Juliet (Kissing You by Des'ree) was played at the Valentino show, to understand just how romantic the F/W'19 collection is. As usual, the pieces fall under the 'whimsical' category with dreamboat dresses and fantastical silhouette. Pierpaolo Piccioli confirmed this sentiment by saying, "I feel that people are looking for emotion and dreams – but not distant dreams." A central print seen more than once was the 19th-century neoclassical sculpture of kissing lovers with a pop-punkish image of a rose, which is seen on sweaters and jackets alike. As usual, the couture finishes are simply divine.
Balenciaga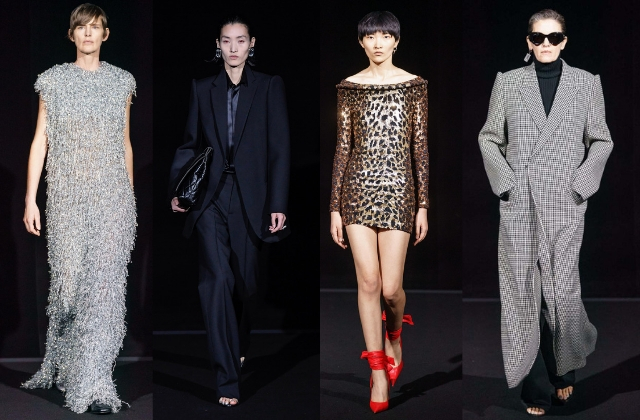 What went down: Ooof, this was a chilling collection. Never has Balenciaga been bolder and more serious in its messaging. Creative Director Demna Gvasalia is not known for making light of fashion; in fact, she outwardly has said, "I'm really serious about making clothes. I'm not part of this ugly fashion." Well, she has definitely spoken. While she might be straight laced, her F/W'19 collection comes with edges. The beefy herringbone coats and blazers with chunky shoulders along with a snazzy and body-hugging leopard print dress gives this collection a blend of minimalism and maximalism that is very self-aware.
Thom Browne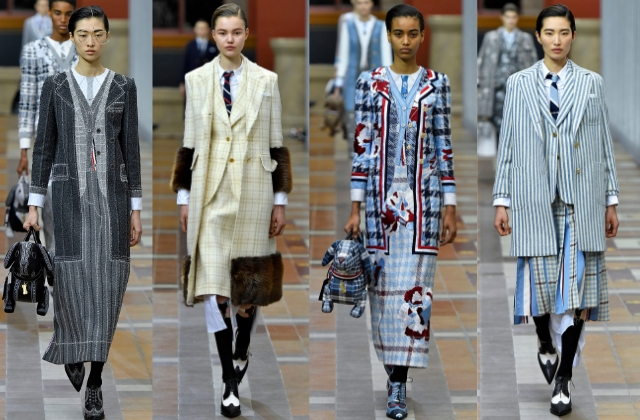 What went down: There's no other label that accomplishes sharp tailoring quite like Thom Browne. The brand's classically American DNA came through beautifully in a collection that wasn't afraid to go back to basics. In fact, that runway appeared to be a conveyor belt of executives – which by the way, were all female, giving a strong nod to female empowerment. And finally, we're not sure about everyone else but we picked up on a Mary Poppins vibe. The looks to us seemed to marry together a playful strictness. There was structure and discipline in the cuts and then a dash of fun in the accessories department. Note the shoes and bag for evidence!
Now, check out these empowering T-shirts for International Women's Day.