Just as we thought the 'hot girl summer' trend was finally coming to an end, Nicki Minaj is bringing it back with an explosive drop for the next chapter of Fendi's FF Series.
Together, the acclaimed artist and Italian luxury fashion house have come up with a capsule collection, aptly titled Prints On, which evidently boasts Fendi's iconic and playful DNA with Minaj's bold sense of style and quirkiness.
Perfectly evoking the artist's persona, the new Prints On capsule collection features a bright Barbie pink to pioneer the collaboration. Heady futuristic elements meets high-end glamour through a plethora of monogrammed mini dresses, elevated leisurewear, oversized coats and graphic sweatshirts. Plus, let's not forget about the accessories.
Following the same characteristics of the collection, the accessories range — which include the iconic Peekaboo and Baguette handbags, as well as the newly launched Kan U belt bag — is adorned in metallic silver (think sequins and embossed FF logos) and fluo twists.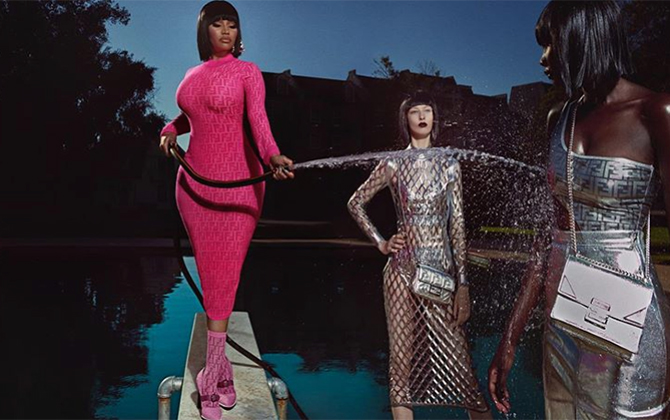 If you're anything like us and eager for the collection drop (set to take place mid-October), at least there's a closer look at what to expect from the collection as Nicki Minaj released a song to go along with her supreme partnership.
Their Prints On collaboration is front and center of a new music video clip with PnB Rock and Murder Beatz, and the tune (titled, wait for it, Fendi) marks the official teaser for the upcoming collaboration launch. Watch it here…
Now, discover Fendi's latest Spring/Summer 2020 collection.