The summer season is officially upon us and we know how daunting it can be to shop for your ultimate destination wardrobe. However, courtesy of this new capsule collection that just landed on MyTheresa, you won't have to look that much further as a contemporary label offers exactly what it is you've been looking for, and more.
The Budapest-based brand, Nanushka, just dropped 12 pieces that embrace both the femininity of the e-commerce platform, and Nanushka's achingly cool ethos and lightweight fabrics – including vegan leather and natural linen.
And if that hasn't already sold you on the brand, the collection has been designed for day-to-night dressing with defining jumpsuits, dresses, blouses, jackets, skirts and shorts.
Now, see what Nanushka's Founder and Designer, Sandra Sandor, had to say about the collaboration…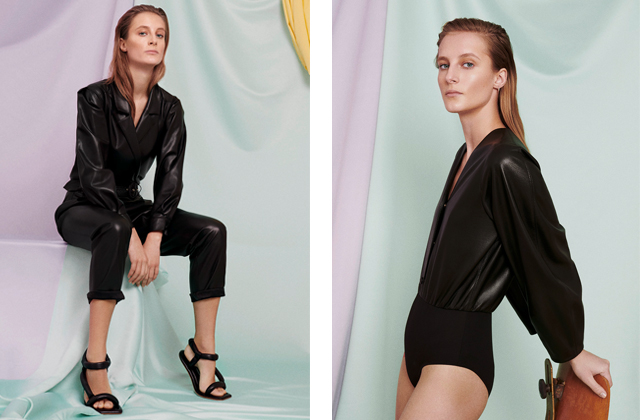 Why did you decide to collaborate with MyTheresa for this capsule collection?
MyTheresa has a great selection of pieces and it's one of the most innovative online retailers. I thought this collaboration is the perfect opportunity to rethink some of the signature Nanushka materials, like the vegan leather for MyTheresa's city girl.
What is your most favourite look or piece from the capsule collection and why?
I think they have to be the jumpsuits as they are feminine, effortless, but also empowering at the same time. We created two styles, a more tailored vegan leather one and a very summery, skin bearing linen version.
You've reinterpreted 10 signature styles for this exclusive capsule collection for MyTheresa. What was your inspiration for this capsule?
The main inspiration behind this capsule was a re-interpreted city safari wardrobe with the Mytheresa woman's liberated femininity and Nanushka's signature functionality in mind.
You are perceived as the rising star of the contemporary fashion industry gaining worldwide attention and respect, yet your brand is based in Budapest. What role do your Hungarian roots play in your design process?
Budapest, the city where I was born and raised inspired me all through my career and you can always find some references in every collection. The city is in the intersection of the East and West and because of this has a very rich cultural history. The mix of these sometimes clashing influences create an unexpected harmony and I like to translate this into my designs – I like to combine distant elements and create something unexpected.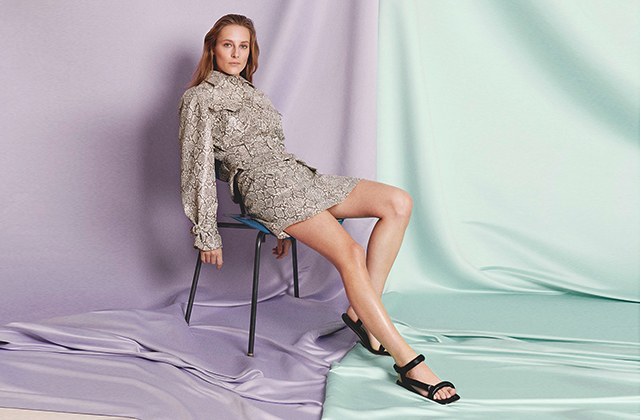 Nanushka owes part of its success to the very big following on social media with a large group of supporters. In your opinion, what makes Nanushka so "instagrammable"?
I always believed that if someone feels comfortable in her clothes it makes them feel and look more beautiful – maybe it has to do something with this.
Nanushka is known to work with conscious materials, using vegan leather, natural linen and cotton denim. What is the idea behind this decision?
Sustainability was always very important for me and it's a more pressing issue these days. Fashion is the second most polluting industry and we need to work together to preserve and save our planet for the future generations. This is a very complex subject, but it helps that the customers are more aware of the situation and the industry is more vocal about the changes need to happen. This won't happen overnight, but a step-by-step process. Nanushka has a long way to go as well.
Nanushka's exclusive capsule collection is now available on mytheresa.com.
Now, go inside Celine's new boutique in The Dubai Mall.