She's back! Meghan Markle's maternity leave has officially come to an end and she celebrated the first day back at work in an exciting way.
Overnight, the Duchess of Sussex was at the launch of a five-piece capsule collection she created for Smart Works Charity — an initiative created in 2013 to help unemployed women regain the confidence during more difficult times.
The event was held at London's flagship John Lewis boutique (where you can shop the collection) and the royal was dressed in a white button-down shirt and black trousers from the collection, a thin brown belt, tan suede pumps and layered it with gold bracelets. Also, Meghan Markle paid tribute to Princess Diana by wearing a set of earrings that once belonged to her.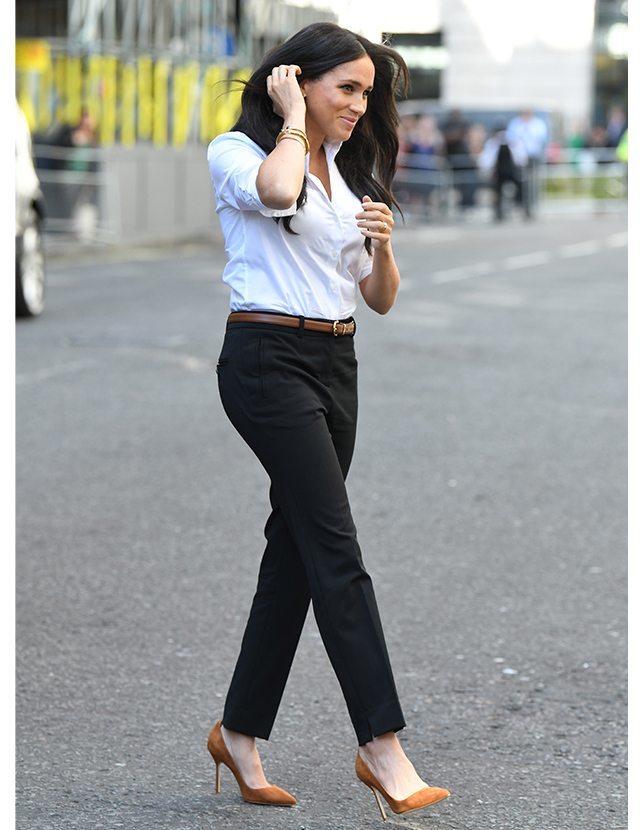 Duchess Meghan, who is actually a royal patron of the organisation, gave a powerful speech on what it means to actually support women by transforming charity into community.
"Since moving to the UK, it has been deeply important to me to meet with communities and organisations on the ground doing meaningful work and to try to do whatever I can to help them amplify their impact. It was just last September that we launched the 'Together' cookbook with the women of the Hubb Kitchen in Grenfell," said the former Suits actress. "Today, a year later, I am excited to celebrate the launch of another initiative of women supporting women, and communities working together for the greater good."
You can watch some of her speech here…
Meghan Markle's capsule collection for Smart Works include five pieces which feature a shirt, trousers, blazer, dress and tote bag and for every item bought during the sale of the collection, one will be donated to Smart Works. The collection was made in collaboration with Marks & Spencer, John Lewis & Partners, Jigsaw and designer Misha Nonoo.
"When you buy any item in the Smart Set Capsule Collection for Smart Works, the same item will be given to a Smart Works client, and with it, the confidence and support she needs to enter the workforce and take an important step in building a career," said the Duchess of Sussex.
Below, you can spot what the collection looks like as Meghan poses for a photograph with women dressed in clothes from the Smart Works capsule collection during the collection's launch.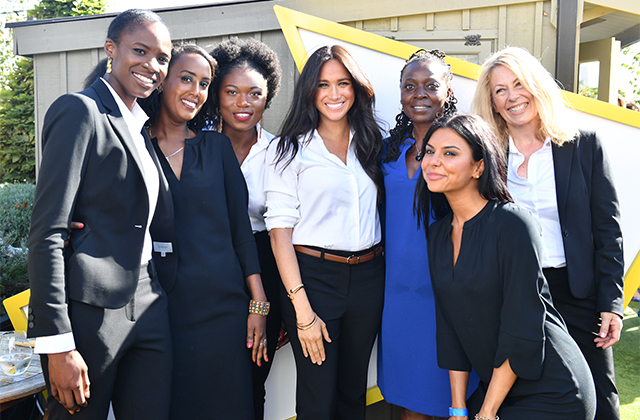 Some of Meghan Markle's capsule collection for Smart Works is now available on Johnlewis.com.
Now, read more about Meghan Markle's upcoming children's book.