If there's one thing Dubai is known for globally, aside from the skyscrapers, it's its retail offering. With the largest mall in the world and more than a handful of others dotted across the city, there's no shortage of options for our wardrobes. However, residents in the emirate are increasingly seeking out new sartorial destinations to update their closets with cool pieces unavailable en masse from inside a mall.
Enter The Edit, the new Jumeirah-based concept store that is the brainchild of Rumana Nazim. The former lawyer opened the space just over two months ago with a simple concept: the deliver something new to consumers in Dubai. Staying true to its name, the store offers a selection of clothing from six brands at present (a number which is growing) as well as a selection of jewellery, homewares and beauty products.
It's hard to believe that just over 18 months ago the space was a clinic with low ceilings, ramps and lots of small, dark rooms given the open, bright and welcoming space that now greets you upon arrival. We caught up with Rumana to talk about the store (which also includes a collaborative gallery space upstairs), her plans for the space and why The Edit is exactly what the city needs…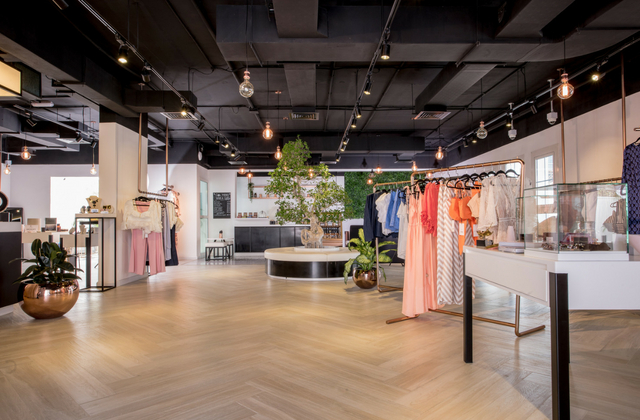 Why did you decide to open the store?
I worked as a lawyer for seven years and I was always interested in art and fashion. The idea really came about because I travel a lot. I spend a lot of time in London and I feel like there are so many cool concepts there. Even if it's just a regular store, they add on so many multi-dimension experiences to it so when you walk in it's not just a store — you really feel like it's triggering a lot of your other senses and I realised that Dubai doesn't really have that. There wasn't anywhere that I could think of where somebody could walk in and feel like they can chill out, is zen, pretty, smells nice, and the service is good but also it has quality items that you can't find everywhere else. Not everybody knows about the brands that we have, even though they have cult followings in other countries. So I started thinking about it and it took me about a year before I decided to quit my job to work on this, which was last August, and we opened the day before Ramadan.
How has the response been so far?
It's been incredible. It's really funny because this is not my area of expertise. I am a lawyer, not a interior designer or someone in the fashion industry or a gallerist so for me to have this vision, I was really nervous about how it would come together. I wondered if what I had in mind would translate into reality and be something that people would understand and vibe with. The hardest thing about being an entrepreneur was converting my vision into a reality but the response has been incredible. Considering we opened up at probably the worst time, right before Ramadan, July and August, we're still getting a lot of people in and we're getting great feedback even from people just coming across us on Instagram. I'm using this time to strategise for September onwards, going into the busier months.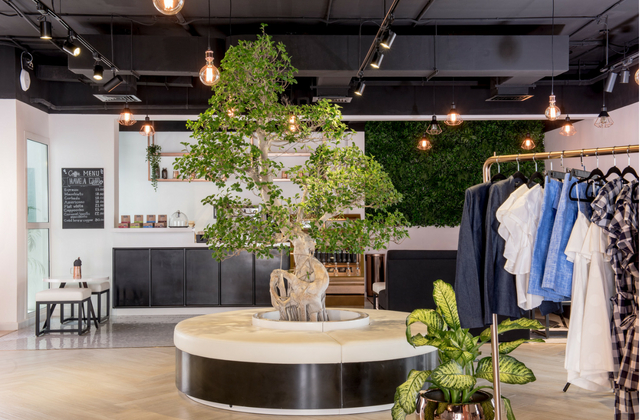 What was the idea behind the store?
The idea is that we have different zones and areas and I want to turn it into a bit of a community space. I wanted to have a space that was far away from a mall where you could walk in and feel like it's a home away from home and because we are one store, we remember our customers and there's a personal relationship. I've been offering free yoga classes upstairs in the art gallery so we're building a community around that, everyone meets for breakfast after. The idea for the art gallery upstairs is to have exhibitions, pop-ups, panel discussions, movie nights, just things to get people together and build this community vibe around The Edit.
"It is really important for me that the brands I bring in are really able to provide for the Dubai market."
How did you go about curating the brands you have?
It took me almost year. The idea for this is emerging, established, cult brands. The same thing applies to the artists I'm going to bring in. I really whittled it down from over 50 to six. We have Acler, AQ/AQ, Seren London which does these beautiful silk jumpsuits, Jetset Diaries, House of Sunny and Paper London. Four of the brands are English, one is American and one is Australian. I'm also bringing in two new brands this season —Daniella Kallmeyer, she's based in New York and her aesthetic is really clean, minimal, well-tailored and beautiful. There's elegance in her simplicity. And Catherine Quin, who does these beautiful pure silk pieces. It is really important for me that the brands I bring in are really able to provide for the Dubai market even during autumn/winter because there's no point in bringing in thick, woolly coats. I really looked at the materials so there's a lot of silk, and pieces that are light and easy to wear, and they're versatile throughout the seasons.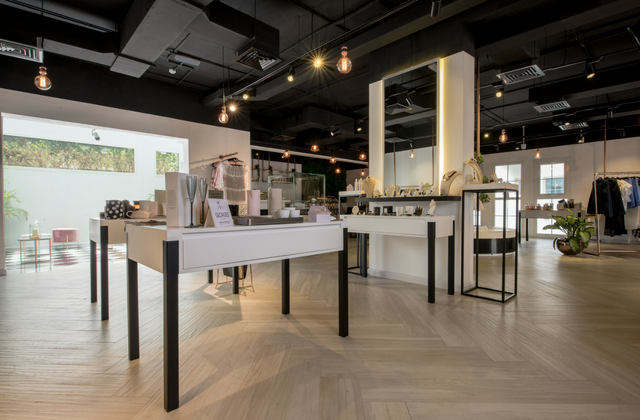 You have beauty as well, tell me a little about those brands…
We have Grown Alchemist and Rahua, and I'm looking to expand that. I'm trying to bring in Tata Harper, for example, so brands like that which offer premium skincare. I'm also trying to bring in organic if possible. I'm trying to eliminate the use of plastic but it's really difficult. We're trying to be sustainable whilst starting up. It's not very easy to be sustainable here but I'm hoping that once we get the ball rolling we can then move in that direction.
And you have jewellery, too…
The jewellery I am really excited about. The thing with all of our brands is that I wanted to have price points that started from Dhs100 to around Dhs4,000 so there's something in there for everybody. It's pretty affordable prices and the higher up you go, the greater value in the quality but even in the lower prices, the quality is really good. I personally believe in all the brands and I have tried them all out. We have Love AJ, Monica Sordo, who actually sits in the same showroom as Daniella Kallmeyer so they pair the jewellery with the clothing and it's so elegant, and then we have Stone Affair which is run by an American girl who is based in India. Again, her price point is around a couple of hundred dirhams and she does gold-plated but with semi-precious stones and because she sources everything in India, she's able to keep the price down. We also have Lizzie Fortunato.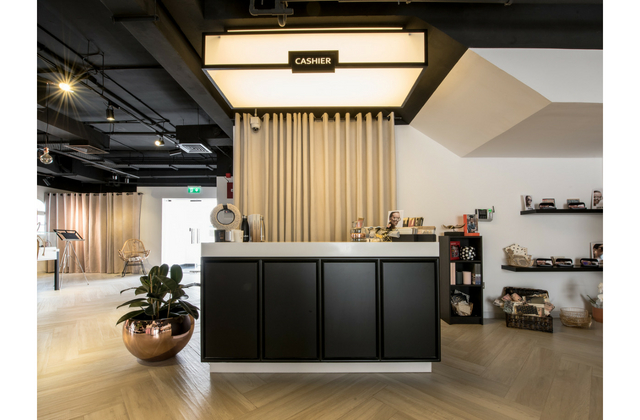 Was there a particular customer you had in mind when you were opening the store?
I think there's something in here for everybody but I think the people that gravitate towards us the most are going to be women who are 25 and above, who travel, are educated, they're strong and independent and they don't mind stepping out of the norm. A lot of the pieces, and we've had a few customers say this to us, make them feel really special because it's been personally selected and you can't find it anywhere else in Dubai — even though its less than what you'd pay for something from a mall it feels more special. I feel like women who will come here and shop want to look different. We don't buy a lot of pieces in each style either so they're pretty unique.
Are there expansion plans?
Yes. I was never going to leave my job for it to be just one store, I want to turn it into a community and then a group. The idea is that when this is settled — and I'm in no rush as I really want to focus on one thing at a time — to branch out into The Edit interiors or The Edit kids.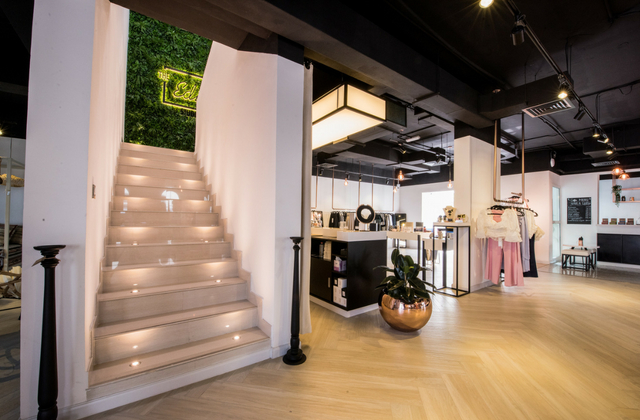 Is there an e-commerce store linked just yet?
Not currently but there definitely will be. My focus at the moment is on the downstairs but I'm thinking ahead for the upstairs space.
What do you have in mind?
We're having a few pop-ups and we have our own Edit art exhibitions taking place plus we're going to be renting out the space to galleries and doing collaborations in that space. I'm quite selective about who we work with. There's a reason I called it The Edit; it's edited, it's a selection of different things that are harmonious and work together well, that are beautiful and there's soul to it.
"I really do see Dubai moving in a direction where people are looking for more alternative spaces."
Why was now the right time to open the store?
I really do see Dubai moving in a direction where people are looking for more alternative spaces. With the rise of places like Alserkal and Bastakiya, the city is drawing different crowds and the art fairs are getting better and people who aren't just looking for the Dubai lifestyle are moving to Dubai and bringing so many new aspects with them.
The Edit is located on Al Wasl Road.
Now, find out which Dubai-based designer just launched her e-commerce site.