Over the past few years, H&M has managed to give the masses a taste of luxury brands, but at high street prices ,with designer collaborations hailing from Paris and London to Milan and New York. From partnerships with Karl Lagerfeld in 2004 to Moschino in 2018 and Giambattista Valli just this month, the Swedish fast fashion giant has covered quite the designer spectrum, but today, the brand dips into uncharted waters with its first collaboration to date with a Latin American designer.
Heading all the way to Cali, Colombia, H&M is teaming up with the city's most vivacious designer, Johanna Ortiz, bringing her feminine, floral-printed signatures to its stores around the world and online on December 3. Using a two-drop model, the collection will be released with a four-piece pre-drop next month, followed by a full collection in March 2020.
Fans of Johanna will be able to wet their palettes with a tunic style, a wrap number, a minidress as well as a floor-length silhouette in the designer's signature full blossom prints pulled from from her 16-year archive, which will include "Wild Roses", "Orchid Paradise," "Cacatua" and "Coquelicots" — featured in vibrant new colourways. The collection to follow, later in March 2020, will be significantly larger, and will include swimwear and separates alongside dresses.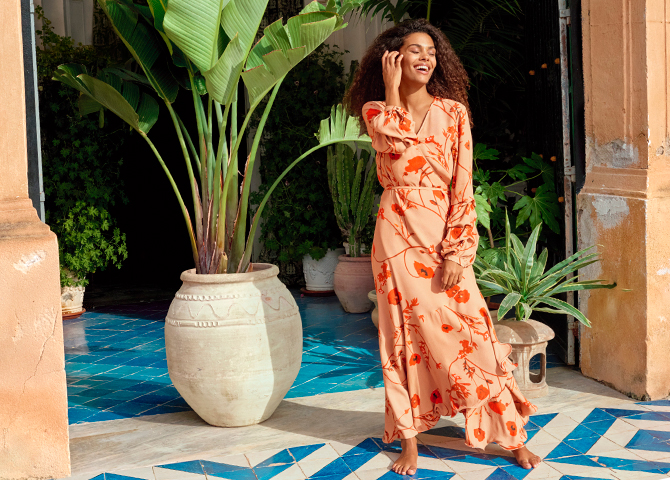 "The prints all come from my obsession with the flowers, the palm trees and the beautiful colours I am blessed to see out the window when I wake up at home in Cali, in my native Colombia," explained Johanna Ortiz, designer and CEO, in a statement. "The imprint of Latin America and its uniquely festive atmosphere is something that can be felt in each Johanna Ortiz design, so I'm thrilled that so many women in the world will have a little piece of Colombia in their wardrobes thanks to the Johanna Ortiz x H&M collaboration."
The Johanna Ortiz x H&M pre-drop will be available at H&M stores worldwide and online at hm.com on December 3.
Now, find out why we want every piece from Tiffany & Co. and Dover Street Market's drop jewellery collection.