In a glimpse of the menswear season ahead, fashion's biggest brands took to the runway over Paris Fashion week to showcase their latest collections for Fall/Winter '23. Among them were Hermès, Dior, Givenchy, Loewe, Louis Vuitton and Saint Laurent – which saw Anthony Vaccarello's return to the menswear schedule.
There was plenty to swoon over and below, we've recapped the best of what Paris Men's Fashion Week had to offer…
AMIRI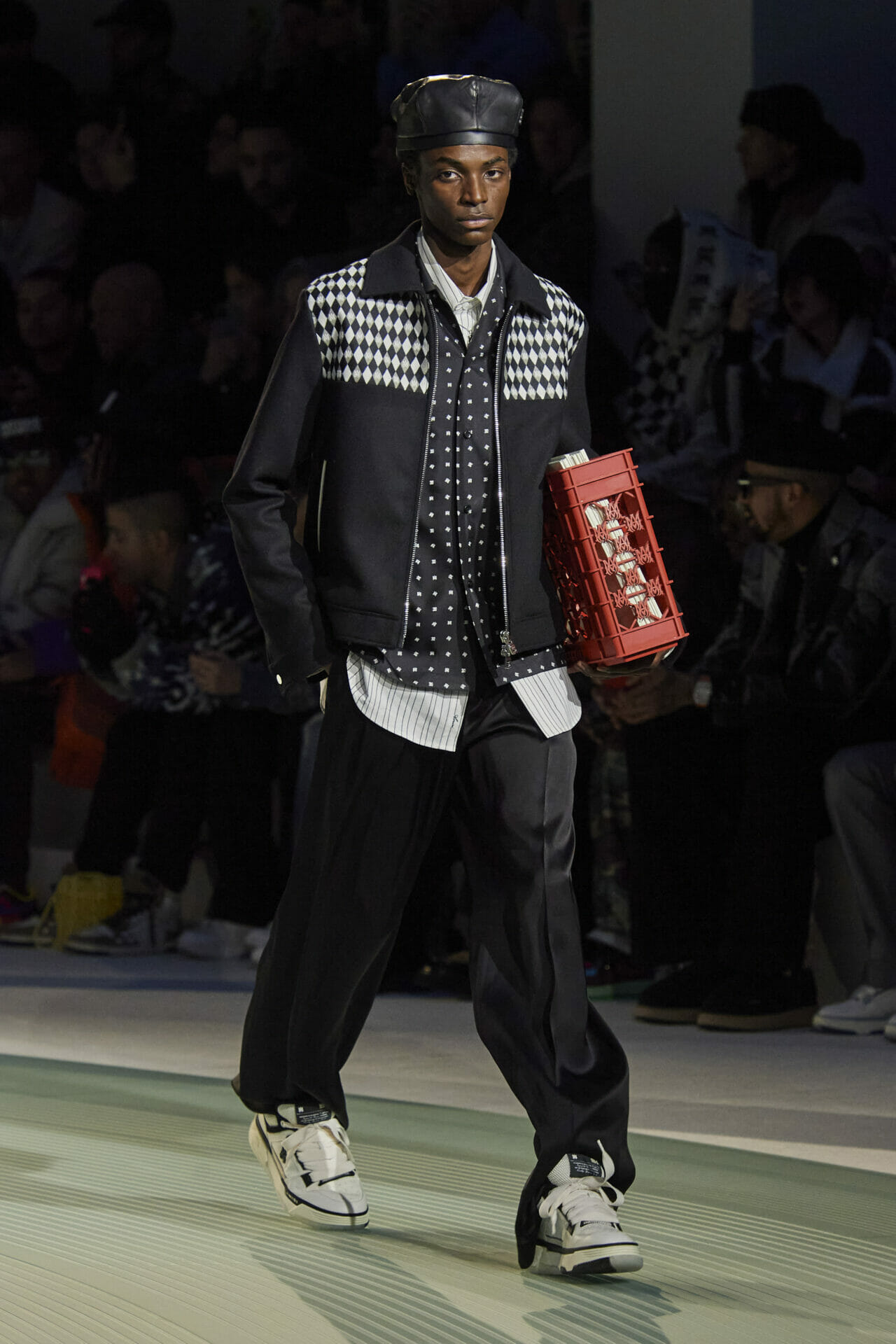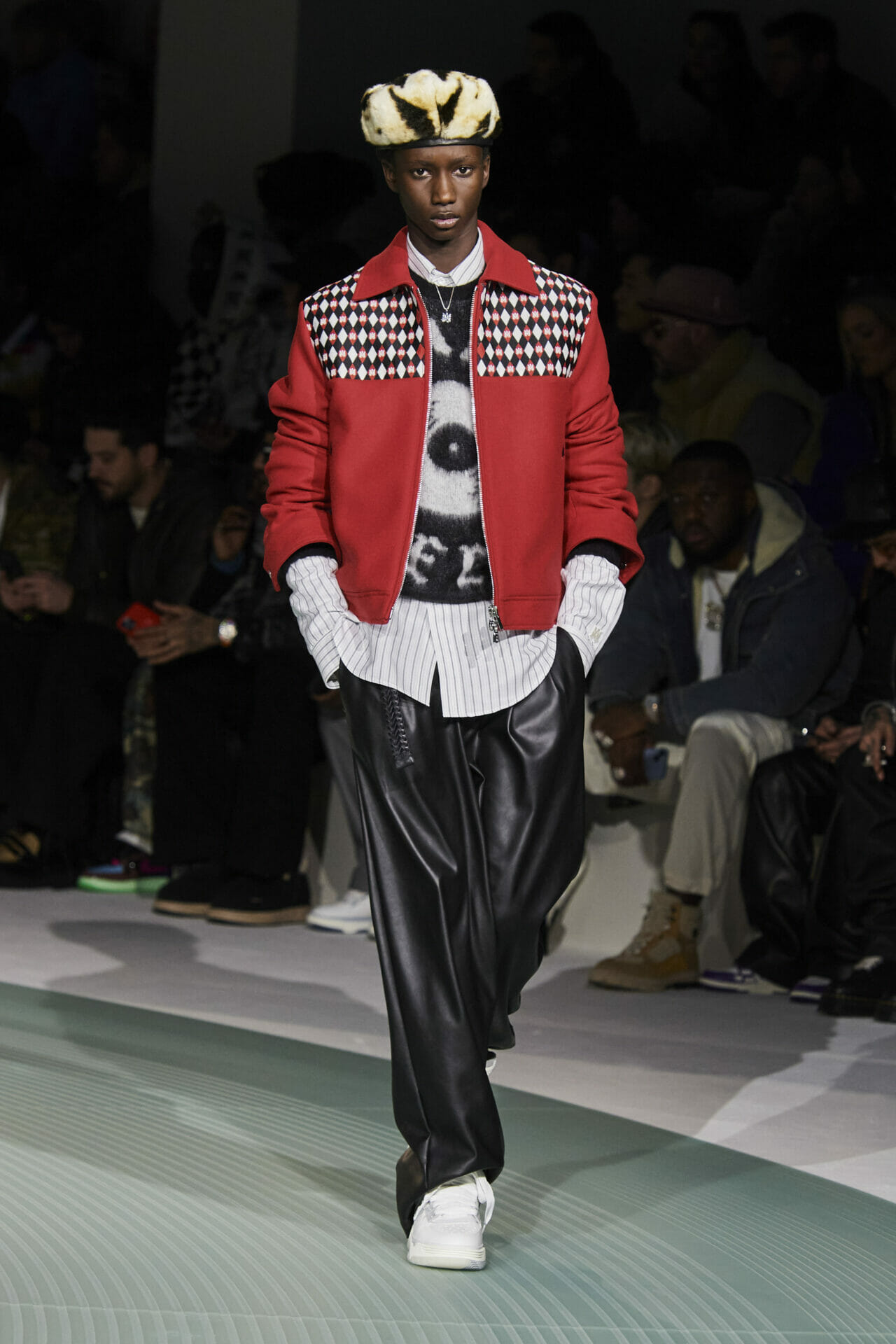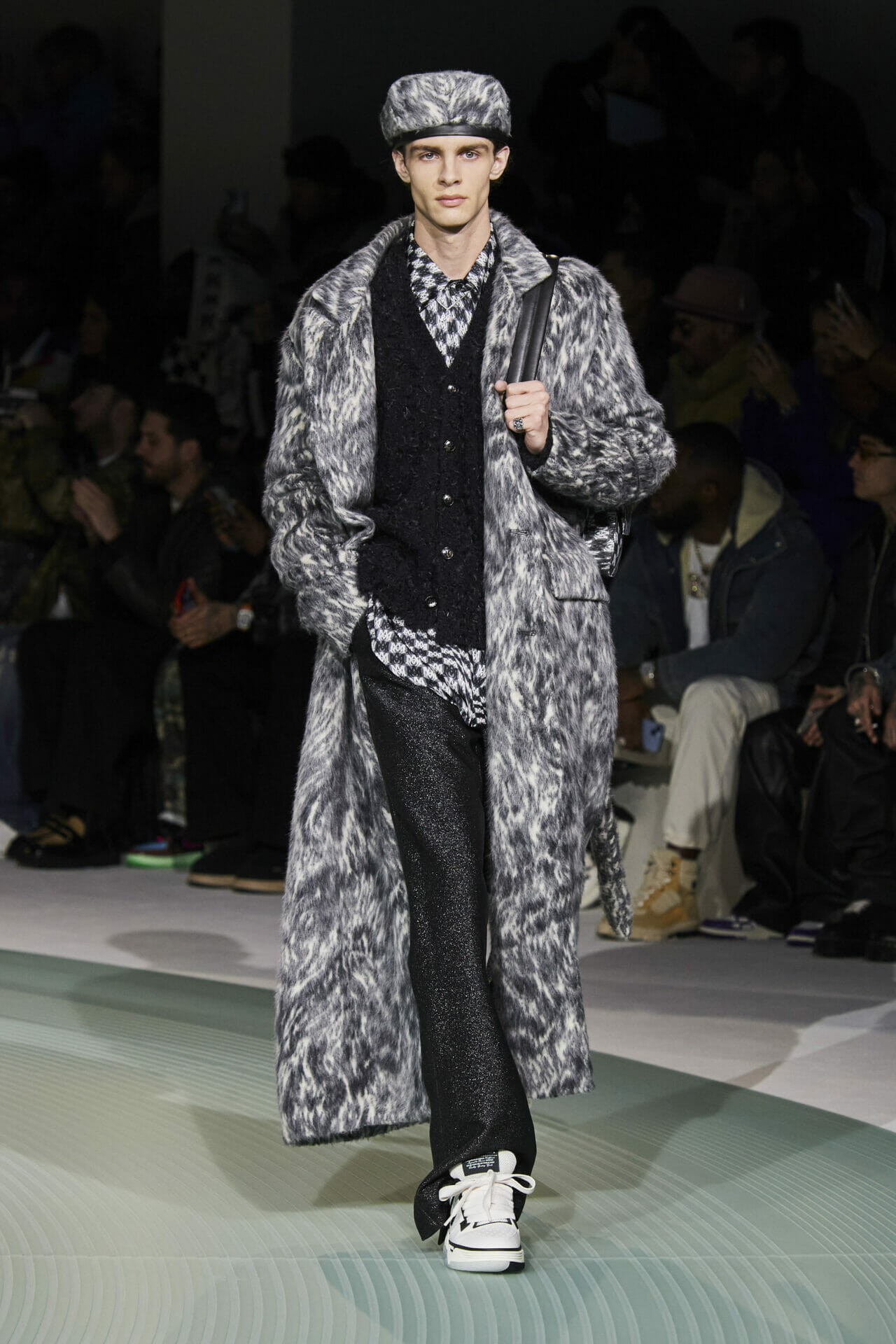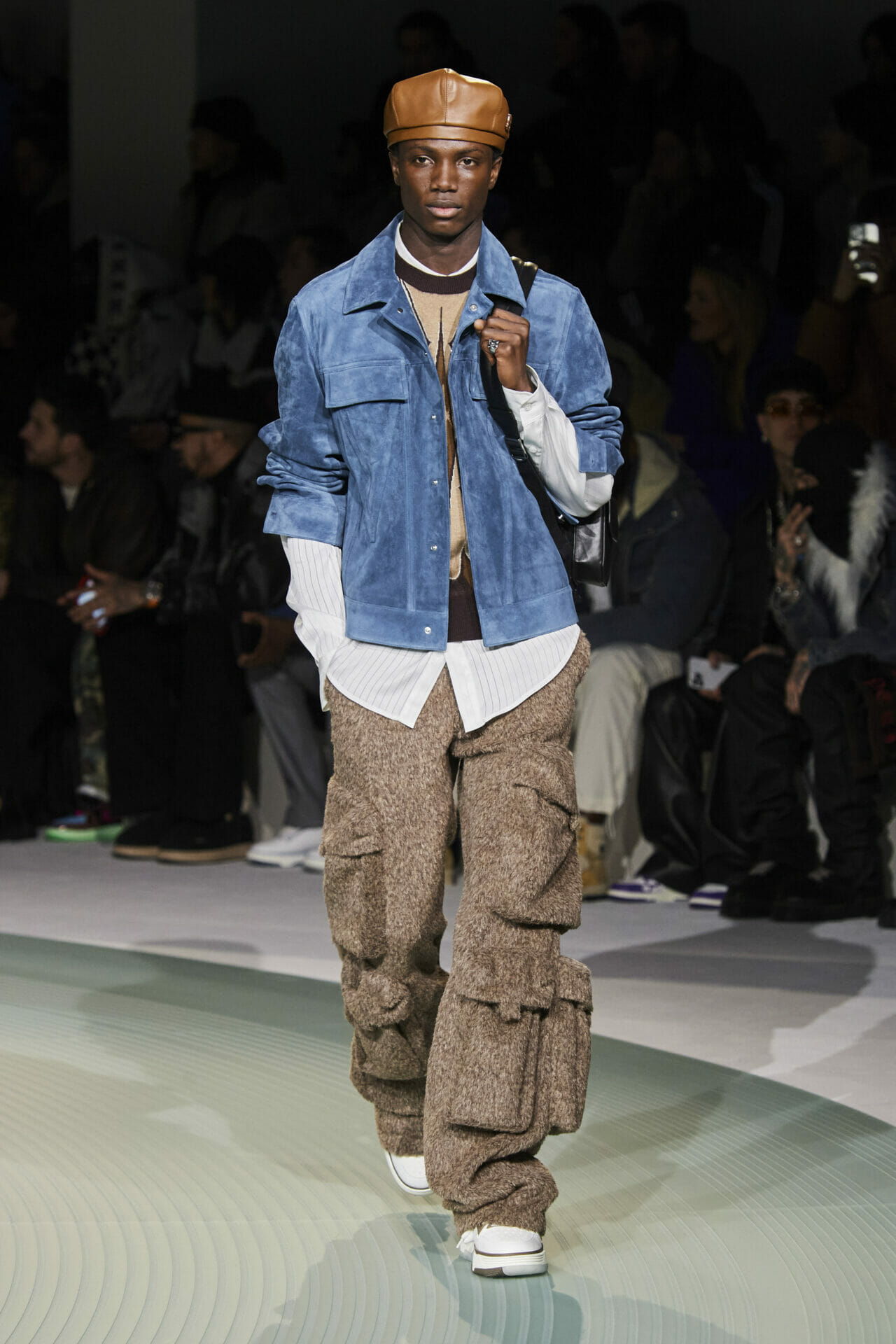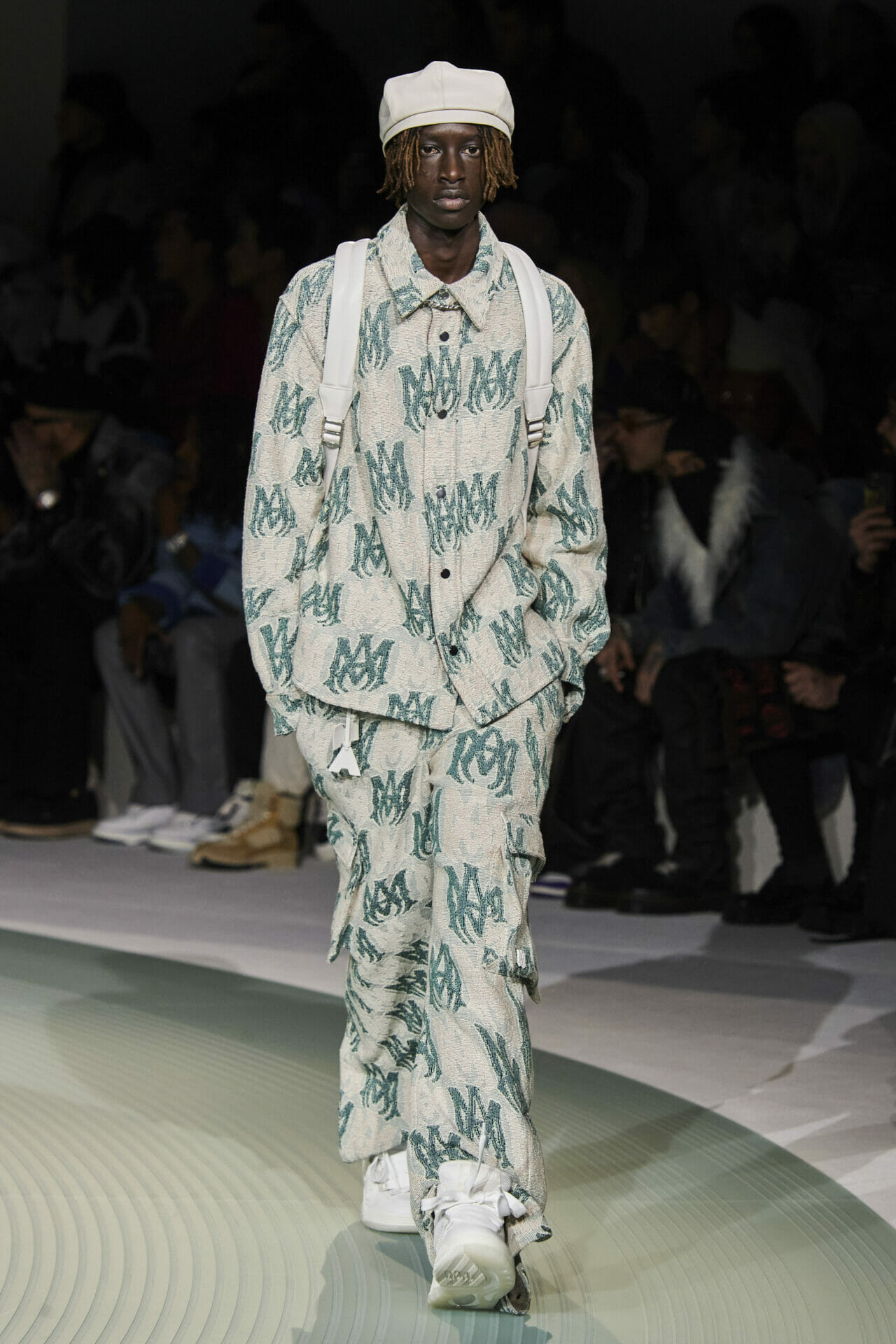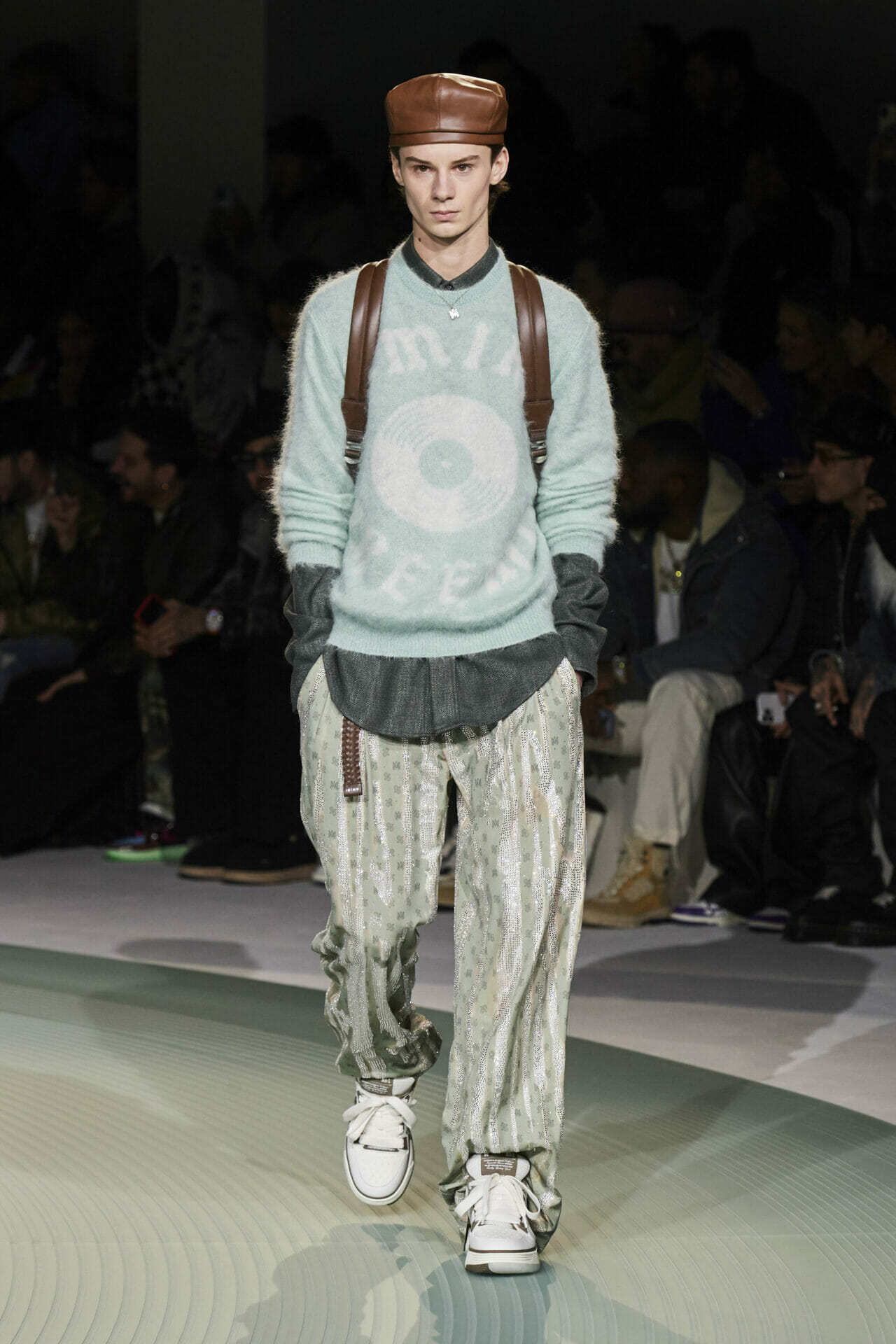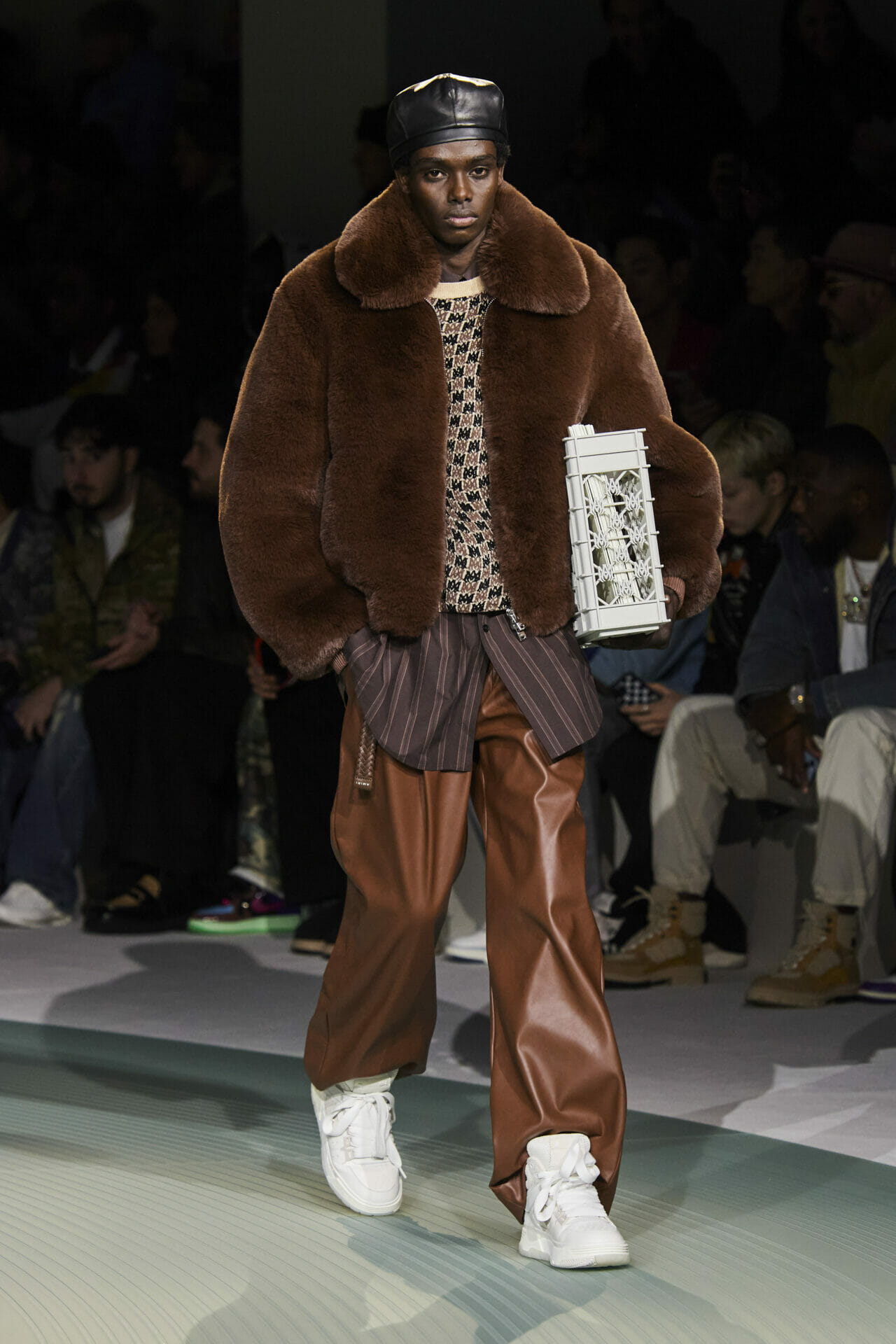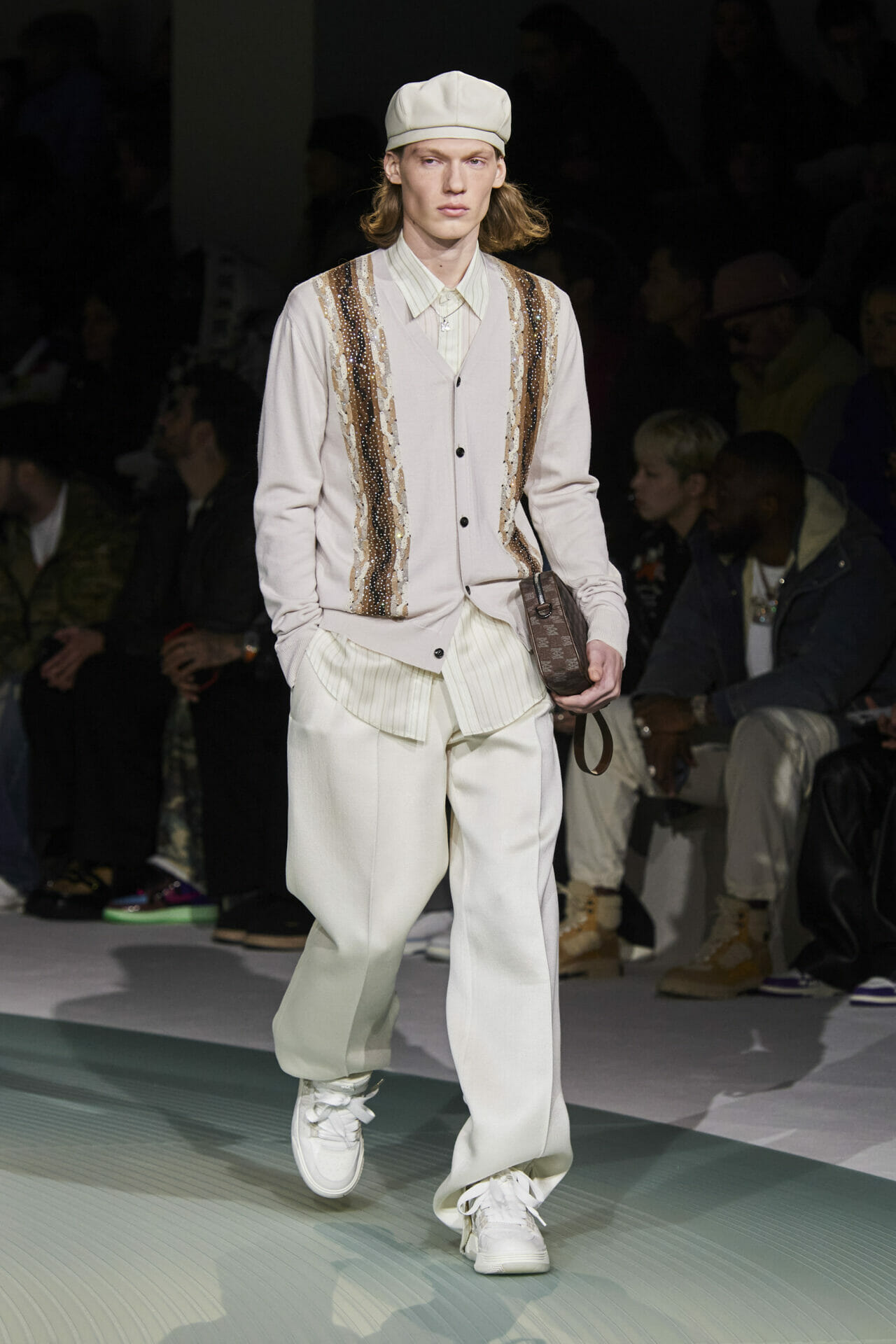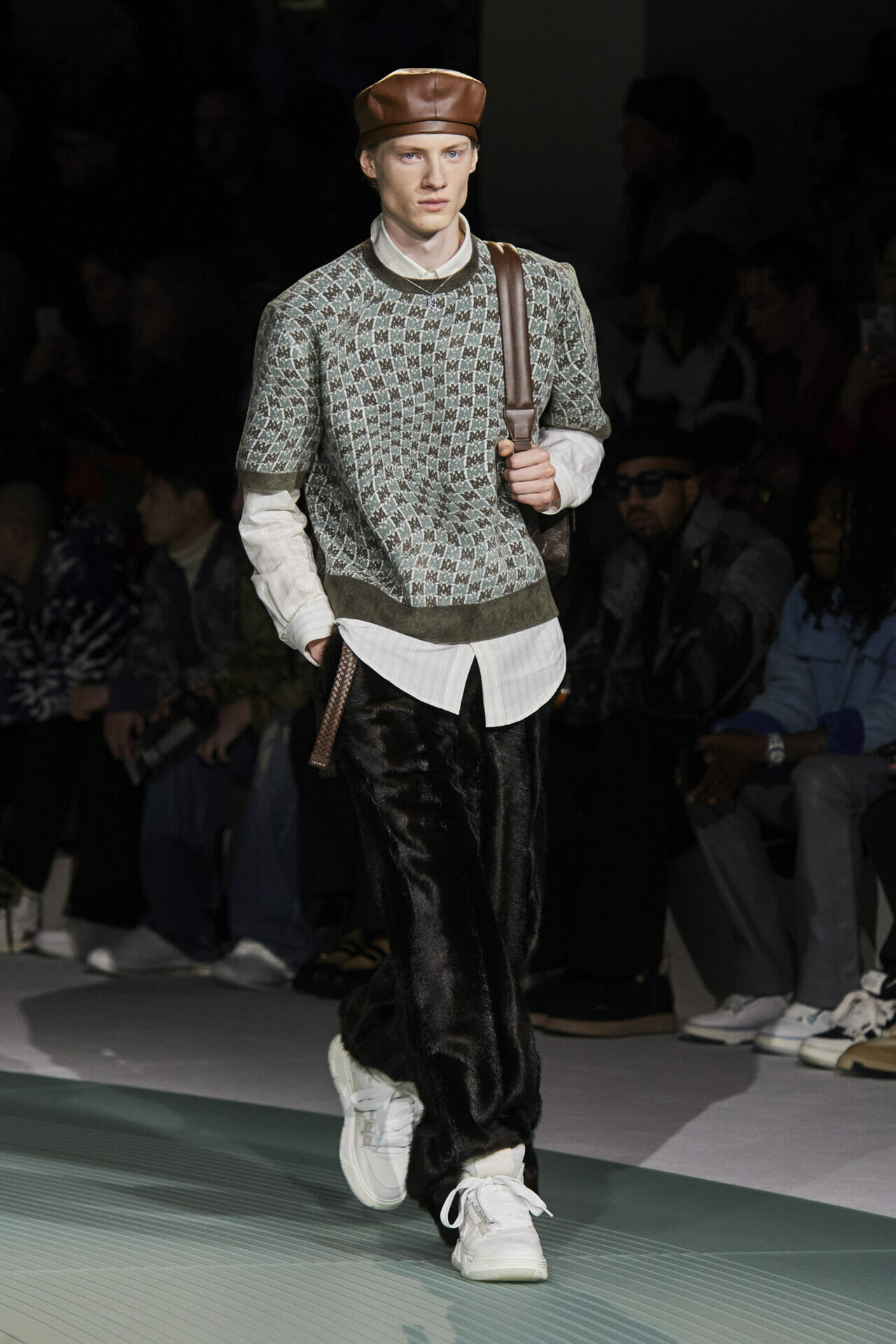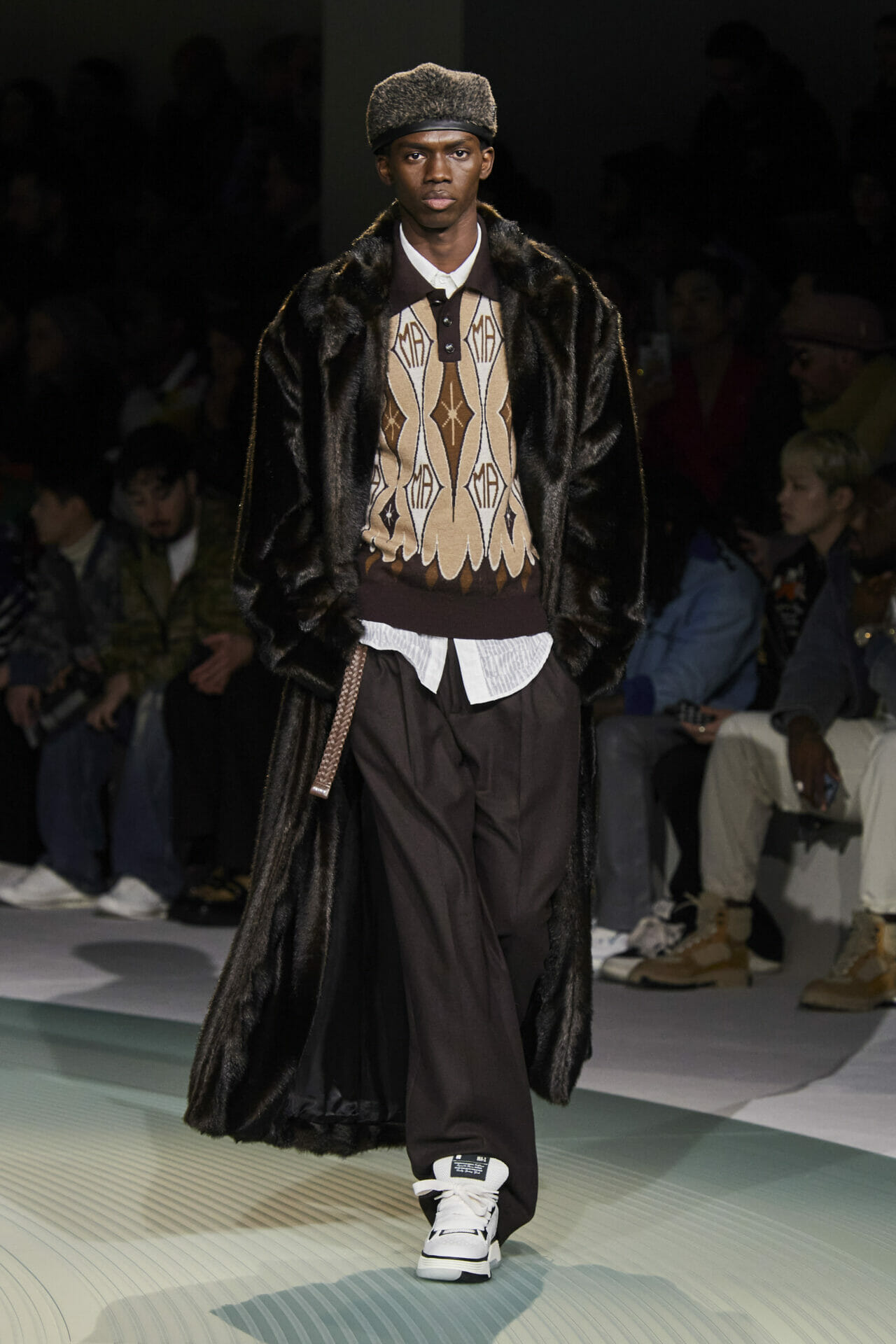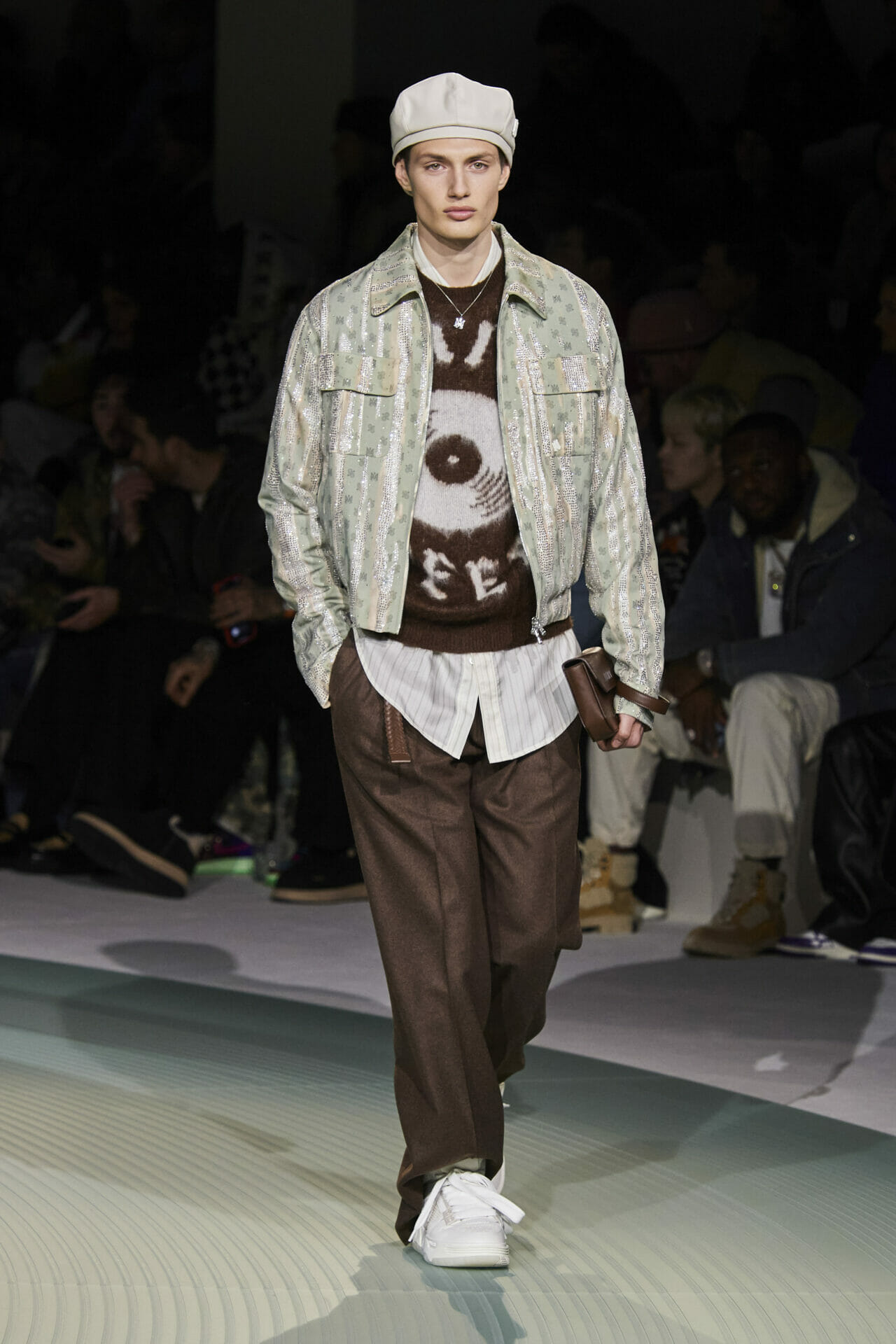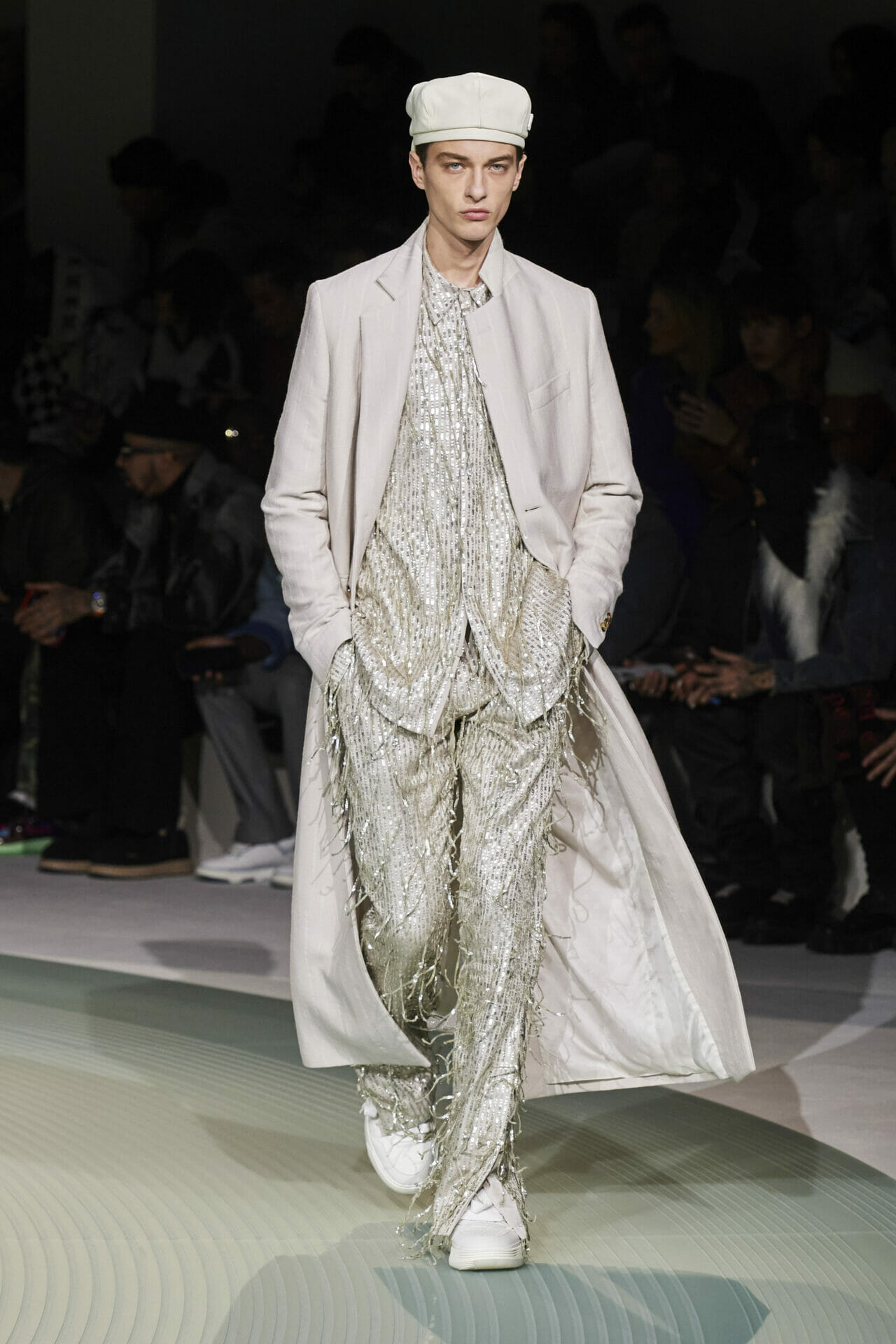 Amiri took its Fall/Winter '23 collection to a vinyl record-inspired runway inside Le Carreau de Temple where models walked along the grooves fronting the brand's latest sartorial offerings.
Taking inspiration from the show space itself, the collection's narrative was equivalent of a soundtrack – represented in a layered composition that drew on the memories of CEO and Creative Director Mike Amiri. Transporting us to the '90s, specifically in New York, references of music and nostalgia were exchanged and presented on the runway.
As models walked to a soundtrack performed live by DJ Premier and The Badder Band, the idea of production echoed through sartorial ensembles that were loose, generously proportioned and had a downtown ease aesthetic to it.
Complete with sophisticated materials and intricate innovation, tailoring fundamentals were elevated with cashmere, silk, shearling, faux fur and brushed wool whilst meticulous details were captured through hand-embroidered Swarovski sequins, uncut fine silk, hand-painted patterns and expressive 3D brushstrokes from leftover fabrics.
This season, it was all about representing Mike Amiri in the studio: riffing, experimenting and hitting his rhythm.
CASABLANCA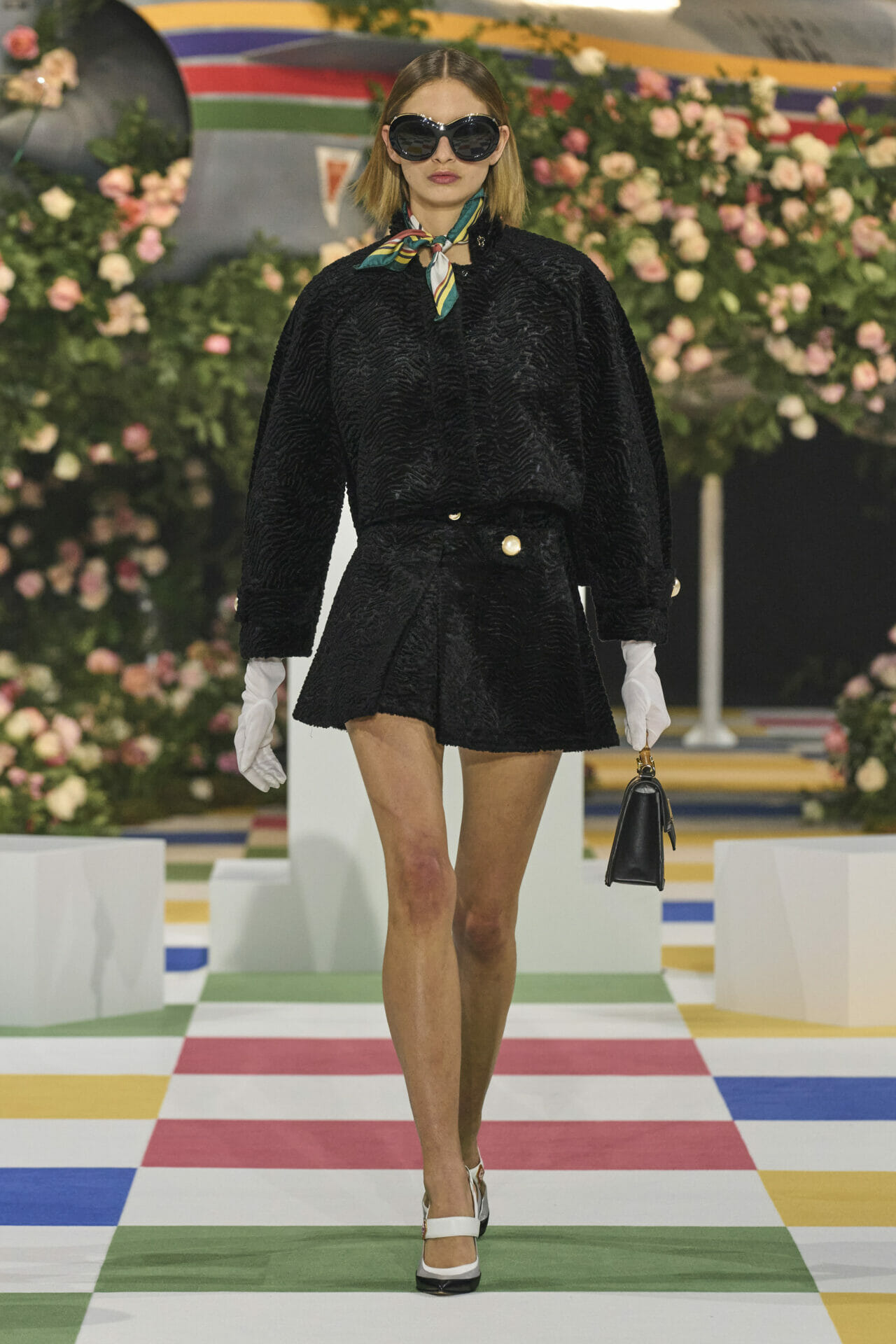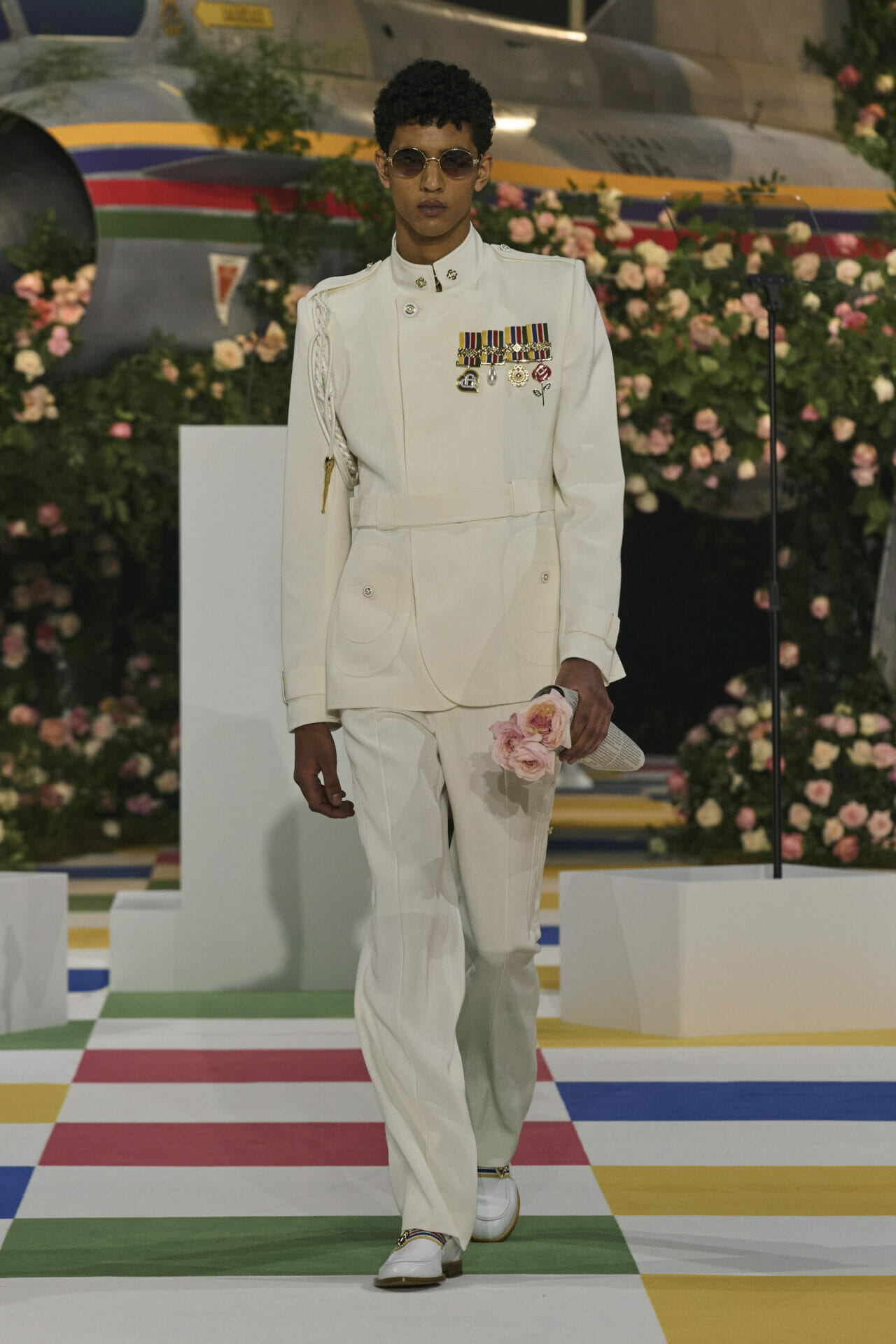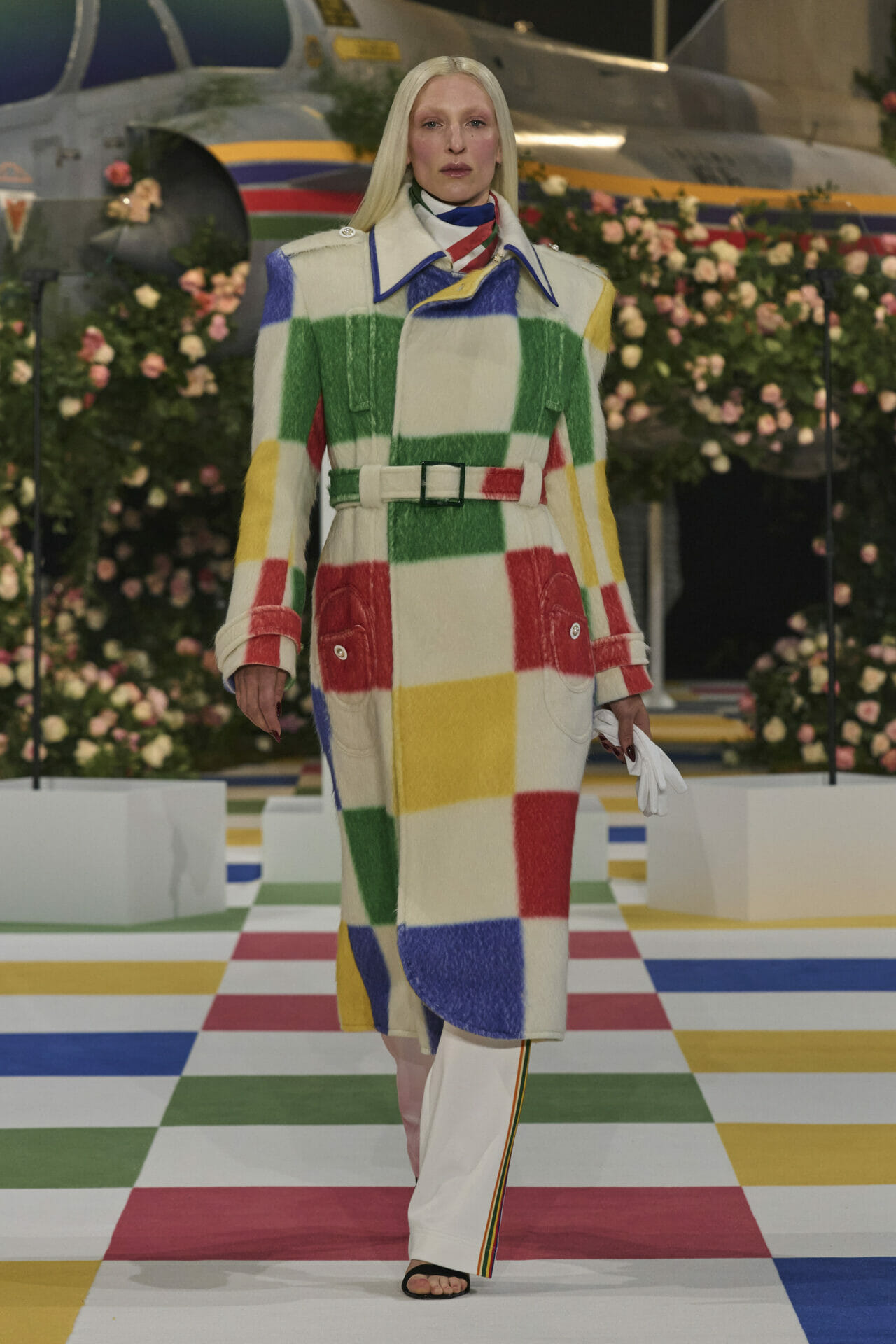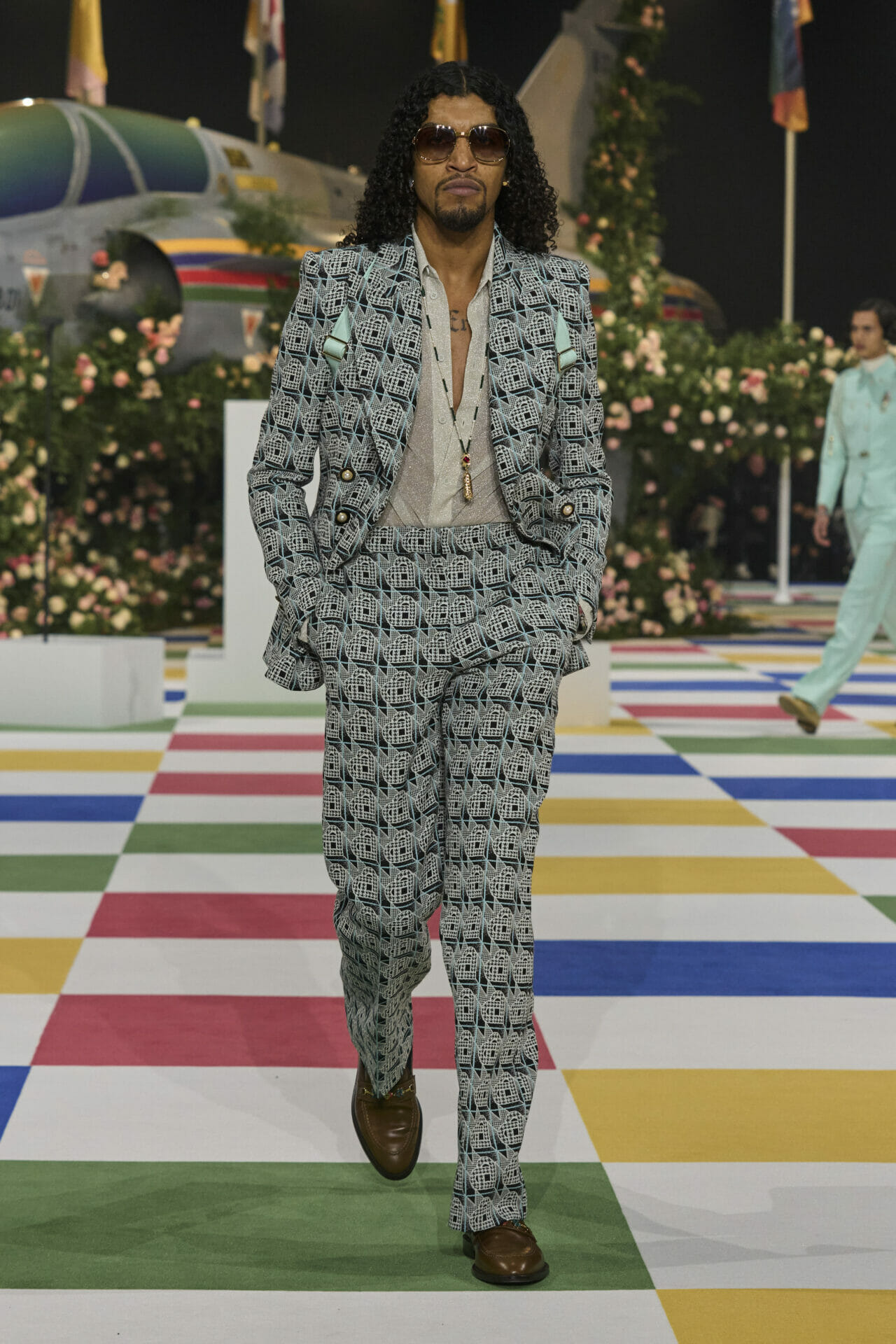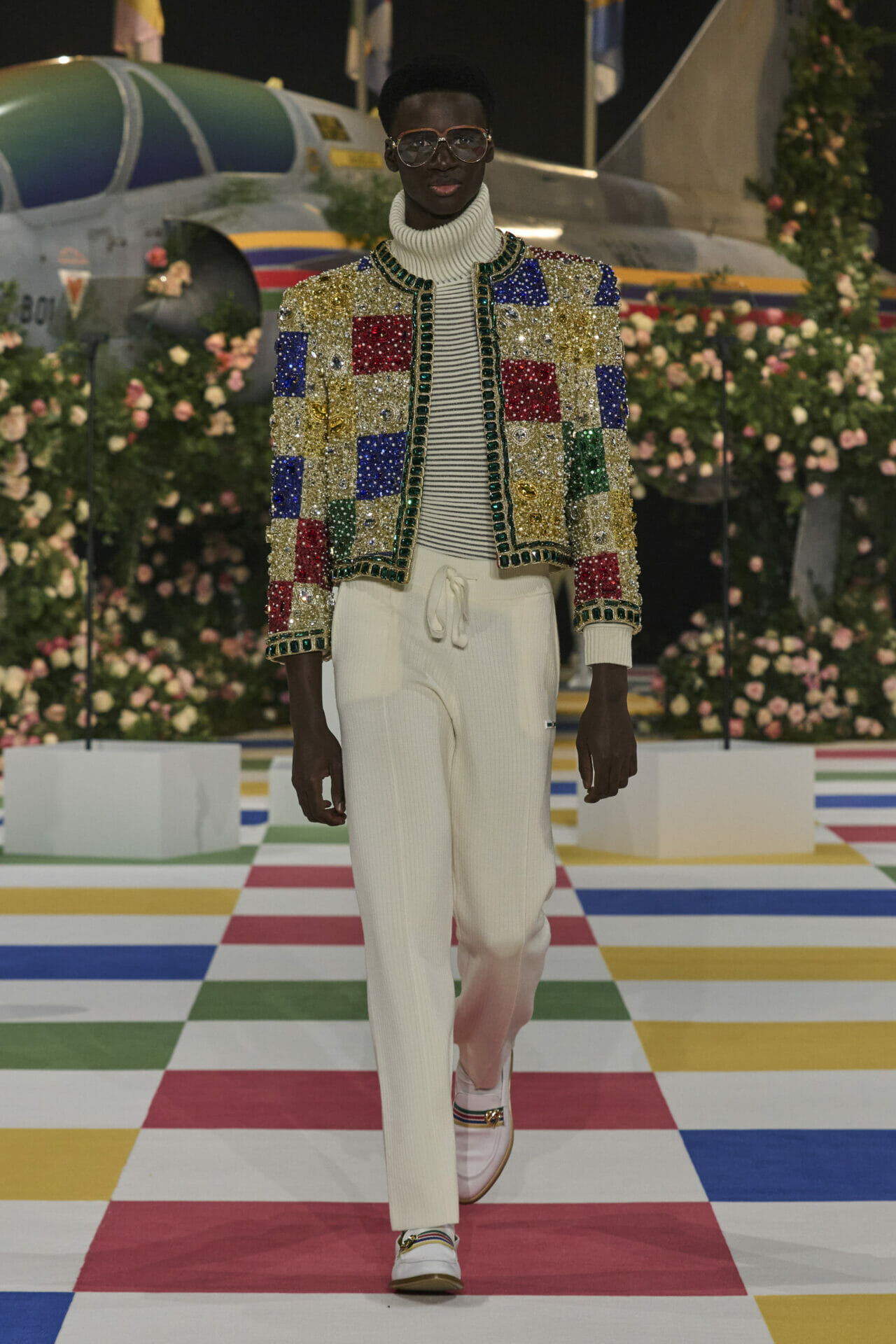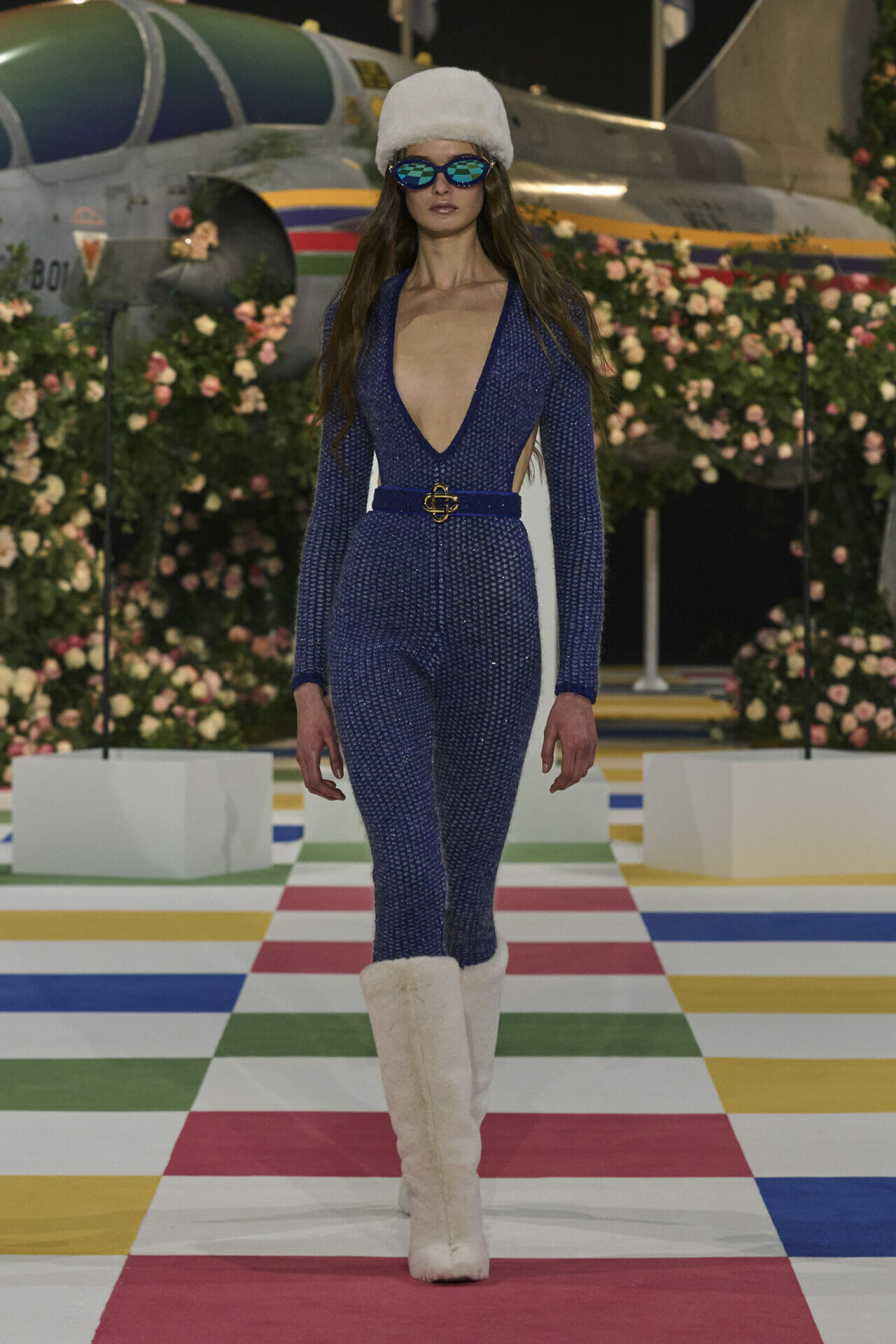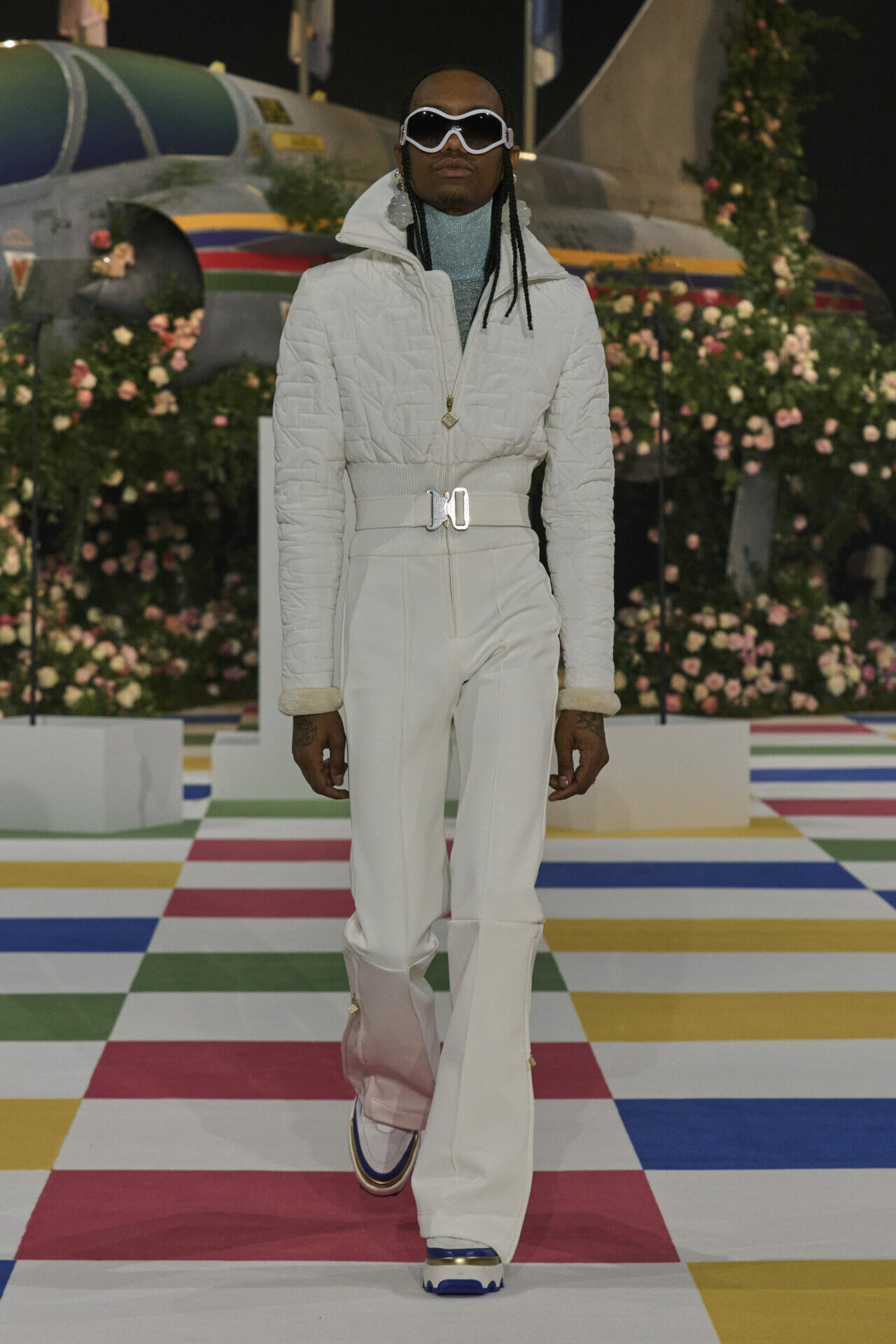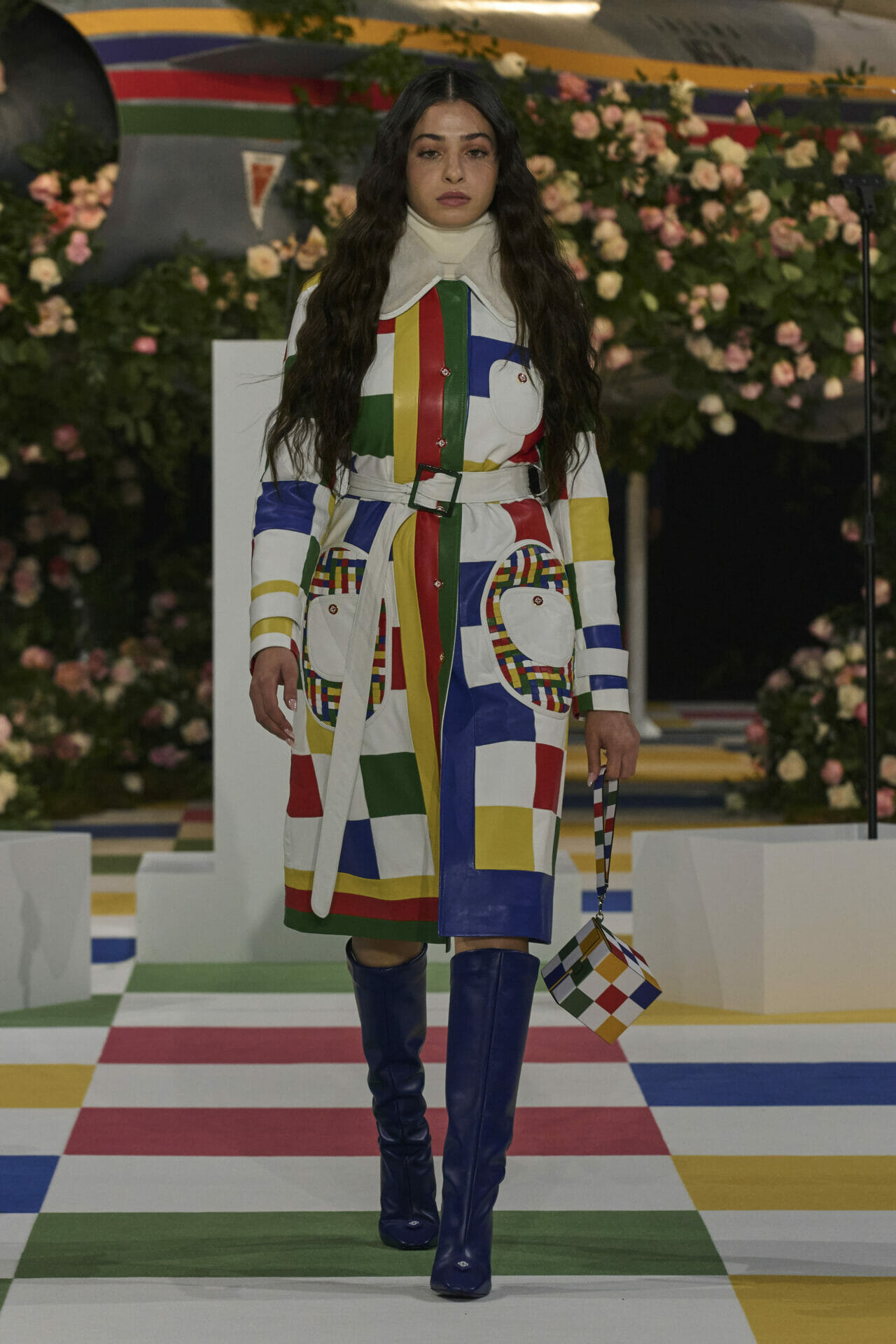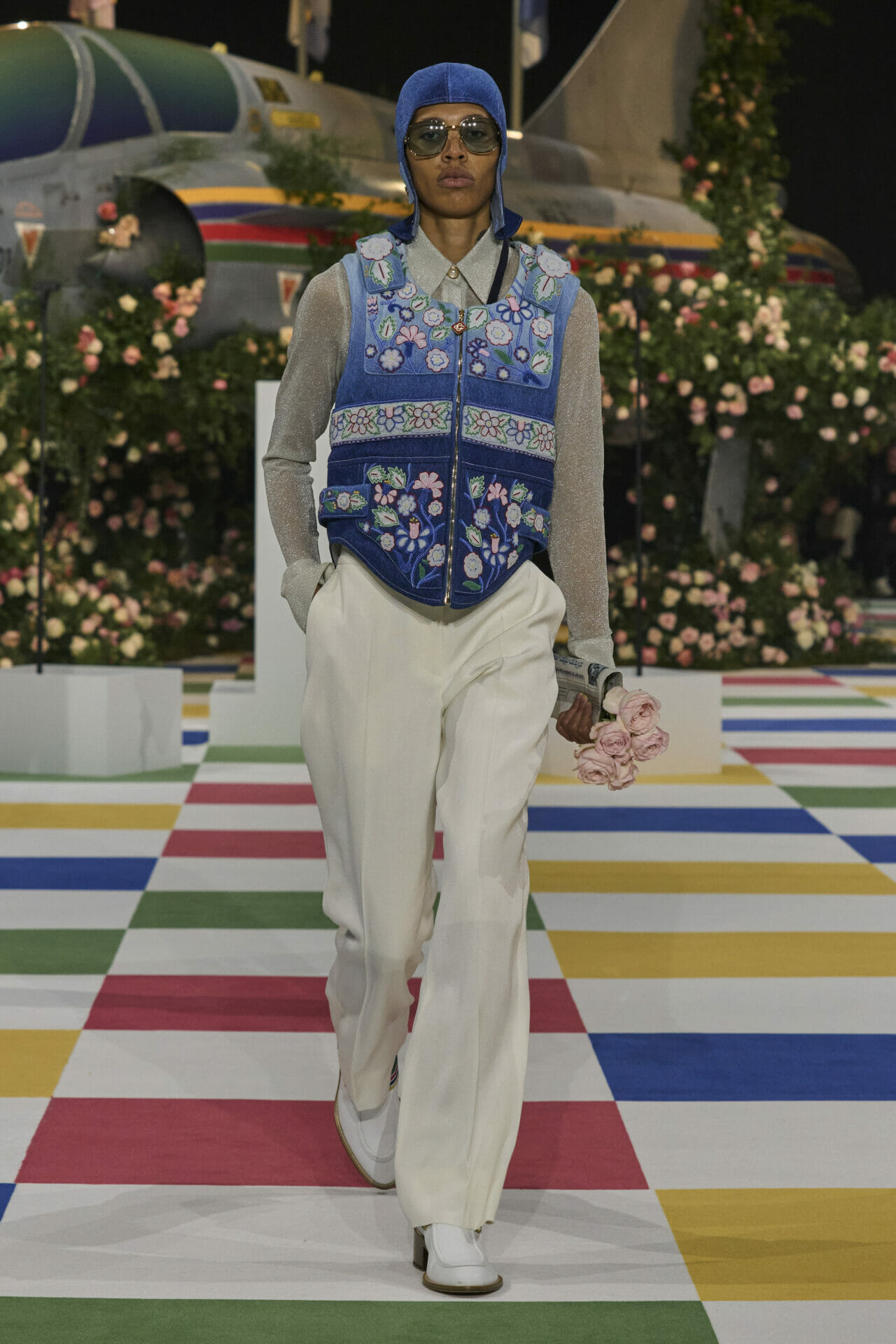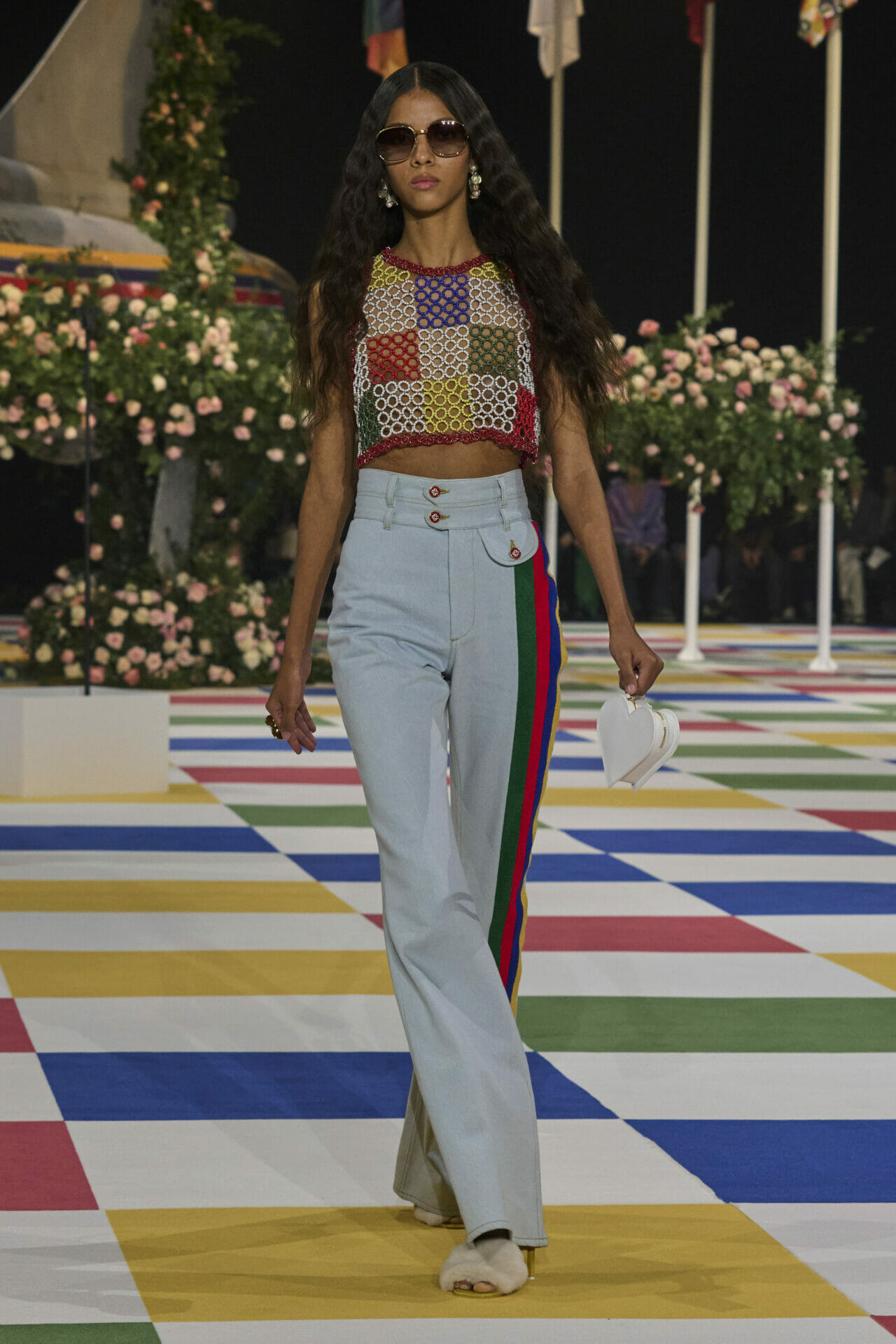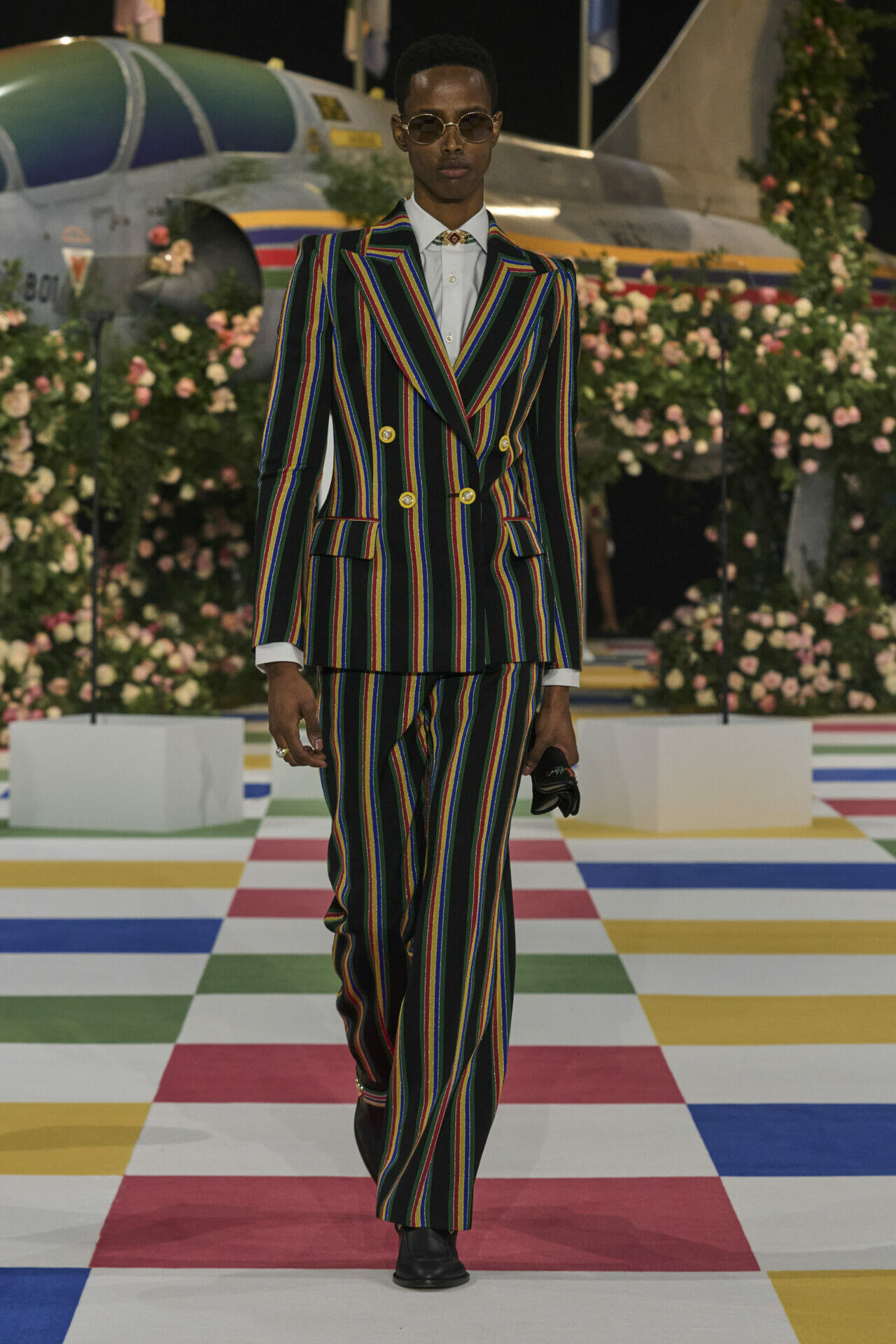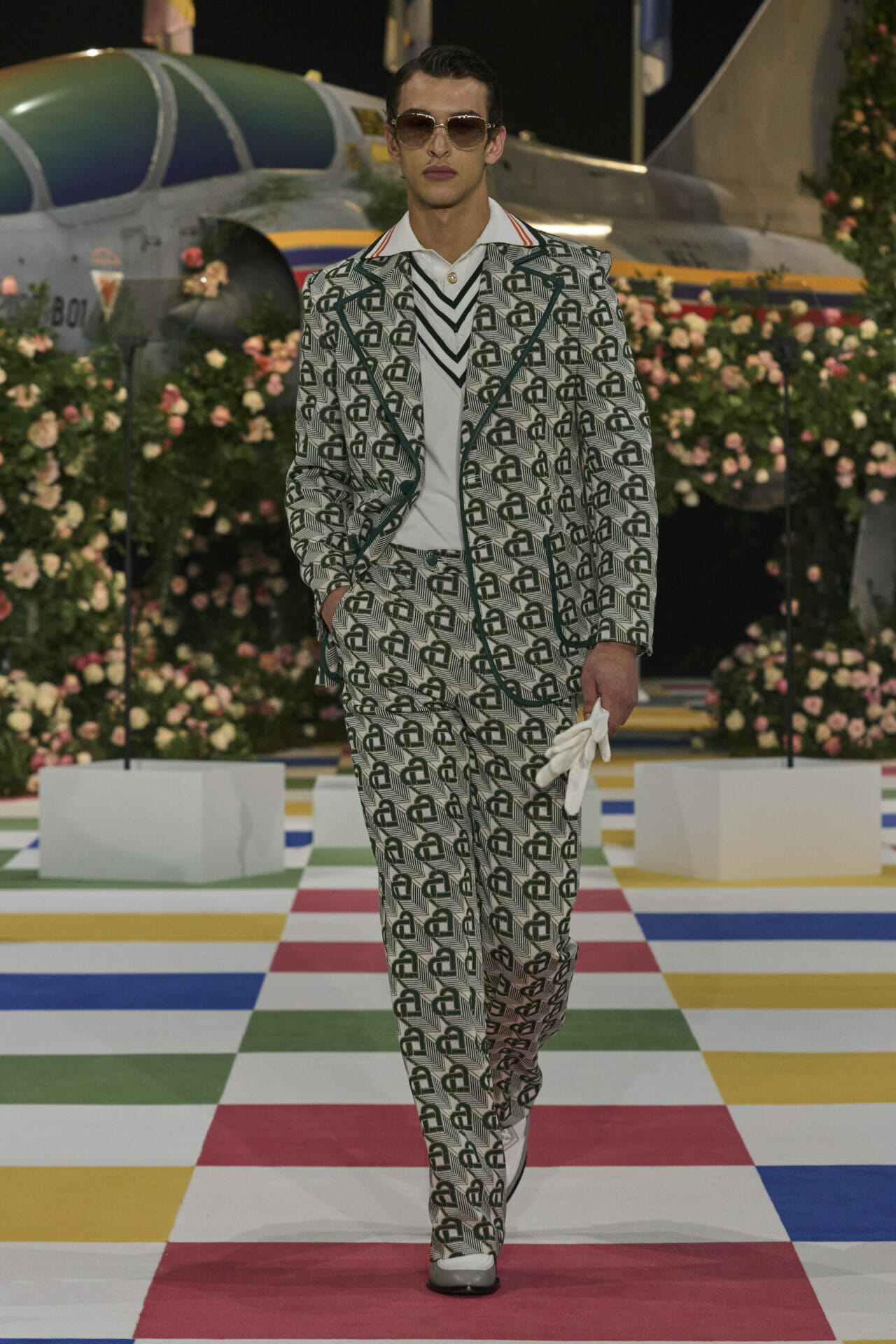 Moments before the show started, Charaf Tajer, the Creative Director of Casablanca, posted his intention with the forthcoming Fall/Winter '23 collection stating: "At Casablanca, we are always looking at the beauty of the world, and this season we didn't want to simply look at nature or architecture. This show is a reminder to celebrate and cherish life in any condition."
He then shared an incredible story by his Syrian fried, Maya, who told him about how we consider "partying" as something ordinary, to them "partying is an act of courage and resistance. Music as a means of escapism."
For this, Tajer announced that the new collection is titled 'For the Peace' and is "a testament to the fact that we are against oppression of all kinds. We only care about peace. For the people, and for the youth."
Whilst the London-based, French Moroccan designer did serve up a collection titled "For the Peace" inspired by Syria and refugees, it didn't fully translate on the runway. It missed the mark by revealing looks that were more appropriate as Après-ski-chic with plenty of layered ensembles and military-inspired separates.
However, whilst the collection didn't really reflect the headline of the collection, it did showcase Casablanca's blossoming vision to continue its spirit of adventure through travel.
DIOR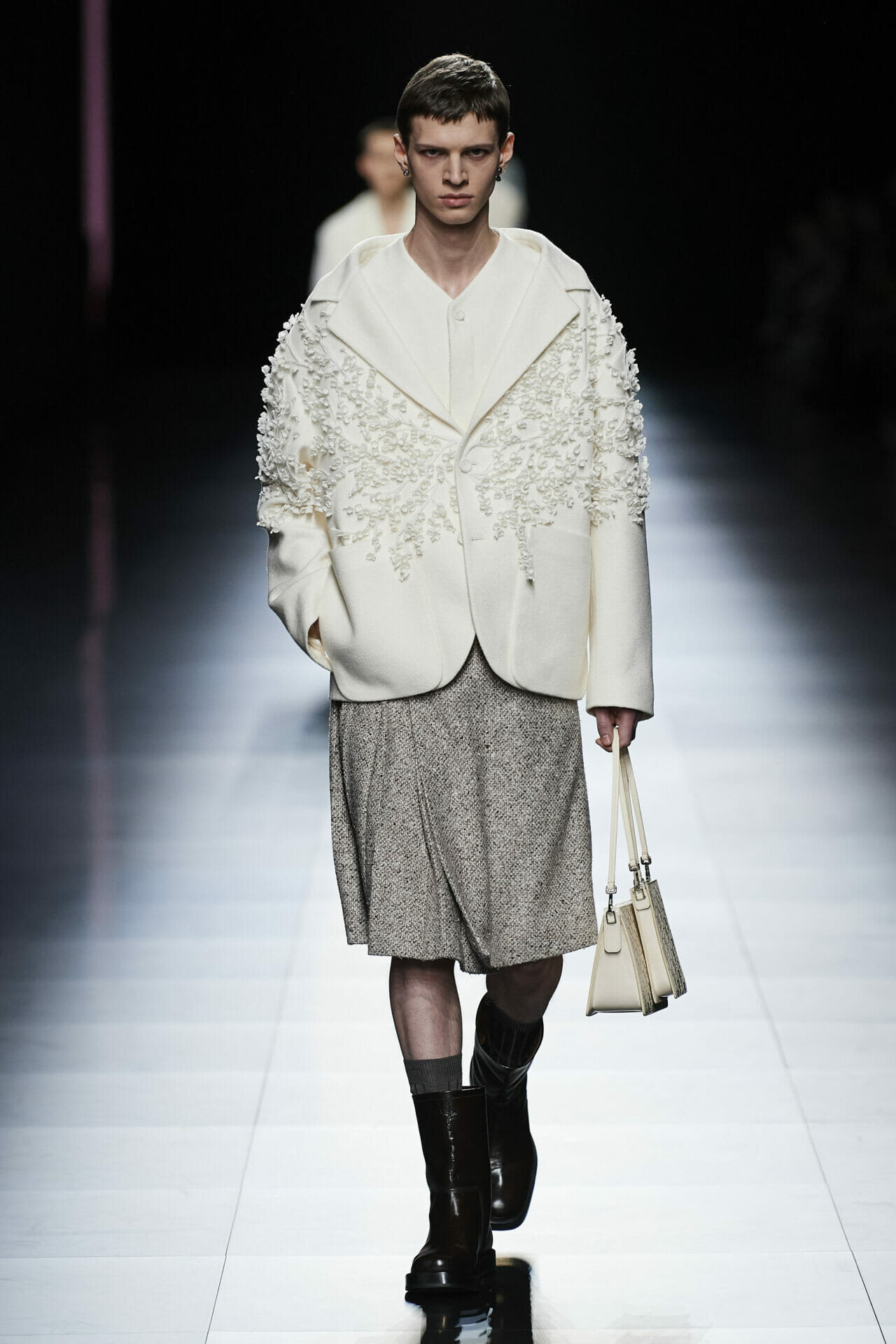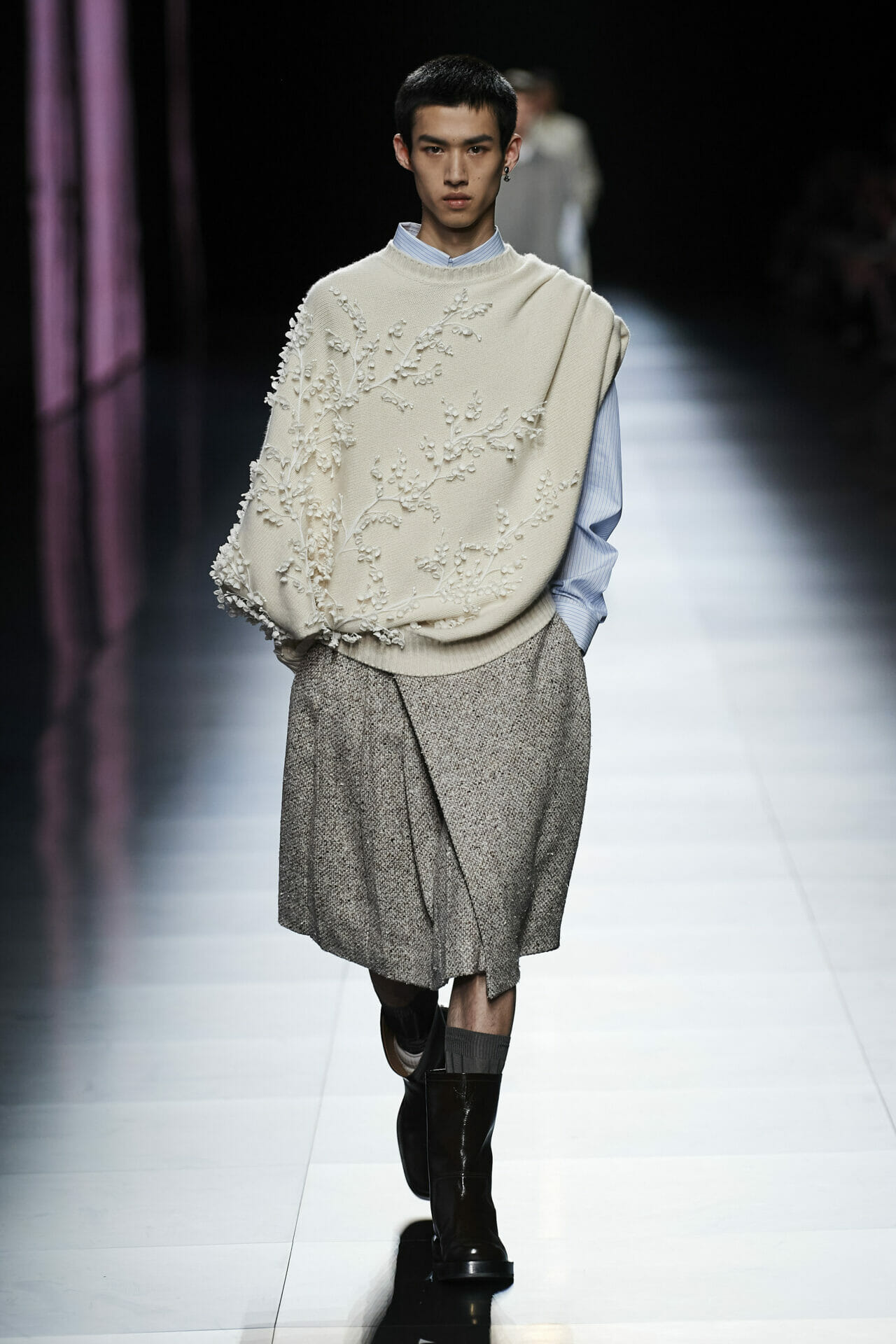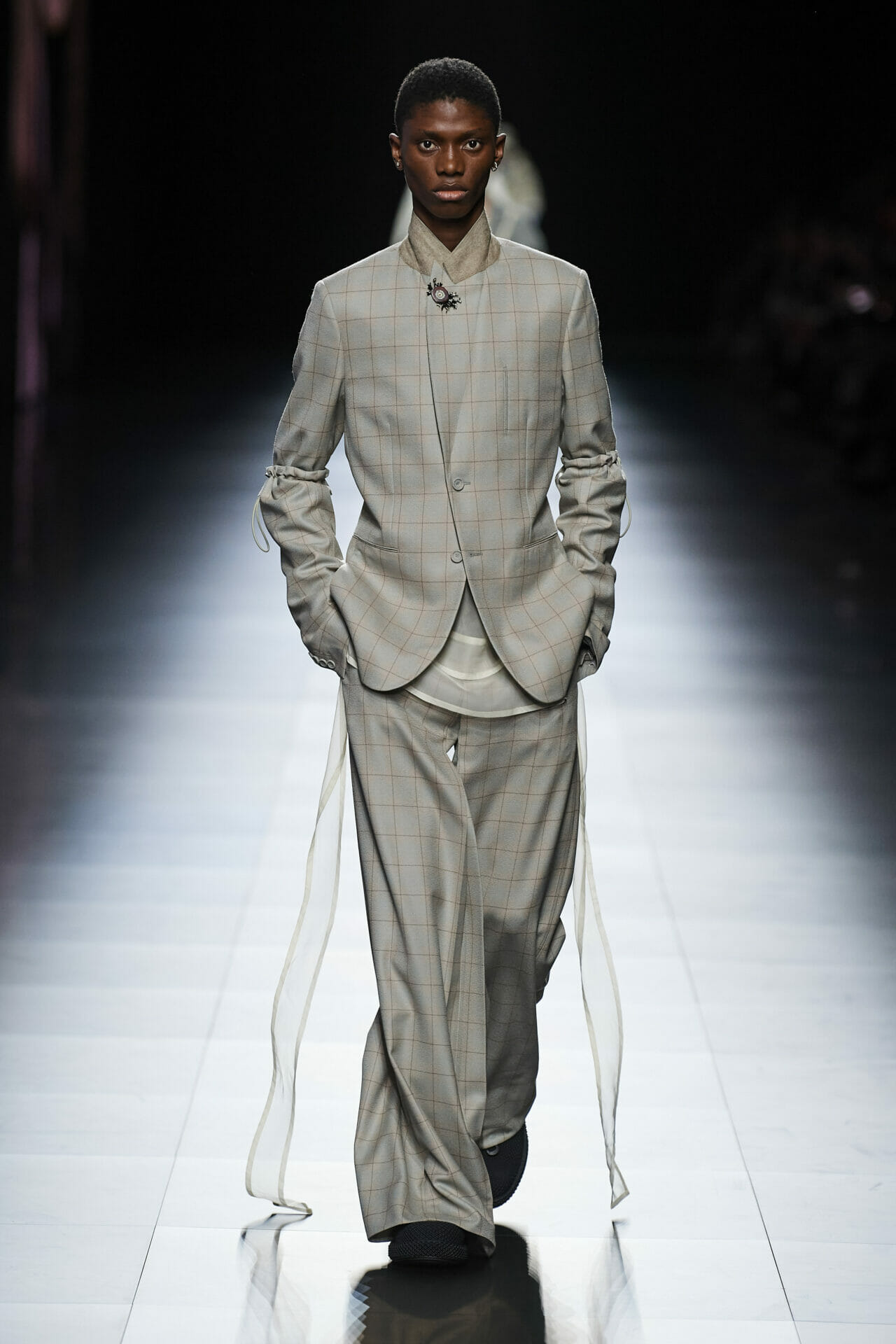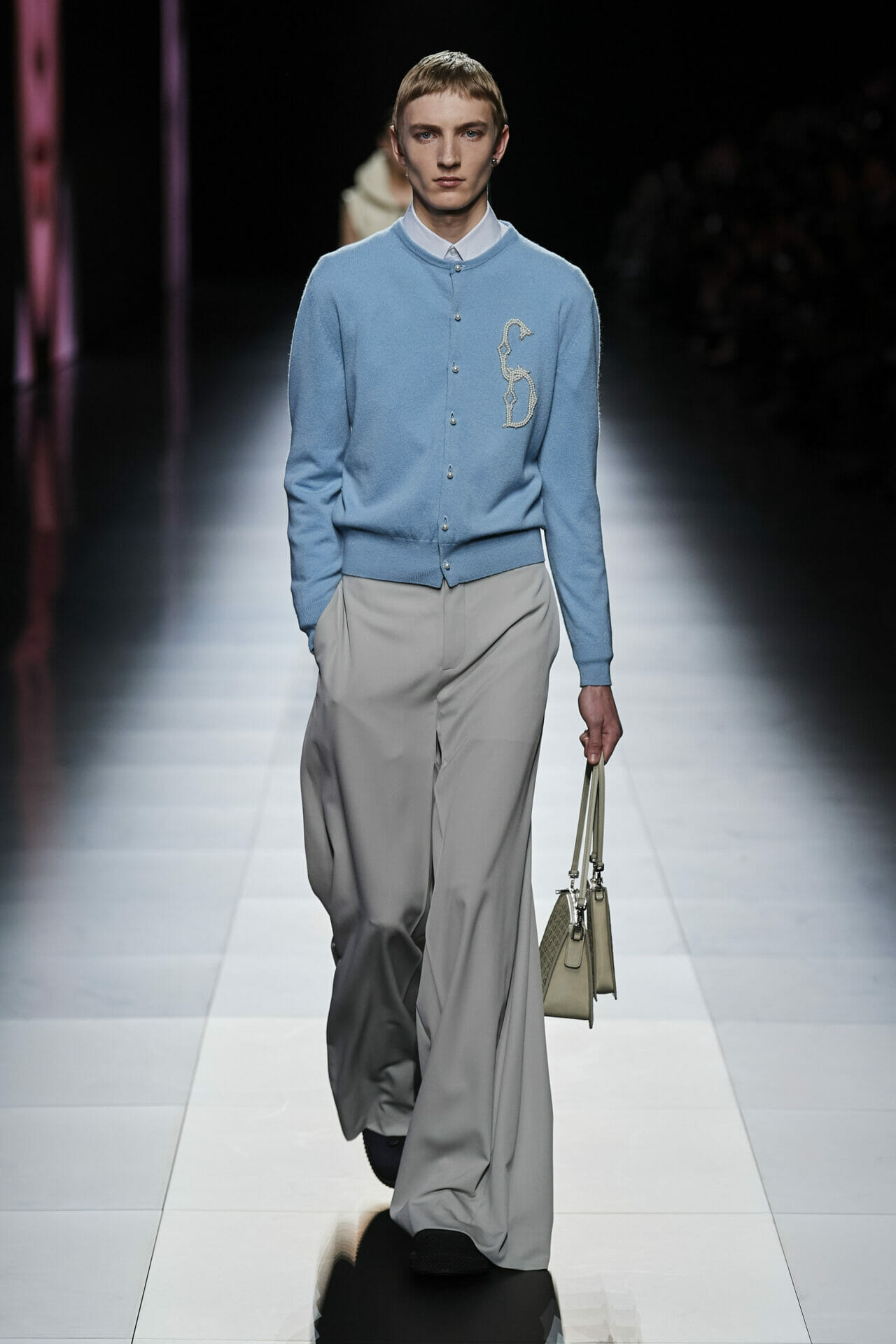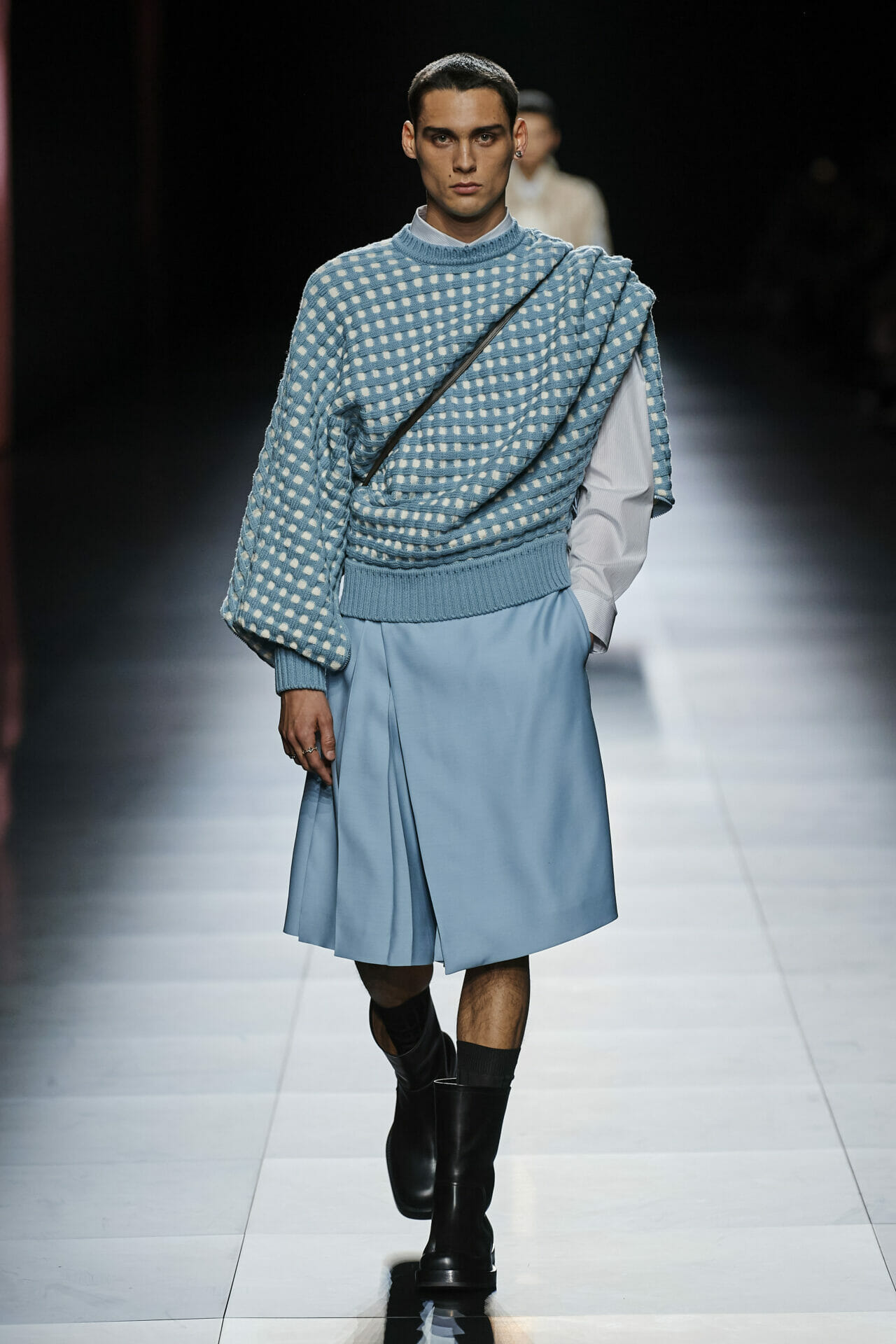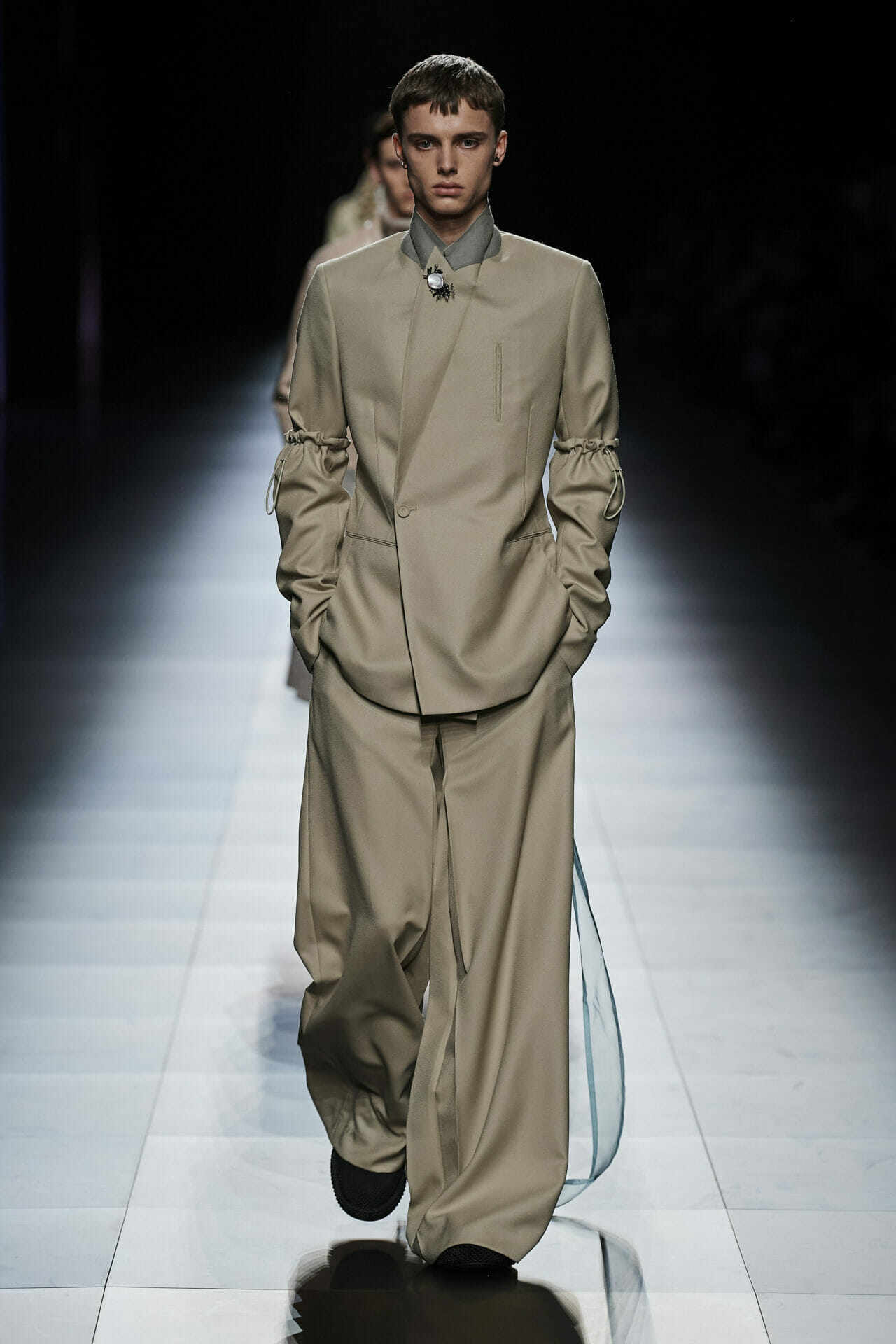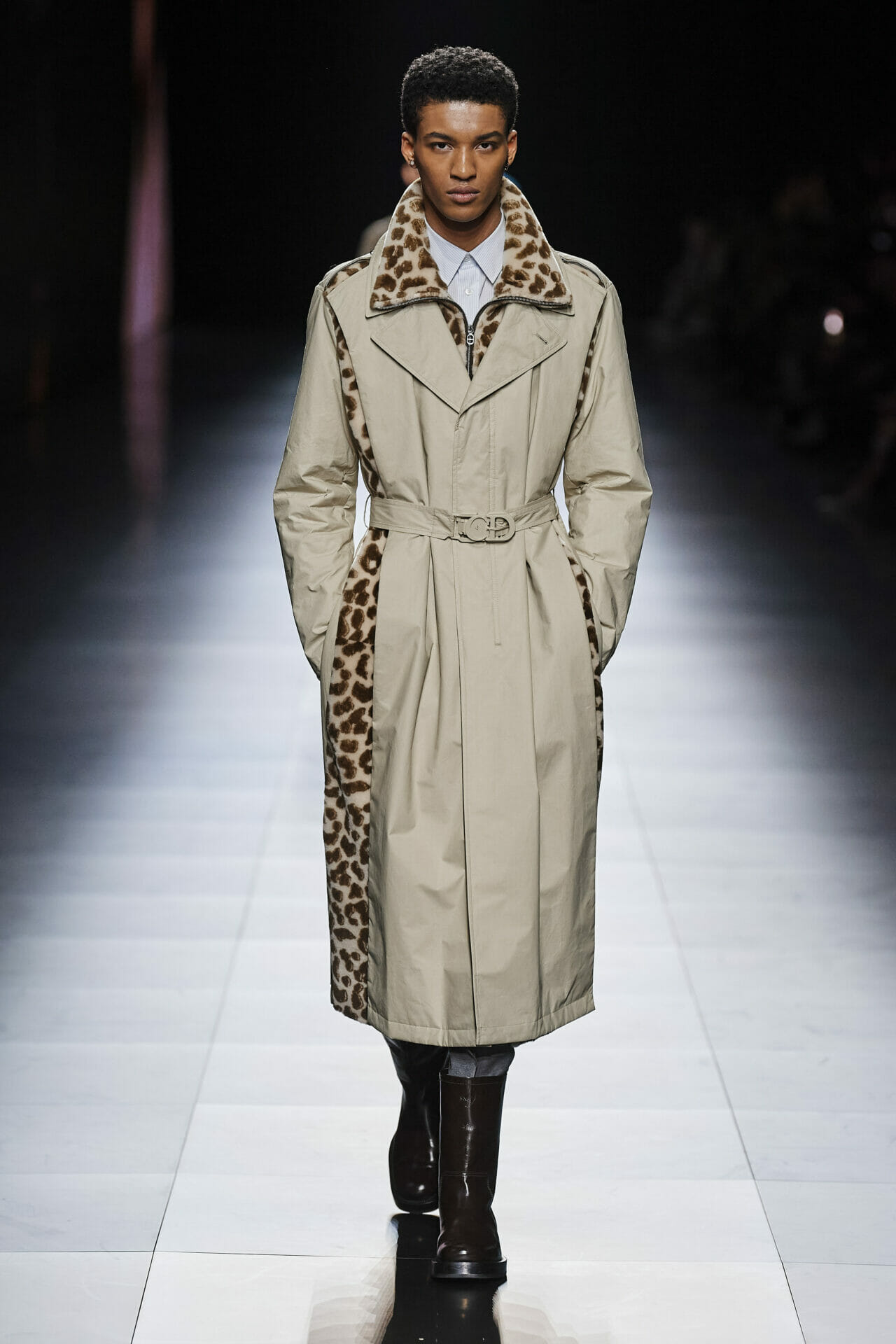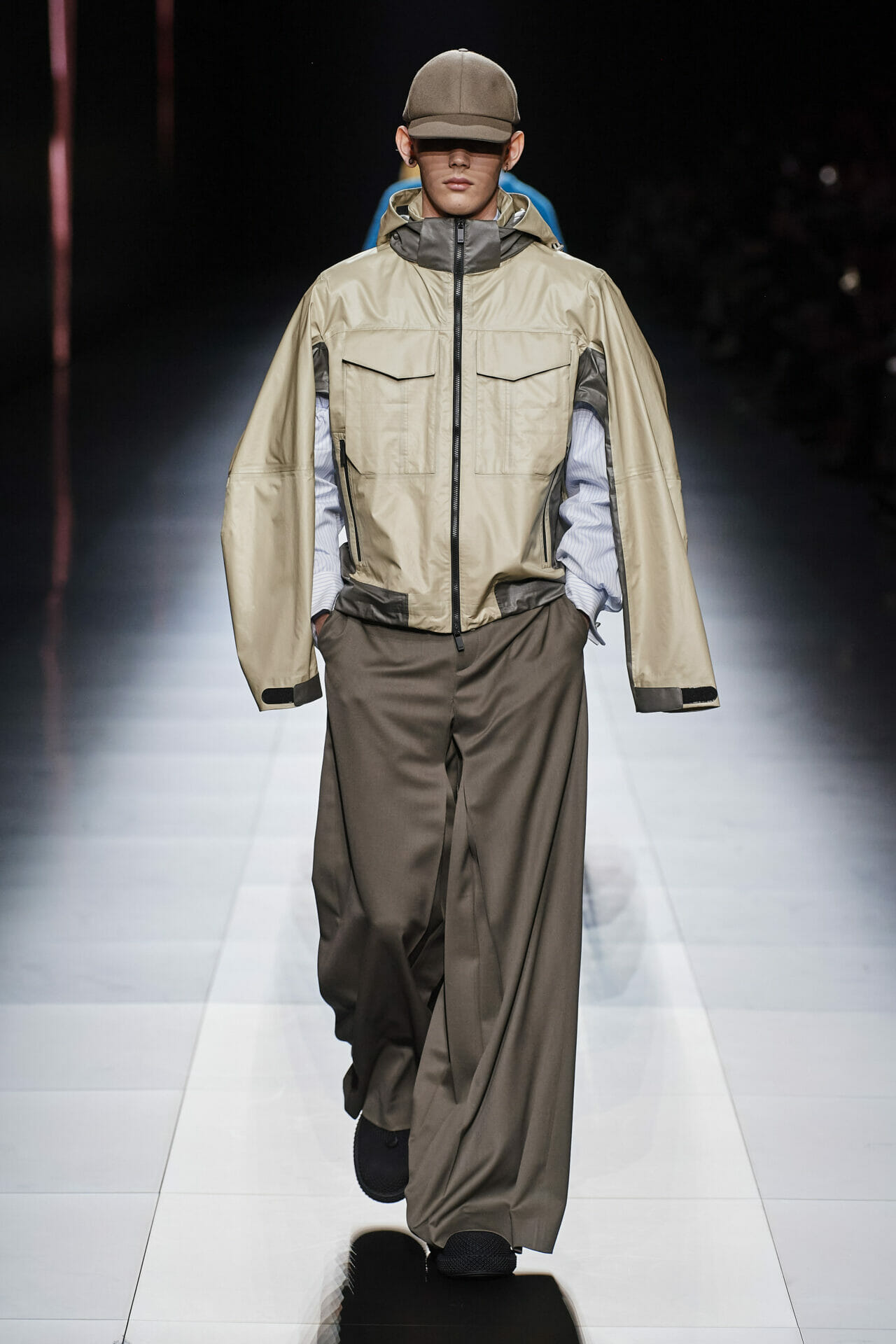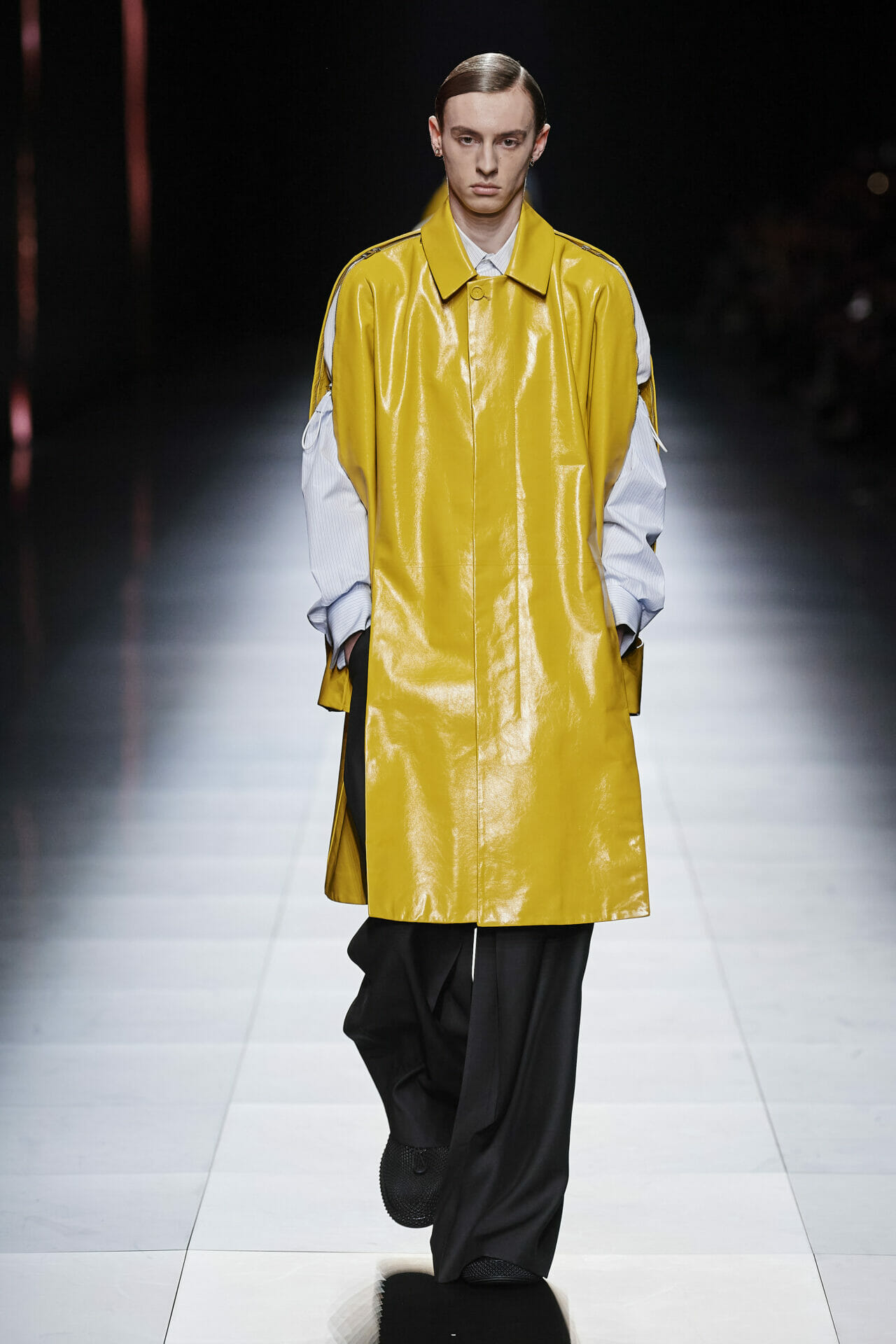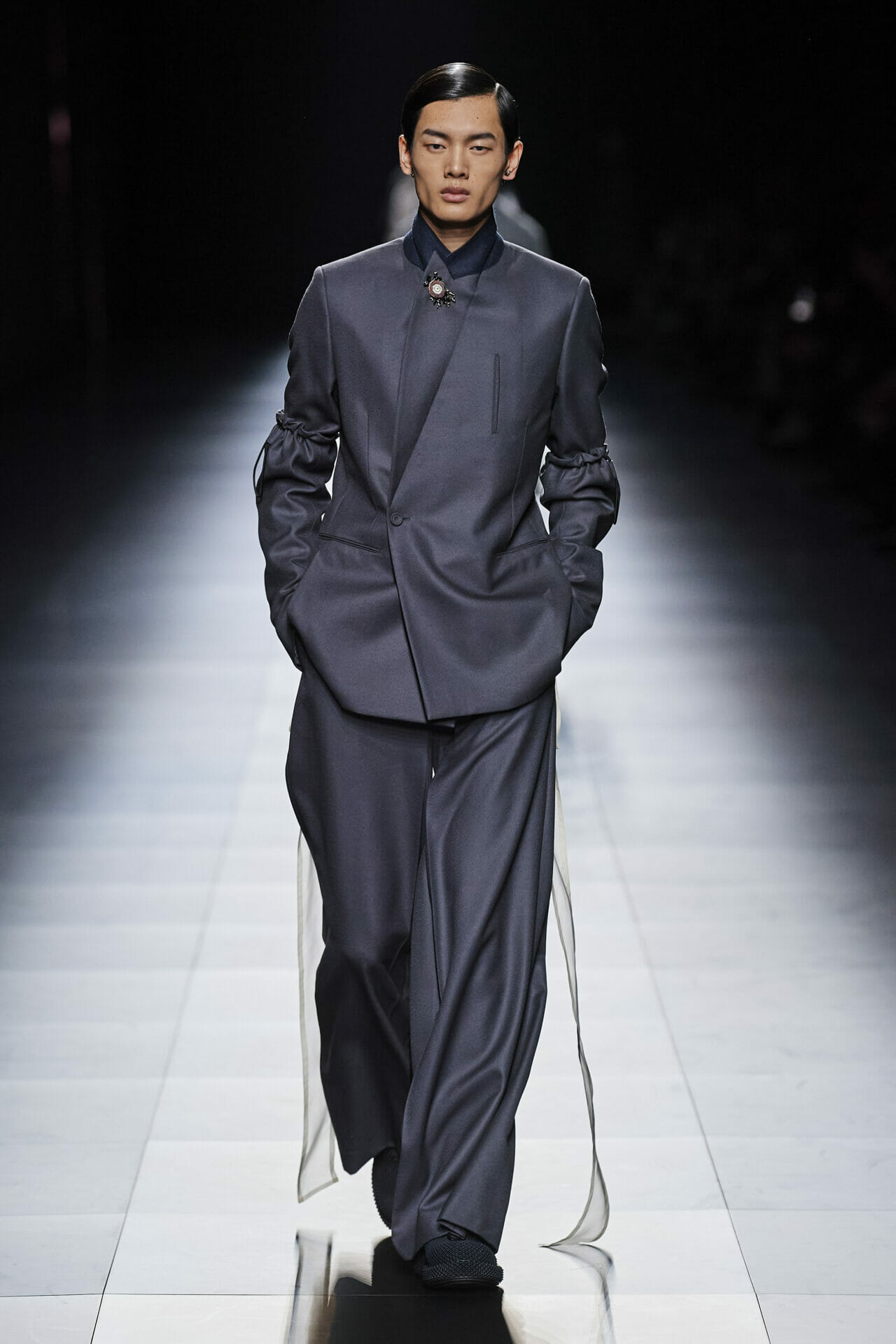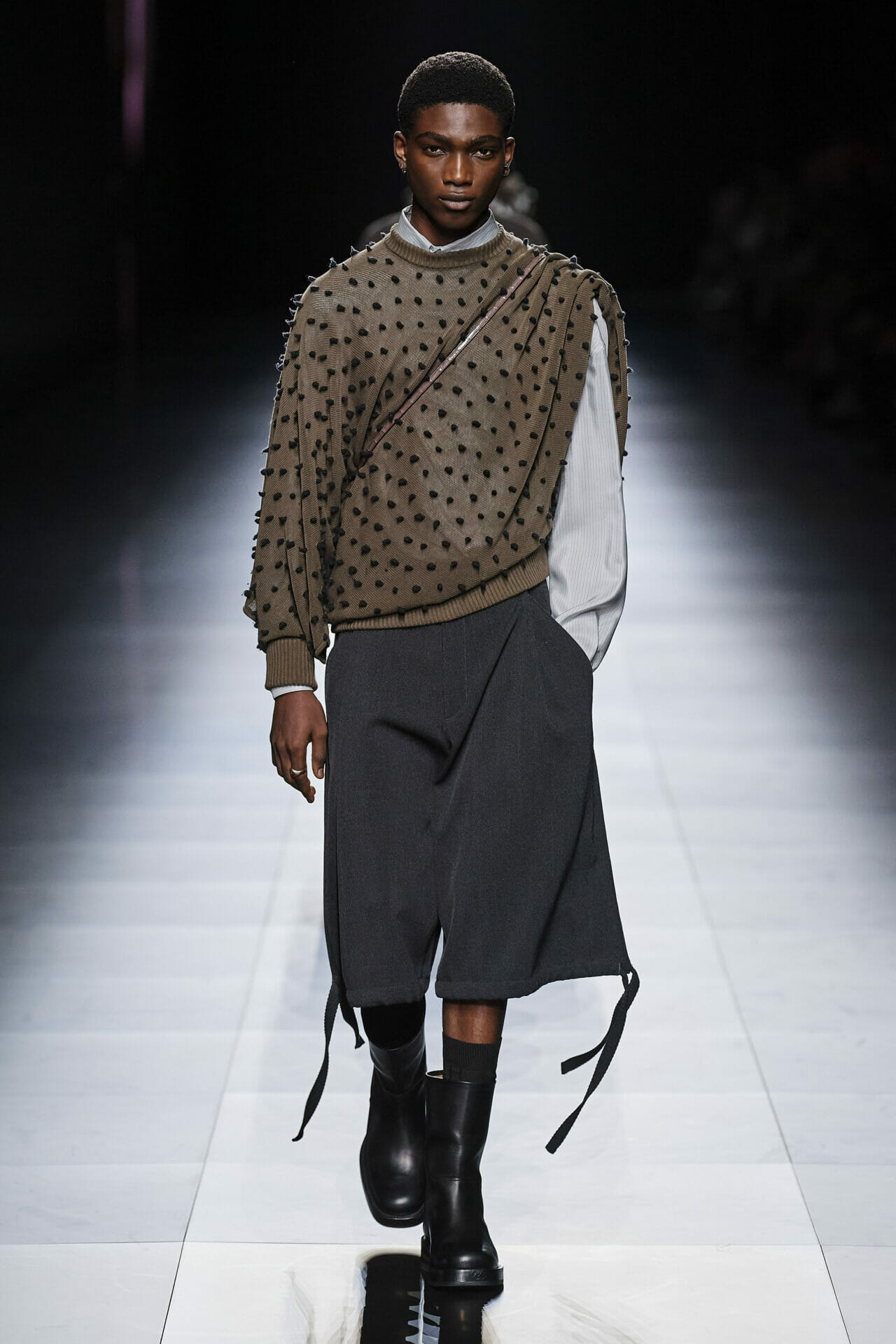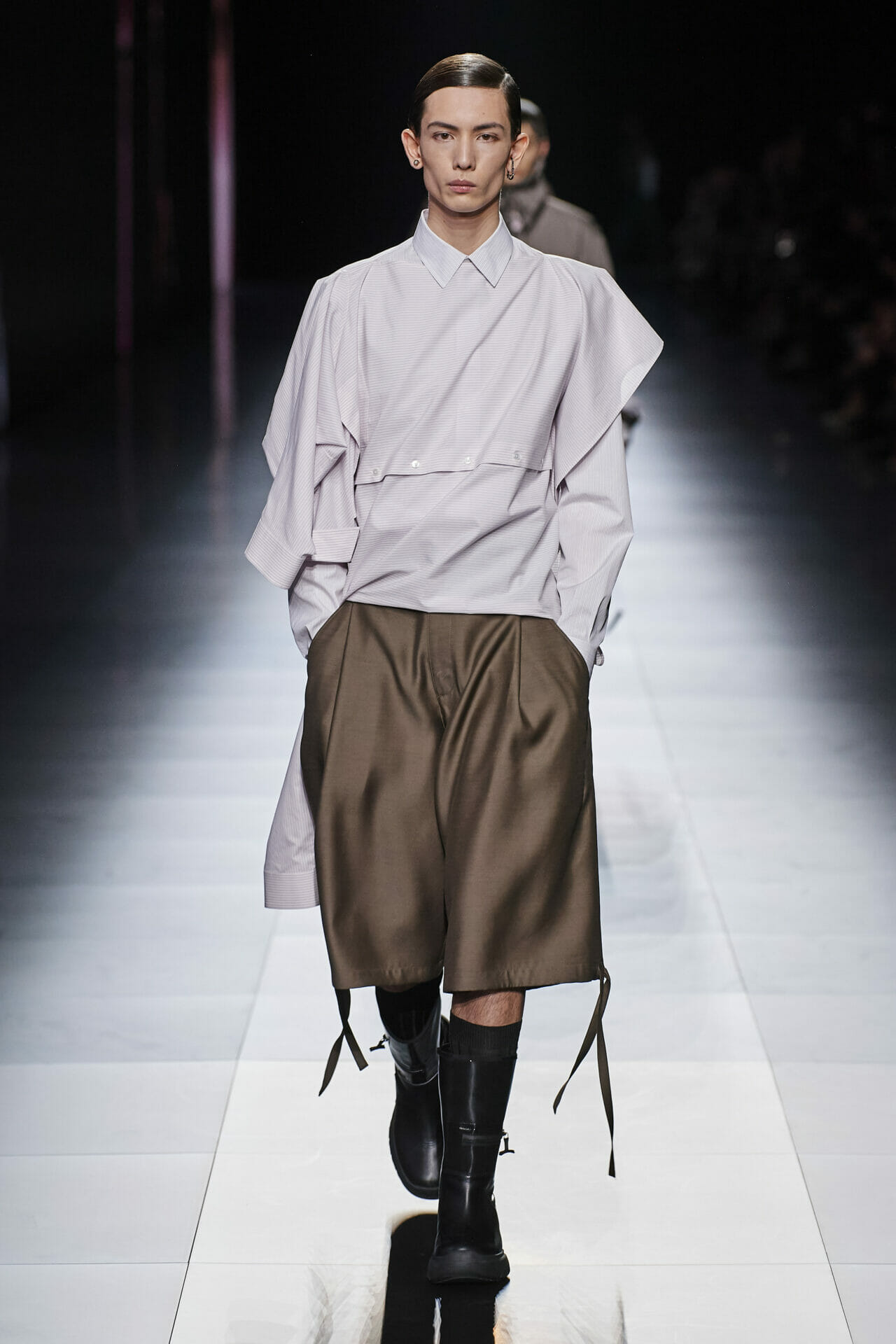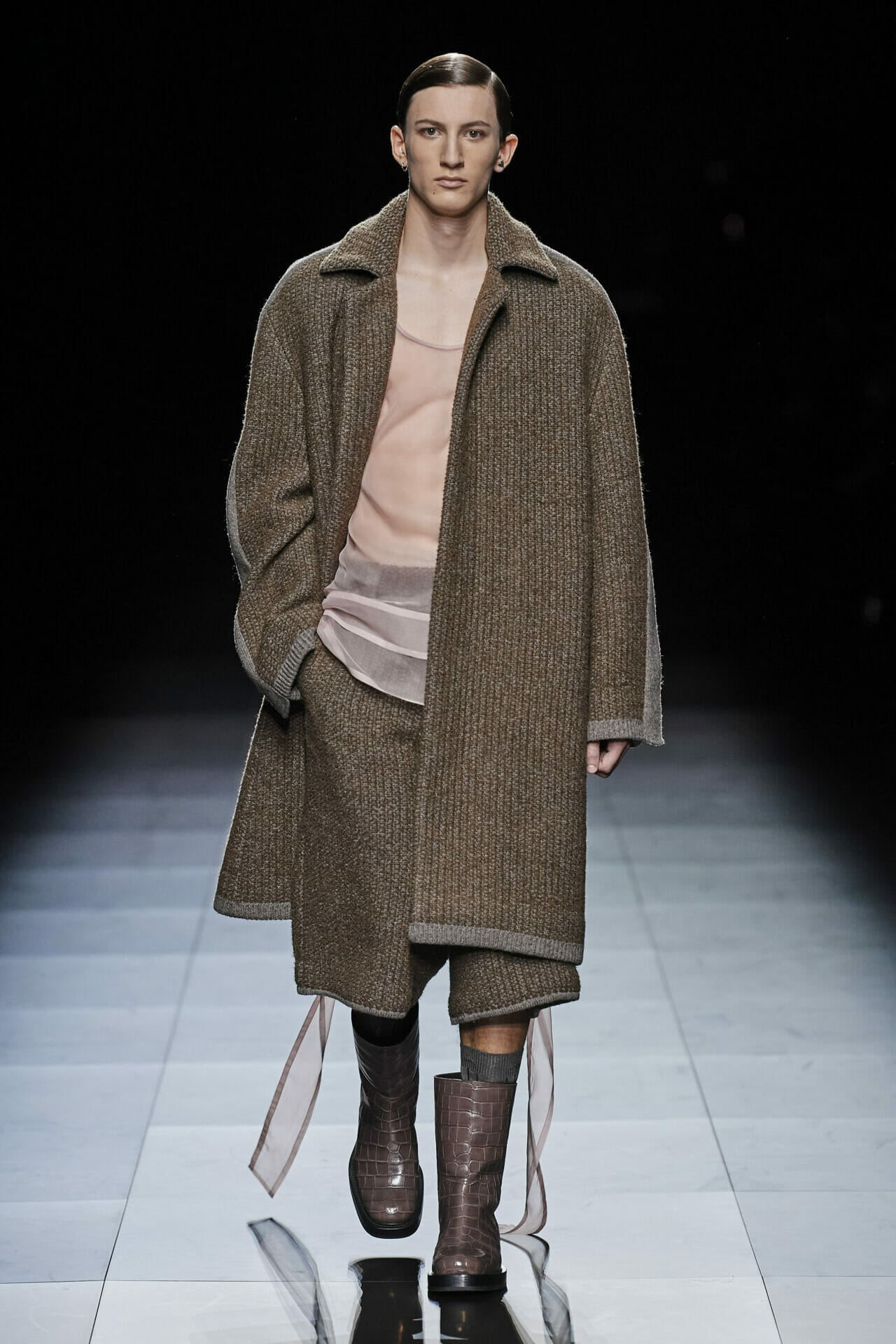 Dior's approach to Fall/Winter '23 dressing by Kim Jones was a winning collection in our eyes. All about movement and fluidity, the collection paid tribute to Yves Saint Laurent as heir of the Dior Maison – roughly 65 years ago this month was when he made his debut following Monsier Dior's death.
Reflecting the cycle of fashion itself, it was the merging of the old and new universes that made the collection a stand-out.
With a front row that included a plethora of A-list celebrities including the house's new ambassador BTS Jimin, Robert Pattinson and Anya Taylor-Joy, all eyes were on a runway that revealed relaxed silhouettes dominated by a neutral colour palette.
With wool tunics, raincoats, knitted balmacaan coats and shorts, the collection also fizzled with rethought tailoring, technical fabrics, 3D-printed footwear, pieces transformed by opening zips, a marine mood, directional trousers and wrap-front kilts.
GIVENCHY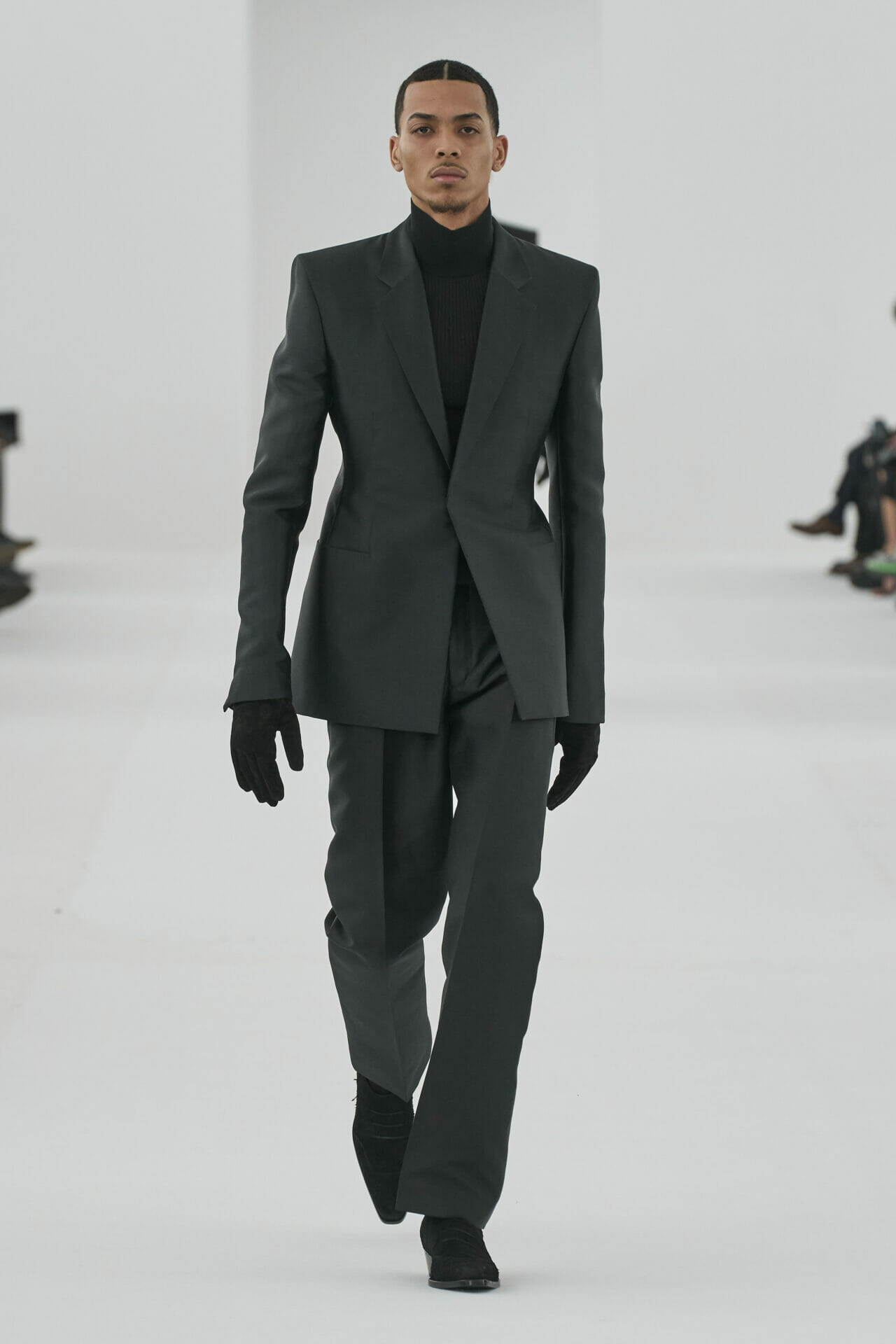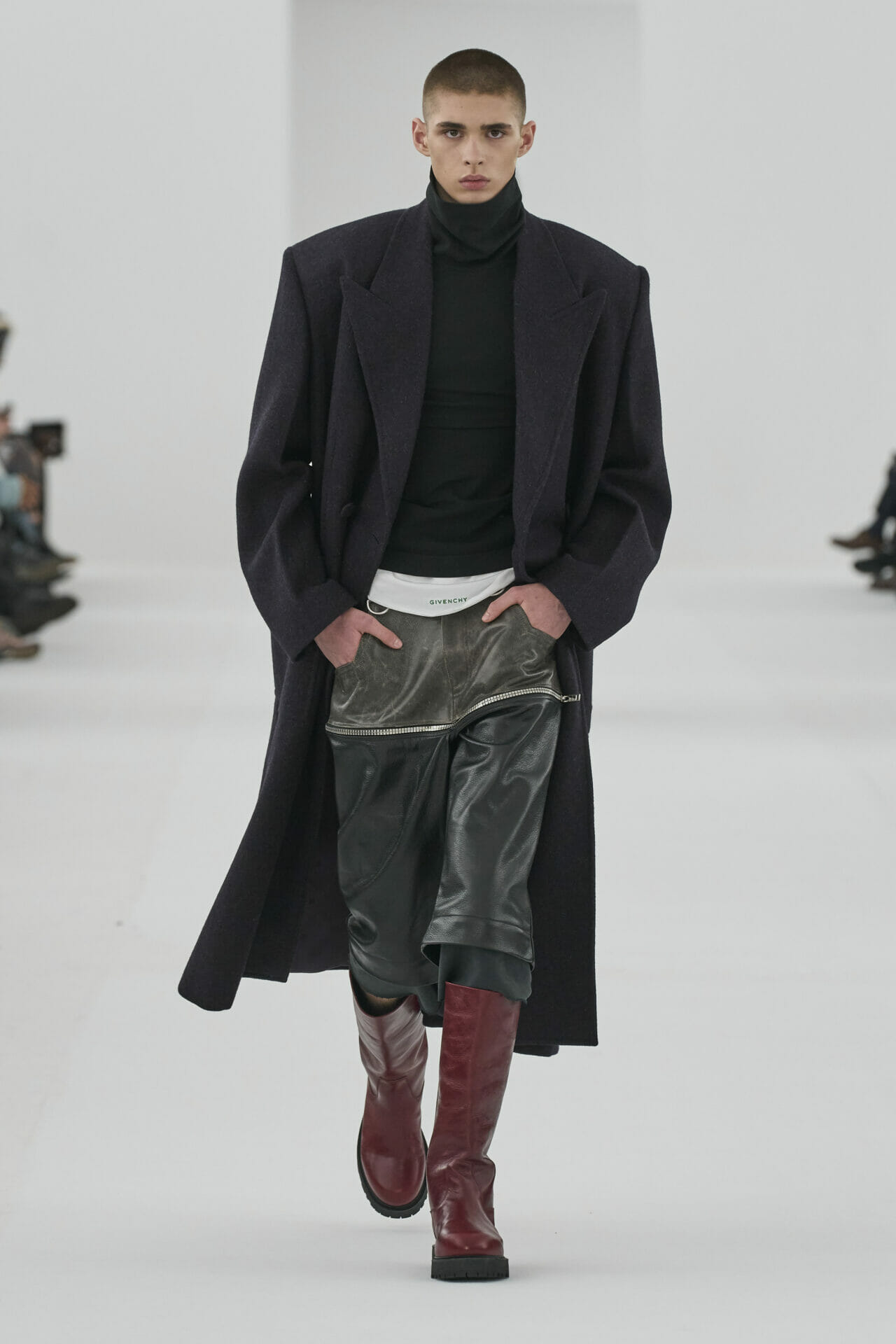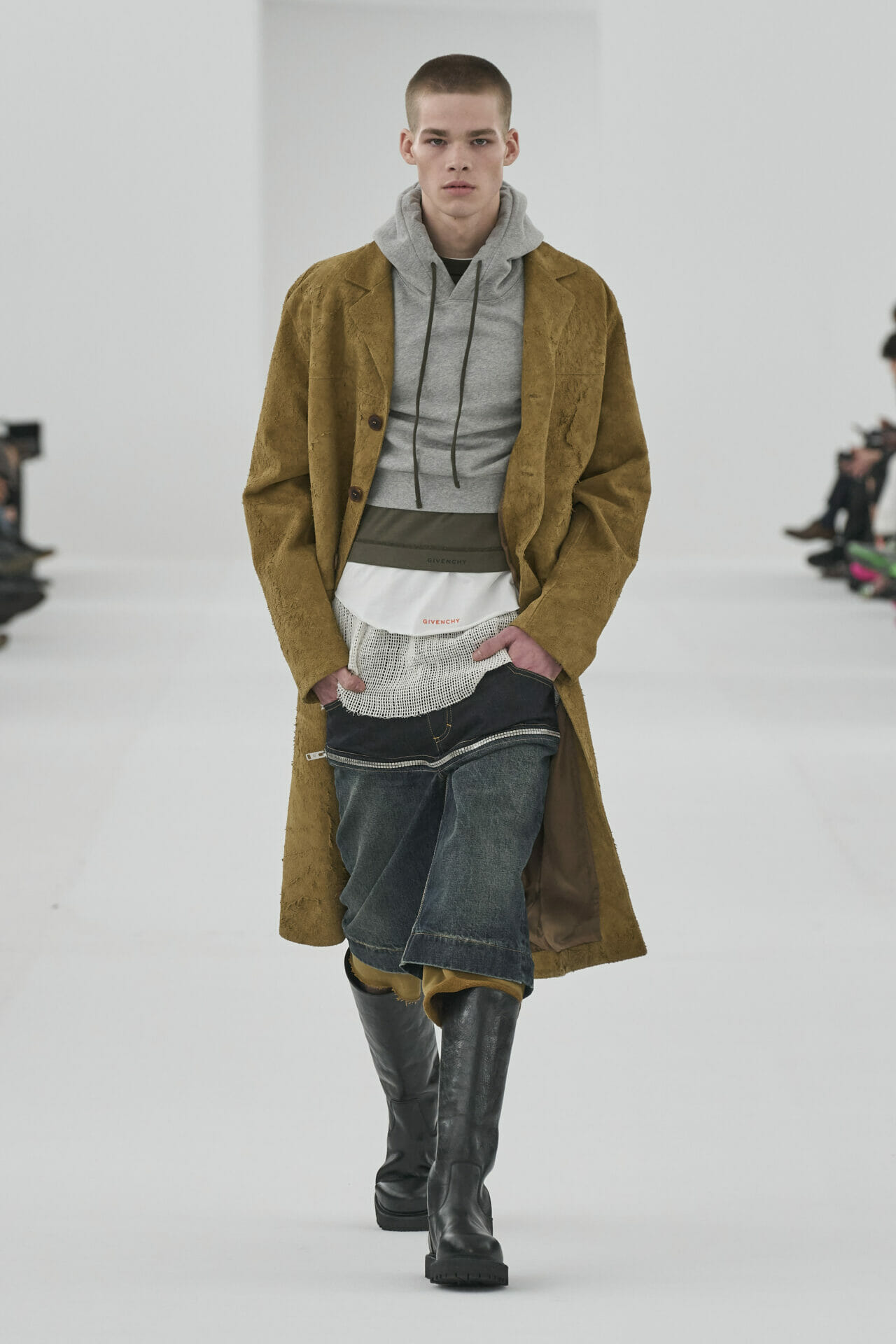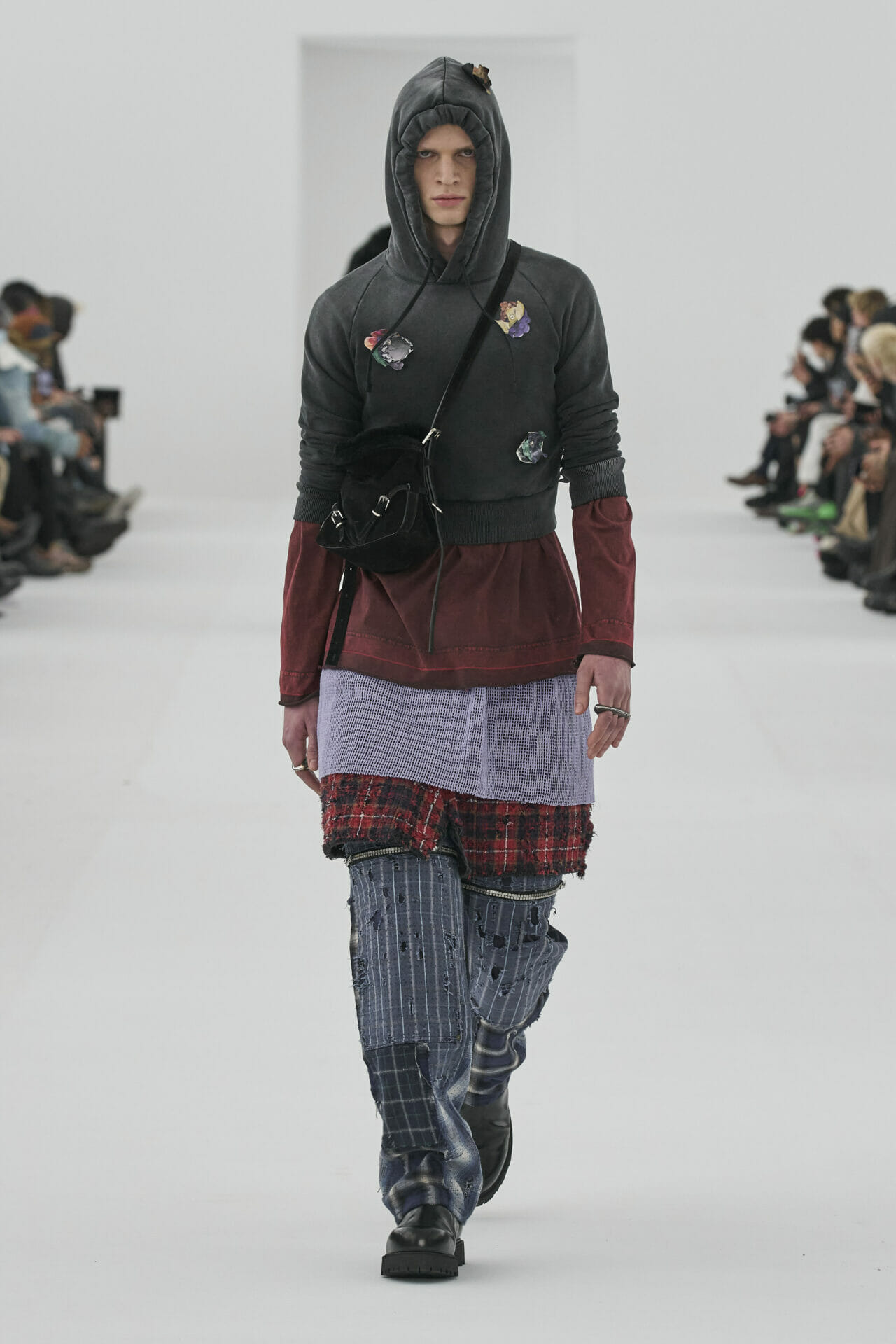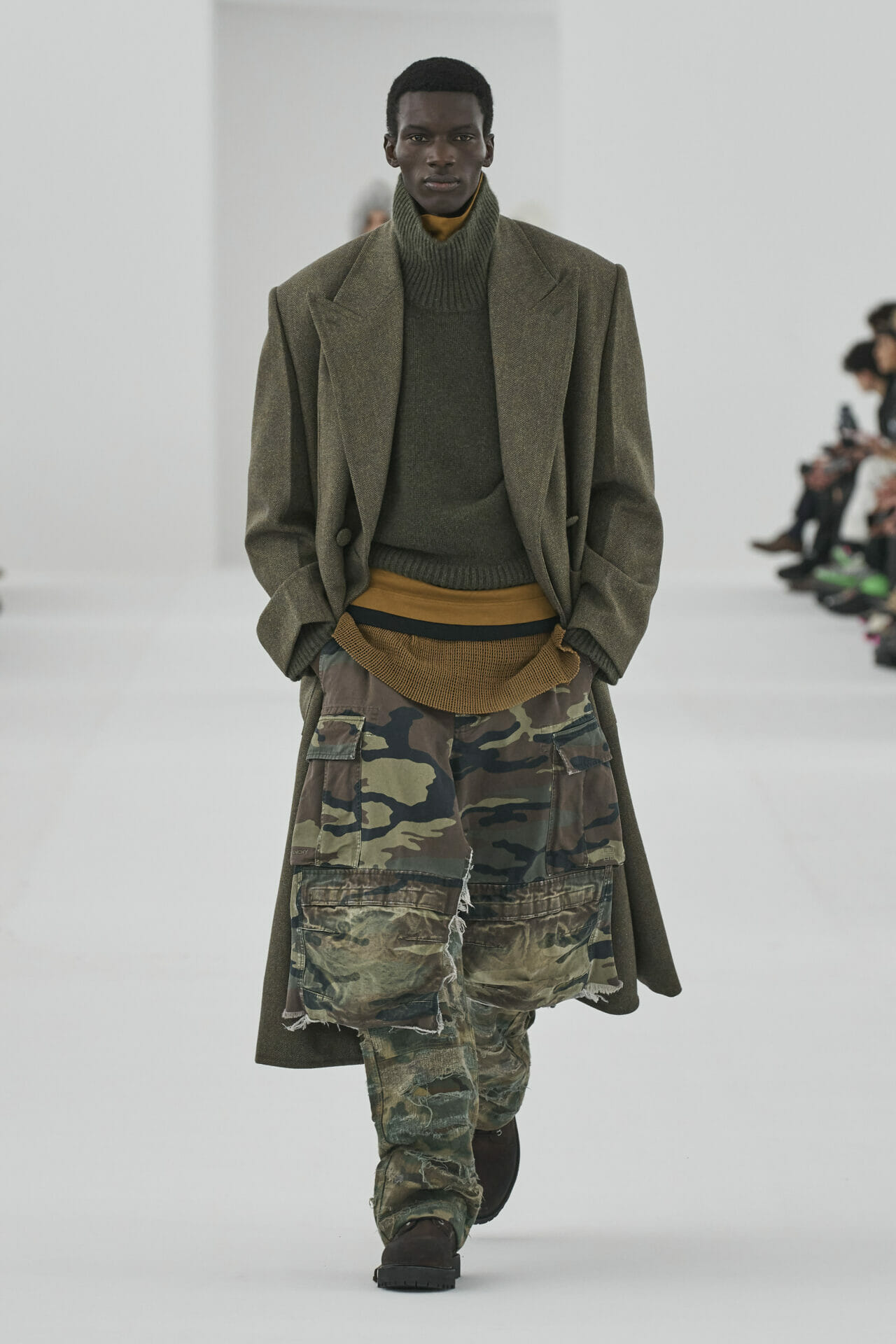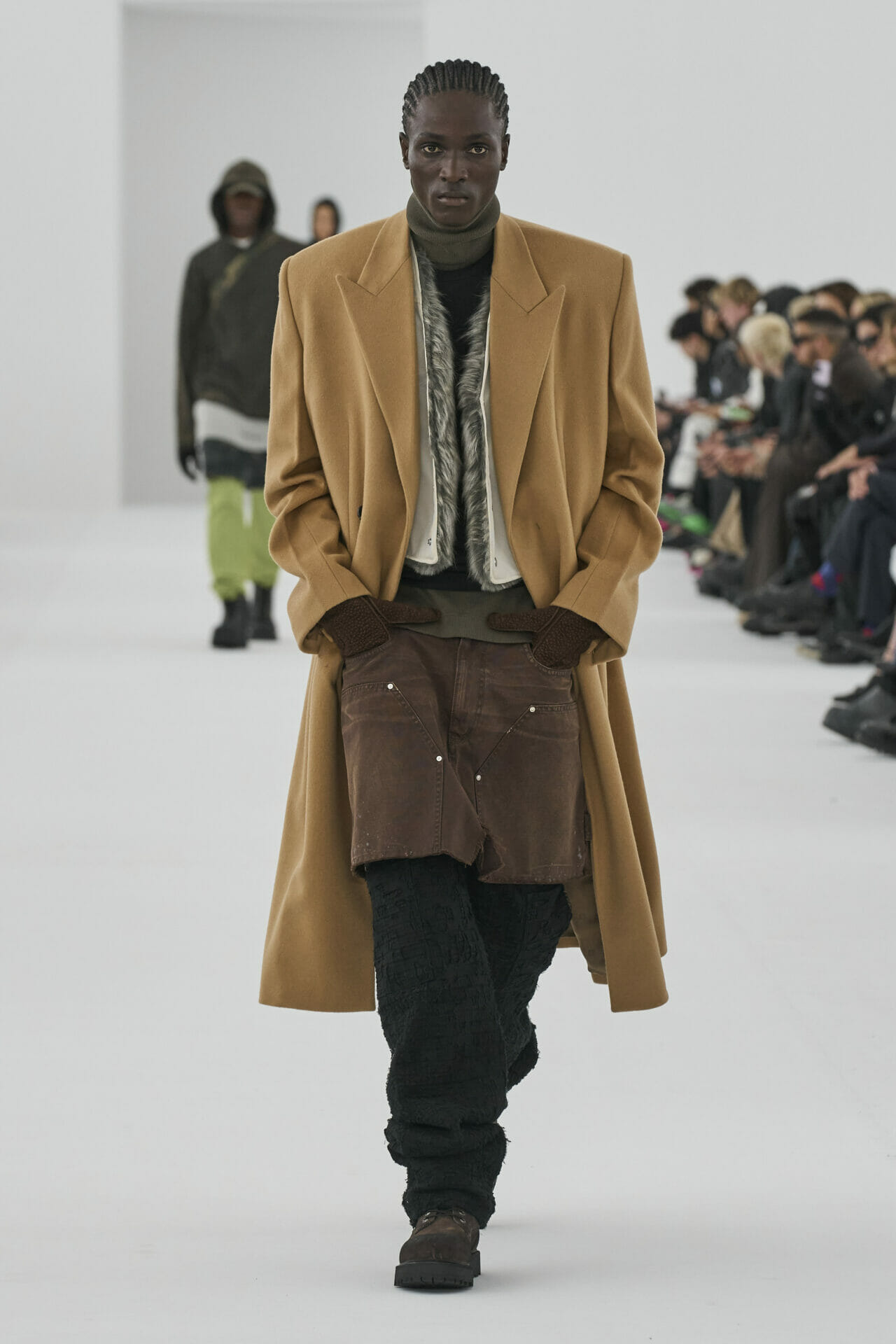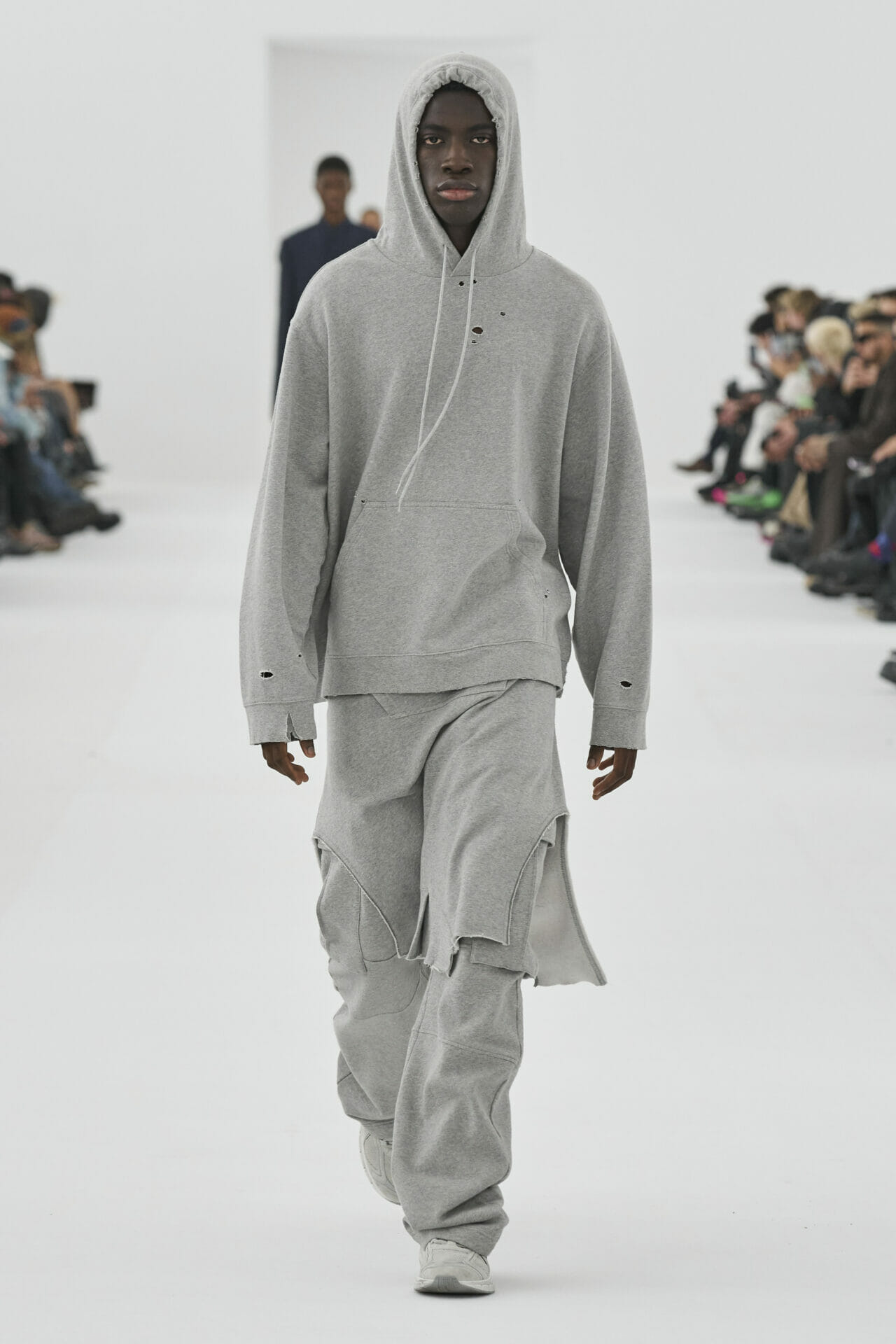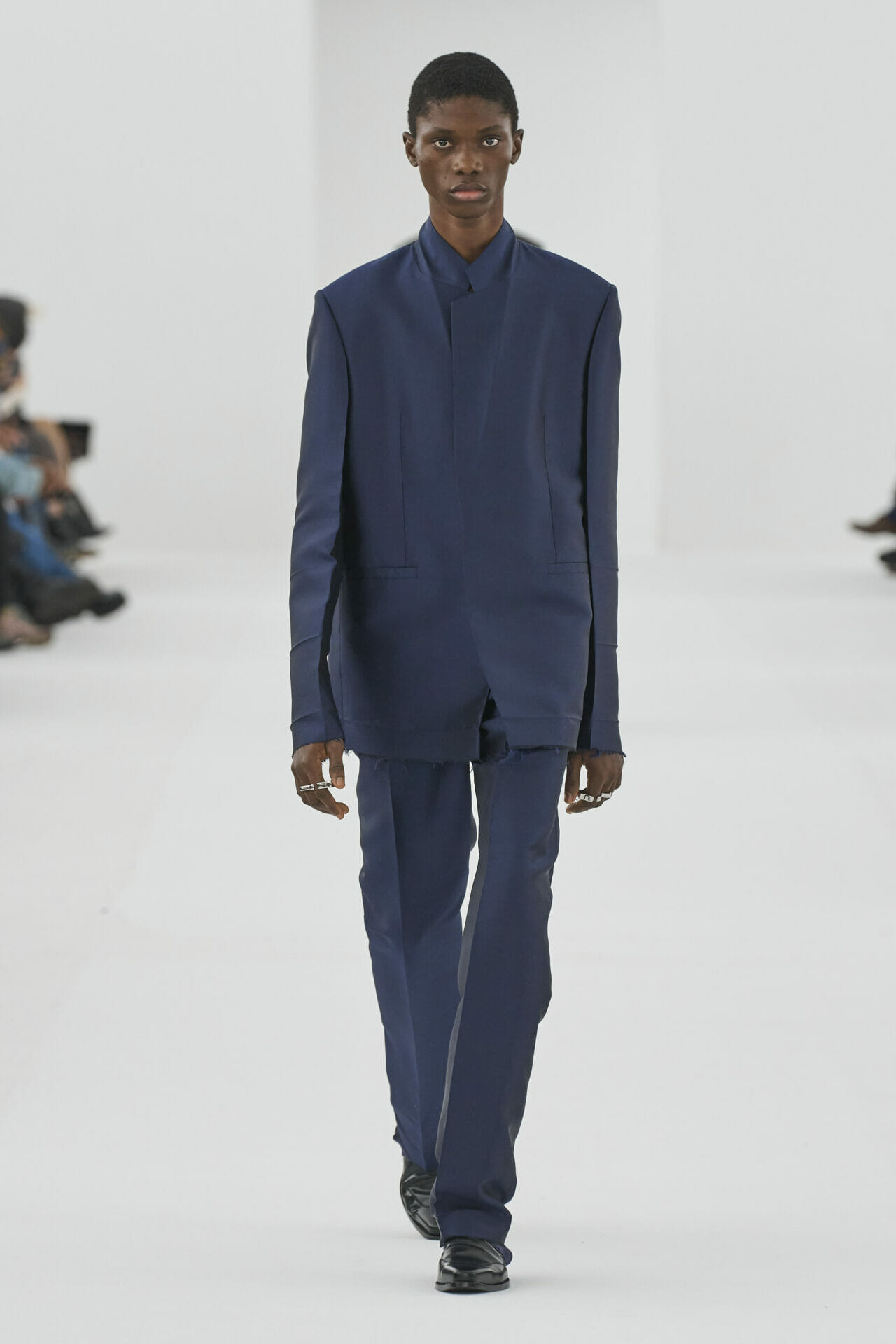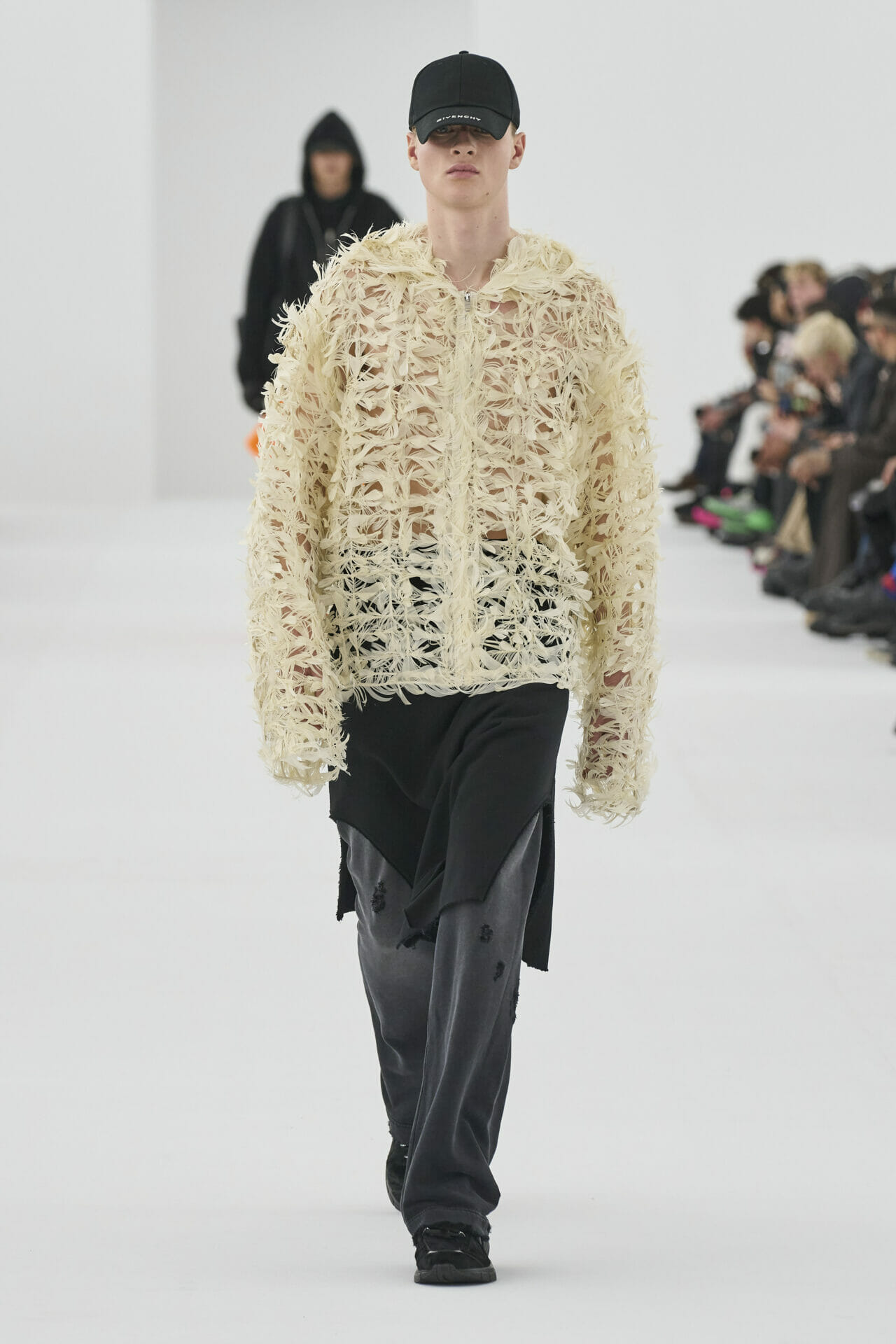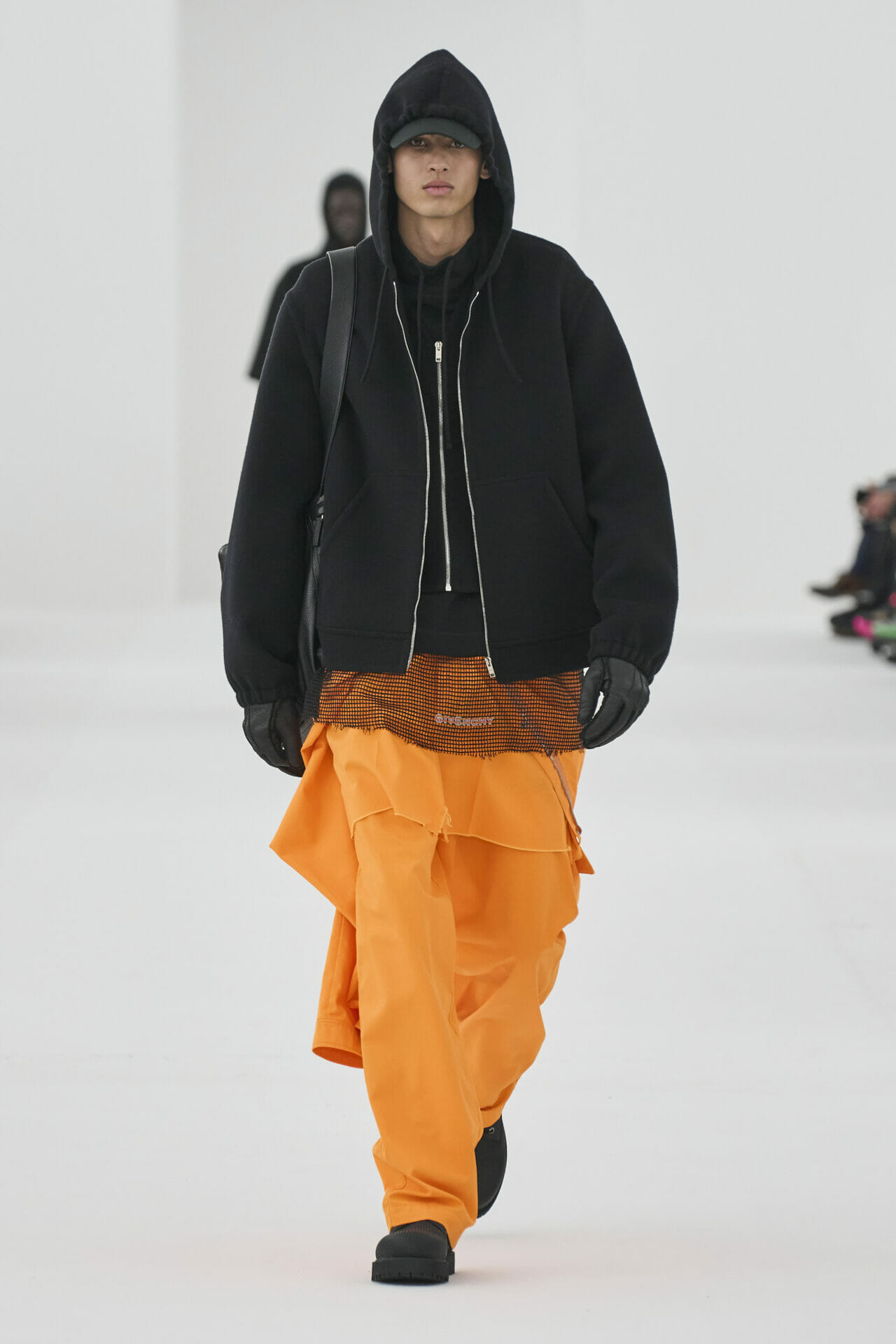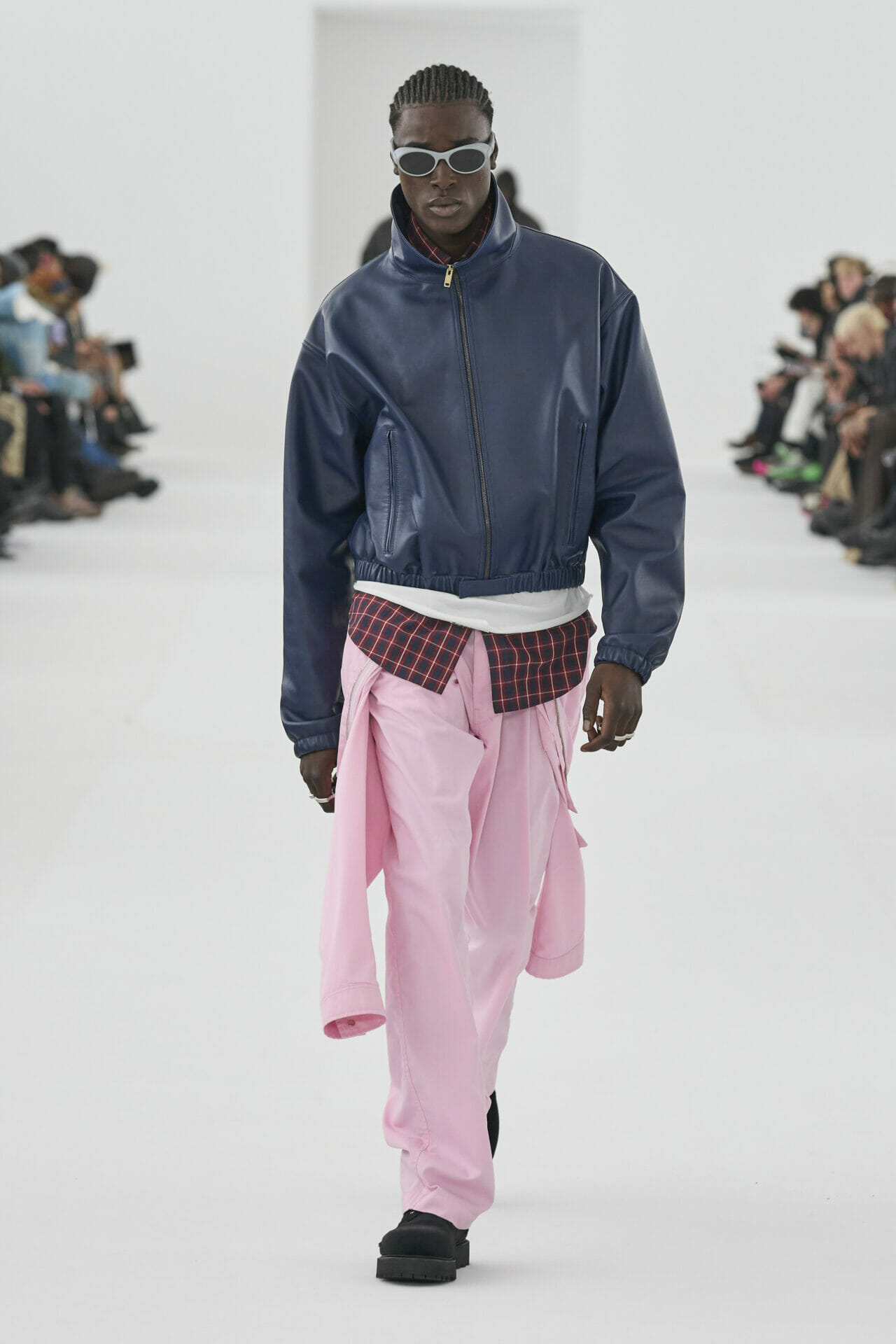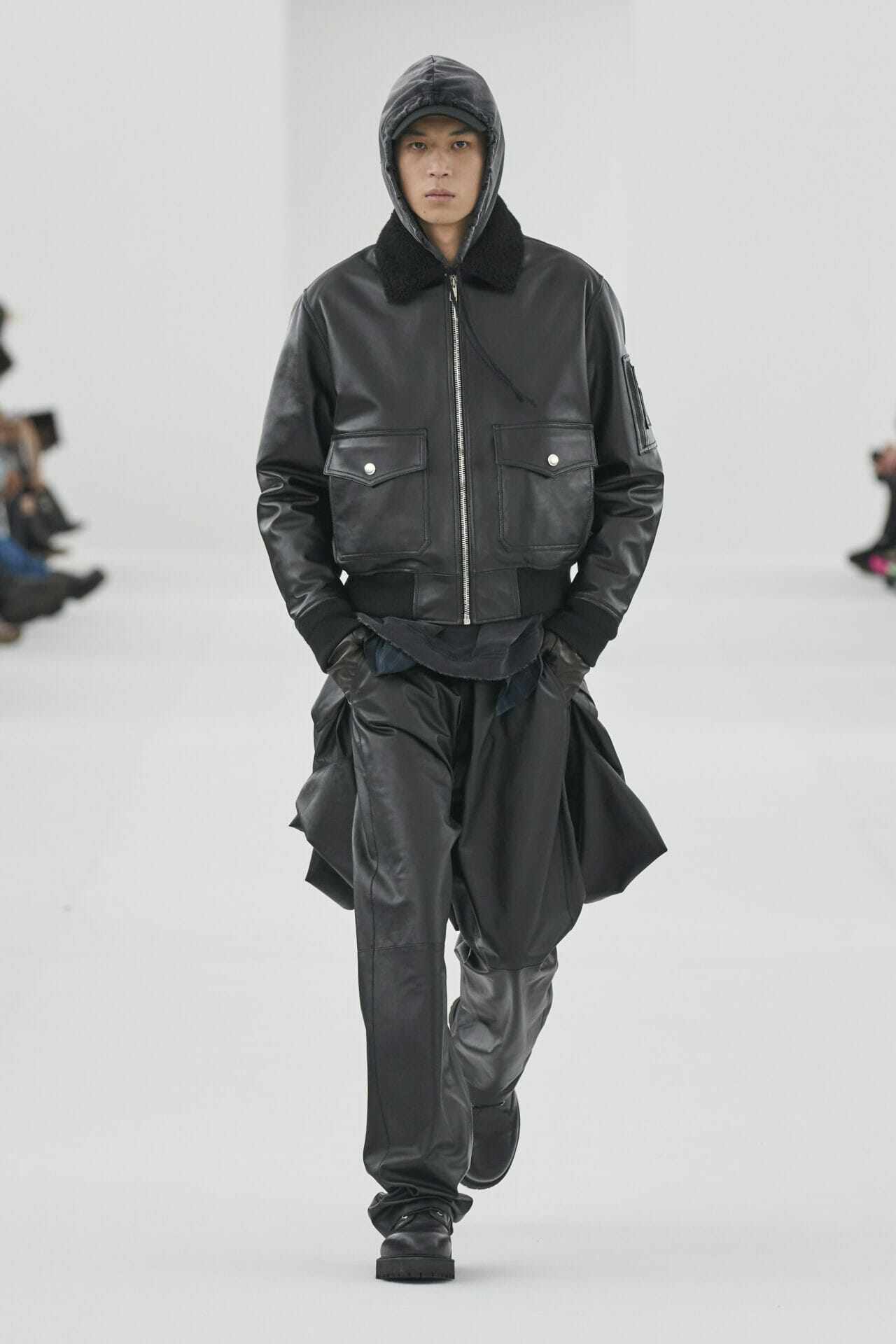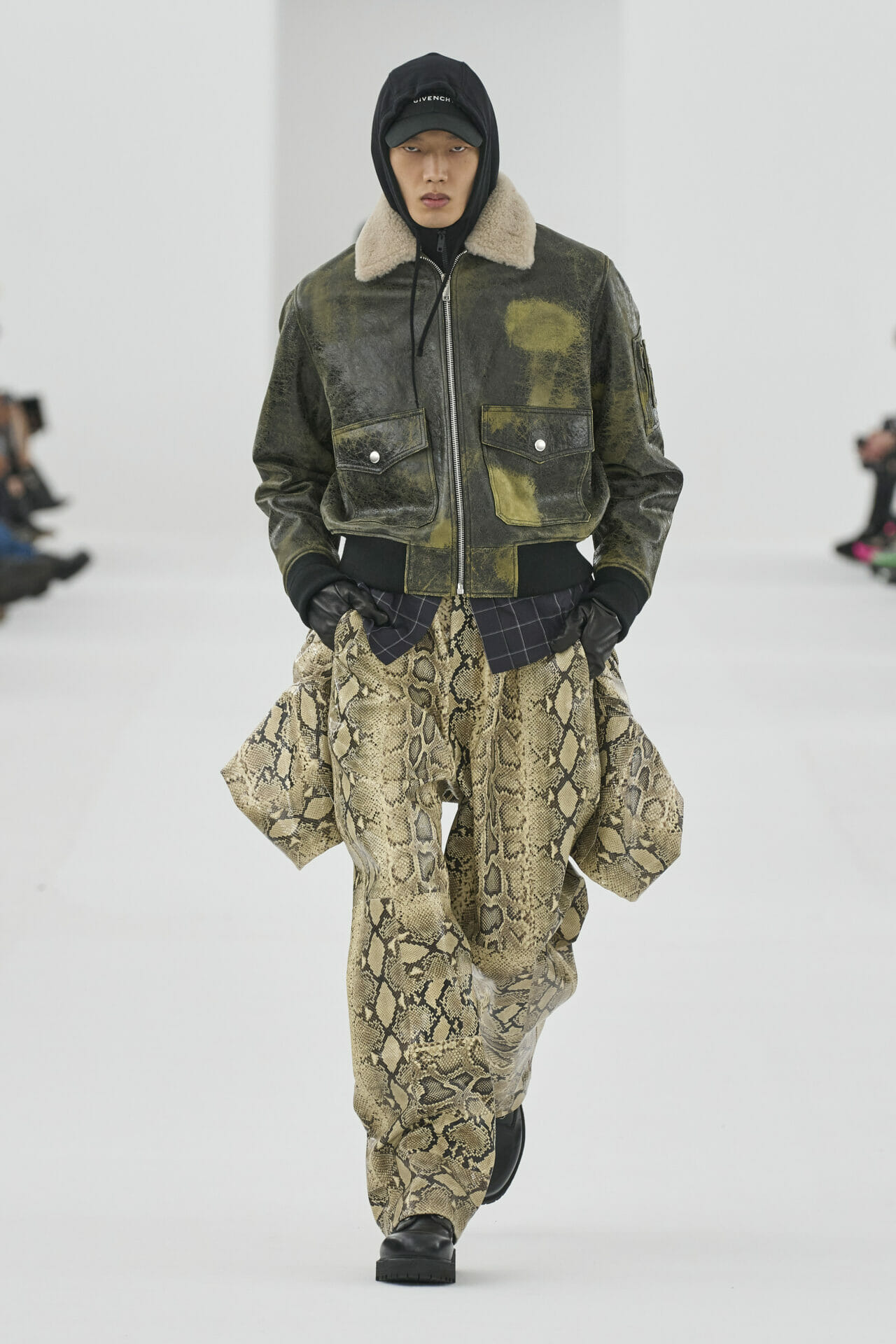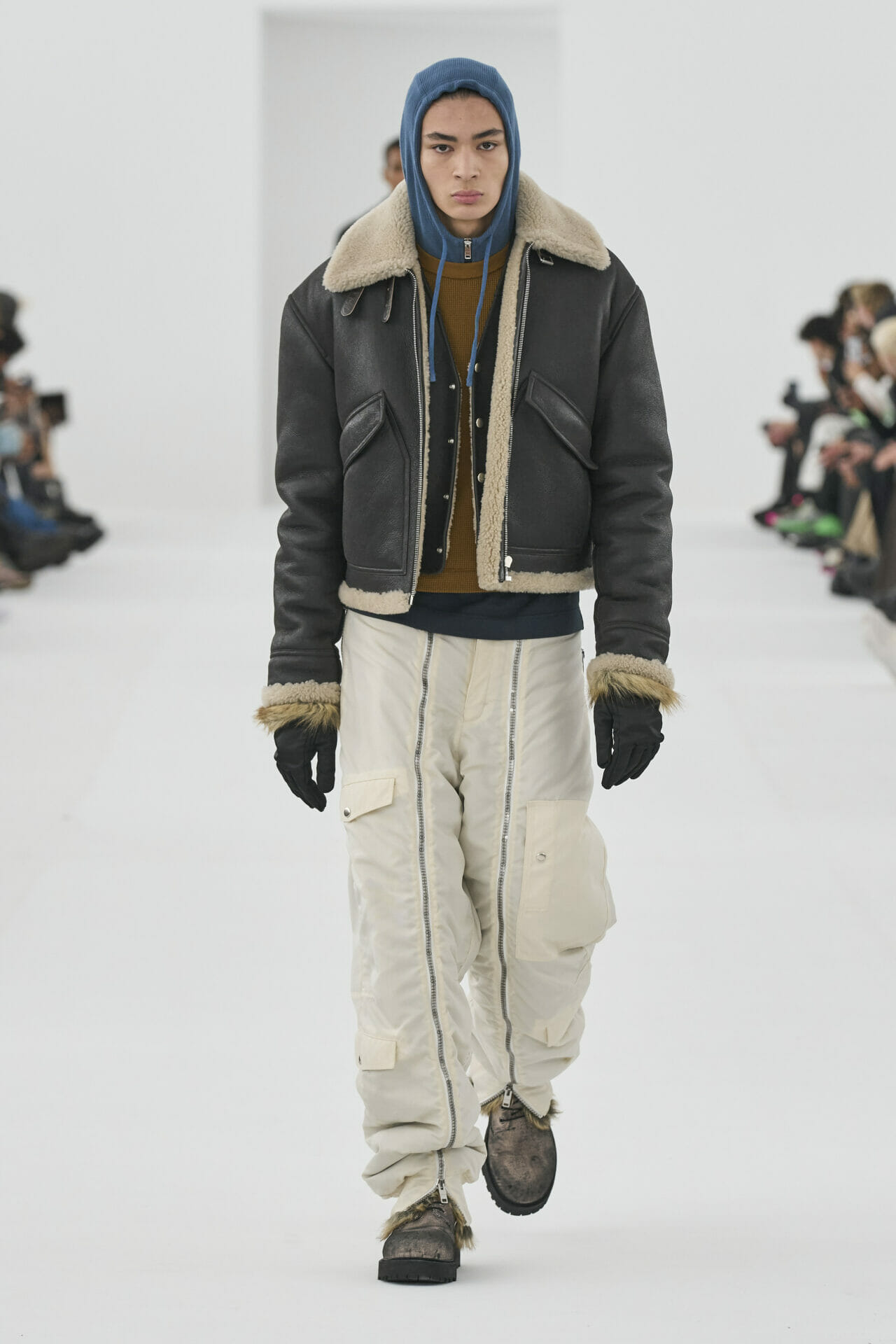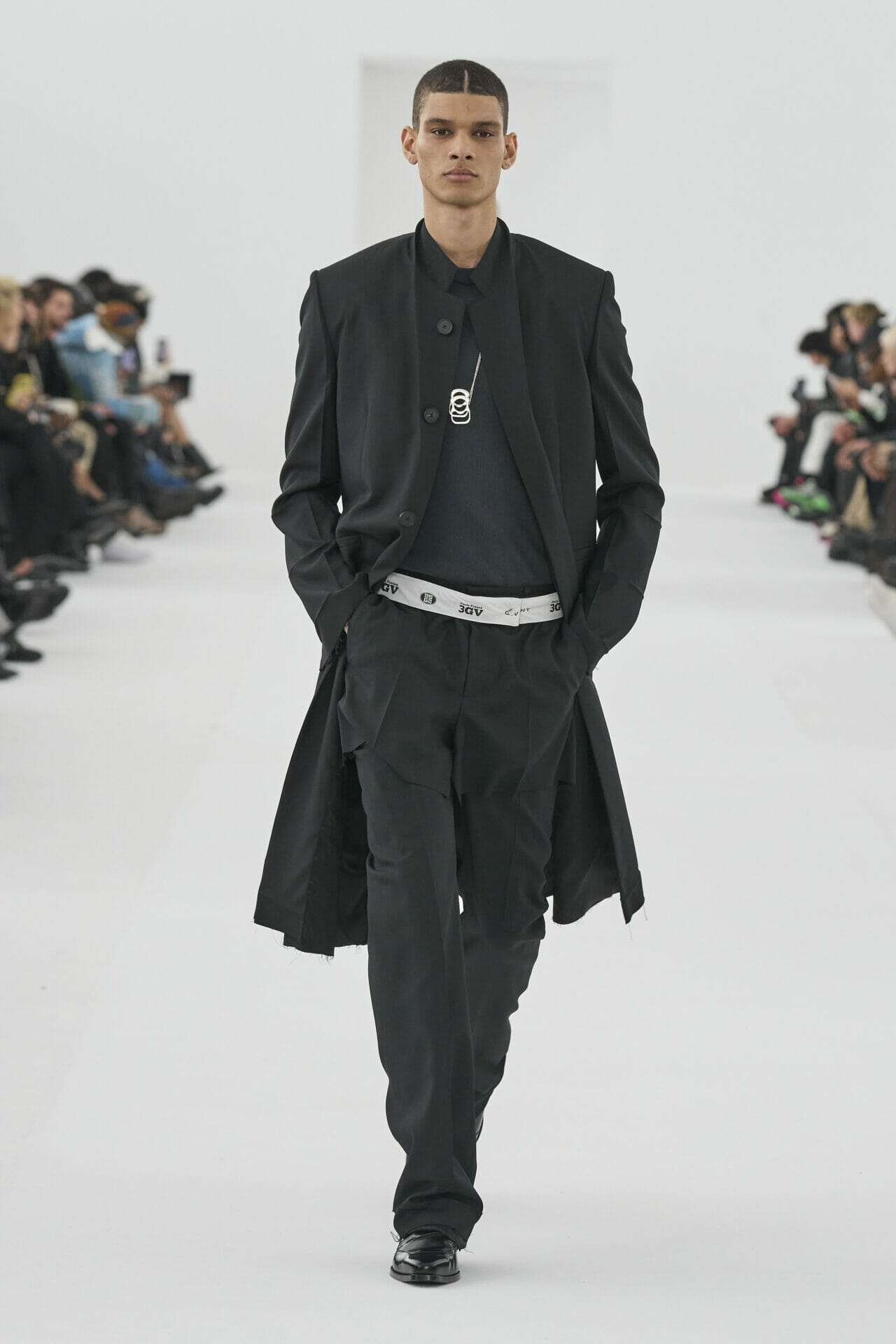 For the season, Creative Director Matthew M Williams looked to investigate brand codes and reinterpreted them through the development of fabric treatments, traditions and wardrobe archetypes.
Deconstructing silhouettes to convey Williams' 'new formality', the show opened with pin-sharp tailoring which was later met with cleverly layered garments, an intensified clash of patterns and prints, and unhemmed tailoring which took inspiration from the arts-driven community that surrounds the creative.
Dressing for a culture of formality, ease and confidence, the Fall/Winter '23 collection was presented within an optical white box and highlighted the technical and artisanal approach to seasonal dressing.
HERMÈS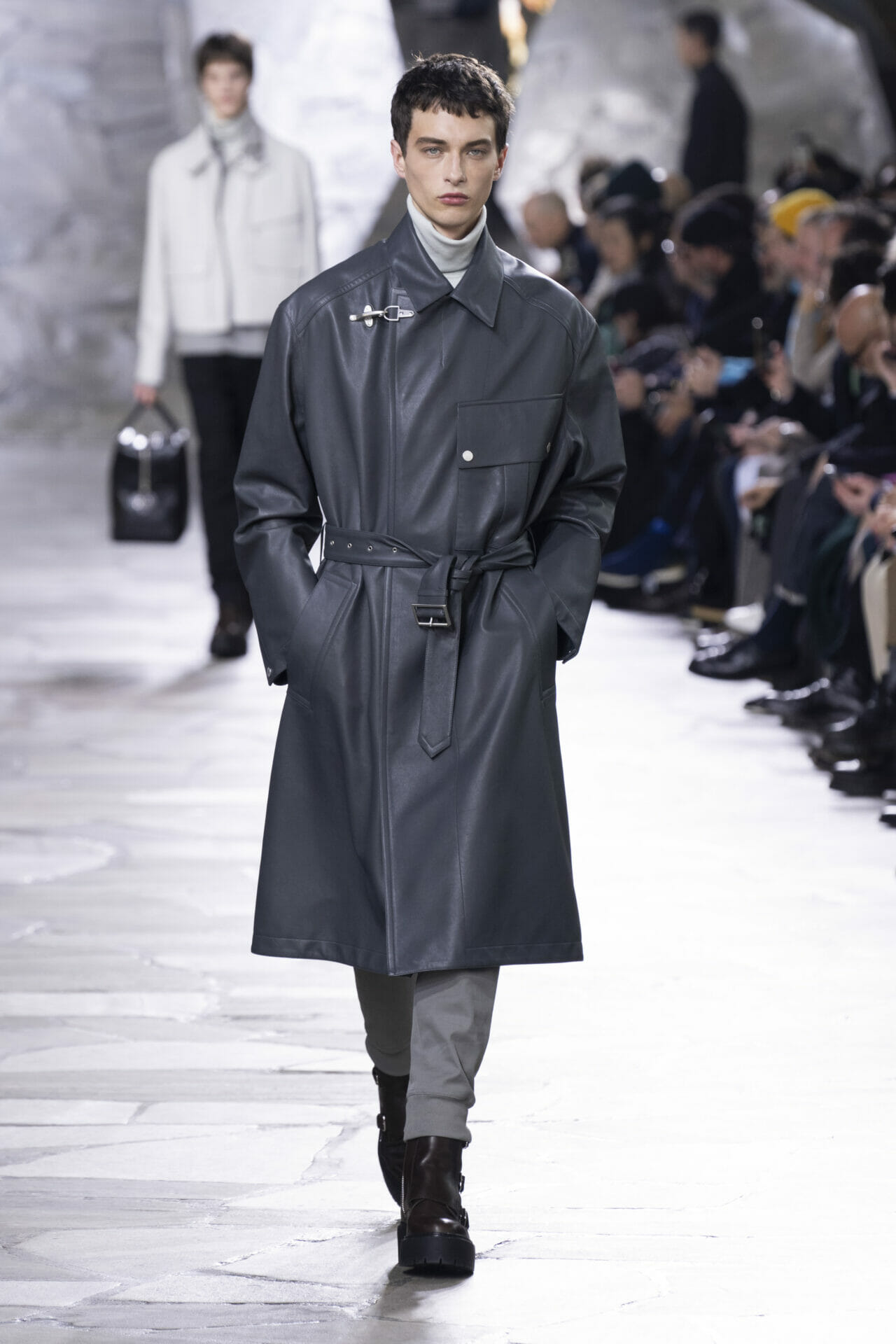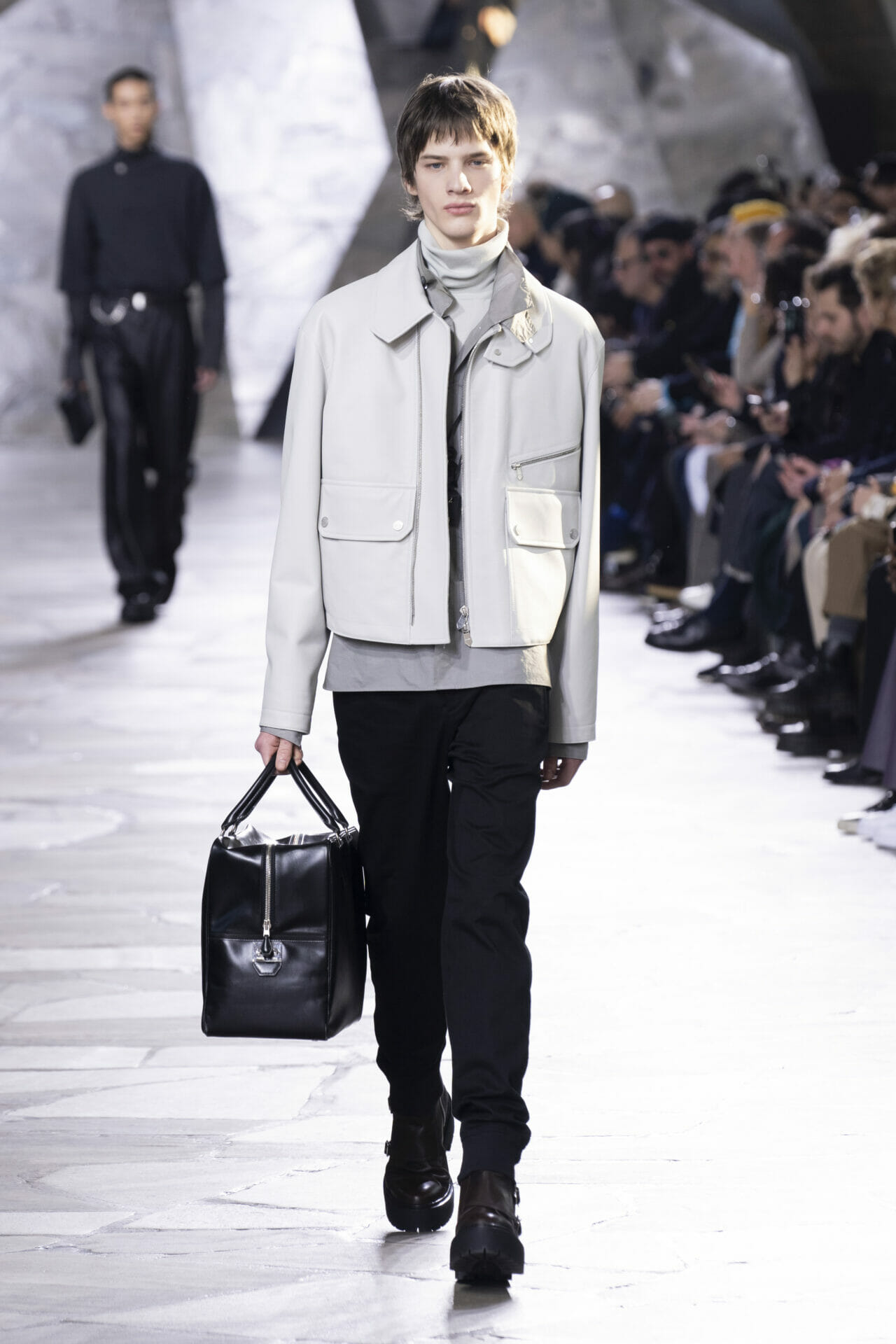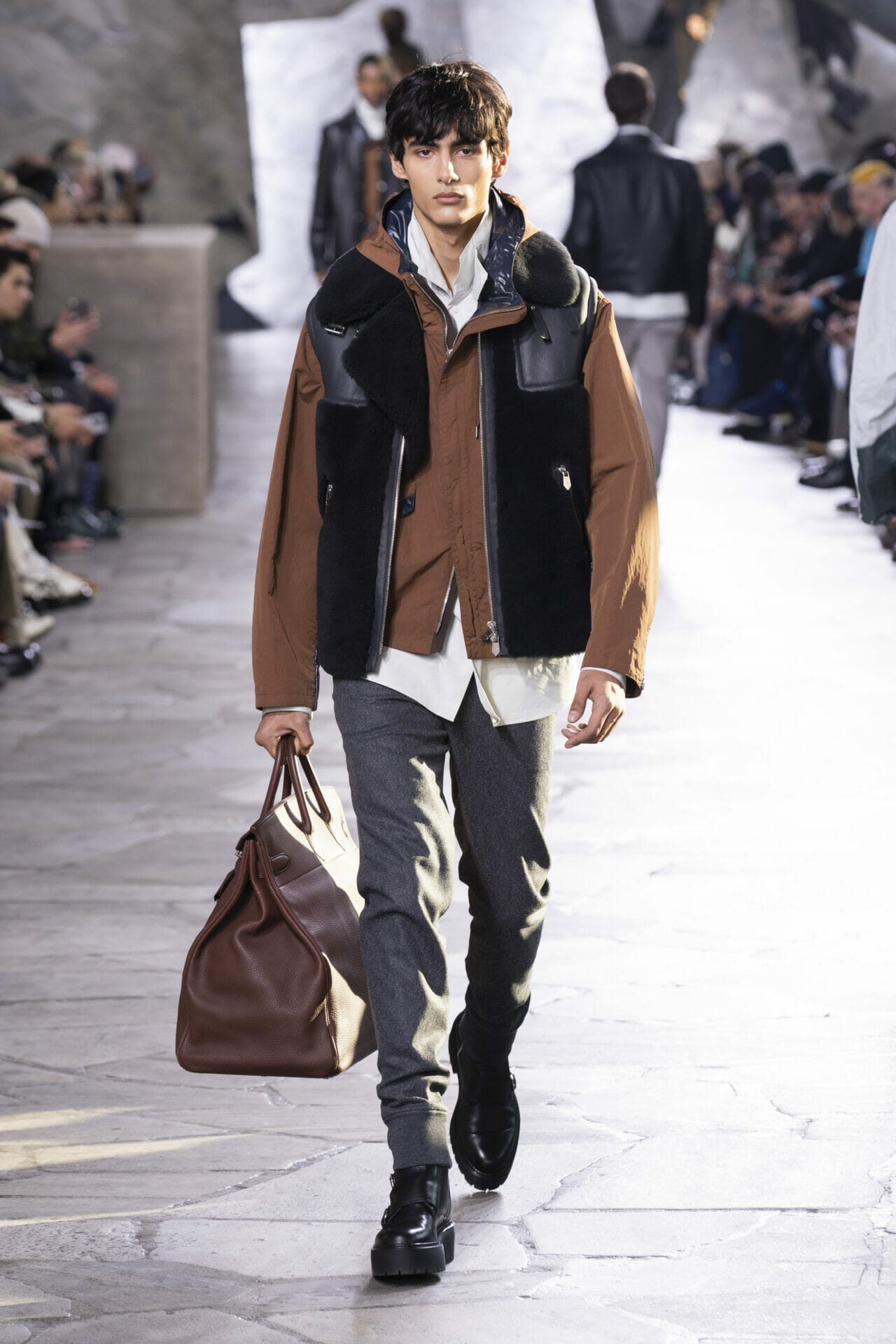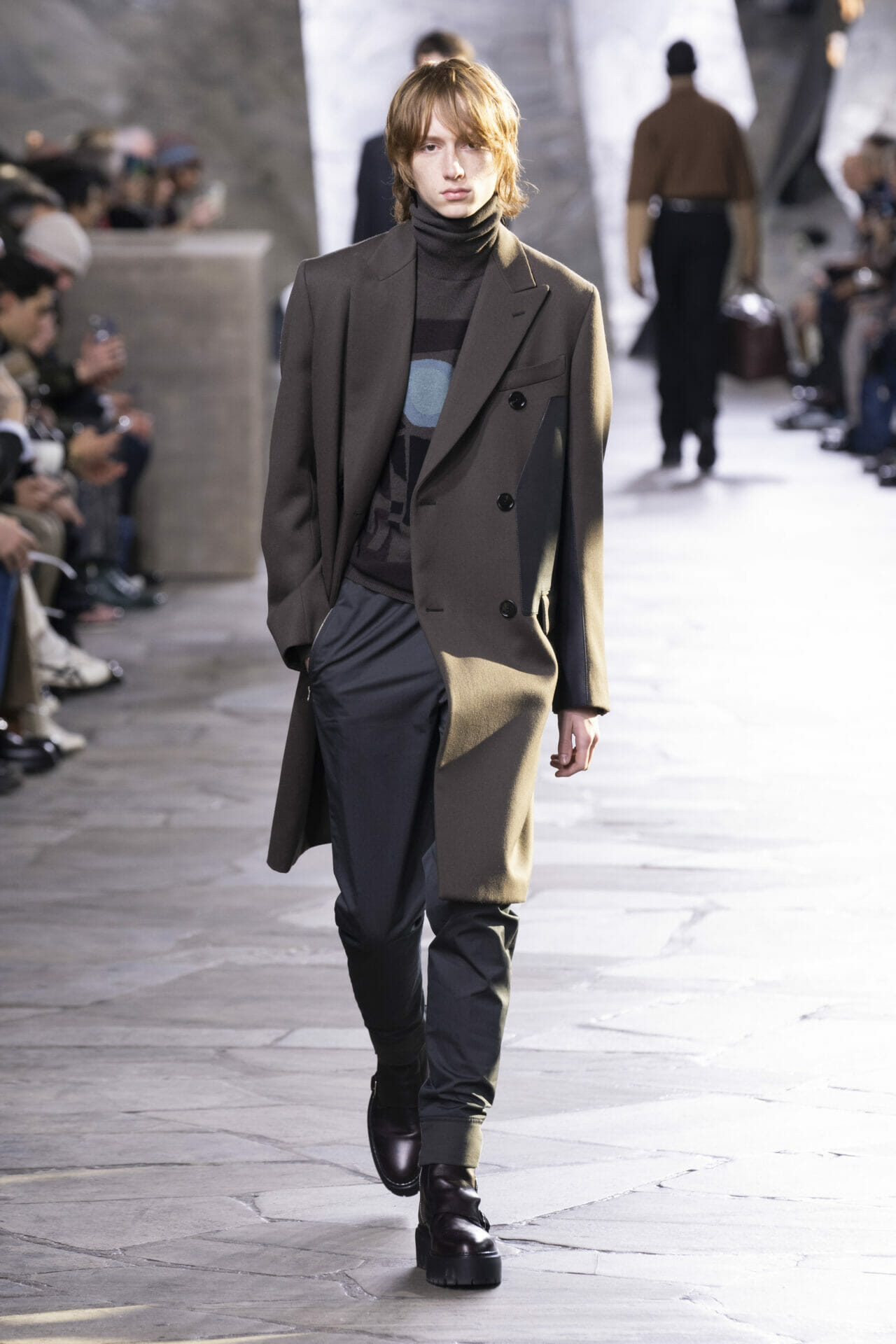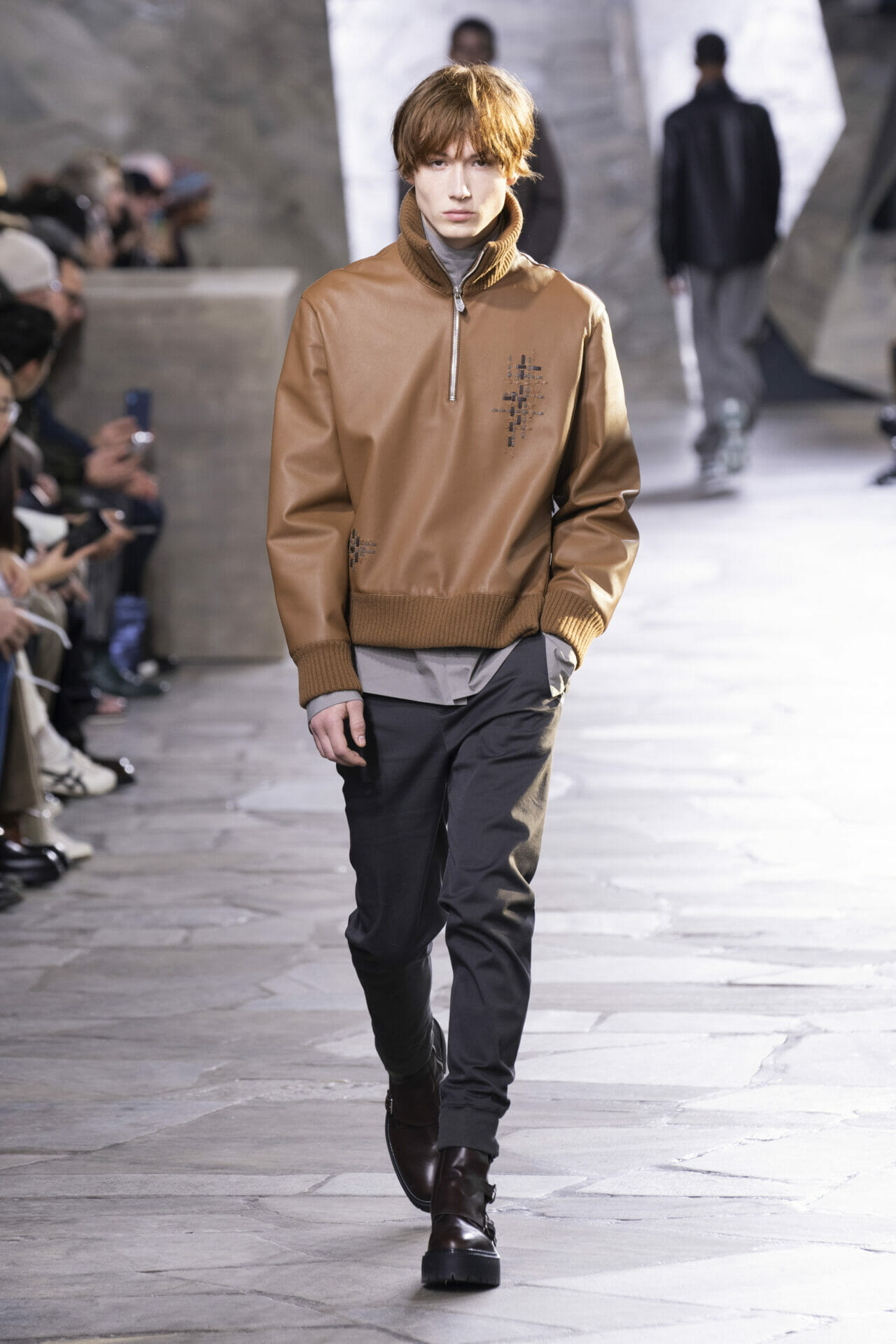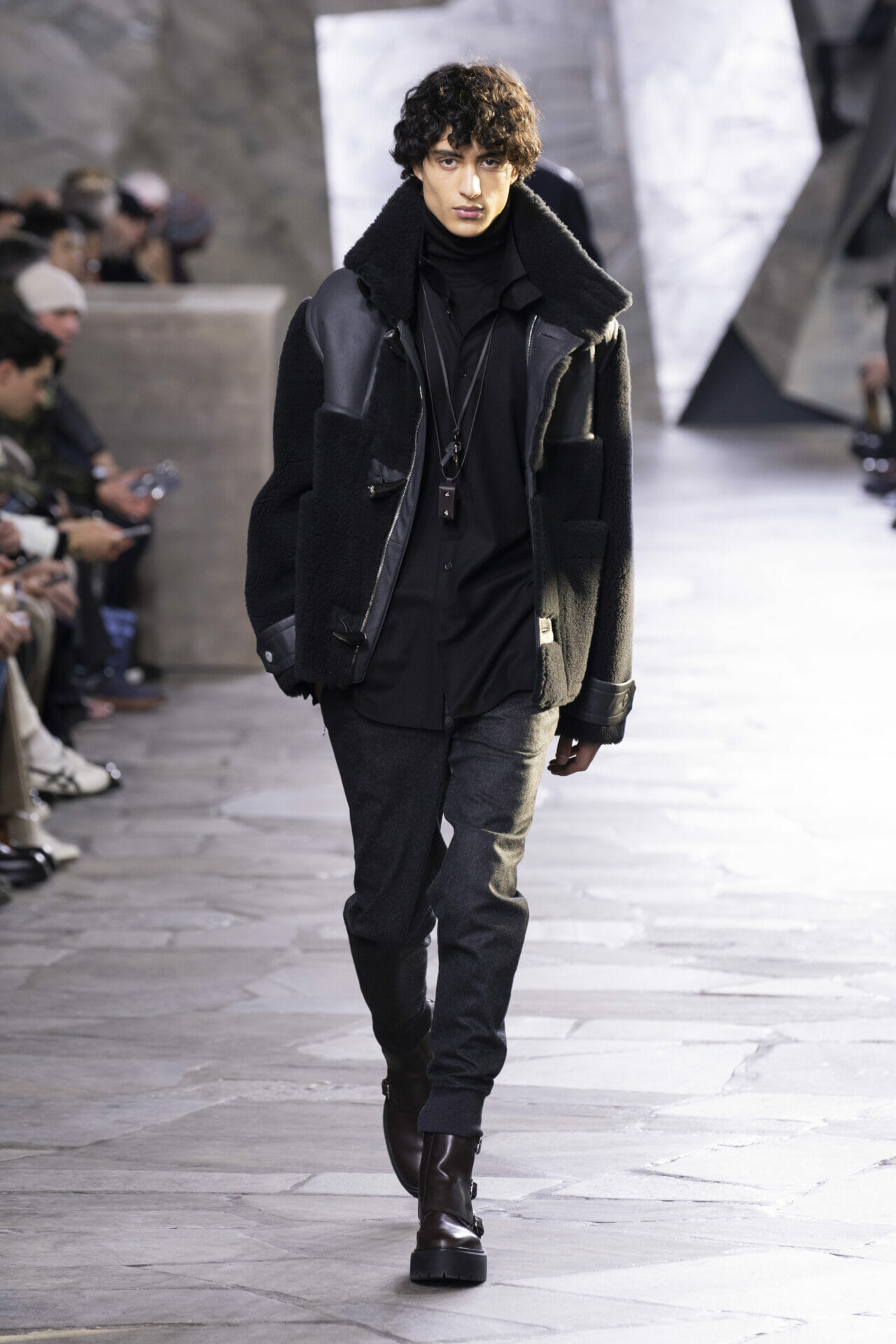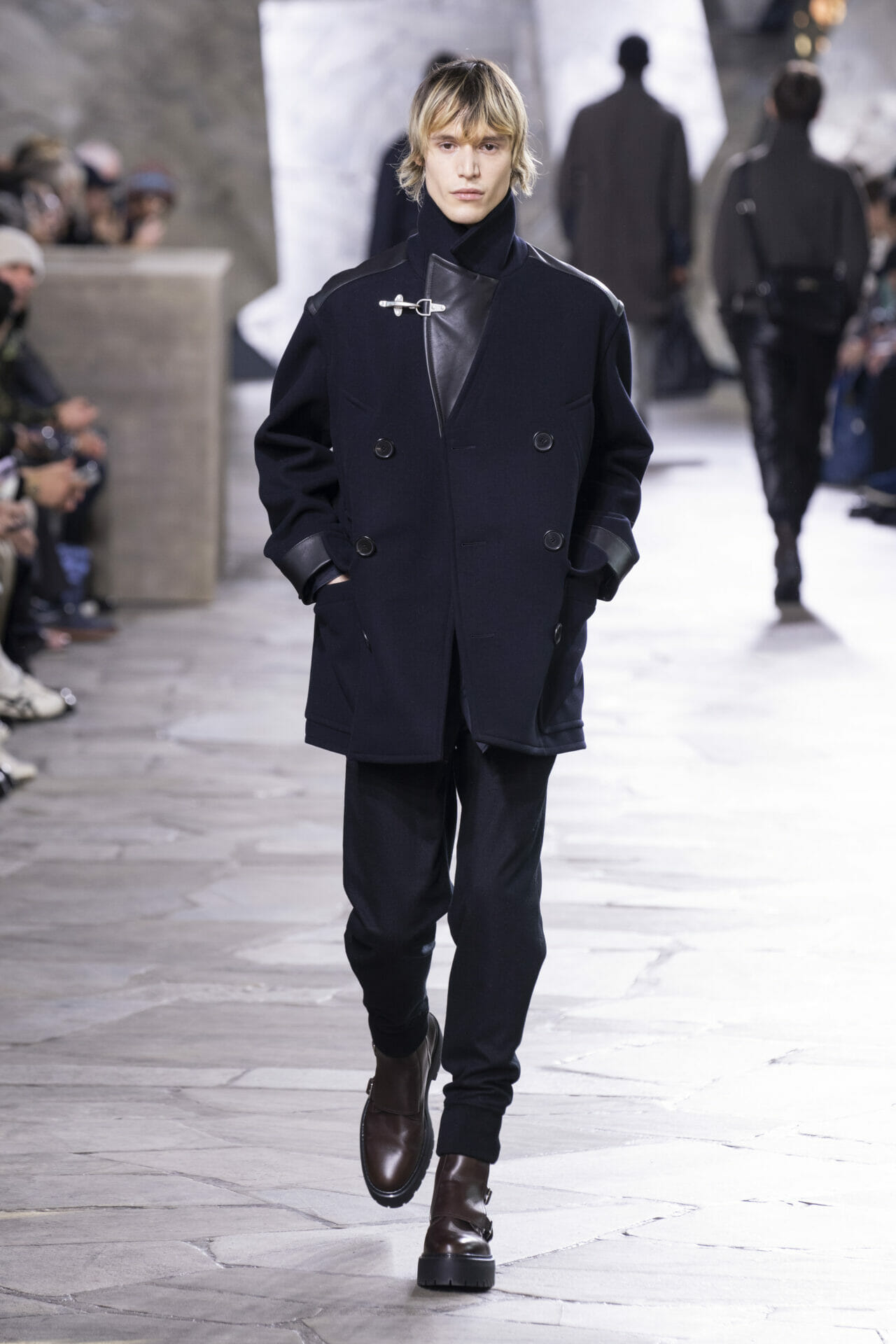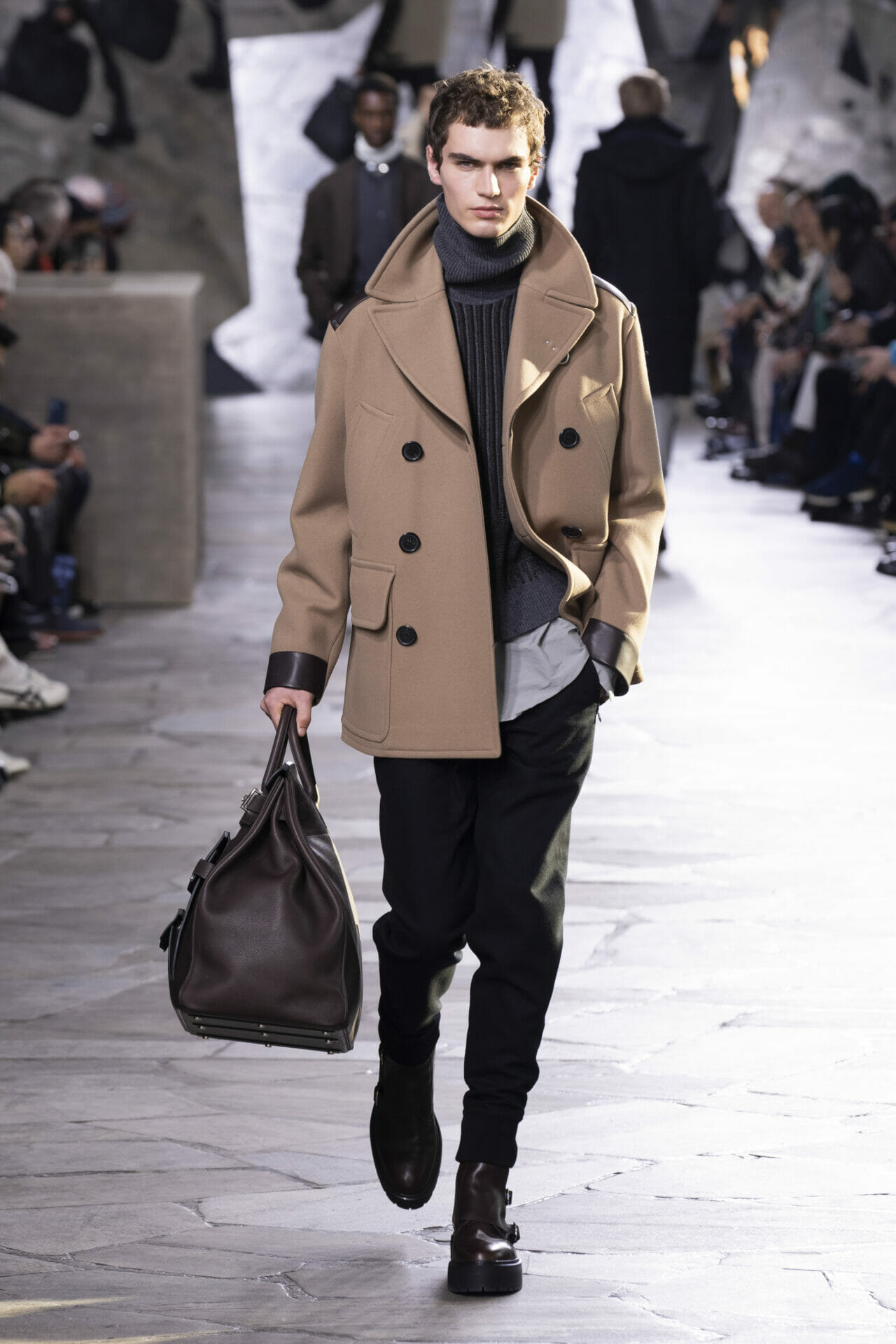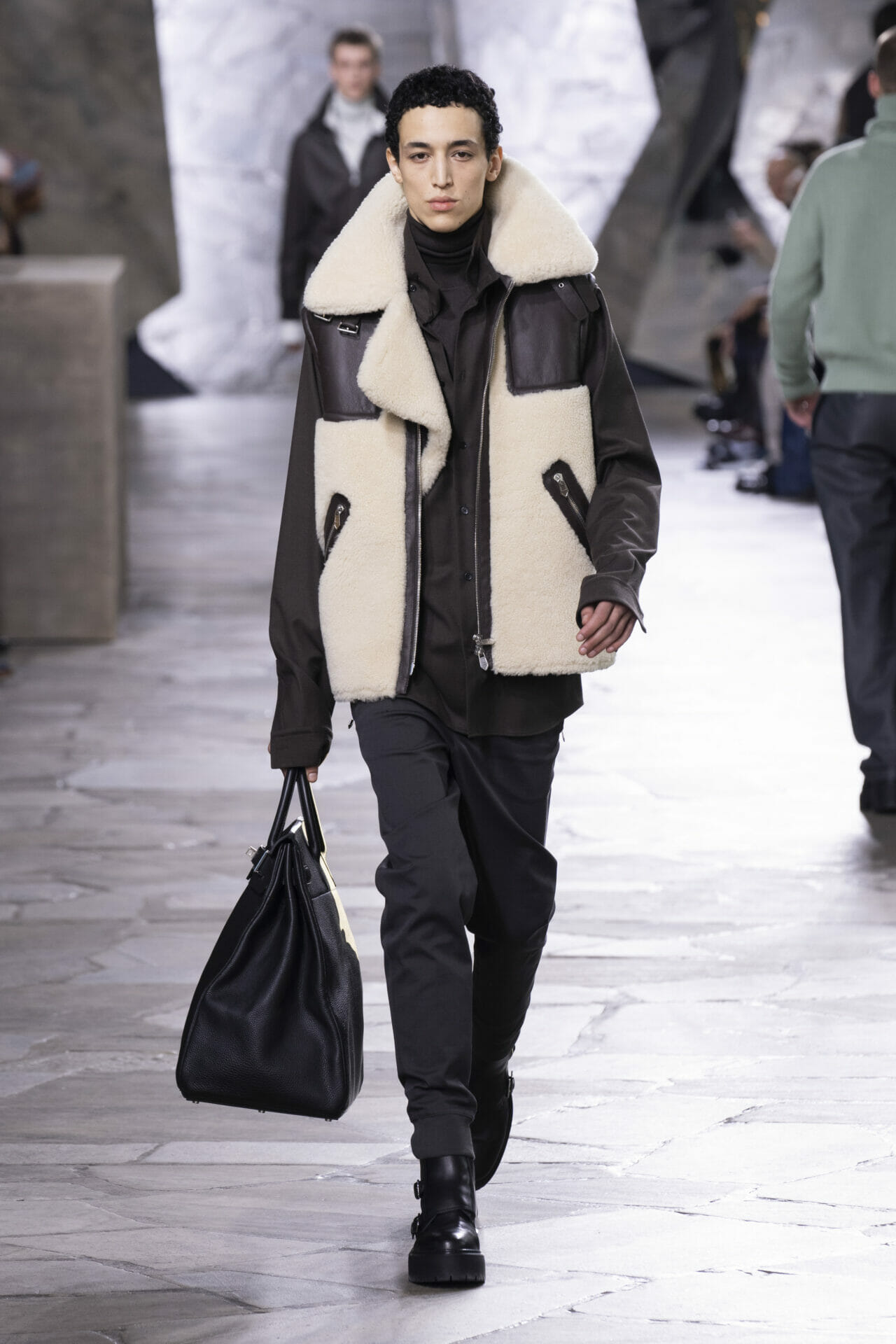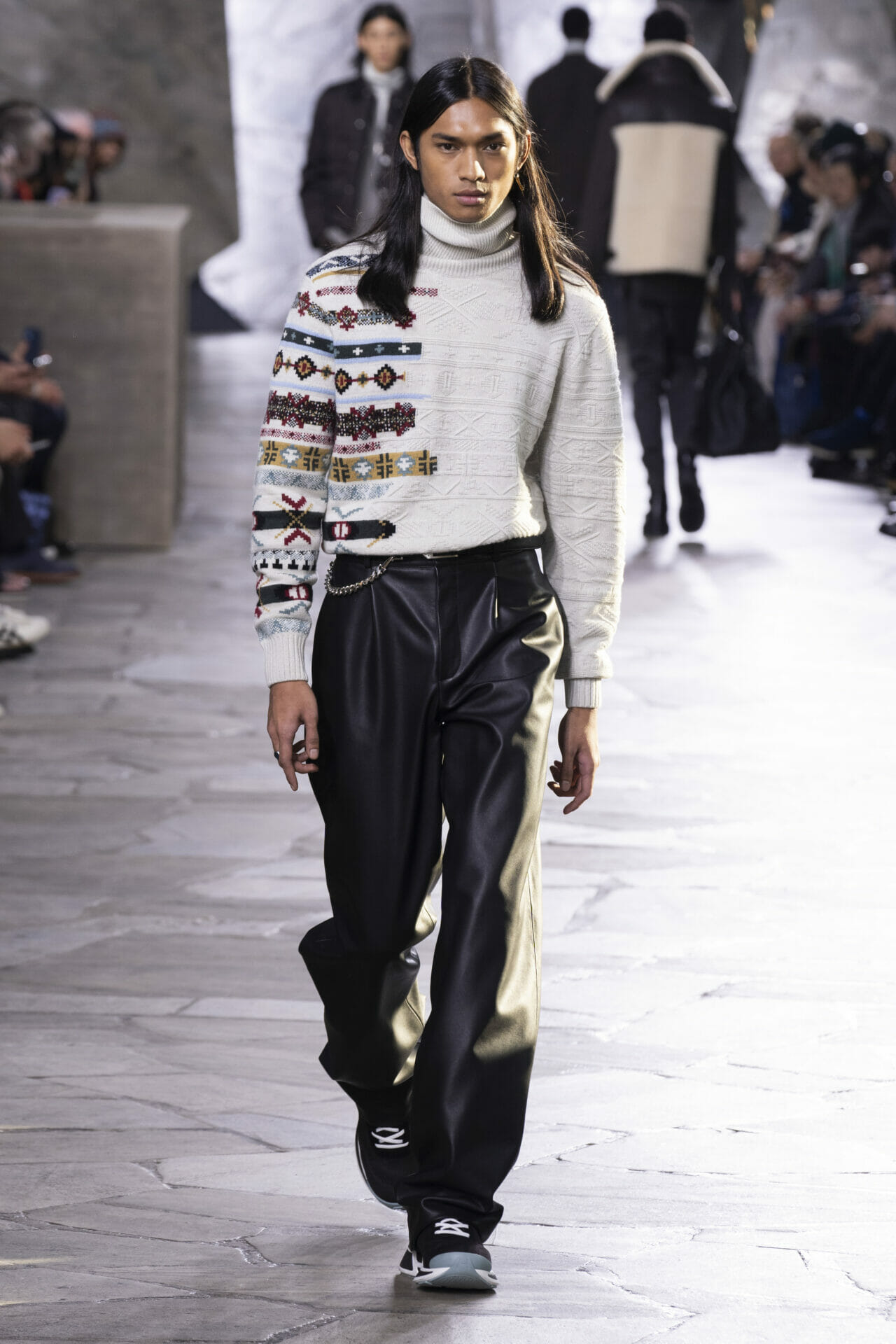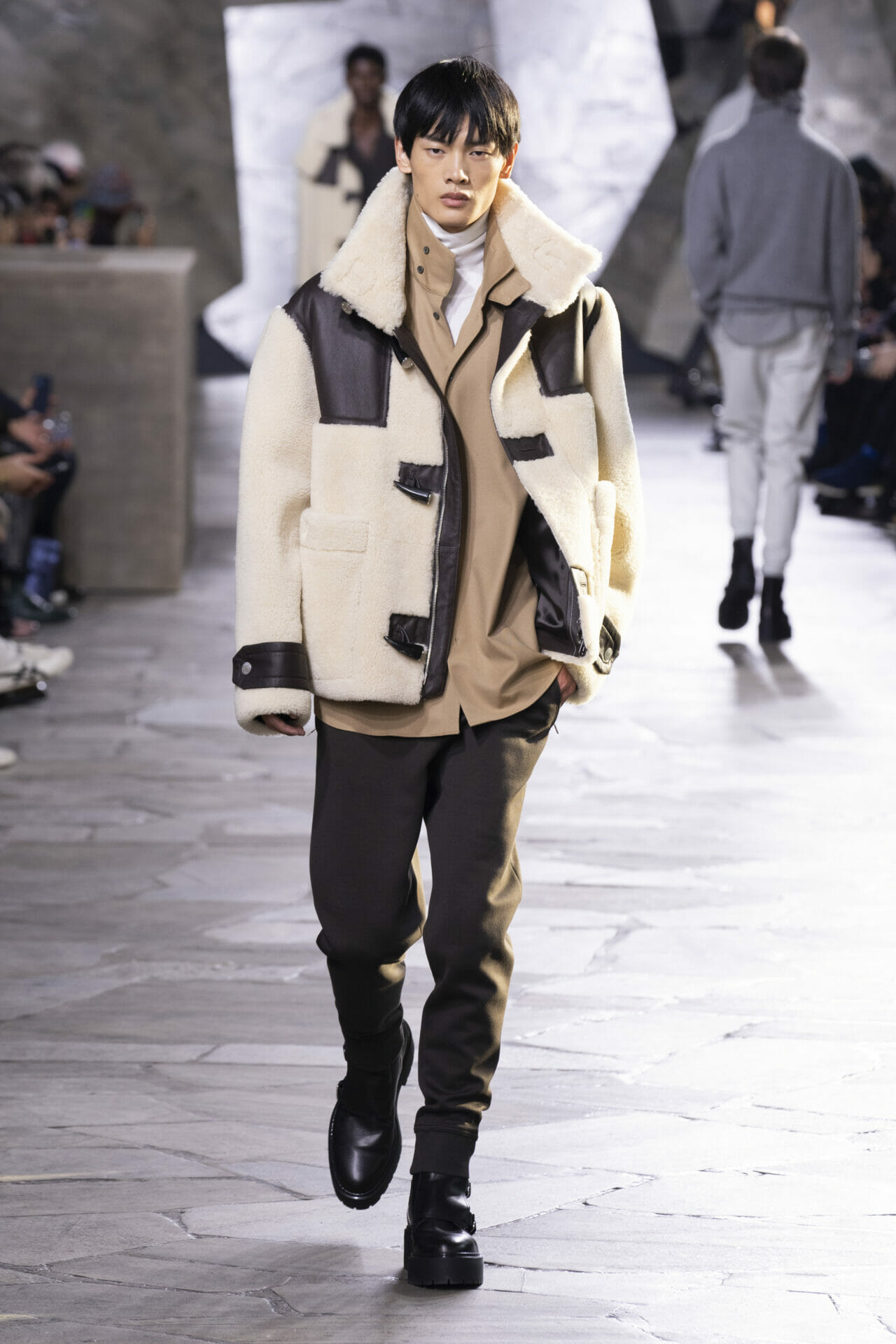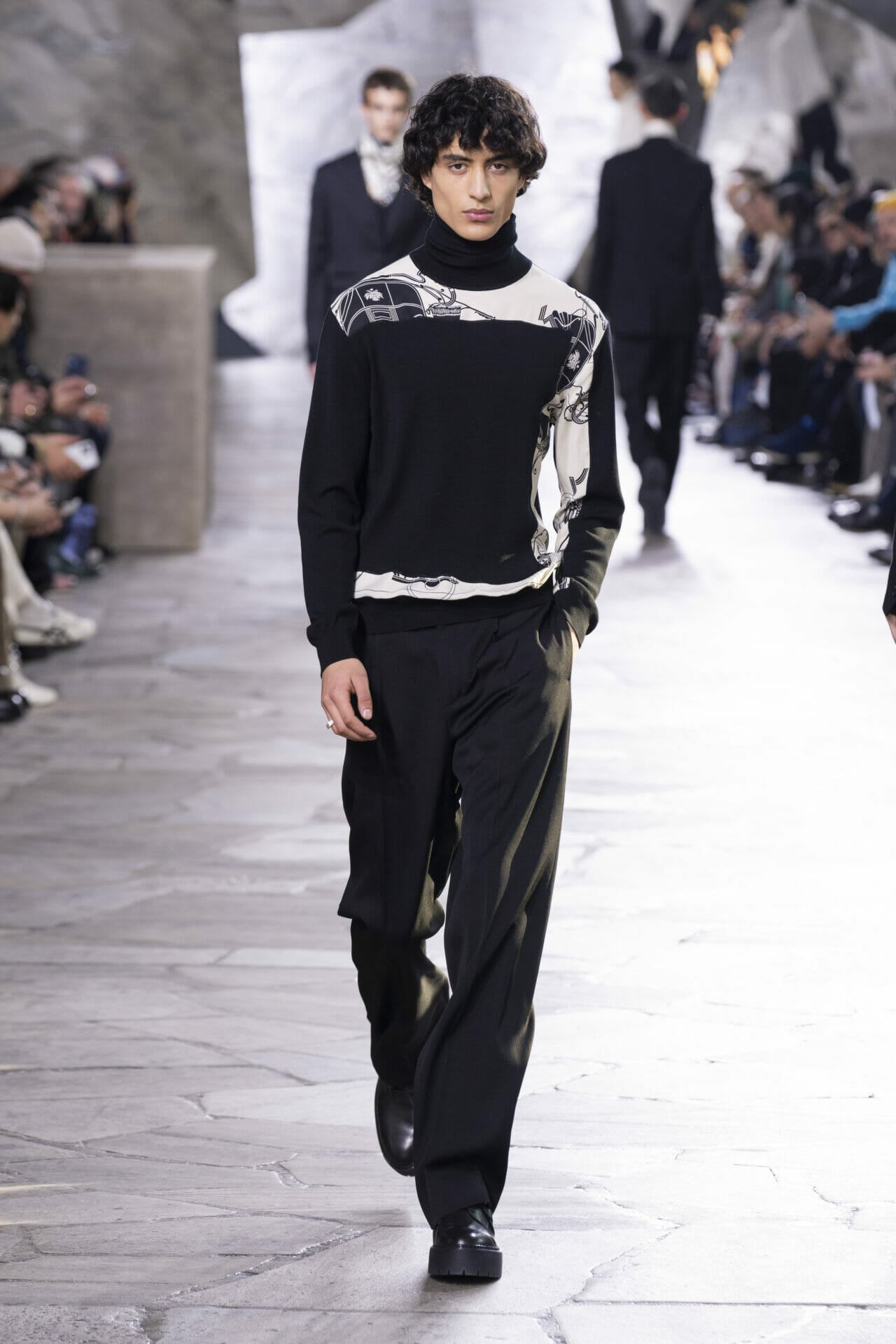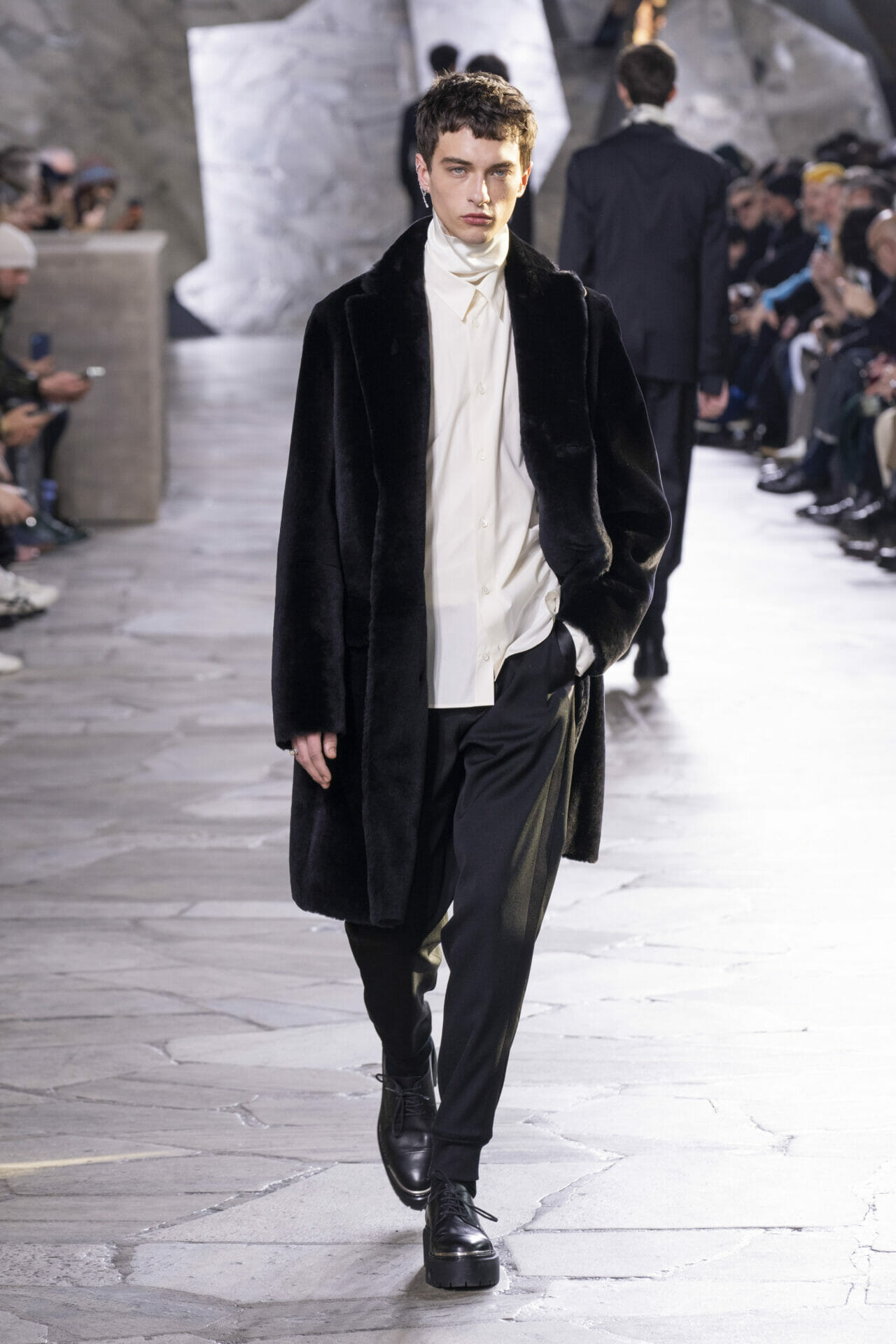 Véronique Nichanian's latest menswear collection for Hermès continued to highlight the elegance and sensuality of its autumnal offering.
Revealed in a curved ground-floor hallway of the Maison de L'Unesco building, the collection truly defined Nichanian's talent of intimacy and striking compositions as wardrobe essentials were given the ultimate shakeup for the season.
Staying true to the Maison's playful pillar, there were unexpected surprises on the runway – think hidden pockets at first glance, flashes of leather on pea coats, the mix of leather grains and more – as well as a blend of sweet and sharp echoing through daring proportions, invigorated silhouettes and bold reflections.
Some of the collection's standout pieces included a series of wide-shouldered shearling overcoats, trousers in water-repellent cotton drill and shimmering jewellery pieces.
KENZO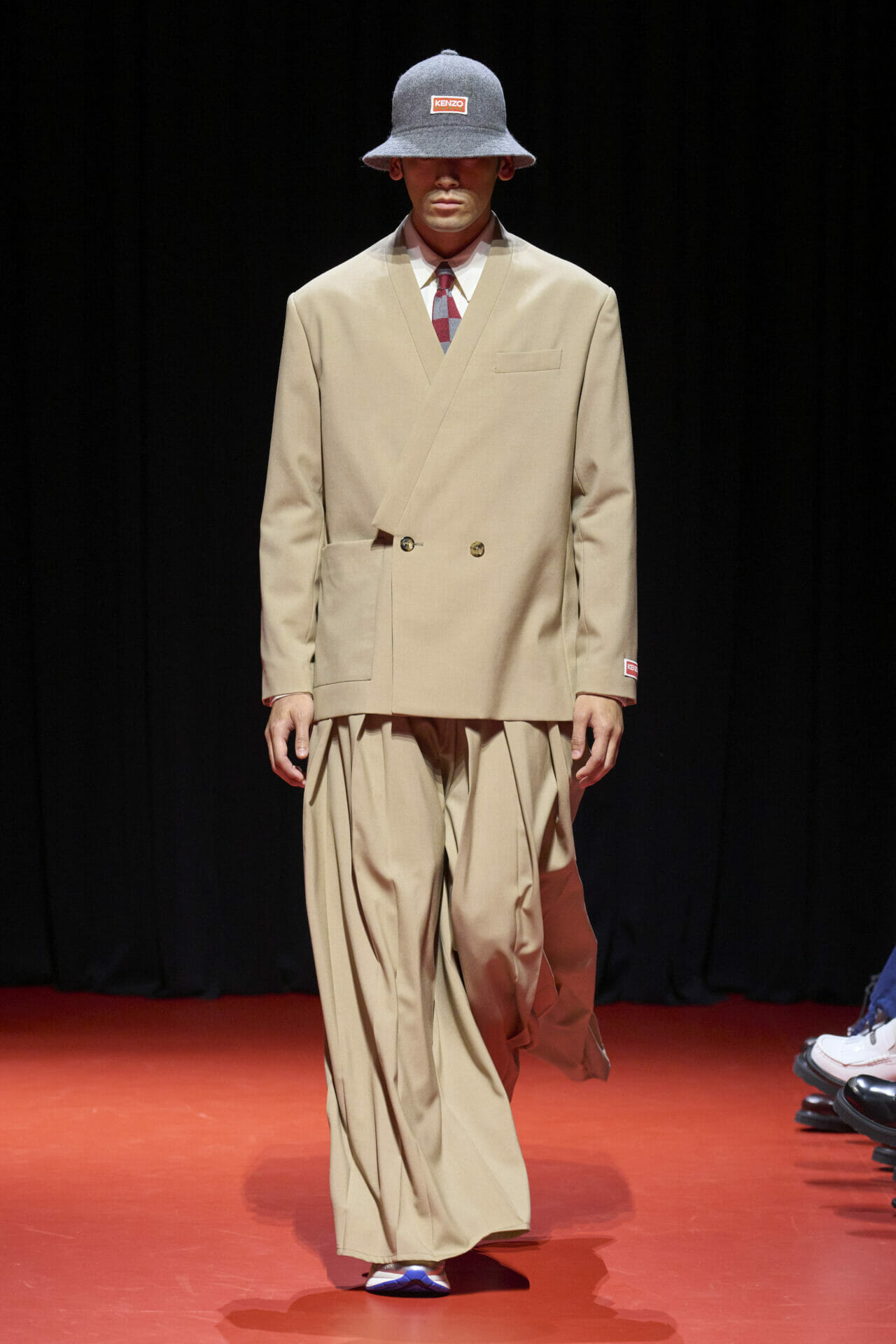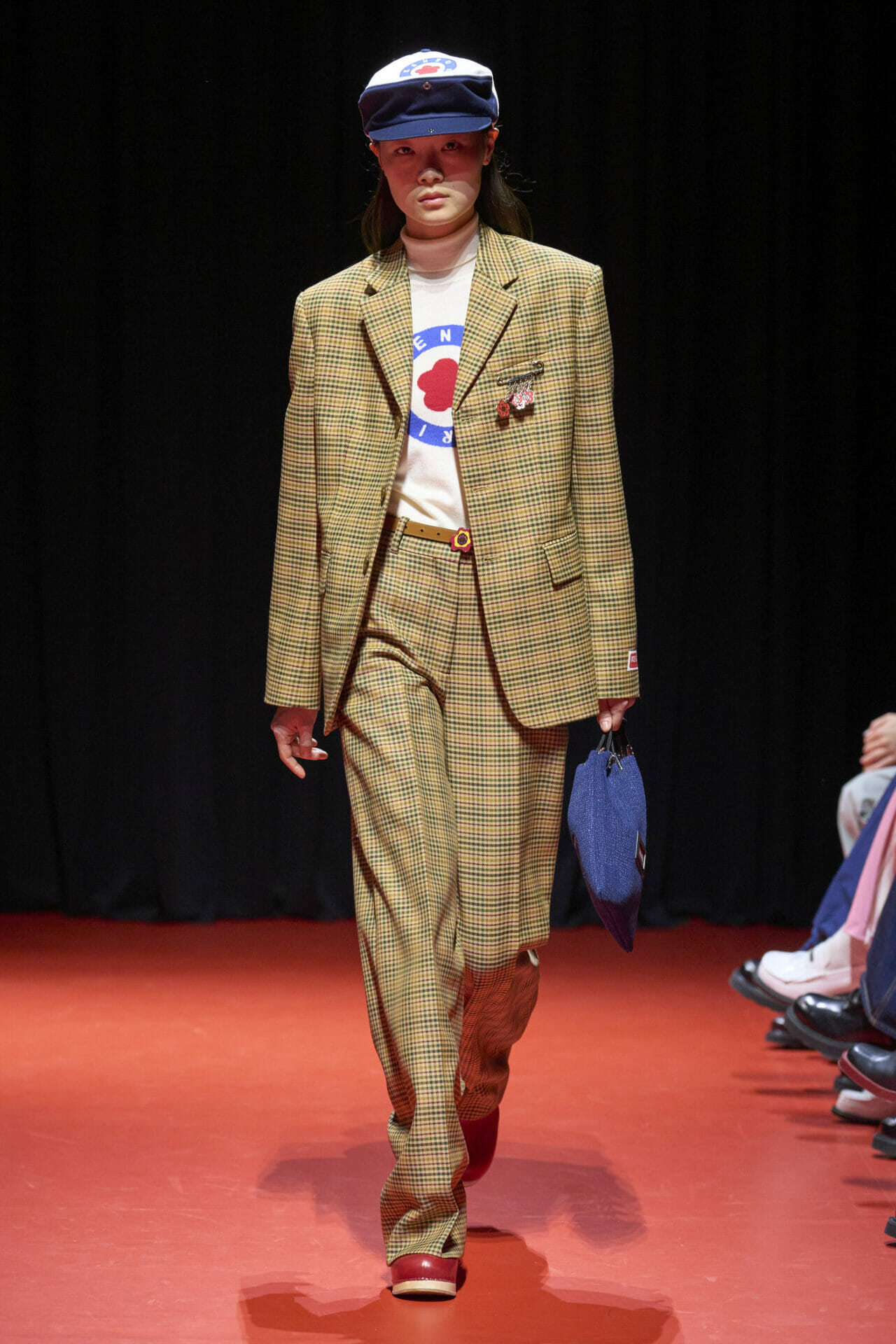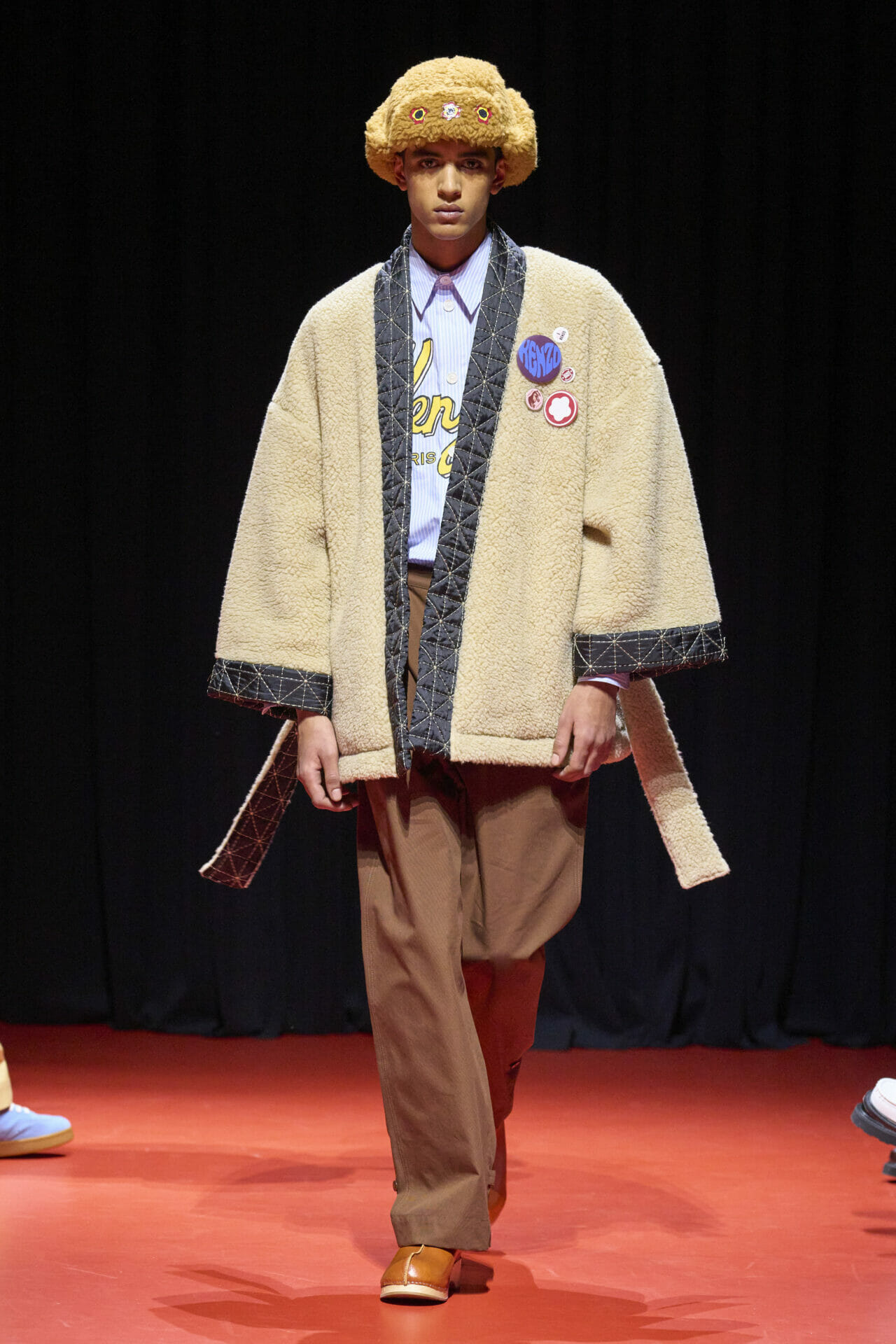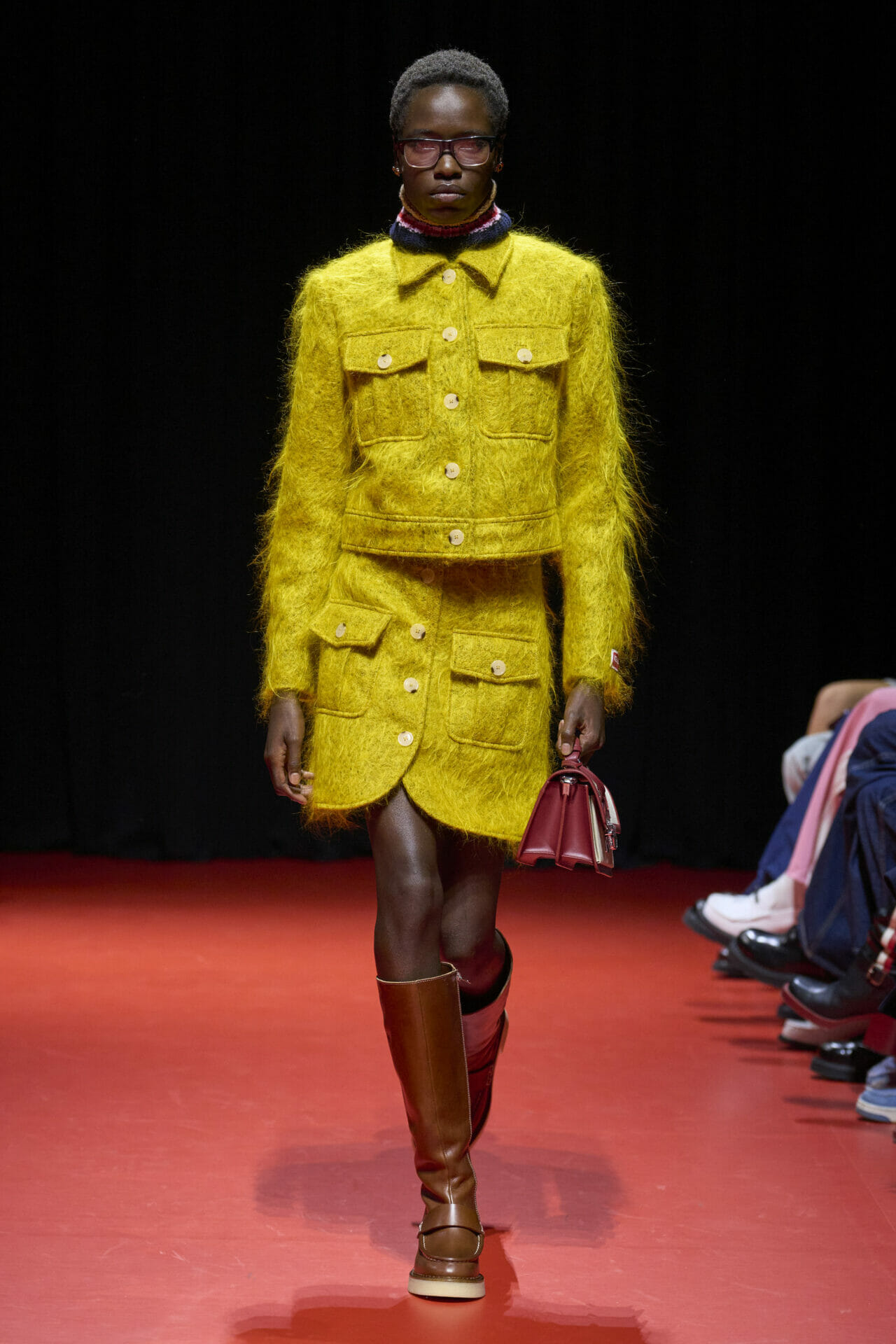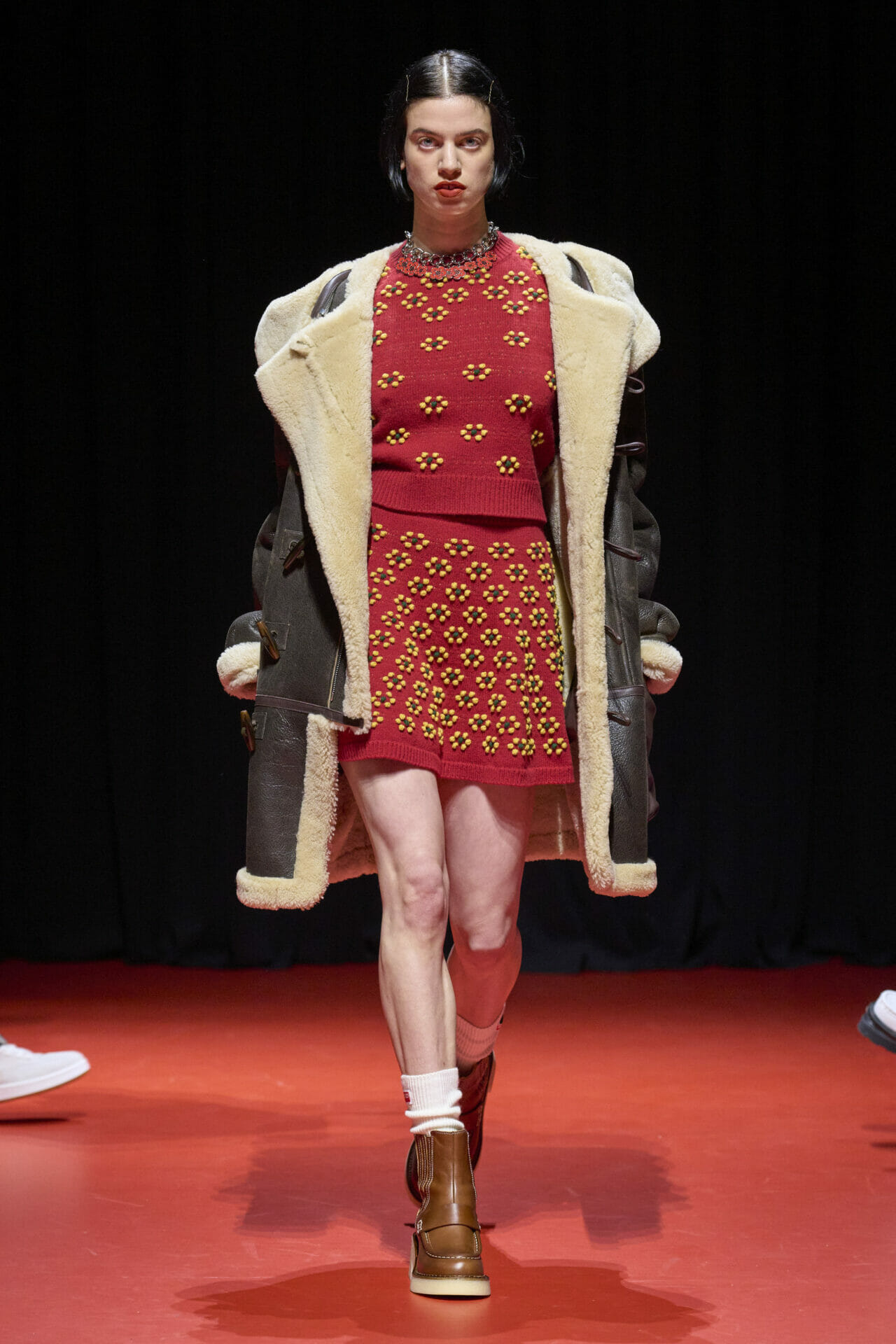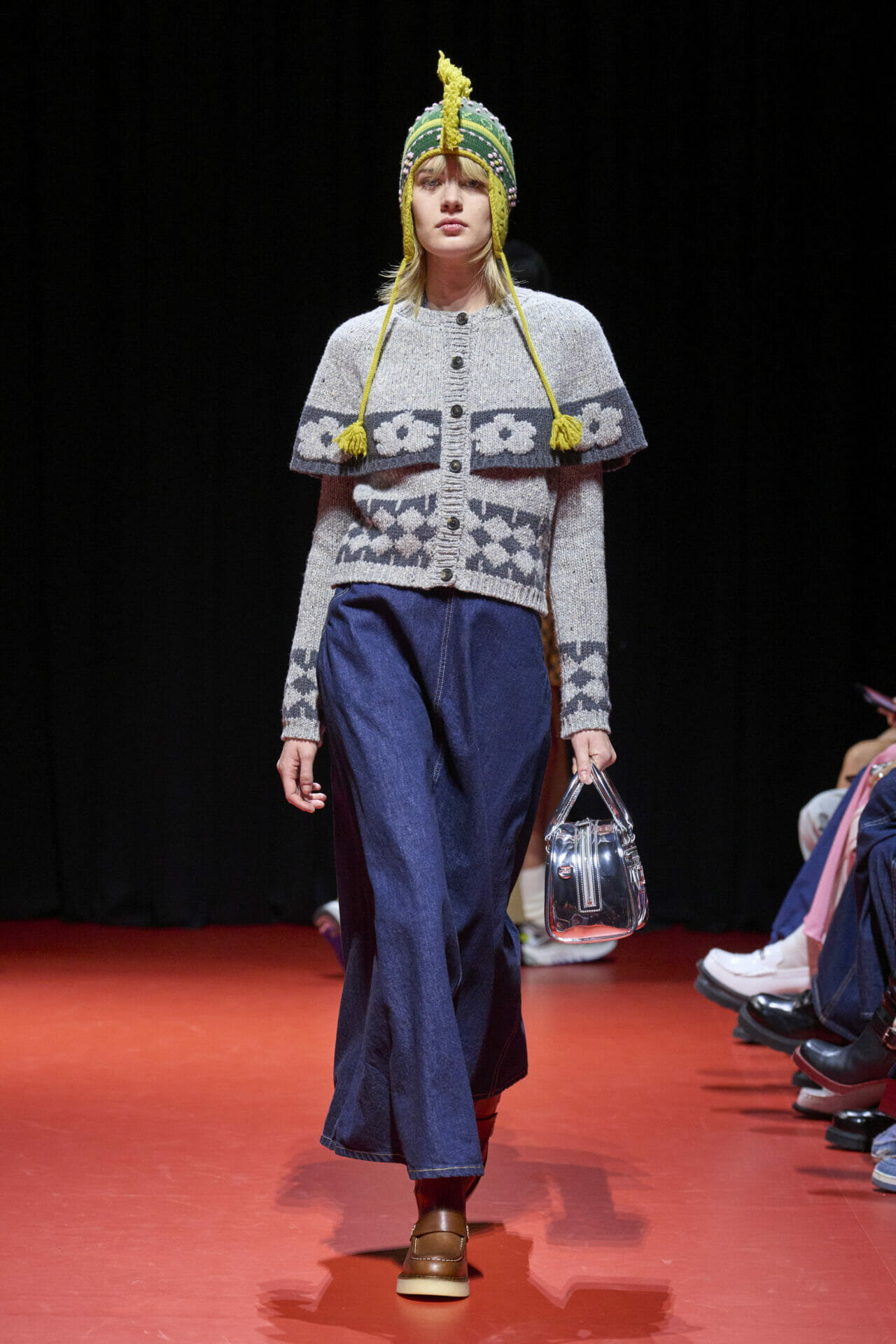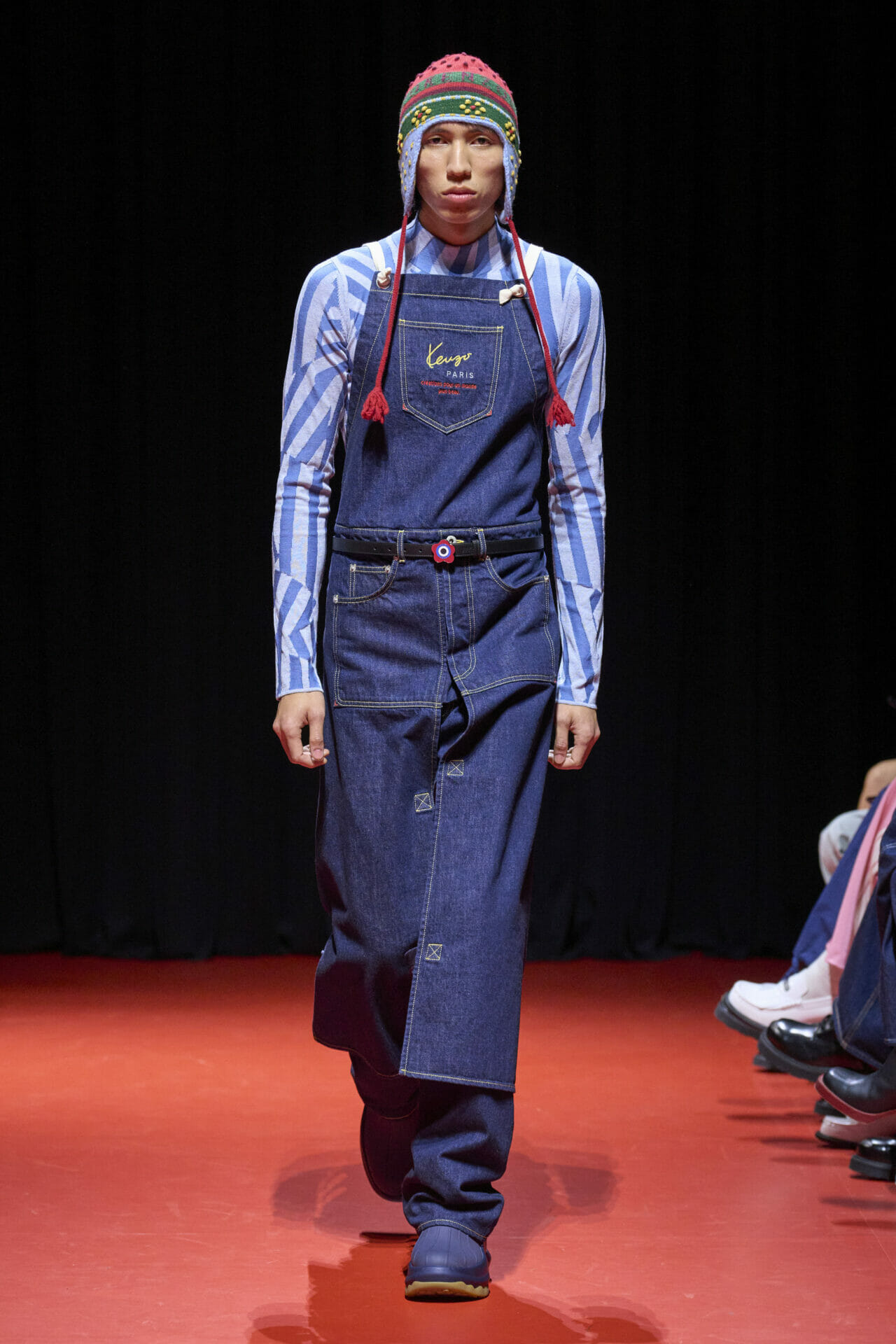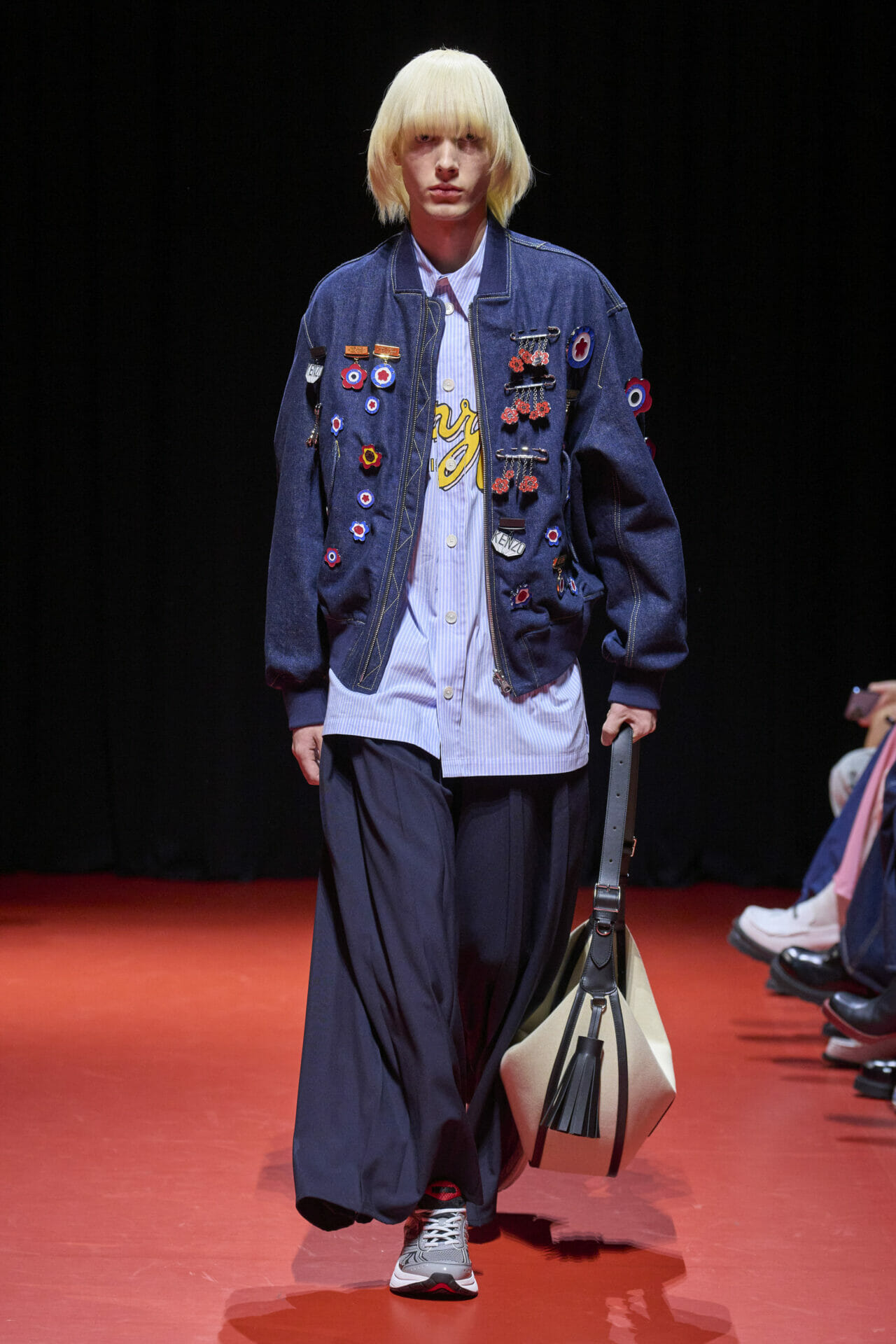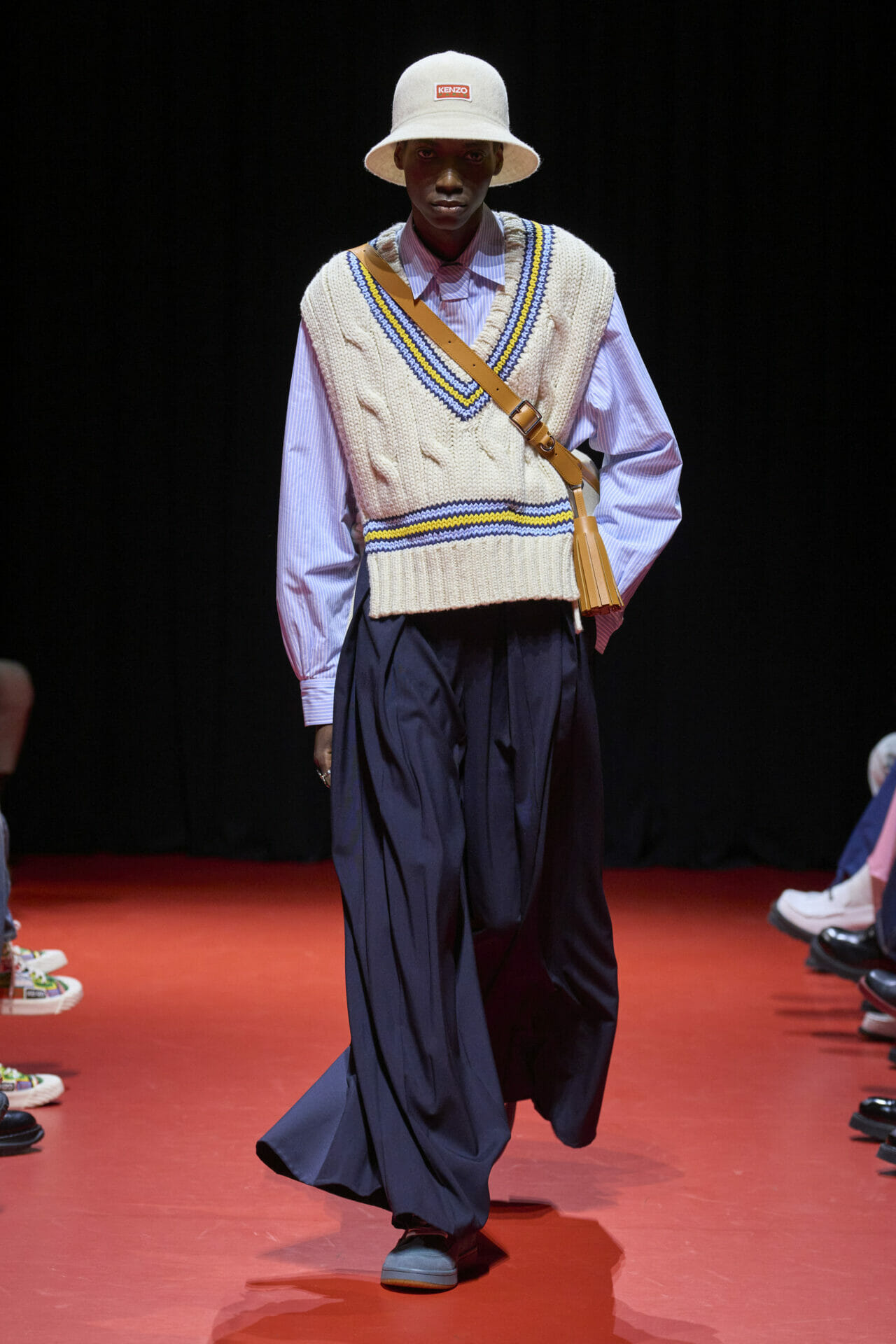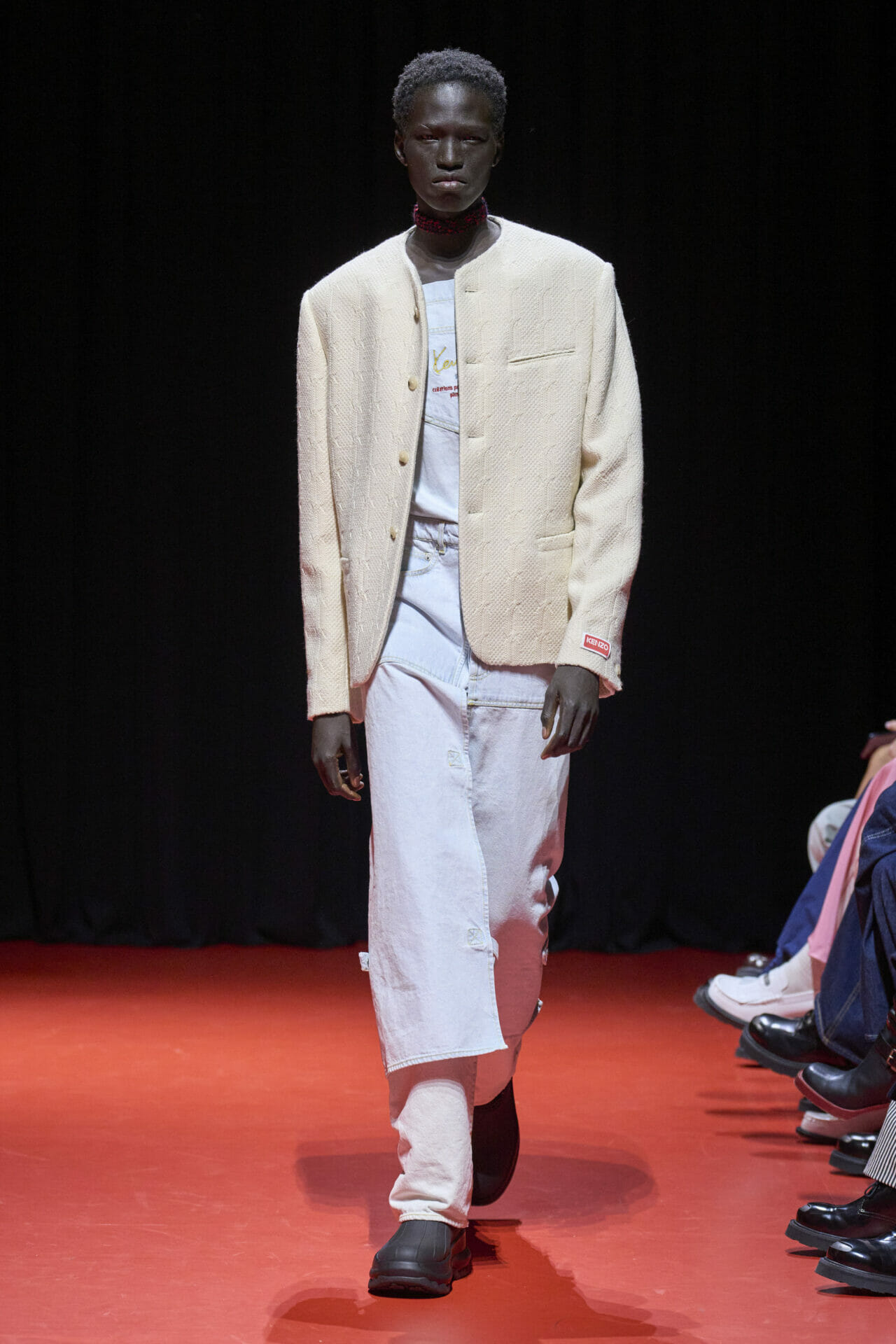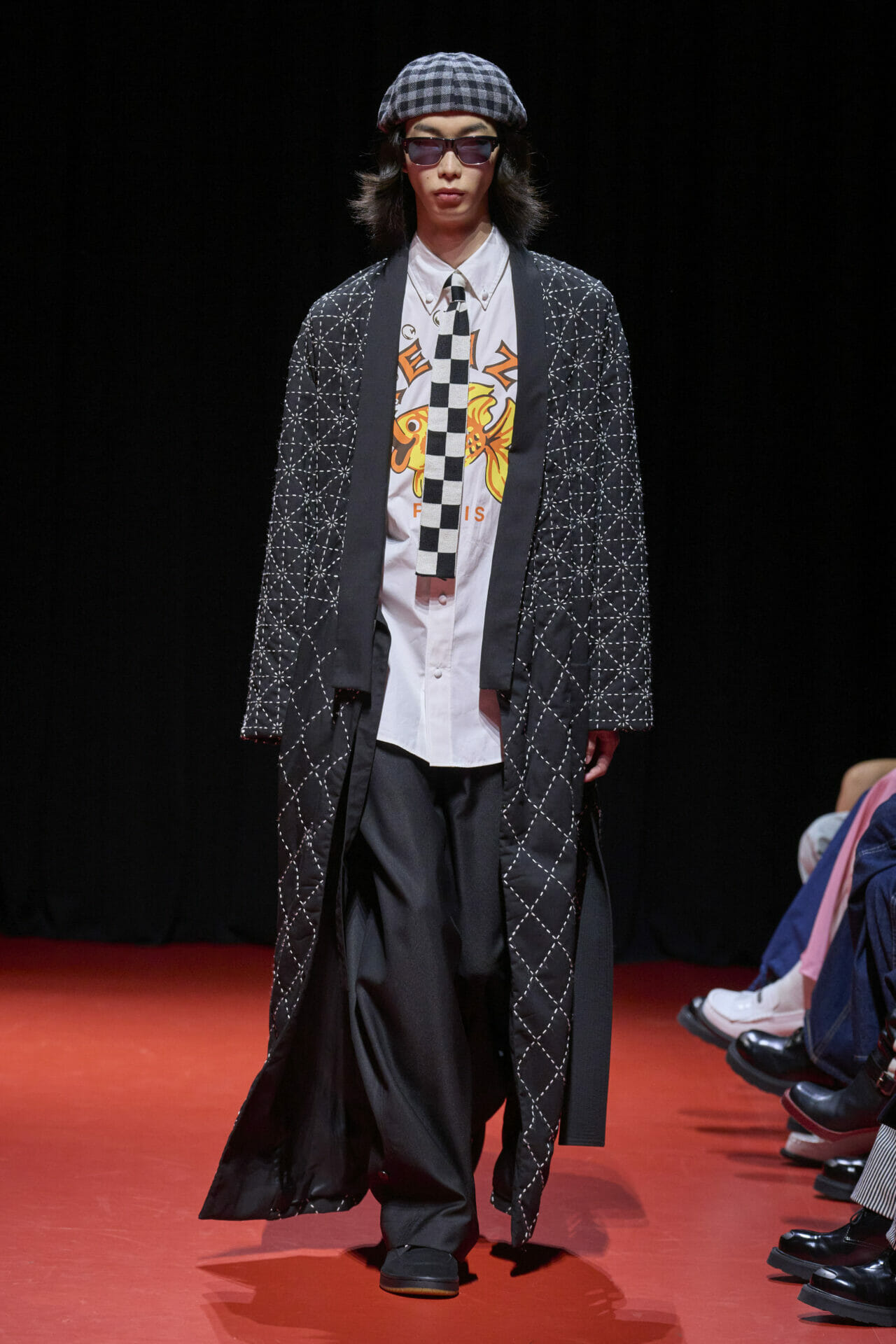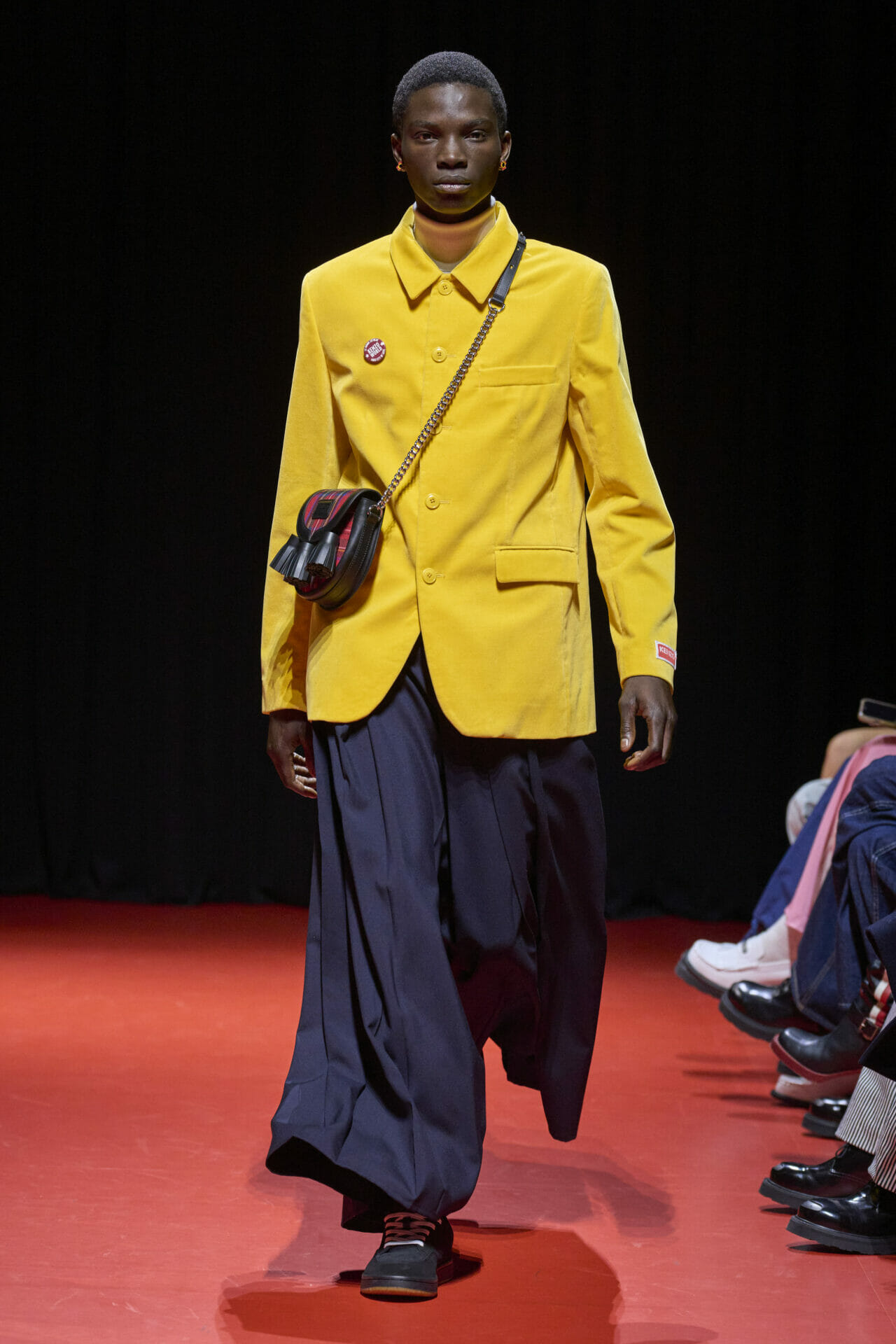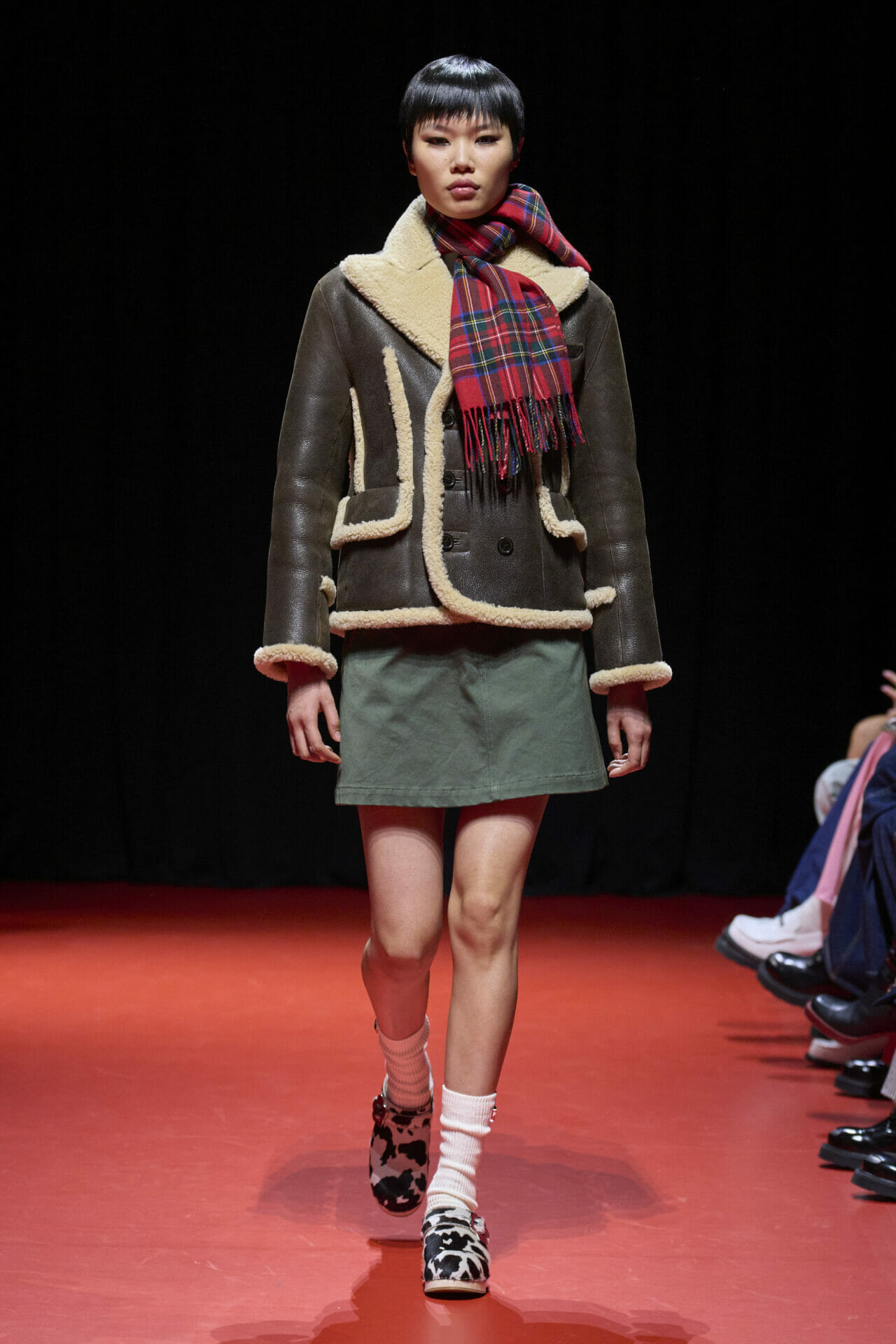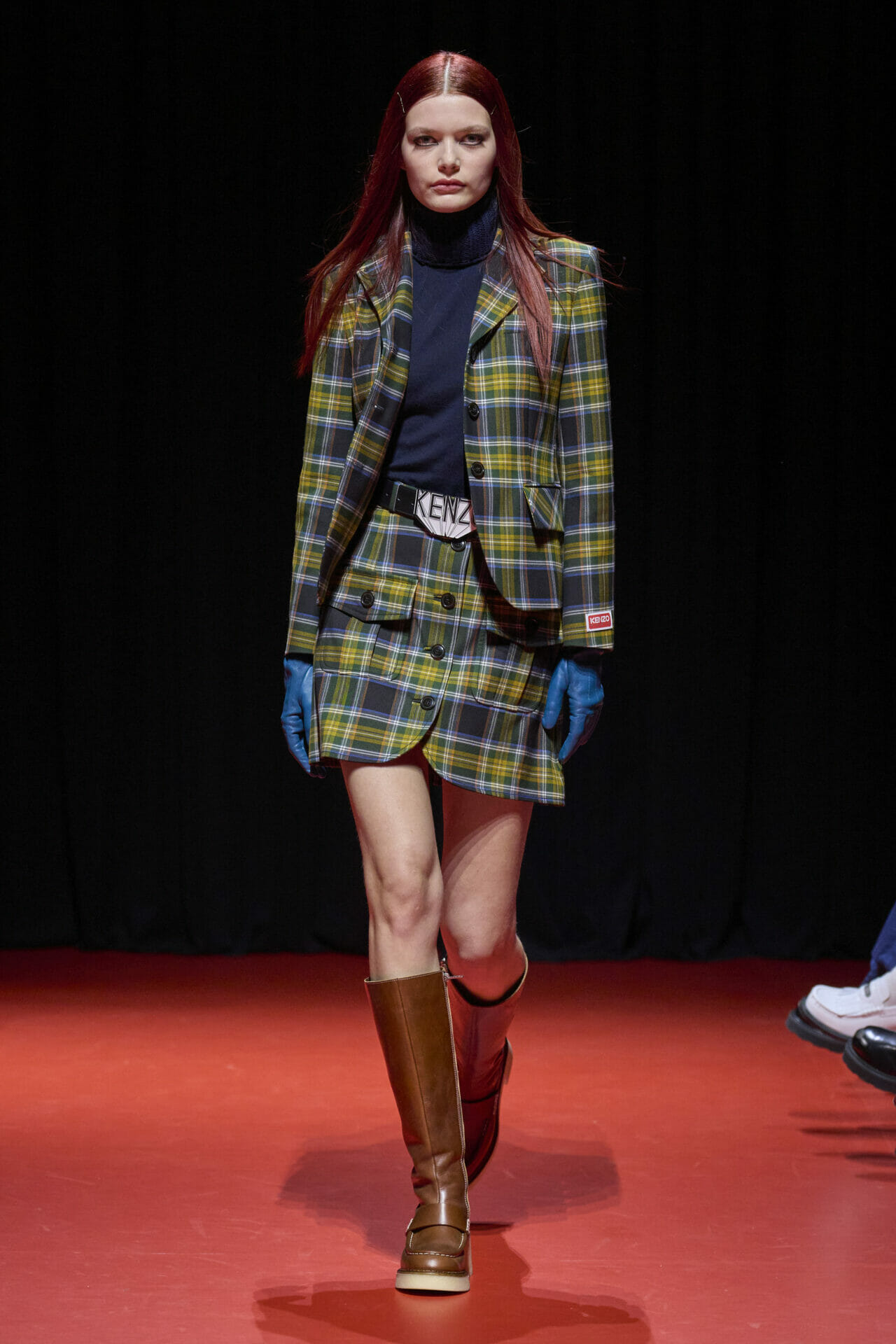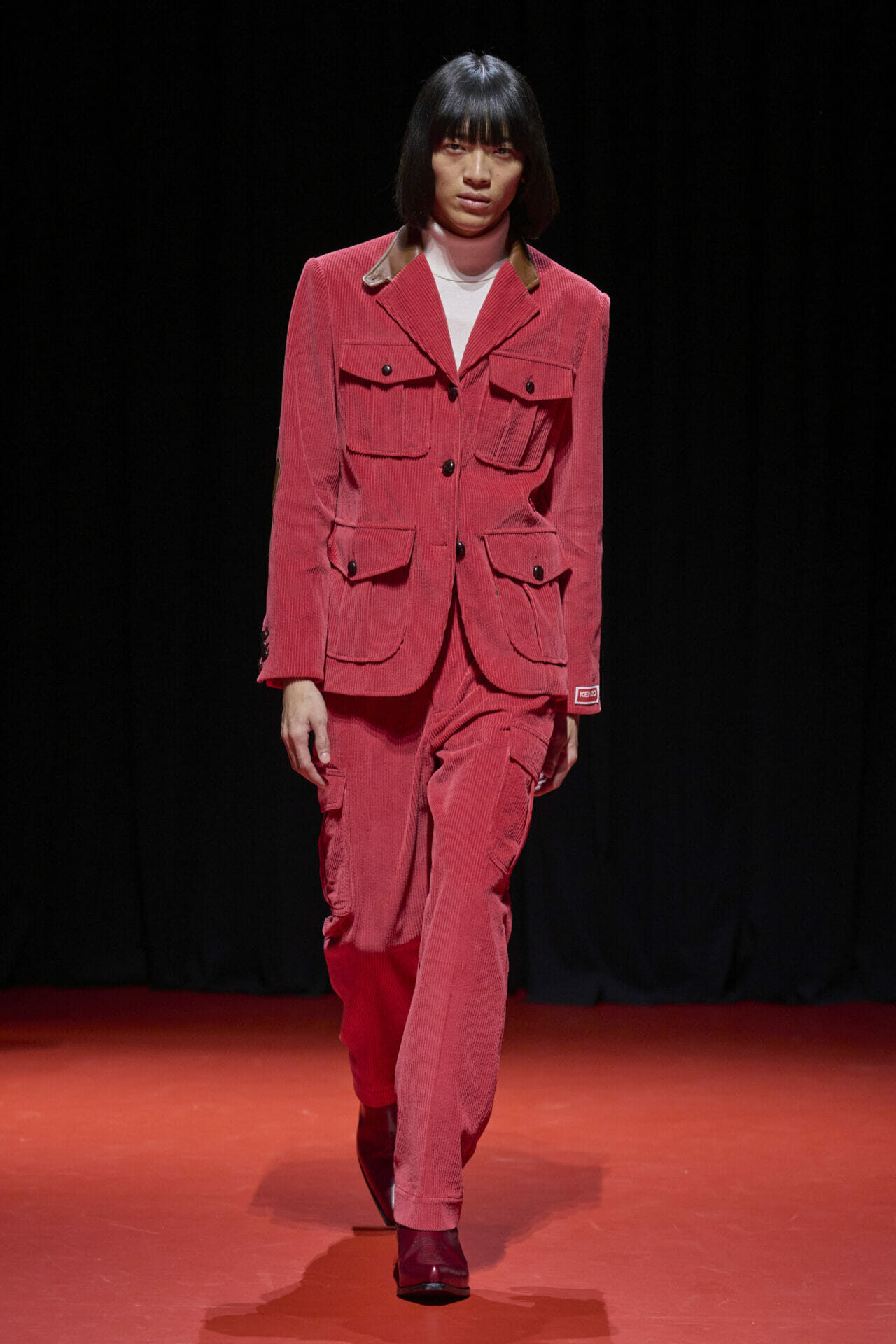 Titled 'The White Album', Kenzo delivered a Fall/Winter '23 collection composed of a dynamic wardrobe celebrating different cultures, eras and styles.
For the season, Artistic Director Nigo explored the longstanding fascination with the interaction between British, American and Japanese street culture whilst elaborating on the legacy of Kenzo Takada. Particularly, Takada's work in the 80s played a role in the reintroduction of these influences resulting in Nigo reworking several archival prints for the collection including Dazzle Stripes, a broken-stripe motif given a punkish undertone reflected in checks and tartans, as well a micro-floral Flower Stripe and a Baton Stripe.
Also, Kenzo's Roses print adapted from the archive appears alongside an Archive Floral collage motif and a Kimono Camo composed of vases, fruits and leaves. Another highlight of the collection was Nigo's development of new fabric expressions across nylon, denim, wool bases, knitwear and jersey through Sashiko, a Japanese quilting technique also known as rice-grain fabric.
LOEWE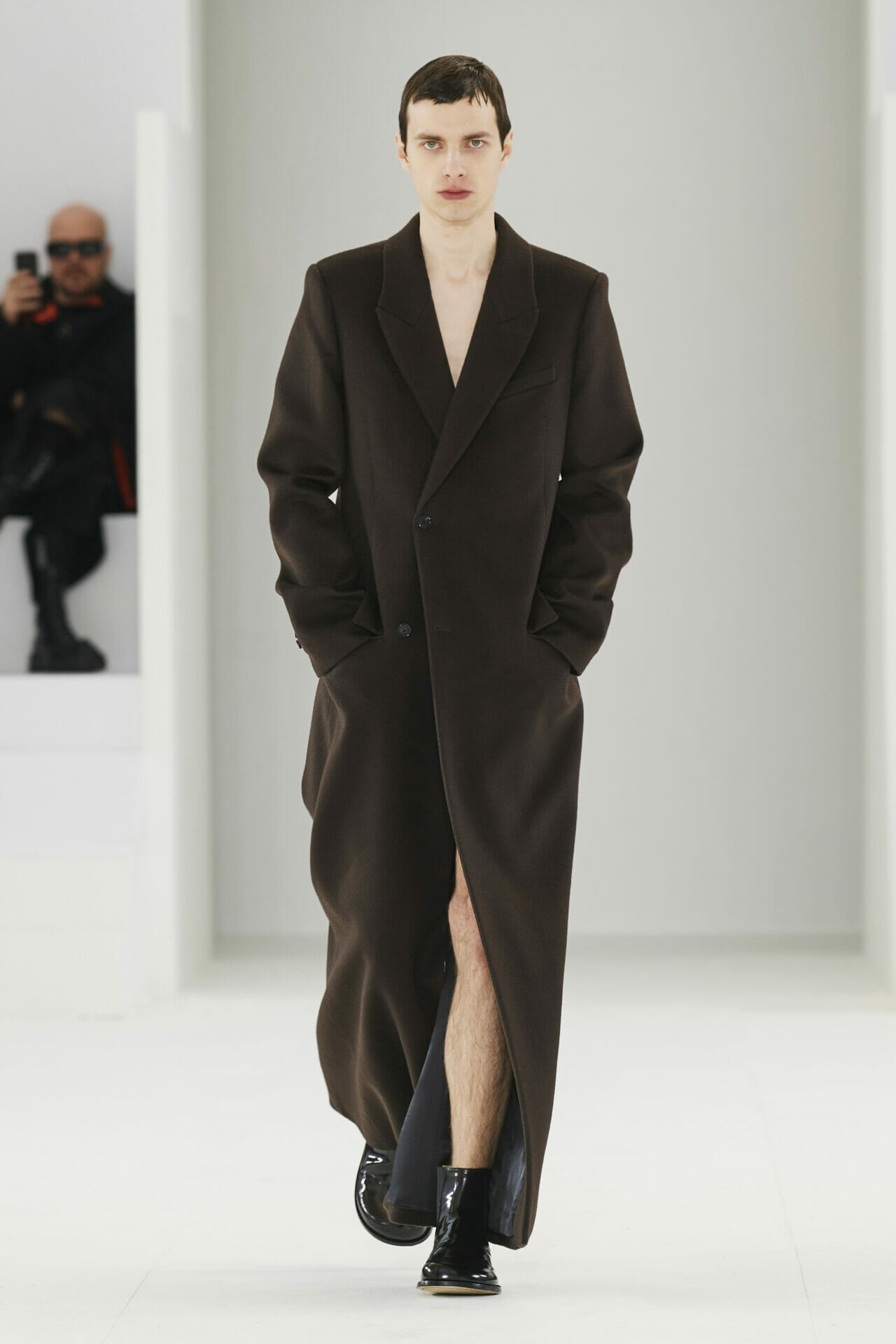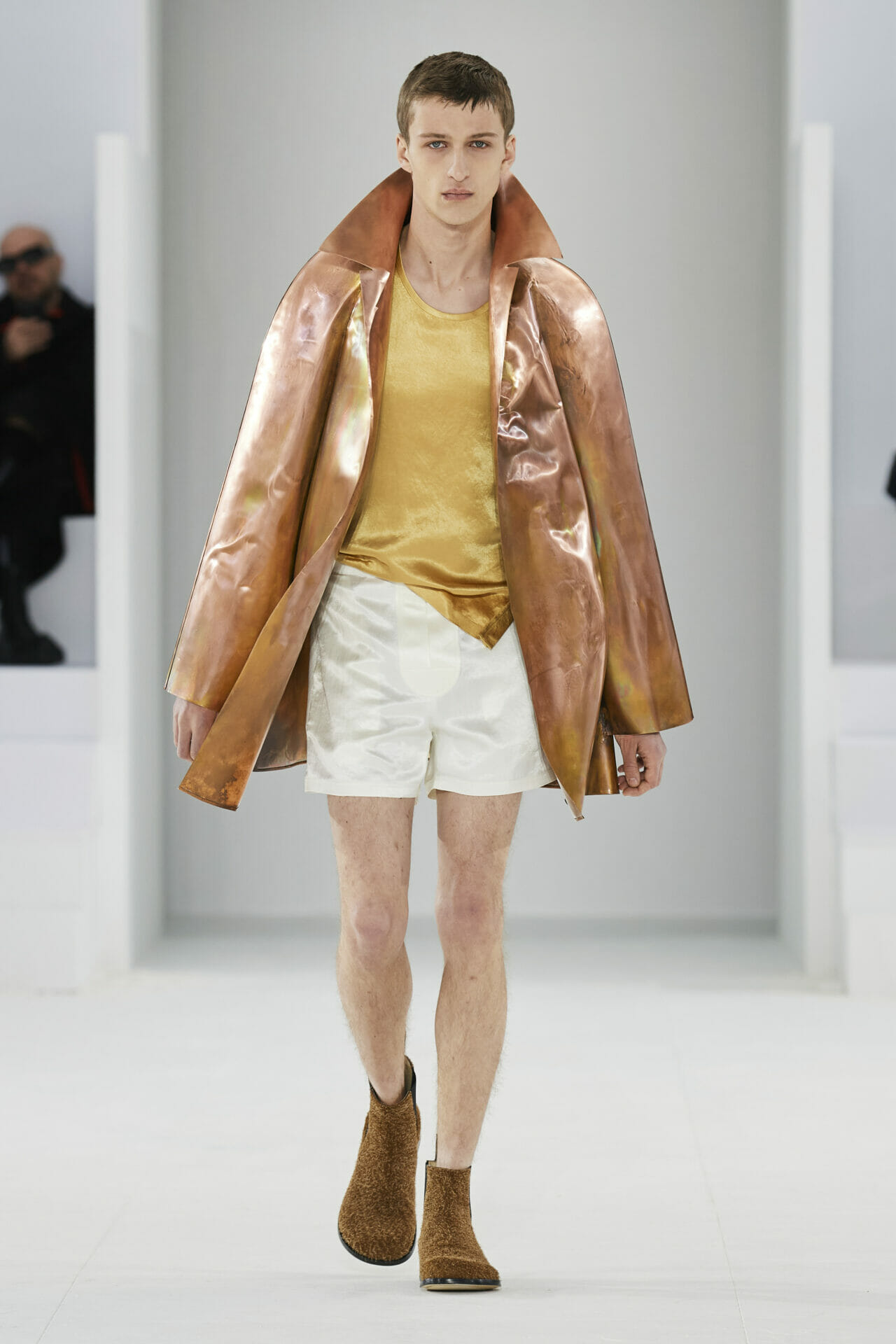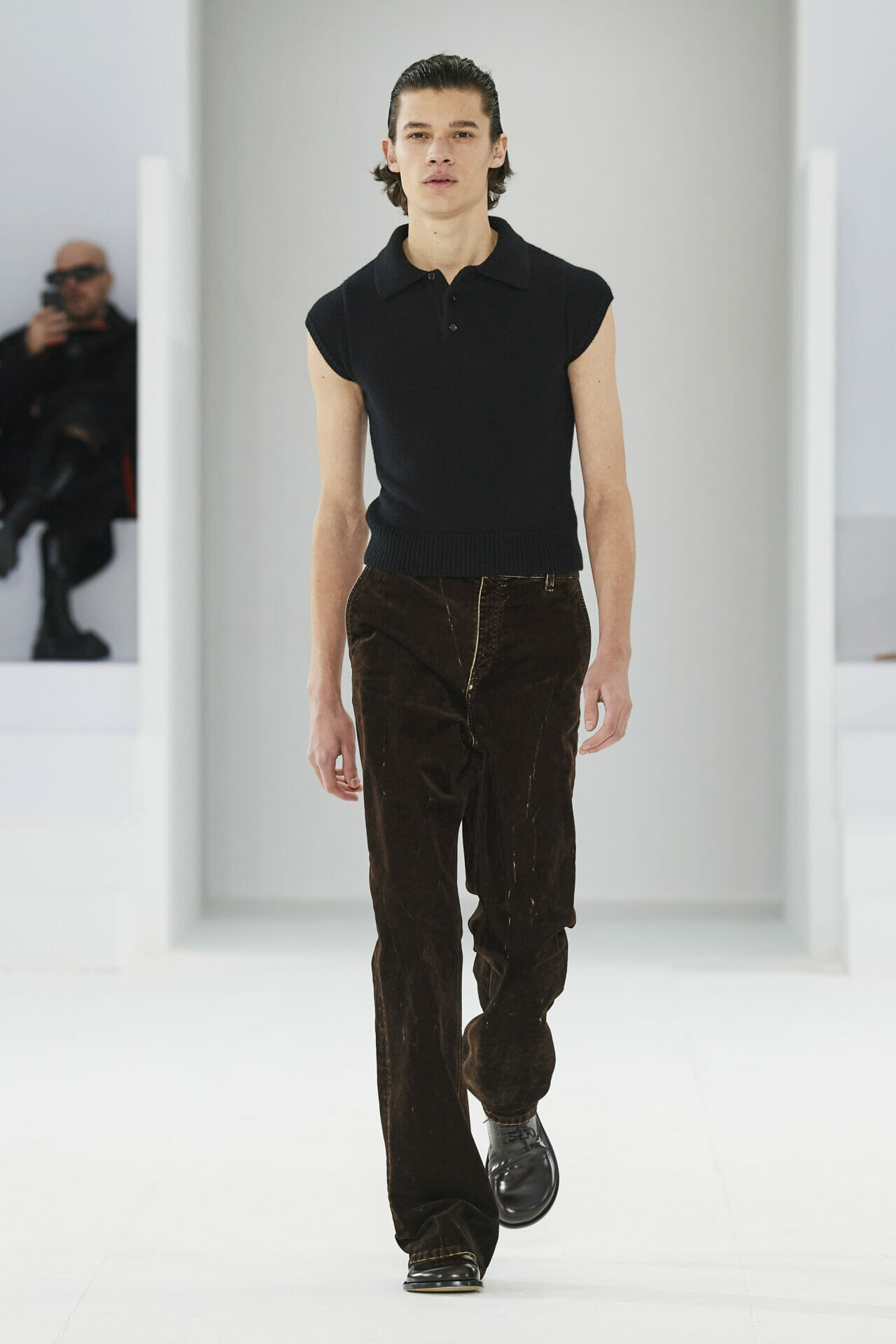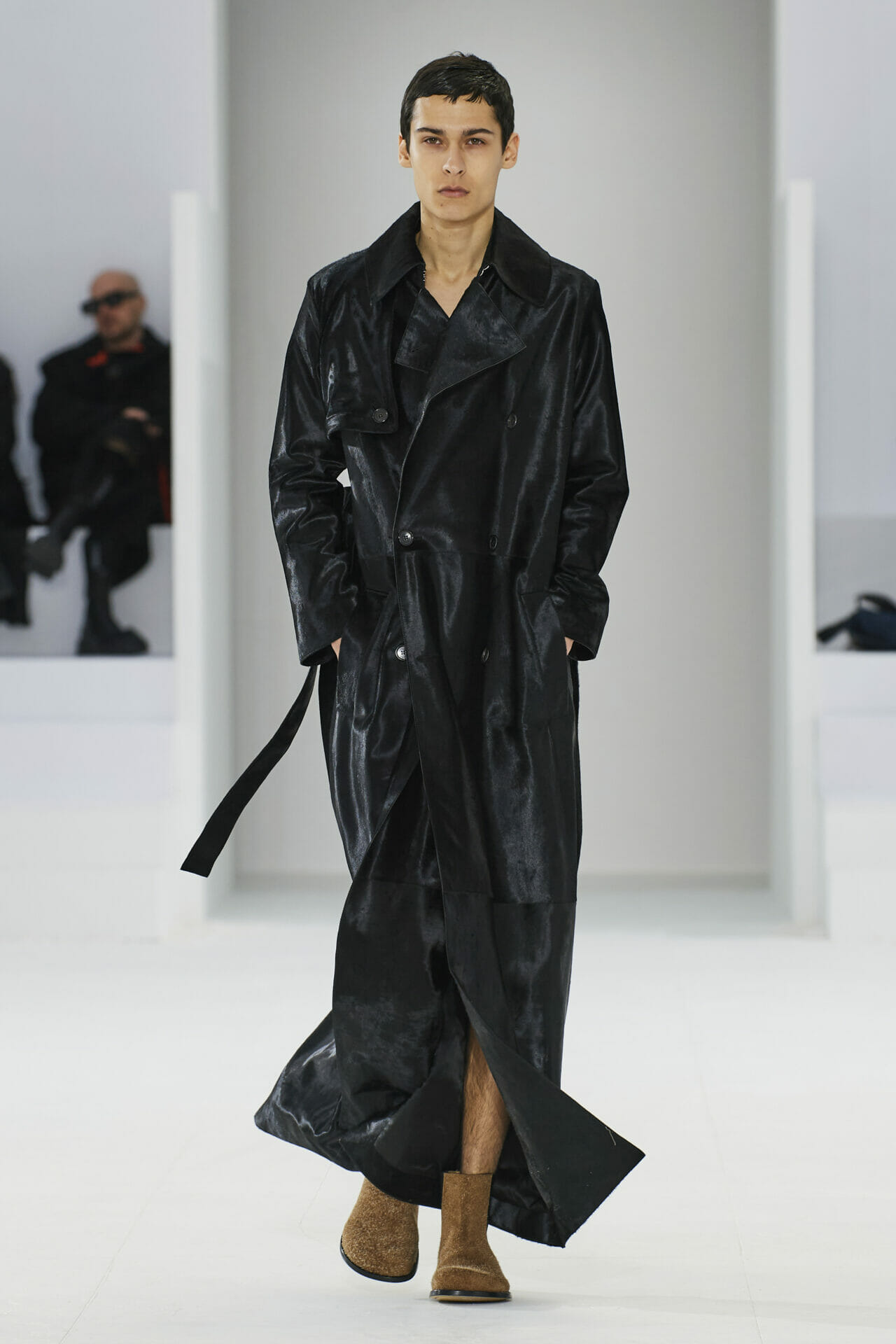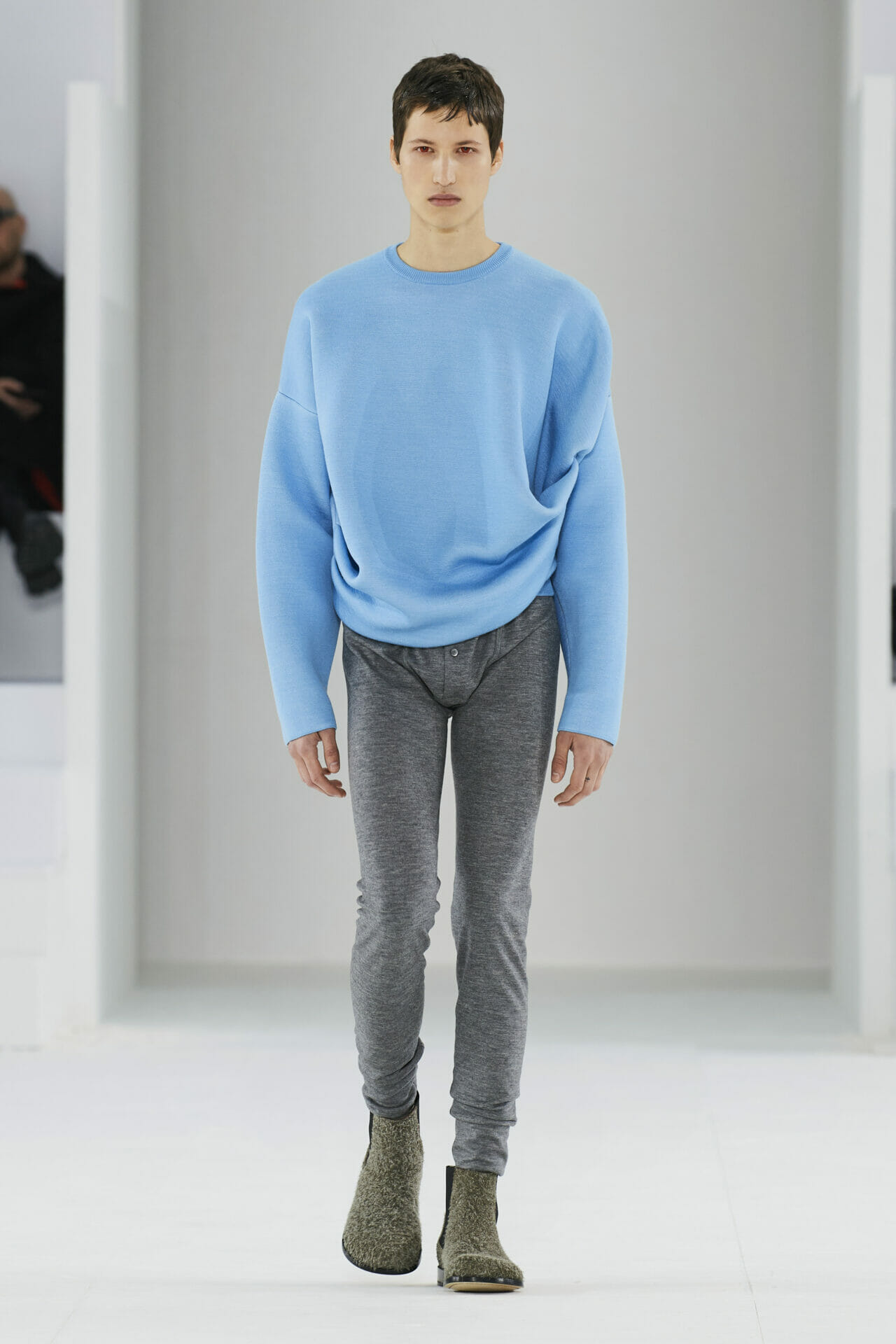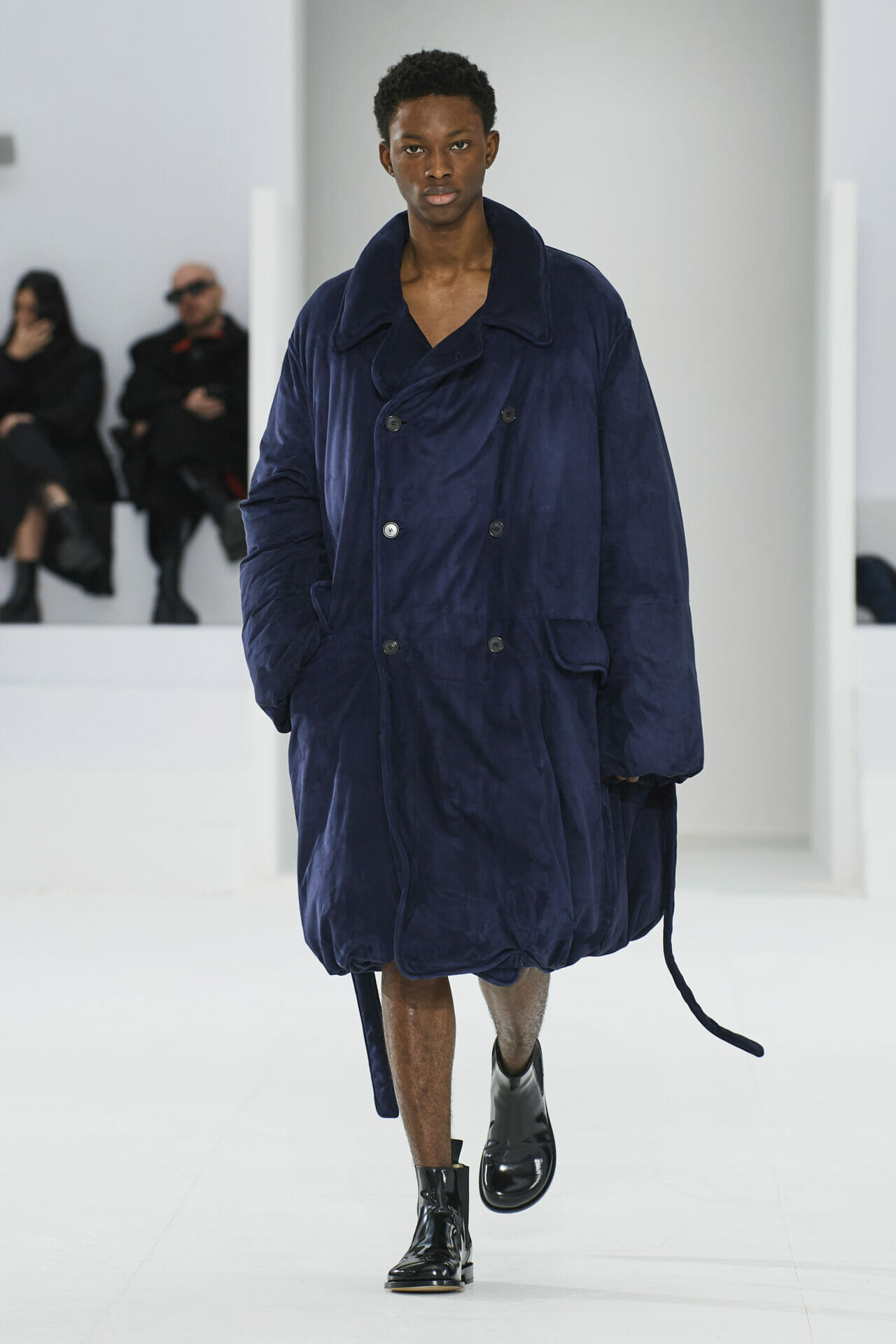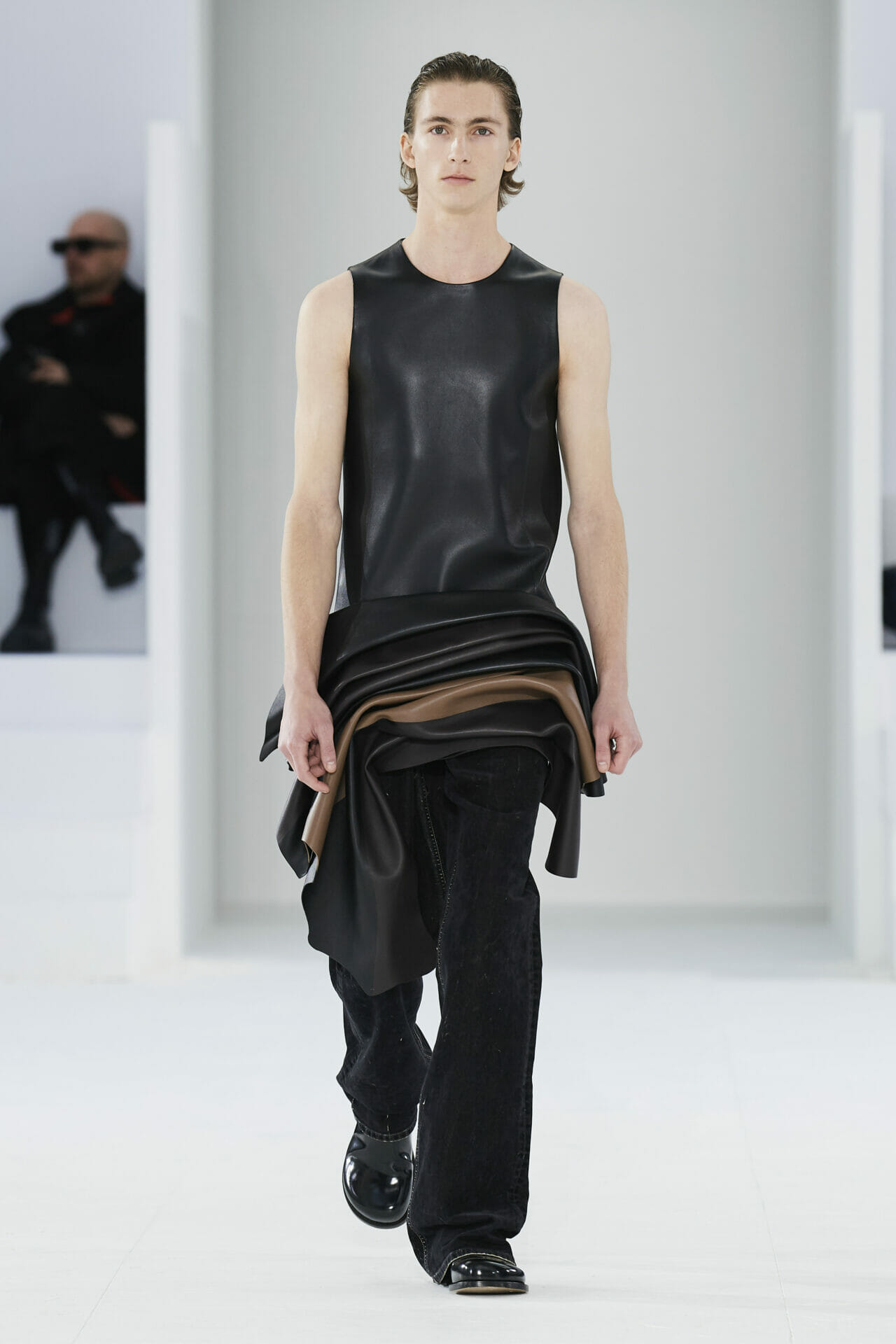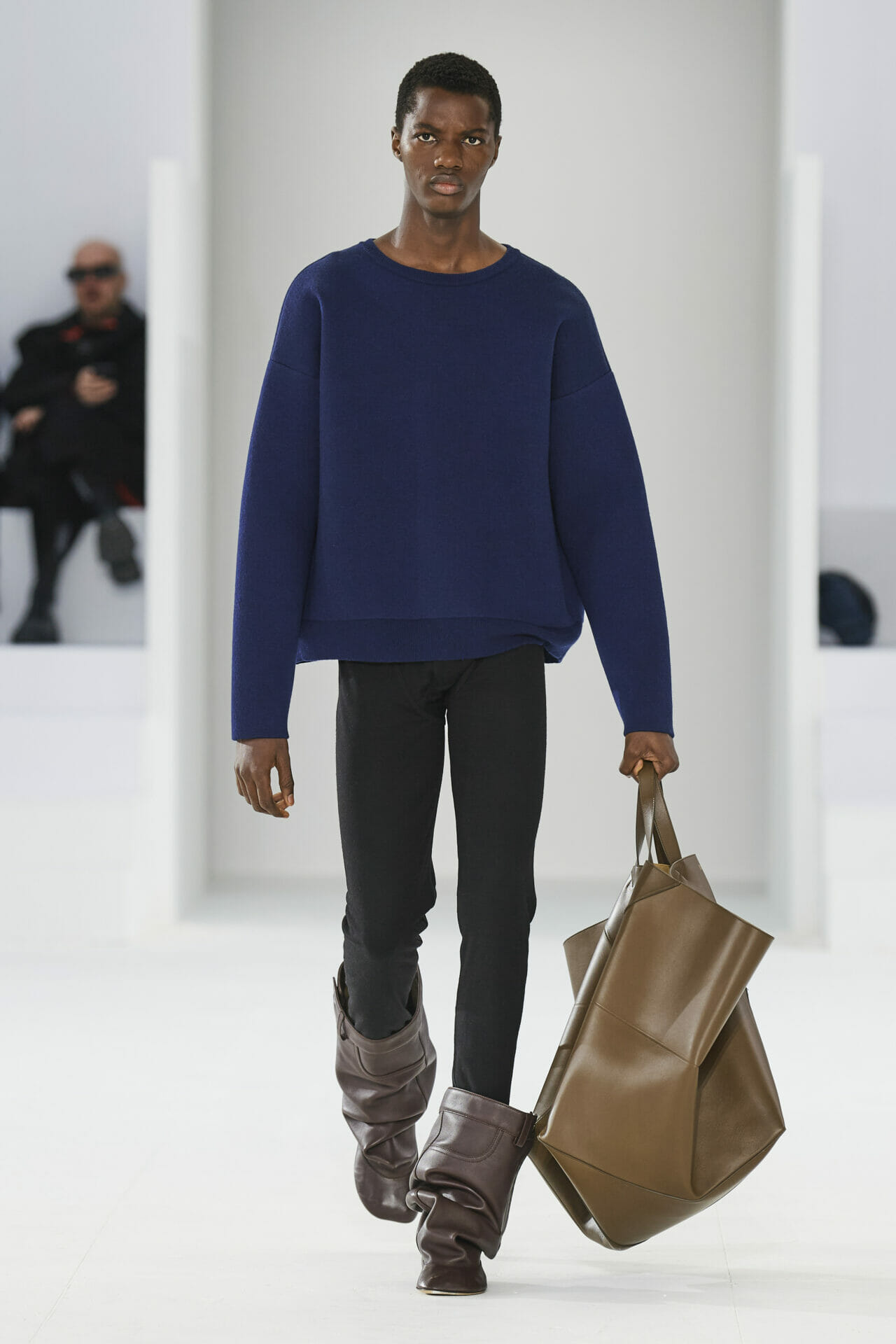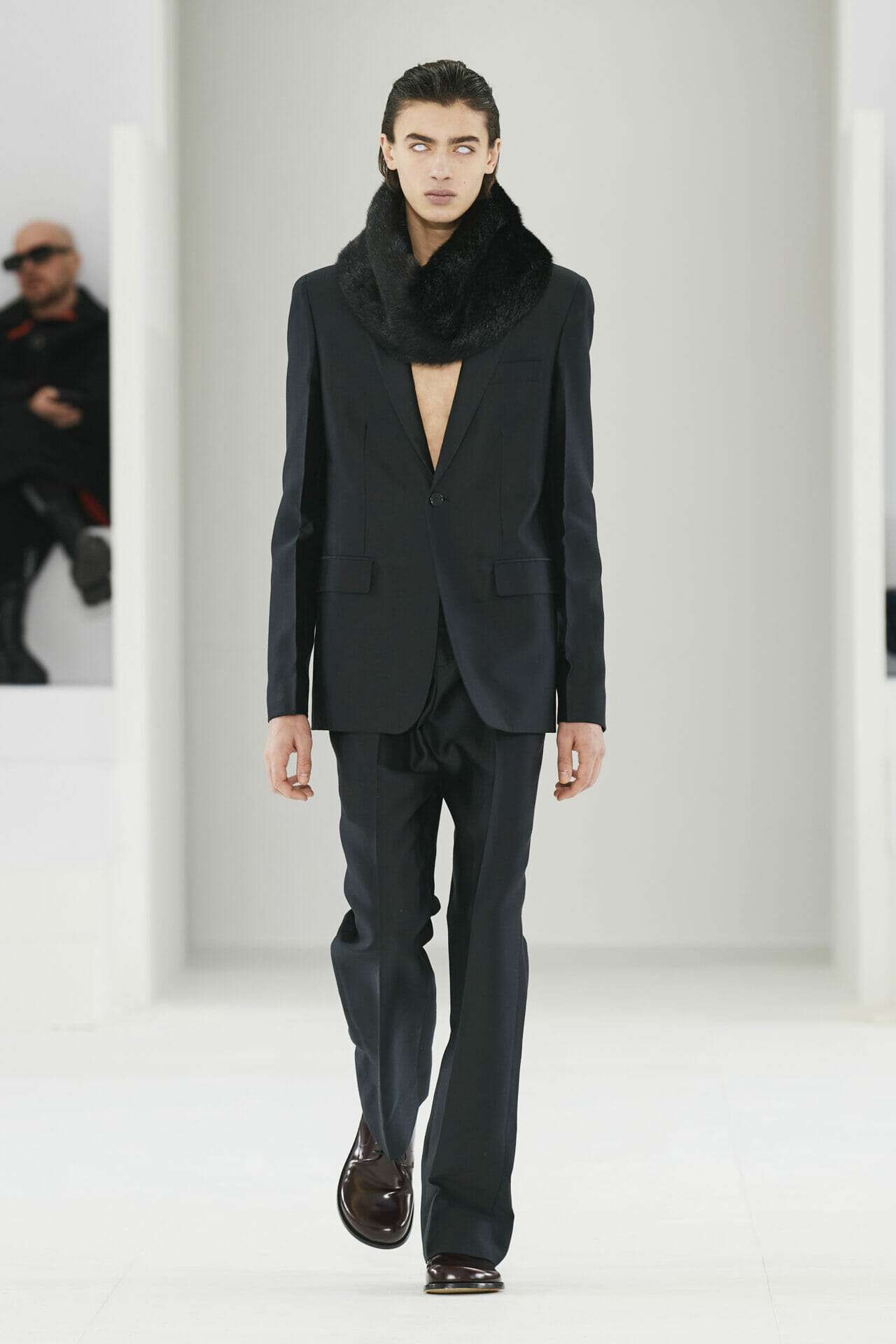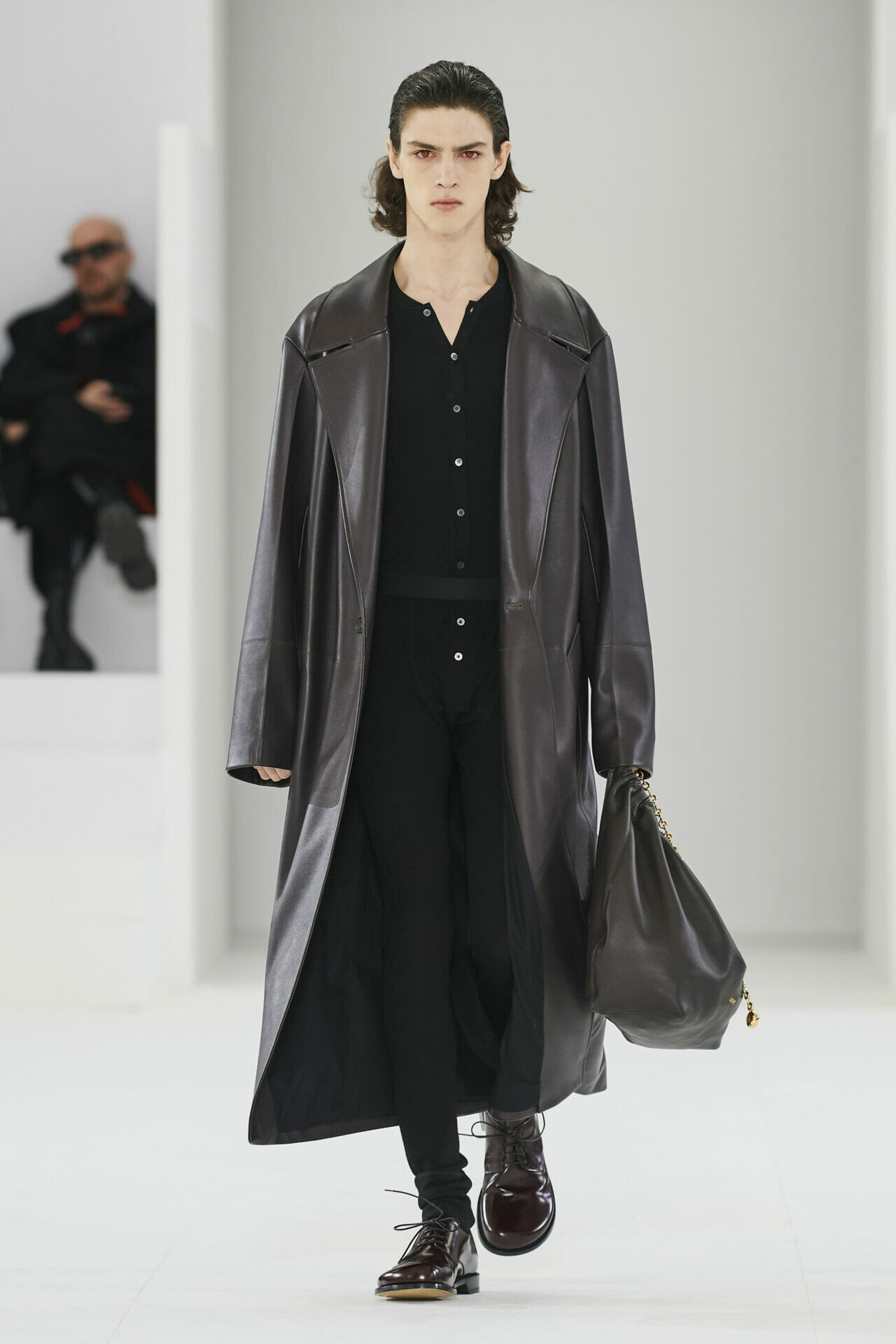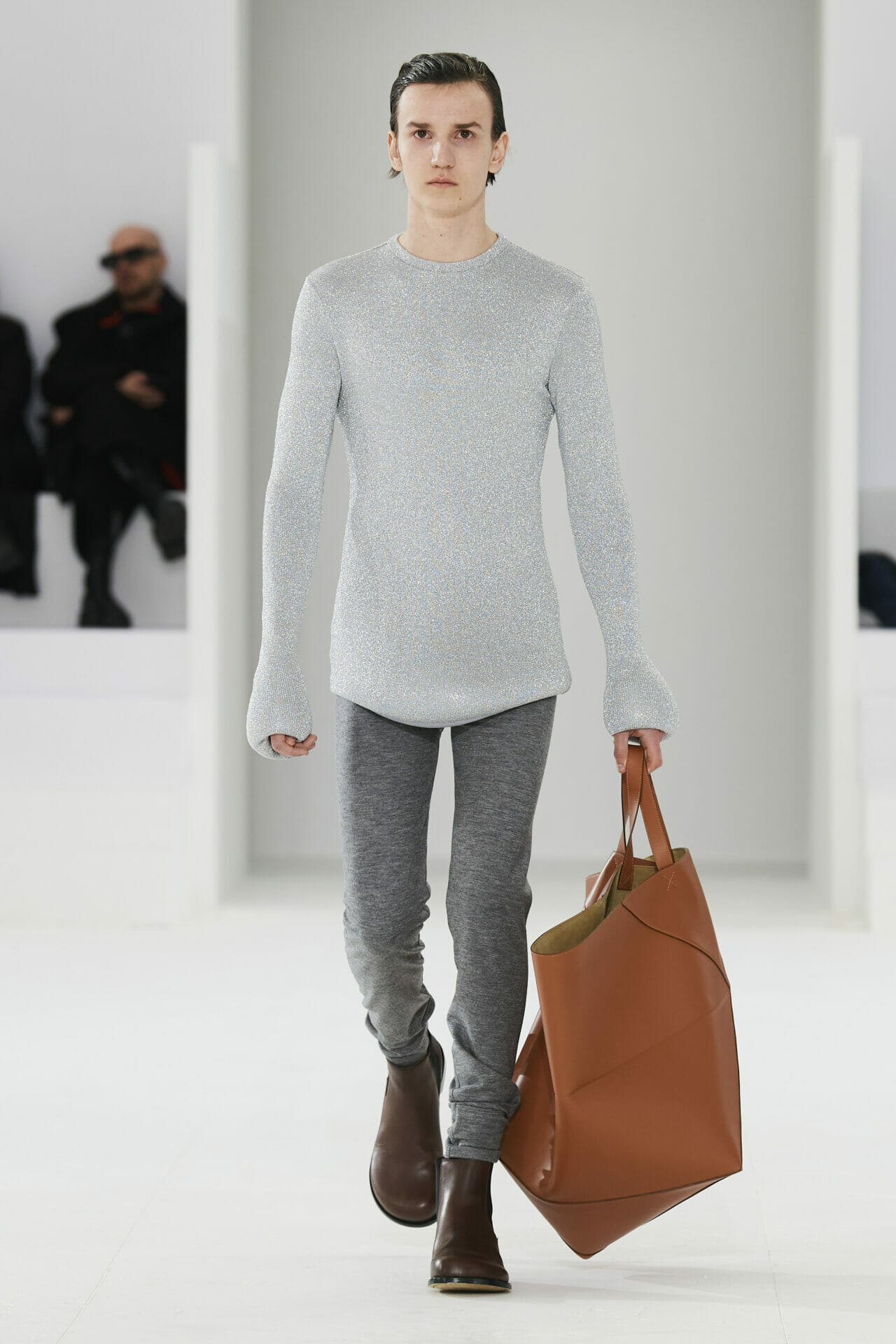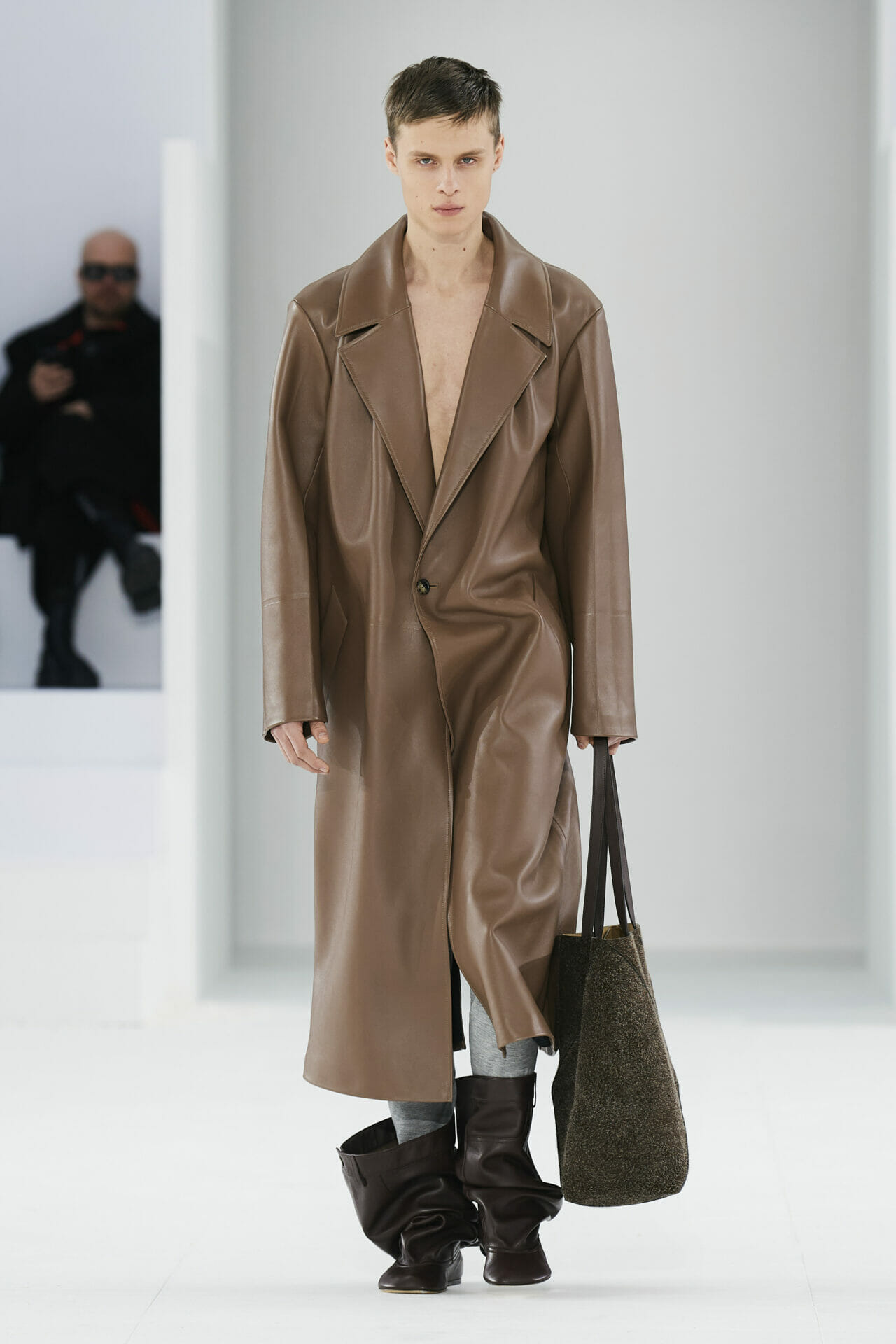 There were only a couple of days between Jonathan Anderson's runway show for his eponymous label and his collection for Loewe in Paris. However, both seemed to put silhouettes into full focus.
Out-of-the-box as always, Loewe's Fall/Winter '23 collection was a toned-down version of the surrealism we're used to seeing in recent collections and instead, highlighted on singular garments that were sharply defined and that played with materiality.
"Capturing a moment and a movement in real time, using traditional means in non-traditional ways," read the show notes. And the use of materials were seen in the form of oversized jackets hammered from copper, spiked metal angel wings and shirts that were moulded from parchment.
Opening the show was a seamless coated garment with one hand holding the opening, and following in the line-up were slim suits, undergarments, crewneck tops, cardigans and coats with oversized, bell-shaped sleeves.

LOUIS VUITTON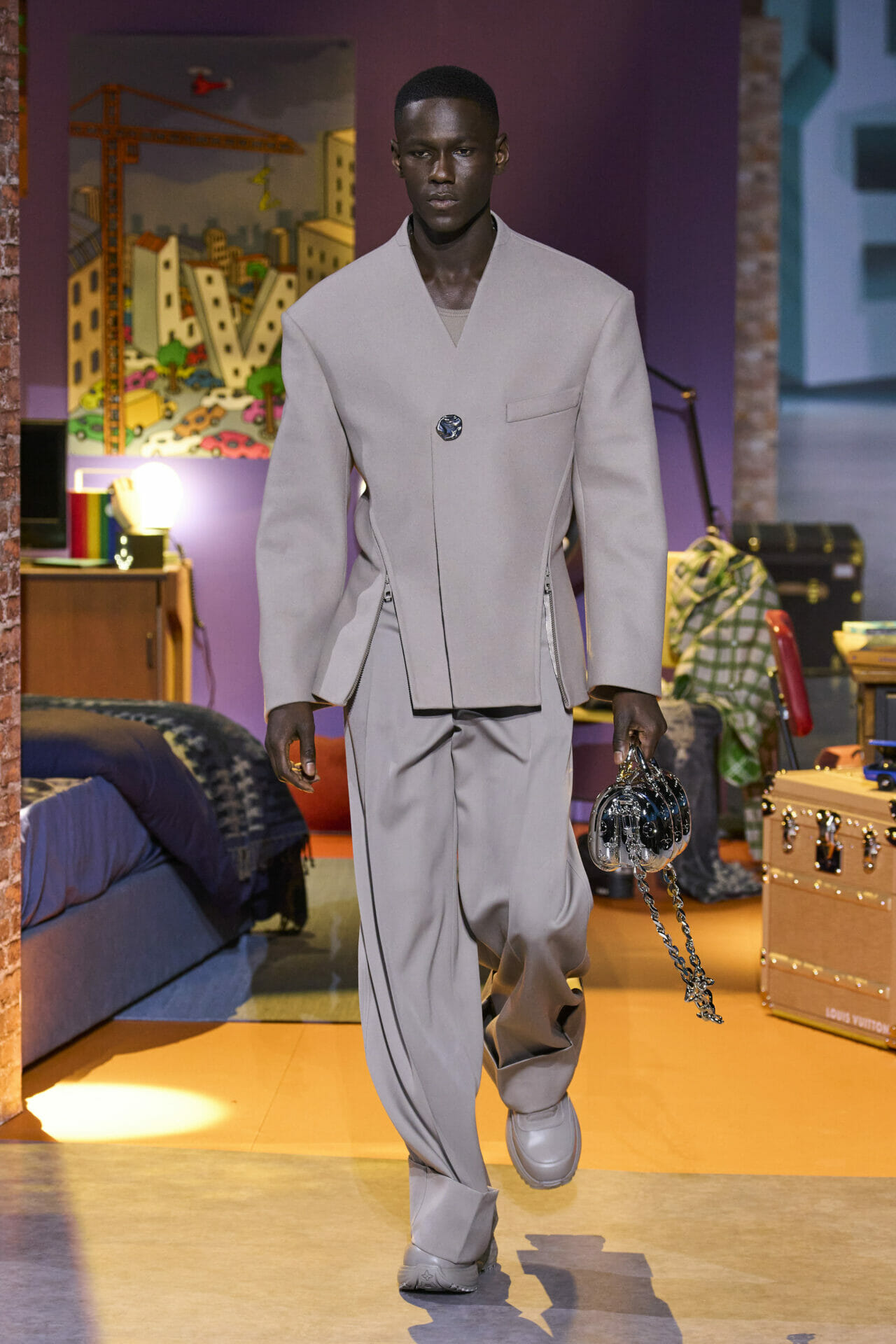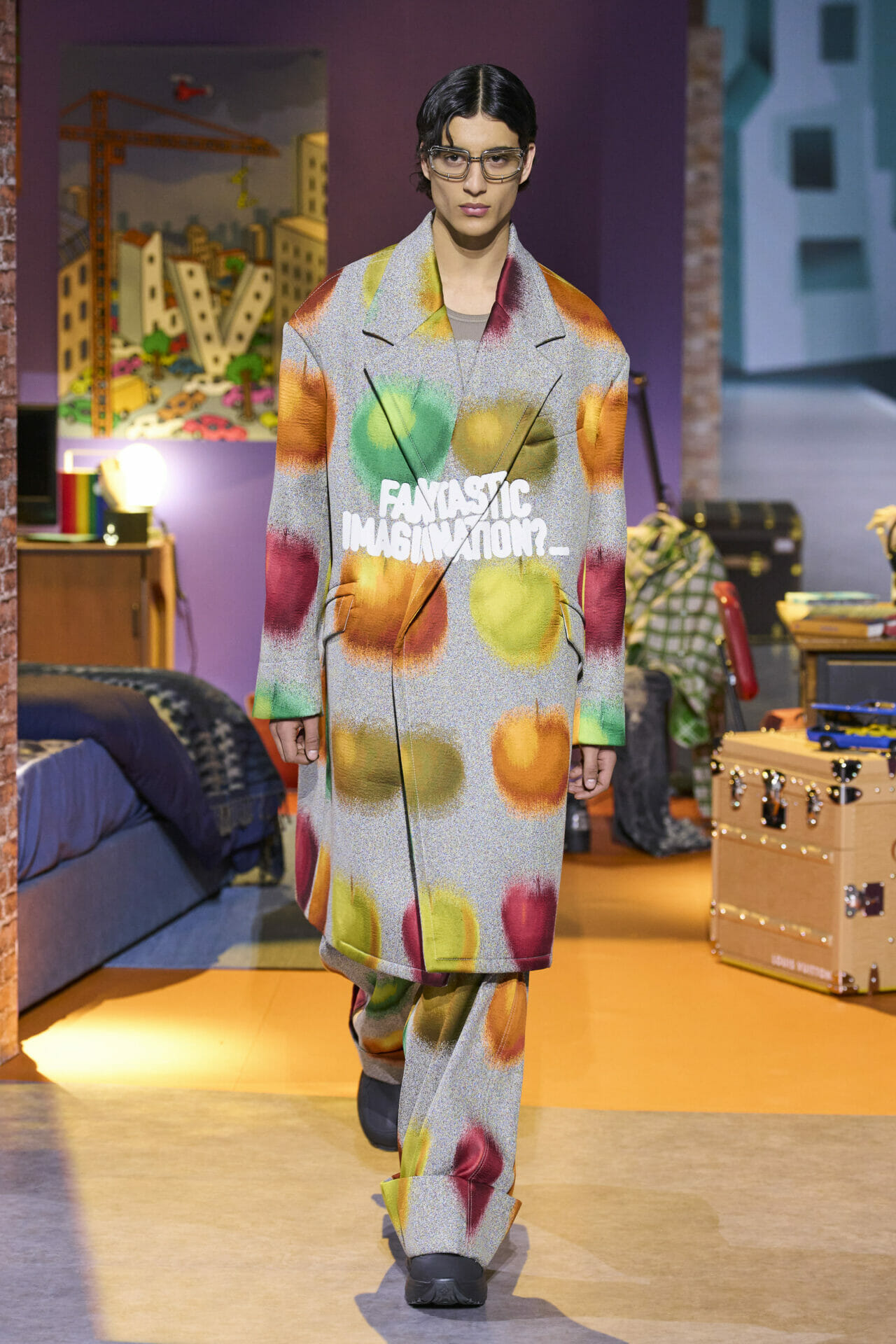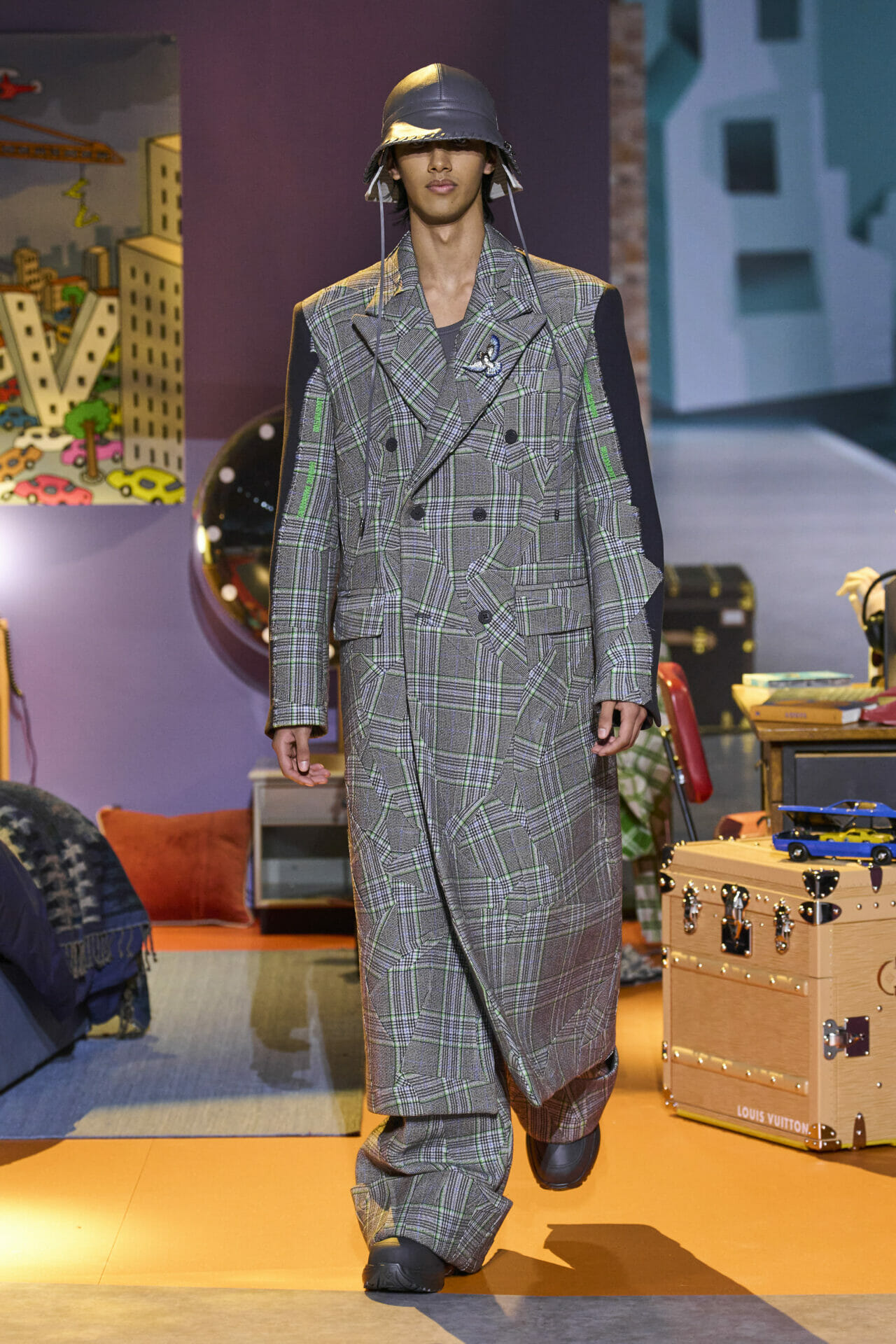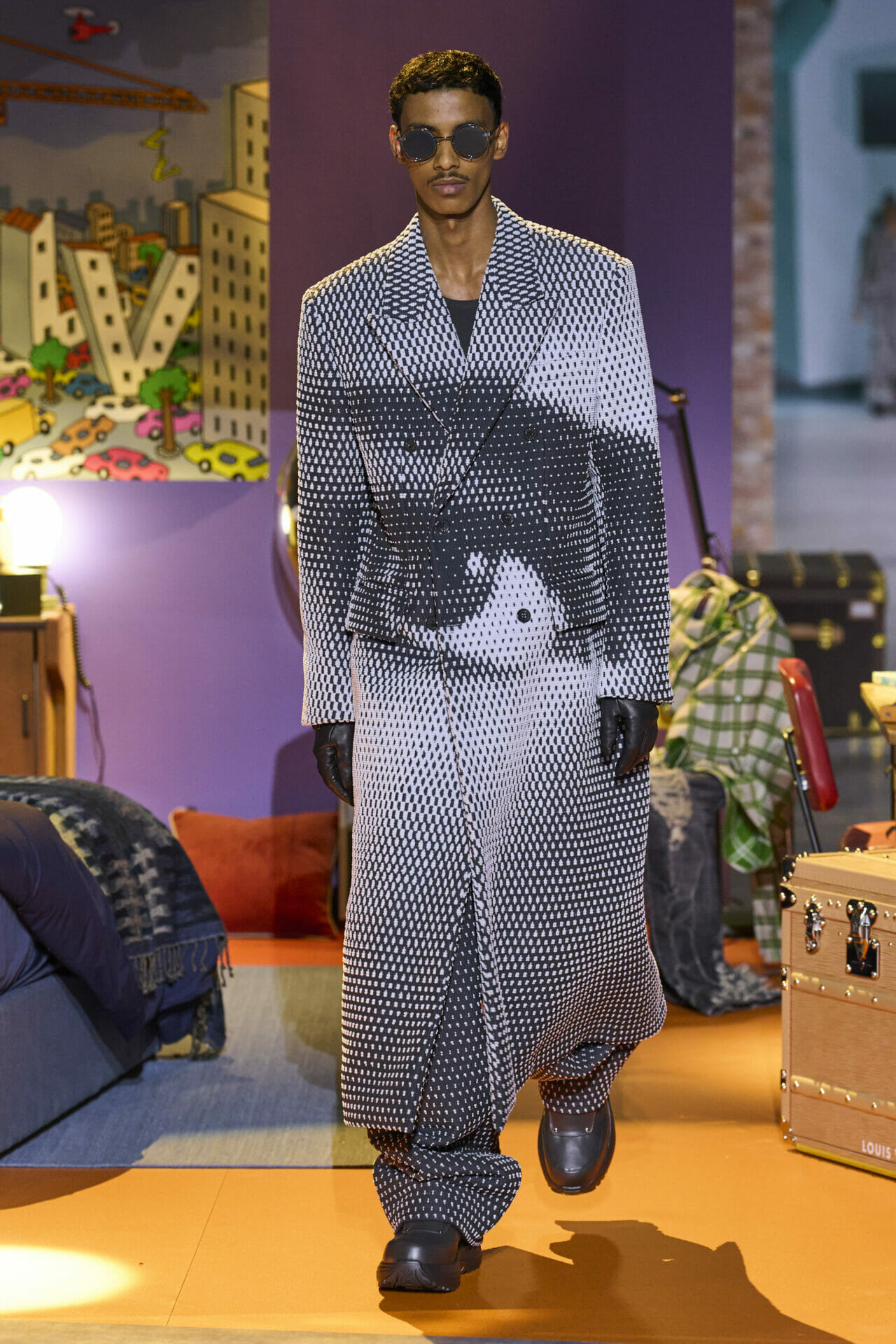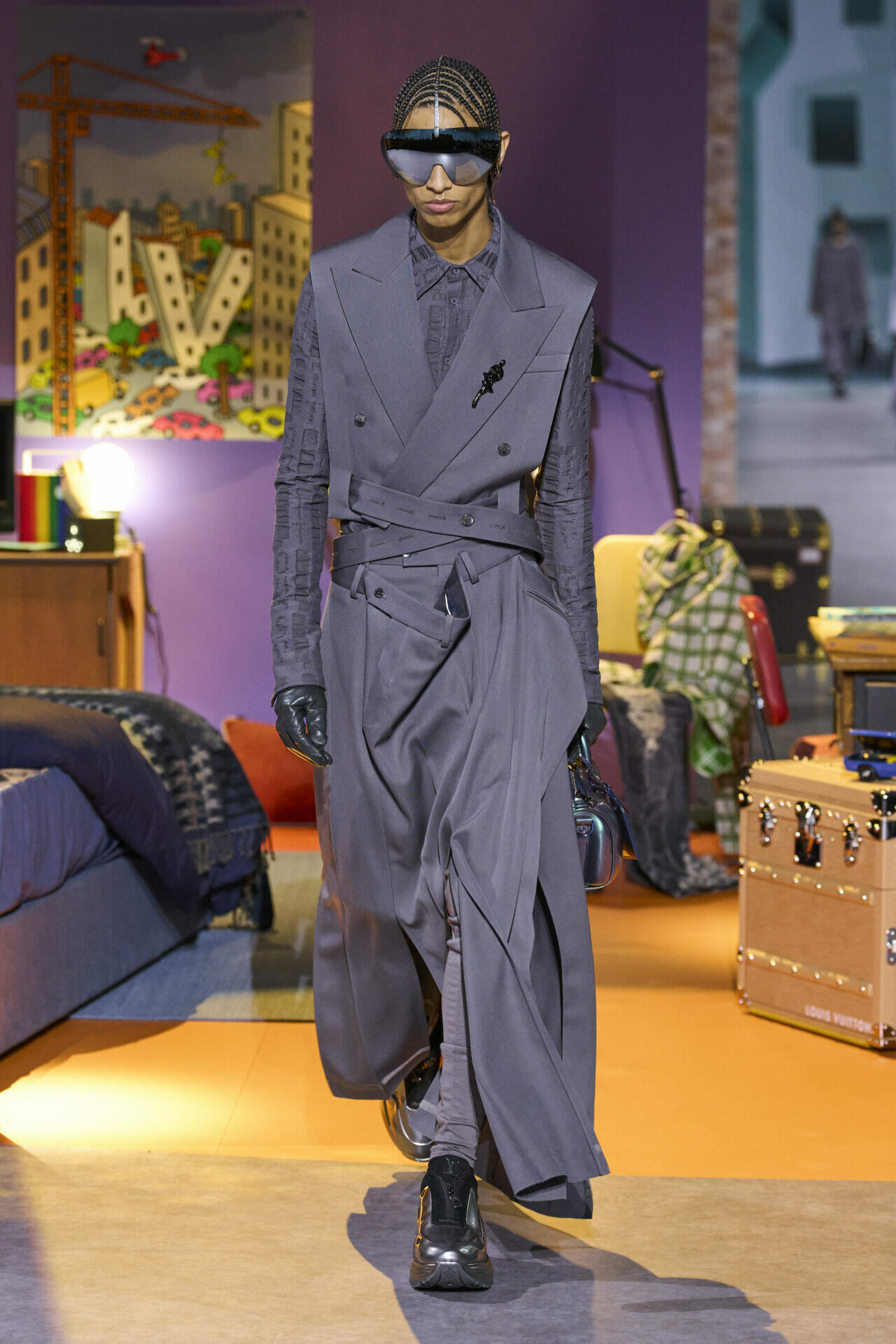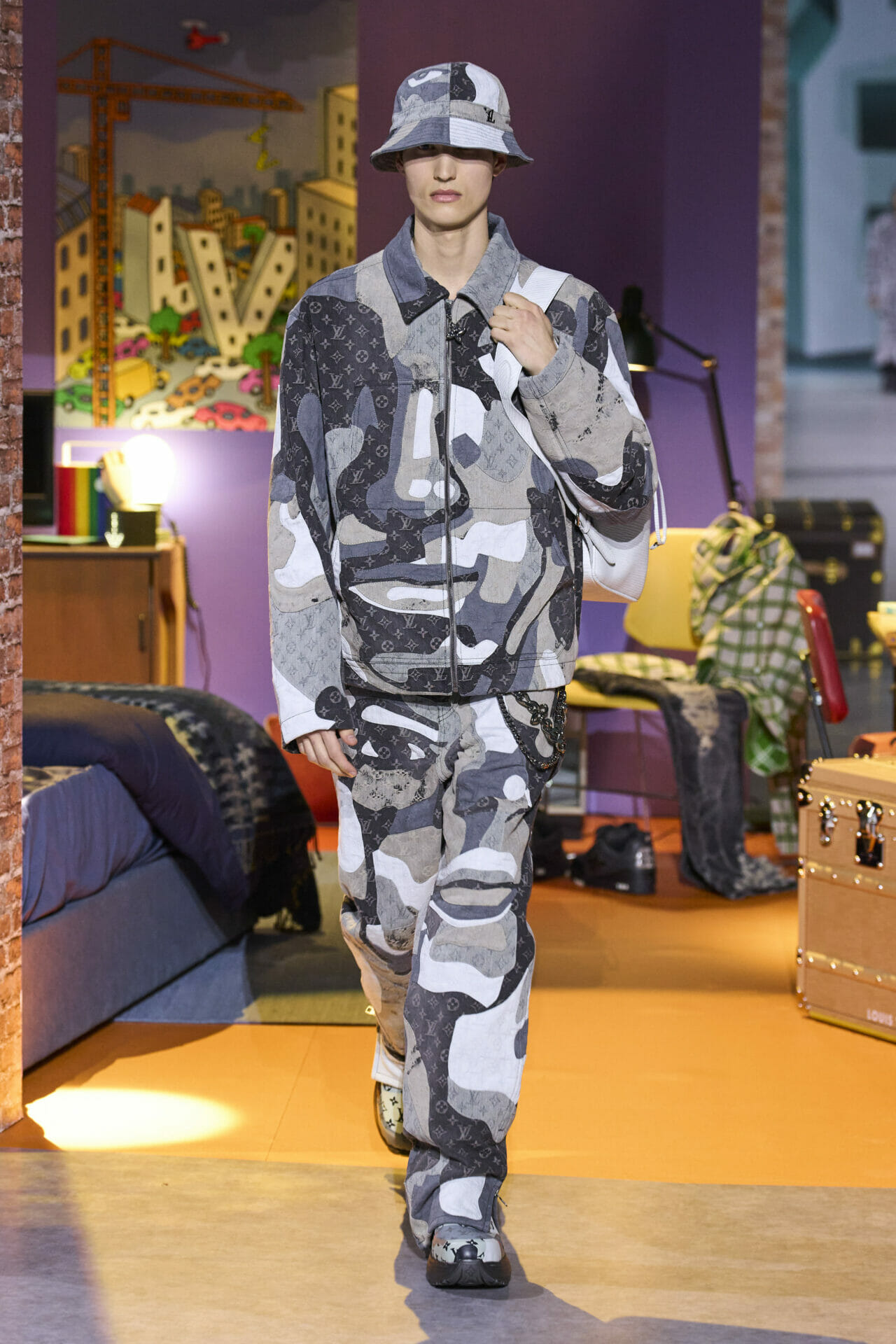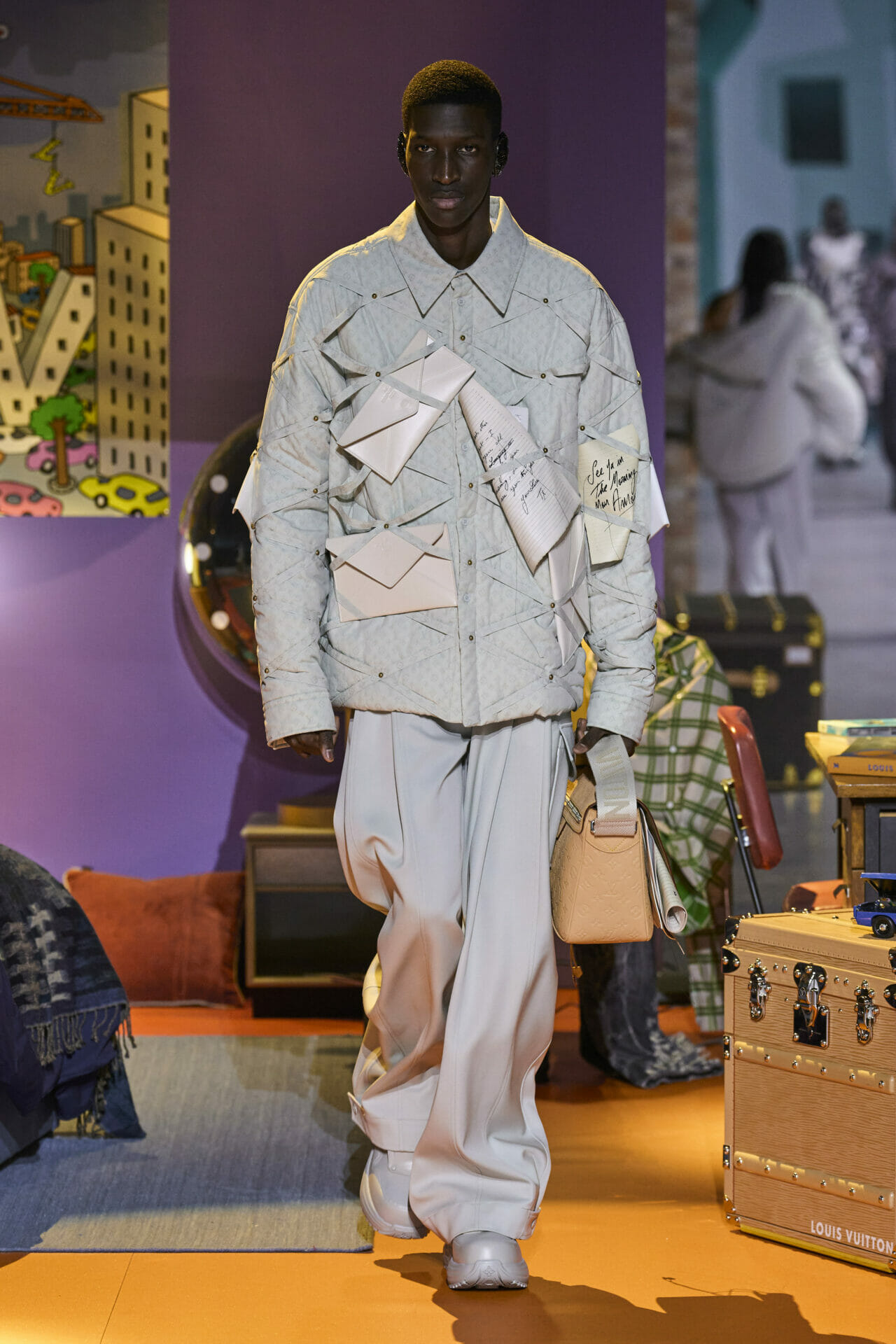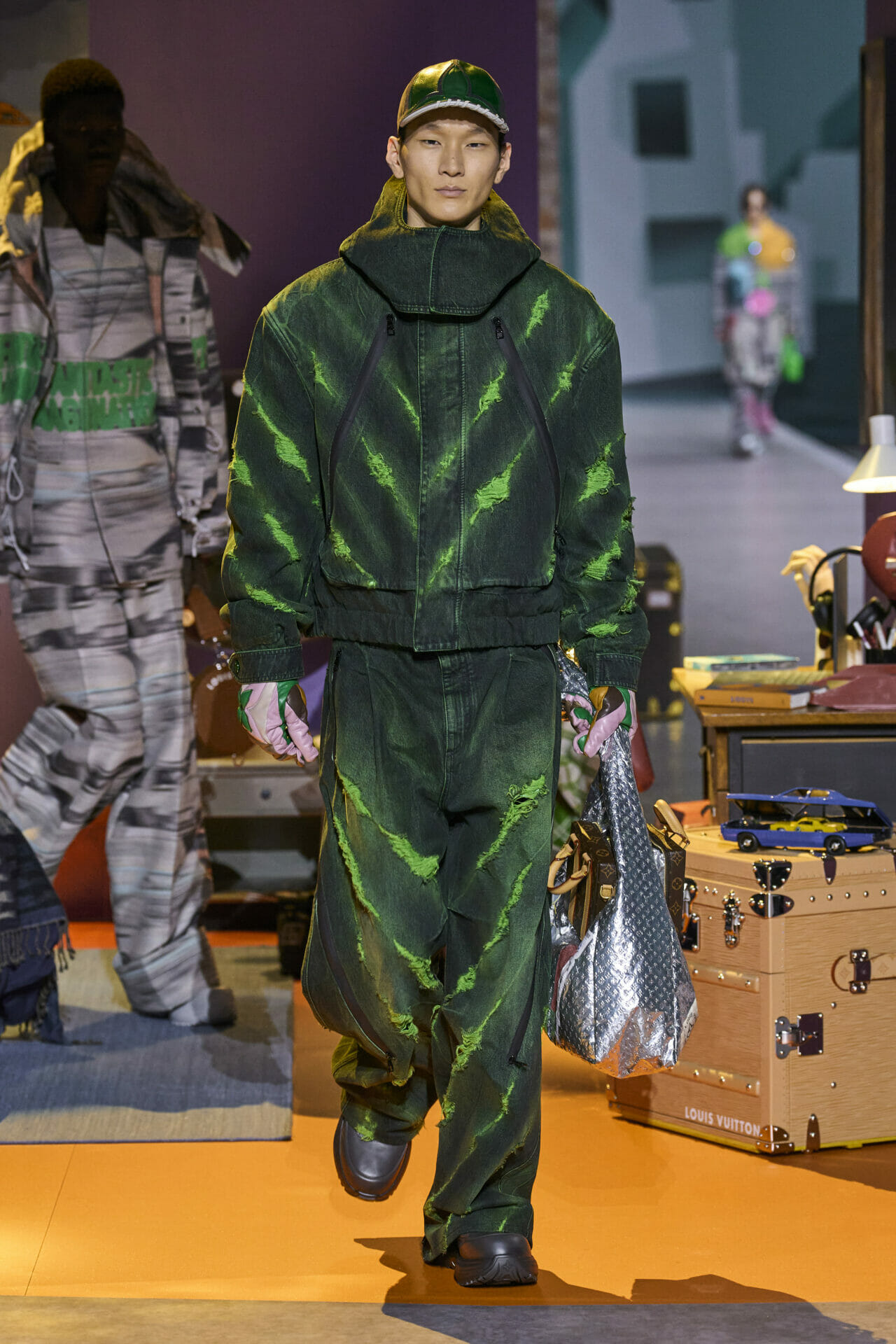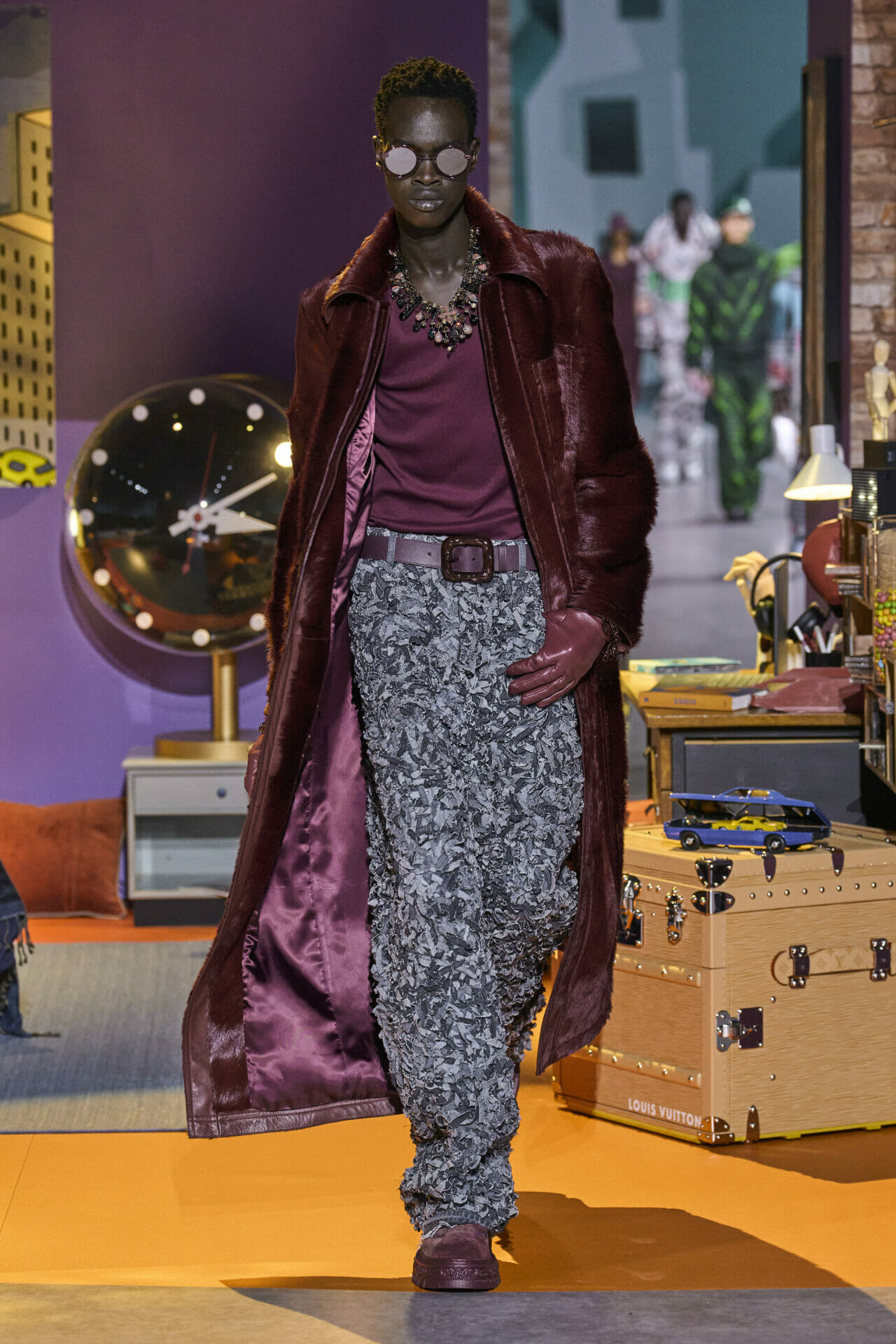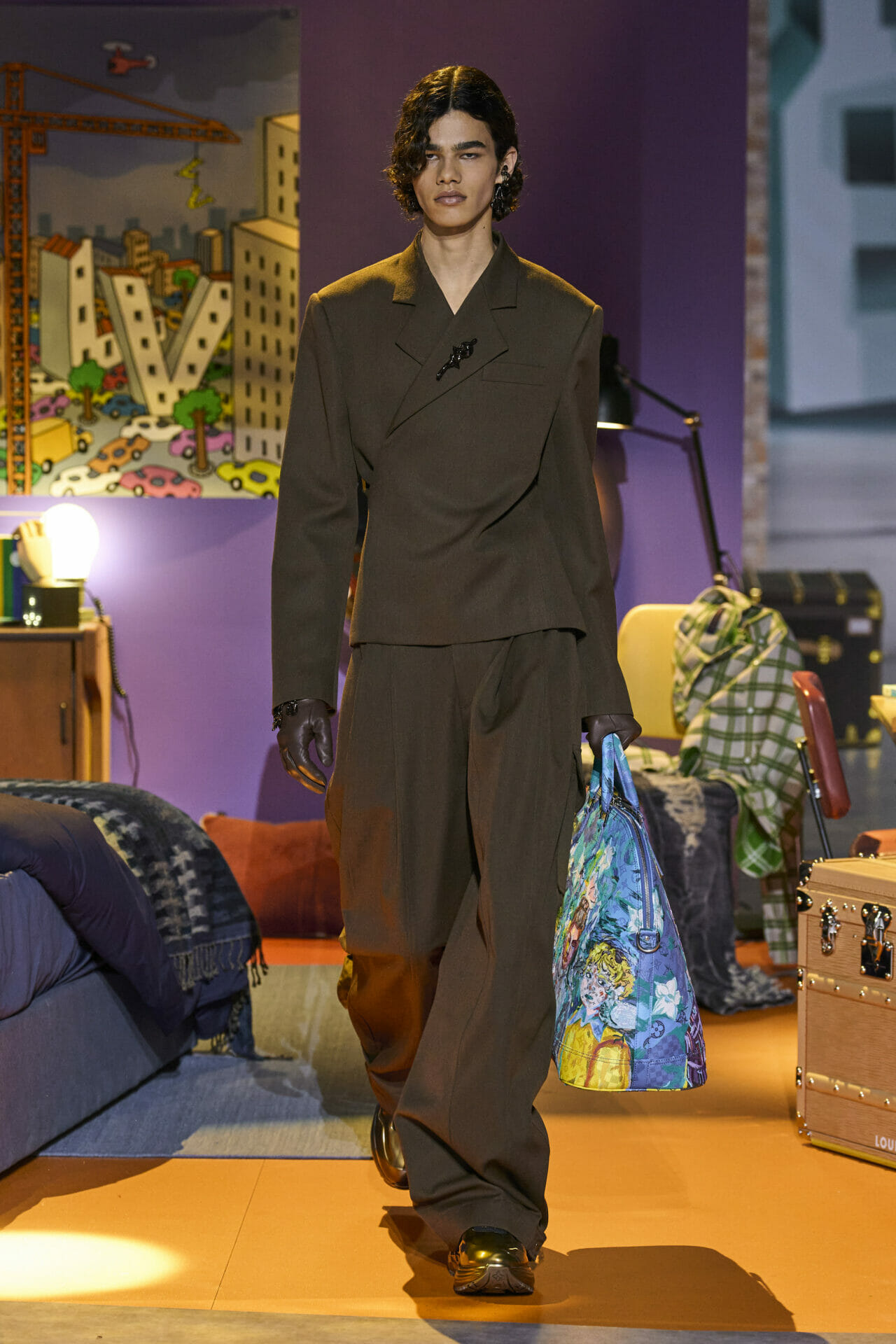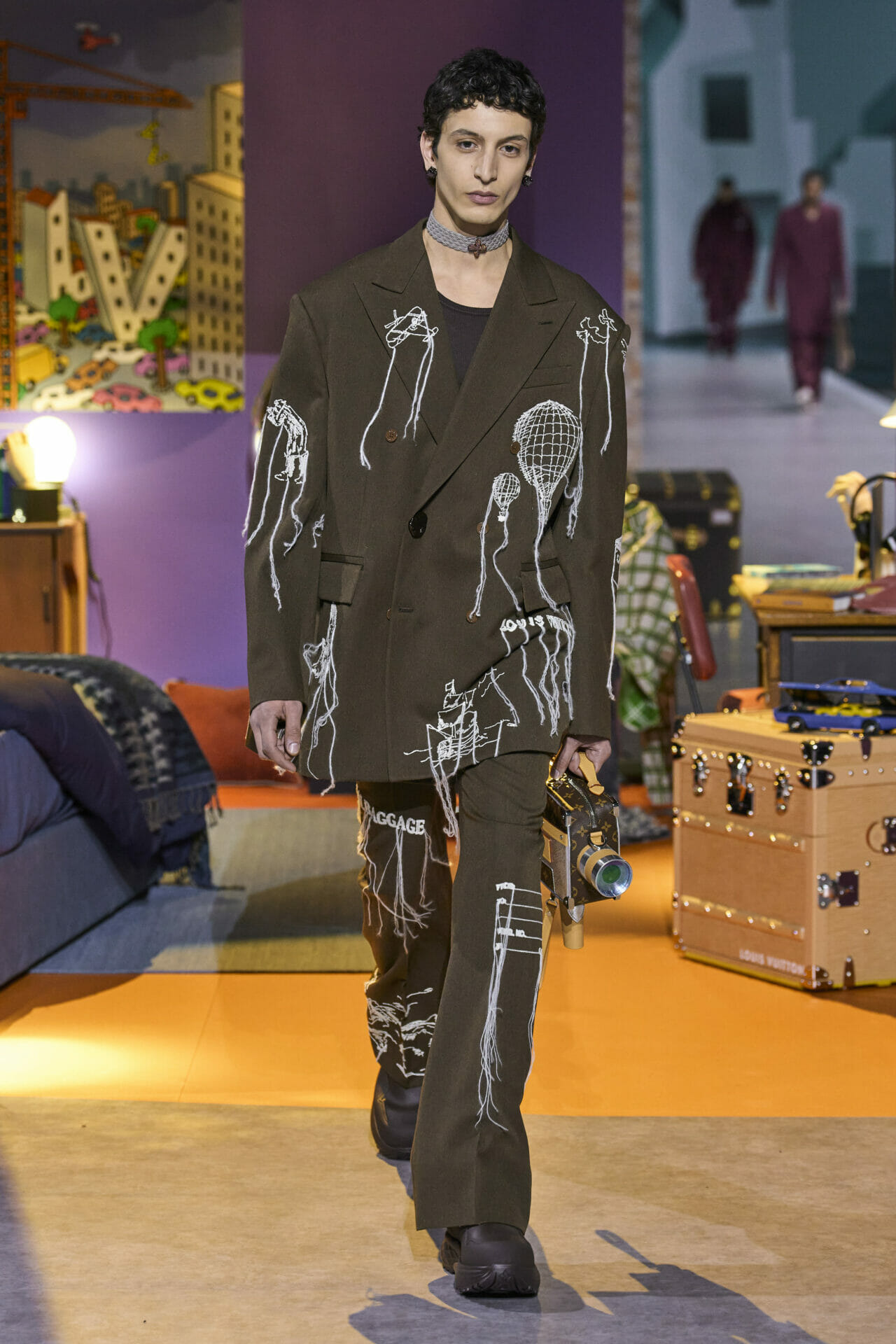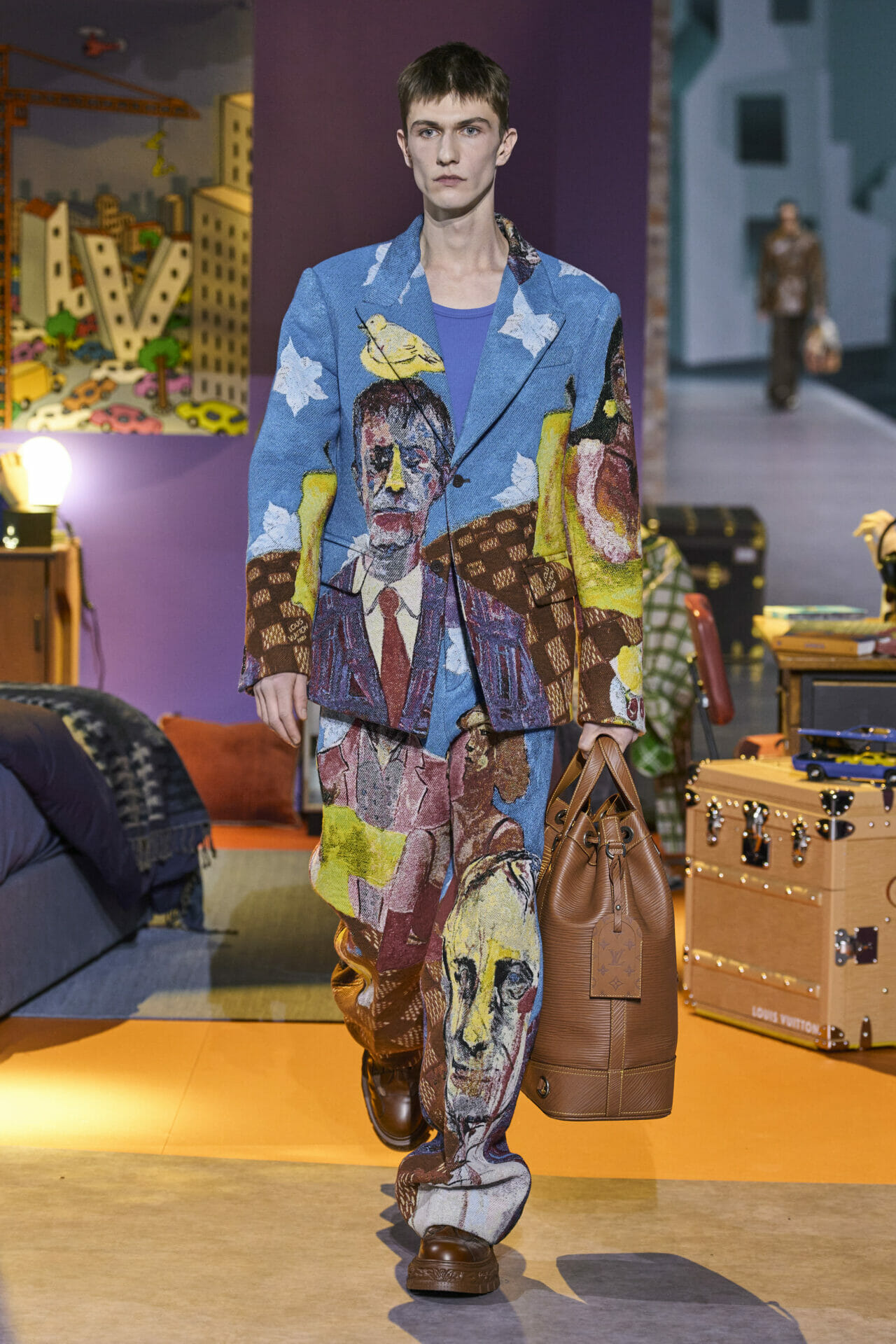 Whilst the Menswear Creative Director spot remains vacant at Louis Vuitton, the brand certainly continued to deliver with a winning Fall/Winter '23 revelation.
Firstly, the set resembled a house which was constructed by filmmakers Michel and Olivier Gondry and was imbued with memories of their own childhood. Putting the spotlight on a boy's first stages of when life unfolds, the theme further materialized throughout silhouettes reminiscent of a young man's idea of paternal masculinity.
Exploring millennial memories of the '90s, the collection drew on the themes of collectivity and connectivity, and were explored through techniques and achingly cool silhouettes that set the tone for a fantastic future.
Co-created by the house's design team – many of whom worked under Virgil Abloh – and KidSuper, the eclectic collection seemed to capture the late designer's desire for optical illusions with garments emblazoned with faces, idiosyncratic elements such as a suit and hat stitched with pages of paper, as well as occasional bold prints and colours dominating the collection.
There were several looks asking the question "Fantastic Imagination?" along with colourful apples printed throughout separates, as well as Louis Vuitton's signature monogram peeping on everything from denim separates and tailored jackets to accessories, too.
AND ICYMI, ALSO READ: FROM A NEW ERA AT GUCCI TO A CREATIVE DEBUT AT ETRO, HERE ARE THE MENSWEAR SHOWS THAT STOOD OUT.