Fashion's finest have flocked to Milan for Fashion Week this season and kicking off the exciting (and jam-packed) schedule was Gucci. The Italian fashion house presented its first menswear line following Alessandro Michele's departure; Marco de Vincenzo made his debut for Etro while Milan's heavyweights including Prada, Fendi, Dolce & Gabbana and Emporio Armani championed through the calendar with Fall/Winter '23 collections. In case you missed it, scroll through the latest of what menswear has to offer…
Dolce & Gabbana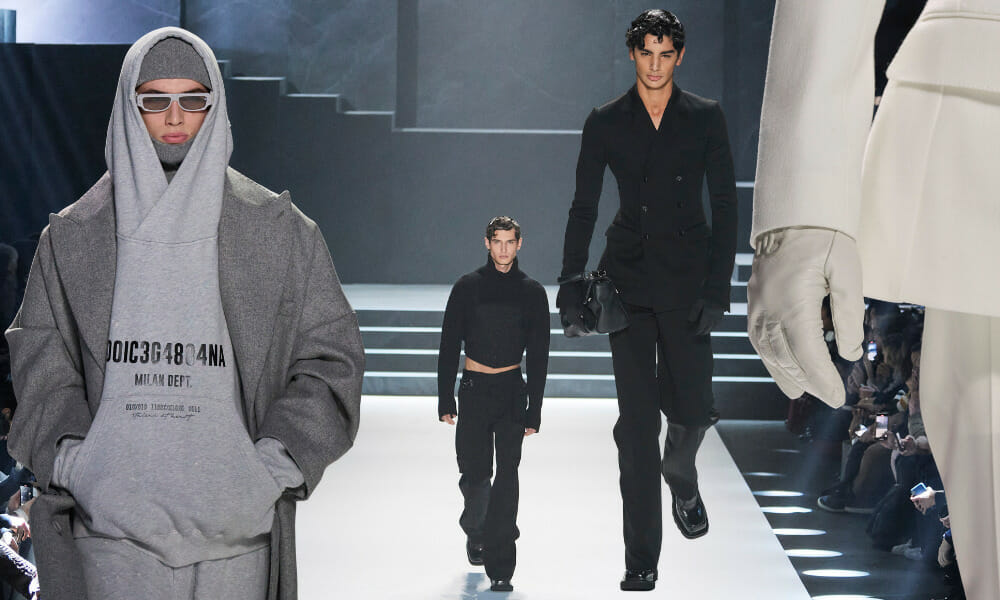 Dolce & Gabbana's Fall/Winter '23 collection narrated the true essence of the fashion house. Staying true to their heritage, the "Essenza" fashion show was a pure vision of the brand's traditional dressing: a man with elegance, precision and sensuality. There was emotion in the new black volcanic hues of the collection which put the spotlight on tailored cuts, exceptional Italian craftsmanship, precious embroideries and Sicilian inspiration.
Some of our favourite looks consisted of a cloth cape with satin peak lapel, a parka with inner eco fur, denim trousers with coating, embroidered knitted waistband, a reversible double-breasted wool cloth coat and silk contrasts and a lurex knitted corset and double belt wool canvas trousers paired with a high cotton belt.
Emporio Armani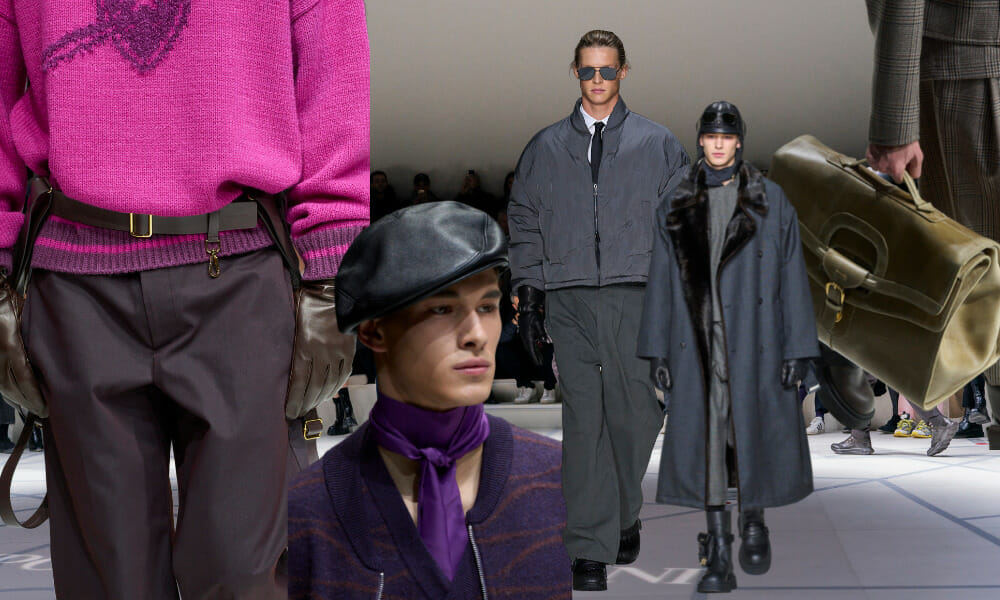 There were hints of bright colours contrasting with masculine tweeds on the Emporio Armani runway. For Fall/Winter '23, the brand looked to the 1930s aviator for inspiration, paying tribute to the sophisticated severity and adventurous precision of style, to the metallic glints of the planes and hangars.
There was an eclectic atmosphere that highlighted relaxed silhouettes translated through coats, trench coats, double-breasted pea coats and blousons, which were paired with cropped trousers. The looks were complete with boots and lace-ups that boast thick soles to mark every step whilst most of the looks were monochromatic featuring patterns expanding into everything else – think oversized T-shirts made in the same wool as coats and trousers.
Etro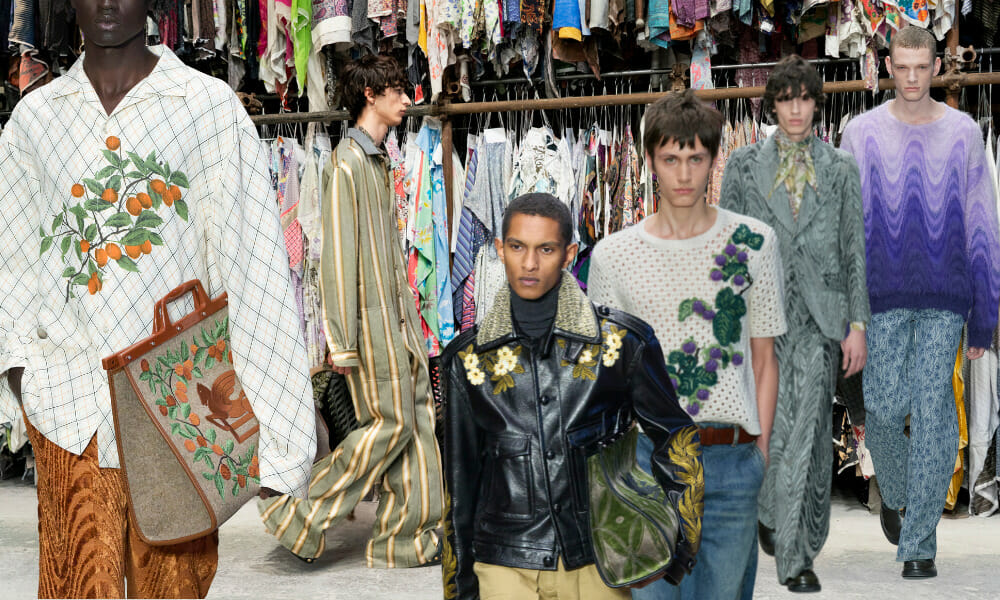 One of the most exciting debuts of the season has officially taken its place with Marco De Vincenzo building his first men's collection for Etro. A fashion house built on fashion's founding matter, fabrics, where Vincenzo used it to pay homage to the brand's roots and as a way to connect with his own personal past.
With a backdrop featuring stacks of fabrics culled from the Etro archives, the runway was an expression of coziness and eccentricity, and blossomed with psychedelic swirls liquefy on fuzzy pullovers, gentle shapes that came in the form of kimonos, shirt coats, and duffels, fluid and unstructured-like silhouettes and outstanding knitwear pieces.
Fendi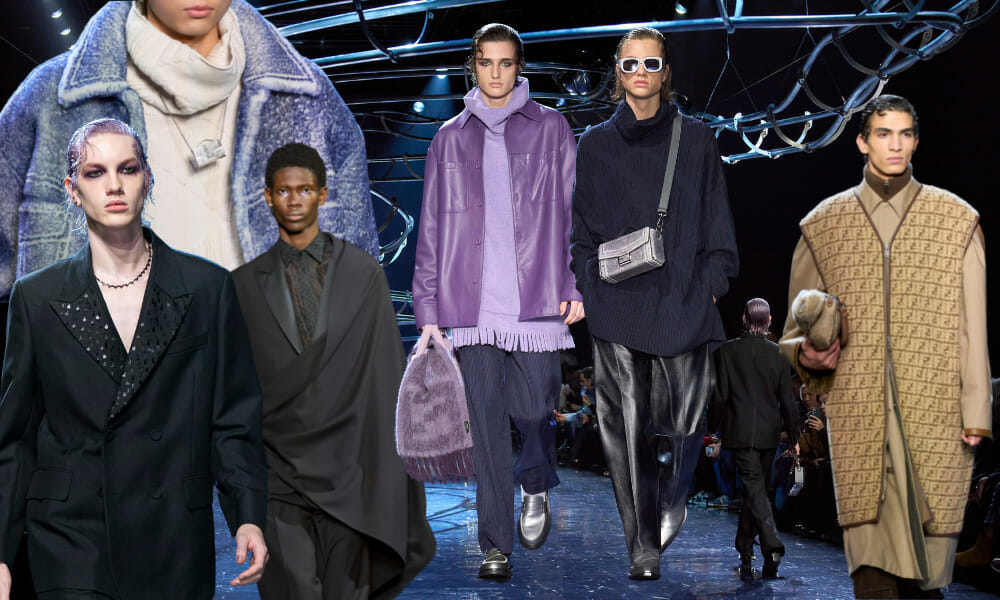 Silvia Venturini Fendi created the ultimate autumnal collection that was cozy, sexy and cool. It was a dissected study of sophisticated comfort, offering silhouettes that were the opulence of every day with the unexpected coolness of the evening. Paying tribute to the Fendi name, there was a celebration of Fendi's mastery of materials – such as leathers waxed and burnished to create antique finishes, as well as offered plush fabrics and enveloping shapes.
Expressions of shimmer and shine are embedded in a landscape of sartorial experimentation, where playful glamour, versatile silhouettes, and reinterpretations of Fendi codes are featured in symmetry and volume infusing outerwear with geometry and movement. The accessories collection comes with a plethora of arm candy (including a baguette) and jewellery interpreting the Fendi Shadow.
Gucci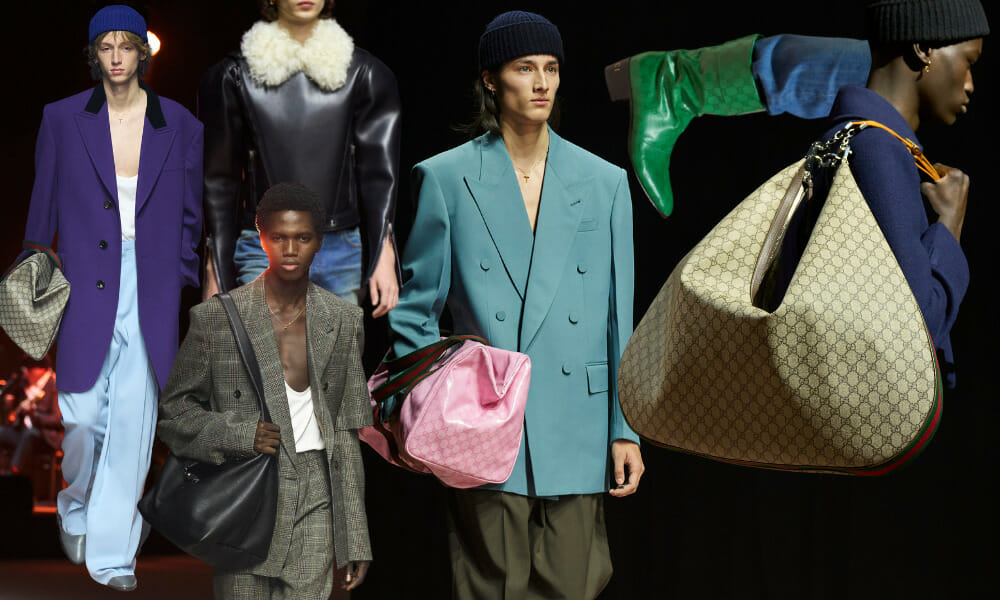 Gucci kicked off the runway as the fashion world awaited a new designer. And although there were no surprise announcements, the Gucci runway marked the first since the departure of Creative Director Alessandro Michele in November 2022, and it almost felt like an ode to Michele's earliest collections at the house. The runway was presented in a round set up – in the centre, Marc Ribot's Ceramic Dog performed a special musical composition echoing the charged energy of the collection – where an attempt at defining a new chapter of the historic house took its walk on the runway.
From relaxed tailoring and oversized overcoats to romantic oversized silk shirts and delicately ruffled collars and cuffs, the collection paid tribute to various decades and contrasting aesthetics which inspired the house's Fall/Winter '23 collection. As the collection went on, these ideas evolved in new directions which nodded to Tom Ford's Gucci tenure (think denim jeans with stacks of silk scarfs, slashed T-shirts and crystal-studded denim), as well as colourful oversized boiler suits, ribbed-knit trousers and wide boat-neck sweaters.
On the accessories front, we saw Horsebit, the double tiger-head horseshoe, and the reappearance of the fur-lined backless loafer, one of the designer's first cult pieces.
Prada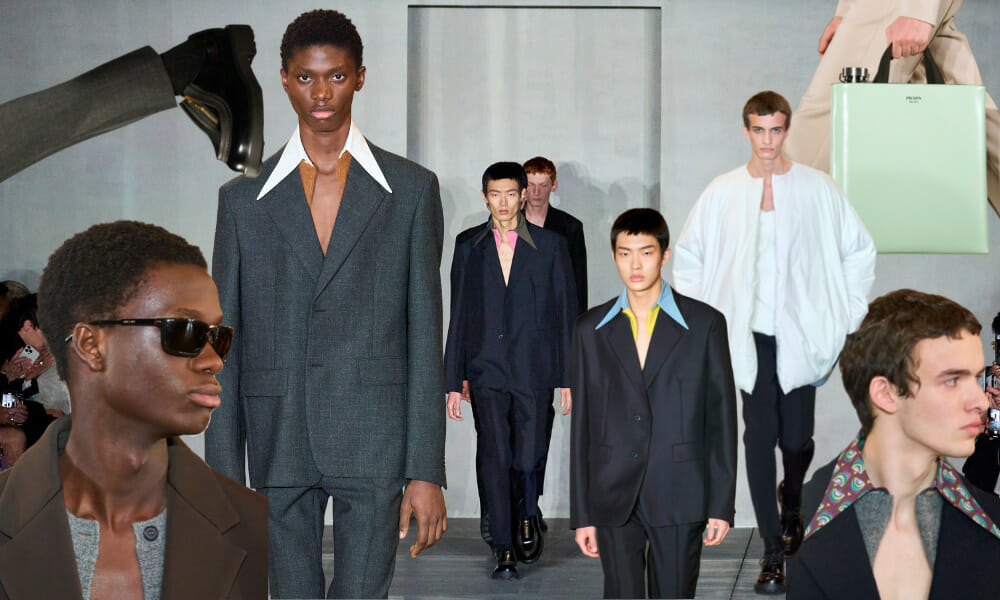 Prada's Fall/Winter '23 collection manifested an exploration of fashion's fundamentals. Titled "Let's Talk About Clothes", the menswear collection by Miuccia Prada and Raf Simons gave refined and amplified a new meaning which was realised in textured leathers, couture volumes and the architecture of clothes. Silhouettes are presented in a calm palette for the season, where leather shorts and boots are comprised of the Prada man's summer uniform, whereas oversized outerwear, super skinny trousers and frill-free shirts come in elevated staples.
There's also a sense of pillowcore seen on the runway as pillows materialize as padded bomber jackets and tanks – which is also seen on the pillow invites – and new accessories such as chunky shoes and sleek branded totes carrying stainless water bottles. The result? A sharp, minimalist collection that champions strong outerwear and youthful tailoring.
ALSO READ: MUGLER IS RETURNING TO THE RUNWAY.