Last month, Men's Paris Fashion Week saw a slew of designers make their debuts including Virgil Abloh's Spring/Summer '19 menswear collection for Louis Vuitton and Kim Jones' debut for Dior Homme.
However, missing from the calendar was Berluti, and this was due to the shift of creative heads after Haider Ackermann left his post at the brand, only to be replaced by Kris Van Assche (who made a surprise exit from Dior Homme). Confusing, isn't it?
Well, the game of musical chairs between the aforementioned brands has ended as each of the designers has officially entered their new roles, including Assche.
Although his first collection for the LVMH-owned label will be revealed in January, he already shared a sneak peek of his brilliant creativity on French writer and actor, Samuel Benchetrit.
Overnight, Benchetrit wed French singer and actress Vanessa Paradis in a beautiful Parisian setup, and whilst the bride opted for a vintage white dress for the ceremony and a Chanel piece for the evening, the groom was spotted in a custom-made suit by Assche.
The Belgian designer revealed the debut via Instagram and posted an image of the newlyweds with an image that read: "Vanessa Paradis and Samuel Benchetrit got married yesterday in Paris. Samuel is wearing my very first custom-made suit for Berluti."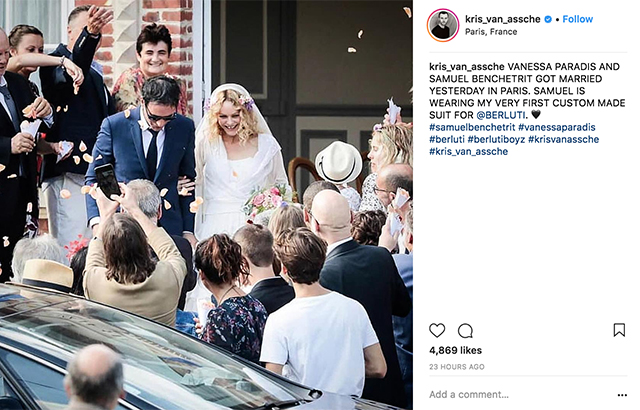 This isn't the first time a designer has made his debut at a wedding before. Remember the two-toned suit spotted on David Beckham at the Royal Wedding? That was Kim Jones' first design for Dior Homme too.
Even though Assche's first collection for the brand will be showcased in January, take a look at these Berluti sandals made exclusively for the Middle East.