A fusion of innovation and utility😎, the FENDI Men's collection unfolds its distinctive essence through the ingenious architecture of the FENDI Chiodo backpack. This masterpiece of design blends together the primal elements of form and function, crafting a narrative of futuristic aesthetics that transcend convention. (What more can one as for?! right?)
Well, absolutely, because at the heart of this creation lies the interplay between ergonomic artistry and industrial chic. The backpack showcases straps that traverse a metallic hinge and defies the boundaries of design. This ingenious convergence translates in the Chiodo pivot—a tribute to the venerable 'nail' in Italian craftsmanship—giving the backpack a transformative potential. The dual nature of the straps metamorphoses from a double backpack ensemble to a singular, functional handle, inviting a seamless transition between utility and style.
In homage to the legacy of FENDI's artisans, the Chiodo backpack is a living embodiment of handcraftsmanship and savoir-faire, for it mirrors the tools that shape the artistry of leather goods. The architecture of the backpack mirrors urban dynamism, seamlessly integrating form and function. With its meticulously designed structure and capacious interior secured by zippers, it stands as the sanctuary for the essentials that accompany the modern man's journey. The front pocket stands as both a guardian and an easy reach, embodying the notion that daily essentials deserve a cherished sanctuary. Further accentuating its practicality, the backpack houses a padded pocket at its back, ready to embrace and safeguard the digital companions of today's urban explorer.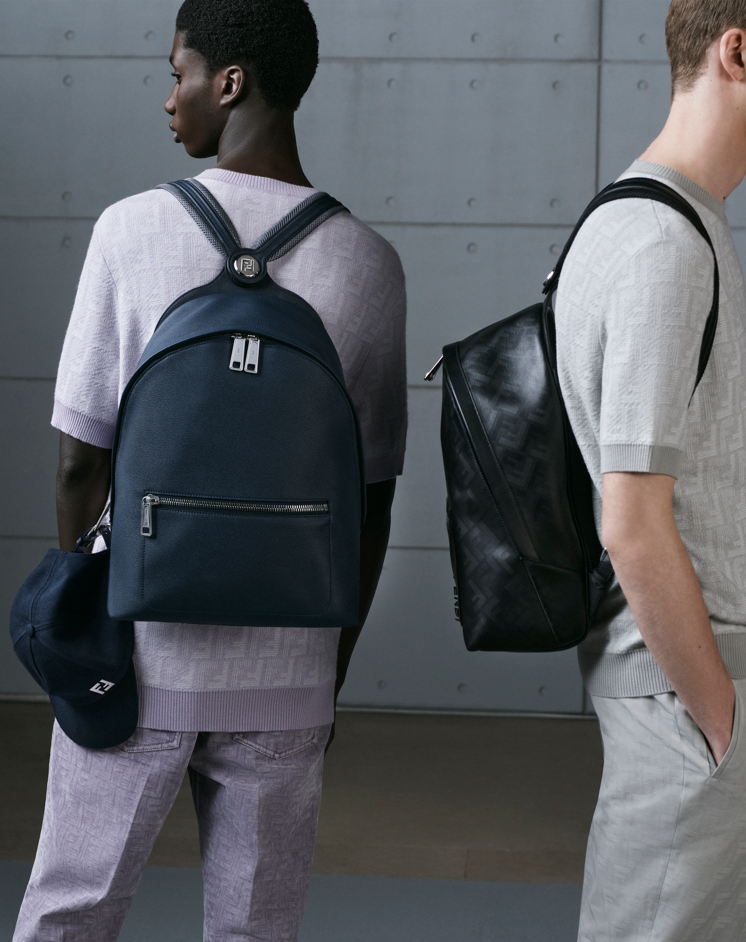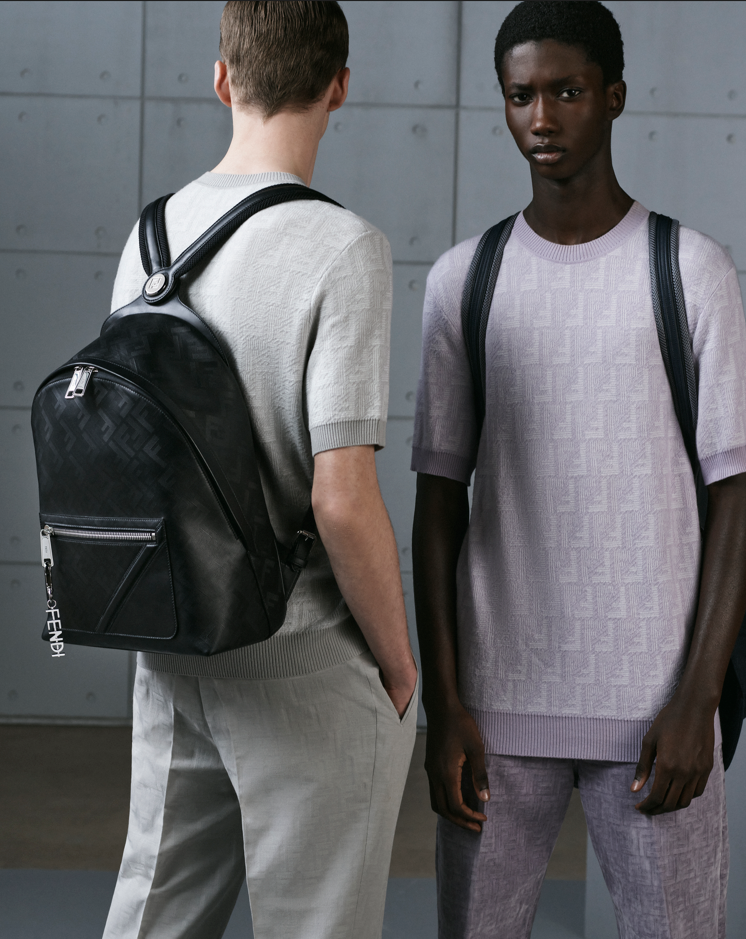 An exquisite interplay of leather finishes and palettes celebrates the mastery of FENDI's artisans. The Cuoio Roma leather, adorned in a shade of deep blue, evokes a sensuous texture that has transcended time—a signature of FENDI's timeless elegance. The Chiodo backpack embraces the FENDI Diagonal spirit, a hallmark of the Men's Accessories, as the slanting leather cut converges seamlessly with the iconic FF pattern. Merging art and innovation, the FENDI Shadow leather introduces a three-dimensional FF pattern painted in the eternal black, unveiling a tactile tapestry that tantalizes the senses. Lastly, the classic tobacco-toned FF pattern, choreographed alongside sand and black leather accents, culminates in a crescendo of FENDI's unrivaled statement.
The urban allure that courses through the veins of the FENDI Chiodo backpack captures the essence of a modern nomad, entwining utility and style. It stakes its claim as a quintessential companion for men who seek a harmonious blend of comfort and suave sophistication.
ALSO READ: EVERYTHING YOU NEED TO KNOW ABOUT COPENHAGEN FASHION WEEK SPRING-SUMMER 2024.