I know I'm not alone at disheartening reality of summer's imminent end.
It feels rather brutal. One moment you're sopping up anchovy oil, day drinking in a bikini, working on your Mediterranean tan while languidly figuring out how to possibly squeeze in yet another 3-hour lunch between naps.
Next thing you know, you're rudely dealing with alarm clocks, school, extracurricular activities, PTA's, mothers at PTA's, impending deadlines and foregoing those restorative naps for banal activities such as picking up kids, earning a living and well, general adulting. It's enough to send you screaming for the next charter plane to Paros (or whatever idyllic vacation destination of your suiting. Mine is Ibiza, FYI – but I'm open to being persuaded otherwise.)
Alas, we've all had to come back (and if you've found a way to chase summer all year long and avoid the traps of responsible normcore, I commend you).
But for us mere mortals sucking up to the default realities of life, perhaps we can make the journey a little less harrowing by keeping the glimmer of summer loucheness, it not centre stage, at least on the side lines.
It's a lofty ideal I concede. But ultimately, what choice do you have? We're going to have to embrace the "tweening" period (in-between-season) and transition gracefully, hanging onto our slightly fading tan for dear life.
Right. So, the first place to start is with what the heck I wear now.
After weeks of going pantless, stepping into anything as offensive as a trouser would be a minor misdemeanour to the spirit that is still living off the embers of your vacay-tan. So we'll tread lightly, keeping one foot firmly in summer camp; the other grounded in said reality.
May I propose the humble, nondescript cut-off jean for straddling these disparate terrains.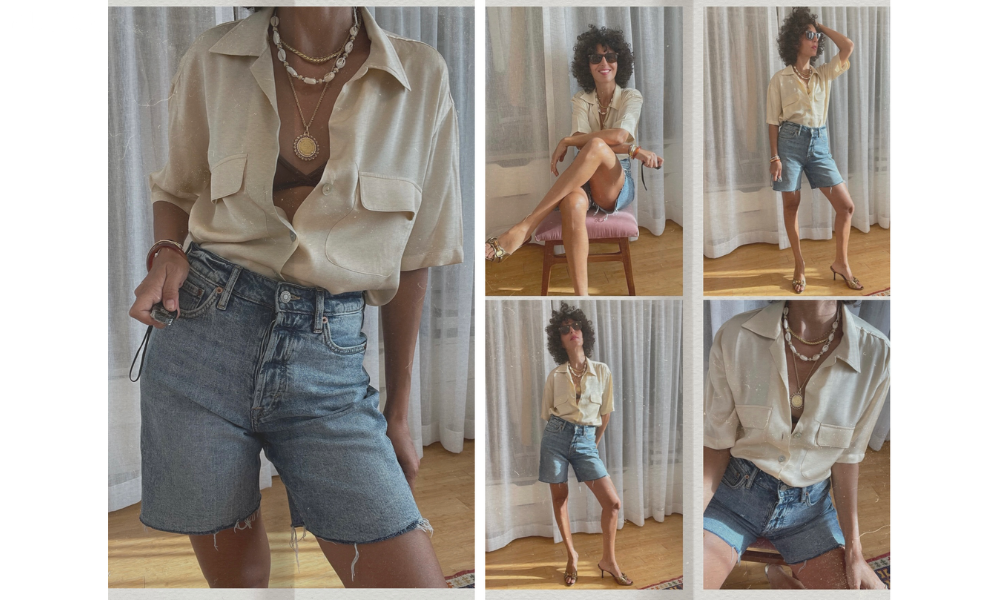 I'm trading out my denim micro shorts for the more pragmatic cut-off that's better suited to resuming city life…but still with a wink to my former island self a week ago. I've swapped out sandals for heels (heels! Haven't worn them in 2 months so I'm oddly excited for the discomfort), thrown on a silky shirt, unbuttoned of course because This. Is. A. Transition.
Also, you know those accessory pieces you bought on holiday that make so much sense in the moment, but never work in real life? Like the seashell necklace that my husband (yes, you read that right) gifted himself. Layer them on now. There's a statute of limitations which typically expires within 2 weeks of the start of the school year. After that, anything with shells, yarn, beading or the bohemian tassels you thought looked so good at that "WooMoon" party, simply get shelved away till your inebriated self resurfaces next summer.
It's just the way it is.
At some point I suppose, you're going to have to go back to the office.
It happens to the best of us. You may have to start weaning yourself off WFH, but that does NOT mean you need to slip on those pants. Not so fast. I've opted for this Tibi cool 90s inspired trouser skirt in soft cotton. I love it and it loves me. Feels pulled together, but not too corporate, like I could still slip out for a margarita meeting should the mood arise.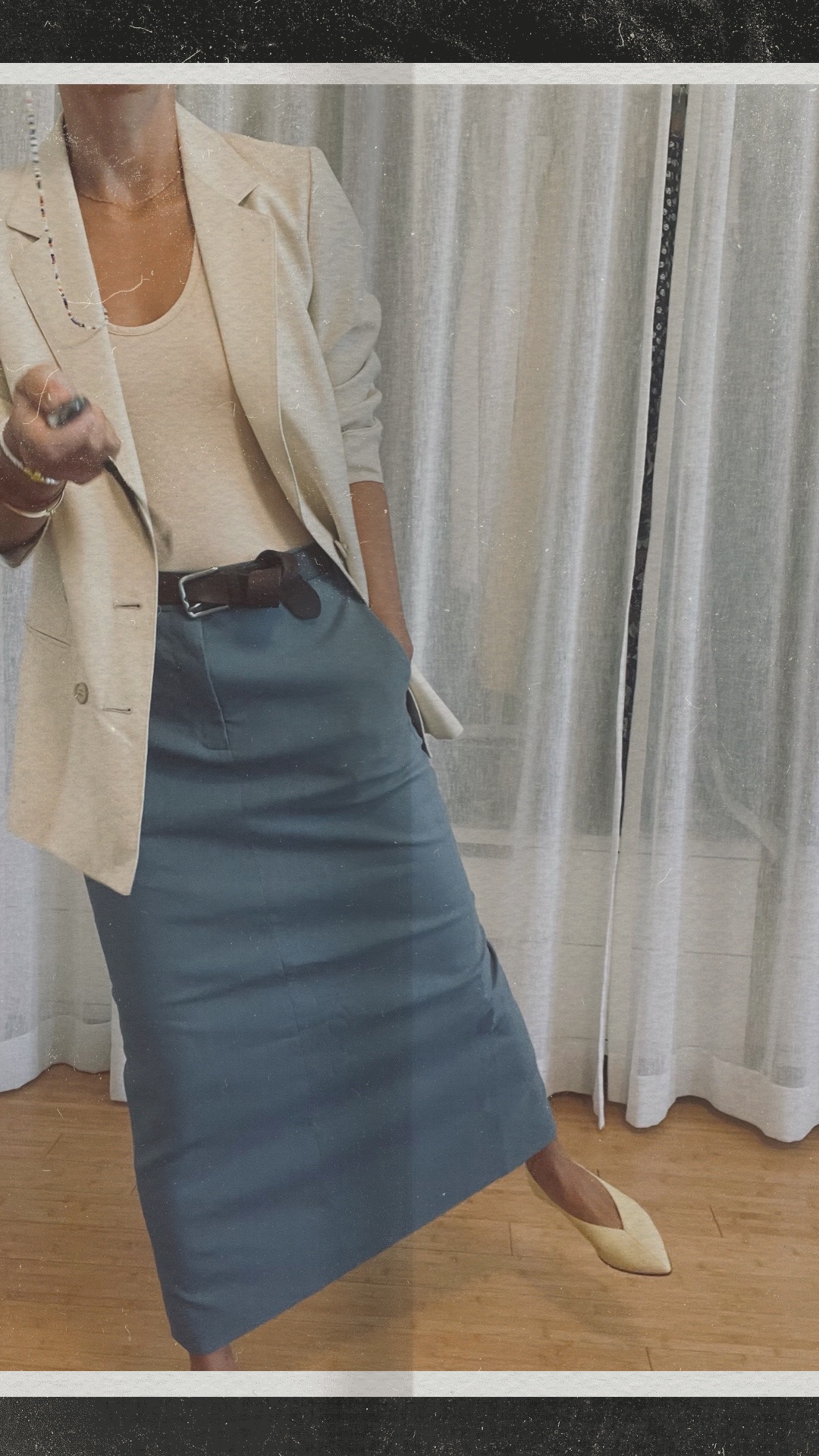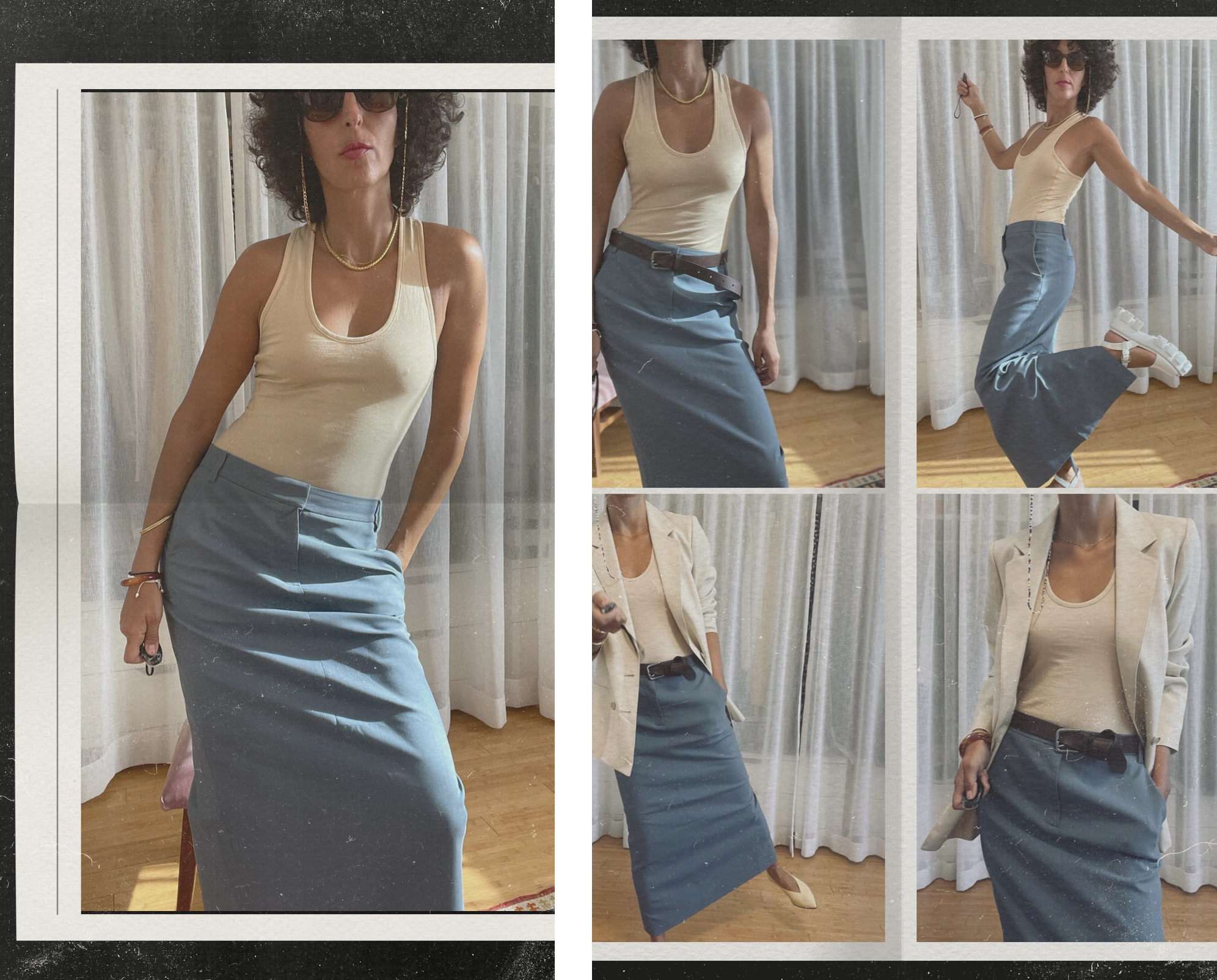 I think that's all there is to say about that. Except this. And that it's come to my attention that most of the colour palette is keeping in neutral shades of tan, to offset your tan. Naturally, this was not intentional, but intuitive. So, there you have it.
Still sticking to the neutral theme, it's been a week. Maybe you're going out? Perhaps feeling a bit more ready to broach pants? Go for it.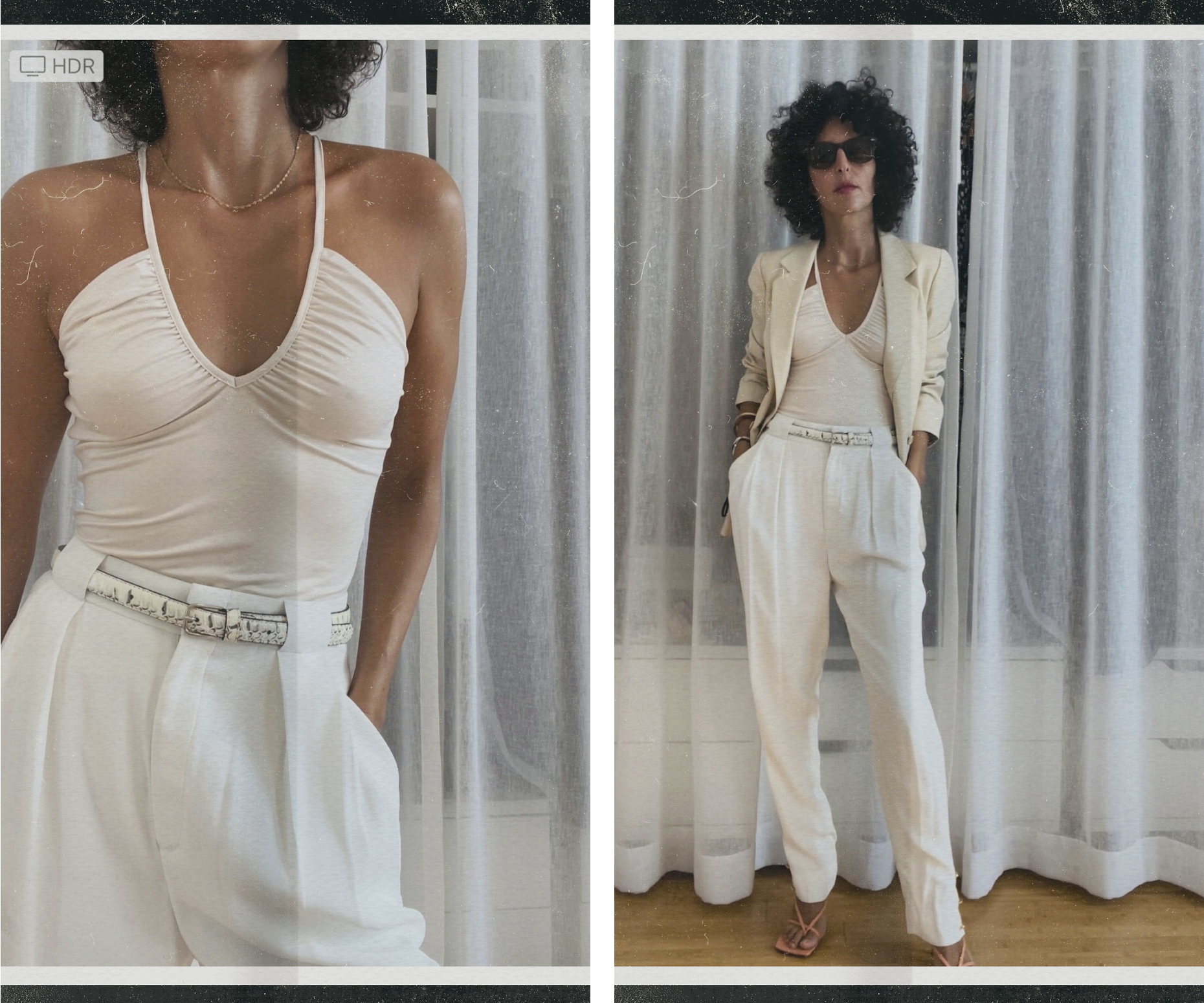 I like the idea of head-to-toe neutrality. It's a welcome respite from decision overload and makes me feel like my own subverted version of Michelle Pfeiffer in Scar Face. Delusional perhaps, but I'm still rocking my tan, which is intrinsic to the mental and emotional transition underlying this story. You see, you need these elements of a carefree, sublimated version of yourself to elevate commonplace reality. Some get by with rest and a well-balanced diet, all very honourable mentions. But for me, nothing tastes as good as tanned legs feel.
And if that doesn't do it for you, just adopt your hottest, most confident, debauched version of yourself by way of #bigdressenergy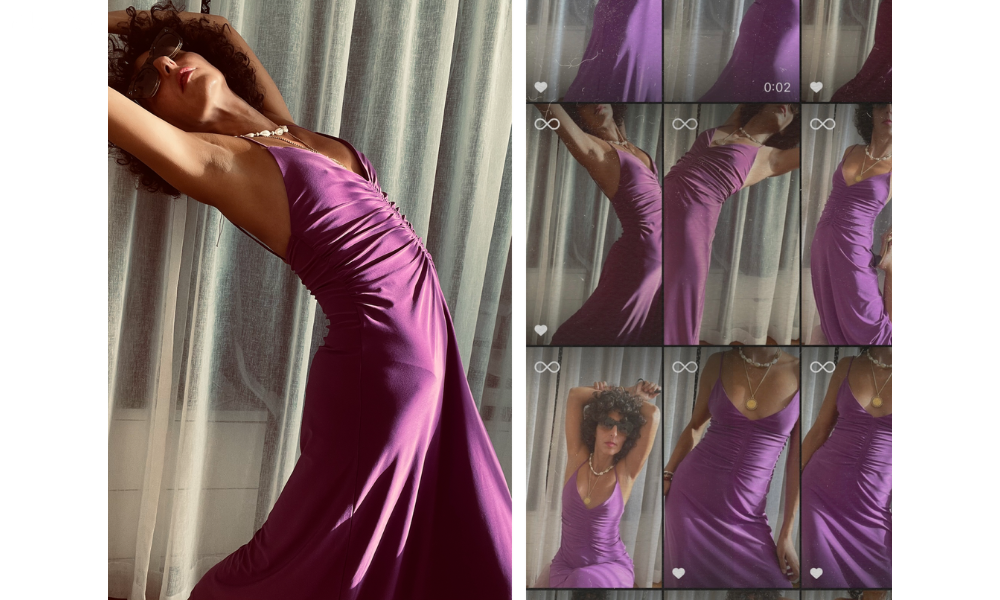 Put on your favourite slinky summer dress. The one that makes you feel like your most vixen, lascivious self, totally inappropriate for a mundane midweek dinner. Wear it anyway. Your collar bones, and your self-esteem with thank you for it.
I'm feeling generous. Here's a reading list of books you can disappear into and resurface from a state of rapture, just in time for dinner.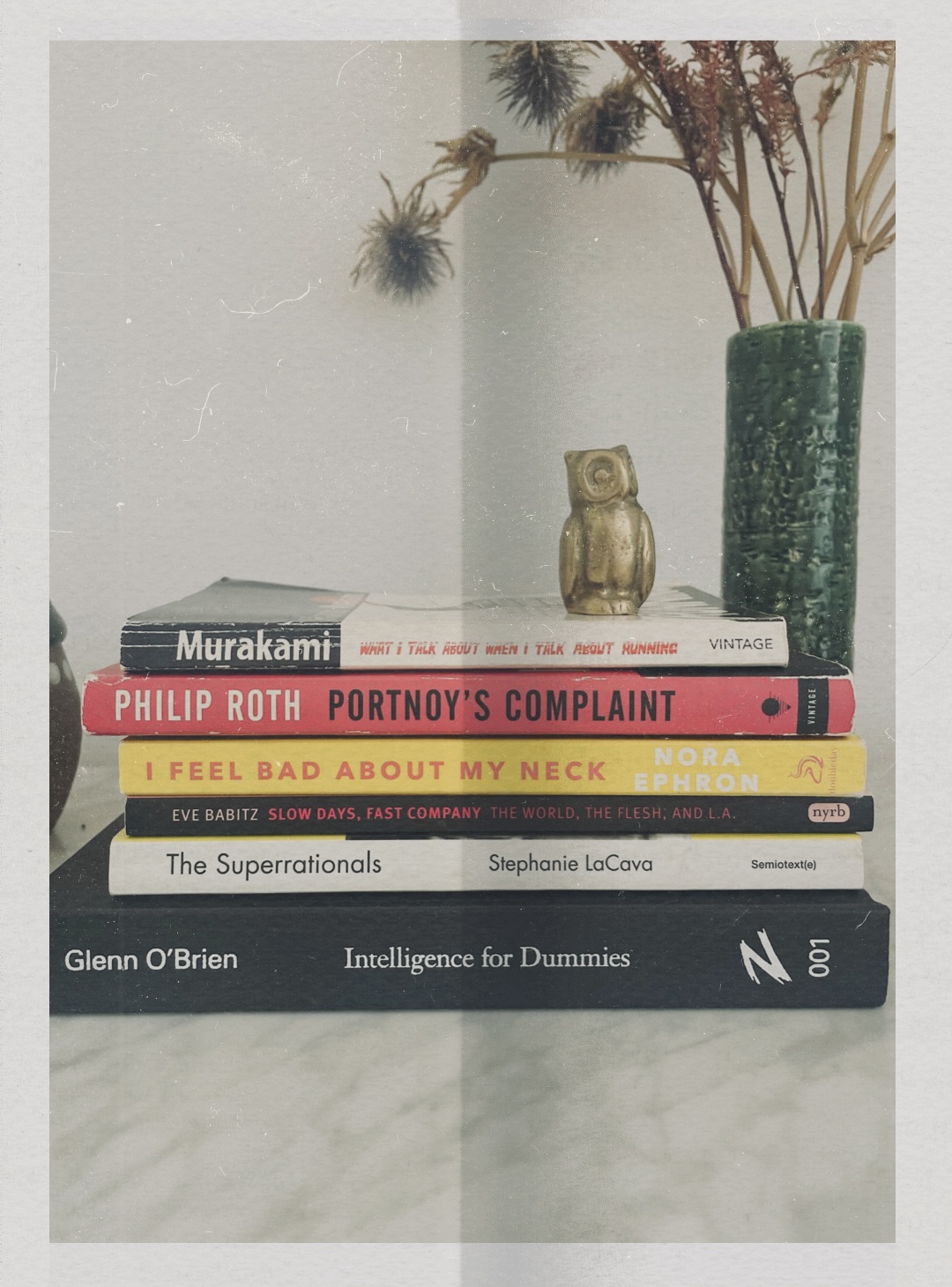 Intelligence for Dummies, Glenn O'Brien. There's cool & then there's Glenn. The original cultural commentator before Instagram made everyone an authority on nothing. Brilliant.
The Superrationals, Stephanie LaCava. Read this over the summer. Will re-read. It resurfaces into my consciousness when I least expect it. Not a conventional read, but one that will get under your skin if you let it.
Slow Days, Fast Company, Eve Babitz. If you don't love LA, you will now. Smart, witty, and brimming with hedonistic bad-girl pleasure.
I feel bad about my neck, Nora Ephron. I give this book to people I love. I think that says enough.
Portnoy's Complaint, Philip Roth. The first book that got me hooked on Roth. He's a magnificent politically incorrect sexist monster. And I kinda love him.
What I talk about when I talk about running, Murakami. Will make you pull out your forlorn, musty sneakers and run. Incidentally this segues perfectly to my final pitch…
My running playlist.
It's erratic, random, up tempo at 127 BPM (or whatever translates to fast). It's what living life at its fullest impact feels like. Plus, I've heard enough Tame Impala and post coital Bossa Nova to put me in a coma. Time for some punked up energy. Run Grrrl Run! Download the playlist here.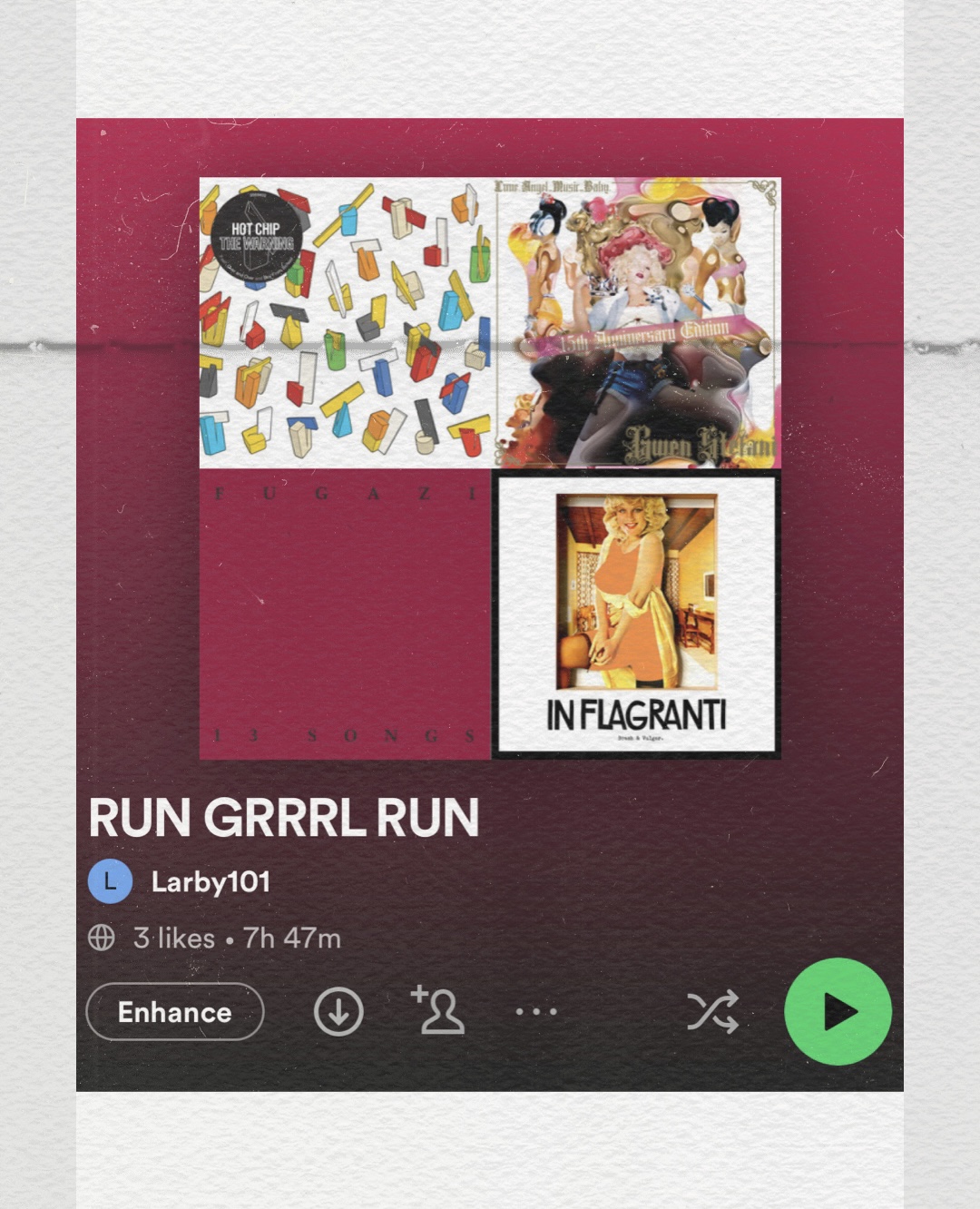 Phew! I need a nap. See you on the flip side.
XOXO,
Lara