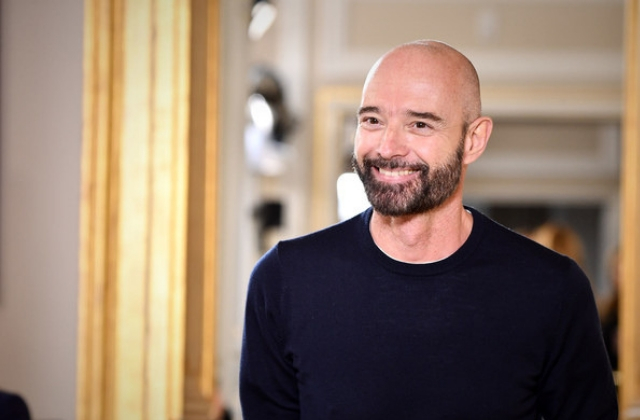 In a few words how would you describe Schiaparelli's new ready-to-wear project — Story #1?
The idea is a wardrobe created around a theme. In the case of Story #1, it is Man Ray and Schiaparelli. The wardrobe is quite complete in the sense that there is everything from dresses to t-shirts, jewellery and the Secret bag with Man Ray prints. But, it is also a wardrobe in the sense it is small: there are only a few shapes of dresses, jackets, pants, etc… It is a concise, edited wardrobe that is fresh, urban and chic.
What's the feedback on the new collection been like so far?
It is early to really say anything. But, the first reactions have been extremely positive considering the fact it is only available at Schiaparelli 21 place Vendôme (and at a pop-up store in NY, at Bergdorf Goodman for a few months).
Tell us a little about what "Stop, Look and Listen" means…
It was the name of Elsa's first collection when she moved in her new couture house – 21 place Vendôme- in 1935. We use these words throughout the collection as a print.
1 — Stop for a surprise?
As we were doing only Haute Couture until now, the surprise was to find a salons-boutique with ready-to-wear — clothes and accessories — and our first bag, the Secret. Also, we had guests with Cédric Grolet and his "clin d'oeil" cake and Nicolai Bergman with his flower boxes.
2 — Look at story #1 with Man Ray?
The name of our first chapter of ready-to-wear.
3 — Listen to our secret?
It refers to our Secret bag and the "click" of its padlock's metal clasp when you open/close it.
How did this collection and concept come together in 21 Place Vendome?
The idea was to create ready-to-wear that makes sense with Schiaparelli today and that can relate to today's women. Elsa Schiaparelli told so many stories between her themed collections and her autobiography Shocking Life. This spirit is a great source of inspiration for us to create and shape Schiaparelli in 2018, 2019 and beyond.
What were the inspirations and vision that shaped the new ready-to-wear 2019 collection?
Story #1 is about Man Ray and Schiaparelli. There is no season as it is already available. It made sense for us to start with Man Ray, a friend of hers, someone she collaborated with, with many common points.
Also, it was interesting to work with a foundation because it is not like working with an artist who is alive, who lives in his time and subsequently expresses it. We went for Man Ray because he was one of the first artists Elsa Schiaparelli met. They met in NYC when she had not yet launched her couture house and he was hardly known. It is quite amazing to be able to explore something that touched her personally because she was an Italian in NYC who became close to young-and-upcoming artists who were to shape the art world a few years later. Psychologically speaking, it came to us and made it intriguing when going through the creative process. At the time, it was not about a brand asking an artist friend to collaborate on something.
It is quite amazing to be able to explore something that touched her personally because she was an Italian in NYC who became close to young-and-upcoming artists who were to shape the art world a few years later.
To come back on our current ready-to-wear, we went through the body of work of this iconic artist that you feel you know. But, going through his creations, you understand you know very little and so begins the editing among all these works. It is about finding the ones you feel can truly epitomise something in the relationship with Schiaparelli and in their link with today's world. This is interesting and impressive as he is so iconic. Then, the challenge is to create something contemporary without being able to rework the integrity of each picture/painting. Together with the team, it forced us to push within this frame. It made us think how we can explore Man Ray for today's women. Between working with his epitaph "Unconcerned, but not indifferent" and Schiaparelli's "Stop, Look & Listen", it set the tone of where to go. We were also able to turn some of his work in studs, zip pullers and jewellery making the whole process complete. Suddenly, his 2D was becoming Schiaparelli's 3D.
How do glamour and Surrealism go hand-in-hand in all of your collections?
I am naturally drawn to sophistication, a form of opulence, elegance and a certain attitude. I understand some may see surrealistic elements in the collections. But, more than this (which refers to a very specific art movement), they are symbols of the Schiaparelli lexicon. They are not necessarily surrealistic per se. They simply characterise Schiaparelli. What I am trying to do is reach some sort of balance between these elements and many others in order to create a style that can be identified as Schiaparelli, but Schiaparelli of today.
Which of your accomplishments are you most proud of at the moment?
I am quite proud of what has been accomplished to far. Between Haute Couture (mostly) and now ready-to-wear, we managed to attract loyal clients, the international press, and amazing actresses. It means that over the years, season after season, the name of Schiaparelli has been more and more visible.
I am quite proud that some are linking us to great actresses, to receive nice messages from people, that some are not ignoring the name of Schiaparelli anymore, that we are part of the official calendar, that we have the official Haute Couture label again, that we launched ready-to-wear in Paris, that we are opening a pop-up store at Bergdorf — it makes Schiaparelli very much alive which is extremely stimulating.
Now, read our interview with Oscar de la Renta designers Laura Kim and Fernando Garcia.