Having successfully showcased his couture collections during Paris Haute Couture Fashion Week, Rami Kadi's collection was fit for no wallflowers. The Lebanese designer presented a coveted collection that glamorously appealed to the world and after his show (which marked his second ever show on the couture schedule), Rami Kadi spoke to Buro. Middle East's contributor, Farouk Chekoufi, about Isabeli Fontana as his bride, why he wanted to make become a fashion designer and why it was difficult, as an Arab designer, to come to Paris and to compete with all the others designers.
What made you want to become a fashion designer?
Since I was born, I always knew that I have a love for art and especially, for clothes. The first fashion memory was at two and a half years old, and I was crying to get my mum a pair of shoes and so I made her buy them, and that was my first fashion memory. This eventually grew up with me. I was always drawing dresses and trying to make dresses out of anything I have at the house.
How would you describe the Rami Kadi brand today?
I position myself as a young designer that is working in couture and that is giving a new feel to couture — especially in the Middle East. Most of the designers that are from the Middle East, they work towards the same direction. It was very difficult for me, as an Arab designer, to come to Paris and to compete with all the others. This is why, what makes me strong, is that I always like to mix fashion and technology, to bring new ideas to embroidery, and to think out of the box. I can get new pieces and new material that would differentiate me from other designers.
Can you walk us through the process of designing? What's your secret?
The secret is, there is no secret. I always like to think out of the box. If you say orange and red don't match, I like to make them match. If they say aluminium foil is not a fancy material and you cannot use it in couture, I like to use it in couture.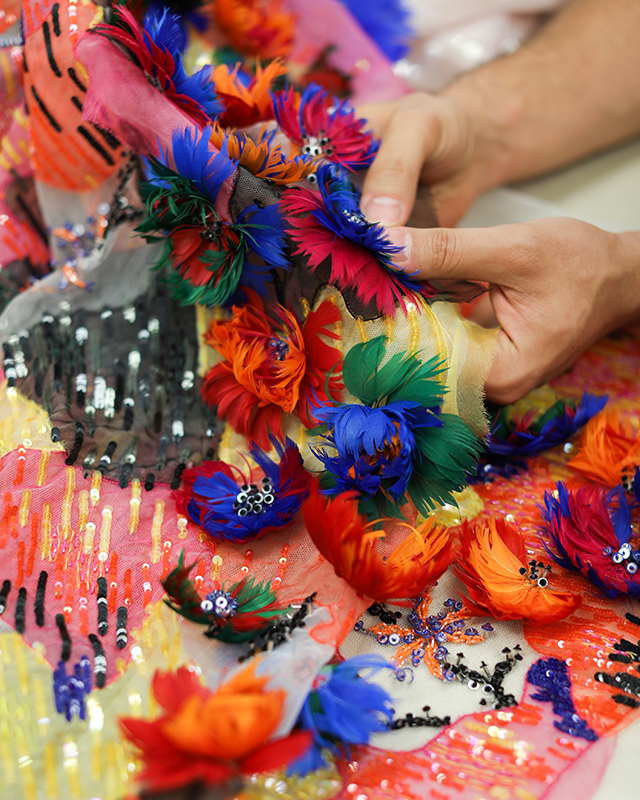 Who is the Rami Kadi woman today?
She is a cosmopolitan woman that likes to turn heads when she is around.

What motivated you to create your own label?
It's not easy and it was by coincidence. When I graduated from ESMOD, I didn't want to become a designer instantly. I wanted to have more experience with other designers and I wanted also to continue my studies. However, I got the opportunity that was at Starch Foundation — founded by Rebecca Rouse and Della Hazab. So, Rebecca Rouse told me: "Come Rami, let's apply to Starch" and I said: "No, it's too early for me".
She convinced me and so, I have applied to Starch and they have accepted me, and they gave us the opportunity to showcase our collection in downtown Beirut with zero fee. I started to have clients and this is how it happened. So, I didn't want to go back to point zero, but it was a bit difficult for me because you always learn from your own mistakes and it's more painful than learning from others.
What is the ultimate Rami Kadi aesthetic?
I think like strong colours and like embroideries.
What's the best part of your job?
The best part for me is creating wedding dresses and making my customer's dreams come true. Every girl has dreams of her wedding day and I love this process.
And your favourite star?
I can say Dita Van Teese! I've always been fascinated by Dita, what she does and the way she presents her art. 

How do you keep your ideas and your creativity fresh?
You can find inspiration anywhere around you, even if you're in a place where there is no one, you can always find inspiration. You just need to keep your eyes alert and your mind alert. There are lots of times where, because I don't see well without my glasses, I remove my glasses and I try to imagine what's out there.
What is the most creative detail or embroidery in your new collection?
This time, we have worked with porcelain and we have hand painted lots of porcelain leaves, and that was new. We've created a knit embroidery with sequins instead of creating a knit with wool or whatever material.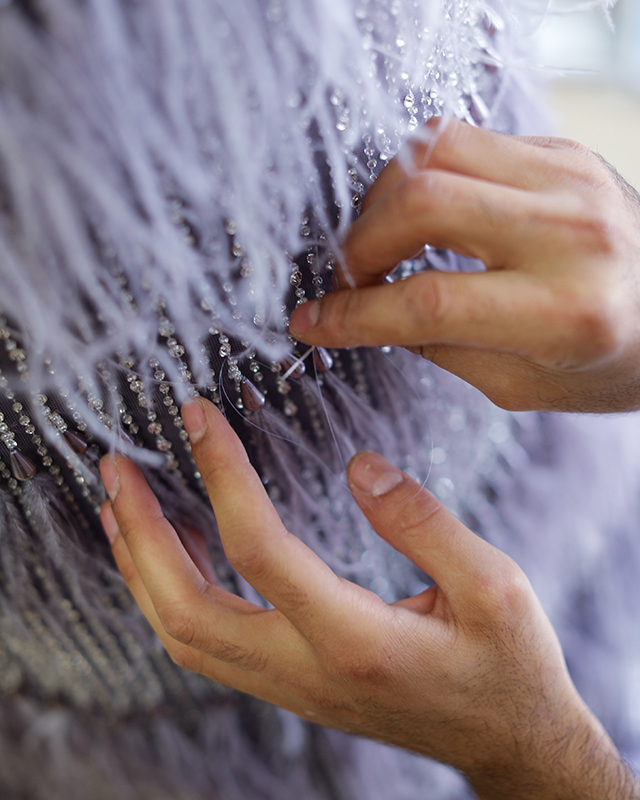 What about the trends and aspirations for the new collection?
It was super floral! You had lots of flaring and the dresses were moving very lightly on the runway. We worked with lots of ruffles and lots of flaring.

What does luxury mean to you today?
Details! Lots of details that are discreet.  

What's your vision about the 'see now, buy now' approach?
I agree with it, but just not in the couture field. Our clientele is very niche. You cannot create many dresses because all your dresses should be unique and it's impossible.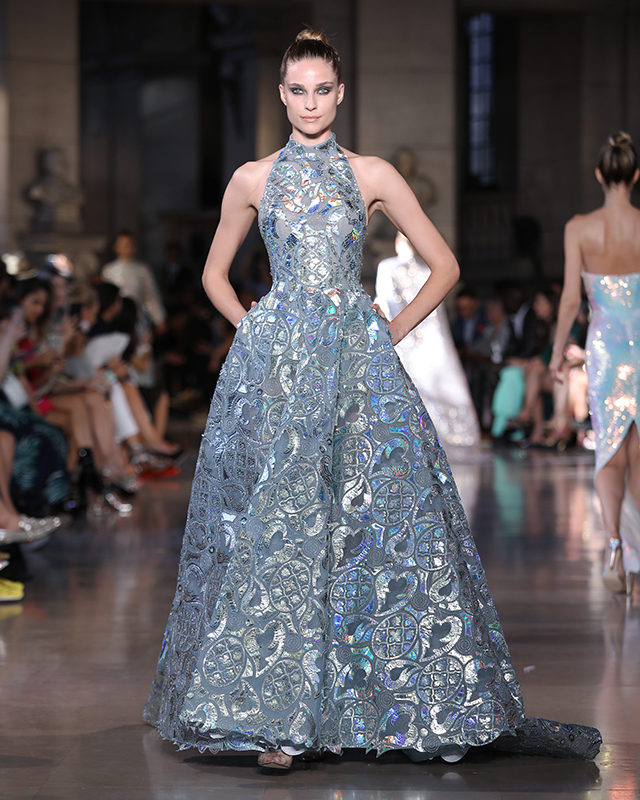 How important is social media for your brand?
Yes, and people know me because of social media.
Can you tell us more about the dress that you designed for Kendall Jenner at the Vanity Fair dinner?
Unfortunately, I didn't meet with her and it wasn't a dress especially made for her. Her stylist approached the brand, got the dress and this is how it happened.  

Tell us about the wedding dress you designed for Isabeli Fontana to model on the catwalk?
I wanted a girl that would look like a Rami Kadi bride. I wanted her to be floating in the dress, I wanted her to be very modern, and Isabeli would fit this dress perfectly. And this dress is also very modern, with little pieces of tulle that were applied on the dress and the embroidery was under the dress.
How long did it take you to create this dress?
I think around 500 hours of work.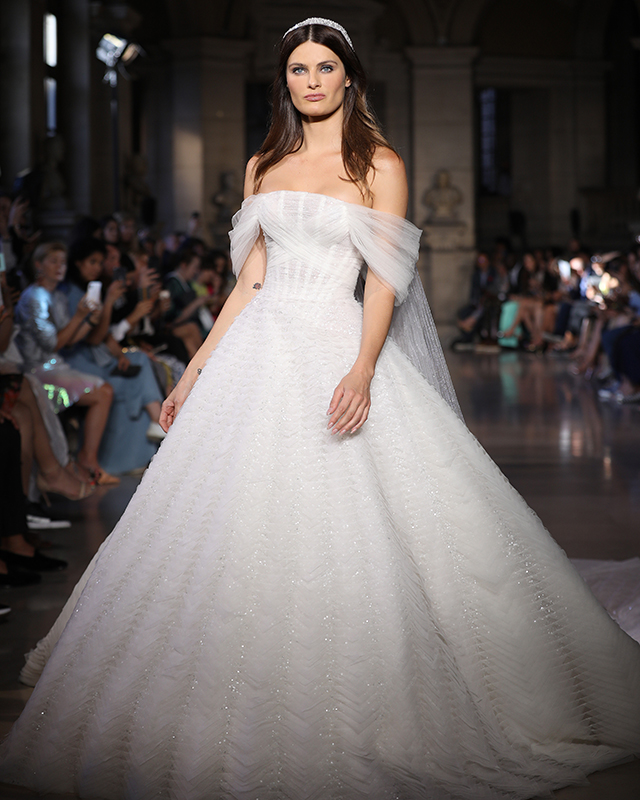 Now, read our exclusive interview with Rami Kadi during the 2019 Cannes Film Festival.