In 2016, Fernando Garcia and Laura Kim were appointed as the co-Creative Directors of Oscar de la Renta. It was a sort of homecoming for the designers, who had each spent their early years in the fashion industry at the house, learning from Mr de la Renta himself. After leaving in 2015 to launch ready-to-wear label Monse, the pair built up an impressive reputation for delivering cool, smart clothing that women actually wanted and now, they're doing that at Oscar de la Renta, too. The pair is in town this week for a trunk show and to get to know the region and we stole a few minutes of their time to talk all things Resort and royal wedding…
Welcome to Dubai! What's your initial reaction?
FG: How beautiful and rich in culture it is. The people are wonderful and so confident and their way of dressing is so colourful.
How did you end up at Oscar de la Renta? I know you both had connections to the brand long before you were heading it up…
LK: I worked for Oscar de la Renta for 12 years before we left to start Monse. I started there when I was 21, when I was still in college.
FG: Same. It was both our first jobs. We worked our way up, learned everything from him so our instincts are sort of built inside of us through him and then when we went to do Monse, we learnt a whole other world of things that we never learned about in the house and that helped us come back in full force and take on the job.
What was your initial reaction when approached by the brand to head it up?
FG: It was bittersweet. It was interesting because of the climate of things that were going on but we missed him so much. But we were so excited at the same time.
LK: Well, Alex [Bolen, the CEO of Oscar de la Renta] called me. (laughs). I actually don't remember. It was such a long period of discussions. But we were so excited to go back, we were ready to go back home.
What does turning up to a new job like this look like for fashion designers?
LK: I don't remember the first day because we kept visiting before! (laughs).
FG: All of our lessons we learnt through Oscar so it was less daunting than a lot of people maybe assume because we knew the staff, Alex, the family so that part of it we were luckily a little bit ahead of the game in and it was just about injecting new products into our existing customer's closet: evening separates, more tailoring, denim even. And by that, we gained a new one as well.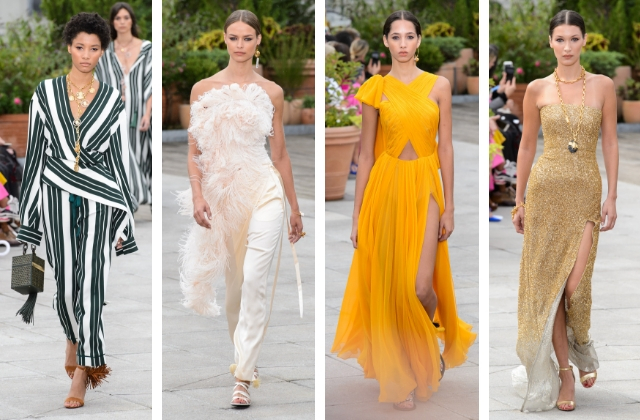 How has the Oscar de la Renta woman changed under your leadership? Has she changed, or is it that you've just gained a new set of customers that maybe previously didn't shop from the brand?
LK: I think the world changed and the way women dressed changed and I do think we have new customers that we've met that are young professionals.
That previously hadn't come to the brand?
LK: Maybe she was there already but we hadn't gotten to meet them. Now we can see them on Instagram, things are more transparent.
Was there something that Mr de la Renta taught you that you've taken on to lead the house?
LK: He was very open to everyone's opinion and he always let people do their thing even if he didn't agree with it. He let you try it. So that's one thing I learned from him. Even if I disagree, I think maybe I'm wrong, let's give it a go and give everyone a chance to work on their ideas.
FG: It sounds naïve but a sense of having fun everyday comes through in your work. A product that looks like it was overly designed or designed during a bad moment in the day shows, so that really was a great lesson that we got from him.
"The people [in the Middle East] are wonderful and so confident and their way of dressing is so colourful" — fernando garcia
How did you take the brand's heritage and work that in with the vision you had for the brand moving forward?
FG: Laura wants to wear the things that she designs and she lives a much different life than the customer the house was known to be catering for so it's about injecting a sense of practicality that wasn't necessarily there before. Everything is a little lighter, more comfortable, sexier.
When you begin designing a collection, who takes care of what?
FG: I think the yin and the yang is there.
LK: To start the collection, in the beginning we're developing a lot from scratch. Fernando works on embroidery, I work on fabrics, so we divide that. Then we start sketching, Fernando focuses on evening and I focus more on the daywear. Every step of the way we divide but we always discuss what we're doing and listen to each other's opinion.
How do you deal with disagreements if and when they come up?
FG: All the time. (laughs). I don't think we'd put anything on the runway that either one of us deeply disagrees with.
LK: No.
FG: If we both cannot come to terms with something, it's not in the show. But other than that we just push the product forward as much as possible so that it has a good balance of her point of view and mine and that of the customers as well.
We're here to see the Resort collection today — what was the inspiration behind the collection?
LK: We started looking to porcelains; it was also during the time when we were working with Meghan Markle's mother on her outfit [for the royal wedding] so it has the pastel tones. It is extremely feminine, the Resort collection, as we wanted to do that through soft dresses, florals, easy-to-wear pieces. It's transitional.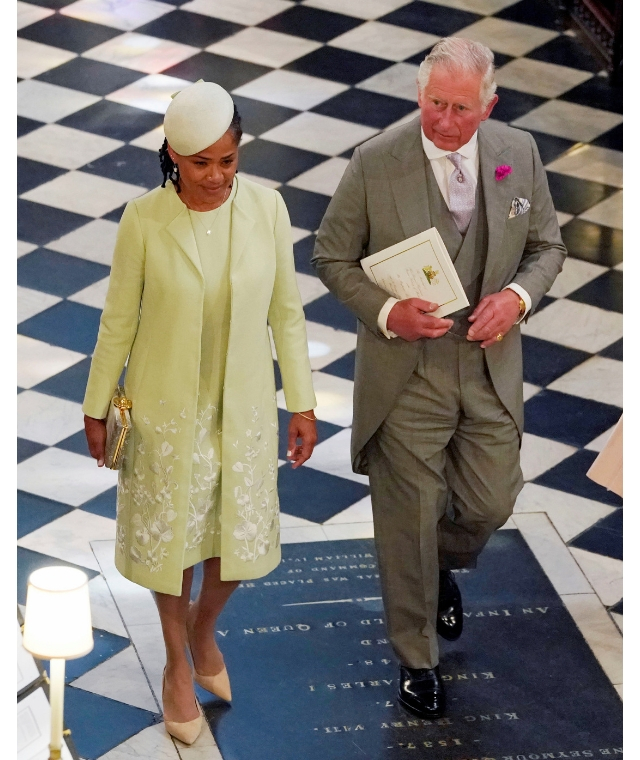 And speaking of Doria, how did that whole thing come about? Did you reach out? Did they approach you?
FG: Yeah that was a very exciting phone call. Meghan Markle's assistant sent us an email one night and said she would like to speak to you guys about something and this was a few months before the royal wedding so that was quite an alarming email to receive (laughs). I was like, there's no way she doesn't have her wedding dress figured out yet but it wasn't that and it was a very pleasant phone call. She wanted to have an American designer represented in the royal wedding because she's American.
So it was Meghan that called you to speak about it?
FG: Yeah. And then we flew to L.A. to meet Doria and she brought us snacks to the fitting.
LK: She's so sweet. Her snacks were so cute too.
FG: They were healthy snacks because she's a runner.
LK: Yeah it wasn't like cookies, it was very thought out.
How long did you have to make her outfit?
FG: We had a few months, it was enough time. We gave her two options, given the weather and she went with the pistachio colour.
She looked so lovely on the day. Has there been any knock-on effect from that moment? Whether increased sales, new followers?
LK: Well we had crazy press! (laughs) It was insane that morning.
FG: Yeah it paralysed us that day.
What was that feeling like? You dress celebrities all the time but this is on a whole other level in terms of exposure…
FG: There was this eerie sense of unity. When you're in New York and you're watching the Oscars you think ok some people in the world are watching this but you really felt that the world was watching this and that sort of amount of pressure was on. We didn't know if something had happened, it something had spilled on the outfit, you don't even know that it's going to actually happen and when it came out it was quite exciting.
"We went to the Grand Mosque yesterday and I was looking and I thought people love embellishment here, even on the buildings! And I thought this is like our brand!" — laura kim
And that must have been early in the morning for you guys…
LK: Yeah Fernando was up since like 6am.
FG: I was very stressed.
LK: I woke up at 9am and was like, what happened? (laughs). On Instagram I gained like thousands of followers.
FG: The Palace went a little radio silent a few days before the ceremony because they were so overwhelmed with work I'm sure, so we didn't actually know if it was going ahead. We usually get a stylist confirming that someone is wearing the look but we really were in the dark here and hoping for the best.
What has the reception to your vision of Oscar de la Renta in the Middle East been like?
FG: We were at a cocktail party last night where we were hearing everyone's feedback about what they want to wear here and what they're seeing, what they're not seeing and what they're happy about. That's what we're here to do, we're here to learn and to soak up the culture and give them more of what they want.
And did you find that the customer was quite honest here, and open about what they wanted?
LK: Yeah.
FG: They're confident women Middle Eastern women.
I feel like that's something that you can't really understand until you get here about how much Middle Eastern women know about fashion and the silhouettes, materials, what they like…
LK: It's true. They grew up with it. They saw it from their mother. It's not like that in America for sure (laughs).
Are there key silhouettes here that do better than others?
LK: Look 31 from F/W '18 is doing really well here. It's one of my favourites, too. It's very flattering. And it's sold really well for us.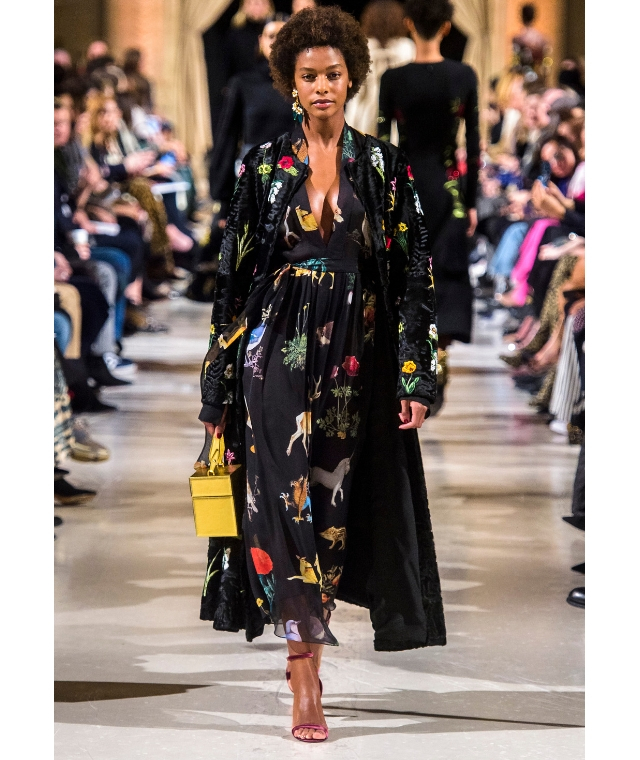 I think what Oscar de la Renta is as a brand is entirely fitting with the aesthetic of the Middle East.
LK: We went to the Grand Mosque yesterday and I was looking and I thought people love embellishment here, even on the buildings! And I thought this is like our brand! It's embellished and rich. It's texture over texture.
Anything new coming up you can tell us about?
FG: Yes we're working on Pre-Fall. Also, Laura's sister who is an architect is helping us develop the store in Paris which will give us more of a presence in this side of the world at least. We're planning to come back and do more events and get to know more of this Middle Eastern world.
The Oscar de la Renta Resort 2019 trunk show is taking place until today at the Fashion Lounge in The Dubai Mall's Fashion Avenue.