A chance meeting between on a street in London over a decade ago led, not only to a great romance, but also to the creation of one of the world's most beautiful fashion houses. Tamara Ralph & Michael Russo, both Australians now permanently based in London, are the brains behind couture and ready-to-wear label Ralph & Russo. Having been worn by Hollywood royalty and actual royalty (it was the brand of choice for the Duchess of Sussex's engagement shoot earlier in the year after all), the brand is a household name in the industry thanks to its beautiful, romantic creations. With stores in London, Paris and Dubai (with a select few other destinations on the way), the brand has gone global since launching in 2010. Here, Tamara and Michael chat with Buro 24/7 Middle East contributor Farouk Chekoufi about fate, fashion and finding their place…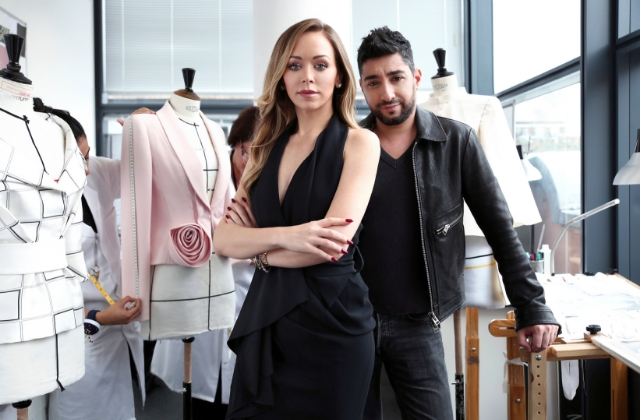 You're Australians, how did you end up in London?
Tamara Ralph: Yes we are, I'm originally from Sydney and Michael from Brisbane. Michael had lived in London for several years when we met and worked within business consultancy; he'd actually just sold a company when we literally bumped into each other on the King's Road. (laughs)
Michael Russo: Tamara was taking some time to explore Europe and whilst finding her bearings in London, was almost knocked off the pavement by a fellow Australian, me! (laughs) Making my apologies and acknowledging our native accents, we connected immediately and after months of a long-distance relationship I booked Tamara a one-way ticket to London. From there, with love, a shared drive and determination, we made London home both personally and professionally, launching Ralph & Russo in 2010.
How did you get started in the fashion business and when did you start working together?
MR: From the beginning, Tamara's sheer drive and wildly creative nature was so apparent to me that when we discussed our future together, we realised that we shared not only the same vision of building a brand, but that her creative talent combined with my background in business established the perfect foundation for such a venture. Utilising a roster of clients that Tamara had built from designing bespoke pieces in Australia, we established the brand in 2007 and never looked back, launching Ralph & Russo as it is known today to the wider public in 2010.
What is the best part of your job?
TR: There are so many elements of my role that I love, but ultimately, being able to make our clients dreams and my own creative visions a reality is really very special.

What inspires you as a designer to be stronger and stronger every season?
TR: As a designer there is constant will to push boundaries, to innovate and inspire change in the industry. It really is an innate desire and determination to create that drives me each season.
Do you have a favourite star you've dressed?
TR: We've been so incredibly lucky to work with some of the world's most inspiring women, that we are now blessed to call friends and brand ambassadors. I'm afraid it is just impossible to pinpoint one favourite star when we have so many that we love working with and are so grateful too for their support.
You dress so many celebrities today around the world for red carpets, what is the most beautiful souvenir you get from these moments?
MR: Seeing our designs on the red carpet and the world's stage, so to speak, is an incredible souvenir in itself.
Tell us a little about your headquarters and studio…
MR: Our London Maison is based in Mayfair in a traditional town house and is where all of our collections are displayed and where we welcome our global clientele. Designed entirely by Tamara, the interiors reflect elegance and tranquility, acting as a space that our clients can truly feel at home in. This level of hospitality and comfort is so incredibly important to our brand ethos and is an element of the Ralph & Russo experience that we incorporate into every retail experience'.
TR: Due to the growth of the company in recent years our London atelier is now separate to our HQ and based in Chelsea, so I am always back and forth between the two locations. With an ever-growing team and 350 craftsmen at any given time, the atelier marks the creative hub of the Ralph & Russo universe.
What is your daily routine?
MR: With the brand growing so quickly and our current global expansion plans, sadly routine is no longer within our vocabulary! (Laughs) We of course have our own health regime and morning coffee order that adds some element of routine to each day, but we are both so often travelling and working on new projects for the brand that each day is always different, and to be honest, I wouldn't have it any other way.
Your accessories and handbags are so chic. Tell us about how you come up with the designs…
TR: The key to a successful design is really understanding what your clients are looking for and struggling to find on the current market. The Alina clutch and Eden pump, for example, are two hero accessory designs that saw success by combining elements of jewellery with functionality.
What is your vision for the brand?
MR: Tamara and I have always shared a vision of Ralph & Russo becoming a synonym not only for a brand, but for a lifestyle. With many plans underway for new products across cosmetics, interiors and travel, we want to extend our perception of luxury living and design across all outlets, so that clients strive not only to own a piece of Ralph & Russo, but to live a Ralph & Russo lifestyle.
How do you keep your ideas and the creative dialogue fresh each season?
TR: Fashion is so inextricably linked to current affairs, movements, materials and innovations both within and outside of the fashion industry, that remaining well informed is really key to delivering a fresh creative dialogue season on season.
How would you describe the style of Ralph & Russo?
TR: The Ralph & Russo style is a direct reflection of our muse — she remains the modern woman of today, elegant, empowered and a true leader in her field.
What's the most outlandish detail you included in the new collection?
TR: Colour blocking was a key theme this season and we really wanted to pair colours in a new way, so there are some extraordinary combinations at play — from tangerine and raspberry pink to fluorescent turquoise, royal purple and mustard yellow.
How many collections do you design each season? Is there one season or category (like couture) you prefer over another?
TR: We very recently launched our first pre-season collection of ready-to-wear with pre-S/S '19, taking the brand up to six collections per year, with two being couture. As a designer, I thrive working on new collections with different seasons and ideas, so I can't honestly say that I have ever preferred one over the other; each season and product category presents a new challenge and an opportunity to innovate. Couture will of course remain at the heart of the brand and is in many ways more boundless than ready-to-wear, but both have their own relevance and importance, which must be respected.
How do you transfer the essence of haute couture to ready-to-wear and accessories?
MR: Quality, craftsmanship and innovation remain at the centre of the Ralph & Russo universe and are all elements that we actively incorporate into our ready-to-wear and accessories lines to ensure brand identity is consistently present across all categories.
Tell us more about opening your Harrods store?
MR: Opening in Harrods has really acted as a catalyst to the brand's wider expansion and further proved the market demand for couture. As a couture brand at the time, we were in many ways operating a new venture through our boutique, offering a glimpse of couture —which has always been a very exclusive world — to a wider commercial market. As a brand committed to the highest level of luxury and exceptional service, we also had a natural affinity with Harrods and its ethos, and as a result, the success that we have found there has been incredible.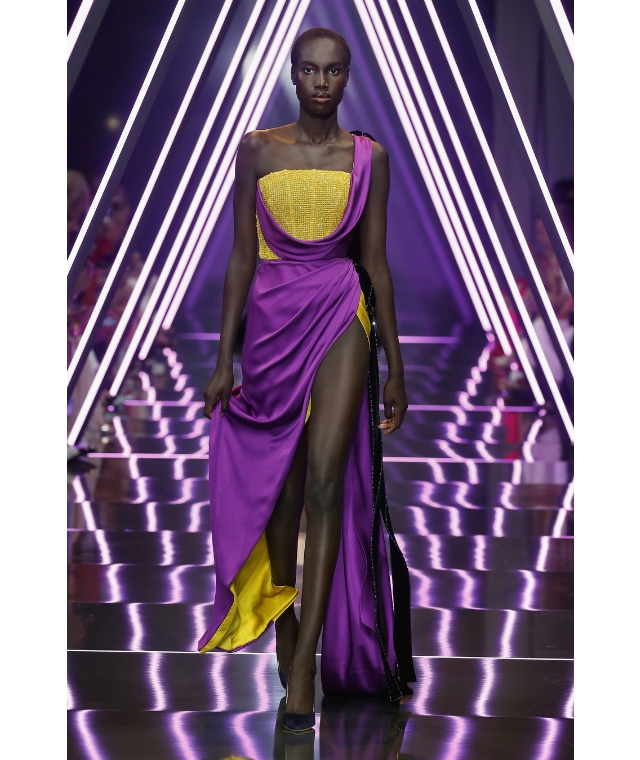 How would you describe the style of your couture clients?
TR: The beauty of couture is that it is so dependent on the personal and unique style of the individual that there is no such thing as a set style across our clientele. Each individual client can only truly be connected by their desire to feel confident and beautiful in couture.
How would you describe the creative process for each collection? Is it the same each time?
TR: Not at all — the creative process is never uniform. With each collection there is always an overarching vision and inspiration, which remains the focal point of the season; but there is so much to consider when designing a collection that as I continue to work through the design process I am constantly struck by new ideas. Whether it be new techniques or a pattern I've seen in a magazine that could be perfectly incorporated into an embroidery, the design process is very much a natural being that changes as it continues to grow.
Tell us more about your haute couture F/W '18 collection, its trends and inspirations?
TR: The F/ W '18 couture collection married the vibrancy and freedom of the eighties with style icon and femme du monde, Jacqueline de Ribes. Marking the first collection to be designed through the eyes of an individual muse and a celebration of her art de vivre, the collection embodies grace, vivacity and reflects her overt embodiment of 'style as personality'.
You've got an increasing presence at the Cannes Film Festival each year too…
MR: Cannes Film Festival remains a very special event for the brand and continues to be one of the most talked about occasions in the fashion world. From a commercial perspective, the festival presents an opportunity to unveil bespoke designs in front of an international audience; but exposure isn't the only reason we choose to participate each year. Cannes is a true celebration of art, across film, fashion and design, and to partake in this conversation alongside the globe's industry leaders is like being part of a movement. A movement that is committed to the future of the industry, to innovation and excellence.
What does luxury mean for you in the modern day?
MR: Luxury in the modern day epitomises quality, convenience and above all, inimitable experience. Where time is of the essence for the fast-paced contemporary world of fashion and these three elements have become so easily lost, time for Ralph & Russo is an opportunity to build both a unique product and a tailored experience for our clients.
Now, read Farouk's earlier interview with Quentin Bisch, the man behind Van Cleef & Arpels' newest fragrance.