If the name souds familiar but you're not quite sure how to place Guo Pei, we'll say these three words: Rihanna. Met Gala. The designer was responsible for the extraordinary yellow creation worn by the singer on the 2015 Met Gala red carpet when the theme was 'China: Through The Looking Glass.' Although Pei had been designing couture for years before this moment, it undoubtedly put her on fashion's wider radar and in 2016 she was the first Chinese national to show at Haute Couture Fashion Week in Paris.
Now, three years on from Rihanna, the designer is one of the most highly anticipated at Couture Week. Just after her Spring 2018 show, the designer sat down with Buro 24/7 Middle East contributor Farouk Chekoufi to talk about how she always dreamed of becoming a fashion designer and her vision for the future of couture in an increasingly fragile fashion ecosystem…
What made you want to become a fashion designer?
My upbringing has played a big part in my dream to become a fashion designer. I grew up during a unique period in China. My mother had serious problems with her eyesight; so, when she needed to make clothes for our family, I would help her thread the needles. In fact, I learned to thread a needle when I was about two years old. Although I was young, I remember always wanting to help. Perhaps this childhood desire of wanting to help my mother make beautiful clothes slowly steered me in this direction, and in turn, into my own ambition.
I've been very persistent in my path to becoming a designer. Growing up, I had never thought of exploring other professions other than designing and making clothes. It was determination and passion that made me the designer that I am today.
What motivated you to start your own label?
I went to design school in 1982. The early 1980s was a special time for China. The cultural revolution was over and the country was developing rapidly. I was amongst the pioneer batch of design graduates, and one of the first to become a fashion designer in China in 1986. For the first 10 years of my career, I was growing with the market that had just opened up. It was an extraordinary time, coupled with incomparable experiences. Deep inside though, I was confused. I still had the desire to make beautiful clothes like those I had seen in movies when I was young. The most memorable for me, was the classic Sissi (a movie about Empress Elisabeth of Austria). I remember vividly the grand decorations, and the beautiful and extravagant gowns.
I especially wanted to make gowns like those I had seen in the film. However, this was a time when no one needed nor understood grand, flamboyant fashion. Still, I dreamt of realising my own designs one day.
Establishing my own brand was a way of giving myself the freedom and creativity space to fulfill my heart's desires — to design and make the beautiful, extravagant gowns that I always wanted.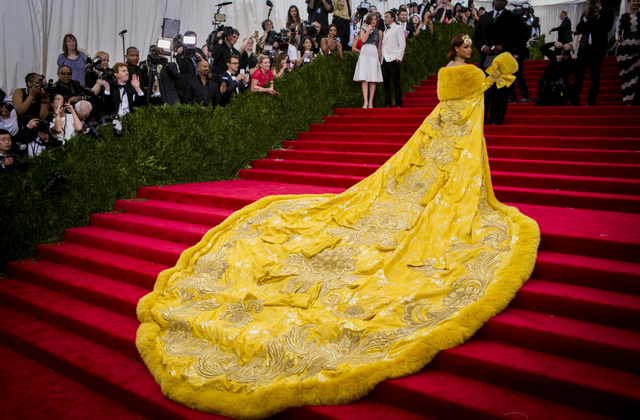 What is the ultimate signature style of Guo Pei?
A brand's style evolves over time. For Guo Pei, it is the investment of love and emotion into each creation. Through the elegant, handcrafted details of each piece in my collection, one will feel the love and effort devoted. Regardless of whether it is a piece for the catwalk, or one made for daily wear, my creations are loved because one is moved by the vivid attention to the details on every piece. I feel this has become my brand's signature style.
To me, haute couture is like the Egyptian pyramids, like jewels on a crown — it leads the direction of the fashion industry.
Can you describe your design studio?
I prefer to call it my work space. A beautifully decorated work space is very important for me. I also like to share my work space with my team. I like a spacious area with high ceilings so we do not feel restrained. I like to decorate it with lots of mirrors and ample lighting. I like brightly lit spaces.
I like my work space decorated elegantly — grand with lots of gold-coloured decorations, and beautiful stairs. I like stairs. I think they add a lovely aesthetic, and symbolise ascending to another level, or progress.
There is a Chinese saying which states that having a Paulownia tree at home will bring out the golden Phoenix. When we created our work space, I had a flight of stairs built and I personally designed the handrails. The handrail on one side has a Phoenix on it — to represent the women of China, to represent their beauty, dreams and aspirations. On the other side, the handrail is designed to look like the trunk of a Paulownia tree, almost like cane stem twining up the stairs, symbolising my dreams and ambitions. I feel I have created a comfortable work space filled with imagination.
What is the best part of your job?
I am most satisfied and proud of my team. As a designer, I feel I am very lucky to have so many individuals working alongside me. We are all chasing the same dream, and they are all working with me to create the perfect piece of clothing, scrutinising every detail. I feel blessed, content and honoured to have my team working with me.
Your collections are beautiful and wonderfully unique; what inspires you as a designer to be stronger with every season?
Artists and writers often say that their inspiration comes from life — and that is the same for me. Over time, we accumulate life experiences often filled with happiness and love. Like many, I seek happiness and stories that move me. These emotions move me, and I translate these emotions into my creations.
I have been told that my designs touch people's hearts through their dramatic flair. I feel that a piece of clothing can emit emotion and love, can deliver dramatic effects without actors, a stage or a script. This is what I want to achieve.
Designing clothes, particularly couture, is a form of art; and for me, art has to have emotion. Audiences will experience more than the superficial beauty of a work of art. He/she feels the emotions of the artist or their inspiration. This applies to any work of art, from a writer's pen stroke to a designer's stitch on a piece of clothing. For me, this is what couture is about. It affects, or even educates people. It is a beauty that is shared with its audience — like churches, or religious monuments.
I am a rather emotional person so when I travel the world, I am often moved by architecture and museums. I love history, and am more fascinated by ancient tales than I am about the future. I like to look back into history, and my work reflects this. Museums around the world are a great source of inspiration for me. Each museum contains so many hidden stories for me to uncover. With every story that I explore, I feel for the personalities involved and am always moved. As a result, I do not lack inspiration. In fact, I feel I have so much to share.
What are your favourite colours and fabrics?
My favourite colour is gold. I feel it represents elegance, pureness and quality. Gold is one of the most well-loved colours in China, and it is also a symbol of the monarchy of many countries, past and present. Gold also represents superior quality.
My favourite fabric is silk. When I was a little girl, I did not know what silk felt like. My grandmother would describe the smooth texture of the silk dresses she wore when she was younger and how it felt on her skin. From then, I always imagined the texture of silk. So, until this day, silk remains my favourite fabric.
What is your vision of haute couture?
Like human wisdom, culture and history, the future of couture will continue its evolution alongside modern human development and never disappear. However, it should not be used primarily for commercial gain. It should stay pure. We should continue to invest in the craftsmanship, the history, the creation and artistry of haute couture.
To me, haute couture is like the Egyptian pyramids, like jewels on a crown — it leads the direction of the fashion industry. Its status should never be ignored. However, the market for haute couture will not expand exponentially. Like today, it remains an inspiration for designers around the world.
What are your next steps for the brand?
It all started with a dream. I was the designer, the manager, and even the brand strategist. The brand has grown and matured over the years. Although I am constantly fulfilling my heart's desires, I have also learnt to be realistic.
I hope my brand will continue to grow stronger and become one that influences others brands. I hope I can touch people's hearts through my creations. I do not want my brand to become one focused on commercial growth, but rather one which people will love, and feel a connection to. I would like for my creations to evoke emotions in people.
Now, read Farouk's interview with make-up maven, Charlotte Tilbury.