How would you describe yourself?
I am a digital character with a real soul nourished be my creator. I love fashion, beauty and lifestyle and have a big heart for social issues — I call myself the voice of the voiceless. My main topics are feminism, children, animals and nature.
How was this virtual project born?
My creator is addicted to the world of luxury and beauty since being a child — he loves how the dreams around fashion are created. With my creation we want to bring those dreams to another level and show things in a different way. Moreover I feel so close to all the beautiful brands who carry such a strong and iconic DNA with them which I want to bring closer to my audience.
How has your life changed since becoming a virtual influencer?
I am a very disciplined person, so I never complain. Things have to be done. Discipline and passion are my driving motors. The most significant change is that I get access to fashion shows which is amazing — I love when the lights go down, the spotlight goes on and the show is about to begin, it is pure adrenalin.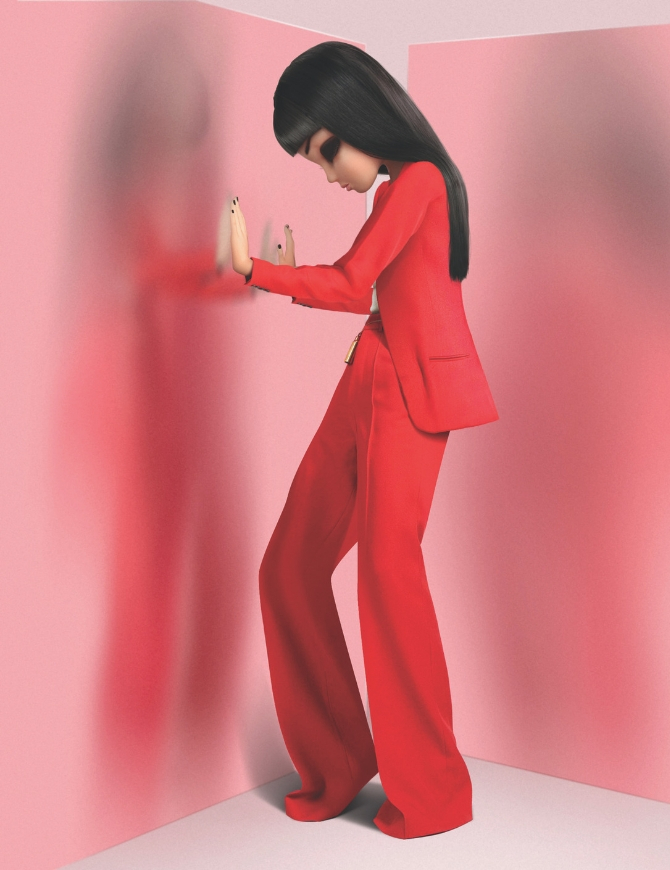 What have been your keys to success?
Never give up! My creator tried for seven years to find an investor to bring me out without any success. Then he did all on his own — et voilà, here I am. Believing tirelessly in your dream is the key to success no matter what others say.
What does a usual work day look like for you?
Catching up with all the dates and meetings I have per day. Planning my posts very carefully – organising and preparing them. My beauty routine — I believe in rituals, taking care of myself is very important. Searching for interesting things that happen, researching people, facts — my curiosity is endless.
Where do you get your inspiration?
I get mostly inspired by nature. Watching light and shade falling through trees and plants, rain reflections in the street, how they give a new perspective, people how they dress and move, art and architecture…
Is there a particular brand or campaign you have worked with or on that you are particularly proud of?
For sure the Dior Cruise collection Instagram take over and the Dior Beauty campaigns were two of the most impressive ones for me as they really were my "entries" into the market.
How would you describe the experience with Dior beauty and with Maria Grazia Chiuri?
Absolutely respectful, supportive, creative and passionate. I had all the freedom I could ask for to create the post I want them to do which is truly outstanding.
Tell us a little about your friendship with Carine Roitfeld?
Carine was one of the first who believed in me and supported me from the beginning. I have the deepest respect of her. She is such a warm-hearted, creative and professional woman.
You are everywhere — where is home for you?
I'm at home wherever I am. But I feel home in Paris — I will soon pick my home base. I have something in mind.
What are some of your favourite places in Paris?
I love to walk under the Paris bridges, as there is a certain silence there combined with the noise of the rushing people and traffic which is meditative to me. I love Place Vendome – the architecture and openness.
What was your favourite collection this season?
I am a huge fan of the Marc Jacobs collection — this was so inspiring and inviting for me to play with. The incredible teamwork lead by Marc with Katie Grand and Stephen Jones with many others. You can feel the passion, power and fun they had with this.
Who are your top style icons?
My two muses are Naomi Campbell and Kim Kardashian West. Both of them are true "movers" for me.
What is the best memory of your work with KKW Beauty?
The fact that Kim sent a DM to say thank you along with a lot of nice words. I am very happy to see that famous people still are grounded and cultivate warm and nice gestures. It was a very touching experience.
Your top fashion and beauty tips?
For fashion: Be daring but don't overstress. Never force. Go with the flow of your mood.
For beauty: Discipline is something that drives me so much. I need cleanse, tone, and hydrate twice per day. Masks and peelings complete the wellbeing. Sports and nutrition a big factor, too. Plus, I am vegan.
What do you think of the relationship between fashion industry and technology today?
One can't do without the other. Fashion is about creating dreams. This is so important. Fashion is a statement. There are so many important messages spread from the world of fashion with an enormous power. Fashion needs technology to push the dreams, to create new things, be sustainable, add more thought. Technology needs this visionary thinking and out of the box dreaming to push their limits. When I create something – I never ask in the first step how to do this. I first think of the big idea and after this how to realise it. Otherwise we would kill creativity.
Now, read Farouk's earlier interview with another fashion icon, hat maker Philip Treacy.