Inclusivity is fashion's buzzword of the moment, covering ground from ethnic diversity to size range. Because in a world of heightened exposure, it's so important everyone feels like they are part of a collective conversation.
American supermodel Ashley Graham has become a mouth-piece for the body beautiful narrative – and we love her for it. Graham is a pioneer for depicting women for who they are, not what they should be as per doctored images. And she's been successfully waving that flag in a number of campaigns having fronted Fausto Puglisi x Marina Rinaldi's capsule collection (that and Marina Rinaldi's S/S'19 campaign) and walked the celebrity-filled runway for Dolce & Gabbana's Alta Moda show in Como. And on the beauty side of things, she is an ambassador for Revlon, just to mention a few credits to her name.
It's clear she is making a difference and is here to stay.
Speaking exclusively to Buro. Middle East she sits with us, all radiant, self-assured and head strong, and irons out a few things on her mind…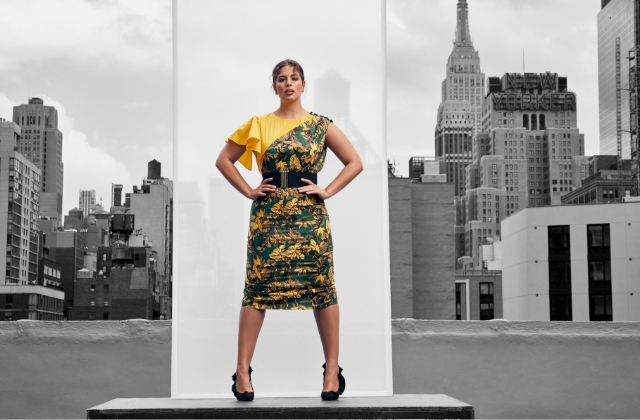 Welcome back to the Middle East. When was your first time here?
Well, this is my first time in a professional capacity. The first time I was in Dubai for 15 hours on a layover from Senegal to the Seychelles. I got on a tour bus with my husband and saw everything you can see in the city. I made good use of my time here then because I didn't know if I was going to come back.
Now that you've actually spent a night here, what do you think?
Well, it's luxurious darling. The architecture is so awesome, the food is delicious, the people are super friendly.
Hold up, what food have you had? This is an important point for us foodies…
All the carbs! We are seriously carbing it up. We're trying every kind of Arabic food we can. For breakfast we had this phenomenal egg pizza thing and then we're going to Gaia, the Greek-Mediterranean restaurant later on, too. Can we just talk about the sweets situation, here? Baclava is everything.
All the syrup, all that food coma goodness! OK, so you've been part of the Marina Rinaldi story for some time now. What is it about the brand's aesthetic and ethos that sits within your own?
[Fully clad in her Marina Rinaldi S/S'19 Denim Capsule Collection] Well, when you think about curves and luxury, there is only one name that you will ever find and it's Marina Rinaldi. I'm sorry to say it but you don't get luxury when you think of curvy collections anywhere else – maybe there are some designers who are extending their sizes but there are no houses that are doing just high-end curvy collections. So when Marina Rinaldi came to me and asked if I wanted to do a collaboration, I thought it was a perfect idea because you know it's going to be quality clothing and I basically put a young, fun and contemporary spin on it.
What are the key pieces you love from the Marina Rinaldi S/S'19 Denim Collection by Ashley Graham?
Denim has always been really hard for me to find that works for me. I mean, it's hard for everyone, right? So I wanted to make a collection where the denim had a bit of stretch so you don't need to tailor it – I hate getting things tailored but because of my body shape, I'm always getting things tailored. And I wanted it to be fashion, fun, and wearable, season after season. I love the denim dress, the jacket and white jeans – oh the white jeans, they're my favourite.
Now, let's talk body confidence. What does that phrase mean to you?
[Laughs] Not a loaded question at all! Body confidence is a conversation. I think it's very personal. I don't actually think it's about size, it's about truly owning who you are and not conforming to what society has told us is perfect. That's why I became a body activist because I wanted to make sure the industry that I was in was representing women who look like me, beyond what they've always had as the ideal body type.
Do you feel pressure to always remain physically the same? Because of course, over time we naturally change…
Nobody gets to own who you are. That's what I'm trying to say with being body confident. But yes, I have had death threats when people thought I had lost a bit of weight.
It's really unfair because you can never really win can you?
I actually wrote a Lenny Letter [a weekly online feminist newsletter created by Lena Dunham] about you, as in a follower, telling me who I am. I'm the one who gets to play the rules with my body and who I am. You're right, if you are curvy and then you lose weight there is this evil side to it all. I have a friend in the industry who is curvy and at one point she lost a lot of weight and they turned their back on her because of it. I mean, I'm not planning on losing any weight anytime soon but I know that I am healthy and happy with who I am and that's the message I want to have portrayed – regardless of weight.
How can we drive the message home that fashion is for everyone?
Keep talking about it and have advertisers put a diverse group of people in their campaigns and on the runway. Sometimes I think not talking about it and just doing it is the best way to create the change.
What do you think of Middle Eastern women? Are we doing it right here?
I know a few activists who are from here and they are using their voice to get what they want and they're doing a great job.
And finally we're guessing you don't use any face or body altering apps, right? What are you go-fo apps instead?
Instagram, of course. Caviar – [available in the U.S.] which is a food delivery app for fancy restaurants. I love the Netflix app and I'm always on podcasts. Anna Fares' Unqualified is hilarious. She says it how it is.
The Marina Rinaldi S/S'19 Denim Collection by Ashley Graham and the S/S'19 Capsule Collection by Fausto Puglisi is available now from The Dubai Mall. The Marina Rinaldi Middle East Capsule Collection by Fausto Puglisi will launch in April 2019.
Now, read Tania Fares talk about what the Fashion Trust Arabia prize will bring to the region's fashion industry.