On July 21, Barbie is taking over the real world as Greta Gerwig's highly-anticipated movie finally makes its theatrical debut. Even before it hits the big screen, the film has saturated the world with a joyous hue of pink and a surge of nostalgia. From its ubiquitous marketing efforts, countless brand collaborations, and interactive activations to press tours, the Barbie movie, and Margot Robbie's glamorous red, errr… pink carpet looks referencing the Mattel dolls are all anyone can talk about.
Now, it's not uncommon for movie stars to channel their on-screen characters at pre-release red carpet events. (Halle Bailey's ocean-inspired Little Mermaid red carpet ensembles, Zendaya's clever spidey references during the Spiderman press promotions, and Jenna Ortega's gothic Wednesday wardrobe serve as great examples). With a genius glam team–including Andrew Mukamal as her stylist, Pati Dubroff as her makeup artist, and Bryce Scarlett as her hair stylist–and Mattel's famous Barbie dolls as her muse, we naturally had tremendous expectations from Robbie's pre-release ensembles. Fortunately, she did not disappoint. On the contrary, Robbie's Barbie-inspired looks–brought to life by the creative minds at the likes of Chanel, Vivienne Westwood, Valentino, and Schiaparelli, among others–transcended all our expectations.
Here's a little recap of all the mesmerizing Barbie-inspired ensembles worn by Margot Robbie in the lead-up to the film's highly-anticipated release.
'Pink and Fabulous Barbie,' 2015
In an effort to emulate the charming polka dot dress worn by the 'Pink and Fabulous' Barbie, Mukamal took to the Valentino archives, drawing inspiration from a maroon polka dot dress featured in the Maison's Spring/Summer 1993 collection. To suit Robbie's Barbie wardrobe, Valentino recreated the archival dress in vibrant pink adorned with white polka dots. Mimicking the doll's accessories, Mukamal styled this look with a yellow Valentino 'Rockstud' bag, white Manolo Blahnik pumps, and a pair of Assael pearl earrings with a matching bracelet.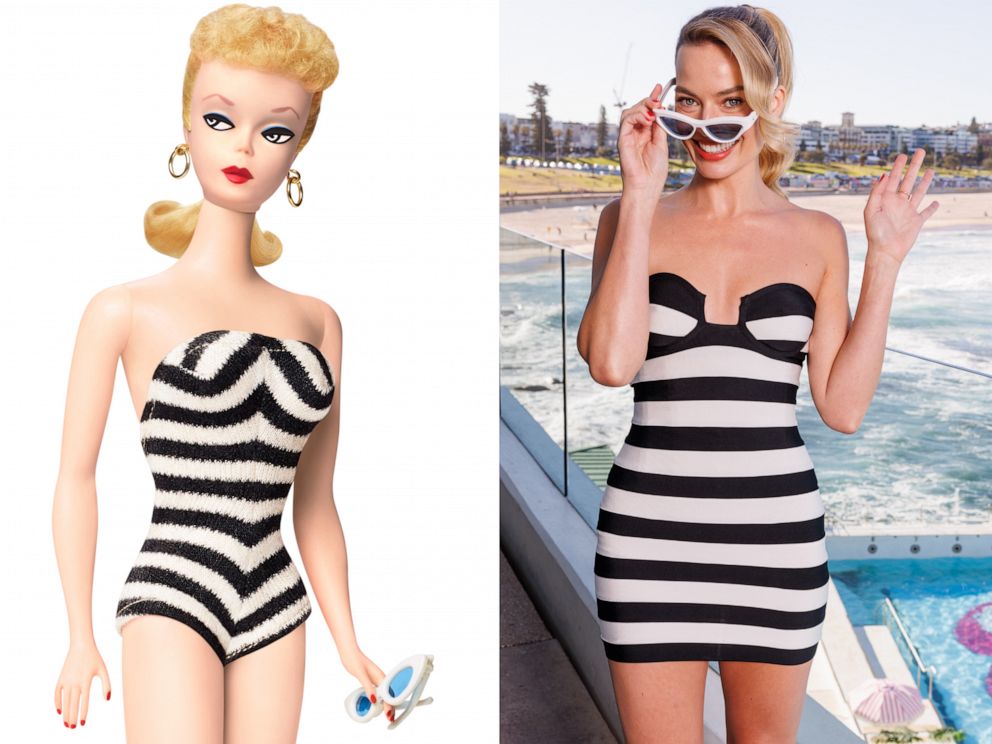 'The Original Barbie,' 1959
Have you ever wondered what the first ever Barbie doll looked like? Debuted on March 9, 1959, 'The Original' Barbie came in both blonde and brunette iterations dressed in a black-and-white striped bandeau swimsuit. To pay homage to this iconic look, Mukamal chose a black-and-white strapless Hervé Legér dress, a pair of white Jacques Marie Mage sunglasses, hoop earrings by Spinelli Kilcollin, and black Manolo Blahnik peep-toe shoes to complete the look.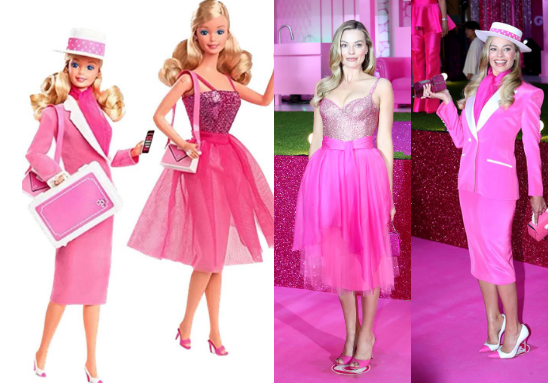 'Day to Night Barbie', 1985
For the film's premiere in South Korea, Robbie gave us not one but two stunning Barbie-inspired looks. Embodying the 'Day to Night' Barbie from 1985, her first look saw her slip into a fuchsia Versace skirt suit complete with a tie and a white hat, matching Manolo Blahnik shoes, and a bejeweled Judith Leiber cell phone-shaped bag. For the second look, the on-screen Barbie dazzled IRL in a shimmering Versace dress featuring a fitted corset top and a full tulle skirt. A pair of pink peep-toe Manolo Blahnik heels and a sparkling fuschia handbag brought the enchanting look to life.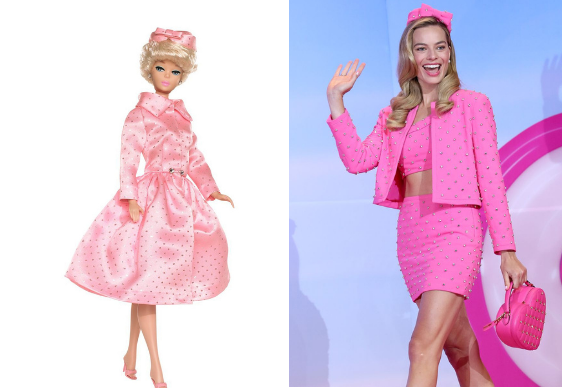 'Sparkling Pink Barbie,' 1964
Speaking of sparkles, on yet another press excursion, the Australian actress channeled the 'Sparkling Pink,' 1964 Barbie, recreating the doll's glittery pink sheath dress and jacket in an embellished set and heart-shaped handbag from Moschino's Spring/Summer 2015 collection. Mukamal added an extra touch of glamor to the look with a bow-adorned pillbox hat.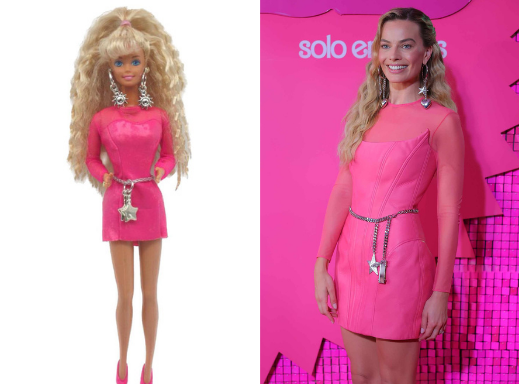 'Earring Magic Barbie,' 1992

Sending us deep down memory lane, Robbie then took inspiration from the 1992 'Earring Magic' Barbie, where Mukamal tasked the creative heads at Balmain to craft the perfect hot pink mini dress to emulate the look. However, the silver star earrings and a matching star chain belt wrapped around her waist captured the essence of the distinctive look.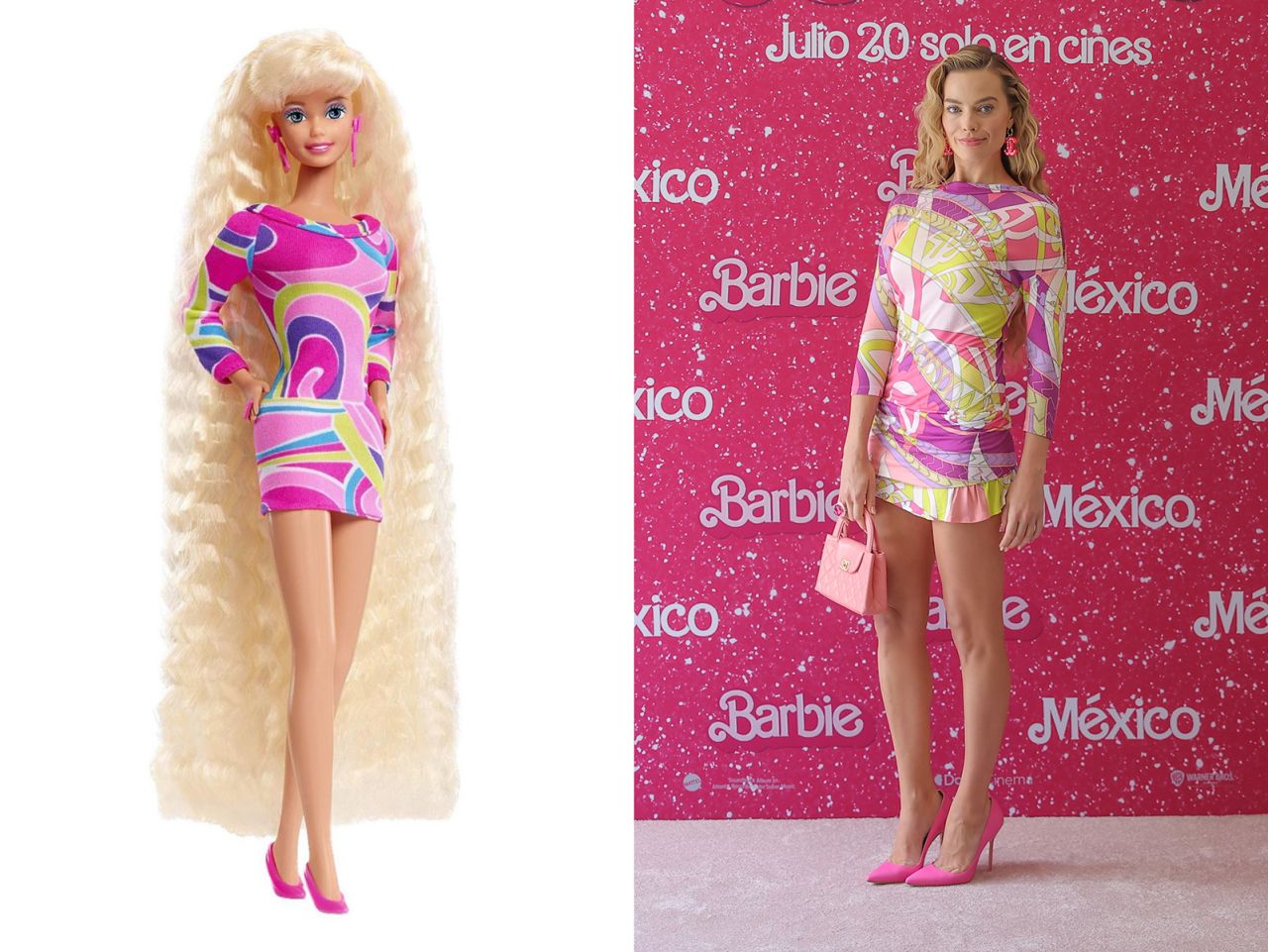 'Totally Hair Barbie,' 1992
This Barbie is letting down her hair. Paying homage to the 1992 'Totally Hair' Barbie for the film's press event in Mexico, Robbie posed for the paparazzi in a swirl-printed Emilio Pucci mini dress, a pink Chanel handbag and interlocked 'CC' earrings, and pink Manolo Blahnik pumps. Her luscious blonde tresses were crimped and set loose, perfectly mirroring those of the iconic doll she drew inspiration from.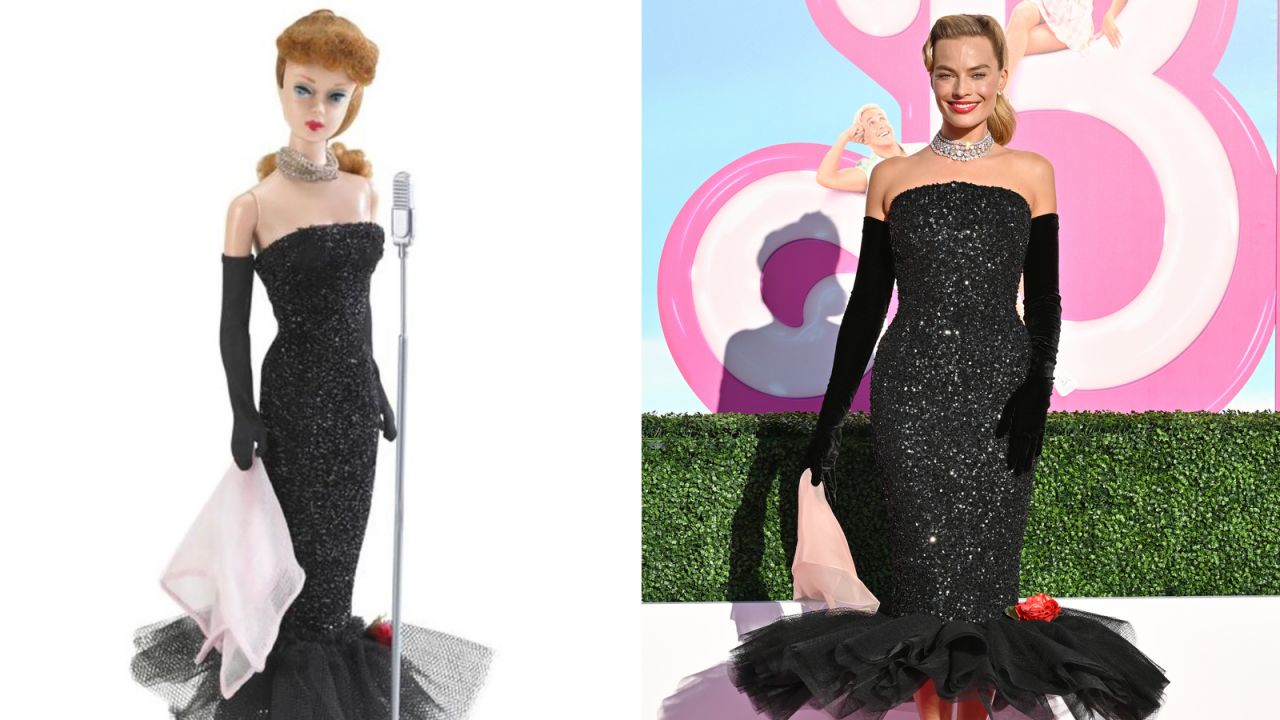 'Solo In the Spotlight Barbie,' 1960
Lately–even with Ryan Gosling by her side–Robbie has consistently stolen the spotlight. Fittingly, for the LA premiere of the movie, Mukamal drew inspiration from one of the most iconic Barbie avatars of all time– the 'Solo In the Spotlight' Barbie. The 1960s doll adorns a full strapless black dress with a dramatic hem complemented by elegant black opera gloves and a sheer soft pink handkerchief. Mukamal and the Daniel Roseberry, Creative Director, Schiaparelli meticulously perfected the look with a fully sequin-embroidered bustier dress affixed with several layers of tulle at the bottom. A single, hand-painted embroidered rose sits on the voluminous hem. To complete the ensemble, Manolo Blahnik peep-toe heels were added, along with a Lorraine Schwartz diamond necklace and earrings, and of course, a pink handkerchief reminiscent of the one held by the iconic doll.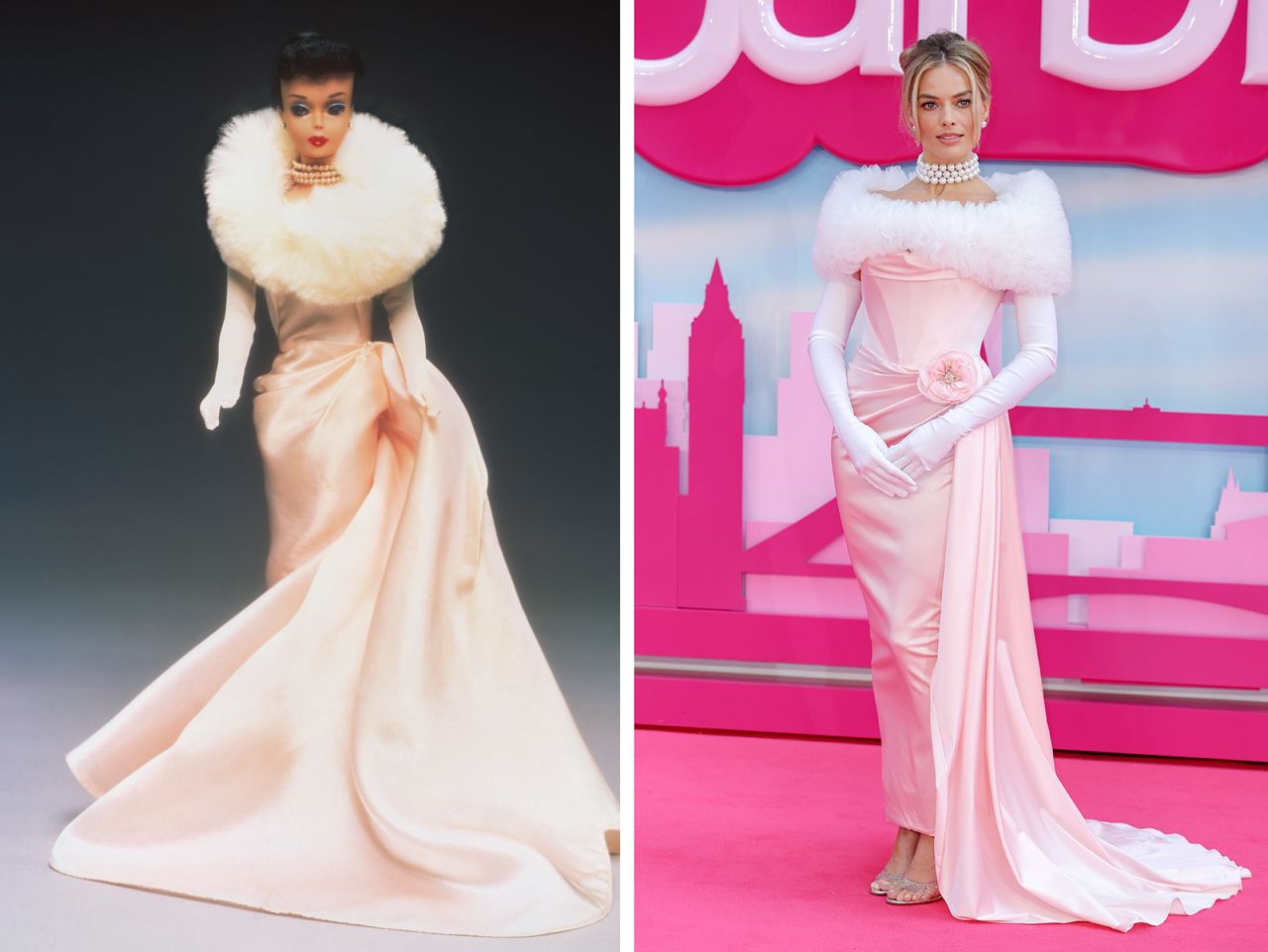 'Enchanting Evening Barbie,' 1960
While it's hard to pick a favorite, Robbie's latest look for the Barbie premiere in London is undeniably mind-blowing. Bringing to life the ultra-sophisticated 'Enchanted Evening' Barbie from 1960, the actress wore a corseted pink Vivienne Westwood gown featuring a spectacular train and rosette embellishment at the waist. Robbie's hair was elegantly fashioned into an updo modeled after the doll's iconic high ponytail. To complete the ensemble, Mukamal paired the gown with an exquisite fur stole, chic opera gloves, a gorgeous Assael pearl choker, and Christian Louboutin pumps.
ALSO READ: THE METAVERSE IS HERE TO STAY AND MAISON VALENTINO PLUNGES INTO THIS DIGITAL ERA.