Paris Fashion Week officially came to end earlier this month and whilst we saw a surfeit of polka dots, floral prints, elongated silhouettes and achingly cool collections on the runway, there was nothing quite as show-stopping as Cardi B's bold looks.
Cardi hit up the Spring/Summer 2020 shows in style, stepping up her style game with no limits (literally) and her Instagram posts racked up the week's top post, according to a Launchmetrics report.
She first made an appearance at Paris Fashion Week quite boldly in a full ensemble by Richard Quinn. The face-covering head-to-toe floral look was from the designer's Fall/Winter '19 collection, and it was first spotted on Cardi as she staged an impromptu photo shoot in front of the Eiffel Tower.
The data research and insights company for fashion and luxury show that Cardi's post had the most media impact value of $1.4 million (roughly Dhs5.1 million) with 8.8 million views to date.
The Grammy Award winner was also the top celebrity account during Paris Fashion Week and honestly, we don't see why she wouldn't top off the list.
With a total media impact value of $10 million (approximately Dhs36.7 million), the celebrity garnered her double taps courtesy of those statement ensembles.
Cardi appeared at Thom Browne's Spring/Summer 2020 show in an ensemble by the brand with Saint Laurent boots, channelling librarian chic.
Then, to wrap up the week, Cardi attended Virginie Viard's latest showcase for Chanel in a head-to-toe checker jumpsuit and hat, complete with a houndstooth coat.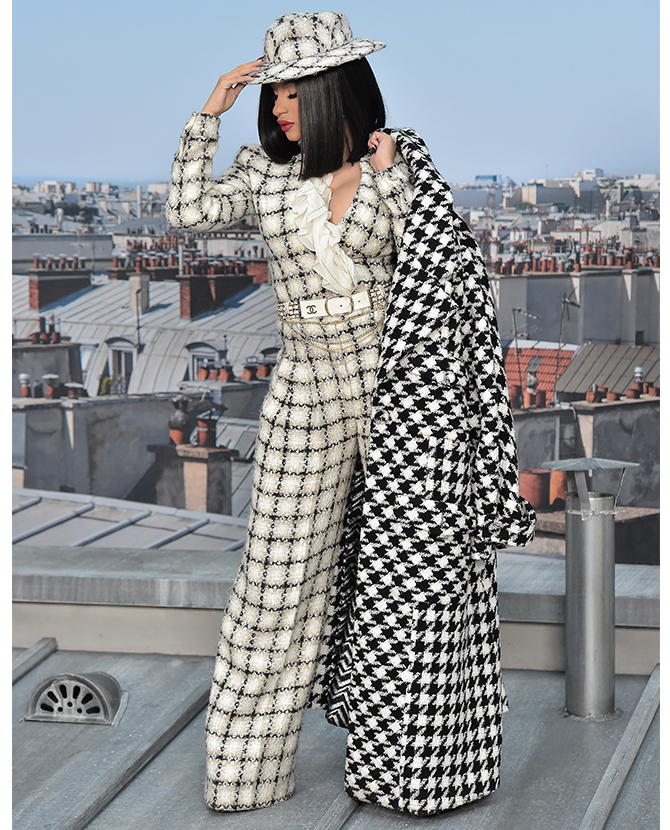 Speaking of Chanel, the maison, unsurprisingly, was the top brand with the highest media impact value, followed by Dior, Balmain, Louis Vuitton and Saint Laurent.
Now, read all about the spectator that crashed the Chanel show.