Up there with sourcing grade A Christmas gifts and pre-empting wine-induced family politics, finding the perfect New Year's Eve outfit is never a smooth process. It's easy to overthink things; but if there's ever a date to unleash you're sophisticated alter-ego, it's December 31st. In a last-minute wardrobe jam? We've got you covered for the big day – from menswear-inspired classics to high-wattage dresses.
FRENCH GIRL GLAMOUR
You're all about: The tux
"A tuxedo always gives a strong, timeless silhouette for evening – think Lou Doillon or Caroline de Maigret," says Browns Fashion buying manager Heather Gramston. While a classic satin black style is an old faithful, this season there's tons of playful options to make a grand entrance over the festivities – from sequins galore, sleeveless and sweetie wrapper hues. Added bonus: this look demands very little styling. Pair with a sharp pointed pump or boot, minimal jewellery (if any), and a dash of your favourite lipstick, et voilà – you're good to go.
SHOP THIS
KATE MOSS CIRCA 1993
You're all about: The slip dress
Right next to over consumption of mince pies and too much vino, you can guarantee at least 10% of your virtual friendship group will post a throwback picture of Kate Moss wearing that sheer silvery slip dress over the festive period. While the see-through vibe doesn't quite translate to actual wearability (sorry, Mossy), the simple slip dress is always a good idea. A biased-cut silk style is the epitome of effortful effortlessness. In terms of accessories? Keep things low-key and let the dress do all the talking.
SHOP THIS
THE HOMEBODY
You're all about: PJ party-wear
"I can't wait to get back, snuggle up on the sofa and finally get through my Netflix list undisturbed." If, hands up emoji, this is you when people are popping the champagne, fashion's move to embrace duvet-to-dancefloor dressing will be a welcome wardrobe addition. "Our pyjamas and robes allow you to express your own creativity," Asya Varetsa tells us, co-founder of cult Kiev-based brand Sleeper. "There are various ways to wear them and it's easy to incorporate clothes from your own wardrobe into a party look. Either you can either wear the full set, adding some pumps and accessories or wear pants and the top separately. Just go with how you feel on the night."
SHOP THIS
VILLANELLE IN 'KILLING EVE'
You're all about: The dressy dress
Minimalism – avert your gaze. This season saw the return to decadence in a big way on the catwalk; think thigh splits, dresses with feather hems, high-shine sequins and statement-making silhouettes. Fashion's more-is-more mood was also aided by that viral Molly Goddard's frothy pink ballgown dress worn by TV's best-dressed assassin, Villanelle. The overstatement is going nowhere anytime soon.
SHOP THIS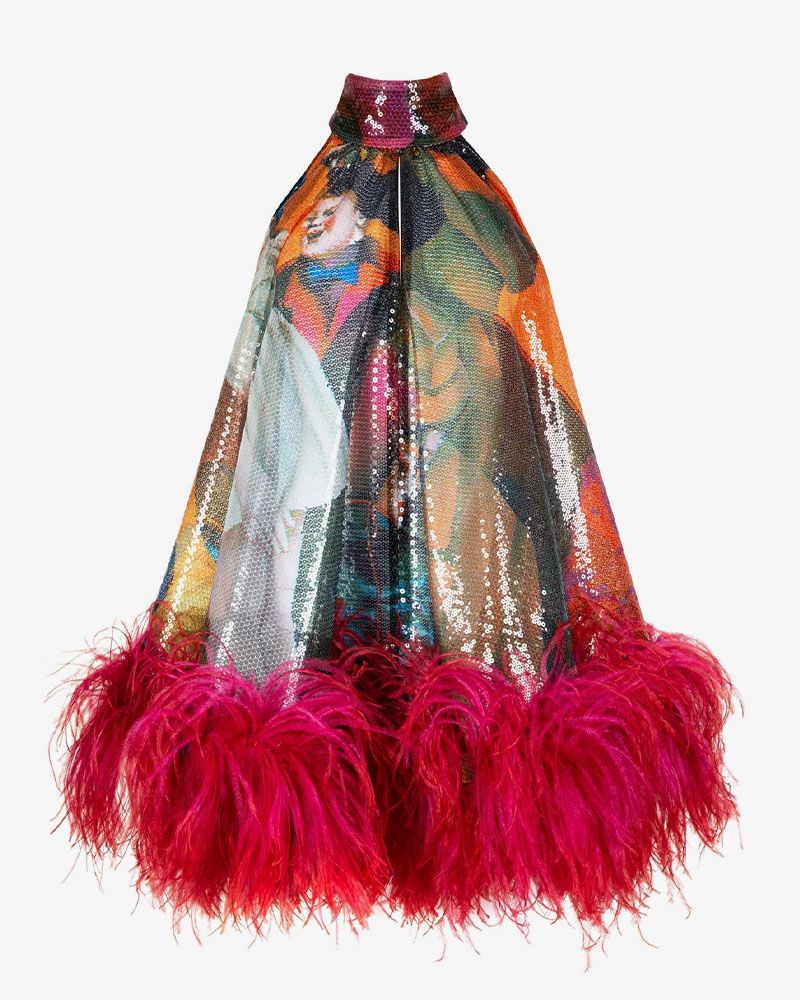 16ARLINGTON CINDY DRESS, £2,400 (Dhs11,449)
POSH SPICE
You're all about: The updated LBD
So, you want to pull off the perfect party look but have three minutes until your Uber arrives? Enter the Little Black Dress. It's easy to wear and depending on how you style it, you can make the LBD as lo-fi or sexy as you want. On that note, here's our bumper pack to nailing the new classic.
SHOP THIS
PHOEBE WALLER-BRIDGE
You're all about: The jumpsuit
Hot priests, monologues on female pain, family dramas: we could wax lyrical about Phoebe Waller-Bridge's masterpiece that is Fleabag. Andrew Scott fan club aside, there was one scene that sparked another frenzy in season two – when Waller-Bridge wore a wide leg halter neck jumpsuit (from London fashion label LOVE, in case you were wondering). "I remember the moment I saw the jumpsuit," Costume designer Ray Holman said. "We were in a fitting and I said, 'Look, I'm going to show you this, just put it on.' She [Waller-Bridge] put the jumpsuit on and went, 'Oh, oh, oh, oh, oh, this is episode one'.
SHOP THIS
First published on Buro247.com.
Now, take a look at new versions of Dior's iconic 30 Montaigne Bag.