From France to Kuwait — get ready to experience a haven of luxury like you've never before at Hermès' new store in the Middle East.
The luxury French fashion house have a loyal clientele following across the globe (especially in the region), and have opted to open a new chapter in Kuwait to strengthen its presence in the Middle East. Its newest opening sits beautifully within the walls of The Avenues — the second largest shopping centre in the Middle East, following The Dubai Mall — and to be honest, the surreal dreamscape bathed in Hermès' luxury goods fully transforms its presence in Kuwait City.
A majestic two-storey façade is as impressive as it is inviting with industrial tones of black marble granite and golden frames surrounding the glass entrance. Upon entry, you're welcomed by the house's iconic Faubourg-Saint-Honoré mosaic in shades of white and havana, embellished here with cabochons.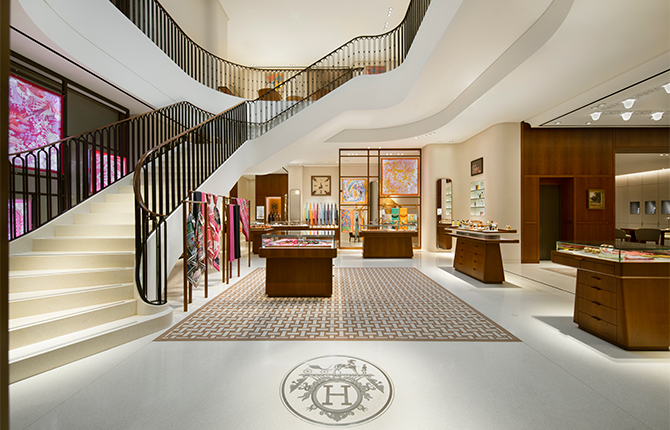 The store is an impressive total of 513 square meters and on the ground floor, Hermès offers its clients an array of coveted creations that span across its iconic silk collections, perfumes, and an extensive space dedicated to leather goods.
Also, a dedicated section for the men's universe is home to a selection of ready-to-wear, shoes and accessories, and what's even more impressive is that there's a made-to-measure salon allowing clients to order bespoke clothing. If you're a high jewellery enthusiast or watch connoisseur, there's an allocated space dedicated to Hermès pieces.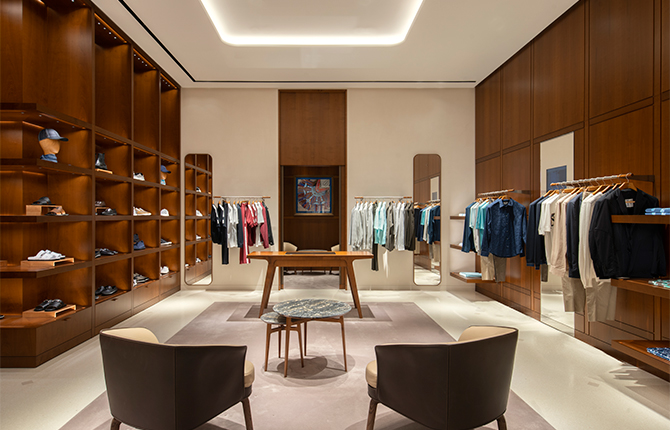 A more dynamic array of the Parisian house's collections remains on the first floor, where you're transported there through a central winding terrazzo staircase (and trust us when we say that it is grand) complete with a handrail in black metal and rosewood.
As you ascend the staircase, you'll notice all of the Parisian architectural codes embedded within the interiors (echoing a tight relationship between Hermès and the Middle East), and a ray of natural light beaming from the roof — courtesy of Parisian architecture agency RDAI, who designed the brand's latest branch.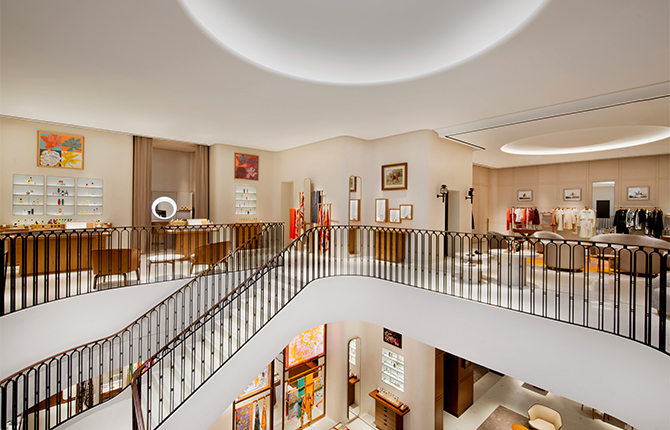 Peppering the selection of the first floor is a range of women's ready-to-wear display, an extensive shoe salon and the new métier Hermès Beauty — not only olfactory offerings but the newly-announced Rouge Hermès lipsticks set to launch on March 4.
There's an order for relaxed entertaining as each section is warm and welcoming with mixed-media seating areas, allowing friends to enjoy the Hermès experience.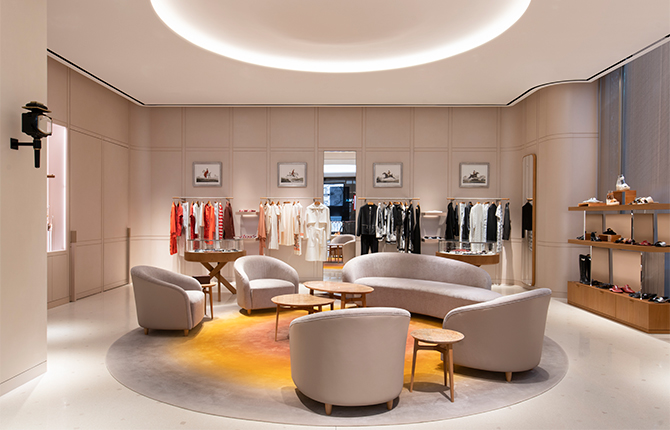 A joyous dialogue between heritage and contemporaneity, Hermès have introduced furniture for the first time in Kuwait, further highlighting the brand's craftsmanship and exceptional materials through a complete range of the house's extensive tableware, fabric and wallpaper.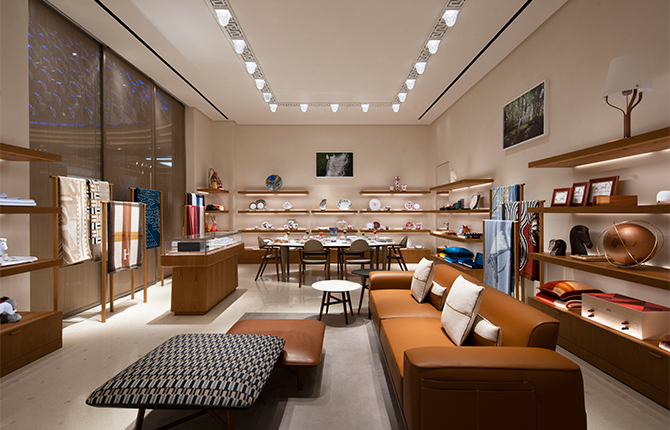 The new Hermès boutique is now open at The Avenue, Kuwait.
Now, discover Giorgio Armani's new boutique in The Dubai Mall.