"I always thought a woman in a tuxedo was sexier than a girl in a gown," Ralph Lauren once said. For those who want a 'dressy' option without wearing an actual dress; something that feels more Bianca Jagger circa 1972 over debutante drama? The party tux is your secret sartorial weapon, the pièce de résistance of timeless classics. Uncomplicated. Zero fears about rogue laddering on our tights. And supremely sleek.
"Go high octane for evening wear and style with nothing underneath and a bold pair of earrings or necklace," Vikki Kavanagh, Buying & Merchandising Director at The Outnet, tells us. "Or you can adopt a more casual look by adding a pair of trainers and a tee for the office." From the fabric du jour to bespoke tailoring, BURO. decodes the new tuxedo tribes to have on your radar — and where to shop them now.
HEAD-TO-TOE WHITE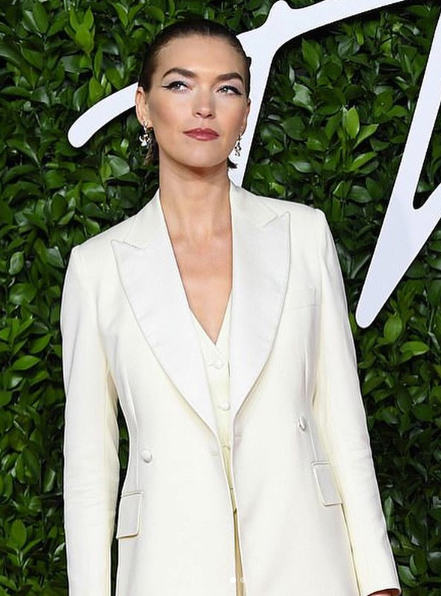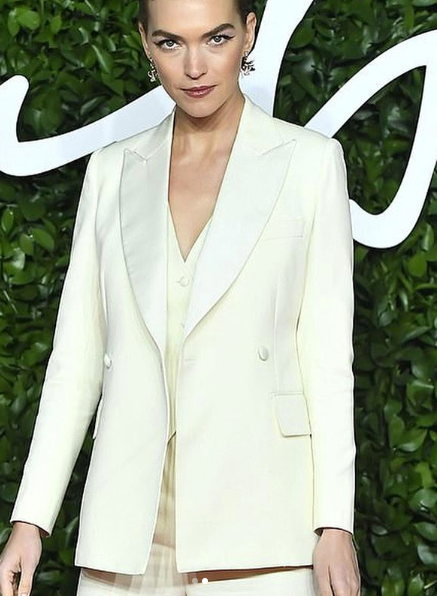 A catwalk-pleaser for spring / summer 2020 – see Tom Ford, Victoria Beckham and Carolina Herrera. Definitely a no-go zone for those prone to spillages, but we're here for the white suit renaissance, nonetheless. Take cues from Arizona Muse to nail the look without it looking too bridal-y. For the 2019 Fashion Awards she opted for a white three-piece from London-based tailors, The Deck (more details below), hair slicked back, minimal makeup and styled out with gold accessories. "The three piece adds a little 'je ne sais quoi'," says The Deck founder, Daisy Knatchbull. "But also, there's nothing more elegant that the waistcoat with nothing underneath and the trousers or a beautiful silk shirt once the jacket is off."
SHOP THIS
THE V-FILES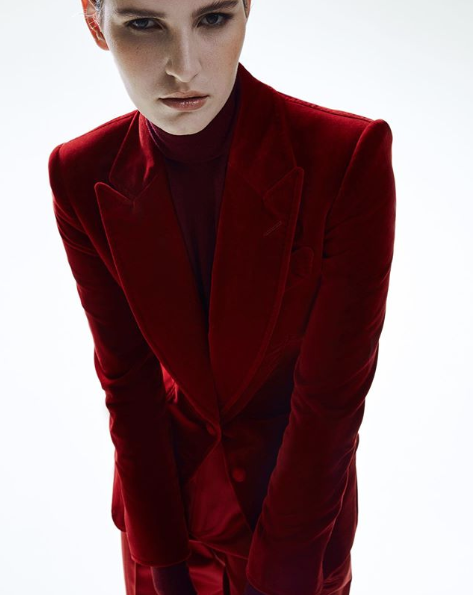 "The tuxedo can be super versatile, go as maximal or as minimal as you wish," Kavanagh adds. "Velvet pieces are also sumptuous for the party season paired with super high heels and statement jewellery and are the perfect alternative to an LBD/party dress." Don't be afraid of colour; for maximum conversation-starter impact, go all out in retina-burning red.
SHOP THIS
MADE TO TREASURE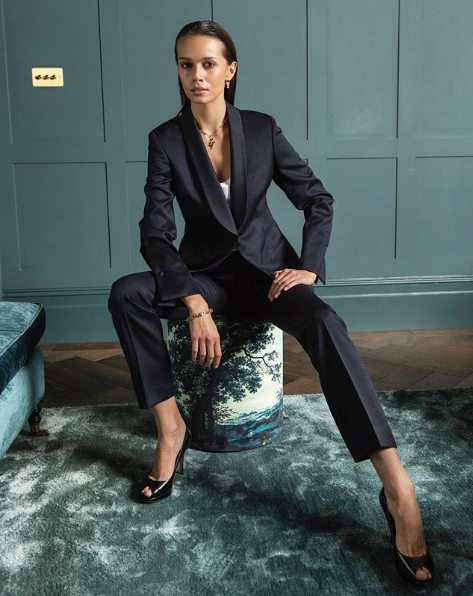 For those looking for a little extra-factor, go bespoke. "Bespoke tailoring is more of a mindset and value system, than merely a status symbol," Kathryn Sargent tells BURO. the first female Master Tailor on Savile Row. "Clients are interested in owning something utterly unique to them, meticulously made by experts." Sargent's perfect black-tie ensemble comprises of a midnight blue barathea cloth, in a one buttoned peak contrasting satin lapel cut to fit the body well but to emphasize the waist and elongate the legs. "It is also the ultimate in sustainability," she adds. "Clients own and wear garments over a number of years."
VISIT

@kathrynsargentbespoke
@decklondon
THE CLASSIC, WITH A TWIST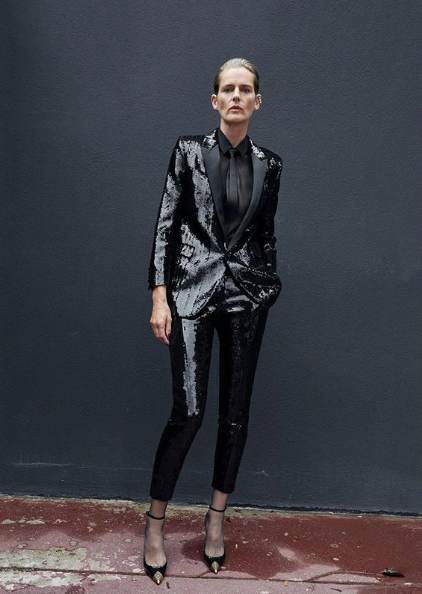 "A tuxedo has transcended style over the decades with its classical charm," says Browns Fashion's buyer managing Heather Gramston."Go for Jil Sander and Toteme for a more classic interpretation or Alexandre Vaulthier for a sharper, sexier take with crystal button detail." Of course, the black tux is our default after-dark look to channel French girl glamour chez Caroline de Maigret, though the 2k19 update on the perennial favourite is all in the detail. YSL's sequin drenched Le Smoking 2.0 styles get our vote.
SHOP THIS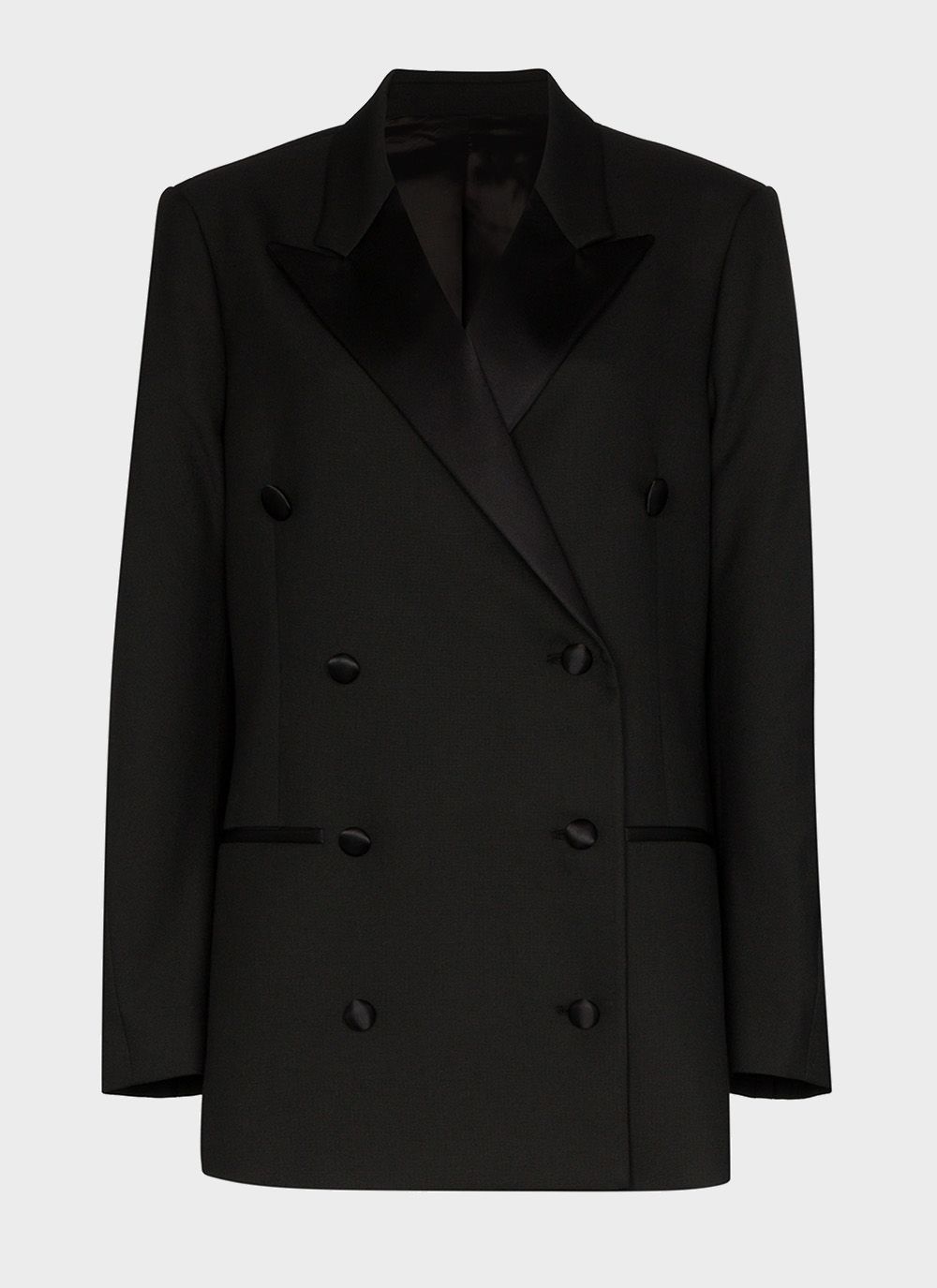 TOTEMELOREO TUXEDO BLAZER JACKET, £605 (Dhs2,961)
First published on buro247.com.
Now, take a closer look at our printed boots edit.