The quest for the perfect jean is a myth. It's like chasing the fountain of eternal youth. It simply does not exist, because like youth, which is fleeting, the perfect pair of jeans is also transient depending on where you are in the cycle of life. What may have seemed "perfect" in your 20's won't cut it in your 30's or 40's. Besides, chasing perfection is overrated and will leave you short changed, out of breath and bad tempered. So instead of the pursuit of perfection, let's explore the pursuit of happiness. Which a good pair of jeans will deliver against.
Am I over-reaching here? Perhaps a smidge…but recall that feeling of outfit fulfilment when ensconced in that good pair of jeans; the right fit that hug or hang on you just so, that insouciance of slipping into something as pedestrian as jeans and a tee, but that feels. So. Damn. Good.
A nano step towards happiness is a life well-lived in a well-lived pair of jeans.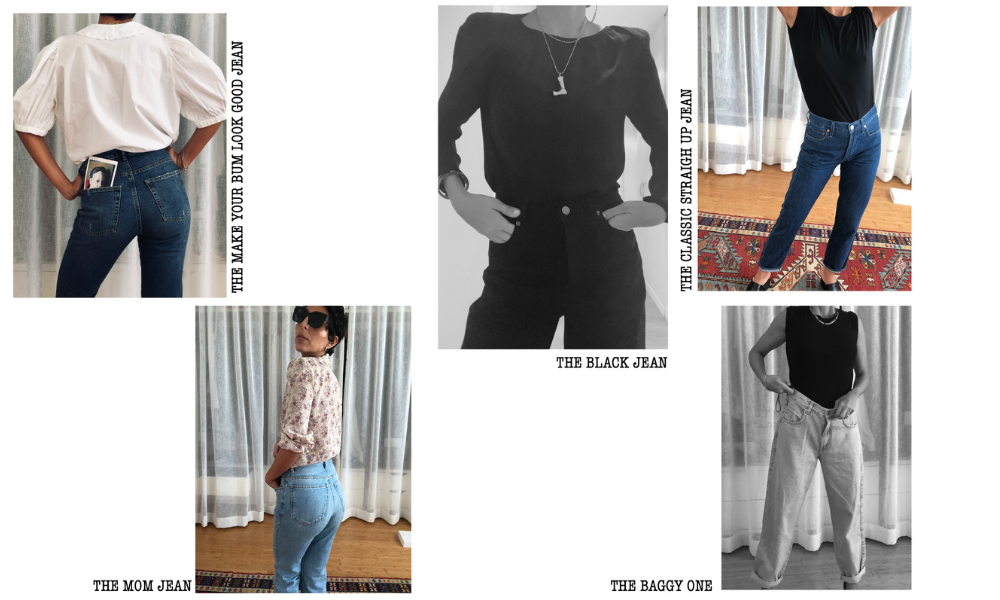 To be fair, you cannot relegate this ambitious mission to just ONE pair to deliver such an arduous task. You will need a small arsenal of no more than 5 jeans to deliver on your "good vibe" feelings. What makes you feel good in one scenario, may not in another. We need to contextualize denim for the different parts of our lives. A weekend "hang out" will require different denim to a mid-week work meeting; a low-key dinner outfit with friends would need to up its ante for a more suggestive date night prospect. One look does not fit all, and neither does one pair of denim.
So, you see it's simple. But complex. Like our relationship with our jeans (and/or genes).
But that doesn't mean we need to throw ourselves down the abyss and collect an unsurmountable number of jeans to suit the myriad occasions of our life. We've all been there, rummaging through a denim deluge only to come back to the same pair. Yet we hang onto the rest for the hope, that maybe, if we lose that winter weight, we could squeeze into them again…or if we wait a little longer, the low waist skinny will come back in style (spoiler alert, it won't).
So, I've edited it down for you. Based on years of personal research and mishaps, closet cleanses, and countless debates on whether a good jean forsakes comfort for derriere enhancing properties (it may, you'll find out why); to narrow it down to these 5 Denim Essentials that a Woman should Have (should she be of the denim wearing varietal).
1. THE MOM JEAN
She is my denim spirit animal. Obviously not restricted to mom's only, it's got that cool 80's vibe and a high waist that just keeps everything in its intended place. Which makes me, and I would assume, most people feel happy. Wear it with irony and don't frump it up. Go ahead and pair it with a grey t-shirt but give it some edge and swap the expected sneakers for a snazzy loafer and a quirky earring instead. Moms, you got this.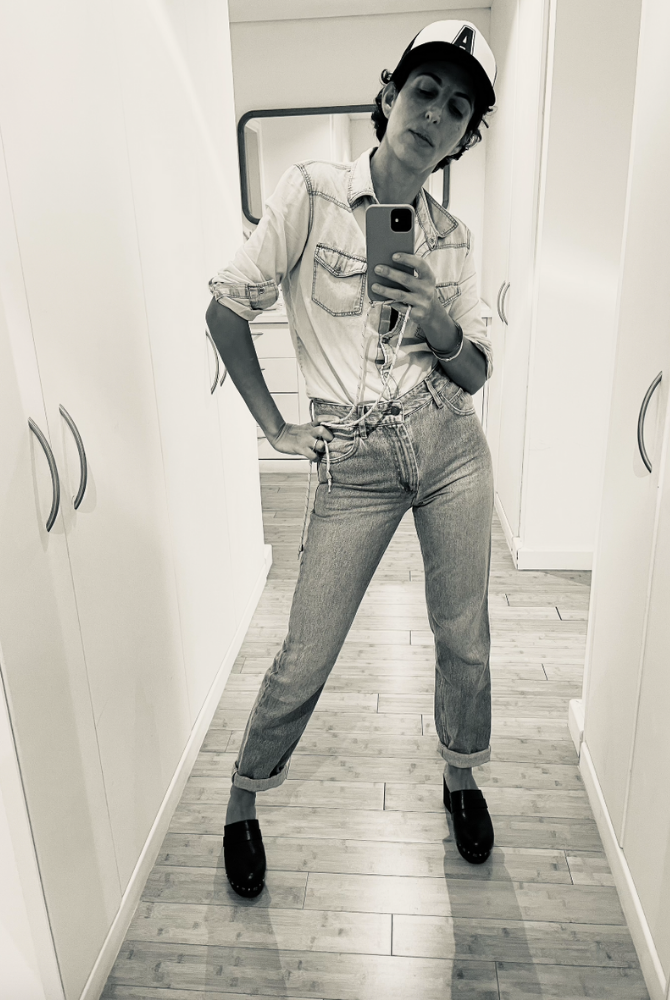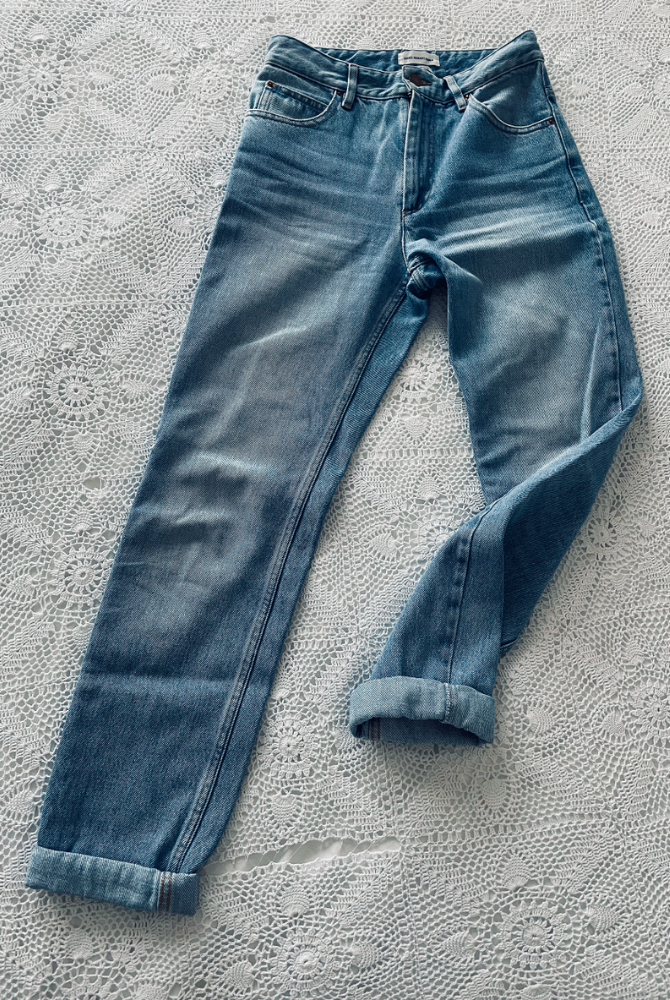 "The mom jean is my denim spirit animal. "
2. THE BAGGY BOYFRIEND JEAN
This is your comfort factor. The jean that you will roll around in on the weekend, vegetate and curl up on the couch with, run your errands in, but also, you know dress him up a bit and wear out to lunch with a big blazer and chunky shoe. But remember, this guy is all about ease. So, you want leg room here, you want softness, a bit of "give" around the waist to allow for forgiveness after a gastronomical weekend spread.
Enjoy the meal, wear the loose jean, feel good about it. Live the life.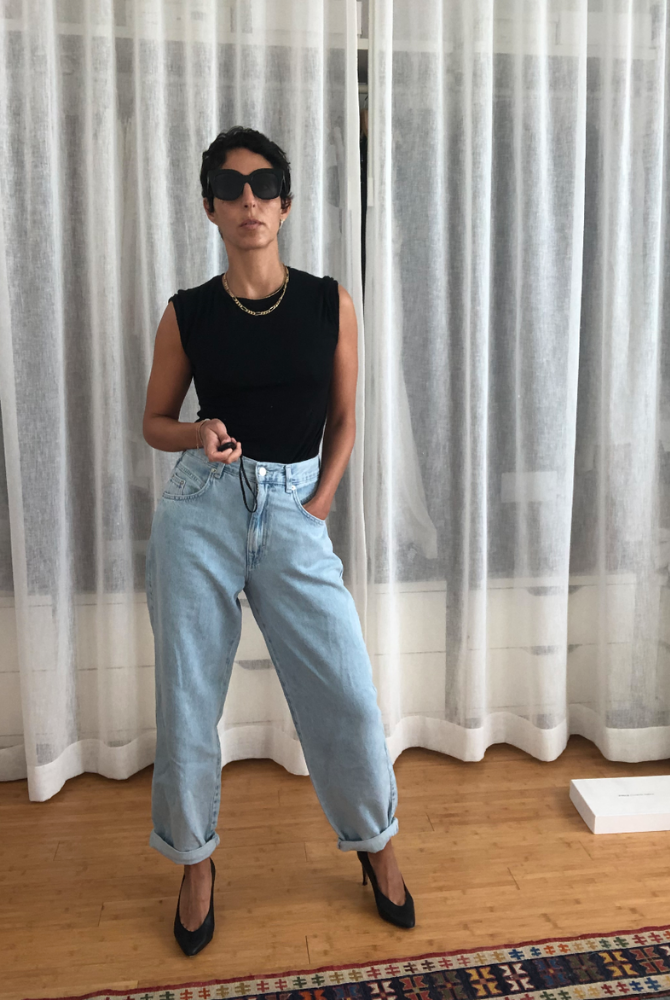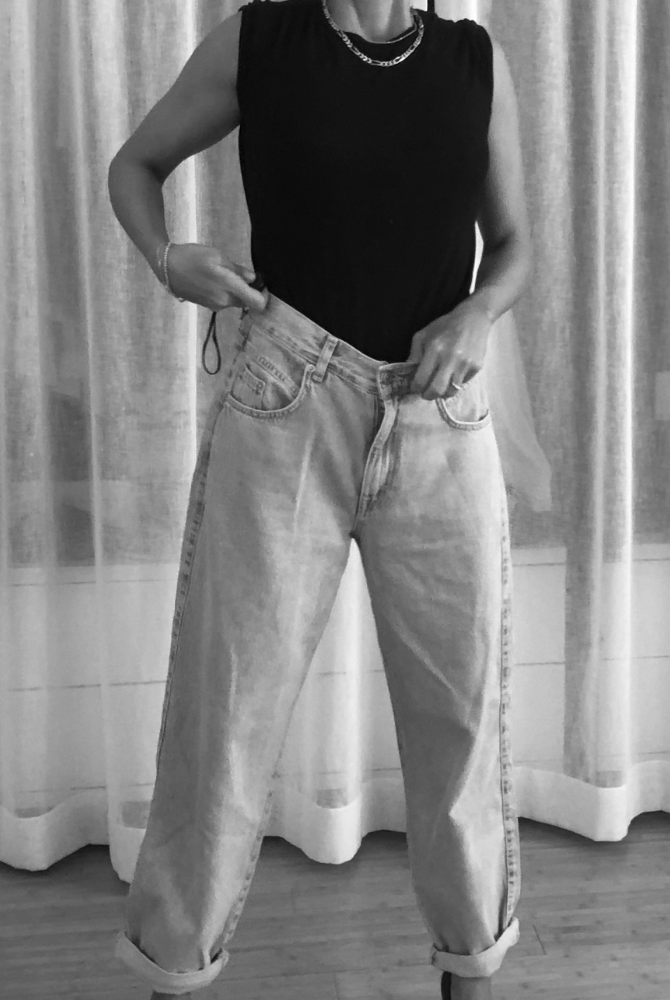 3. THE BLACK JEAN
Every jean has a purpose, and this one is to give you that extra polish.
It's the "dressier" jean that you can slip on for a meeting, out for drinks, dinner, and a minor flirtation. My personal favourite is a sculpted, high waist model vs a skinny which feels a tad bit expected and somewhat dated by now. Opt for a dark dye vs. a washed-out blend that just doesn't have the gravitas you want from black jeans. It's got to give you attitude. In for the kill. Or at least, cover up any coffee spills.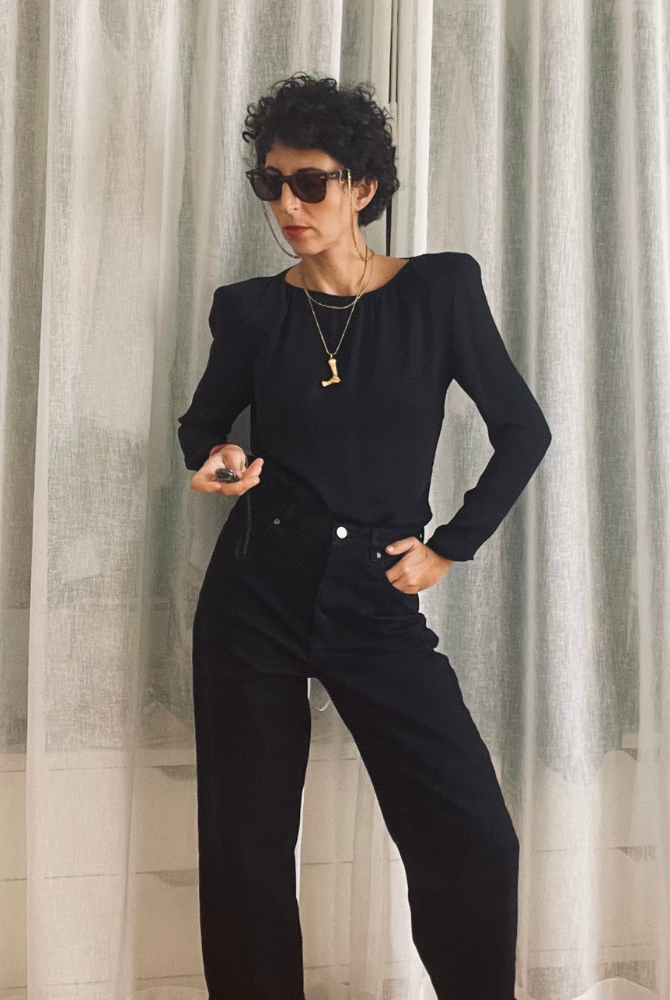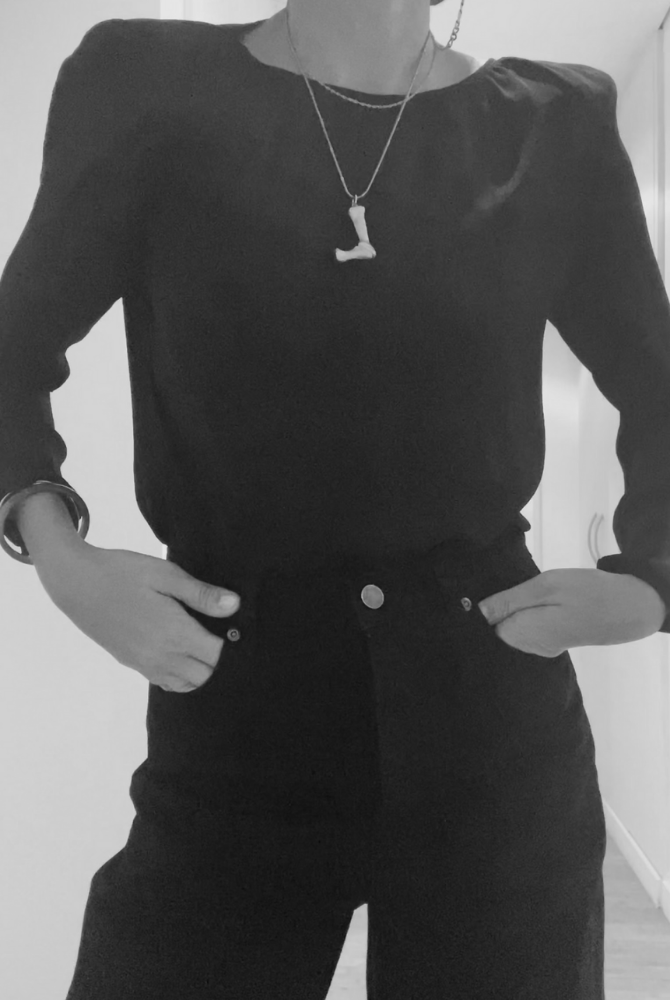 4. THE STRAIGHT LEG JEAN
Not to be mistaken for a skinny jean. This is a slim, straight leg, not skin-tight option. It is a classic jean and, like the best things is life, is much harder to find than it sounds. These jeans will work hard for you once you have worked hard to find them. Cherish them and wear them on days when you want to feel pulled together, but not look like you've tried too hard (think Caroline de Maigret in any situation).
Levi's 501 straight cut are a good option, but my favorite is by FEEL Jeans, a pair they call "The Genuine Jean", which sums it all up, really.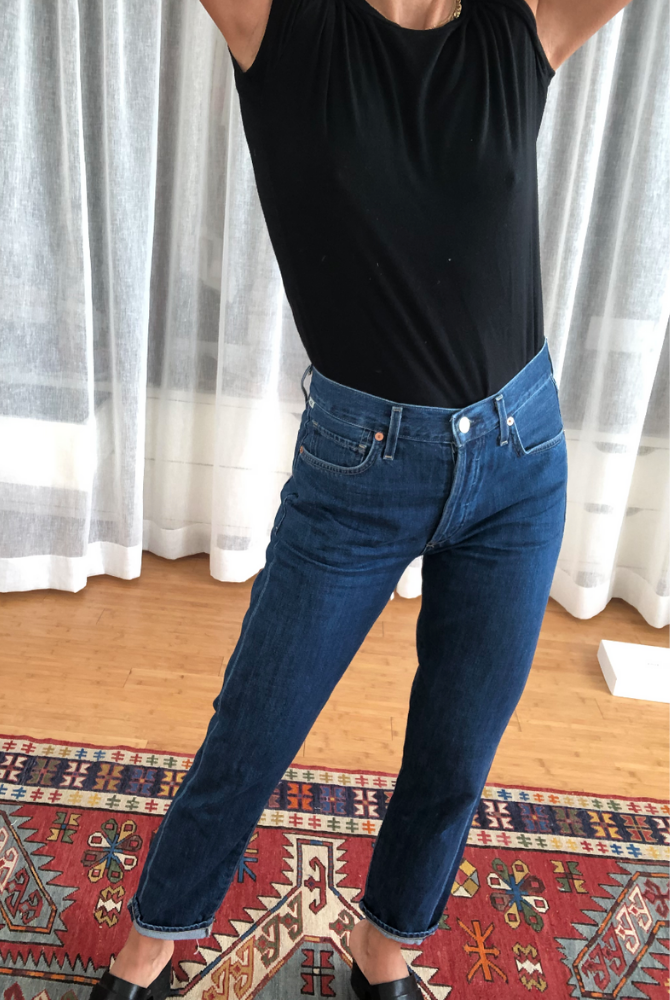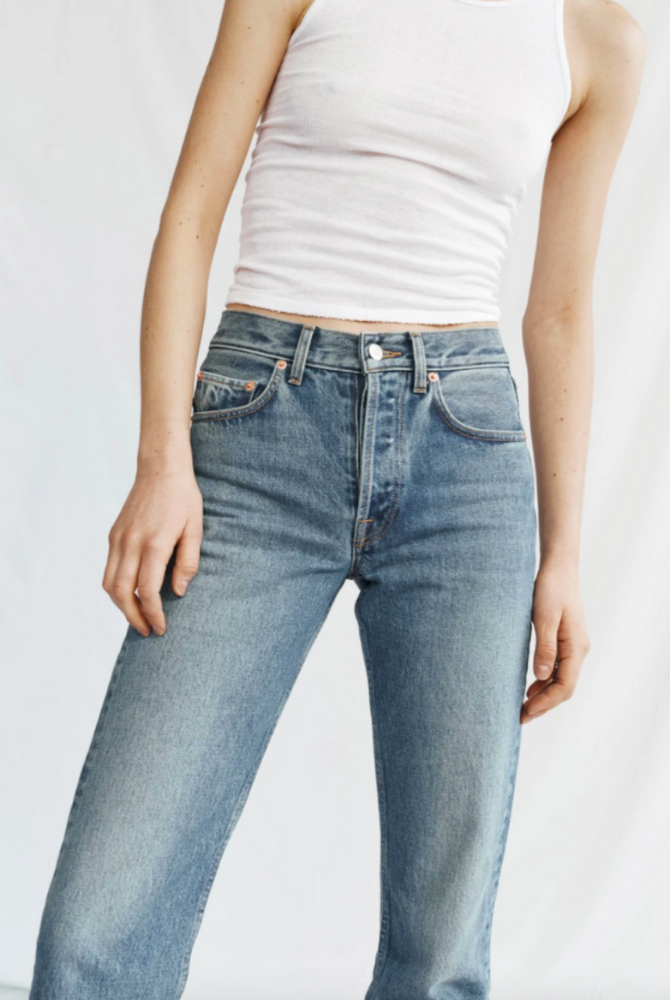 5. THE BUM PLEASER JEAN
Let's break the myth here. This jean is not meant to be comfortable. Its sole value is to enhance your posterior. Which makes you feel good about yourself and your butt. And frankly, that is more than enough to ask from your denim. Leave the comfort factor for the other 4 styles. Wear it when you want to feel hot, are not planning on sitting down and are willing to suck it up for a few hours. Happiness has its price. 😀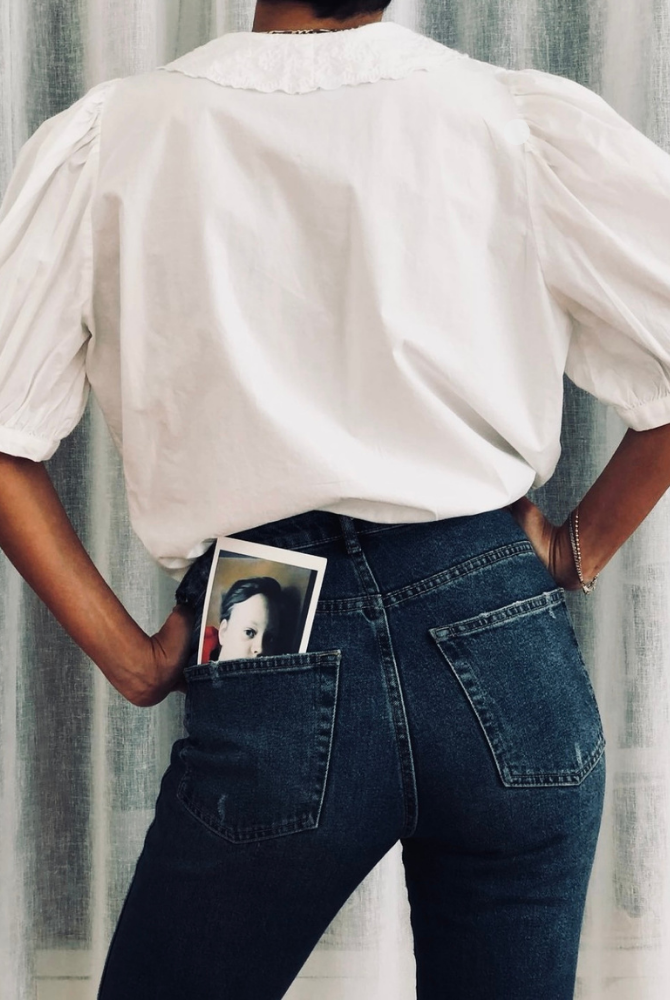 As important as to what styles to keep and seek, are which ones to kill. Here's a short rundown on denim roadkill.
Skip anything with embellishment, embroidery, or rips. Its dated and will date you.
Hard pass on skinny low waist jeans. A camel toe / muffin top danger zone that flatters no one.
Be wary of bellbottoms. Sure, they seem cute and suggestive, but too derivative of the 70's, and unless you are 17 and/or an extra in Dazed & Confused, walk away.
Jeggings. What are those anyway? A hybrid that just falls into gimmick zone, with no irony. Kill it fast.
Bright coloured jeans. It was a Benetton moment, it has passed.
And there you have it.
An edit of the 5 good jeans you should have irrespective of the genes you were born with.
Happy hunting!