When Meghan Markle stepped out with Prince Harry on her first official royal outing in December of last year, the world was thrilled to see the Hollywood-actress-turned-Duchess-in-waiting but no-one moreso than Leeanne Hundleby. Why? Because the former Suits star was wearing one of her bags, and it promptly sold out in 11 minutes flat. Since then, Meghan has carried bags from Strathberry (founded by Leeanne and her husband Guy in 2013) on two other occasions and styles across the brand's offering remain sold out (but available for pre-order for the next drop). It's no secret that the sartorial seal of approval from the Duchess (and sister in law Kate) can spell big business for brands, and after just five years in business, the Edinburgh-based label is now firmly on the international map. We caught up with Leeanne to chat about the brand's transformation in the past 12 months and what's next…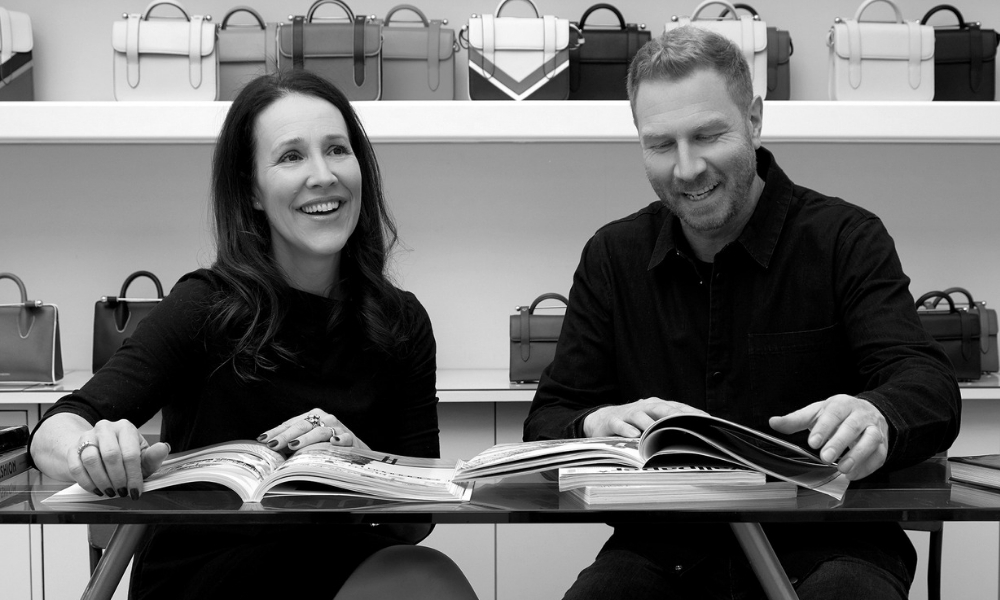 Tell me a little about how the brand began. What gap did you see in the market that Strathberry could fill?
Strathberry was founded by my husband and I. We always had a passion for beautiful handcrafted leather goods and a strong interest in design. On our travels with our kids we were exploring the artisanal leather regions of Spain and were inspired by the generations of craftsmanship and skills in working with leather. We had a desire to create a brand in Scotland that had an international outlook and we saw a gap for a luxury leather brand so established Strathberry when we eventually returned to the UK.
What is the design ethos behind the bags?
Integral to the Strathberry ethos is a passion for quality craftsmanship with a Strathberry bag taking up to 20 hours to make at our Spanish workshops by skilled artisans.
What does the name Strathberry represent?
Strath is a wide river valley in Scots (Scottish Gaelic) and in the past they used berries to dye the traditional Scottish fabric and materials. This is where the name Strathberry comes from.
Meghan, Duchess of Sussex has worn your bags on more than one occasion — what was that moment like when you first saw her wearing your tote bag? Is the excitement level the same each time she steps out wearing one of your pieces?
We were honoured and thrilled to see Meghan carrying our Midi Tote. Soon afterwards the phones started ringing constantly and they never stopped! Every time the Duchess of Sussex carries a bag we are simply delighted. We were especially pleased to see her with our East/West Mini in our hometown Edinburgh back in February.
How were sales affected as a result of Meghan wearing the pieces?
Immediately following the event in Nottingham, we saw sales increase considerably, around 200 to 300%, which was fantastic. Visitor numbers to the website were also amazing. At one stage, they were up tenfold against our daily average.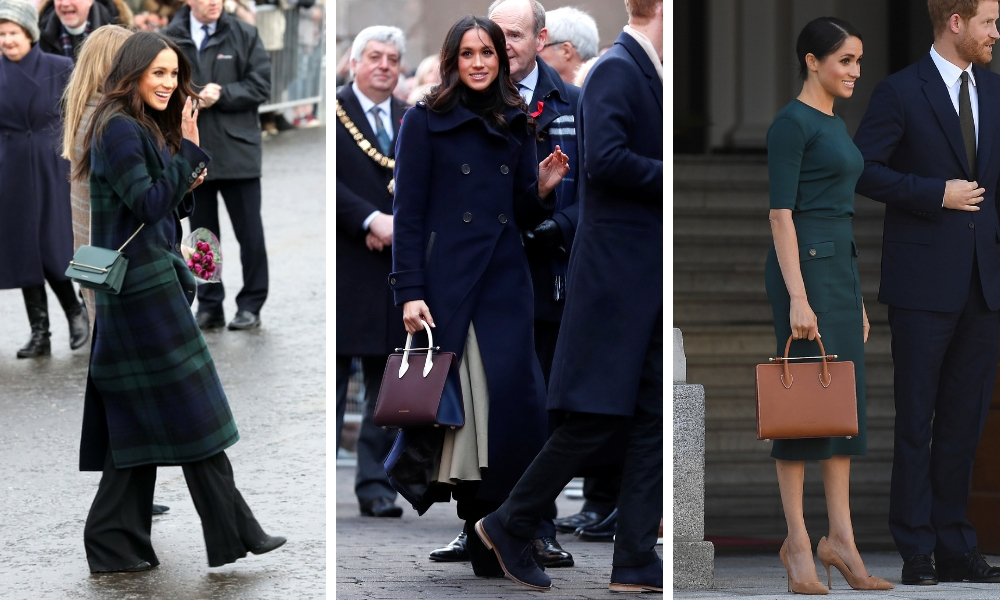 So many of the styles seem to constantly be sold out, which is a great problem to have. How has the business changed/evolved as a result of Meghan's repeated representation?
The response has been phenomenal since Meghan carried three Strathberry bags. We were already beginning to take the brand international, and had noticed an increased demand and awareness across the globe. We have now secured more wholesale accounts and have observed great interest from fashion press and influencers.
You've just opened a store in London — congratulations! Why was now the right time to do this?
We are so excited to be open in Burlington Arcade. After such an incredible year, we felt now was the time to open our first ever bricks and mortar store. The renowned London neighbourhood, where the boutique is located, hosts an extensive range of specialist and independent stores and Burlington Arcade has a long history of championing artisans, making it the perfect location for the brand.
You're stocked in a few locations in the Middle East — what's your customer base from the region like? Is there one style they particularly gravitate towards?
The Middle East is a really important market for us to grow. Customers gravitate towards our styles in embossed croc with gold hardware which are very luxurious and elegant. In terms of styles the East/West sells really well!
You recently launched an exclusive range for the region in exotic leather. Why did you decide to do an exclusive collection for the Middle East? And how was it received?
Our exclusive line in embossed croc is launched this month and will be exclusively available in Harvey Nichol's Dubai and both Bloomindale's Kuwait and Dubai. It has been delightful to work with our partners in the Middle East to create a capsule collection that reflects the sophisticated yet playful taste of our customers in the region.
Would you consider opening a store in the Middle East later on down the line?
YES!!!
What's next for the brand?
There is certainly a lot of development in the pipeline, so please do keep an eye out for future developments. This is hopefully only the start to our journey. There are some fantastic brands doing exciting things and over time we have an aspiration to emulate the development of the likes of Marni and Loewe — big ambition we know!
Now, discover Valentino's exclusive handbag designed to celebrate The Dubai Mall's 10th birthday.